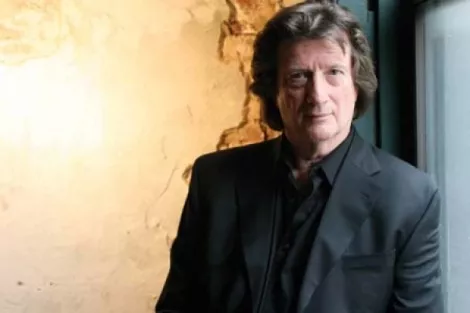 Chris Smither's new album, Time Stands Still (Signature Sounds), starts with a tune called "Don't Call Me Stranger." Although it's a "bad-boy song" written for his wife, the portentous, finger-style folk-blues come-on sounds like running into an old friend. Though it's been only three years since his last album—just about his average delivery time—it feels longer. You get to missin' a buddy whose stories are always interesting and told in a way that's as satisfying as the realization that your old pal may have been away for a while, but your bond remains strong.
Smither really is that kind of guy, whether you know him or not. He introduces himself casually—"It's Chris"—and warmly.
He's a happy, comfortable guy, so the idea that he's not as famous as he should be just slides off his back. "How come you ain't famous?" he says, with a dusky laugh reminiscent of his trademark singing voice. "I don't know… I was just sorta out of circulation for about a dozen years."
Those years came after his first two albums, 1970's coincidentally titled I'm A Stranger, Too! and 1971's Don't It Drag On (originally issued on Poppy Records, reissued in 2002 on Tomato). "I was basically drunk for 12 years," he says in his bio, "and I somehow managed to climb out of it. I don't know why."
He resurfaced in 1984 with It Ain't Easy (Adelphi) and took seven years to release his fourth album, Another Way to Find You (Flying Fish), before settling into that cozy three-year recording cycle. Since then, including Live As I'll Ever Be (HighTone, 2000) and the long-awaited release of the lost 1973 album, Honeysuckle Dog (Okra-Tone, 2005), he's doubled his output and played 100-150 shows per year.
Smither is prolific, now, and his work has been covered by Bonnie Raitt, Emmylou Harris, Shawn Colvin and Diana Krall. He's landed tunes in films (You Kill Me with Ben Kingsley and Owen Wilson) and scored a short film (The Ride). Author Linda Barnes made Smither the favorite songwriter of Carlotta Carlysle, the heroine of Barnes' mystery novels (St. Martin's Griffin) and Smither's own short fiction has been collected, along with that of Jim White, Low's Zak Sally and Maria McKee, in Amplified: Fiction from Leading Alt-Country, Indie Rock, Blues and Folk Musicians. One figures Smither should have a higher profile—but unlike his contemporaries John Hiatt (also a favorite writer of Raitt, Harris and Colvin) and Lyle Lovett, Smither consistently flies under the radar.
"I'm doin' really well," he says, audibly smiling. "I don't brag about it or anything, but I'm in a really comfortable position. I can work as much or as little as I want. But you're right: Nine times out of ten, people will say 'Chris who?' They won't say that about John Hiatt."
Yet they share the some of the same rabid, rapt fans, connoisseurs of what Smither calls "listeners' artists." They sit on a stage, often alone, and tell stories with words and notes coaxed from a guitar that, like a sidekick, was there for every moment and will attest to the veracity of the tales—even the embellishments. We fans are content to sit still in our seats and let the music do the talking. We hang on every word of our good friend's account of his whereabouts since last we met. And we'll be at the State Room on Thursday night, and probably at Kingsbury Hall on Saturday, where Hiatt and Lovett happen to have a gig.
If the song "I Don't Know" on Time Stands Still is any indication, Smither's cool with his station. There's a line, a reworking of words uttered by his daughter Robin, that rings appropriate for him: "How could I be nowhere if I'm here today?" Good point, eh? He has a career, a record deal, that wizened, raspy voice and a bottomless wellspring of songs. Could be a lot worse.
"All I can do is try to be better than I am.
But having said that, right now I'm actually a lot better known than I ever dreamed I would be 10 years ago."

CHRIS SMITHER


The State Room
638 S. State
Thursday, Oct. 8
8 p.m.
TheStateRoomSLC.com