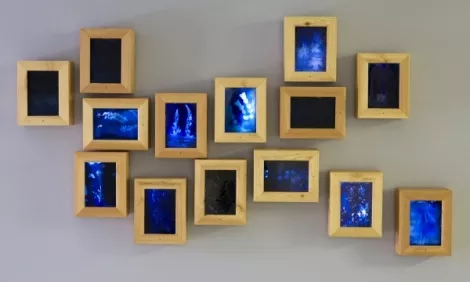 For artist Christine Baczek, when it comes to her exhibition of photographs at Nox Contemporary, it's personal. "This all revolves around me really struggling with my life as an artist and my life as an arts administrator," Baczek says. "When I work for [the Utah Museum of Fine Arts], I am behind the scenes and I meet artists and I touch amazing art, but it's not mine. I've struggled to make that balance … to make my work, and also trying to be supportive to this institution I really believe in." Her new show, Development, is a chance that allows her to "be an artist for a little while."
Working for the UMFA—and being around world-class art for 40 hours a week—may be one reason Baczek's art is so good. Another may be that is goes far beyond what most art photographers are doing, such as documentary photography, and combines interesting, inventive methods with a thoughtful aim. The result provides an experience that provokes a range of aesthetic response as broad—and as thought-provoking—as substantial contemporary art of any kind should be today.
Baczec says, "I am really interested in the processes of photography, and I want people to know by the way I am working that it is a photograph." She applies this method in three bodies of work in the show. The first is an installation of cyanotype images, then large-scale proof sheets and finally an obscure process called chromoskedasic Sabbatier. With these methods, the photographic process is raw, as well as a part of the visual interest and appeal of the image.
Further, she says, "I love walking the line of the document that can become an abstraction, and how that can play with how you approach a document or you approach an abstraction … if there is something real." The artist aims to incorporate her love of the photographic documentary process with qualities of the visual image to create something exciting and new drawn from her own personal experience. This method and aim works exceedingly well in each of the three cycles of Baczek's work.
Cyanotype is an essentially dead art that Baczek has revived, with stunning results. The artist uses the blue cyanotype emulsion on glass and presses flowers and other wildlife gathered from hikes in the area that she then exposes to UV light—basically the sun—for 60 seconds. The result is a bold image of blue with the ghostly shape of the remnant from the hiking experience. To make this experience more complete, Baczek has placed each glass plate in a box made of Utah Dutch elm that is backlit with a sensor that reacts to motion with light. Baczek has succeeded in making this as authentic as possible to the viewer, who is rewarded by an abstract encounter with Baczek's hike.
A second installation consists of oversize proof sheets—the product of 35 mm film generally used as a castaway reference for a photographer, but for Baczek are a way to "re-create the act of observation" to document "things that are mundane that normally you would pass," taken at close range. There are four large panels of proofs, each with rows of individual images that are fragmented details bordered by the rough edge of the proof. The result is abstract and bold.
"A Maple Tree in Millcreek Canyon" is one set of proof sheets. To one viewer, these multiple images of entwined twigs enveloped by a purplish glow might have a cold but comforting feeling of winter and of beauty in the nuances of form in nature. Another might feel a sense of calmness, stillness, peace and rest. For another, these images might evoke metaphysical qualities of mystical attributes in nature, or another viewer might feel a sublime sense of foreboding beauty. A free flow of meaning is paramount in contemporary artistic aesthetics, and this is achieved here magnificently.
The last cycle of the three evokes a different sort of aesthetic responses with humor, wit or experiment. The artist uses the obscure process of chromoskedasic Sabbatier, which allows her to change the structure of silver in the black-and-white paper of archival prints in the UMFA's "dead archive." Of the three cycles, this may be the most personal. Baczek describes it as allowing her to "revive the dead archive and [provide] a chance for me to respond," as she has complete control to achieve desired results.
From these images, the artist can take an out-of-date, dim image of a Buddhist sculpture, and allow it to radiate with a burst of light, or to use an image of a painting from the museum wall and not only obscure the painting, but have it melt from the canvas. Some are funny, some are serious, but all allow the artist a personal freedom to incorporate her artistic talents with her responsibilities at the museum. This aesthetic offers various layers of meaning for the viewer—and, understandably, tremendous satisfaction for the artist.
CHRISTINE BACZEK: DEVELOPMENT
Nox Contemporary
440 S. 400 West, Suite H
801-289-6269
Through March 2
Free
NoxContemporary.com