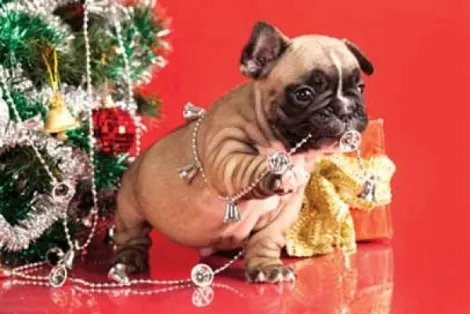 There's a snap in the air, snow on the ground, and lights on the houses.  Soon, children will be waking on Christmas morning to find treats and toys under the tree.
Christmas at our house is shared by both the two and four-legged variety and Santa brings gifts to both.  Over the years, we've noticed some similarities between children and dogs on Christmas morning.  Here's a few I've listed for you below. 
Neither children nor dogs want to go to sleep on Christmas Eve and will fight it until exhaustion finally wins out;
Parents will be awakened earlier than is reasonable on Christmas morning;
The anticipation is almost unbearable for both and results in lots of jumping around and yelping;
Opening of gifts involves large amounts of grunting and shredding;
The package is always as entertaining as the gift inside;
Within two minutes, the gift will end up in the recipient's mouth, whether it should be or not;
The toy usually contains some noise-making device guaranteed to drive the parent to the brink of madness by the end of the first day;
Falling into the sink, toilet, or mud actually increases the perceived value of the toy;
The toy is the best thing they've ever seen… until they open the next present;
And while the toy designed for the young child or dog doesn't have parts that are designed to be removable, parts will be removed and promptly lost.  Lost parts will be found by parents' feet somewhere around 2 a.m. the following morning.