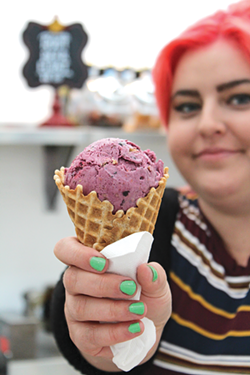 I find it hard to trust someone who only eats frozen treats when it's hot outside—it's the very definition of a fair-weather friend, and I'll have none of it. Ice cream and its ancestors and offspring are at their most delicious when they're not eaten out of necessity, and Utah—in all its ice-cream-obsessed glory—is home to some of the best purveyors of frozen treats in the country. Here are a few joints to help you appreciate the cold while we trudge through the dead of winter.
Monkeywrench
Before I visited Monkeywrench (53 E. Gallivan Ave.) and its effortlessly hip coffee-shop-meets-ice-cream-parlor vibe, I was a staunch believer that ice cream was the sum of its parts—and those parts had to come from a dairy. I mean, how can one make ice cream without cream? Well, Monkeywrench took my ass to task because, holy moly, does this place deliver the goods. Their plant-based vegan witchery isn't limited to the ice cream and soft serve, either. One of my favorite items is the brownie à la mode ($6), which comes with a generous slab of toasty vegan brownie that's topped with whatever flavor of ice cream they have at the time. I'm a bit of a purist, and if I'm chasing this brand of chocolate dragon, I like a scoop of vanilla with a drizzle of their chocolate sauce—yes, they have vegan chocolate and caramel sauce as well. The brownie is rich, loaded with dark chocolate, yet sweet enough to keep your taste buds interested. The vanilla ice cream and chocolate sauce melt slowly over the top, so when you're down to the last few bites, it's all blended together in a cocoa-and-vanilla lovefest. Even as a die-hard dairy enthusiast, I'd put this up against any traditional brownie-and-ice-cream combo in town every day of the week.
When you're after something to tickle your tongue while you do some window shopping downtown, the double scoop in a homemade waffle cone ($6.25, pictured) is always a solid bet. The only problem with this option comes when faced with only choosing two flavors. If you're too indecisive, $1.25 more gets you a third scoop, but they tend to frown upon requests that attempt to pile three flavors onto a single cone. I mean, that's what I hear, anyway.
Normal Ice Cream
What started with a casual glance on Instagram has blown into a full-scale obsession. At first, I would stop by Normal Ice Cream (600 S. 700 East, normal.club) whenever I was shopping at TrolleySquare, but now I find myself in full soft-serve-stalker mode. I'll leave the house to shop, only to find myself lining up in front of the mirrored surface of their conspicuous, chrome-plated van. It all happened with my first taste of Normal's signature dulcey dip—it jumpstarts the nostalgia of the zillion brown toppers that I found at my local Arctic Circle into something that makes me go weak in the knees as an adult. This transcendent topping is flavored with the smooth, caramel goodness of dulce de leche, and simply getting Normal's homemade vanilla soft serve enrobed in such decadence ($6) is enough to put this place on the map.
A glance over Normal's menu also reveals ice cream cookie sandwiches ($6) that create harmonies like brown butter ice cream and snickerdoodles, s'mores ice cream bars ($4) and the ultimate nod to treats of a bygone era, the choco taco ($7). Not only does Normal maintain a solid menu year-round, they've started to mix up their flavors in a big way this month. Every week, they have four or five new flavors of soft serve to experiment with—and we're not talking about clichés like rum raisin or cookies and cream. Think more along the lines of Thai tea and pear—it's vegan!—sorbet. If you have yet to check out what Normal is slinging, now's a great time to catch up—but don't blame me if you start showing up without any memory of how you got there.
Sweetaly
Sweetaly (multiple locations, sweetalygelato.com) has been around since 2015, when Francesco and Lisa Amendola opened their 3300 South location. As native Italians, they approach the art of gelato with passion, creativity and no shortage of discipline. Francesco studied with some of Italy's most prominent gelato chefs before opening Sweetaly in Utah, and their menu reflects all that hard work.
Just in case you missed out on the great American gelato boom a few years back, gelato is traditionally made with milk instead of heavy cream, which gives it a lower fat content. It's also less frozen than ice cream, which gives it a creamier texture. In short, it's such a hot frozen treat right now because it offers up a lot of flavor without all that fatty fat fat.
Their menu also revolves around a scoop system—a piccolo ($3.40) gets you two flavors while a grande ($5.50) gets you four. It's hard to go wrong here, but any combination of mascarpone and fruit always does me right. I got cherry gelato with my mascarpone during my last visit, and the tang of the latter complements those tart cherries nicely. Before your visit, remember that each scoop of gelato will only deliver a fraction of ice cream's fat to your thighs—feel free to overindulge a little.