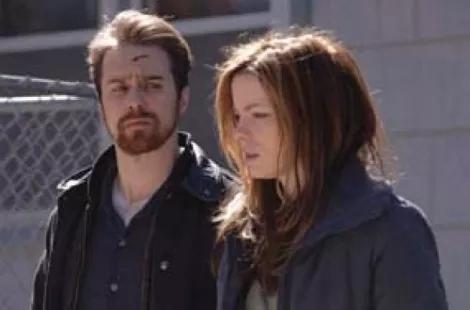 Near the beginning and the end of writer/director David Gordon Green's
Snow Angels
, he features an identical montage of small-town Northeastern everyday life—provided "everyday" takes place in the middle of a bone-chilling winter. Someone plows snow from a sidewalk; someone else fills up the gas tank. These bookends of mundane repetition help give Green's adaptation of a Stewart O'Nan story an added resonance, but they have another quality as well: they may contribute to one of the most quietly depressing films I've ever seen.
Green became an art-house darling largely on the strength of his first two impressionistic features, George Washington and All the Real Girls. His was a style less about plot development than it was about mood—whether that mood was awkward young love or small-town tedium—yet his films never felt like the stereotypical "despair = art" creations on which young auteurs build reputations. Snow Angels is both the same and different, a heartbreaking cinematic tone poem built on the premise that sooner or later, your life is going to suck, and it's going to suck hard.
Green follows a few intertwined lives through that winter, backtracking from a pair of gunshots that disturb the stillness of one afternoon. Glenn Marchand (Sam Rockwell), recently separated from his wife Annie (Kate Beckinsale) and their 4-year-old daughter, is trying to rebuild his life after battling with alcoholism and a suicide attempt. Annie, meanwhile, carries on an affair with Nate (Nicky Katt), the husband of her restaurant co-worker Barb (Amy Sedaris). And high-school student Arthur (Michael Angarano)—for whom Annie was once a babysitter—watches his own parents (Griffin Dunne and Jeanetta Arnette) begin a separation, even as romance blossoms between him and the school's quirky new girl, Lila (Juno's Olivia Thirlby).
At his finest, Green leads his performers into simple character moments that feel almost painfully real. Rockwell—probably the most unbelievably versatile actor who still hasn't moved beyond "that guy" status—gets many of the best scenes, as Glenn strains to prove to Annie that he's a changed man. Angarano and Thirlby are also wonderful together, sharing tentative flirtations in which giving the gift of a pencil becomes fraught with significance, and a confession of affection that makes you want to squirm at its puppy-loveliness. In such a terrific cast, Beckinsale somehow doesn't feel quite right—it's hard to accept her ethereal beauty as the stuff of beaten-down working-class life—but she still makes the sadness of shattered young love feel genuine.
Shattered young love is, in fact, the focal point of Green's narrative—and why Snow Angels ultimately delivers such a dire message. We learn that Glenn and Annie were high-school sweethearts much like Arthur and Lila, the smiling prom photo giving way to a lifetime of disappointment. Indeed, all the adults around the young lovers are perpetually dissatisfied, their every choice seemingly a poor one. The tragedy that anchors the film's second act should be devastating, but instead it simply plays like the latest and worst example of how living in this place kicks the living crap out of everyone. When Glenn drifts into a last-call shuffle with his local bar's other lost souls, you can almost hear the subliminal chant: "One of us, one of us."
Because Green's characters are so compelling, and his cinematic storytelling so vital, Snow Angels almost always proves engaging. He does a fine, subtle job of making his setting a place out of time, a present where the kids still use turntables and old-school cameras. Such touches, of course, only compound the subtext in the tale being told by those bookend sequences of blowing snow and filled-up gas tanks. What goes around in Snow Angels, it tells us, is bound to come around again in a place where no one moves far from the place where their own parents still live. We shouldn't get too attached to the playful interactions of Arthur and Lila, since they're just going to turn into the recrimination-laced tirades between Glenn and Annie if only we give 'em a decade. Green sure knows how to make a lovely film—and he sure knows how to punish you for caring about the people in it.
SNOW ANGELS



Sam Rockwell, Kate Beckinsale, Michael Angarano
Rated R