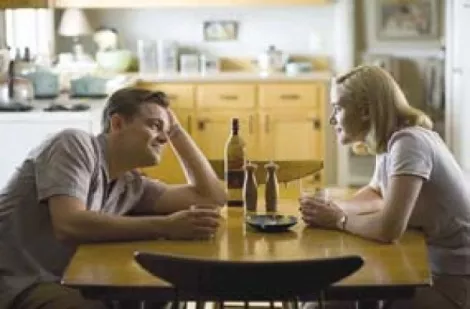 Richard Yates' novel
Revolutionary Road
was one of the most staggering literary experiences I've had in years; I just didn't see it coming. Sure, I picked it up—as I do most of my fiction reading—because I knew a movie version was on the way, and I had a vague awareness that it was about suburban disaffection. But I was several chapters into its jagged, stomach-punch evisceration of a mid-1950s marriage before I thumbed to the copyright page and noted that it was written in 1961. This wasn't someone writing from a comfortable distance about the post-war era. Two generations before the likes of
Mad Men
, here was a writer who saw something crumbling behind the shiny, shallow surfaces and three-martini lunches of American prosperity. n
I'm not sure what audiences—already trained to react to the late '50s and early '60s with a faintly superior sense of irony—will make of this pitch-perfect adaptation by director Sam Mendes (American Beauty) and screenwriter Justin Haythe. Perhaps it will seem familiar in its bleak perspective, except that bleakness isn't really what Revolutionary Road is about. Like Yates' novel, it captures the soul-crushing impact of compromise—not in the sense of collaboration, but in the sense of surrendering to something you think you're supposed to want.
n
In 1955 Connecticut, Frank (Leonardo DiCaprio) and April Wheeler (Kate Winslet) are living the American dream. He commutes to the city to work for the same "business machines" company where his own father was a salesman; she takes care of their suburban home and their two children. And both of them openly scorn the intellectual emptiness of the other suburban lives surrounding them. But there's an underlying tension, and their marriage seems on the verge of tearing apart until April suggests a bold plan: Frank will quit his job, they'll sell the house, and they'll move the whole family to Paris, where Frank can spend time finding the greatness within him. Their friends and neighbors can't quite grasp their "unrealistic" decision, but the Wheelers believe they finally can forge a meaningful life—until Frank suddenly finds himself in line for a promotion and raise, or something else unexpected rears its head.
n
Plenty of attention—understandably—has been focused on the reunion of Titanic co-stars DiCaprio and Winslet after more than 10 years. And it's not just a case of stunt casting; both actors are just right for the parts. Winslet's brittle ferocity energizes April's desperate need for something more than the role into which she has settled, while DiCaprio's conveys both Frank's intelligence and the eagerness to please—which is his undoing. Both of them attack the broken heart of the Wheelers' marriage: a failure by both of them to understand that while April truly wants to escape from the norm, Frank—despite his bohemian pretensions—only wants an excuse for settling into a comfortable life.
n
Despite the ready-made entry point of Revolutionary Road's two stars, another performance has been garnering plenty of attention. And for good reason: Michael Shannon is simply jaw-dropping. As John Givings—a former mathematician who spends his weekend passes from the state mental institution visiting with his mother, the Wheeler's real estate agent (Kathy Bates, also of Titanic pedigree)—Shannon plays the classical role of the truth-telling fool, digging into the cracks in the Wheelers' foundation. And he's extraordinary, unleashing his fury in acidic bursts. It's indicative of how scary-good Shannon is in the part that some of his most stinging lines of dialogue still felt like a slap in the face, despite the fact that they were often taken word-for-word from the novel I'd already read.
n
Mendes reaches his highest point of domestic melancholy during a pivotal late scene in which April takes a drastic step to change her life. And it is melancholy—the personal tragedy of despair written in a minor key. Where Yates sometimes seemed only contemptuous of his characters' hypocrisies and self-absorption, this film version feels somewhat more compassionate, yet it loses none of the story's edge in the process. Revolutionary Road peers around the corners of a time when the American dream could be both a security blanket and a crutch—and one writer saw it decades ahead of his time.
n
Revolutionary Road
n
nLeonardo DiCaprio, Kate Winslet, Kathy Bates
nDirected by Sam Mendes
nRated R
n
Revolutionary Road trailer:
n