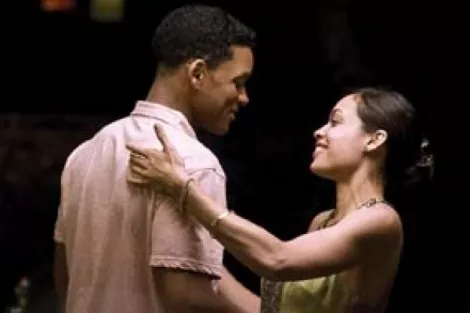 Posters and other advertisements for
Seven Pounds
promise … well, not all that much, actually. In a film marketing universe where the general object of a trailer or commercial is to give away pretty much the entire plot, Sony Pictures has been downright elusive about what the hell this thing is even about. Maybe we can determine that it's a drama, and that there are tragic elements—but we can be sure that Will Smith is the hero. This is how you know you're dealing with the biggest movie star on the planet: When you can plant his face in the middle of a poster and basically say to the movie-going public, "Go see this movie, even if you know nothing about the story, because this guy is in it." n
Screenwriter Grant Nieporte continues the feint-and-dodge tactics even as the film itself unfolds. The opening scene finds Smith on the phone with a 911 operator, notifying her that he is about to commit suicide. We then flash backward—or maybe it's forward?—to Smith swimming in the ocean right up to the porch of a massive home. We see him verbally assaulting a blind telemarketer (Woody Harrelson), and finally learn that his name is Ben Thomas. We see him reciting seven names in a kind of anguished litany. And we see him collecting information from tax files for a job as an IRS auditor, eventually seeking out a couple of financially-strapped individuals. All very enigmatic. All very unconventional in its looping chronology, and its demand that a viewer pay attention to figure out what's going on.
n
But it's also another challenge for someone who wants to write about the movie—and why it doesn't work—without climbing Mount Spoiler. Director Gabriele Muccino, who worked with Smith on last year's The Pursuit of Happyness, crafts the kind of movie that seems risky and daring until you take a really hard look at what it's trying to say.
n
There is, for a while, at least an intriguing romantic angle to hold our interest. One of the people Ben is "auditing" turns out to be Emily Posa (Rosario Dawson), a young woman suffering from congenital heart disease. She's way behind in her taxes, but it's clear fairly quickly that Ben isn't really concerned about her financial situation. Something else is bubbling up from beneath his interest, something that a frightened and lonely Emily latches on to. Dawson plays these scenes perfectly, capturing the anxious yet bold steps of a woman who figures she's got nothing to lose. Make this movie about her, and you might really have had something.
n
But no, it's about Ben, who's mysterious plotting and planning brings him also into the lives of a single mother (Elpidia Carrillo) with an abusive boyfriend, an ailing hockey coach (Bill Smitrovich) and that aforementioned blind telemarketer. At some point, both Ben's grand plan and the circumstances that led him to it become clear, at which point it seems we're expected simply to accept the validity of his quest.
n
At its core, though, Seven Pounds ultimately isn't nearly as risky and daring as it first appears. Instead, it proves to be fairly simple-minded and gutless, a development that the structure hides for a while because Nieporte conceals a pivotal choice that Ben will have to make. It's almost beside the point that the possible-suicide to which Ben refers in that opening phone call may involve an unintentionally hilarious methodology. The film offers as self-evident that one course of action is brave, while another is selfish—and it never once seriously requires Ben to question whether or not the exact opposite may actually be true.
n
But the biggest movie star on the planet can get this kind of movie made, and hire a director whose style gives an added gravitas to the plot's evasive maneuvers. Smith is so personally likeable that we sort of assume that the things his character will do are the things that a character must do; moral ambiguity isn't programmed into how we respond to him, the way it might be with a Russell Crowe. That's the price you pay for having the face that can sell a completely unknown story. And when you're that guy, maybe no one has the guts to tell you that the story you're pitching isn't quite as uplifting as you think it is.
n
SEVEN POUNDS
n
nWill Smith, Rosario Dawson, Barry Pepper
nRated PG-13
n