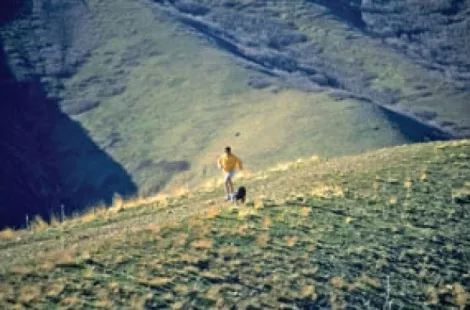 Want a short list on where to hike, bike and ski? Where to take the kids for an outing? We asked "old-timer" and former Salt Lake City mayor Ted Wilson. He and his wife,
City Weekly
editor Holly Mullen, are known for their outdoor enthusiam and derring-do. Here is Wilson's guide to his "private stock":
Backcountry skiers, boarders
Climb Grizzly Gulch east of Alta to a logical traverse, beyond the cliff bands, to your left (north) and gain the ridge separating the gulch from Silver Fork. Drop down, cautious of slides, and ski the east bowl of Silver Fork just to the west of you. Notice the airy divide as you cross and then exult on the perfect drop of the bowl. Pick a cold day because the return to Alta is a thrilling steep pitch down south-facing slopes—a divine day! Google "Utah Avalanche Center" before going.
Family walkers
Grab the kids and a couple of sandwiches, and amble from the car at Silver Lake at Brighton circuiting the boardwalk. Take a rod and thrill the young ones by using smelly cheese or worms to tempt the amply stocked Rainbow trout off the fishing pier. Take some time around the wetlands looking for frogs and little creatures. Point out how the area is surrounded by quartz monzonite (granite.) The kids will sleep in the car on the way home. You'll feel like a good parent.
Backcountry ski-tourers
Get in your best shape. On a fine spring day, venture the "Super Tour." Park at the White Pine trailhead in Little Cottonwood Canyon. Head up and traverse on the trail to Red Pine. Then cross to Maybird Gulch at a notch below the Pfifferhorn. Traverse upper Maybird and ascend to the Thunder Peak notch. Below you is over 6,000 vertical feet of amazing skiing in Thunder Bowl and Bell's Canyon. As the trail in Bell's narrows, it can be tricky, but who cares at this point? Exit on Wasatch Drive Bell's Canyon trailhead where you left a car. Note the numb drivers commuting home from work with no idea what a hero you are.
Dabble fishers
Pick a nice spring or fall day. Get a tiny Adams fly—No. 18 or 20—and head to the meanders of Big Cottonwood Creek at the base of Cardiff Canyon (west of the Spruces). Take a short rod or even a stick and crawl like a snake through the brush. Dabble that fly easily on the surface near the banks and bag a wily Trout or two. The game's over if they see you so lie low as if machine gun bullets were a foot above. Dabble crawling also available in most of the other streams feeding Salt Lake Valley.
Bike riders
The Jordan River Parkway is wonderful most times of the year. Though there are a few rough sections, most pedaling is good all the way from Bluffdale into Salt Lake City. Watch out for the goat-head punctures in the fall. For a bigger workout, climb Emigration Canyon, head down to Little Dell Reservoir and then climb to Big Mountain. If you're on your mountain bike, drop down the Mormon Trail to Mormon Flats. Have your loving spouse or partner pick you up, drive to Morgan and eat dinner at the Spring Chicken Inn.
Big mountain-bike adventure
Bike the Pony Express Trail from an exit on Highway 93 south of Wendover leading to Gold Hill and Callao. As you drop from Gold Hill pass to Callao, notice the 12,000 foot-plus Deep Creek Range to your right. Say hello to Cecil Garland in Callao; he's one of Utah's most interesting characters. Then cruise the trail past ruins of Pony Express stations and an unbelievable place in the desert, the wetlands of Fish Springs. Then on to Simpson Springs, Lookout Pass and finish up in Vernon on Highway 36. It's easy biking but you are self-contained dragging a Bob trailer or saddle bags. Go west to east and avoid headwinds. The trip on dirt is also good for the family sedan, so bring the spouse/partner and take turns on the bike.
Moderate canyoneers
From the Angels Landing trail in Zion National Park, continue on past Angels Landing (nice side hike to summit—spectacular) and continue on the West Rim Trail to the Behunin Notch (6 kilometers total). Behunin Canyon drops back to Zion Canyon via several rappels, a short swim and an overhanging rappel near the Emerald Pools. Take two 50-meter ropes and complete canyoneering gear. See Michael R. Kelsey, Technical Slot Canyon Guide to the Colorado Plateau.
The Bonneville Shoreline Trail
This magnificent addition to our valley is intended to someday link the entire Wasatch Front. It focuses on the urban-mountain interface. To your east, is the stunning Wasatch Range. To your west, our chunk of civilization—gorgeous at night. Ride a mountain bike. Hike. Walk. Bird watch. Take the family and enjoy! My favorite bits: Dry Gulch then west to Avenues Twin Peaks—the summit is a personal meditation where hawks soar. Or the steep climb west out of City Creek Canyon past the transmission towers and then down to North Salt Lake on a bicycle. Who would know a magnificent vale is above a gravel pit!
OUTSIDE UTAH
Climbers
Don't miss the classic rock climb of Western America. The Exum Ridge of the Grand Teton is an amazing journey of solid rock, an incredible airy location, and a classic summit on what is everyone's definition of what a mountain is. The normal route is not difficult for accomplished mountaineers so if you want some more zest do the Lower Exum Ridge too. See Leigh Ortenburger and Reynold Jackson, A Climber's Guide to the Teton Range.
Get humble
Hike anywhere in Yellowstone known for grizzly bears. Here, you're not the top of the food chain for once, so feel the "Yellowstone buzz" as you clutch your bear pepper sprayer while hooting and hollering as you pass rises on the trail and through the brush. Old Ephraim may be waiting to make you an hors d'oeuvre. Chances he will: very small. Chances you will feel the "buzz" and enjoy a big kick: 100 percent! (Google "Grizzly safety" before going and buy a pepper spray—safety is not 100 percent.)
You are welcome to my 10 secret outdoor gems. They are really not so private. But, better yet, make up your own!