To be or not to be—that is the question. Yet there can be no question about whether to attend a local theatrical production, because the answer is obvious: Yes. You should. Not only are there numerous quality performances to choose from but there are added benefits: You'll be moved and, if you're so inclined, you'll be enlighted. And that's how to be entertained, no question. Here's what's coming up in spring 2009:
Babcock Theatre
Head downstairs from Pioneer Memorial Theatre to one of the University of Utah Theatre Department's performance spaces. Catch some of Salt Lake's up-and-coming young actors put the "edge" in educational. The Seagull (Feb. 18-22 and Feb. 26-March 1), Ring Around the Moon (Apr 1-5 and 9-12). 300 South 1400 East, 581-7100, Theatre.Utah.edu
Broadway in Utah
Want to see Broadway-quality musicals minus the airport drudgery and high cost of travel to New York City or London? Look no farther than Kingsbury Hall or Capital Theatre where Broadway Across America brings touring shows to Salt Lake City. These are the large-scale, over-the-top shows that inspire small (and medium-size) children to say to their parents, "I wanna do that when I grow up!"—so be forewarned. Ain't Misbehavin'. (Feb. 17-22, Kingsbury Hall), Wicked (April 8- May 3, Capitol Theatre), Chitty Chitty Bang Bang (June 9-14, Capitol Theatre) Kingsbury Hall, 1395 E. President's Circle, University of Utah; Capitol Theatre, 50 W. 200 South; 355-2787, BroadwayAcrossAmerica.com
Desert Star Playhouse
Fun, fluffy, spoof-y musical comedies and revues accompanied by a delicious dinner. How's that for a bellyful of laughs … and grub? This season offers Home School Musical (Jan. 8-March 12), American Fork Idol (March 26-June 6), James Blonde: Agent 7-11 In Casino Real (June 11-Aug. 22), Snooty and the Beast (Aug. 27-Nov. 7), and Nutcracker: Men in Tights4861 S. State, Murray, 266-2600, DesertStar.biz (Nov. 12-Jan. 1)
Egyptian Theatre Company
You lads always complain you can't figure out what we women want. Here, merry gents, is the answer: We want The Perfect Park City Date. This would entail a snow-filled afternoon on the slopes, a tasty repast at a Main Street restaurant and a window-shopping stroll up to the historic Egyptian Theatre to catch one of Sondheim's greatest: A Funny Thing Happened on the Way to the Forum (Feb. 13-March 21), Defending the Caveman (April 2-4). I'll even be your guinea pig if you need a trial run. 328 Main, Park City, 888-243-5779, EgyptianTheatreCompany.org
Grand Theatre
Fantastic local talent. Affordable tickets. Salt Lake Community College's Grand Theatre combines these two elements to create an über-grand time, presenting a diverse range of pieces, from a side-splitting musical to an obscure gem by a Pulitzer-prize winning author. A Trip to Bountiful (Jan. 28- Feb. 7), The Musical of Musicals, The Musical! (March 4-14), Four Guys Named Jose and a Una Mujer Named Maria (May 6-16). 1575 S. State, 957-3322, The-Grand.org
Hale Centre Theatre
These family-friendly shows are so clean, you could eat off them. But what they lack in grit and grime, they make up for in unbeatable talent, awesome stage technology and the innate ability to make you—well, really, really happy. Cash on Delivery (Dec. 31, 2008-Feb. 14, 2009), Phantom (Feb. 24-April 18), Treasure Island (April 27-June 6), Hello Dolly! (June 13-Aug. 1), The Scarlet Pimpernel (Aug. 11-Sept. 26), Curtains (Oct. 5-Nov. 21), A Christmas Carol (Nov. 28-Dec. 23). 3333 Decker Lake Dr., West Valley City, 984-9000, HaleCentreTheatre.org
The Off Broadway Theatre
As home to Utah's longest-running and most popular improv comedy show, Laughing Stock, there's no doubt that the Off Broadway Theatre's other shows are more than just a little influenced by their funny roommate. Primarily offering parodies, you'll also see a traditional comedy like The Pirates of Penzance pop up on occasion. Whatever show you're in the mood for, prepare to have sore abs and cheek muscles the next day from uncontrollable laughter. My School Musical (Feb. 6-March 14), Transmorfers (April 24-May 30), Utahoma!Gilbert & Sullivan's The Pirates of Penzance (July 31-Aug. 29), Forever Dead (Sept. 25-Oct. 31), The X-Mas Men (Nov. 27-Jan. 2, 2010). 272 S. Main, 355-4628, TheOBT.com (June 12-July 11),
Plan-B Theatre Company
This is what I was referring to when I said "enlightened." With an emphasis on locally written plays concerning political and social issues, this company of pros bring raw, honest life to the stage, all while making you question your traditional views of theater, religion, society … you get the gist. I love coming out of a show thinking I've been entertained for the past two hours and then realizing, "Damn! I've just been schooled!" Block 8 (Feb. 20-March 8), Di Esperienza (April 3-19), And the Banned Slammed On (May 30). Rose Wagner Center, 138 W. 300 South, 355-2787, PlanBTheatreCompany.org and ArtTix.org.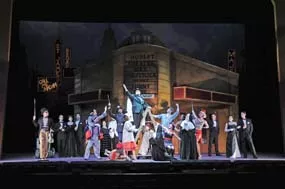 Pioneer Theatre Company
So, you've got a hankering for a professional-grade theater production? The recipe is quite simple: Take a variety of choice pieces including zesty musicals, succulent straight plays (maybe even a locally grown one) and some savory Shakespeare. Roll them out in awe-inspiring sets. Toss in a handful of actors shipped specially from New York City (combine thoroughly with some local flavor), and coat them in exquisite costumes. Mix thoroughly, serve in a gorgeous 900-seat facility, and you're in for a mighty delicious treat. The Yellow LeafRomeo and Juliet (Feb. 13-28), Dial M for Murder (March 20-April 4), Miss Saigon (May 1-16). 300 S. 1400 East, 581-6961, PioneerTheatre.org (Jan. 9-24),

Pinnacle Acting Company
This company encourages actors to evolve and grow through training and workshops as the season progress. When the point of a creative endeavor isn't on the product but the process, it tends to produce the ironic effect of a pleasing production. Rabbit Hole (Jan. 8-10, 15-17, 22-24), Charley's Aunt (June 11-13, 18-20, 25-27), Three Days of Rain (Aug. 20-22, 27-29 & Sept. 3-5, 2009), Ah, Wilderness! (Nov. 5-7, 12-14, 19-21). Various venues, 674-7956, PinnacleActingCompany.com

Pygmalion Productions


Other companies do their part producing musicals, parodies, the classics, political drama. But what about sex? you ask. Now, I'm not talking about Las Vegas showgirl-style performances (I suspect you don't need help being directed to those types of venues). I'm talking about serious, provocative explorations of sexual politics in society, religion and individual relationships. Pygmalion Productions offers this type of fare, because God knows, we need it.

Stop Kiss

(Feb. 13- 28),

The Passion of Sister Dottie S. Dixon

(May 1-16). Rose Wagner Center, 138 W. 300 South, 355-2787,

PygmalionProductions.org

and

ArtTix.org

.

Salt Lake Acting Company
One alternative company to rule them all. As one of the first to branch out from Salt Lake City's Joseph Plus Dreamcoat theatrical norm, SLAC now stands in league with other local professional companies like Pioneer and even Broadway Across America. SLAC provides a healthy blend of locally and non-locally scribed contemporary gems that consistently challenge society's closely held ideals and beliefs. In short, they have the gall to make us think for ourselves. However, if thinking's not your cup of tea, I still recommend showing up for the summer's riotous Saturday's Voyeur, if for no other reason than to drink wine and hear actors sing funny songs about Utah's quirkiness. Dark Play or Stories for Boys (Jan. 28-Feb. 22), End Days (April 1-26), Saturday's Voyeur 2009 (June 3-Aug. 16). 168 W. 500 North, 363-7552, SaltLakeActingCompany.org

Studio Theatre 115
So, you got a healthy dose of edginess in the U's Babcock Theatre, now let the U's Studio 115 make that edge razor sharp. In spring semester, student productions range from the cantankerous playwriting of Neil LaBute (a BYU boy, BTW) to the mysterious Japanese dance form known as Butoh. These must-see pieces round out your edge-ucation: Death and the Maiden in rep with The Mercy Seat (Feb. 26-March 1 and March 5-8), All in the Timing (March 26-29), Une Saison en Enfer (April 16-19). 240 S. 1500 East, 581-7100, Theatre.Utah.edu

Tuacahn
Broadway musicals meet Edward Abbey. In a desert amphitheater, my two greatest loves combine. Annie (June 8-Oct. 16), Footloose (June 9-Oct.14), Elton John and Tim Rice's AIDASmokey Joe's Café (July 8-Aug. 1). 1100 Tuacahn Drive, Ivins, 800-746-9882, Tuacahn.org (Aug. 25-Oct. 17),

Utah Shakespearean Festival
Reasons to attend this Cedar City festival: 1. Its age (45 years) and size (big) make this festival unique to North America. 2. Bragging rights: Tony Award winner in 2000 for Outstanding Regional Theater. 3. Professional actors (who actually understand the Bard). This may, in fact, help you understand the Bard. And if not, nifty post-show discussions can further clarify. 4. It's not all Shakespeare, either: There are contemporary shows as well. 5. If none of these reasons convince you, then consider my final two words and be swayed: road trip. Comedy of Errors, Henry V, As You Like It, Foxfire, Private Lives, The Secret Garden (June 29-Sept. 5). The Adventures of Pericles, Pump Boys and Dinettes, The Woman in Black (Sept. 25-Oct. 24). 351 W. Center St., Cedar City, 800-PLAYTIX, Bard.org

Wasatch Theatre Company
This bare-bones theater company achieves maximum impact with minimal sets to get to the meat of the matter, selecting shows that intrigue, tantalize and entertain. Formerly, this nomad troupe set up shop in various spaces, but they've made a comfortable home at the Rose, where they showcase new works by local playwrights in conjunction with well-known shows of the musical and straight variety. Boys in the Band (Jan. 15-Feb. 1), Sugar Bean Sisters (April 30-May 17). Rose Wagner Center, 138 W. 300 South, 355-2787, WasatchTheatre.com and ArtTix.org.

For More
For upcoming plays for Utah Contemporary Theatre, visit UtahContemporaryTheatre.org or phone 674-2312. Visit SLCStage.com or PlayersAnonymous.org or ArtTix.org.

Now you have the resources. Go forth and make active art a part of your life today—or rather, tonight. Unless, of course, there's a matinee.

Katherine Wroble is a senior in the U of U's Actor Training Program. City Weekly managing editor Jerre Wroble is her stage mom.