As witnessed by the ebullient advent of tank-top weather (aka anything above 40 degrees), the amount of lingering post-Legislative session head-scratching and the arrival of this publication, spring has sprung in Salt Lake City.
City Weekly's City Guide, our annual compendium of all things cool in the Beehive, first made its splash in 2002 as interest around the ins and outs of SLC was fervent due to the Winter Games. Sixteen years later, and with buzz again fluttering around the possibility of an Olympic redux in 2030, this guide remains the go-to handbook for fresh arrivals and those who are lucky enough to have been bred and reared along the Wasatch Front.
I remember a moment of musing a few years back after a weekend trip to SLC. "There's something brewing; an underground that's palpable," I remember thinking as I awaited to board Trax to the airport. I left loaded with curious excitement and longing to come back for more. Little did I know that after a series of serendipitous twists and turns, I would soon be moving here.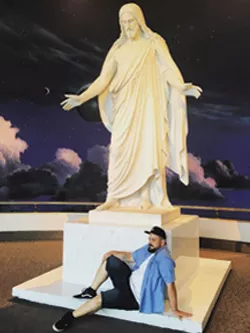 Being one of the city's cultural gatekeepers is not a role I take lightly. As such, planning for this publication—our biggest yet at 148 pages—began last fall. In its pages, you'll find something for everyone; from a primer on must-do outdoor activities to a showcase of local arts and music power players, an ode to our defiant drinks and nightlife scenes and a tasty trek through our diverse and ever-energetic gastronomic landscape.
If you're a local, I hope you think our team of misfits has done your megalopolis proud. If you're visiting, beware. You might fall in love with our sui generis city and, like myself, end up fortunate enough to call it home.
—Enrique Limón,
editor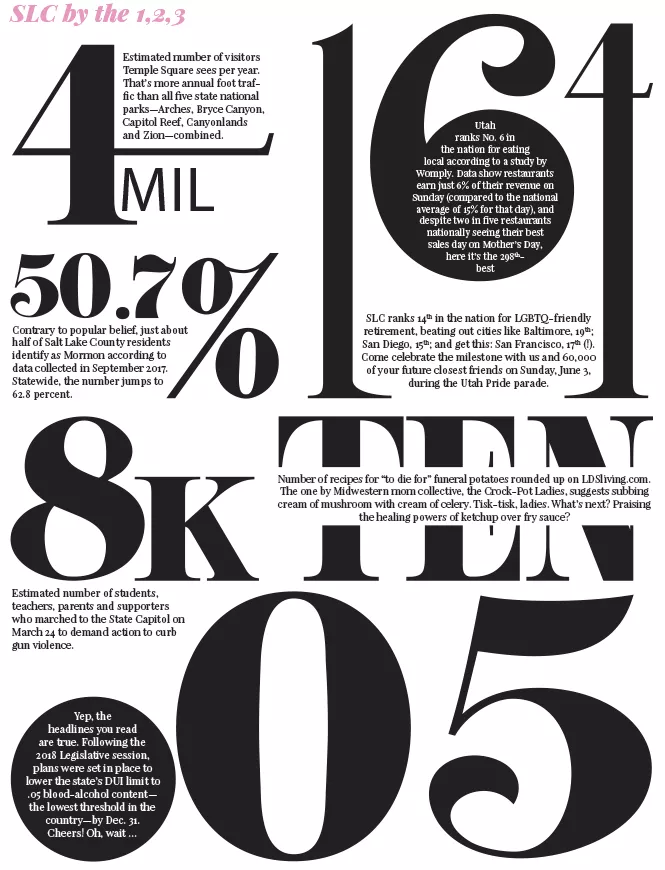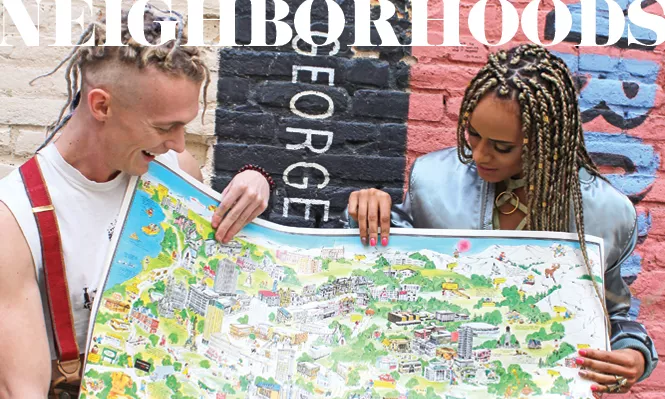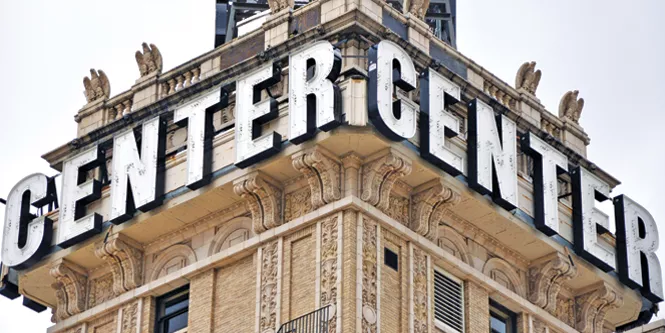 By Dylan Woolf Harris
If you're hanging onto the notion that Utah is stuffy or homogenous or oppressed, let the capital city's downtown neighborhood disabuse you of it. This town's most vibrant area is sleek and urbane, raw and alive—a hub for art, music, food, shopping and festivals. It's where commuters want to work and weekenders come to play.

With so many options, it's almost unfair to single out one downtown restaurant. For lunch, though, it's hard to go wrong at The Robin's Nest (311 S. Main, 801-466-6378, robinsnestslc.com). The over-the-counter shop specializes in sandwiches with more than 25 options in half or whole sizes. Each comes with fresh orzo pasta or chips (I highly recommend the pasta.)

For the photosynthesis-appreciating, green-thumbed, oxygen-obsessed, house plant-lover, browse Paradise Palm (307 E. 300 South, 801-582-3212, paradisepalm.com) and you might not be able to resist picking up one more bonsai tree or succulent. This plant shop has an unrivaled selection, that to even walk among makes you feel like you're connecting with Mother Earth.

The downtown bar scene spans a spectrum from divey watering hole to swanky cocktail lounge. When you're hopping between them on a weekend or Thirsty Thursday, don't skip over Murphy's Bar & Grill (160 S. Main, 801-359-7271, murphysbarandgrillut.com). Even if Jameson or Guinness isn't your beverage, this Irish bar has something for everyone, including a welcoming staff and darts in the back.

Grab a matcha latte at Three Pines Coffee (165 S. Main, 805-395-8907, threepinescoffee.com) and cruise over to the Downtown Farmers Market (slcfarmersmarket.org). The traditional summer market takes place at Pioneer Park every Saturday June-October, where you can pick up fresh ingredients and unique crafts while you people-watch the morning away. You can also find a harvest market Tuesday evenings at Pioneer Park in the fall and a winter market at the Gateway's Rio Grande Depot.

Nestled in the northeastern reaches of the city, the Avenues neighborhood is known for its quaint homes, steep hills and friendly residents—a place that belies its most notorious one-time inhabitant, serial murderer Ted Bundy. This established and charming section of Salt Lake City is quiet despite its proximity to the bustle of downtown and the University of Utah.

If you trudge up the inclining streets in the Avenues, you're going to get thirsty. And if you're thirsty in the Avenues, you're going to want to quench your parched throat with a locally brewed beer. To that end, make sure your hike leads to Avenues Proper (376 Eighth Ave., 385-227-8628 avenuesproper.com), a brewpub with a delicious selection of beers and pub grub. The Hopspital is a must-try for IPA fans.

When Bistro on 3rd (564 E. Third Ave., 801- 831-5409) changed ownership last year, regulars might have felt a pang of trepidation that this chic eatery would lose its appeal. Not to worry: The ambiance has remained inviting and the menu mouthwatering with items like the trout almondine ($19) and the veal paillard ($19). If you dine on a warm day, ask for a table on the patio.

To appreciate the Avenues is to embrace the mountainside it's built on. So consider hiking the hillsides up to Twin Peaks, a 3.7-mile, up-and-down assent to a gorgeous lookout. To get to the marked trailhead, head north on I Street, take a right on 11th Avenue, then left on Terrace Hills Drive. Follow that road as it winds through a neighborhood until it dead ends. Sunset on the summit is exquisite. As you overlook the neighborhood, the city and the valley, you might find yourself thinking, "You know what? This really is the place."

The Avenues is home to an assortment of coffee shops, each with its own vibe. If you're serious about a fresh cup of joe, though, fill up your mug at Jack Mormon Coffee (82 E St., 801-359-2979, jackmormoncoffee.com). Each order is ground and brewed in front of you, and the selection is phenomenal. The shop's merchandise or bags of coffee beans make for great gifts. T-shirt emblazoned with their trademark "Celestial Bean"? Sold.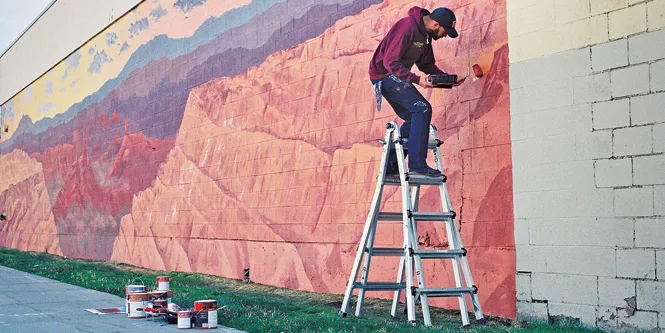 By Sarah Arnoff
A hodge-podge of rundown industrial buildings, hiply refurbished warehouses, sleek new mixed-use spaces and a surprising amount of street murals, Granary is on the verge of being one of Salt Lake's trendiest up-and-coming 'hoods. The place is only getting more stylish, as SLC is one of 11 cities that won $50,000 from the Partners in Preservation: Main Street grant campaign and is using the funds to refurbish the Utah Pickle Co. building into an event space, media studio and artist offices.

Sandwiched between antiques warehouse Euro Treasures and a casket company, sits the niche gem Land Cruiser Heritage Museum, which boasts the world's most diverse collection of Toyota Land Cruisers (470 W. 600 South, 801-7817-6017, landcruiserhm.com). Wander among their 62 prized vehicles (CruiserFest is Sept. 8, FYI), and if your car craving isn't satisfied, check out the Classic Cars International Museum (355 W. 700 South, 801-201-1683, classiccarsintl.net) a block away.

Kilby Court has long been an all-ages music scene staple, but Granary has grown to become a haven for other artists, nonprofits and small businesses. Eco-friendly ArtSpace Commons (824 S. 400 West, 801-310-9324, artspaceutah.org) is home to locals such as Bad Dog Arts, Wasatch Community Gardens, HEAL Utah, TreeUtah, Utah Chapter Sierra Club and many others.
Yogis can get their sweat on at Schole Yoga (824 S. 400 West, scholeyoga.com). Buddhists can meditate at the Urgyen Samten Ling Gonpa Tibetan Buddhist Temple (740 S. 300 West, 801-328-4629, urgyensamtenling.org) while the rest of us get schooled in the arts of Kung Fu, Qigong and Tai Chi downstairs at Red Lotus School of Movement (801-355-6375, redlotusschool.com).

By Enrique Limón
Does your idea of camping involve scrumptious cocktails, a lively patio and, most importantly, not entering the wilderness at all? Then Campfire Lounge (837 E. 2100 South, 801-467-3325, campfirelounge.com) is just for you. Sit back and relax, S'mores-tini in hand, munch on any of the house "hobo dinners"—hearty meals like chopped sirloin and veggies wrapped in foil and cooked over a campfire—and redefine roughing it. Having a fun time is guaranteed. Dousing yourself in OFF! spray is optional.

You'd be remiss not to take advantage of the great shopping. Sure, national chains abound but for something truly unique, checkout American Rust Co. (825 E. 2100 South, 385-415-2916, americanrustcompany.com), which specializes in "mantiques"—think rusted motorcycle parts, oil cans and vintage signage—All About Coins (1123 E. 2100 South, 801 467-8636, allaboutcoins.com) for all your collectible currency needs, Raunch Records (1119 E. 2100 South, 801-467-6077, raunch.storenvy.com) to live out your SLC Punk! fantasies and the local branch of the DI (2140 S. 800 East, 801-486-3474, deseretindustries.org) for everything else.

It's no surprise this magazine's neighborhoods section is laden with a few coffee shop options. After all, what's a better place to get the locals-only treatment while simultaneously taking a community's pulse? Sugar House Coffee (2011 S. 1100 East, 801-883-8867, sugarhousecoffee.com), established the same year as this magazine, has all that in spades. Check out their legendary Jazz Jam on Thursdays, mingle with the cool kids, sip on a Golden Graham latte (my personal fave) and see your worries disappear.

Sugar House Park (sugarhousepark.org) was made for lazy Sundays. Built on the site of the state's first prison, the only arresting thing here now are the sweeping vistas. Fancy a scenic jog? This is the place. You can also feed the ducks in the sprawling pond, play soccer or baseball in its regulation-size fields, go sledding during the winter months, and if never-ending breaded shrimp is what you're after, get your fix at the encroaching Sizzler. During the Fourth of July, the family focal point lights up with some of the most spectacular fireworks in all the valley.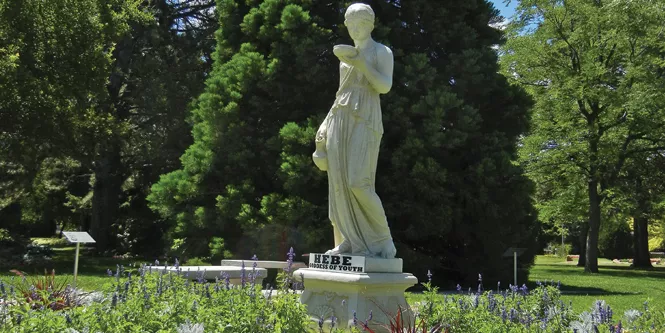 By Ray Howze
Salt Lake City's westside neighborhood is its most culturally diverse, teeming with eclectic food options and immigrant populations that include Latinos, Pacific Islanders, Africans, Asians and eastern Europeans. As a result, the area is home to a multicultural vibe with a unique flavor found nowhere else in Utah.

Experience a slice of each culture that has settled in the Salt Lake area with the variety of architecture, statues and sculptures at the International Peace Gardens (1000 S. 900 West) located at Jordan River Park. The park lies along the Jordan River and offers a lush green space away from the hustle and bustle of the city.

Take in the sights and sounds of Utah's pioneer history at the State Fairpark (155 N. 1000 West, utahstatefairpark.com). With a newly built arena, the 10,000-seat venue hosts the annual Days of '47 Rodeo, the state fair and, oh yeah, City Weekly's epic Utah Beer Fest. The sprawling event space is also the place to go for a fried snack and the occasional demolition derby.

Engage with community members and learn about events going on around the neighborhood at the Sorenson Multicultural and Unity Center (855 W. California Ave., 801-468-1300, slco.org/sorenson). Here, you can rent meeting space, work in the tech center or even get fit at the gym. Or, don your gardening gloves and get dirty in the center's Unity Gardens.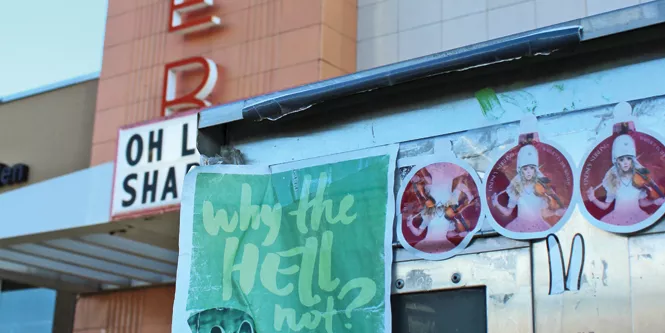 By Scott Renshaw
Old-school movie houses—you know, the kind with balconies—are few and far between anymore, so take advantage of a chance to catch new foreign, American independent and documentary films at the Tower Theatre (876 E. 900 South, 801-321-0310, saltlakefilmsociety.org). It's also a great spot for special movie events like weekend midnight horror flicks during October, plus Sundance Film Festival screenings in January. And when Netflix can't offer anything older than 1995, check out their huge rental library of classic DVDs.

Savor the flavor that can only come from food that didn't have to cross an ocean or the breadth of a continent to get to your plate at Pago (878 S. 900 East, 801-355-3425, pagoslc.com). "Farm-to-table" might have become a trendy appellation, but it's also a mission at this intimate eatery, where the menu changes seasonally to ensure that you're getting the finest locally sourced ingredients, supporting Utah producers like Amour Spreads, Parker Farms Produce, Sweet Valley Organics and more.

Browse through the kind of funky, eclectic merchandise that you can only find at a locally owned boutique like Hip & Humble (1043 E. 900 South, 801-467-3130, hipandhumble.com). For nearly 20 years, the store—and its sister location in Bountiful—have offered unique apparel, personal care and wellness items, journals and stationery, specialty kitchen gadgets and more. The bright colors and distinctive floor plan—watch your step up or down into the individual rooms—make it a place as fun to hang out in as it is to buy from.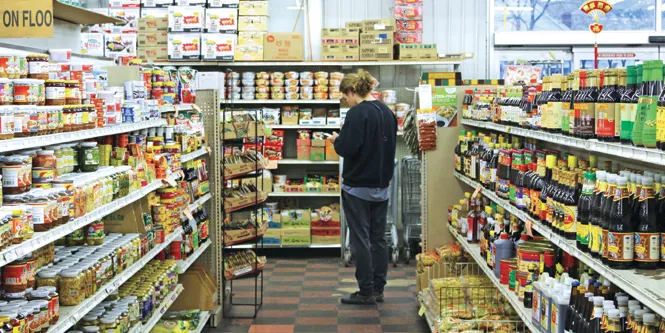 By Enrique Limón
A stone's throw away from Liberty Park, Southeast Market (422 E. 900 South, 801-363-5474, southeastmarket.com) is the ultimate bastion of adventurous cooking fare. Rows of fresh produce from near and far as well as aisles of exotic dried goods and candies can be found here. Not sure where to start? Staff here are friendly, and the blog section of their website offers foolproof recipes for everything from firecracker shrimp to Crock Pot pho, which can be made with ingredients found in the store.

The expression "party till your pants come off" has new meaning at Club Try-Angles (251 W. 900 South, 801-364-3203, clubtryangles.com). The LGBTQ haunt takes pride in being located along the recently minted Harvey Milk Boulevard and hosts theme nights—from bear night to drag queen charity bingo to, yes, underwear night—that keep the crowds packin'.

In the mood for some good and sustainable grub? Check out Vertical Diner (234 W. 900 South, 801-484-8378, verticaldiner.com). Leave your ho-hum expectations about vegan food at the door. Vertical has put its own spin on satisfying meat-free chicken-style wings and tenders, burgers and sandwiches like the TLBT (tempeh bacon, lettuce and tomato). Tap your faux leather shoes every Thursday here during their open mic night.

It's no secret that classic cocktail culture has exploded all over the country, and the Wasatch Front is no exception. If you don't know your sazeracs from your French 75s, and want to dip your toe in a welcoming environment, Water Witch (163 W. 900 South 801-462-0967, waterwitchbar.com) is sure to do the trick. Barware that walks the line between sleek and vintage (down to the exact mint-hued blender my grandmother owned ) call the place home, as well as a monumental reproduction of Alfred Lambourne "Cliffs of Promontory." Cheers to Central 9th!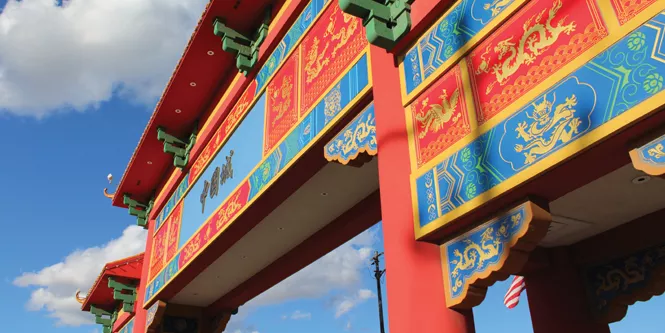 By Ray Howze
Drink at some of South Salt Lake's newest attractions. Thanks to some recently changed liquor laws, new breweries have popped up in the neighborhood such as Shades of Pale Brewery (154 W. Utopia Ave., 435-200-3009, shadesofpale.com). With SaltFire Brewing Co. (2199 S. West Temple, 801-661-1947, saltfirebrewing.com) expected to open this year and another brewery possible in 2019, the area might soon be a go-to locale for craft brews.

Bowling might not be as widely popular as it has been in decades past, but South Salt Lake is home to two alleys—Bonwood Bowl (2500 S. Main, 801-487-7758, bonwoodbowl.com) and Fat Cats (3739 S. 900 East, 801-262-9890, fatcatsfun.com/saltlakecity)—that still draw a crowd. The AMF Ritz Classic Lanes on State Street are no more, but the iconic sign was recently rebuilt and installed in the same location, offering a reminder of the classic space.

Taste a bit of the Far East at Salt Lake Chinatown (3370 S. State, saltlakechinatown.com). The area is home to the state's largest grocery store as well as some of the city's tastiest Chinese restaurants, such as CY Noodle and Chinese Restaurant and Ho Mei BBQ. You can shop, eat and drink in this Salt Lake development, so plan to spend some time here to take it all in.

Indulge in a quick bite as you rush to your next appointment at Fresh Donut & Deli (2699 S. State, 801-467-8322). The small, but simple shop offers your typical doughnut varieties as well as a scrumptious apple fritter. Grab a side of coffee for your caffeine jolt and be on your way!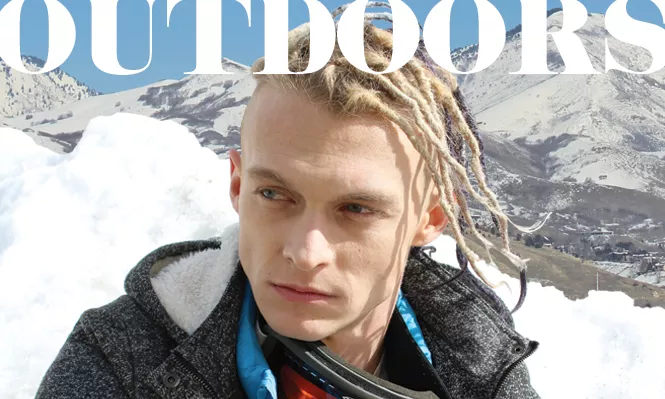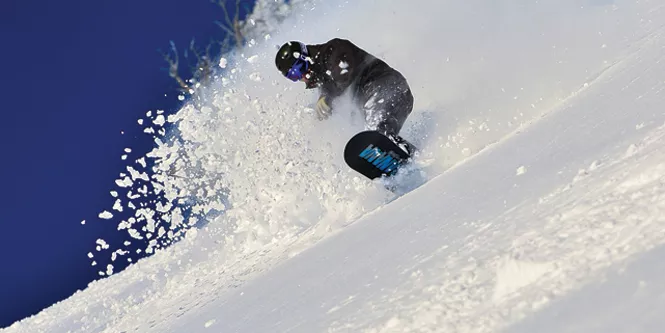 Ryan Pow shots
Snow Basin
Get Out!
From sweet hikes to slick slopes, adventure awaits in your own backyard.
By Dylan Woolf Harris
The diversity of Utah's landscapes can be spellbinding: Within its borders, the Beehive State boasts the towering Kings Peak in the mighty Uintas; red-rock sandstone in the south that has, in places, eroded away to form precarious arches and spires; remnants of a prehistoric lake have left other-worldly salt flats in the west desert and man-made Lake Powell is home to hidden coves along its ridges.

It's no secret that Utah is the premier spot to witness jaw-dropping landscapes.

These far-reaching destinations are worth exploring, and residents and visitors alike would be remiss to not set aside time to see Utah's renowned wonders. But that's the thing: Many of the state's unique places are hours-long drives away from its main urban center, and can't be appreciated in a single summer afternoon or even a quick overnighter.

Fortunately, the state's settlers built Salt Lake City against a remarkable backdrop. Beauty near to the Salt Lake Valley is arresting in itself, and offers access to unparalleled recreational opportunities, whether that's biking, hiking, camping, skiing and snowboarding, rock climbing, running or fishing. Here are some suggestions:
Skiing and Snowboarding
In more ways than one, the 2002 Winter Olympics made its mark on the region that continues to be felt 16 years later. That's certainly the case at Snowbasin where you can ski down slopes on which athletes competed. Race down the same tracks that Olympians in the men's and women's downhill, as well as slalom athletes, earned their medals.

What Powder Mountain lacks in lifts, it more than makes up for in Cat skiing—in which motorized snowcats take skiers to pristine locations, allowing them to ride the powder down.

For those looking to snowboard at a terrain park, Brighton has you covered. Since snowboards carve up the snow in a particular way, Alta and Deer Valley are for skiers only.

Park City Mountain/The Canyons is one of the largest terrains in the continental U.S. If you want to ski the entire mountain, you'll probably need to do it over the course of a few days.

Snowbird fosters a reputation for having some of the toughest slopes for hardcore skiers and snowboarders. And many call Solitude a favorite resort, where the terrain is able to absorb a lot of people.
Running
For good reason, you'll see runners in several Salt Lake City parks, most visibly Liberty Park and Sugar House Park. Loop around the large tracks with the other exercisers and you most likely won't be bothered by other park-goers. It's easy, breezy, pretty and nearby. If you want to get out of the city and into the hills, trail running is the way to go. You'll find abundant options that're a quick drive to the trailhead.

The Bonneville Shoreline Trail is easily accessible and contains several areas along its route where runners can begin their workout. The trail's branches link back to the main artery, so even if you're not familiar with the area, you should have no issue finding your way back. The Bonneville Shoreline is relatively flat and well kept, and beginners to intermediate runners will find it doable.

Access the Millcreek Pipeline Trail from one of the many trailheads found on the north side of Millcreek Canyon. Runners won't gain a lot of elevation on this trail, but it does have a few hills to keep your calves in check.

There are numerous marathons, half-marathons, 10ks and 5ks throughout the year. The Salt Lake City Marathon takes place in April, and has races for each of those distances.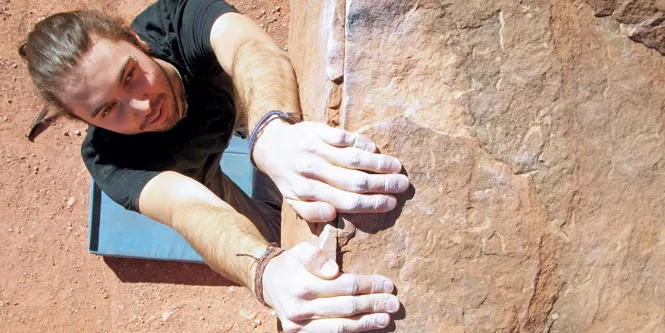 Rock Climbing and Bouldering
If top-rope climbing is your thing, check out Dogwood Crag in Big Cottonwood Canyon where climbs ranging from easy (5.5) to challenging (5.13). Park at the Dogwood picnic area about 1.2 miles up the canyon road; the crag is northeast of the lot.

The canyons also offer an array of bouldering options. Go to the park-and-ride lot in Little Cottonwood Canyon, and you'll find trails that lead to superb boulders within 100 yards. The difficulty ranges from beginner to expert.

A little further up Little Cottonwood on the north side, you'll find numerous bolted and traditional climbs—all grades of climbing. Some of the south-facing routes allow for climbing almost nine months out of the year, depending on the weather. One to consider for a longer, multi-pitch climb, is Pentapitch on the south side of the road. It's a classic. Go to the top of the canyon for bolted climbs at Hellgate.

And if you're really in a rush, there are a few world-class climbing gyms—Front Climbing Club and Momentum, for example—that have various artificial walls to keep anyone from beginner to expert in practice.
Fishing
Cutthroat trout is the official state fish, a speckled species named for the blotches of red coloring around its jawline. Cutthroat can be found in numerous ponds, lakes and rivers and are one of many popular catches.

North of the freeway next to the Murray Parkway Golf Course sits the Willow Park Pond. Anglers can cast for rainbow trout, largemouth bass, channel catfish and bluegill. Bring a picnic basket and fish from the shore.

If you're looking to go boat fishing, try Jordanelle State Park. Jordanelle, a large reservoir in neighboring Wasatch County, is stocked with trout, bass and perch. You can access Jordanelle through Parley's Canyon then south on Highway 189. Alternatively, if you're coming from the south, head up through Provo Canyon to access Highway 189 in Heber City.

For the fly fisher, head south to the Provo River where you can hook trout, carp, walleye and bass. Wade into either the lower section below the Deer Creek Reservoir, which extends all the way to Utah Lake, or the upper section that starts at Deer Creek and extends up toward Heber and the Jordanelle Dam.
Hiking
An experienced hiker will find the steep trail up the west ridge of Grandeur Peak to be a satisfying challenge with a scene at the top that makes for an unbelievable payoff, with views into Park City, Snowbasin and all across the Salt Lake Valley. Set aside at least four hours (two up and two down), as you gain approximately 3,400 feet in 1¾ miles. Access the trailhead from Wasatch Boulevard.

For a simple hike that small children will enjoy, seek out Donut Falls about 9 miles up Big Cottonwood Canyon. It's a popular hike, so you'll be sharing the trail. But it's easy to see why. The waterfall that spills through a hole the Mill D South Fork has cut through the rock is a natural beauty—and the flat trail makes for a quick jaunt, if time is a concern.

If you're looking for a longer, intermediate hike, consider the Pfeifferhorn in Little Cottonwood Canyon, accessible from the White Pine trailhead. The Alpine forest hike is a good, full-day excursion, so make sure you have steady footwear, a walking stick, a few quarts of water and keep your eyes out for rattlesnakes in the warmer months.
Biking
Corner Canyon in Draper has remained a mountain-biking haven. A network of trails makes it a can't-miss for mountain-biking enthusiasts, who will find a trail to their liking no matter their skill level. Locate Corner Canyon along Highland Drive past 1300 East. Trails are shared by hikers and horses, so remember that bikers are supposed to yield to both.

It would be reckless to talk about biking without giving a nod to Summit County. For a ride that has something for everyone, check out Round Valley, an open space north of Park City. There are four or five different trailheads, most of which are single track. A few of the flat rides are double, so you can peddle with a pal. The area caters to various skill sets, though, and some of the rides are challenging and technical. The sagebrush and aspen terrain occasionally is frequented by elk, rabbits and other critters—so be on the lookout.

If the road is calling, the Jordan River Parkway Trail provides a scenic road ride along which you won't have to worry about motorized traffic.
Camping
Take advantage of the unique Great Salt Lake and nab a camping spot on Antelope Island. Whether you're into hiking, mountain biking or you just want a family getaway to spot the bison that roam around the island like they own the place, Antelope Island is the place. You can trek up to the highest point and see the area in all its picturesque glory.

About 10 miles up Big Cottonwood Canyon, consider pitching your tent at Spruces Campground. Try to go mid-week if your schedule allows—avoid going on a holiday weekend if possible. When it's less crowded, you'd be hard-pressed to see signs that you're a half-hour outside a major, mid-sized American city.

Jordan Pines, about 9.3 miles up the canyon, offers popular group camping.

And in Big and Little Cottonwood canyons, as long as you're 200 feet from a trail and water source, you can backpack in and camp on any flat patch of land that you find (there are other rules about party size, pets, swimming, etc.) If you park at Brighton, there are a string of lakes that you can pack near that make for fun overnighters.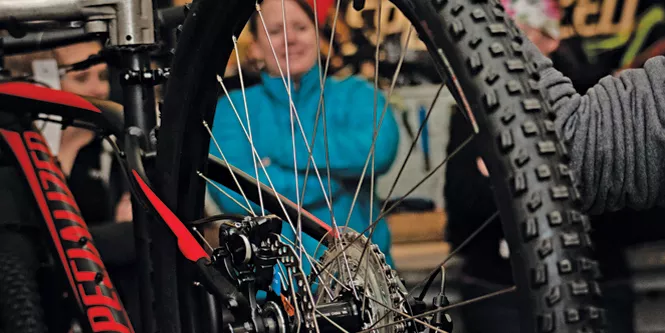 Viki Burton
Bingham Cyclery
Get Equipped
So you've planned your outdoor adventure, now it's time to pick up some gear.
By Dylan Woolf Harris

Let's go outside! The crags, trails, peaks and rivers are plentiful—and they're calling. It's no surprise then that an entire industry supporting recreational hobbies has taken root in this valley and the Wasatch region at large. Whether you're looking for gear or apparel, to rent or to buy, to learn or to share with friends, there are numerous shops to choose from. (Many of these businesses have multiple locations. Check their websites for more information). Here are a few to consider:
Ski and Snowboard
7even Skis started as a small garage-based, custom ski maker in 2009 and has since risen and established itself as a name in the marketplace. 25 W. Louise Ave., 801-856-0291, 7evenskis.com
If you're in need of a tune-up, Big Powder Ski Shop will come to your home, hotel or business so you can save more time for the slopes. 801-893-1199, bigpowderskishop.com
Bindings, boots, poles whatever you need before you hit the slopes, Christy Sports Ski & Snowboard boasts a dozen featured brands. 3939 S. Wasatch Blvd., Ste. 16, 801-272-5550, christysports.com
When you visit Salty Peaks Snowboard Shop, they guarantee you'll find an expert in-house who can help you pick out the board that's right for you. 3055 E. 3300 South, 801-467-8000, saltypeaks.com
You'll always be able to find a Ski 'N See to pick up or return rentals with 15 locations on both sides of the Wasatch Mountains. 102 W. 500 South, 801-333-7767, skinsee.com
Biking
Whether it's a bike for the trail, for road exercise, for the kids or for the commute, Bicycle Center has what you need.
2234 S. Highland Drive, 801-484-5275, bicyclecenter.com

Come ride with Bingham Cyclery, which offers regular free bike tech clinics. 336 W. 300 South, Ste. 103, 801-583-1940, binghamcyclery.com
Contender Bicycles bills itself as a collective of cyclists who are united around their love for bicycles and biking. 989 E. 900 South, 801-364-0344, contenderbicycles.com
When you're in a shop that's been pushing pedals since 1888, like Guthrie Bicycles has, you know you're in good hands. 803 E. 2100 South, 801-484-0404, guthriebike.com
Trek Bicycle, formerly Salt Lake City Bike Co., supports several charity rides throughout the year. 247 S. 500 East, 801-746-8366, trekbikes.com
Running
Suffice it to say, Dick's Sporting Goods—which has an array of sporting apparel and other goods—has running shoes in your style and size. 7170 S. 1000 East, 801-566-2920, dickssportinggoods.com

In Ogden, Peak Performance has a small but ambitious team that will help you find the right shoes for your run. 1895 S. Washington Blvd., Ogden, 801-475-0111, runpeakperformance.com
Salomon Store is an international apparel company with a store at City Creek mall. 51 S. Main, 801-521-2012, salomon.com
Salt Lake Running Co. utilizes biomechanical analysis to find the perfect shoe to reduce the chance of risk and increase the comfort. 2454 S. 700 East, 801-484-9144, saltlakerunning.com
Wasatch Running Center owner Glen Gerner developed a passion for running around the age of 10 when he and his father would jog around a nearby track. 8946 S. State, Sandy, 801-566-8786, wasatchrunningcenter.com
Hiking and Camping
Local start-up Cotopaxi offers custom packs and apparel that is guaranteed to last 61 years. 74 S. Main, 385-528-0855, cotopaxi.com
A surplus store since 1981, General Army Navy Outdoor's motto is "Get into the outdoors for less." 4974 S. Redwood Road, Taylorsville, 801-966-5556, generalarmynavy.com
For more than 60 years, Kirkham's Outdoor Products has been manufacturing gear, including durable canvas tents. 3125 S. State, 801-486-4161, kirkhams.com
Recreation Outlet has everything from sleeping bags, to hydro flasks, to knives, to hammocks and everything in between.
3160 S. State, 801-484-4800, recreationoutlet.com
You can join the REI co-op and get an annual dividend and other perks in this one-stop outdoor retail shop. 3285 E. 3300 South, 801-486-2100, rei.com
Fishing
Anglers Den aims to have the latest gear, and they're committed to finding what you need if they don't have it stocked on their shelves. 5348 S. 1900 West, Roy, 801-733-1166, anglersdenutah.com
Offering a systematic approach to fly fishing, Eddie Robinson's Fly Fishing offers classes in tying, casting and fishing on the river. 594 E. 800 South, Ste. B, Orem, 801-434-3166, eddierobinsons.com
In addition to Fishwest's store in the Salt Lake Valley, it has become a leader in online sales for fishing gear. 47 W. 10600 South, Sandy, 801-617-1225, fishwest.com
Park City's local fly shop, Trout Bum 2 Fly Shop offers tours but also fishing reports so you know where to cast. 4343 N. Highway 224, Ste. 101, Park City, 435-658-1166, troutbum2.com
Western Rivers Flyfisher knows that Utah offers unique fly-fishing experiences. They can hook you up with gear or a guided excursion. 1071 E. 900 South, 801-521-6424, westernriversflyfishing.com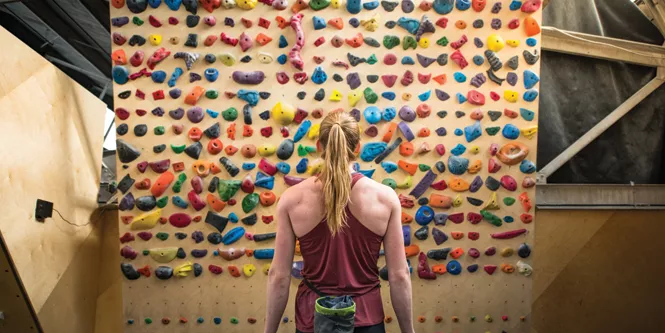 Andy Earl
Black Diamond
Rock Climbing
Established in 2010, family-run 7 Summit's Gear continues to speedily ship out gear that will get you on the rocks and boulders in no time. 516 W. 9460 South, Sandy, 801-523-3325, 7summitsgear.com
Black Diamond Equipment is headquartered in Salt Lake City but has expanded to three continents. 2092 E. 3900 South, Holladay, 1-800-775-5552, blackdiamondequipment.com
Whether you're ascending rock or ice, Gear Express has the equipment that will keep you safe. 2702 S. 3600 West, Ste. E, 801-968-7441, gearexpress.com
The Gear Room was founded by a pair of Arizona brothers who were drawn to the valley by the allure of the Wasatch Range. 2258 E. Fort Union Blvd., Ste. B6, Cottonwood Heights, 801-448-3037, thegearroomslc.com
Opening its doors in 1987, International Mountain Equipment bills itself as the state's most experienced climbing store.
3265 E. 3300 South, 801-484-8073, imedev.com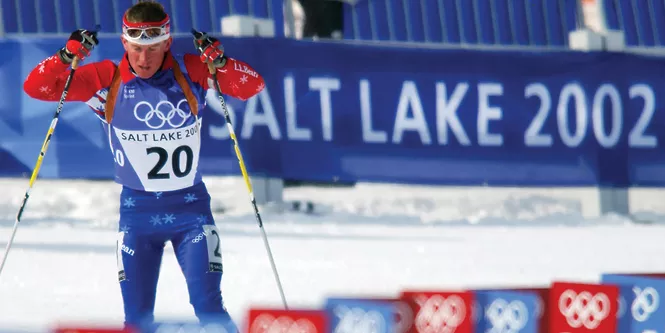 Preston Keres via wikimedia commons
Lawton Redman at the 2002 Winter Olympics
Olympic Sweet 16
Tracing this magazine's origins and keeping up with some of the 2002 Winter Games' superstars.
By Ray Howze
Still have some Olympic fever? Need to sound like an Olympic expert among your Utah friends and family? Well, with buzz picking up for a potential Salt Lake City bid for the 2030 Winter Olympics, we decided to take a look back at the games the city hosted 16 years ago and revisit the faces, icons and places you might still recognize today or might want to check out along the Wasatch Front.

Apolo Anton Ohno
While watching the 2018 Olympics, did you keep seeing a certain advertisement for a certain "gold" candy bar featuring a certain former Olympic athlete? That athlete, Apolo Anton Ohno, emerged on the global speed-skating scene back in 2002 at the Olympic Oval in Kearns. Ohno won the first of his two gold medals in Olympic competition in Salt Lake. He also won a silver medal in competition and the future U.S. Olympic star was born. Since his retirement from competitive speed skating, Ohno has stayed in the public eye through philanthropic and promotional pursuits.

The Hoberman Arch
This icon from the 2002 games isn't on display anymore. In fact, it's been collecting dust in a warehouse somewhere in the state since it was disassembled in 2014. But the Hoberman Arch was a staple of the games. Displayed at the downtown Awards Plaza during the games, the 31,000-pound aluminum structure was seen across the world as athletes posed in front of it with their medals. Following the games, it was moved to Rice-Eccles Stadium near the Olympic Cauldron until the University of Utah disassembled it in favor of stadium expansions. Not to worry, though, the arch might still make a comeback if city officials ever find a place for it.

Olympic Cauldron
Unlike the arch, the Olympic cauldron is still proudly displayed at Rice-Eccles Stadium. During the games, it was installed atop the south end-zone stands and could be seen from across the valley. The structure is 72 feet tall and when lit, the flame burns at 900 degrees Fahrenheit. Water would run down the sides of the cauldron to keep the glass from cracking or melting and give the appearance of melting ice. Following the 2002 games, it was moved to ground level in the south plaza of the stadium. It was lit again in 2006 for the Olympic games in Turin, Italy, and an attempt was made to light it in 2012 for the 10-year anniversary. However, because of old parts, the torch did not work properly and now stands on display outside the stadium.

Olympic Oval
The Olympic Oval in Kearns functioned as the site for speed skating events during the Salt Lake games. Built specifically for the Olympic Games, the oval is the highest in the world at 4,675 feet above sea level. As a result, a number of records have been set at the oval thanks to less air resistance and oxygen frozen in the ice, which makes it harder and faster, according to the Olympic Oval's website. The oval is still operational today and continually hosts national and world skating competitions as well as Olympic qualifying for U.S. speed skaters. The U.S. Olympic Speed Skating team is also headquartered here.

Olympic Park
Yes, Utah does not have an "Olympic legacy park" or museum, as one Salt Lake Tribune columnist lamented. But it does have an Olympic Park. Located in Park City, the site of 2002's ski jumping and sliding events is still functional today. In 2017, it hosted U.S. qualifying for Team USA's ski jumpers. Visitors can see the free 2002 Olympic Winter Games Museum or adventure outside to partake in the park's Adventure Course or Drop Tower. If you're wondering what happened to the memorabilia on display in what is now the box office at Rice-Eccles Stadium, those items were moved here in 2014.

Soldier Hollow
Along with the Olympic Oval and Olympic Park, Soldier Hollow—the site for cross-country skiing and biathlon events—was built specifically for the 2002 games and is still in use today. Since the games, it has been transformed into a cross-country skiing, tubing and snowshoeing resort. Located about 50 miles southeast of Salt Lake City, people can visit the resort today for cross-country lessons or partake in the biathlon themselves.

Sarah Hughes
Figure skater Sarah Hughes was another bright spot for U.S. Olympians in 2002. The New York native won gold in the singles competition at the Salt Lake games, beating out fellow U.S. rival Michelle Kwan, who placed third. Today, Hughes is a law student at the University of Pennsylvania. She hasn't shied away from the Olympics though. In February, she traveled to the Pyeongchang Winter Games as part of the U.S. presidential delegation.

Mitt Romney
It is pretty difficult to discuss Salt Lake's Olympic Games without mentioning Mitt Romney. The former presidential candidate, Massachusetts governor and current U.S. Senate candidate for Utah became CEO for the Salt Lake Olympic Committee in 1999. Romney took over following the bribery scandal that exposed widespread corruption among International Olympic Committee members. Romney oversaw a $1.3 billion operating budget and was able to bring in "tens of millions in profits" as well as set aside $40 million to fund and maintain Olympic facilities still used today, according to PolitiFact.

E-Center
Now known as the Maverik Center, the arena in West Valley City was home to the hockey events during the 2002 games. If you're hoping for any good karma in the building from the games, well, the U.S. teams were unable to win gold in 2002. The men's and women's teams lost to Canada in each gold-medal game. Today, it is home to the East Coast Hockey League's Utah Grizzlies as well as occasional minor league start-ups—most recently the Indoor Football League's Salt Lake Screaming Eagles.

Alcohol laws
Everyone knows Utah has strict liquor laws. Heck, starting in 2019, the state will have the lowest legal blood-alcohol driving limit in the country at .05. But it used to be worse. For example, to drink at a bar, customers had to buy "memberships"—kind of like a cover charge. In the years following the games, though, that started to change.

Membership fees were eliminated, beer licenses were expanded to let restaurants serve wine, too, and liquor sales in the state skyrocketed. The Olympics weren't a direct cause of that change, but they didn't hurt.

Ice Sheet at Ogden
The Ice Sheet, located on the campus of Weber State University, was not built specifically for the Olympics, but it did host the games' curling events. The facility hosted World Curling Federation-sanctioned events after the 2002 games. It also offers public skating, hockey, curling and figure-skating options as well as hosting the Ogden Mustangs, a junior ice hockey team.

U.S. Ski and Snowboard Association
In addition to Salt Lake serving as headquarters for the Olympic speed skating team, the U.S. Ski and Snowboard Association moved its headquarters to Park City following the 2002 games. The association is America's governing body for Olympic skiing and snowboarding. The HQ location is one reason many prominent athletes such as Ted Ligety live in Park City to train.

UTA Trax
Trax, the city's light rail system, now can take you to about any part of Salt Lake Valley. But it used to be much smaller. The light rail system—completed in 1999—was built in part with the Olympics in mind. The original length of the system reached Rice-Eccles Stadium—site of the opening and closing ceremonies—to Vivint Smart Home Arena and south to Sandy. Today, that system helps residents commute from one end of the city to the other.

Olympic Village
No, you can't still visit the Olympic Village, per se. But you can still see it. The housing was built for the games on the University of Utah campus next to Fort Douglas. After the Olympic athletes left the village, though, the U turned the buildings into student housing.

George W. Bush
The 2002 Winter Olympics took place just five month following the 9/11 terrorist attacks and amid heightened security and other threats. Bush, though, became the first sitting president to open the Olympic games on U.S. soil. During his speech, he strayed from the traditional, "I declare open the Games of Salt Lake City," to include, "On behalf of a proud, determined and grateful nation"—a move that drew some criticism from traditionalists. Bush also chose to open the games while standing with U.S. athletes instead of from a box above.

Countdown Clock
You can still see the Olympic Countdown clock in downtown Salt Lake. The clock, shaped like an arrowhead, is located at the Arena Trax station south of the Triad Center. It's not counting down the days until the Olympics anymore, but, who knows, one day it might do that again.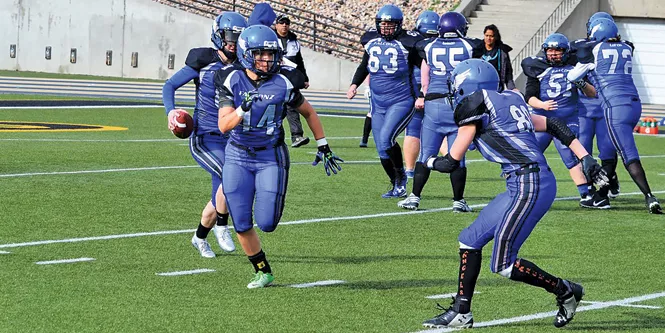 courtesy Utah Falconz
Utah Falconz
Playing Oddball
Here's where to get your off-the-beaten-path sports fix.

By Ray Howze
Do you find yourself searching for some alternatives to traditional sporting events like basketball, football and soccer around town? Well, Utah also hosts a number of annual events that might pique your interest. You just have to look a little harder.
Speed Week
Speed Week is perhaps one of Utah's most well-known sporting events outside of traditional professional sports. Racers come from around the world for a few weeks each year in August and September to the Bonneville Salt Flats to try and set new speed records. Numerous land-speed records have been set at the Salt Flats and it's even been featured in the Hollywood movie The World's Fastest Indian. However, because of the changing environment, the event was canceled in 2014 and 2015 and the course lengths have been greatly reduced. Speed Week is still a widely popular event in the west desert and always worth checking out.
World Championship Cutter and Chariot Races
Remember those images from ancient times of someone standing in a cart-like ride pulled by a horse? A chariot, maybe? You can still see that today at the World Championship Cutter and Chariot Races each spring in Ogden. The event takes place at the Golden Spike Event Center, usually in March, and features dozens of races with people not riding the horse—but riding behind it in their chariots of glory.
Psicobloc Masters Series
Ever wanted to see someone rock climb upside down? Well this event is your chance. Psicobloc, also known as deep water soloing, is a form of climbing over a body of water. The masters series championship takes place at the Utah Olympic Park in Park City during the summer months. If you're looking for some big splashes and excitement watching these climbers try to make it to the top, this is definitely worth watching.

FCS Football
OK, so we will include some traditional sports here. Kind of. For decades, the state's three marquee universities—Brigham Young University, University of Utah and Utah State University—have dominated the football headlines. But recently, two smaller schools—Weber State University and Southern Utah University—that play one level below the big dogs at the Football Championship Subdivision have made their own headlines. In 2017, the two schools faced off in the second round of the FCS playoffs and Weber State later gave heavy favorite James Madison University a scare in the following round. Since Southern Utah moved to the Big Sky Conference in 2012, the two schools have established a strong, yet underrated, rivalry and both are making noise on the FCS level.
Pioneer League Baseball
In baseball's minor leagues, sometimes it's all about the promotions to put butts in the seats. But the Ogden Raptors and Orem Owlz, members of the Pioneer League, have been making headlines for all the wrong reasons in recent seasons. In 2015, the Owlz organization announced it would host a "Caucasian Heritage Night" that featured "Wonder Bread on burgers with mayonnaise, clips from shows like 'Friends' and 'Seinfeld' and trying to solve the vertical leaping challenge."

Then, in 2017, the Raptors drew national attention after news broke it would host an "Hourglass Appreciation Night" featuring bikini clad women as commentators and dubbed by Sports Illustrated as "shockingly sexist." Uhh, a little problematic. Both promotions were canceled after being made public. We're certainly not endorsing either of these debacles, but who knows, if you attend, you might find yourself in the middle of the next politically incorrect promotion.
Utah Falconz
Want to see a championship winning football team in Utah? Look no further than the Utah Falconz, a women's tackle football team competing in the Independent Women's Football League. The team, founded in 2013, won championships in 2016 and 2017 and runs an exciting triple-option offense. The squad plays during the spring and summer months at Cottonwood High School.
Nitro World Games
The Nitro World Games feature all the crazy stunts, flips, twists and turns you're used to seeing in the extreme-sports world. The popular crew, led by the eccentric Travis Pastrana, puts on the event each summer at Rice-Eccles Stadium while the Nitro Circus crew travels the world putting on similar shows throughout the year. With a facility located here in Salt Lake, hosting the "world games" locally is a nice treat if you're interested in extreme sports.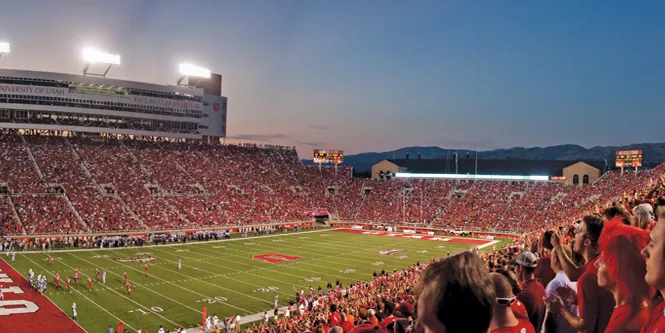 Brenton Walker
Rice Eccles Stadium
In the Mood for Something More Traditional?



Root for these home teams.



By Ray Howze
Utah is home to a handful of sports and teams that draw crowds in the thousands, especially in the fall. With teams in the NBA, MLS, Triple A baseball and prominent college football programs, there's usually a good chance you can find an intriguing sporting event near you throughout the year.
Utah Jazz
Gone are the days of John Stockton and Karl Malone, Carlos Boozer and Deron Williams and, most recently, Gordon Hayward. But don't fret. The team turned around quickly and drafted exciting young star Donovan Mitchell in 2017 to help lead the Jazz in the post-Hayward era. Mitchell won the 2018 All-Star Slam Dunk contest and doesn't show any signs of slowing down his highlight-reel dunks either. Along with Rudy Gobert, the Jazz appear to have its star players in place to build its next playoff-contending team, all while playing in a newly renovated and stylish arena.
Real Salt Lake
Real Salt Lake got off to a rough start in 2017, firing its coach three games into the season. But new coach Mike Petke turned the team around and from July to October, the club only lost three games and just missed the playoffs. With a full off season under his belt, Petke is looking to continue that trend with an exciting, promising group of young stars that include Justen Glad, Brooks Lennon and Joao Plata along with mainstays Kyle Beckerman and goalkeeper Nick Rimando. The ownership group has also built a shiny new academy and training facility in Herriman that is home to the minor league Real Monarchs and the new National Women's Soccer League club Utah Royals FC—another team to keep an eye on in 2018.
Salt Lake Bees
Sure, the roster for the Salt Lake Bees always changes as players get shuffled around by the big league clubs. But that can sometimes add to the intrigue. Who is the next MLB star? Could it be someone who spends a season, or just a few months, in Salt Lake? Recently, that star was Anaheim Angels slugger Mike Trout who spent some time with the Bees. The Bees are the designated Triple A squad for the Angels. Go to a game today, and you'll see the team still hawking Trout's jersey at its retail outlets. The season gets underway in April and offers an affordable option for families and friends to attend baseball games throughout the summer.
University of Utah and Brigham Young University
The two universities along the Wasatch Front offer big-time excitement come the fall. The schools' football programs have a fierce rivalry on the gridiron that returns to Thanksgiving weekend in 2018. With Utah in the Pac 12 Conference and BYU fighting for notoriety as an independent, there's never a shortage of storylines between the programs. And the teams' histories are littered with famous names such as Lavell Edwards, Ron McBride, Urban Meyer and Steve Young, to name a few.

Along with the football programs, Utah has a consistent Top 5-ranked gymnastics squad that competes throughout the spring. Crowds pack the Jon M. Huntsman Center for each match. As a result, the women's gymnastics team holds the record for the most well-attended women's sport in all of college athletics. If you're looking for another sport down south, BYU's volleyball team is usually ranked in the Top 25 and can make some noise come tournament time every fall.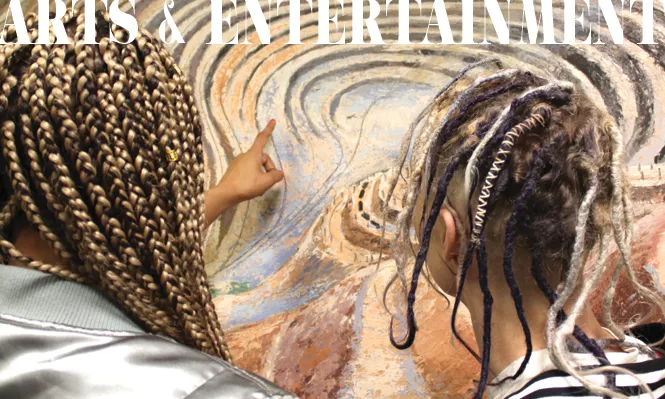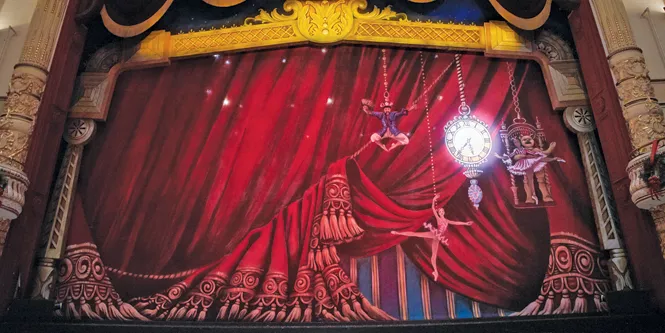 Sarah Arnoff
Ballet West
The Stage Is Set



Explore the many talents of Salt Lake City's key performing arts companies.



By Scott Renshaw
You don't become a world-class city without world-class arts; a 2017 survey conducted by the Salt Lake City Office of Economic Development showed that a robust arts environment is the single-most important factor for businesses considering relocation. So it's a fortunate thing that this state is rich with creative people who turn the human experience into vital, fascinating performances. Here's just a taste of the groups who bring that vitality to local stages.
Stuart Ruckman
Ririe-Woodbury Dance Co.
DANCE

Ballet West
Now in its 55th season, Ballet West offers audiences a thrilling mix of classic pieces like the annual production of The Nutcracker and innovative new work as part of the National Choreographic Festival. Among other works in the 2018 season is the April production of David Bintley's The Shakespeare Suite. balletwest.org

NOW-ID
Former Ririe-Woodbury artistic director Charlotte Boye-Christensen and executive director Nathan Webster formed this interdisciplinary dance and design company to combine the power of movement and architecture into cohesive performances.
now-id.com

Odyssey Dance
Adapting popular culture for contemporary choreography has been a long-time focus for Derryl Yeager's company, including its annual Halloween production Thriller, Christmas' Redux Nut-Cracker and the spring repertory presentations of Shut Up and Dance featuring takes on the music of Michael Jackson and Prince. odysseydance.com

Repertory Dance Theatre
Founded in 1966 as the nation's first repertory dance company, RDT preserves the history of American modern dance—including its long association with the works of Alwin Nikolais—while also showcasing new pieces and developing young choreographers. Look for some of this new work during the production Current, April 12-14. rdtutah.org

Ririe-Woodbury Dance Co.
The tradition of founders Shirley Ririe and Joan Woodbury is carried on more than 50 years after the company's inception, in seasons full of innovative modern dance choreography, including new commissions. Experience the futuristic setting of artistic director Daniel Charon's Return (April 26-28)—the conclusion of his "Together Alone" trilogy. ririewoodbury.com

University of Utah Dance
The internationally renowned program at the University of Utah teaches more than 200 undergraduates and 25 graduate students the art and discipline of classical ballet and modern dance, showcased in performances throughout the year by the Performing Dance Co. and as part of graduate projects. Senior Concert Weeks begin April 5, with a chance to see the next generation of great Utah dancers. dance.utah.edu

Wasatch Contemporary Dance Co.
This Utah County-based troupe brings innovative modern dance to unique venues, often incorporating site-specific architecture and multi-media components into their performances. The 2018 season includes an as-yet-untitled performance June 15-16 at Utah Valley University's Ragan Theatre. wasatchcontemporary.com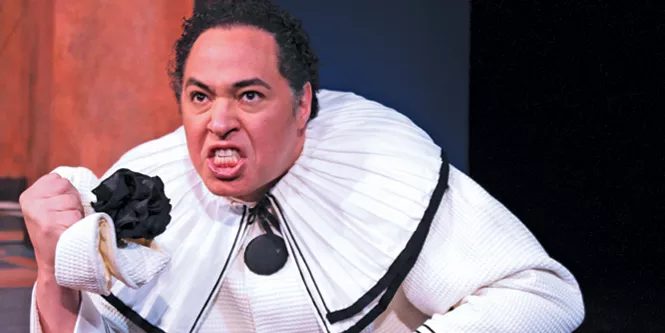 Enrique Limón
Utah Opera

THEATER
Good Company Theatre
Ogden received a jolt of theatrical energy in recent years with the formation of this company, and another boost in 2017 with a brand-new building for producing a great mix of plays. In 2018, experience Lucas Hnath's The Christians (April 13-May 6), Green Day's musical American Idiot (Aug. 11-26), Sarah Ruhl's Eurydice (Oct. 12-Nov. 4) and Tony Kushner's Caroline, or Change (Dec. 7-30). goodcotheatre.com
Pioneer Theatre Co.
The resident professional theater company at the University of Utah offers annual full seasons that delight audiences with a rich mix of beloved musicals, Shakespearean classics, Broadway greats and daring new works. The 2018 season concludes with Twelfth Night (March 30-April 14) and Mamma Mia! (May 11-26). pioneertheatre.org
Plan-B Theatre Co.
Developing and showcasing new plays by local playwrights has become the focus for this company, including recent seasons made up entirely of world premieres by Utah writers. The 2018 season concludes with another such premiere—Austin Archer's Jump—April 5-15. planbtheatre.org
Pygmalion Theatre Co.
Plays by and about women—on the stage and behind the scenes—have long been the focal point for Pygmalion, bringing a much-needed perspective shift to local stages. A workshop production of Caridad Svich's Red Bike (April 20-May 5) concludes the current season. pygmalionproductions.org
Salt Lake Acting Co.
Any sense of Utah as a place where only "safe" theater can flourish was long ago dispelled by this company, which has spent more than 40 years producing risk-taking work and tweaking the local establishment with the annual musical satire Saturday's Voyeur. The 2018 season concludes with the summer run of Voyeur (June 27-Sept. 2), preceded by the Tony Award-winning musical Fun Home (April 4-May 13). saltlakeactingcompany.org
Utah Opera
Sure, you'll get standards like The Magic Flute, Tosca and Pagliacci in a Utah Opera season; you'll also get revelatory new works like this season's production of Moby-Dick. Wrap up the 2018 season with Die Fledermaus (May 12-20), then get ready for next season's kickoff with Gounod's Romeo & Juliet (October 13-21).
utahopera.org
Utah Repertory Theatre
Intimate productions of regional premieres are often on the menu, with a wide range of topics and tones. The 2018 season includes undated Utah premieres of Ayad Akhtar's Disgraced, Sharr White's Annapurna and the Duncan Sheik-composed musical version of American Psycho. utahrep.org
Utah Shakespeare
The award-winning Cedar City-based company presents the works of the Bard in a setting just like it might have been experienced in the 16th century, while also offering engaging contemporary plays and musicals for a full summer repertory season.
The 2018 offerings are Othello, The Merry Wives of Windsor, Henry VI Part 1 and The Merchant of Venice, plus The Foreigner, Big River and more. bard.org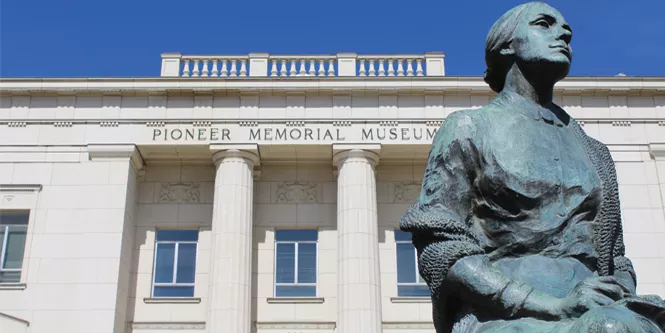 Museums, Funky-Style

Explore some of Utah's off-the-beaten-path educational opportunities.

By Scott Renshaw
Say the word "museum" to a lot of people, and you'll get an almost visceral response—a cringe with accompanying flashbacks to childhood visits to places that were supposed to be educational, but forever attached the word "museum" in your mind with "boring." Yet Utah is home to a wide variety of museums that show off the state's fascinating history in ways that transcend any recollections of a droning docent. Here are just some of the places where you can see museums get funky.

ATK Thiokol Rocket Garden
Technically speaking, it's not a museum so much as it is a display outside of the ATK Thiokol facility west of Brigham City. There are, however, few places in America where you can just drive by and touch a piece of hardware powerful enough to shoot into space. Plaques identify the individual hardware, including booster rockets from space shuttle missions, and a Patriot missile from U.S. military operations in the Middle East. 9160 Route 83, Corinne

Dinosaur Museum of Utah
Utah is a paleontological treasure trove (the Utahraptor was designated the state dinosaur during the last legislative session), and this San Juan County facility brings you the details close to the place where these artifacts were discovered. Exhibits showcase skeletons and eggs, like many such museums, but also offer a gallery with re-creations of what the "feathered" dinosaurs looked like, in addition to a gallery celebrating the fun, not-always-scientifically-accurate history of movie dinosaurs. The museum is only open seasonally April-October, so check the website for specific dates of operation. 754 S. 200 West, Blanding, 435-678-3454,
dinosaur-museum.org

Golden Spike National Monument
One of the pivotal moments of the modern era—the completion of the transcontinental railway—happened at Utah's Promontory Summit on May 10, 1869. At this museum, you'll visit the precise point where the rails linked, and learn about the people who made this achievement possible. Plus, you'll see fully functioning replicas of the steam locomotives of the 1860s. Come at the right time, and you can even watch a historical reenactment of the driving of the Golden Spike. 6200 N. 22300th St. West, Corinne, nps.gov/gosp

Fort Douglas Military Museum
For more than 30 years, this former outpost built to help protect Pony Express routes has been home to a museum dedicated to generations of American military history. Take a look at authentic artillery and vehicles from World War II, the Korean War, Vietnam and more, including tanks and helicopters. Exhibits also explore uniforms and supplies of various military operations, and the Utahns' involvement in those operations. Admission is free, though donations help support museum operations. 32 Potter St., Salt Lake City, 801-581-1251, fortdouglas.org

Goulding's Trading Post
It's a lovely place to stay if you're taking in the majesty of Southern Utah, but it's also a monument itself to a chunk of cinema history. Mike Goulding opened a trading post in the 1920s, and later finagled a meeting with director John Ford to tout the amazing local scenery. The Goulding's museum is a chronicle of the resulting connection between Ford and Monument Valley, with memorabilia, set pieces and a movie room that perpetually plays one of the many Utah-filmed collaborations between Ford and John Wayne. 1000 Goulding's Trading Post Road, Oljato-Monument Valley, 435-727-3231, gouldings.com

Pioneer Memorial Museum
Utah's pioneer history is preserved by the Daughters of Utah Pioneers in an extensive collection of authentic 19th-century artifacts. From documents and photos to clothing and furniture, it's a portrait of the challenges faced by early Mormons as they colonized their desert Zion. There's even a building housing carriages and handcarts in which the travelers made their westward journeys. If you're fascinated by the subject, carve out plenty of time; there's almost too much to take in during one visit. 300 N. Main, Salt Lake City, dupinternational.org

Uintah County Heritage Museum
Sure, plenty of museums have art, and plenty of museums have historical artifacts—and you'll find both at this Vernal location. But what about doll-sized replicas of the first 40 First Ladies of the United States? Porcelain sculptor Phyllis Juhlin Park crafted the heads of presidential wives from Martha Washington through Nancy Reagan before she retired. Those heads are attached to sawdust-doll bodies dressed in clothing patterned after something the spouses actually wore. Creepy? Maybe. Fascinating? Absolutely. 155 E. Main St., Vernal, 435-789-7399, uintahmuseum.org
Stuart Ruckman
Natural History Museum of Utah
Clark Planetarium
Experience the expansiveness of the universe with 10,000 square feet of exhibit space covering the wonders of our own planet—including weather phenomena and plate tectonics—and everything beyond. Take a look at an actual moon rock, or learn about black holes through the "Gravity Floor" interactive digital exhibit. When you're done with all the exhibits, take in one of the many rotating educational movies in the IMAX theater or Hansen Dome theater. 110 S. 400 West, Salt Lake City, 385-468-7827, slco.org/clark-planetarium

Discovery Gateway
Probably the family-friendliest museum in the state, it's a multi-floor cornucopia of hands-on experiences and exhibits. From a kinetically involving play area to quiet reading nooks, there are opportunities for kids to learn and get their wiggles out. The Story Factory offers visitors ways to tell stories in formats from animation to live theater, while the Kid's Eye View area offers young ones a chance to experience the adult world—everything from building to shopping—on their own level. 444 W. 100 South, Salt Lake City, 801-456-5437, discoverygateway.org
The Leonardo
Science and technology come alive in fascinating, often hands-on experiences that appeal to guests of all ages. Named after and dedicated to the expansively inquisitive mind of Leonardo da Vinci, this downtown facility features both permanent and touring exhibits exploring the intersection of art, culture and technology, with opportunities for young visitors to explore and create. The home-grown exhibit Flight is a standout, providing a journey through the history of airborne travel from the earliest da Vinci sketches through space exploration, including Utah's own contribution to the aviation industry. 209 E. 500 South, Salt Lake City, 801-531-9800, theleonardo.org
Natural History Museum of Utah
The stunning copper exterior of the Rio Tinto Building houses a magnificent celebration of the state's human cultures, living creatures and unique natural environment. Learn about the Salt Lake Valley's ancient history when it was covered by Lake Bonneville, and explore the many different geographic regions of the Beehive State, while also discovering modern local ecosystems. The circular Native Voices gallery provides a chance to investigate and celebrate the eight federally recognized indigenous tribes of Utah, or dig deeper to learn about the Great Basin's prehistoric peoples. 301 Wakara Way, Salt Lake City, 801-581-4303, nhmu.utah.edu

Thanksgiving Point
You can make a day of it in Lehi, with multiple places for kids and adults to learn and explore together. The Museum of Ancient Life allows visitors a chance to walk in the shadow of giant dinosaur skeletons or see a working paleontology lab, plus hands-on interactive experiences like digging for fossils. The adjacent Museum of Natural Curiosity houses a variety of environments, like ancient ruins in a rainforest, or the town of Kidopolis. 3003 N. Thanksgiving Way, Lehi, 801-768-2300, thanksgivingpoint.org
Utah Museum of Contemporary Art
Works by local and national contemporary visual artists are central to the mission of this facility, with five individual gallery spaces allowing for a wide variety of experiences. From painting and photography through digital and multimedia experiences, UMOCA captures the wide range of challenging work being created both in Utah and around the world, complemented by art talks and special events inviting guests into the creative process. 20 S. West Temple, Salt Lake City, 801-328-4201, utahmoca.org
Utah Museum of Fine Arts
Re-opened last year after an extensive renovation, this beautiful facility includes both rotating and permanent displays, with space for traveling/and national exhibits to complement the ongoing galleries. In addition to masterworks from Europe, experience works by African, Pacific Islander, Native and Mesoamerican artists, plus an increased focus on works by women. The scope of artistic creation gets a welcome expansive view here. 410 Campus Center Drive, University of Utah, 801-581-7332, umfa.utah.edu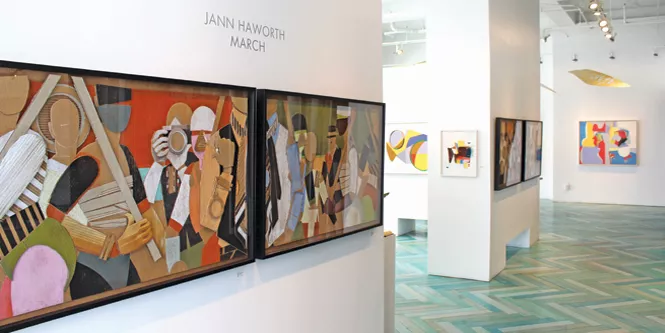 Enrique Limón
Modern West Fine Art
Gallery Directory
Compiled by Samantha Herzog
SALT LAKE VALLEY GALLERIES

15th Street Gallery
Specializes in showcasing award-winning and emerging Utah artists. 1519 S. 1500 East, 801-468-1515, 15thstreetgallery.com
"A" Gallery
This gorgeous gallery and courtyard combo also offers custom art consultations,
installations and space rentals. 1321 S. 2100 East, 801-583-4800, agalleryonline.com

Alice Gallery
Located within the historic Glendinning Mansion, Alice Gallery hosts collaborative exhibitions for Utah artists and their
communities. 617 E. South Temple, 801-236-7555, heritage.utah.gov
Alpine Art
This well-lit and spacious fine art gallery doubles as a framing workshop to accommodate local business and designer needs. 430 E. South Temple, 801-355-1155, alpineartinc.com

Anthony's Fine Art and Antiques
Housed in a 100-year-old church, this eclectic collection of museum-quality art and antique decor is staffed by a multi-generational team of specialists. 401 E. 200 South, 801-328-2231, anthonysfineart.com
Art Access
Educational and professional programs, as well as exhibitions, provide opportunities for artists with disabilities and from other traditionally marginalized communities. 230 S. 500 West, Ste. 125, 328-0703, accessart.org

Art at the Main
In partnership with the Salt Lake City Public Library, Art at the Main is a cooperative gallery that supports and features members of the local art community. 210 E. 400 South, 801-363-4088, artatthemain.com

Arts of the World Gallery
Promising a pinch of magic to its patrons, Arts of the World offers a distinct selection of international and hand-crafted
treasures. 802 S. 600 East, 801-532-8035, artsoftheworldgallery.com

Commerce & Craft
This original small-production art house promises each piece was handmade and lovingly procured. 950 S. 1100 East, 801-207-1030, commerceandcraft.com

David Dee Fine Arts
Art collector and connector David Dee mainly features work of the early American West in his authenticated gallery, but provides other art services as well. 1709 E. 1300 South, Ste. 201, 801-583-8143, daviddeefinearts.com

David Ericson Fine Art
Featuring high quality works, David Ericson builds his galleries with care while offering consulting and art appraisals to the public. 418 S. 200 West, 801-533-8245, davidericson-fineart.com

Downtown Artist Collective
Locally funded and staffed, DAC regularly spotlights new artists. 265 E. 100 South, downtownartistcollective.org

DRAW Inc. Gallery
Serving marginalized communities with youth art classes, DRAW also operates a top-notch online store. 752 E. 6th Ave., 801-893-2404, drawinc.org

Evergreen Framing Co. & Gallery
Evergreen is a platform for unique artist exhibitions and provides a comprehensive catalogue of collectible gifts. 3295 S. 2000 East, 801-467-8770, evergreengallery.com

Evolutionary Healthcare
An unexpected gallery can be found on the walls of this private health care facility and is open during regular business hours. 461 E. 200 South, 801-519-2461, evolutionaryhealthcare.com

Finch Lane Gallery
Located in Reservoir Park, this celebrated gallery switches its exhibits year-round and any artist can apply. 1340 E. 100 South (in Reservoir Park), 801-596-5000, saltlakearts.org

Fringe Gallery
Staying true to its name, Fringe exhibits unconventional and contemporary-focused art pieces. 345 W. Pierpont Ave., 385-202-7511, thefringegallery.com
God Hates Robots
SLC's premier experimental art gallery. 314 W. 300 South, Ste. 250, 801-596-3370, godhatesrobots.com
Hope Gallery
This gallery displays a classy collection of European works and reproductions. 151 S. Main, 801-532-1336, hopegallery.com

Horne Fine Art
Tall ceilings and open skylights make this a sharp exhibition space and working studio. 142 E. 800 South, 801-533-4200, hornefineart.com

Lanny Barnard Gallery
This gallery offers a mix of styles, art mediums, as well as a varied selection of gifts. 110 Trolley Square, 706 E. 600 South, 801-364-4482, lannybarnardgalleryslc.com

Macaroni Gallery
This gallery helps artists share their passion with the public at a reasonable price! 244 S. 500 West, Ste. 107, 801-554-8170, macaronigallery.com

Mestizo Institute of Culture and Arts (MICA) Gallery
This gallery brings together artists, activists and educators to create social change through art. 631 W. North Temple, Ste. 700, 801-596-0500

Michael Berry Gallery
Michael Berry offers custom framing services and a rotating display gallery. 163 E. 300 South, 801-521-0243, facebook.com/michael-berry-gallery-frameshop

Modern West Fine Art
This gallery supports modern and contemporary artists across mediums and influences, with an emphasis on Western themes. 177 E. 200 South, 801-355-3383, modernwestfineart.com

Nox Contemporary
Nox champions challenging works that shy away from the conventional. 440 S. 400 West Ste. H, 801-289-6269, bit.ly/2J1Xo0a

Phillips Gallery
A gallery space for Utah-based artists that offers other consultation services. 444 E. 200 South, 801-364-8284, phillips-gallery.com

Relics Framemakers & Gallery
Relics is known for its quality craftsmanship, expertise and regional artist support. 4685 S. Holladay Blvd., 801-272-8312, relicsgallery.com

Rio Gallery
This historic and collaborative gallery is nestled in the lobby of the Rio Grand Depot. 300 S. Rio Grande St., 801-245-7272, visualart.utah.gov

Sego 3 Fine Art
A procurer of high-quality American Great Basin artwork. 661 S. 200 East, 801-328-9848, sego3.com

The Stockist
This lifestyle boutique hosts a variety of unique vendors and products. 875 E. 900 South, 801-535-3548, thestockistshop.com

Urban Arts Gallery
Located in The Gateway mall, this free gallery showcases contemporary work often with pop-culture themes. 137 S. Rio Grande St., 801-651-3937, urbanartsgallery.org

Utah Cultural Celebration Center
This center preserves a permanent collection of cultural art installations and artifacts. 1355 W. 3100 South, 801-965-5100, culturalcelebration.org

Utah Museum of Contemporary Art
This award-winning museum connects guests to contemporary culture and education. 20 S. West Temple, 801-328-4201, utahmoca.org

Utah Museum of Fine Arts
This museum houses a charming café, gift store and rotating collection of multicultural art. 410 Campus Center Drive, 801-581-7332, umfa.utah.edu

Winderemere Real Estate's Redman Gallery
Enjoy the breathtaking view from this elevated gallery on the upper floors of the Windermere Real Estate Building.
6th and 7th Floors of the Redman Building, 1240 E. 2100 South, Ste. 600, 801-485-3151, redmangallery.com


Enrique Limón
Michael Berry Gallery
PARK CITY GALLERIES
Bret Webster Images
This gallery honors and exhibits the photography of American artist Bret Webster. 312 Main, 435-200-8258, bretwebsterimages.com
Fatali Gallery
Fatali's graceful photography exhibition is a sneak peek into a world of wonders. 556 Main, 435-772-2422, fatali.com
Gallery MAR
Gallery MAR always keeps their collections fresh while providing a comprehensive list of art services including installations. 438 Main, 435-649-3001, gallerymar.com
J GO Gallery
Jo GO charms guests with its American Western aesthetic and conversational atmosphere. 408 Main, 435-649-1008, jgogallery.com
Julie Nester Gallery
This diverse collection offers event rentals and an original selection of art. 1280 Iron Horse Drive, 435-649-7855, julienestergallery.com
Kimball Art Center
This center uses education, exhibitions, and events to connect the community. 1401 Kearns Blvd., 435-649-8882, kimballartcenter.org

Lunds Fine Art Gallery
Nature and landscape paintings are the focus at Allen Lund's refreshing studio-gallery. 591 Main, 435-655-4349, lundsfineart.gallery

Mangelsen Images of Nature Gallery
This gallery observes the beauty of nature through the captivating photography of Thomas Mangelsen. 364 Main, 435-649-7598, mangelsen.com

Meyer Gallery
Located in Park City's Historic District, this gallery puts guests first with its accessible customer service and striking artwork. 305 Main, 435-649-8160, meyergallery.com

Montgomery-Lee Fine Art
This clean multi-level gallery features the fine art of both internationally acclaimed artists and new faces. 608 Main, 435-655-3264, montgomeryleefineart.com


Courtesy Kimball Art Center
Kimball Art Center
Mountain Trails Gallery
Featuring Western and contemporary artists, this gallery also offers commissions and bronze-monument installations. 301 Main, 435-615-8748, mountaintrailsgallery.com
Prothro Gallery
This Park City boutique encourages a friendly atmosphere and specializes in modern works. 314 Main, 435-200-8866, prothrogallery.com
Susan Swartz Studios
Susan Swartz's dramatic and colorful paintings of the natural world are commemorated in this studio. 260 Main, 435-655-1201, susanswartz.com
Terzian Galleries
This gallery's well-rounded staff is known for making meaningful connections with artists and clients. 625 Main, 435-649-4927, terziangalleries.com
Trove Gallery
This cozy local favorite represents a variety of talented Utah artists. 804 Main, 435-655-3803, troveparkcity.com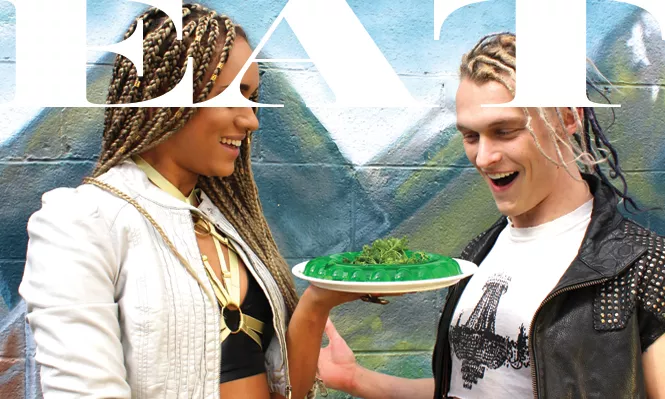 Enrique Limón
Makanmakan
Passport on a Plate



Expand your cultural horizons with these eight diverse dishes.



By Alex Springer
Utah's restaurant scene might have its fair share of nationwide chains and fast food joints, but if you scratch the surface you'll see there's a lot of diversity to be devoured. Each year manages to enrich our local cache of restaurants with exotic flavors from all over the globe. For those who long to travel the world without leaving the Wasatch Front, we've got your passport right here.
Laksa at MakanMakan
Pho is, and will always be, an amazing fixture in our collective culinary experience—but it's getting a bit off-trend as of late. For those who are eager to move onto the next big thing when it comes to noodle soups from the heart of Asia, laksa might be for you. As far as I know, Sandy's MakanMakan is the only place serving it up along the Wasatch Front, and they're doing a hell of a job. Where pho and ramen get their broth from deliciously steeped pork and beef bones, laksa originates from a base of curry and coconut milk and can be loaded up with everything from chicken to giant prawns. Its creamier texture makes the dish feel hearty and filling, and throwing in a few scoops of MakanMakan's chili paste stirs up some latent citrus flavors. Keep an eye on this up and comer—I'm sure we'll be seeing more laksa very soon. 33 E. 11400 South, Sandy, 801-251-0967, makanmakansandy.com
Lomo Saltado at Café Machu Picchu
If Café Machu Picchu is your first rodeo with Peruvian food, than your best bet would be to start with lomo saltado. It's a bounteous plate of marinated and grilled steak, tomatoes, fries, onions and peppers piled high atop a cloudy bed of white rice. As far as overall dish composition goes, this delightfully hearty meal covers all of the flavor and texture bases. The grilled onions and peppers are sweet and crunchy, the steak is tender and juicy, and the thick-cut fries are there to soak up all that wonderful flavor. After a taste of this, you'll be ready and willing to jump right into a big bowl of patasca, Machu Picchu's beef tripe-laden stew. 3018 S. State, Salt Lake City, 801-466-4908, facebook.com/machupicchucafe
Enrique Limón
It's Tofu
Shakshouka at Laziz Kitchen
Not only is shakshouka extremely fun to say out loud—go ahead and give it a try!—it's one of the most comforting brunch dishes that I've had. Like most simple dishes done particularly well, it's not much more than a few eggs cooked in an aromatic broth of tomatoes, mint, garlic, onions, green pepper and a holy union of Middle Eastern herbs known as za'atar. The flavor of tomato and poached egg is perfectly complementary, and once it all reduces into a lovely rust-colored sauce, it's enough to keep you up and running right up until dinnertime. Shakshouka is a perfect light alternative for those who are trying to take a break from the porcine trifecta of bacon, sausage and ham during their morning meal. 912 S. Jefferson St., Salt Lake City, 801-441-1228, lazizkitchen.com
Spicy Pork Barbecue & Tofu Stew at It's Tofu
Upon first glance, Korean food can be a little intimidating. They bring you all these tiny bowls with tiny condiments, the food hisses ominously as it comes to your table and all you have is a pair of chopsticks to work your way through the whole thing. Despite its departure from cultural dining norms that we're a bit more used to, Korean food packs some of the most daring and soul-satisfying flavors known to man. A nice entry point into this culinary wonderland would be one of the combo plates at It's Tofu in Cottonwood Heights. My favorite is the spicy pork barbecue with tofu stew—you get the spicy kick of the barbecued pork, the nuanced flavors and textures of a silken tofu stew, and it looks absolutely beautiful when it comes to your table. When it comes to Korean food, don't think—just eat. 6949 S. 1300 East, Cottonwood Heights, 801-566-9103, itstofu.com
Sausage Pepper Pizza at Pizza Nono
Don't get me wrong, the marvelous innovations that America has made in the field of pizza technology are truly staggering, but every so often I like my pizza to hearken back to a simpler time. Utah has no shortage of wood-fired pizza, but Pizza Nono has become one of my favorites. It's in the hip 9th & 9th area, so it's the ideal spot for a lunch break during a day of aimless window shopping. All of their pizzas are good, but the sausage pepper pizza was the one that made its way into my heart. It's a little bit sweet, a little bit spicy and it lends itself to sharing with someone else—but only if I'm in the sharing kind of mood. 925 E. 900 South, Salt Lake City, 385-444-3530, pizzanono-slc.com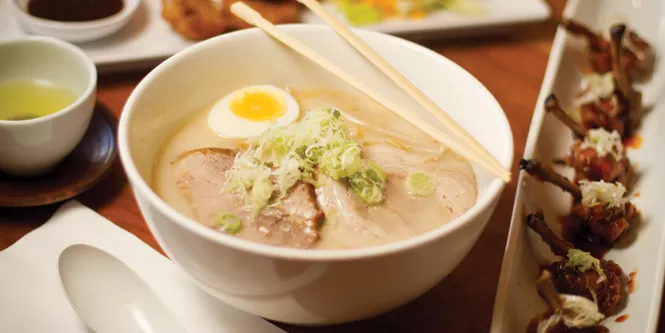 John Taylor
Tosh's Ramen
Camarón a la Diabla at Mi Lindo Nayarit
Get your Mexican seafood fix here. It's easy to be skeptical about seafood-based restaurants in Salt Lake, but Nayarit is absolutely crushing it. Those in the mood for Latin American food but are bored with chicken chimichangas need to check this place out. My current favorite is a dish called camarón a la diabla, or shrimp, she-devil-style. It's a huge pile of cooked shrimp and rice doused in a smoky, chipotle sauce that really highlights the shrimp's natural sweetness. What's more is that the dish comes with a huge contingent of flour and corn tortillas and some devilishly delicious guacamole. 145 E. 1300 South, Salt Lake City, 801-908-5727, facebook.com/mi-lindo-nayarit-utah
Tonkotsu Ramen at Tosh's Ramen
Like the laksa of MakanMakan, Tosh's tonkotsu ramen favors a thicker broth. The process of evoking this delicious broth from pork bones gives a saltier, earthier flavor to the ramen as a whole, and the slice of pork belly that it comes with just melts in your mouth. Tosh's housemade noodles function like flavor depositories—the longer they stay in the broth, the tastier they get. Tosh's ramen skills have reached master levels—there's not a bad dish in the house. However, when I'm craving authentic Japanese ramen, tonkotsu is at the top of my list. 1465 S. State, Salt Lake City, 801-466-7000; 1963 E. Murray Holladay Road, 801-278-8249, toshramen.com
Snow Cream at Shirokuma
Room for dessert? As a country whose per capita ice cream production proudly hovers right around 1½ billion gallons, you'd think that we've seen it all when it comes to frozen treats. Thanks to West Valley's Shirokuma, that's not the case. Shirokuma specializes in snow cream, which is a technique that originated in Taiwan. Unlike ice cream, snow cream comes from a method of sticking frozen blocks of flavored dairy—honeydew, matcha and taro, to name a few—into a contraption that looks like a delicatessen's meat slicer. The machine shaves off paper-thin sheets of the snow cream, which get rolled up and placed inside a bowl where they are topped with a multitude of goodies including mochi, sweet red beans and popping boba pearls. It all comes together with a soft, velvety texture that melts like snowflakes on your tongue. 2843 S. 5600 West, Ste. 120, West Valley, 801-251-0134, shirokumaslc.com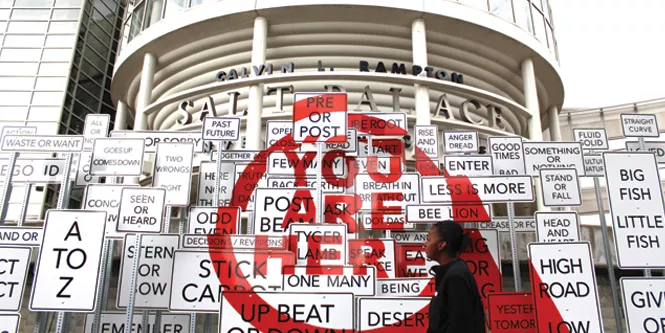 Dinner and a Show



You buy the tickets, we'll decide where to eat.



By Alex Springer
Once you've finally gotten tickets to that concert, soccer game or convention that you've been anticipating, dining plans for the day or evening come next. Deciding on the right restaurant for the occasion can be a total headache—especially if you need to accommodate a group of friends and/or family. In an effort to save you a little bit of time and sanity, we've gathered up some of Utah's most popular venues along with a few spots nearby that are worthy of any pre- or post-show feast.
Salt Palace Convention Center
Because of the Salt Palace's central location in the downtown area, there are plenty of places to eat while attending a corporate event or Salt Lake Comic Convention. But you're not looking for plenty of places to eat, are you? You're looking for the best. Here are a few places to check out while your getting your con on. 100 S. West Temple, Salt Lake City
Siegfried's Deli
This German deli and market is only a block from the convention center, and is perfect for diners who are looking for a quick bite in between meetings or panel discussions. The bratwurst sandwiches are always a great bet, but don't overlook their renditions of spaetzle or Black Forest cake. Since Siegfried's also has a wide selection of European market items, you can grab a package of Jaffa Cakes to stash for later. 20 W. 200 South, 801-355-3891, siegfriedsdelicatessen.com

Fat Jack's Burger Emporium
For those who'd like to make their mid-convention lunch break a bit more indulgent, consider hitting up Fat Jack's Burger Emporium. If you're from out of town and are in need of a crash course in local cuisine, you can try the Mormon Burger, which has a Lion of the Lord-sized portion of funeral potatoes—a Utah classic—piled on top of a burger that is already busting with bacon and cheddar cheese. 206 S. West Temple, 801-890-5155, fatjacksut.com
J. Wong's Thai & Chinese Bistro
Although their lunch specials are nothing to scoff at, J. Wong's is best saved for the end of a long day of networking or geeking out with other convention attendees. Its relaxed but stylish atmosphere has an intuitive way of helping diners wind down with a quality meal. Those familiar with Chinese and Thai cuisine will find some old favorites on the menu, along with some inventive new additions. 163 W. 200 South, 801-350-0888, jwongs.com
Valter's Osteria
If you'd like your post-convention plans to be swankier than average, Valter's Osteria is a nearby option. It's still within walking distance, though you'd want to make travel arrangements if you happen to be conventioning during a snowstorm. Here, diners can sample authentic Tuscan cuisine with an atmosphere that mixes modernist chic with old-world charm. 173 W. 300 South, 801-521-4563, valtersosteria.com
Three Pines Coffee
Convention delegates often eat early-mornings or late breakfasts. But why settle for a middle-of-the-pack coffee shop? The folks at Three Pines Coffee take their brew very seriously. Their minimalist approach to their menu means that you're getting coffee and tea cultivated to perfection. Bonus points to their selection of baked goods that come courtesy of Bubble & Brown bakery, whose salted chocolate chip cookies are legendary. 165 S. Main, 801-395-8907,
threepinescoffee.com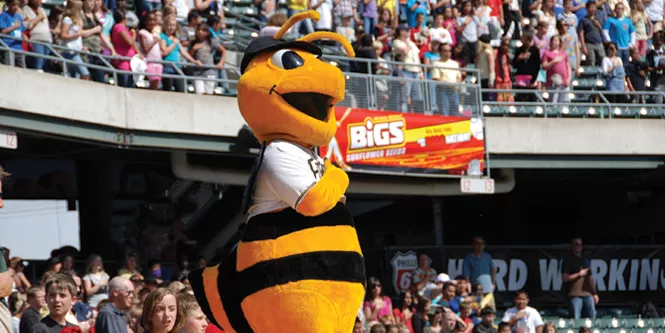 Smith's Ballpark
The Salt Lake Bees are Utah's minor league baseball favorites, and a night at the ballpark has summertime written all over it. If you're not content with the traditional hot dogs and popcorn procured inside the ballpark, here are a few home runs nearby. 77 W. 1300 South, Salt Lake City
The Soup Kitchen
Despite the fact that there is a framed display featuring a chef's jacket autographed by Larry "Soup Nazi" Thomas in the back of their Richards Street location, you'll find nothing but love at The Soup Kitchen. Located just south of the ballpark, it's a great place to stop for classic soups like chicken noodle, broccoli cheese or even a bowl of chili. They also don't mess around with their sandwiches—the Soup Kitchen Ultimate ranks among Salt Lake's finest. 1185 S. Richards St., 801-531-7093, slcsoup.com
Lucky 13
Grabbing some pre-ballgame beers and burgers at Lucky 13 is a great way to get into the spirit of America's pastime. Lucky 13 has long been praised by locals for having one of the most consistently tasty selection of burgers available. It's one of the few places I know of where you can get a burger topped with peanut butter, and impetuous diners can even attempt the Lucky 13 challenge by eating a foot-high meat tower called the Big Benny—28 ounces of ground chuck in all. Maybe consider attempting that challenge after the ball game, though. 135 W. 1300 South, 801-487-4418, lucky13slc.com
House of Tibet
Tibetan food might not spring readily to mind as a culinary accompaniment to baseball, but if you're looking for something out of the ordinary, it's a perfect match. Their spicy potatoes and momos—a Nepalese stuffed dumpling—are worth the trip, but their daily lunch buffet is a great way to fill up before an afternoon ballgame. Plus, momos kind of look like baseballs, which is enough of a reference point for me. 145 E. 1300 South, Ste. 409, 801-364-1376, houseoftibetsaltlakecity.com
Rio Tinto Stadium
Home of Real Salt Lake, Rio Tinto Stadium happened to emerge amid some exceptionally meat-based restaurants, but that seems appropriate for the epic soccer showdowns that take place there. You could dig up a salad at most of these spots if you wanted, but grilled, barbecued and roasted meat is the most plentiful and proximal option to feed your soccer fandom. 9256 S. State, Sandy
Crown Burgers
One of Utah's most prolific local burger chains—and arguably the first place to put pastrami on a hamburger—nothing quite screams "goal!" like Crown Burgers. Their streamlined approach to ordering makes sure that diners get fast and accurate service regardless of how packed the place can get before a game. As the owners hail from Greek lineage, Crown Burgers also serves up gyros and shish kebab if burgers don't happen to be your jam. 9604 S. State, 801-562-4444, crown-burgers.com
Special Courses
If you're making a day of your trip to Rio Tinto, consider spending some time browsing at the Shops at South Town mall. If you're in need of some mid-shopping sustenance, Special Courses should be a must. Owned by a military veteran, Special Courses started out as a local food truck that earned its spot in the mall's dining terrace by winning the Taste for the Space cooking competition last year. It's not often that you see local eateries inside a shopping mall, and this one should definitely be on your list. The Shops at South Town Dining Terrace, 10450 S. State, 801-427-1624, specialcourses.com

Moochie's Meatballs and More
Ever since its appearance on Food Network's Diners, Drive-Ins and Dives Moochie's has expanded its domain from its Salt Lake location all the way down to Lehi. For the uninitiated, Moochie's is a hot sandwich shop that specializes in meatball and Philly cheesesteak subs. Asking me to pick which one is my favorite is a lot like trying to ask me to pick a favorite child. If you don't mind getting a little messy, the meatball sub is the way to go. If you want veggies but also want gobs of melted American cheese, then go with the cheesesteak. Or just get both and save yourself the trouble of making a decision. 7725 S. State, 801-562-1500, moochiesmeatballs.com
Bumblebees BBQ and Grill
The cool thing about Bumblebees is that it's a burger joint where you can also get kimchi. Traditionalists can stick to the "a-town" side of the menu where you'll find burgers like the garlicky Vampire Slayer, and those hankering for a taste of Korea can find traditional fare like bulgogi. You also can't go wrong with the kimchi fried rice balls—they're a little bit of deep-fried heaven. 7692 S. State, 801-561-0608, bumblebeesbbq.com


Red Butte Garden
Whether you're visiting Red Butte Garden to see its beautiful collection of verdant botanicals or checking out a show as part of its summer concert series, you'll inevitably need a bite to eat. Red Butte has the benefit of being close to the University of Utah, and college campuses attract tasty eateries like bees to pollen. These eateries are a short drive from Red Butte—and they'll help round out your trip with some great food. 300 Wakara Way, Salt Lake City
Red Butte Café
The fact that this café shares the same name as the gardens isn't the only correlation between the two—they both happen to be filled with pleasant surprises. Red Butte's menu is a mixture of Tex-Mex cuisine, sandwiches and gourmet salads. Their lunch specials span the globe a little more thoroughly—everything from grilled salmon with udon noodles to tempura shrimp tacos can be found on the menu. It's also one of those rare places that doesn't see dessert as an afterthought. Stopping in for a slice of chocolate decadence cake on your way to or from the garden is well worth the trip. 1414 S. Foothill Drive, 801-581-9498, theredbuttecafe.com
Caputo's Market and Deli
Much more than a simple Italian market and deli, Caputo's is one of Utah's most influential thought leaders when it comes to good food. They've recently expanded their operation to a small shop on the University of Utah campus, which brings their lovingly crafted Italian sandwiches that much closer to Red Butte Garden. Perhaps the best way to take advantage of these fine specimens of the sandwich craft is to make your order ahead—the Caputo and the muffuletta are solid picks—and then pack them up for a picnic in the mountains. 215 Central Campus Drive, 801-583-8801
Taqueria 27
This purveyor of gourmet tacos and tequilas has made a name for itself with its daily specials. In addition to their regular menu of elevated street tacos, they have a "taco of the day" that strives to push the boundaries of what tacos can be. My go-to at Taqueria 27 has always been the duck confit tacos—the pinnacle of taco evolution. Their chips and guac are also way-above average—showing proper respect to fresh, undiluted avocado. 1615 S. Foothill Drive, 385-259-0712, taqueria27.com
The Pie Pizzeria
If I'm going to a concert or an outdoor movie with a group of friends, a takeout pizza from The Pie is a no brainer. Maybe it's The Pie's origins as a campus hot spot that have made its food and atmosphere so effortlessly cool, but showing up to a nighttime event at Red Butte with a pizza box emblazoned with The Pie's logo will let everyone else know that you have good taste. The Pie is open late on weekends, so retiring to its subterranean headquarters for some hot pizza and cold beer after a show is a great way to keep the party going. 273 S. 1300 East, 801-582-5700, thepie.com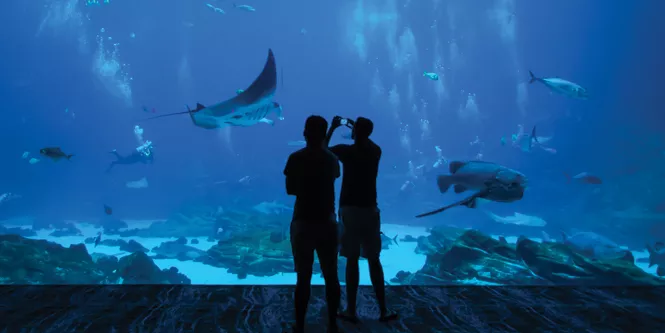 Loveland Living Planet Aquarium
It's easy to spend several hours at the Loveland Living Planet Aquarium—where else can you see otters, sloths and jellyfish? Whether your dining schedule is open to breakfast, lunch or dinner, the following restaurants are close enough to accommodate your needs. 12033 Lone Peak Parkway, Draper
Penny Ann's Café
Those looking to get an early start to their day of aquatic shenanigans should definitely check out Penny Ann's. This menu's signature item is known as Heavenly Hot Cakes, likely because they were sent to us directly from on high. They're as big as a dinner plate and made with sour cream which gives them their cloud-like texture. You can't learn anything on an empty stomach, and starting off a day at the aquarium with a visit to Penny Ann's will keep those neurons firing. 280 E. 12300 South, 801-662-0009, penyannscafe.com
Leatherby's
This family-owned restaurant has a fully stocked lunch and dinner menu, but it's their ice cream concoctions that keep people coming back. It's home to some of the most inventive sundaes, ice cream sodas and other frozen treats—items like the sweet and slightly salty Tracy's Peanut Butter Cup to the chocolate lusciousness of the Raspberry Rhapsody, to name a few. After a long day learning about all the bizarre life that lives in our oceans and lakes, some giant ice cream sundaes are just the ticket. 372 E. 12300 South, 801-571-1575, leatherbys.com
Even Stevens
If a lunchtime destination is better suited to your aquarium visit, then the Draper location of Even Stevens should be your next stop. The menu unfolds like a mixtape of sandwich greatest hits. You have your Cubano, your banh mi, your French dip and many others, all of which are gigantic and packed with sandwichy goodness. Plus, every sandwich that you buy from Even Stevens helps provide food to local charities and others in need. I have yet to encounter a tastier way to help others. 541 E. 12300 South, 801-980-0755, evenstevens.com
Waffle Love
After nearly winning it all on Food Network's Great Food Truck Race, the owners of Waffle Love used their experience to open a slew of brick-and-mortar stores around Utah. As you might have guessed from the restaurant's name, Waffle Love's claim to fame comes from the way they love their waffles. They practice the Belgian liege technique, which means their waffles are structurally sound enough to carry thick piles of biscoff spread, lemon curd and fresh fruit. They also have a savory side to their menu, serving up classics like chicken and waffles along with some truly innovative waffle sandwiches. 12291 S. State, 801-923-3588, waffluv.com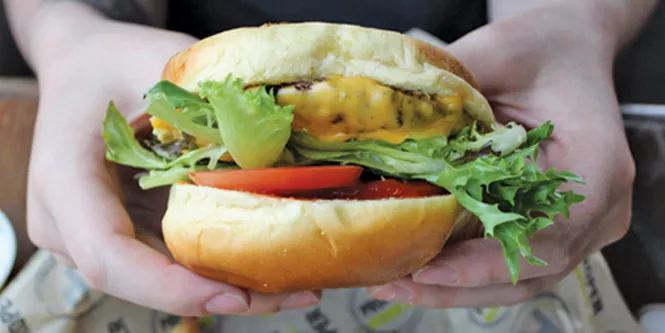 courtesy Proper Burger Co.
The plain jane at proper burger co.
Eats on the Cheap



Get the most bang for your buck with these 10 dishes.



By Alex Springer
The Plain Jane at Proper Burger Co. ($4.49)
Most of the burgers at Proper clock in at under $10, but the Plain Jane is the one that really stretches the flavor-to-dollar ratio. Adorned with naught more than a nicely grilled burger, lettuce, tomato and ketchup, the Plain Jane is the burger equivalent of a haiku—especially when considered alongside her bulkier siblings. Excess is something that Proper Burger does particularly well, but it's nice to know that they also see the value in a bit of contemplative restraint. 865 S. Main, Salt Lake City, 801-906-8604, properburgerslc.com
Chicken Tikka Puff at Saffron Valley Indian Street Foods ($2.79)
The South Jordan location of this popular Indian restaurant has been killing it with their bakery addition that recently opened a few doors down. They have all kinds of great pastries to choose from, but my current obsession is the chicken tikka puff. It's a bit like a croissant stuffed with chopped chicken marinated in tikka masala sauce. It's rare to get authentic Indian flavor in a hand-held food item, but this is perfect for a quick bite to go. I once ate a whole bag of them in a day. Long story.1098 W. South Jordan Parkway, South Jordan, 801-438-4823, saffronvalley.com
The Glacier at Millie's ($2.39-$2.69)
Who among you does not enjoy the ice-cold, syrupy goodness of a slushie? And who among you would scoff at a spiral of fresh soft serve? Now, who among you knew that the folks at Millie's Burgers in Sugar House combined both of these frozen favorites into an assortment of tasty desserts called glaciers? They're a bit like root beer floats if the root beer was replaced with a tiger's blood slushie. Or a peach slushie. Or piña colada. They're perfect for a hot Utah afternoon spent at Sugar House Park, or just whenever you feel like you're due for a pleasantly acquired brain freeze. 2092 S. 1000 East, 801-466—6043 milliesburger.com

Kolaches at Hruška's ($1.25-$3.75)
If you've never had the pleasure of eating a kolache before, I truly envy you. Your first bite of one of these fist-sized stuffed rolls is nothing short of magical. And that price is not a typo. The most fully loaded kolache—a jalapeño, cheddar and kolbasa-stuffed outlaw known as the Texan—will set you back less than five bucks. If savory isn't your thing, their fruit-filled kolaches are sure to brighten your day. Think cheese Danish with a bit more self respect. I personally think any time is a good time for kolaches, but they're perfect for those who are in need of something quick, filling and delicious for breakfast. Multiple locations, hruskaskolaches.com
Ice Cream Cone at Normal Club ($4-$7)
Whenever you get wind that the pastry chef behind one of Park City's swankiest restaurants leaves the biz to open a food truck that focuses solely on ice cream and other frozen treats, you have to take note. Their menu rotates often, but you can never go wrong with a soft-serve cone topped with their patented "dulcey dip" that coats their already stellar soft serve with a heavenly dose of dulce de leche. They're also known for topping their cones with additions like gummy worms and strawberry syrup. Look for their more permanent setup inside the east entrance of Trolley Square. 602 S. 700 East, normal.club
Jalapeño Popper at Kaiser's Texas Bar-B-Q ($1.50)
Forget the overabundance of cream cheese and the soggy outer layer that you think constitutes a jalapeño popper. Once you take a bite out of one of these spicy little ass kickers, you'll find yourself rethinking a lot about what you once considered to be snacks. First of all, this is a BBQ joint, so deep frying of any variety is out of the question. What the folks at Kaiser's have created is a smoked jalapeño pepper, stuffed with housemade sausage, capped with a mushroom, wrapped up in bacon and covered in melty cheddar cheese. It's a meal in and of itself, and I've never seen such an elegantly contrived barbecue creation. 962 S. 300 West, 801-355-0499, saltlakebbq.com
Falafel Sandwich from O'Falafel, Etc. ($6)
If it's Middle Eastern and comforting, then it's on O'Falafel's menu. As it's part of the restaurant's name, the falafel here is serious business. I prefer it on the falafel sandwich, which is a generously sized pocket of pita bread stuffed with fresh lettuce, tomato, cucumber and some expertly prepared rounds of falafel. Chili and garlic paste is the condiment of choice—they pack a few cups in with your takeout order, and big squeeze bottles of it can be found tableside—and I strongly recommend hitting your falafel sandwich with a bit of heat for good measure. It's a lovely departure from a lunchtime burger or deli sandwich. 790 E. 2100 South, 801-487-7747, ofalafeletc.com
Dulce de Leche Churro Cruffin at Fillings and Emulsions ($4.25)
For those of you who remember the brief Cronut craze that burned through the country like wildfire a few years back, you were all being misled. Doughnuts were not the direction to take warm, fluffly croissant dough. It's all about the muffins, man. Salt Lake's Fillings and Emulsions started making cruffins toward the middle of last year, and they're definitely onto something. The texture is a transcendent mixture of chewy and crispy, and the dulce de leche filling luxuriates in thick caramel goodness. Add a healthy dose of cinnamon sugar on the outside, and you'll completely forget about the existence of cronuts. 1475 S. Main, 385-229-4228, fillingsandemulsions.com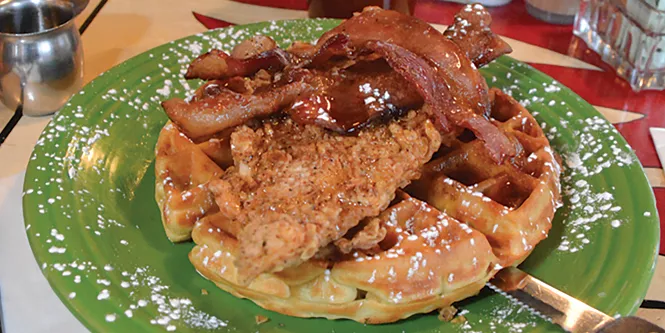 Chicken and Waffles at Pig and a Jelly Jar ($5 on Thursdays)
Pound for pound, you just can't find a better deal than Pig and a Jelly Jar's Thursday special. Everything they do here pushes the limits of what can actually fit on a dinner plate, and their trademark chicken and waffles are among the most logistically baffling. A thick, golden-brown waffle eclipses the plate, topped with a beautiful piece of fried, boneless chicken that almost eclipses the waffle. For a bit extra, you can get bacon and eggs on top, but the sheer size of this entrée always makes me feel bad for only paying five bucks for it. I'll sometimes hit up the Pig during the week when I can get this dish for full price. You know, because guilt. Multiple locations, pigandajellyjar.com
The Machine Gun Sandwich at Bruges Waffles and Frites ($9.99)
I always like to find something that pushes the boundary of my $10 price range, and the Machine Gun at Bruges Waffles and Frites is the perfect example. In fact, this Belgian behemoth pushes the boundaries at just about every opportunity. It starts with a structurally capable toasted baguette that subsequently gets stuffed with lamb sausage, twice-fried frites and creamy Andalouse dipping sauce. With frites popping out one end and sausage popping out the other, this sandwich obeys its own laws of physics. The crisp crust of the toasted baguette merges with the chewier crunch of the frites, and that sausage! It's spicy, smoky and extremely tender. This is what sandwiches want to be when they grow up. Multiple locations, brugeswaffles.com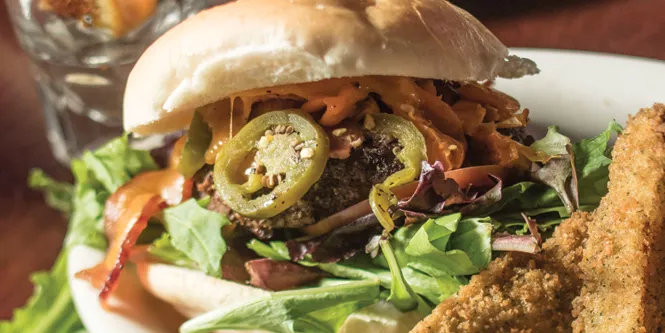 John Taylor
burgers at Lucky 13
Essential Burgers

Apollo Burger
Try the Athenian, a quarter-pound flame-broiled monster layered with roasted red peppers, feta cheese and housemade tzatziki. Multiple locations, apolloburgers.com
Chedda Burger
The no-frills Dirt Bag and cheese-curd-and-pulled-pork-topped Harlot deliver on their "burgers with attitude" promise. Multiple locations, cheddawasted.com
Cotton Bottom Inn
Best. Garlic. Burgers. Around. 'Nuff said. 6200 S. Holladay Blvd., Holladay, 801-273-9830, cottonbottominn.com
Crown Burgers
Grub at this homegrown chain always satisfies. Go for the chilli burger and throw in some cheese fries to boot. Multiple locations, crown-burgers.com
Fat Jack's Burger Emporium & Tap House
Their glorious name says it all. 206 S. West Temple, 801-890-5155, fatjacksut.com
Lucky 13
The blue-cheese-loaded Bacon Stinky Cheeseburger, the PB-slathered Nut Burger—yep there's a reason why this is a Best of Utah perennial. 135 W. 1300 South, 801-487-4418, lucky13slc.com
Millie's Burgers
Come for the tasty burgers, stay for the more than 30 different sky-high shakes. 2092 S. 1000 East, 801-466-6043
Porcupine Pub & Grille
Try scarfing down a Big Cottonwood Burger in one sitting. We dare you. 3698 Fort Union Blvd., 801-942-5555; 258 S. 1300 East, 801-582-5555, porcupinepub.com
Proper Burger Co.
Even no-fruit-on-savory-food snobs agree their housemade ham-and-pineapple-enhanced Flyin' Hawaiian is a thing of beauty. 865 S. Main, 801-906-8604, properburgerslc.com
Sage's Café
Think a non-beef patty is the stuff of sacrilege? The fine folks at Sage's are eager to change your mind. 368 E. 100 South, 801-322-3790, sagescafe.com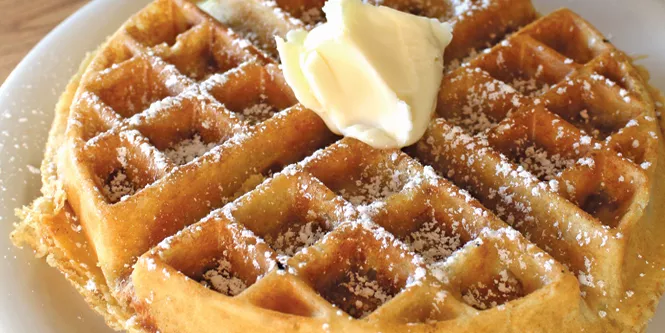 Enrique Limón
"Chicken-IN-Waffle" at Penny Ann's Café
Essential Comfort
Britton's Restaurant
Meatloaf, chicken-fried steak, chile verde burritos and all-day breakfast can be found here. 694 E. Union Square, Sandy, 801-572-5148, brittonsrestaurant.com
Cytybyrd
Treat yourself to a Monte Cristo, Reuben or grilled-cheese sandwich made from scratch. 450 S. 200 East, 801-535-6102, cytybyrd.com
Dee's Family Restaurant
A down-home menu and prime people-watching after the bars close make each visit to Dee's a unique experience. Multiple Locations
Italian Village
Lasagna, veal Parm, chicken cacciatore. Need we say more? 5370 S. 900 East, 801-266-4182
Penny Ann's Café
Though it might seem impossible, if you don't leave room for pie here, you're doing it all wrong. Multiple locations, pennyannscafe.com
Pig & a Jelly Jar
Pork belly Benedict, chicken and waffles, fries and gravy, fish 'n' chips … the delectable list goes on and on. Multiple locations, pigandajellyjar.com
Pretty Bird
Downtown just got a little bit spicier thanks to Chef Viet Pham's Nashville-style hot chicken emporium. 146 Regent St., prettybirdchicken.com
R&R BBQ
Daily specials like brisket tacos on Tuesdays and rib tips on Fridays will happily fill your calendar (and your belly). Multiple locations, randrbbq.com
Ruth's Diner
Restaurants don't get to boast a nearly 90-year legacy unless they're damned good; and Ruth's is. 4160 Emigration Canyon Road, 801-582-5807, ruthsdiner.com
Siegfried's Delicatessen
A smörgåsbord of unique dishes like deep-fried wiener schnitzel and finger-licking macaroni salad await you here. 20 W. 200 South, 801-355-3891, siegfriedsdelicatessen.com


John Taylor
Copper Onion's Carbonara
Essential Date Night
Bodega
Set the date's tone at Bodega, and seal the deal with cocktails downstairs at The Rest. You're welcome. 331 S. Main, 801-532-4042, bodega331.com
The Copper Onion
Brave enough for a day-date? Their brunch menu loaded with items such as Turkish eggs is second to none. 111 E. 300 South, 801-355-3282, thecopperonion.com
Encore Bistro
Located inside the new George S. and Dolores Doré Eccles Theater, Encore redefines "dinner and a show." 131 S. Main, 801-509-7871, cuisineunlimited.com
Epic Casual Dining
Class it up with their ahi tuna, chicken marsala and sautéed pork medallion entrées. 707 Fort Union Blvd., 801-748-1300, epiccasualdining.com
Eva
Small plates like crispy polenta and sautéed Brussels sprouts that are huge on flavor, and an intimate setting make Eva a date-night must. 317 S. Main, 801-359-8447, evaslc.com
HSL
Locally sourced dishes from the hearth, the pantry and the plancha are sure to wow. 418 E. 200 South, 801-539-9999, hslrestaurant.com
Kimi's Chop & Oyster House
Nothing on the extensive seafood bar catch your eye? Give the chop house mac and cheese a go. 2155 S. Highland Drive, 801-946-2079, kimishouse.com
Tiburon Fine Dining
From seared scallops and Mediterranean mussels to braised kurobuta pork and New Zealand elk, this place is sure to impress. 8256 S. 700 East, Sandy, 801-255-1200, tiburonfinedining.com
Tin Angel
Uh … it's won "Best First-Date Restaurant" in the Best of Utah readers' poll for a reason. 365 W. 400 South, 801-328-4155, tinangel.com
Veneto Ristorante Italiano
A stunning selection of northern-Italian dishes that are almost out done by the impressive wine list. Almost. 370 E. 900 South, 801-359-0708, venetoslc.com
Essential Greek

Andy's Lounge
Head to Ogden for some of the best Greek selection this side of Thessaloniki. 501 N. Washington Blvd., Ogden, 801-782-9972
Aristo's Greek Restaurant
Fifty small-plate selections make for a truly unforgettable dining experience. 244 S. 1300 East, 801-581-0888, aristosslc.com
Greek Souvlaki
Founded by Lee and Mary Paulos, Greek Souvlaki has been serving up goods like lamb-and-beef gyros and bifteki since 1972. Multiple locations, greeksouvlaki.com
Jim's Family Restaurant
Dishes like Jim's Famous Marinated Pork and chicken souvlaki—along with a kid-friendly menu—shine bright here. Multiple Locations, jimsfamilyrestaurant.com

Mad Greek
Try the chicken Parm gyro, tasty falafel salad or the perfectly portable dolmathes. You mad, αδερφέ? Multiple Locations
Manoli's
A hearty vegetarian meze loaded with items like yemista (smoked-feta-and-scallion-stuffed piquillo peppers) delight even non-meat eaters. 402 E. 900 South, 801-532-3760, manolison9th.com
The Other Place Restaurant
Breakfast classics get a Greek spin in dishes like gyro meat and eggs and the marinated pork and eggs. 469 E. 300 South, 801-521-6567
The Olympian Restaurant
The Zeus-sized four dishes in their Olympian Platter (Greek salad, two souvlaki skewers, three meatballs and three dolmathes) plus dessert are enough to feed a small army. 2181 S. 700 East, 801-487-1407
Padeli's Street Greek
Classic and authentic Greek meets Chipotle at this lively build-your-own-meal spot. 30 E. 300 South, 801-322-1111, padelisstreetgreek.com
Yanni's Greek Express
Nosh on any of their impressive staples, and make sure to leave room for some galaktoboureko. 2761 S. Highland Drive, 801-466-6525
Josh Scheuerman
ribs at Gracie's
Essential Gastropubs

Bohemian Brewery & Grill
Wash down those roasted garlic bulbs or towering Bohemian club with any of their European-style craft-brew lagers. 94 Fort Union Blvd., Midvale, 801-566-5474, bohemianbrewery.com
Copper Common
The menu here changes regularly. Luckily, the top-notch service doesn't. 111 E. 300 South, 801-355-0543, coppercommon.com
Copper Creek Pub & Grub
A dozen beers on tap complement the varied and down-home menu. Copper Bomb hoagie, anyone? 3451 S. 5600 West, 801-417-0052, coppercreekpub.com
Garage On Beck
Head down Beck Street for some of the most amazing Mormon funeral potatoes. Try fiery for a zippy kick in the pants. 1199 Beck St., 801-521-3904, garageonbeck.com
Gracie's
Sit at a table or pony up at the bar for signature dishes like the barbecue bison burger, Ballard Hog Farm pork chop or red-eye-gravy-smothered poutine. 326 S. West Temple, 801-819-7565, graciesslc.com
The Green Pig Pub
Whether you opt for some chile verde nachos, avocado rolls, potato sliders or a dozen killer chicken wings, you can't go wrong here. 31 E. 400 South, 801-532-7441, thegreenpigpub.com
Poplar Street Pub
Three sitting areas inside 6,000 square feet, plus a mouth-watering line of "championship series" burgers get the job done. Did we mention the 30 beers? 242 S. 200 West, 801-532-2715, poplarstreetpub.com
Squatters Pub Brewery
Their Salt Lake City International Airport location is rumored to be the reason why so many tourists keep coming back for more. Multiple locations, squatters.com
Whiskey Street
Come here for new takes on old classics, like bourbon-bacon caramel popcorn, pork belly corndogs, hazelnut-dusted calamari and grilled shrimp BLT. 323 S. Main, 801-433-1371, whiskeystreet.com
White Horse
Serving everything from duck confit wings to shellfish that adheres to their "tide to table" philosophy.
325 S. Main, 801-363-0137, whitehorseslc.com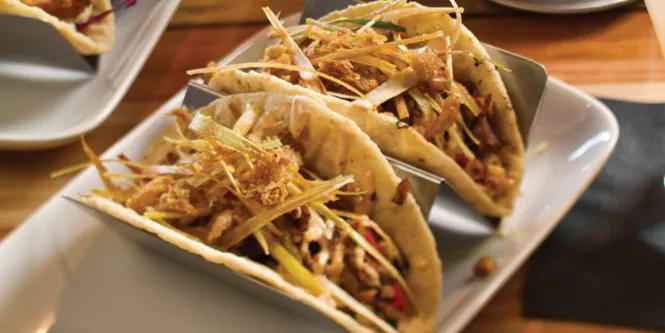 Niki Chan
TaquerÍa 27
Essential Mexican

Alamexo
Molcajetes, tortas and calabacitas all live at this chic and comfortable cantina. 268 S. State, 801-779-4747; 1059 E. 900 South, 801-658-5859, alamexo.com
Beto's Mexican Food
One taste of any of their combination plates (enchiladas, machaca, filete ranchero, etc.) and it's easy to see why this is a local favorite. Multiple locations
Blue Iguana
All the staples, plus a killer margarita list make this downtown eatery a Mexi-must. 165 S. West Temple, 801-533-8900; 255 Main, Park City, 435-649-3097, blueiguanarestaurant.net
Chile-Tepín
Between their parrilladas, alambres and carnitas selections, get ready for a truly authentic meal. 307 W. 200 South, 801-883-9255, facebook.com/chiletepin
La Oaxaqueña
Loaded tlayudas, mole negro and nopal Zapoteco bring a true taste of Oaxaca to your taste buds. 499 E. 2700 South, 801-484-6584
Red Iguana
Get ready for a wait during peak hours. Your patience will be rewarded with sensational moles, finger-licking chile colorado and cochinita pibíl. Multiple locations, rediguana.com
Salsa Leedos Mexican Grill
Fine Mexican in the heart of Riverton. Pick your top favorites and create your own two- or three-item combo. 13298 S. Market Center Drive, Riverton, 801-565-8818, salsaleedos.net
Tacos El Toro
Otherwise known as Sears tacos; one bite of their street tacos, burritos or quesadillas, and it's easy to see why folks gather at this mighty roadside cart. 800 S. State, 801-667-4663
Taco Taco
Come for the luchador vs. Donald Trump stickers, stay for the rockin' chicken mole burrito. 208 E. 500 South, 801-428-2704, tacotacoslc.com
Taquería 27
Standards get new life with offerings like a duck confit quesadilla, the jícama-topped Cobb salad and grilled-pear and roasted-beet tacos. Multiple locations, taqueria27.com


Niki Chan
Star of india's tandoori chicken
Essential Middle-Eastern + Indian
Cedars of Lebanon
For more than three decades, Cedars has served up exceptional fattoush, muhammara, kibbeh and more. 152 E. 200 South, 801-364-4096, cedarsoflebanonrestaurant.com
Curry Fried Chicken
Their CFC plate puts the Colonel's to shame. 660 S. State, 801-924-9188
Curry 'n' Kabobs
You'll find this Afghan and Indian gem tucked behind Market on Main. 268 S. Main, 801-363-0300
Himalayan Kitchen
Nepali cuisine elevated. 360 S. State, 801-328-2077, himalayankitchen.com
Laziz Kitchen
Your destination for kafta, shish tawook and solid mana'oushe sandwiches. 912 S. Jefferson St., 801-441-1288, laziz-foods.com
Mazza Middle Eastern Cuisine
While the food is extraordinary, house cocktails like the refreshingly sweet Desert Rose and the Whiskey White, garnished with cardamom pods, steal the show. 1515 S. 1500 East, 801-484-9259; 912 E. 900 South,801-521-4572, mazzacafe.com
O'Falafel Middle Eastern Cuisine
Soups, salads, sandwiches, pita quiches—this place has all the delicious bases covered. 790 E. 2100 South, 801-487-7747, ofalafeletc.com
Shahrazad Restaurant
Longing to prep some of their foods almost as good as the pros do? Check out their adjoining market, which carries locally sourced produce and rare spices. 1615 W. 2100, 801-975-9977, shahrazadrestaurantslc.com
Shawarma King
Shawarma, kebabs, falafel and hummus all wrapped up in an inviting setting. 725 E. 3300 South, 801-803-9434; 2223 S. Highland Drive, 385-415-2100, slcshawarmaking.com
Star of India
A shiny beacon for lamb and goat curries or those of the vegetarian kind.
1659 W. North Temple, 801-363-7555, starofindiaonline.com
Essential Pizza

Big Daddy's Pizza
Offering all-night delivery, Big D's is the place to call to fill those late-night hunger pangs. Multiple locations, bigdaddyspizza.com
Este Pizzeria
Create your own New York-style pizza—thin-crust with a crisp edge and pliable inside—or try one of their daily specials. Gluten-free crust also is available. Multiple locations, estepizzaco.com
Litza's Pizza
A local staple since 1965, all dough, sauce, garlic butter and salad dressings are made from scratch here. Multiple locations, litzaspizza.com
Mellow Mushroom
MM uses Appalachian spring water for their crust and high-quality ingredients to create a distinct and flavorful pie.
1080 E. 2100 South, 801-844-1444, mellowmushroom.com
Pie Hole
Thin-crust pizza here is cheap, sold by the slice and damned good. Don't miss out on their SLC-famous potato bacon option. 344 S. State,801-359-4653, pieholeutah.com

The Pie Pizzeria
Wherever you land on the vegan-to-carnivore spectrum, your pizza cravings will be satisfied with The Pie's all-inclusive topping options. Multiple locations, thepie.com
Rusted Sun Pizzeria
People flock to the ovens to get the Mediterranean—a Rusted Sun fan-favorite—dished up with tangy marinara, fresh mozzarella, salami, artichoke hearts, green olives and a taste of feta cheese. 2010 S. State, 801-483-2120
Settebello Pizzeria Napoletana
Take a trip around the world at this authentically Neapolitan-inspired pizzeria that boasts prosciutto from Parma, cheese from Modena and salumi from Seattle. 260 S. 200 West, 801-322-3556, settebello.net
Sicilia Pizza & Kitchen
Bite into the Meat Amori, which is capped with pepperoni, fresh Italian sausage, seasoned beef and ham. 35 W. 300 South, 801-961-7077, siciliapizza.net
Wild Pepper Pizza
Want more bang for your buck? Wild Pepper promises their pies are two inches larger than their competitors. 777 S. State, 801-220-0777, wildpepperpizza.com
Niki Chan
Sour Cherry Blintzes at Feldman's Deli
Essential World
Café Machu Picchu
A bona fide Peruvian rotisserie serving up finger-licking pollo a la brasa. 3018 S. State, 801-466-4908
Chabaar Beyond Thai
True Thai flavors, along with excellent cooking classes. Check out their website for full schedule. 87 W. 7200 South, 801-566-5100, amystakeonthai.com
Cucina Toscana
Home of fresh fish, perfect pasta and terrific tiramisu. 282 S. 300 West, 801-328-3463, toscanaslc.com
Curry in a Hurry
Service might be fast here, but the mindfulness and time members of the Nisar family took to perfect their recipes is evident in every bite. 2020 S. State, 801-467-4137, ilovecurryinahurry.com
El Viroleno
At just around two bucks a pop, treat yourself to every pupusa on the menu. 471 W. 800 South, 801-595-7021
Feldman's Deli
A superb delicatessen offering mile-high sandwiches and Old World specialties. 2005 E. 2700 South, 801-906-0369, feldmansdeli.com
Mandarin
Kids eat free, and the whole family can enjoy succulent dishes and jazzy drinks like the plum wine spritzer. 348 E. 900 North, Bountiful, 801-298-2406, mandarinutah.com
Mom's Kitchen
Traditional Taiwanese and Chinese dishes prepared with love. 2233 S. State, 801-486-0092, momskitchenrestaurantsaltlakecity.com
Oh Mai
SLC's best bánh mì, hands down. Multiple locations, ohmaisandwich.com
Yoshi's Japanese Grill
Asian-inspired fare that's been been making loyal patrons flock to Murray for more than 15 years. 5692 S. 900 East, Murray, 801-713-9423, japanesegrill.com
Have You Scene These Guys?



10 local bands visitors need to check out.



By Randy Harward
You might already know some bands from Utah. We've got major pop acts like Neon Trees, Imagine Dragons and electric violinist/Dancing With the Stars alum Lindsey Stirling. Joining them soon could be pop-rockers The Aces and electro-pop duo Strange Familia. There's also plenty of nationally known metal and punk groups, with experimental doom duo Eagle Twin, violin-propelled doom act SubRosa, power metal quintet Visigoth, and screamo giants The Used—whose original drummer Branden Steineckert has been drumming for Rancid for more than a decade. Well, the Salt Lake City scene is much bigger than that, so each year we like to help our out-of-town guests get hip to the best of the rest.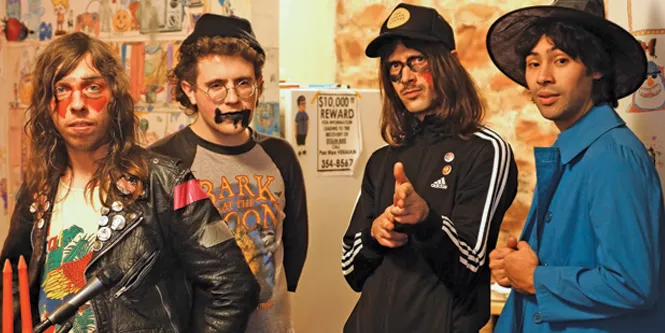 '90s Television
90stelevision.bandcamp.com
Above all, bands need great songs. But there's something to be said for presentation. True to their name, '90s Television often dresses their stages in plush dolls, plastic action figures and other graven images that honor '90s nostalgia. Musically, though, they're not beholden to any particular decade. Their poppy, lo-fi psych-pop tunes draw from The Beatles, Spacemen 3, The Beach Boys, The Clash and ELO—which made them a splendid support act for Kurt Vile's Twilight Concert Series appearance last summer. Where to catch them: The Urban Lounge, Diabolical Records, Kilby Court.
Blackkiss
blackkissdrifters.com
Pete Sands grew up on a Navajo reservation and wound up inspired by his grandmother's record collection, which encompassed the likes of Johnny Cash, Waylon Jennings, Willie Nelson, Elvis Presley, Loretta Lynn and Frank Sinatra. His songs dwell on the dark side of country, with a dusty, gloomy mystery of Jim Jarmusch's black-and-white postmodern western, Dead Man. Just the same, Sands possesses the keen observational eye and sensitivity essential to any singer-songwriter, regardless of genre. Where to catch him: When he's not touring or playing Yelawolf's Slumfest, Sands gigs locally at The State Room and The Acoustic Space.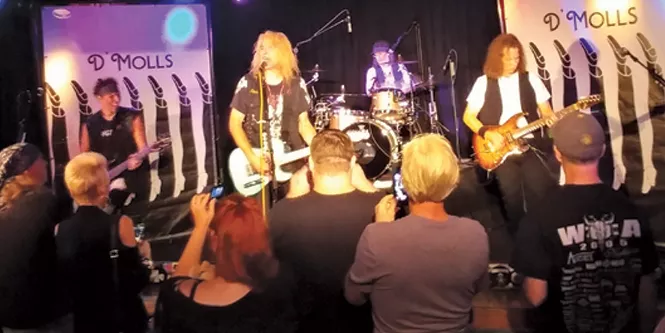 D'Molls
facebook.com/therealdmolls/
While they never achieved the same level of success as their peers on the Sunset Strip, D'Molls still put out two critically acclaimed albums on Atlantic Records and maintain a loyal cult following. And now that singer-guitarist Desi Rexx has relocated to Utah and teamed up with bassist/producer Jonni Lightfoot (Air Supply, Skit Skat), we can call 'em local! You can catch them headlining club bills or opening bigger shows for friends like Skid Row and Enuff Z'nuff when they roll through SLC. Where to catch them: Liquid Joe's, larger venues.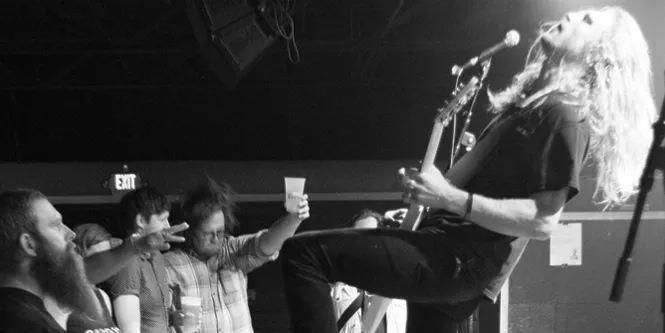 Kapix
facebook.com/kapix801
Do you like stompin' guitar-rock in the vein of Motörhead and AC/DC? If so, you'll dig Prom Queen, the new EP by this power trio co-fronted by 6-foot-2 Olympic snowboarder Hagen Kearney. It's anthem after anthem of fist-pumping rock 'n' roll with meaty riffs, luscious licks and pounding rhythm—perfect for highway driving, competitive drinking, extreme sports and no-regrets hearing loss. And also sweaty, shoulder-to-shoulder club shows. Where to catch them: The Urban Lounge, The Royal.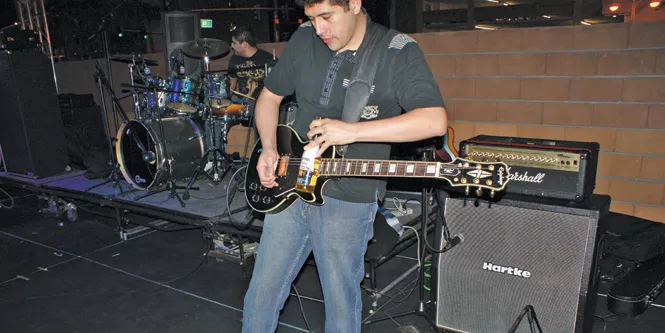 Leyenda Oculta
reverbnation.com/leyendaoculta4
Rock 'n' roll sounds more badass en Español. Think about it: When Los Lobos fires up their amps, it's powerful. And how about Tito and Tarantula, the band in From Dusk Till Dawn? Even without the vampire stuff, those cucarachas enojadas sound mean as hell. Leyenda Oculta, which means "hidden legend," is one of SLC's best kept secrets. Their self-titled album is packed with electrifying, blues-based rockers like "El Rey," "Viva El Rock 'n' Roll" and "Pagarán." But they're only part of a burgeoning rock en Español scene, along with other great bands like La Calavera, De Despedida, Call Musor and Cenizas Ajenas—all of them likely to be on the same bills as Leyenda. Where to catch them: Liquid Joe's, The Complex, Mexican Civic Center.
Rhyme Time
rhymetime.bandcamp.com
At one time Scott Knopf went by the handle Atheist as a member of local hip-hop group House of Lewis—you might recall them from the 11th season of America's Got Talent. Knopf still works with those guys, but when he's solo, he's Rhyme Time. His agile, geeky, playful rhymes are immediately endearing, especially when layered over beats that reach into other genres for inspiration. You might've heard his happy, bumpin' track "Rocking to Brock (feat. UniqueSyntax) on ESPN or the Central Coast Disc Golf channel on YouTube. While you're tubing, check out Knopf's variety show, Rhyme Time Television. Where to catch him: The Urban Lounge, Metro Music Hall.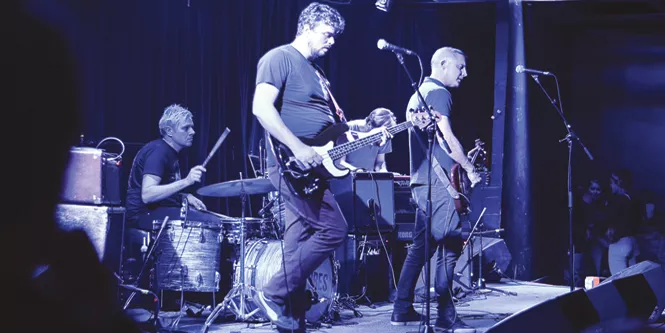 Starmy
starmy.bandcamp.com
Although frontguy Mike Sartain talks about packin' it in after more than two decades, he doesn't. That's good, too, because he's a go-to source for cathartic, introspective songs that just plain rock. You know that great feeling when you're standing front-and-center, and your feet hurt from standing all night but you don't really mind because your nerves are dull from all that beer and the songs—total rockers, along with a few slower tracks—are really speaking to you, answering life's hard questions? Happens at every Starmy show. Where to catch them: Lately, they tend to stick to The Urban Lounge.
Tony Holiday & the Velvetones
facebook.com/tonyholidaymusic
Blues fans—you'll be pleased to know we have a vibrant blues scene with acts of some national renown. Tony Holiday's excellent songs, fiery harp playing and gritty resonant vocals, and the Velvetones' ace chops have earned them quite a reputation on the blues circuit. Holiday's new album Tony Holiday's Porch Sessions even features guest appearances by a litany of blues greats including Charlie Musselwhite and John Németh. Live, this big band is a force. Where to catch them: The State Room, Garage On Beck, Lake Effect.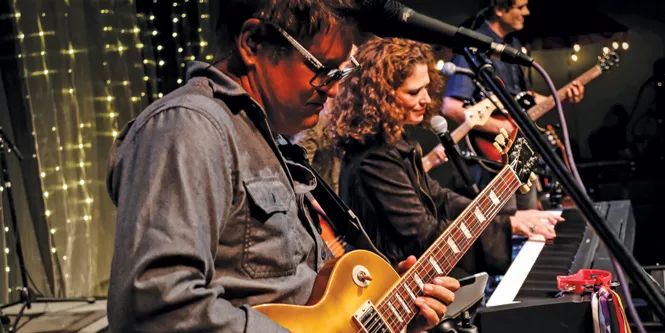 Troubadour 77
troubadour77.com
Monty Powell and Anna Wilson have written songs for the likes of Billy Ray Cyrus ("Could've Been Me"), Tim McGraw ("One of These Days") and Keith Urban ("Days Go By")—to the tune of 70 million units sold. They left Nashville behind to come here and form this band, a vehicle for their '70s Laurel Canyon country-rock tunes. Do yourself a favor and see if they're playing while you're in town. If not, at least pick up their stellar debut album, Selma Avenue. It's named for the L.A. street that was home to Criterion Music Corp., the studio where artists like Jackson Browne and Linda Ronstadt tracked some of their biggest albums. Where to catch them: Snowbasin, Peery's Egyptian Theater, The Royal.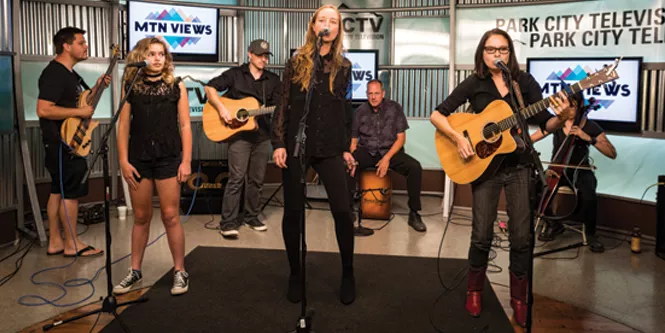 Winter Grain
wintergrain.com
One listen to their eponymous EP—tracked with Ryan Hadlock (Brandi Carlile, Foo Fighters) at Bear Creek Studios in Seattle—and you'll be head over heels for this co-ed folk-rock band led by real-life couple Kate Anderson and Secily Saunders. It's a stunning set of well-honed tunes propelled by sublime vocal harmonies and Anderson's candid, keen lyrics. Live, they range from four- to nine-member configurations, adding extra vocalists, cello and drums. But no matter the arrangement, you'll be floored by the songs. Where to catch them: The Urban Lounge, Pale Horse Sound.
Enrique Limón
Randy's Records
On the Records



Where to go when you wanna stack wax like paper.



By Randy Harward
When you've dug through every crate in every record store in your hometown, a new city with a new batch of record stores is something like a Wonka-esque fantasy wrapped in a wet dream. Welcome to Salt Lake City, where contrary to popular belief and flyover jokes, we have record stores that sell more than releases by The Osmonds, the Mormon Tabernacle Choir and David Archuleta. To paraphrase the president: That would be sad. We know music! We have the best music! And here's where to find some.
Albatross Recordings & Ephemera
1305 S. 900 East
instagram.com/albatrossrecslc
Est.: 2014
Look Here For: Cool and strange music—anything truly, wonderfully weird. The closest you'll get to pop music might be an ultra-rare import version of My Bloody Valentine's Loveless.

Beyond the Music: Horror- and occult-themed art, books and tchotchkes.

Staff: Most of the time, your host will be mellow, soft-spoken Timo. If not, you're probably talkin' to Cesar Reyes, who's also pretty cool (so's his band, Super 78).

Tip: "Ephemera" should be your first clue that the stuff Timo stocks is, shall we say, special. Don't expect much in the way of vanilla. Also, look for occasional in-store performances by acts that you've never heard of (a good thing).

Diabolical Records
238 S. Edison, 801-792-9204
facebook.com/diabolicalslc
Est.: 2013
Look Here For: What the kids are into. The cool ones. Not the ones who listen to Lil Yachty. Also, Diabolical has the best local music selection in town.

Beyond the Music: Free zines and sometimes even cassettes and CDs—and very cool Diabolical T-shirts.

Staff: Adam Tye and Alana Boscan met at a party and bonded over their mutual music-nerdiness. Now married, they run one of the coolest record shops in town, with an interior resembling a small suburban home—where the kids really make a racket.

Tip: Diabolical hosts shows by local and national acts whenever possible—always at 8 p.m. and always for only a $5 suggested donation. Follow them on Facebook for details.

The Heavy Metal Shop
63 Exchange Place, 801-467-7071
heavymetalshop.com
Est.: 1987
Look Here For: Metal, duh. All strains, too. But there's also punk, outlaw country and more.

Beyond the Music: You've probably seen your favorite band member sporting a THMS shirt or hoodie in magazines or onstage. They also have hats, fannypacks, stickers and pins.

Staff: Kevin Kirk is the man. He's been "peddlin' evil since 1987" but can talk about all kinds of music. He also has the respect of the metal elite—and pictures to prove it. He's friends with muthahuggin' Slayer.

Tip: Seriously. The shirts and hoodies are iconic. Visiting here without buying one is like going to Baskin-Robbins and leaving without ice cream. Also, THMS hosts some of the best in-store performances (Dwarves, Michael Dean Damron).

Graywhale Entertainment
Four locations: Salt Lake City (University of Utah), Taylorsville, Sandy, Ogden
graywhaleslc.com
Est.: 1986
Look Here For: Everything from mainstream vanilla to the deliciously obscure.

Beyond the Music: The Taylorsville location is like a locally owned F.Y.E., with DVDs, Blu-rays, video games, toys and books. Horror fans will dig the selection, curated by in-house horror buffs.

Staff: The co-ed staff skews younger at Graywhale, but most of 'em—like Darby Johnson—are friendly and know their stuff. Don't worry, fellow geezers. There's always at least one O.G. (old guy) like store director Brandon Anderson around to help us locate our moldy oldies.

Tip: You can search Graywhale's massive inventory—everything, at every location—on their website. You can also buy concert tickets here. The university store specializes in blues, jazz and world music.

Randy's Record Shop
157 E. 900 South, 801-532-4413
randysrecords.com
Est.: 1978
Look Here For: What you can't find. With 40 years of experience under his belt, if Randy doesn't have it, he'll find it.

Beyond the Music: Although you might see some DVDs and Blu-rays, it's really all about music here.

Staff: Randy Stinson spends most of the day in the back room, but his son Sam (known around town as DJ Feral Cat) and local musician Jeremy Devine (The Nods, '90s Television) will happily help wax addicts find a fix.

Tip: Check the wall behind the counter for sick rarities. Also, every couple of months Randy commandeers the back room of the flower shop across the street for a weekend-long $2 vinyl sale, offering literally thousands of LPs, CDs, cassettes and DVDs.

Raunch Records
1119 E. 2100 South, 801-467-6077
raunch.storeenvy.com
Est.: 1984
Look Here For: Real-deal punk. There's other stuff, of course—but Raunch is a punk-rock mecca. Be warned, posers: This ain't Hot Topic.

Beyond the Music: Raunch is also a skate shop with decks, grip tape, wheels and hardware. You'll also find a great selection books, magazines, comics, art prints—and even a Motörhead-branded sex gizmo.

Staff: Brad Collins and his best girl/partner Dorthy Burns personify the mom-and-pop, brick-and-mortar record stores we all love to support. You might say they have a Mutt and Jeff thing going on, with Brad pretending to be surly and Dorthy being a total sweetheart.

Tip: The American Sign Language hand symbols on the Raunch stickers don't spell the store's name. And the Raunch T-shirts are designed by well-known skateboard artists like Pushead (Metallica).

Sound & Vision Vinyl
3444 S. Main, 385-229-4165
soundandvisionvinyl.com
Est.: 2015
Look Here For: Vinyl—from new releases to reissues to used, as well as some choice imports and live recordings like—a Led Zeppelin show in SLC from 1973.

Beyond the Music: S&V has rare collectibles and memorabilia, as well as sweet cigar box guitars made with pop culture lunchboxes.

Staff: Maccarrone is a lifelong music-pusher from Brooklyn who was there during punk's 1977 dawn. He hung out the legendary venue Max's Kansas City, and he knows everybody. He also fronted the New York hardcore band Dead Virgins, whose rare recordings go for a cool 100 bucks—or more—on eBay. If you can find them.

Tip: You won't find many CDs here, but the ones you do see likely came from Mike's personal collection, which is
comprehensive.
Festivalia



The ultimate guide to music festivals in SLC and beyond.



By Randy Harward
So your significant other just had to visit their family instead of heading to Bonnaroo or Coachella. We get it. Lucky for you, the number of music festivals in Utah multiplies like Mormon families and/or rabbits. There's bound to be one happening when you visit. But as it's a little early in the year to compile a list like this, bear in mind that many of these festivals are still in the planning stages—details are based on 2017 information and are subject to change.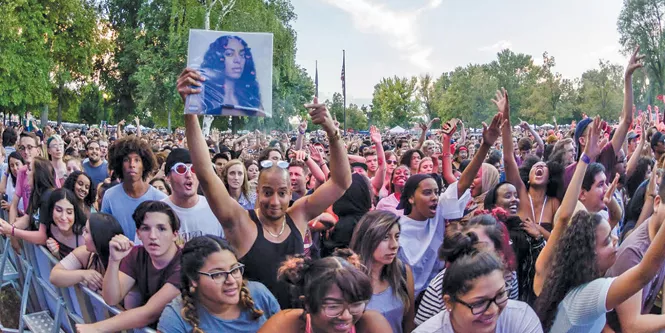 Photo Collective Studios / Dave Brewer
Twilight Concert Series
Living Traditions Festival
livingtraditionsfestival.com
Free two-day festival celebrating cultural diversity with food and music from many countries.
When: late May
Where: Library Square, Washington Square (SLC)
Price: Free admission
Age restriction: None
Blues, Brews & BBQ
snowbasin.com/the-mountain/entertainment/blues-brews-bbq
This free concert series offers big bills with local and national acts—not just blues, but funk, soul, country and rock—as well as the titular taste treats.
When: Sundays from June through September
Where: Snowbasin Resort (Huntsville)
Price: Free admission
Age restriction: None
Ogden Twilight
ogdentwilight.com
Hipster fare in the indie rock and electro-pop vein.
When: Thursdays in June
Where: Ogden Amphitheater (Ogden)
Price: $5-$25
Age restriction: None
Utah Blues Festival
utahbluesfest.org
A perennial favorite featuring blues luminaries and local acts, as well as workshops.
When: Mid-June
Where: Usually at the Gallivan Center.
Price: Varies
Age restriction: None

Utah Arts Festival
uaf.org
Headlined by a touring act, but featuring many top local acts over four days.
When: late June
Where: Library Square, Washington Square (SLC)
Price: $6-$35 (under 12 free)
Age restriction: None

Bonanza Campout
bonanzacampout.com
Indie rock bands and singer-songwriters over two days in a scenic location.
When: late June
Where: River's Edge (Heber City)
Price: $70-$300
Age restriction: None
Lunar Transit
lunartransit.com
Electronic music under the stars.
When: Sundays from June through September
Where: Eagle Point Resort (Beaver)
Price: $85
Age restriction: Unknown

Wasatch Mountain Music Festival
wasatchmountainmusic.com
Multi-day country, folk and bluegrass festival.
When: mid-July
Where: Soldier Hollow (Midway)
Price: $27.50-$91 (under 15 free with parent)
Age restriction: None
Twilight Concert Series
twilightconcerts.com
Affordable and well-curated series featuring big-name indie rock and hip-hop acts with support from marquee locals.
When: Thursdays from July through early September
Where: Gallivan Center (SLC)
Price: $10
Age restriction: None
Mystic Hot Springs Music Festival
mystichotspringsmusicfestival.com
Four-day event near natural hot spring, featuring mainly jam bands. Camping available.
When: mid-to-late July
Where: Mystic Hot Springs (Monroe)
Price: $60-$150
Age restriction: 5 and older

Country Fan Fest
countryfanfest.com
Utah's biggest country music festival, spanning three days, headlined by major acts. Camping available.
When: late July
Where: Deseret Peak (Tooele)
Price: $50-$300
Age restriction: None
SLC Jazz Festival
slcjazzfestival.com
Two-day event featuring big-time jazz names and homegrown talent.
When: late July
Where: Gallivan Center (SLC)
Price: Varies
Age restriction: None
Troubadour Fest
troubadour77.com
Inaugural festival organized by country-rockers Troubadour 77 and Live Nation focuses on singer-songwriters, including the original authors of tunes made famous by other artists.
When: Aug. 3-4
Where: Snowbasin Resort
Price: TBD
Age restriction: None
Craft Lake City DIY Festival
craftlakecity.com
Two-day craft festival with lots of local music.
When: early-to-mid August
Where: Gallivan Center (SLC)
Price: Varies
Age restriction: None
Honeypot Blown Glass Competition & Art Festival
Honeypotglasscomp.com
Single-day festival built around competitive glass blowing, with a variety of local music.
When: early August
Where: Varies (SLC)
Price: Varies
Age restriction: None
Women's Redrock Music Festival
womensredrockmusicfest.com
This one's all about the ladies. Expect lots of folk music—but plenty of rock, too. Camping available.
When: early-to-mid August
Where: Torrey
Price: $40-$90
Age restriction: None
Das Energi
dasenergifestival.com
Two-day EDM festival with tons of acts—from locals to internationally famous headliners.
When: mid-August
Where: The Great Saltair (Magna)
Price: $65-$225
Age restriction: 18+
Reggae Rise Up
reggaeriseup.com/festival/reggae-rise-festival-utah
Big reggae festival with major headliners, mid-sized support acts and locals. Camping available.
When: mid-to-late August
Where: River's Edge (Heber City)
Price: $30-$150
Age restriction: None
Western Legends Roundup
westernlegendsroundup.com
Country music, cowboy poetry and more in rural Utah.
When: mid-to-late August
Where: Various locations (Kanab)
Price: Varies
Age restriction: None
Crucialfest 7
crucialfest.com
Half-national, half-local festival featuring heavy metal, punk, indie, alternative and more.
When: Typically August
Where: Various downtown venues (SLC)
Price: $45-$165
Age restriction: Day shows tend to be all-ages. Night shows are 21 and over.
Urban Arts Festival
urbanartsfest.org
Hip-hop reigns at this popular multi-day fall festival, but you'll find funk, jazz and rock here, too.
When: mid-September
Where: Various locations (SLC)
Price: Free admission
Age restriction: None
Josh Scheuerman
Dirty Heads and Soja at the Gallivan Center
Where Ya Tunes At?
Here's where to find the best local music in SLC.
By Randy Harward
You don't need this guide to find good live music venues in Salt Lake City. The place is silly with them now. We have the underground rooms only cool people are supposed to know about, the all-ages sheds, dives, hipster bars, saloons, outdoor venues, theaters, arenas—everything. All you gotta do to find one is put your ear to the ground and feel the bass. Or keep reading.


801 Event Center
facebook.com/801eventcenter
1055 W. North Temple, SLC
801-347-5745
Serving SLC's vibrant Latino community, the 801 hosts a spectrum of music con sabor, whether it's banda, reggaeton, pop, hip-hop or rock.
A Bar Named Sue
abarnamedsue.net
3928 S. Highland Drive, SLC
801-274-5578

A Bar Named Sue on State
8136 S. State, Midvale
801-566-3222
Cash is king at these themed neighborhood bars, where you can enjoy live music (old-school country, rock 'n' roll), DJs, karaoke and free beer pong—with cash prizes.
ABG's Libation Emporium
abgsbar.com
190 W. Center St., Provo
801-373-1200
You might hear that Provo is squeaky clean. It is—but that makes this punk rock dive even more awesome.
The Acoustic Space at The Gateway
theacousticspace.com
124 S. 400 West, SLC
801-657-2325
It's not necessarily acoustic here; you'll find bands as well as solo singer-songwriters. All booked by renowned bluesman Tony Holiday.

Albatross Recordings & Ephemera
instagram.com/albatrossrecslc
1305 S. 900 East, SLC
The infrequent shows are events—owner Timo Hatziathanasiou books far-out music to go along with his outre LPs, books and tchotkes.
Alleged
facebook.com/alleged25th
201 25th St., Ogden
801-990-0692
A former brothel, Alleged is a modern lounge booking occasional live local and regional bands. No "dates," though.
Area 51
area51slc.com
451 S. 400 West, SLC
801-534-0819
This is SLC's goth-industrial mecca, but you'll also catch metal and punk bands here, and enjoy two different types of '80s nights presided over by top local DJs.
The Avant Groove
avantgroove.com
122 W. Pierpont Ave., SLC
801-953-0433
This new venue bills itself as a jazz club and martini bar, but you'll hear some blues grooves, too.
Bar-X/Beer Bar
beerbarslc.com
155 E. 200 South, SLC
801-355-2287
385-259-0905
Modern Family's Ty Burrell co-owns these companion establishments—the only place in town to catch legendary local band The Rubes (albeit doing mostly rock, R&B and country covers from the '50s and s'60s) on the fourth Sunday of the month.
Barbary Coast Saloon
facebook.com/barbary-coast-saloon
4242 S. State, Murray
801-265-9889
Biker bars have some great music—
everything from country to blues to rock, and it's no different here.
The Bayou
utahbayou.com
645 S. State, SLC
801-961-8400
On Fridays and Saturdays, enjoy live
local jazz at this popular Cajun restaurant and beer emporium.
The Beehive
beehivecollectiveslc.com/the-beehive
666 S. State, SLC
385-645-3116
An all-ages, inclusive venue located at the Devil's coordinate, the Beehive specializes in local music but is open to any event.
Black Lion
facebook.com/blacklionevents
9854 S. 700 East, Sandy
801-495-9699
You can rent the Black Lion for your own concert—or simply check out one of their sporadic multi-band events.
Bourbon House
bourbonhouseslc.com
19 E. 200 South, SLC
801-746-1005
The name alone will get you in the door, but you'll stay for the local jazz jam as well as funk, soul and DJ acts.
Brewskis
brewskisonline.net
244 25th St., Ogden
801-394-1713
Here, you'll find mostly local bands, and a lot of great blues acts—but also rock, new wave, singer-songwriters, hair metal tribute acts and cover bands.
The Cabin
thecabinparkcity.com
825 S. Main, Park City
435-565-2337
In addition to live original local music on the weekends, The Cabin offers weekly open mics, karaoke, dueling pianos and DJs.
Chakra Lounge
facebook.com/chakraloungeslc
364 S. State, SLC
801-328-2077
A comfortable lounge, Chakra programs anything from DJs to karaoke to live local music.

Club 90
club90slc.com
9065 S. Monroe St., Sandy
801-566-3254
Club 90's main attractions are cover bands because they want you out of your seat. But check their calendar for weekly jazz and bluegrass.
Club Karamba
karambaslc.com
1051 E. 2100 South, SLC
801-696-0639
At Karamba, the music is all geared to make you move—you'll find pop, DJs, Latin big bands and even the occasional rock en Español act.
Club X
clubxslc.com
445 S. 400 West, SLC
801-935-4267
Club X offers everything from DJ nights, to live punk and metal.
The Complex
thecomplexslc.com
536 W. 100 South, SLC
801-528-9197
With its three stages, this massive downtown venue books touring metal, punk, indie and hip-hop acts—and you can drink here, too.
Copper Common
facebook.com/coppercommon
111 E. 300 South, Ste. 190
801-355-0543
A fine pub/restaurant, Copper Common hosts the occasional live music event—and a popular concert series—curated by local musician/radio personality Bad Brad Wheeler—during the Sundance Film Festival in late January.
Dejoria Center
dejoriacenter.com
970 Utah-32, Kamas
435-783-3113
At this rustic special events center in the Uinta mountains, enjoy the likes of country singer LeAnn Rimes, hair metal band Slaughter and country gents the Bar J Wranglers.
Eccles Theater
live-at-the-eccles.com
131 S. Main, SLC
801-355-2787
SLC's newest major venue offers
everything from singer-songwriters like Amos Lee to mope-rocker Morrissey to country legend Kenny Rogers to Elvis tributes to Johnny Freakin' Mathis.
The Depot
depotslc.com
400 W. South Temple, SLC
801-355-5522
A club/theater, the Depot accommodates mid-level to major touring acts in a variety of genres—but mostly all strains of rock: classic (Todd Rundgren), alternative (Dinosaur Jr.), and papal-satanic (Ghost).
Diabolical Records
facebook.com/diabolicalslc
238 S. Edison St., SLC
801-792-9204
Secreted down a one-way downtown street, Diabolical hosts some of SLC's best local punk, indie, metal, new wave and goth rock—plus deliciously obscure touring acts like Nobunny and Tatsuya Nakatani.

Donkey Tails Cantina
guadalahonkys.com/donkey_tails.html
136 E. 12300 South, Draper
801-571-8134
If you learned anything from Star Wars, it's that Han shot first and cantinas have cool music—and there's nothin' like a massive combo platter while you enjoy some live tunes.
Downstairs
downstairspc.com
625 Main, Park City
435-615-7200
Dance music rules Downstairs, and you'll see mostly dance artists and DJs.
Downtown Farmers Market
(Pioneer Park)
slcfarmersmarket.org
350 W. 300 South, SLC
801-359-5118
A popular weekend destination for locals, the Downtown Farmers Market books local music to soundtrack your Saturday produce-pickin'.
Eccles Center
ecclescenter.org
1750 Kearns Blvd., Park City
435-655-3114
Now in its 20th season, the Eccles Center hosts a wide array of music events throughout the year from blues to jazz to folk to rock and even orchestral performances.
The Egyptian Theatre
egyptiantheatrecompany.org
328 Main, Park City
435-649-9371
The gorgeous Egyptian books multi-night stands by oldies bands (Herman's Hermits), classic rockers (Al Stewart), instrumental virtuosos (Robben Ford, Leo Kottke) and disco legends (Village People).
Elevate
elevatenightlifeslc.com
149 W. 200 South, SLC
801-478-4310
Dance music reigns at this popular downtown joint, which books local,
national and international DJs and bands.
Even Stevens
evenstevens.com, multiple locations
The Utah-based philanthropic sandwich shop chain books live local music and stages the Givestock Festival—featuring local and national acts—every summer.
Elixir Lounge
elixirloungeslc.com
6405 S. 3000 East, Holladay
801-943-1696
A stylish lounge near Big Cottonwood Canyon, Elixir offers live acoustic music and DJs.
Feldman's Deli
feldmansdeli.com
2005 E. 2700 South, SLC
801-906-0369
The city's only Jewish deli has live local music several days a week, including owner Michael "Deli Man" Feldman playing blues and folk.
Flanagan's On Main
flanagansonmain.com
438 Main, Park City
435-649-8600
On the weekends, Flanagan's offers live music—both covers and originals by local artists, plus DJ sets.
Funk 'N Dive Bar
funkanddive.com
2550 Washington Blvd., Ogden
801-621-3483
There's some great music up in O-town, and you'll find a lot of it here—rock, blues, hip-hop, DJs and even old-timey jazz.
The Gallivan Center
thegallivancenter.com
239 S. Main, SLC
801-535-6110
This downtown outdoor mini-amphitheater once hosted large local festivals and major touring acts (Gov't Mule, The Black Keys), but it's now known for scheduling local jazz, blues, soul and singer-songwriters.
Garage On Beck
garageonbeck.com
1199 Beck St., North Salt Lake
801-521-3904
An actual roadhouse with a breathtaking view of an oil refinery, The Garage books all the best roots music—blues, rockabilly, swing, country, folk and even some surf and (wait for it) garage rock!
Gracie's
graciesslc.com
326 S. West Temple, SLC
801-819-7565
Classy Gracie's doesn't seem like a live music venue—but they bring us rockabilly, blues, folk, DJs and a weekly jazz and bluegrass jams with David Halliday and the Jazz Vespers Quartet and Pixie & the Partygrass Boys, respectively.
The Great Saltair
thesaltair.com
12408 W. Saltair Drive, Magna
801-250-6205
Although the original castle-like edifice burned down long ago, the new building has hosted many major rock acts from Dio to Simple Minds to The Cult and The Flaming Lips, as well as huge EDM shows.
The Green Pig Pub
thegreenpigpub.com
31 E. 400 South, SLC
801-532-7441
The name just squeals blues, and you'll find it here—along with the occasional rock or jam band.
The Hog Wallow Pub
thehogwallow.com
3200 E. Big Cottonwood Canyon Road, Cottonwood Heights
801-733-5567
Live music and good eats are what's up at this cool little venue at the mouth of Big Cottonwood Canyon, which books blues, folk, funk, jam and rock.
The Ice Haüs
facebook.com/theicehaus
7 E. 4800 South, Murray
801-266-2127
Tucked away in industrial SLC suburb Murray, the Haüs offers DJs, singer-songwriters, and funk, soul and jazz bands.
In The Venue/Club Sound
inthevenueslc.com
219 S. 600 West, SLC
801-359-3219
Two venues in one—ITV is the big all-ages room with a retractable roof, Club Sound is the smaller 21-plus place, and everyone from violin virtuoso Lindsey Stirling to punk rockers band religion to outsider singer-songwriter Daniel Johnston have performed here.
Infinity Event Center
infinityeventcenter.com
26 E. 600 South, SLC
385-242-7488
Booking mainly one-off shows by outside promoters, this is the only place in town where you can see Mexican arena rockers like Cuca, who are like the Rolling Stones and Mötley Crüe back in their home country.
Johnny's On Second
johnnysonsecond.com
165 E. 200 South, SLC
801-746-3334
At Johnny's, the music is fairly varied with DJs and local bands flying the flag for alt-country, blues, rockabilly, funk and folk.
Kamikaze's
kamikazesogden.com
2404 Adams Ave., Ogden
801-621-9138
Another O-Town fixture, Kamikaze's offers mainly local music without a favorite genre. You'll find punk, rock, country and celtic folk—among other things.
Keys On Main
keysonmain.com
242 S. Main, SLC
801-363-3638
As the name implies, this is a piano bar where you'll find ivory ticklers going Steinway-to-Steinway performing songs you choose—until somebody else pays them to stop.
Kilby Court
kilbycourt.com
741 S. Kilby Court (330 West), SLC
801-364-3538
Salt Lake's best all-ages venue is also one of the most unique. "Kilby," as we call it, is where we go to get sweaty while watching buzz bands play a cramped little garage, or sit outside like we're too cool for school.
Kingsbury Hall
kingsburyhall.utah.edu
1395 E. President's Circle, SLC
801-581-7100
The University of Utah's posh venue has hosted some incredible performances from the likes of the Violent Femmes, Lucinda Williams and Elvis Costello. It sounds as good as it looks, too.
Lake Effect
lakeeffectslc.com
155 W. 200 South, SLC
801-532-2068
This ultra-cool hipster bar wears its name (a reference to a certain body of water's B.O.) offers top-shelf local bands and DJs Thursday through Saturday.

Liquid Joe's
liquidjoes.net
1249 E. 3300 South, SLC
801-467-5637
An everyman's club that books smaller local acts and big-name heritage hair metal bands, plus underground hip-hop and the occasional cult band like Roger Clyne & the Peacemakers.
The Loading Dock
theloadingdockslc.com
445 S. 400 West, SLC
385-229-4493
An all-ages venue specializing in extreme metal, Hot Topic bands and the occasional oddball, like roots rock maniac Lincoln Durham.
Maverik Center
maverikcenter.com
3200 S. Decker Lake Drive,
West Valley City
801-988-8800
An arena that, depending on the show, converts to a theater, the Mav has hosted Tool, The Cure, Van Halen, Harry Connick Jr., Melissa Etheridge and Widespread Panic.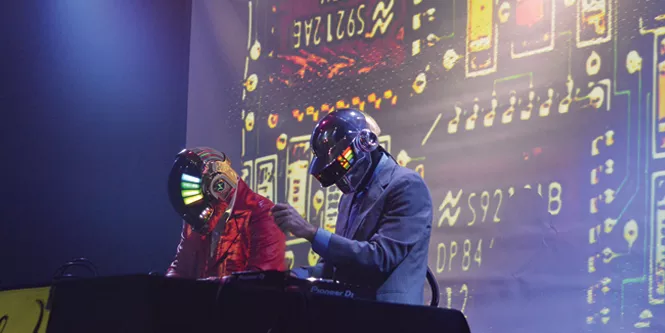 Josh Scheuerman
Daft Punk Tribute at Metro Music Hall
Metro Music Hall
metromusichall.com
615 W. 100 South, SLC
385-528-0952
At first, the Metro was pretty metal. Now they book everything, and you should check out the monthly event Hip-Hop Roots, showcasing hot local MCs, b-boys and graffiti writers.
The Moose Lounge
facebook.com/themooseloungeslc
180 W. 400 South, SLC
801-900-7499
A lounge and dance club with a dress code, the Moose books touring hip-hop acts and has a rockin' gay night (Revolution Fridays).
O.P. Rockwell
oprockwell.com
268 Main, Park City
435-565-4486
This joint books great bands like The Mother Hips and Andy Frasco & the U.N. while also knowing the value of an all-female AC/DC tribute act like Hell's Belles.
Outlaw Saloon
outlawsaloon.com
1254 W. 2100 South, Ogden
801-334-9260
On Friday and Saturday nights, you can find some of Utah's best country music acts—and even the occasional touring twanger.
Pale Horse Sound
palehorsesound.com
1989 S. 1100 East, SLC
435-764-7640
A recording studio that doubles as a music venue, hosting mainly local acts.
Park City Live
parkcitylive.net
427 Main, Park City
435-649-9123
Formerly known as Harry O's, this theater brings in some great shows by jam bands (Galactic), electronic acts (Major Lazer) and singer-songwriters (Martin Sexton).
Pat's BBQ
patsbbq.com
155 W. Commonwealth Ave., SLC
801-590-3090
If you like good BBQ, this is the place to go—and if you go on the weekend, you'll hear some good local tunes, too.
Peery's Egyptian Theater
egyptiantheaterogden.com
2415 Washington Blvd., Ogden
801-689-8700
This posh theater offers classical, opera, orchestral, jazz, swing and the occasional popular music act—but schedules more dance, film and theater events.
Peppermill Concert Hall
wendoverfun.com/shows
680 Wendover Blvd., Wendover
800-217-0049
The locals love to escape to their own version of Sin City, where they can gamble and drink and catch concerts by Night Ranger, The Temptations and Engelbert Humperdinck.
Piper Down Pub
piperdownpub.com
1492 S. State, SLC
801-468-1492
Salt Lake's most popular Irish pub books live music several times a month. Some local, some national—and anything from the expected Celtic sounds to blues, folk, rockabilly and sometimes punk.

Prohibition
prohibitionutah.com
151 E. 6100 South, Murray
801-281-4852
True to its namesake era, this time-warp of a bar hosts jazz, swing and blues from the '20s and '30s. On Wednesdays, they offer free swing dancing lessons with a live band.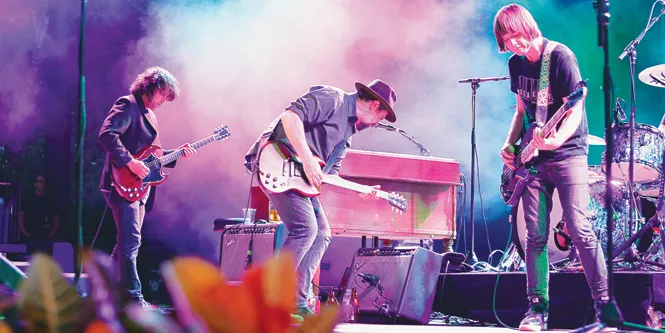 Josh Scheuerman
Drive By Truckers at Red Butte Garden
Red Butte Garden
redbuttegarden.org
300 Wakara Way, SLC
801-585-0556
Every summer we look forward to this arboretum's annual outdoor concert series, which attracts more and bigger shows every year, and allows us to bring coolers crammed with grub 'n' booze.
The Red Door
thereddoorslc.com
57 W. 200 South
801-363-6030
A martini bar/wine lounge, you'll find DJs on Thursdays and Fridays and a live band on Saturdays.
The Royal
theroyalslc.com
4760 S. 900 East, SLC
801-590-9940
Any given day, you can find anything from folk to reggae at this live music cathedral.
The Ruin
ruinslc.com
1215 E. Wilmington, SLC
801-869-3730
This cool little joint is calm on the weekdays, but it gets loud on the weekends with live local bands and DJs.
Rye
facebook.com/ryeslc
239 S. 500 East, SLC
801-364-4655
Adjacent to The Urban Lounge and owned by the same people, Rye is a breakfast/lunch restaurant, but started hosting occasional concerts by local and touring acts last year.
Sandy Amphitheater
sandyamp.com
1245 E. 9400 South, Sandy
801-568-6097
It abuts a park and a residential area, and is near a hospital. That may be why the shows here—the Lost '80s Tour, Toad the Wet Sprocket, Weird Al, Doobie Brothers—seem so quiet.

Scallywags
facebook.com/scallywagsslc
3040 S. State, SLC
801-604-0869
A pirate-themed huka bar, Scallywags hosts DJs and occasional hip-hop.
Sky
skyslc.com
149 W. Pierpont Ave., SLC
801-883-8714
Mostly it's DJs and dance music at Sky, a downtown venue with a drop-top roof, but sometimes they'll book pretty cool bands like the Meat Puppets or Soul Asylum.
Snowbasin
snowbasin.com
3925 Snowbasin Road, Huntsville
801-620-1000
The resort's Blues, Brews & BBQ concert series fills five hours every Sunday with sun, suds, meat and free concerts by touring rock, blues, jam and soul acts.
Snowbird
snowbird.com
9385 S. Snowbird Center Drive, Snowbird
801-933-2222
The renowned ski resort offers live music throughout its resort.
The Spur Bar & Grill
thespurbarandgrill.com
352 Main, Park City
435-615-1618
There is something for everyone on the Spur's stage: cover bands, original local music and dueling pianos.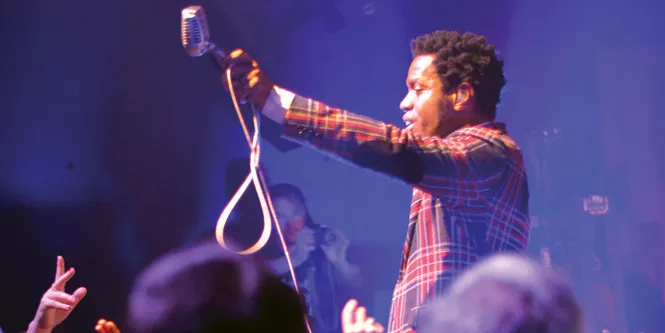 Josh Scheuerman
Vintage at the State Room
The State Room
thestateroom.com
638 S. State, SLC
800-596-3560
Real music lovers will adore this theater where you can watch the likes of Todd Snider, Junior Brown or Los Lobos from the floor or from church pews and theater seats, arranged stadium-style, while enjoying a stiff drink.
Sugar House Coffee
sugarhousecoffee.com
2011 S. 1100 East, SLC
801-883-8867
You'll find local jazz and Irish music, and an open-mic opp at this popular coffeehouse. Jazz jam on Thursdays.
Sugar House Farmers Market
sugarhousefarmersmarket.org
1040 E. Sugarmont Drive, SLC
Live local music every Wednesday evening from July through September in a lush neighborhood park.
Sugar Space Arts Warehouse
facebook.com/sugarspaceslc
132 S. 800 West, SLC
385-202-5504
Music is just one of the arts supported by Sugar Space, which books local acts here and there.
The Tavernacle
tavernacle.com
201 E. 300 South, SLC
801-519-8900
Here's another dueling pianos bar—where it gets pretty wild as two pianists play covers for money and the highest bidder wins.
Touché Tavern
touchetavern.com
3350 S. State, SLC
801-290-2531
It's hard to see where any band could set up in this tiny but kinda classy dive—but that makes the shows (solo acoustic to full-band) more intimate.
Twilite Lounge
twilitelounge.com
347 E. 200 South, SLC
801-532-9400
You know your favorite neighborhood dive back home? This is ours. Stop by "The Twi" on Wednesdays and see Jazz Jaguars, a trio of local rockers performing lounge versions of their louder stuff.
Twist
twistslc.com
32 Exchange Place, SLC
801-322-3200
A very cool room with eclectic offerings including residencies by top local DJs, acoustic sets by local singer-songwriters, and even some funk.
The Underground
facebook.com/the-underground
833 S. Main, SLC
There's a reason it's called the Underground—this is where you'll see fringe acts, whether it's local punks or a touring one-man-band with a B-flick aesthetic.
The Union Event Center
theunioneventcenter.com
235 N. 500 West, SLC
385-831-7770
Recently partnered with AEG Presents, this is the place to catch up-and-coming and established touring acts.
Josh Scheuerman
Alex Cameron at The Urban Lounge
The Urban Lounge
theurbanloungeslc.com
241 S. 500 East, SLC
801-746-0557
"The Urban" reigns supreme in the local music scene, booking mid-to-big names in a room that sounds great, but seems far too small for the talent—which we love, especially when the booker pairs them up with the crème de la local crème.
Usana Amphitheatre
usana-amp.com
5150 S. 6055 West, Magna
801-417-5343
Usana hosts our largest outdoor concerts, the summer/fall blockbusters like Black Sabbath, Willie Nelson and Kenny Chesney.
Velour
velourlive.com
135 N. University Ave., Provo
801-818-2263
This is the other all-ages venue in Provo championing local musicians, perhaps the alpha of the two. Corey Fox created something special with Velour, which birthed Neon Trees.

Vivint Smart Home Arena
vivintarena.com
301 W. South Temple
801-325-7528
When the Utah Jazz aren't around, and it's too cold for Usana, this is where they book the really big shows.
The Westerner
westernerslc.com
3360 S. Redwood Road,
West Valley City
801-972-5447
There aren't too many places that specialize in country music—maybe because the Westerner whoops all comers, with a massive dance floor and every local country act beatin' down its doors.
Willie's Lounge
willieslounge.com
1716 S. Main, SLC
760-828-7351
Find trivia on Wednesdays, karaoke Fridays and Sundays and live music most every other night.
The Yes Hell
facebook.com/theyeshell
2426 Grant Ave., Ogden
Owned and operated by obscenely talented local singer-songwriter Sam Smith (not that Sam Smith), this is a promising new venue with a well-curated slate of talent.
Zest Kitchen & Bar
zestslc.com
275 S. 200 West, SLC
801-433-0589
Gourmet healthy organic vegan, vegetarian, gluten-free grub, craft cocktails and live DJs? This is the place to go to expand the horizons of your oral and aural palettes with food and music you've never experienced before.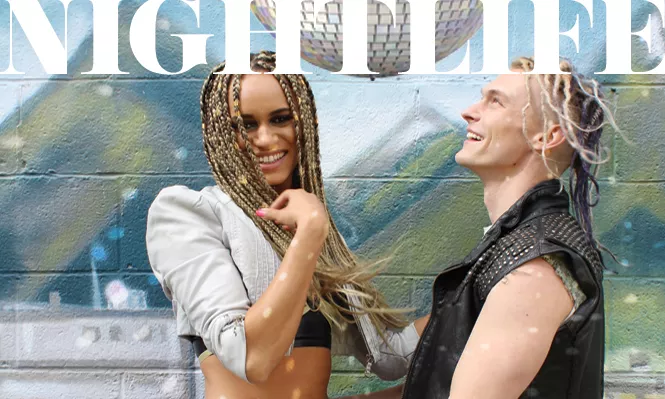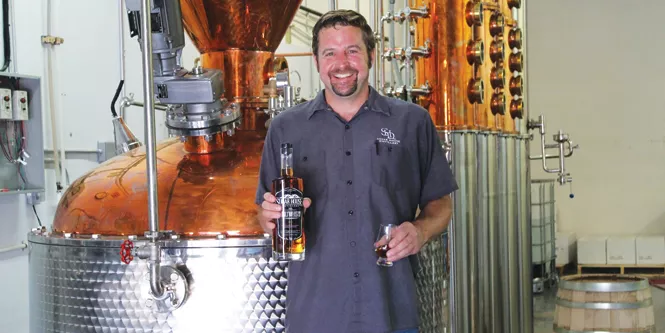 Darby Doyle
Eric Robinson, master distiller at Sugar House Distillery
Holy Spirits



A-Z Cocktail Guide



By Darby Doyle
Imagine America's early days as a fledgling republic, just stretching its fuzzy baby eagle wings into nationhood, centered on face-to-face conversations. You know, actual human interaction. And those theoretical and eventually subversive political debates between men—and more than a few under-recognized women—often happened over a mug of beer, tankard of hard cider or glass of rum. In a time of widespread illiteracy and news that could only travel as fast as the messenger's fleetest horse, the vast majority of the early republic's revolutionary-minded populace learned about current events and formed their opinions about them by word of mouth. Most newspapers and political pamphlets were sent directly to taverns or roadside inns, where, in turn, the few literate customers present would read them aloud to their curious and unlettered neighbors. Bakers, lawyers and ministers sat elbow-to-elbow with barbers, politicians and farriers.
Discussions ran late into the night, with good ale or bad whiskey a common—hell, necessary—accompaniment.

After all, this was an era when George Washington owned one of the East Coast's largest distilleries, John Adams drank a tankard of cider with breakfast every morning, Thomas Jefferson was credited with hosting the first presidential cocktail party and we all know what Sam Adams was up to. With drinking water being a suspect commodity, fermented and brewed potions were considered eminently potable. And for most of the nation, taverns, by their nature, were places where patrons expected to get the triumvirate of camaraderie, the glue that held, and still holds, secular communities together: a bit of sustenance, lively conversation and a great drink.

In the spirit of camaraderie and thoughtful discourse exhibited by these revolutionary imbibers, we've compiled this compendium of cocktail lore as an incentive not necessarily to drink more, but drink better. To sit down at the long bar, make eye contact and say, "Hey." Host more cocktail parties, splurge on some gorgeous glassware. And whenever possible, give some local love to producers and artisans based right here in the Beehive State. Daniel Handler (aka Lemony Snicket) wisely said, "Alcohol starts endless debates, and endless debates are best settled over a drink."

A is for American single-malt whiskey
It ain't anything like your grandpa's musty Dewar's-and-soda dumped in a rocks glass. It's also very different in flavor profile and complexity from more familiar single-malt scotch, which by law may only be made in Scotland (like Champagne can only be from that region of France, and tequila from a specific area in Mexico). Leave it to renegade American distillers to challenge the sometimes-murky categories of U.S. whiskey production beyond, say, bourbon.

There are only a few U.S. distillers making malt whiskey, but bartenders and booze geeks alike are looking for this trend to boom big-time—and soon.

So let's break down what exactly American single-malt whiskey means and why you should care about its growing cred in the whiskey world. Jeff Thompson, founder and president of the Utah Whiskey Drinkers Union (an affinity group of 500-plus local members), gave me some insight into why distillers are fighting to get a consistent "standard of identity" on the legal books for the currently crazy category. "American malts are made with the same ingredients as scotch or most Irish whiskey, but it's made with American standards, ingenuity and some definite flair," he says. He gives an example that most single-malts coming from Scotland are made from one kind of malted barley (usually locally sourced) and then fermented, distilled and bottled at the same single distillery.

American distillers have completely turned this model upside down. Thompson recommends trying out Utah's only grain-to-glass malt whiskey producer, Sugar House Distillery, to get a taste of what's going in the genre at a solid price point compared to imported single-malt scotch. SHD uses three kinds of malted barley, all sourced within 120 miles of our salty city; they ferment, distill and bottle on site and age in new American charred oak in the tradition of bourbon.

Seattle's award-winning Westland Distillery uses five varieties of barley in their mix, turning up the curiosity factor to 11.

"These distillers are taking the idea of this classic, almost sacred, whiskey and turning it on its ear, which is a very American thing to do," Thompson says. This risky business is paying off big-time for local producers: Last summer, Sugar House Distillery's 100 percent malt whiskey scored 91 points from Wine Enthusiast, with the reviewer impressed by the oak-forward nose and palate "with a core of toffee and caramel and a long, creamy finish accented with hot cinnamon." Thirty miles southeast in Park City, Alpine Distilling bottles a 100 percent barley malt called Traveler's Rest Whiskey, aged 16 months and finished with French oak, which won a gold medal in the 2017 SIP awards. Meanwhile, South Salt Lake's Dented Brick Distillery recently welcomed Hugh Moon to their already impressive draft. Per DB's website, the white whiskey pays homage to its namesake—Joseph Smith's mythical bodyguard—by providing a fair amount of "good satisfaction." We'll raise our sacrament cups to that.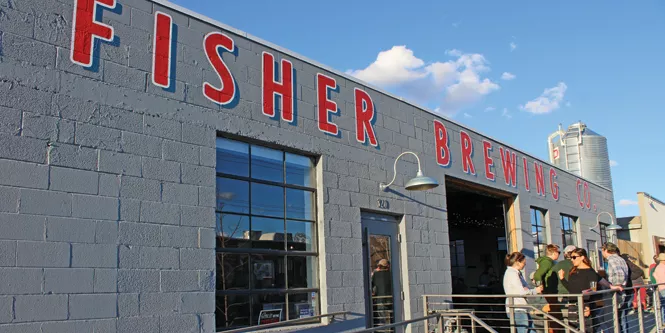 Beets, Blueberries and Beyond in local beer: If you find seasonal beet beer on A. Fisher Brewing's revolving tap menu, snap up the opportunity to taste it before it's gone. No joke. I've heard that it's refreshing, earthy and only slightly sweet but, goddammit, I haven't been able to try it first hand because it sold out before I could get my greedy paws on a stone-cold glass. Co-owner Tim Dwyer was cheerfully unapologetic when I first stopped by the revived brewery's sweet industrial spot in the Granary District. "We use local ingredients when they're available and brew in small batches. When it's gone, it's gone," he said. Fortunately, there were more than enough brews available at Fisher to assuage my disappointment. Denied on imbibing beets as a particular unusual ingredient, this intrepid gumshoe did the tough work of sampling sips from a slew of local suds-makers using unusual ingredients, proving that local creativity abounds.
On the summer shortlist for hops inspiration: Wasatch Brewery's refreshing and bright blueberry hefeweizen, Shades of Pale's clementine-based Slick City Citrus IPA and Proper Brewing's Lake Effect, a gose based on an old-school Leipziger ale recipe brewed with at least 50 percent wheat, coriander and local salt. Oh, and, hard cider fans, rejoice! Mountain West has made a 6.9 percent ABV cider, called Desolation, with prickly pear in a surprisingly dry and simultaneously melon-like mellow concoction not to be missed.

Craving some chocolate? I'm sure you are; Utahns famously fiend all things cacao: We're arguably one of the top consumers of bean-to-bar chocolate in the U.S. But what to imbibe along with it? I asked Matt Caputo of Caputo's Market & Deli, which is known internationally as one of the nation's biggest and best purveyors of artisan chocolate, with some 400-plus varieties available at any given time. He says he taste-tests almost a pound of chocolate every day to figure out which bars make the cut. His advice: "If you're going grape-based, Madeira is amazing with chocolate." He also suggests an aged rum like Appleton Estate 12-year, sipped neat. (I heartily concur). "You wouldn't think it'd work, but beer also goes great with cacao," he says. Think the yeasty, almost bread-like earthy flavors of a rich chocolate like Ritual's Balao 75 percent from Ecuador. Absolutely perfect with the bitter tang of a bold IPA or a classic Belgian sour. What to avoid? "Wine and chocolate just don't mix," Caputo asserts. "Red wine tannins, in particular, are horrible with cacao." Duly noted.
Distilling. That'd be the craft of taking ground grain (or fruit, or molasses, etc.) and fermenting it with yeast and water to make beer or wine, which then gets processed in a still to vaporize the liquid and extract alcohol. U.S. regulations allow quite a bit of wiggle room on how companies and the people who operate them title themselves. According to Distiller's Guild of Utah President Ethan Miller, local booze brands "represent several different business models" that reflect national liquor production examples. These vary from artisan distillers who (bless their OCD hearts) control every aspect of the process—from sourcing local grain for fermentation through tightly monitored distilling runs and various barrel-aging strategies, to independent bottlers who import base spirits from manufacturing facilities out of state and adjust or "rectify" them on-site with filtering or adding spring water at desired proof for sale. Some companies—like Utah's first licensed distillery since Prohibition, High West—do a bit of both, combining a model of on-site distilling for some products and blending spirits brought in from elsewhere for other label runs with award-winning results.
So it's basically a buyer education situation: Many people don't care how the juice was made, as long as they like what ends up in the glass at an appealing price. Best way to see how your booze gets into the bottle? Go for a tour and talk to the owners and distillers about their process. Utah distilleries offer up to 2.5 combined ounces of sampling on-site for a small fee in addition to tours of their facilities, under educational permits granted by the Utah Department of Alcoholic Beverage Control Commission. The best kind of try-before-you-buy.
Eggs. Or to be precise, egg whites. Although eggnogs and some punch concoctions call for whole eggs, separated egg whites are an optional (though some would say optimal) ingredient for developing body in drinks like New York sours and other citrus-forward flavor bombs. They're epitomized in booze history as a key component of "fizz" cocktails, famous as a classification of restoratives and hangover cures. Booze + protein = Hallelujah. At one New Orleans bar, Ramos gin fizzes were so popular, they had a whole crew of cruelly underpaid young barbacks whose only job was to shake-shake-shake each drink for 12 full minutes. In 1914, cocktail chronicler Ernest P. Rawling said of the fizz, "After a long automobile trip on hot and dusty roads, it is then that the gin fizz comes like a cooling breeze from the sea, bringing new life and the zest and joy of living."
Considered one of the great classifications of cocktails for summertime refreshment, some contemporary bars cleverly use free-standing, milkshake-whirling contraptions to do the work of a platoon of tin-shaking barbacks. Some local spots nailing the hell out of the frothy fizz experience are the fine folks at Under Current (279 S. 300 East, 801-574-2556, undercurrentbar.com), who have at least one original fizz on the menu at any time. Rye (239 S. 500 East, 801-364-4655, ryeslc.com) cleverly includes a Wake Up fizz on their day drinks menu (starting at 11:30 a.m.) with a nod to its original hair-of-the-dog restorative qualities. The barkeeps at Tupelo Park City (508 Main, Park City, 435-615-7700, tupeloparkcity.com) recommend tossing the straw when served a fizz of any variety "to get that frothy goodness right up front." It's all part of the fizz experience.
Frozen drinks in a flash? Who are we kidding? Sometimes we don't have the time, energy or desire to dig out the blender, see if it still works after the last daiquiri debacle when the mood music of the party was overwhelmed by the grating racket of sub-par ice crushing. Cheap drink hack to the rescue!
Step 1: Make a trip to your Kwick-E-Mart's swirling frozen beverage dispenser. Fill up a few cups of Slurpee, Frazil or Slush Puppie with your favorite flavors.
2: When at home, add the alcoholic doctoring of choice, stir well to combine, add a lid to keep spills to a minimum and store in the freezer. The high sugar content of the slushy substance (usually packed with high-fructose corn syrup and artificial food dye; e.g. the breakfast of champions) combined with alcohol's lower freezing point means that these perfect ready-to-go sippers won't freeze into a block of ice prior to serving.
3: To get the party started, have the slush sit at room temperature for a couple minutes to soften up, then stir with a long spoon to recombine ingredients evenly and reactivate that distinctive carbonated zip.
4: Pour into your serving vessel of choice—don't forget the wide-ass straw. With more than 200 flavors available on rotation nationally, Slurpee's got you covered for endless frozen cocktail options—think white rum in Piña Colada, a slug of bourbon in Wild Cherry, some tequila in your Cactus Cooler, vodka in your Sour Patch Watermelon, or my fave: equal parts bitter Campari and gin to balance that super-sweet Lemonade. It's the best kind of brain freeze.
Glassware of the proper variety for a specific beverage is to mismatched stadium cups as ironed cloth napkins are to a pilfered stash of paper take-out ones. Yup, it's time to grow out of your D.I.-purchased mismatched glass set, kiddos, and move to the grown-ups table, elegant coupe glass in hand. For me, gorgeous glassware says as much about a host as their (hopefully overflowing) bookshelf. John Waters was onto something when he said, "If you go home with somebody and they don't have books, don't fuck 'em." From old Southern etiquette books to contemporary bar manuals, drink pros recognize that the right glass for the job is about more than appearance: The volume of the beverage served, how long and well it stays chilled and how aromas are concentrated or dissipated are a crucial part of the cocktail experience.
Ever drink a big, bold California cabernet out of a Champagne flute? Ruins the whole dealio. In Charles H. Baker's 1939 The Gentleman's Companion, Volume II: The Exotic Drinking Book, he includes a delightful rant on why all drinks should be served in stemmed glasses (except for old fashioneds) to avoid clammy handshakes and keep drinks colder longer. He concludes with dry sarcasm, "Many people hold that all cocktails can be served in the usual 2-ounce Manhattan-type glass; and just as rightly we contend that anyone can wear a crimson bowtie with tails." The horror!
He recommends nine varieties (not including wine glasses) as a minimum for a proper glass wardrobe. True story: I'm a huge vintage glass hoarder/collector and completely rationalize my several dozen varieties because it's for work, dammit. And not to knock the D.I., I've found some real treasures at rock-bottom prices, like adorable Nick & Nora coupes scored for 68 cents each.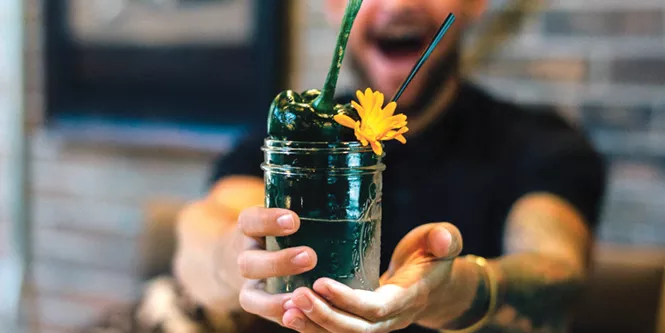 Kerri Fukui
Life of Poblano
Hot pepper-based ingredients—like jalapeño syrup, charred shoshito-infused vodka, local Bitters Lab (bitterslab.com) habanero-lime bitters, Ancho Reyes chile liqueur—are part of a continuing cocktail trend, as they add a spicy kick to counterbalance citrus and sweet. At Pallet (237 S. 400 West, 801-935-4431, eatpallet.com) a couple of seasons ago, award-winning bar manager Bijan Ghiai made an unforgettably clever cocktail, The Life of Poblano, served in a hollowed-out whole chile and made with spicy-sweet Ancho Reyes and smoky mezcal. When mixing up this beaut, be sure to crank up the "Real Friends" track and shake it like a Polaroid picture. As one friend described the drink, "It's three parts Bijan, one part Yeezy."
Igloo, or your manufacturer of choice for beverage storage and transport. Let's take a minute to ponder that taken-for-granted underdog of summer, the good old-fashioned hard-sided cooler. Just the right size for a couple of beers and a sandwich, or big enough to haul drinks for Beyoncé's entire entourage. Be it green, red, white or a hue no longer recognizable underneath the sticker decoupage repping beer brands, skate companies, ski gear and your uncle's belly-up IT start-up, it's the battered beer-toting essential of summertime sipping found at every family barbeque, picnic in the park or Bear Lake boat trip. Cooler tech has come a long way since the 1950s, when the first portable jug-like water coolers and ice chests became popular. Now, the humble cooler comes in hundreds of iterations, with options like all-terrain wheels, bear- and kid-proof locking lids, built-in bottle openers, sound docks and LED lighting. Pretty posh. Find top-of-the-line Yeti and Utah-made Camp Chef (campchef.com) tough-as-nails badass coolers at Kirkham's Outdoor Products (3125 S. State, 801-486-4161, kirkhams.com), locally owned for 70-plus years.
Jägermeister lovers now have more reasons to rethink their brand loyalty after trying truly original herbal spirits from Utah companies. Check out Ogden's Own Underground Herbal Spirit and Waterpocket Distillery's Notom Amaro for some local incentive. A little bit about this category of booze: Herbal liqueurs are required to have at least 2.5 percent added sugar by weight to the base spirit, but many manufacturers use up to 20 percent (yes, 20 percent by weight) sugar in their recipes. Beyond that, the "herbal" flavor component runs the gamut, but usually includes both bitter and aromatic ingredients like herbs, roots and fruit peel; alcohol by volume/proof is all over the place. Jägermeister is one of the oldest examples, made in Germany since 1935 with the distinctive stag on the label (Jägermeister translates as "master hunter").
And although there are reputedly more than 56 ingredients, none is deer blood, as was an urban myth circulated in the 1990s that just won't die. (Snopes, people.) Underground Herbal Spirit is bottled at 80 proof (40 percent ABV, in comparison with J-bomb at 70 proof) and uses about half as much sugar as most liqueurs, allowing for the blend of 33 herbs and spices to shine through. It's also racking up the recognition, winning a Double-Gold Medal in the San Francisco World Spirits Competition and was selected Best Liqueur in the Americas at the Spirits of the Americas Competition. New kid on Utah's growing distilling block, Waterpocket, is developing a truly original "Long Lost" series of spirits meticulously researched by distiller Alan Scott, who painstakingly recreates historical recipes and tweaks them for modern taste profiles and distilling technology.
If you're thinking cheerful druid mad scientist, that's pretty close to the Waterpocket tour experience (hey, Alan: That's your Halloween costume this year; you can thank me later). While there, try their boozy Notom, which Scott describes as "an amaro from the central European Kräuterlikör tradition. Gentian and rhubarb roots add bittering which is balanced by fennel, green anise, clove and cinnamon aromatics." He suggests drinking it warm for the full impact of the botanicals, but also likes it chilled for a smooth after-dinner digestif.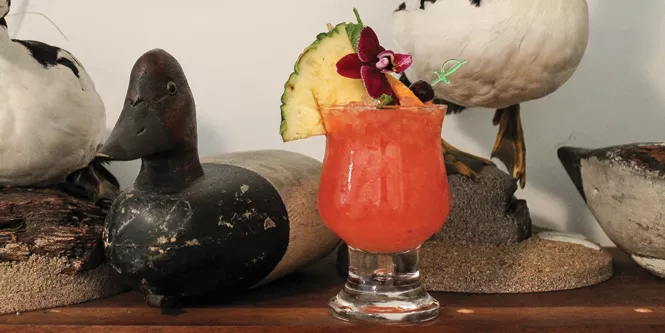 Darby Doyle
Knickerbocker à la Monsieur
Knickerbocker cocktails, now virtually extinct, deserve a resurrection. This class of cocktails rising from New York in the 1850s and '60s had at its base a heady combination of rum, citrus juice, fruit syrup and Curaçao, and was perhaps named after the Empire state's Knickerbocker ice company, or later on the timeline, the legendary Knickerbocker Bar—a good bet, considering its role as one of the first punches to be served with copious amounts of shaved ice.
Drink historian David Wondrich calls it "the spiritual progenitor of the Tiki drink," also associated with the fly fellas who drank these refreshing coolers in the summertime wearing their knickerbocker truncated knee-breeches. Keep it local using one of Utah's many rum producers (Dented Brick, Distillery 36, Kid Curry, Outlaw Distillery or Sugar House Distillery) and make the raspberry syrup from berries snagged at your nearest farmers market.

Liqueurs, part deux: We already congratulated Utah booze-makers tackling herbal liqueur, but there's a slew of other local liqueurs on the shelves or in development. This category especially illustrates where Utah producers have gone creatively bonkers, in the best way. In addition to the previously mentioned Notom, Waterpocket Distillery is developing several others, including coffee, an Irish-cream style and a mind-blowing Oread, which distiller Alan Scott describes as "a complex botanical spirit based on the Danzig liqueur tradition. Distilled like gin, it melds the flavors of sage, star anise and sweet orange peel on a ginger and galangal root base.
It is moderately sweetened to let the flavors of the botanicals do most of the work." A longtime local favorite for fruit wines and mead, The Hive Winery started making brandies and liqueurs with local fruit (pear, cherry, raspberry, currant—whatever they can get their hands on). Distiller Lori Yahne claims she has "the state's smallest commercial still" working just 25 gallons of fruit wine at a time to distill down to 3-6 gallons of spirit. At New World Distillery in Eden, distiller Chris Cross came out of the gate swinging with a kickass gin, an agave spirit and an agave-distilled vodka. Up in Park City? Check out Alpine Distilling's Preserve Liqueur, with sweet floral notes coming through the liqueur made with tea, fruit and spice.
Milk Punch. Apologies to the lactose intolerant, but for those of us diving into dairy on the daily, there's nothing like the crystal clear aspect achieved by a milk punch. Nope, it's not a concoction similar to a melted milkshake, as I imagined the first time I saw it described in a vintage bar manual. That'd be the other kind of milk punch, popularized in the Deep South and made with cream, brandy and a titch of nutmeg—a whole 'nuther animal. In this historical instance, the current punch renaissance is more like a technique than a recipe, and moreover, it's one of the earliest culinary hacks transmitted to the bartender's bag of tricks. Now often called "fat washing," folks in 17th century Western Europe added milk to boozy citrus punches to mellow the stomach-achy acidic effects of all of that lemon and lime juice.
Very non-scientific short version: After clearing away the bubbly raft of gunk created when dairy fat from milk and citrus react and bind together, the resulting potion retained a full-bodied flavor with stunning clarity and had a longer shelf-life, a boon in the days before refrigeration. In his seminal work on the subject, Punch: The Delights and Danger of the Flowing Bowl, booze historian David Wondrich notes that milk punches became so popular in the early 19th century that they were available bottled. Wondrich writes, "Queen Victoria so liked the version Nathaniel Whisson & Co. bottled that in 1838 she had them named 'Purveyors of Milk Punch to Her Majesty.'" Modern bartenders make small-batch versions to serve as single-serving cocktails, which you'll sometimes see on the menu at Water Witch (163 W. 900 South, 801-462-0967, waterwitchbar.com); co-owner Scott Gardner is a huge fan of the technique and one of Salt Lake's most vocal punch proselytizers. Bartenders are even playing with vegan alternatives to cow's milk using coconut and other nut milks. Keep an eye on this bit of bar geekery on the verge of going mainstream.
Negroni cocktails are classic for a reason. Equal parts gin, sweet vermouth and Campari chilled with ice, the sky's the limit for improvisation. And if you can't fly to Italy for the summer, ordering one at your favorite bar is the next best thing. Considered one of the harbingers of the summer drinks season, bartenders (aided by the marketing chops of the above mentioned brand) have designated the first full week in June national Negroni Week, an annual event with bars and restaurants all over the country donating $1 (or more) of every Negroni sale to support causes near and dear to the hearts and wallets of participants. According to U.S. Bartenders Guild Utah chapter vice president Tracy Gomez, 15 state hotspots participated last year; most donating to the Utah Rivers Council. Nationally, bartenders raised just over $400,000. Cheers to doing good by drinking well! Check out their Instagram
@team_negroni_utah for more.
Orgeat is a cloudy almond-based syrup with fragrant rose or orange water notes. Pronounced "or-zhyuh" with a silent T [or for the dictionary-obsessed, \ˈȯr-ˌzhä(t)\], 'twas originally made by the French back in the day with barley water with the intent of settling icky tummies. But like related pharmaceuticals, bitters and tonic water, it meandered into the drinks ethos as a cocktail ingredient, swapping out almond for less shelf-stable barley over time. Orgeat became popular during the mid-century tiki craze, for which Victor Bergeron of Trader Vic's fame took cocky credit, saying, "There has been a lot of conversation over the beginning of the mai tai. And I want to get the record straight. I originated the mai tai back in 1944." He claims he made it at his original Oakland restaurant for friends visiting from Tahiti, who took one sip and proclaimed, "mai tai—roa aé," which Bergeron translated as, "out of this world—the best." Bergeron stuck with "mai tai" and, during the 1950s, it was served at all of his Hawaii bars, as well as cruise ships like the Matson Steamship Lines, President Lines and the Royal Hawaiian, Moana and Surfrider hotels. It eventually swept the nation. "Anybody who says I didn't create this drink is a dirty stinker," Bergeron continued.
Paloma. Move over, margarita; it's time to share some tequila sexy-time with La Paloma. A cocktail more popular in northern Mexico—and in Texas ruby-red grapefruit country—than the margarita, it's a simple combination of tequila, a bit of lime juice and grapefruit soda (like Jarritos), all poured directly over crushed ice. For a truly authentic Paloma experience, City Weekly Editor Enrique Limón recommends the superlative Paloma served at Chile Tepín (307 W. 200 South, 801-883-9255, facebook.com/chiletepin) presented with a salted rim and traditional cantarito (clay cup). Restaurant owner Carlos Rodríguez revealed to Limón that he makes the house Paloma with Cazadores Reposado tequila and fresh lime and grapefruit juices, creating a lovely balance of sour and sweet refreshment along with a decidedly boozy kick. We'll say ¡salúd! to that.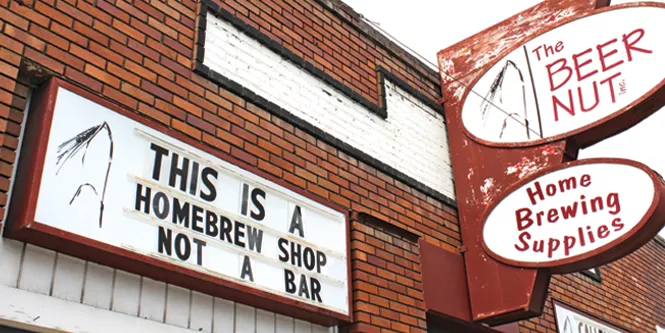 Quirky. That'd be a generous way to describe our state's annual whiplash of alcohol legislation, with the 2018 session staying true to confusing and complicated course. Keep in mind some of these changes are still under review and won't go into effect for months. Some recent highlights:

•Despite hopes otherwise, our often-mocked Zion Curtain still hasn't come down entirely. See, Legislators believe Utah's youth stands on the precipice of addiction and moral peril with every cocktail shaken and stirred in front of their vulnerable eyes. Restaurants now have the option of creating a "moat" limiting general seating visibility to the bar area for the under-21 set. Current Fish & Oyster famously hosted their curtain demolition party after last year's legislative session. New theme night alert! And according to SLC rock star liquor lawyer, Tanner Lenart, there's a "small restaurant license" exception to the moat requirement, sensibly (say what?!) saving some small restaurants from having to go 21-plus only altogether. Says Lenart: "See: lots of narrow buildings in Park City."

•All these months into it, are you as confused by those "restaurant, not a bar" signs as I am? Can I order a drink at a restaurant? Eat at a bar? Most restaurateurs I talked to said, with a shrug and eye roll, that it's just one more piece of paper they're adding to the wall-o'-framed permits by the hostess stand. Good news on the confusion front! I asked Salt Lake Area Restaurant Association Executive Director Michele Corigliano to shed some light on the subject when they first took effect. "It's become an inside joke and, quite frankly, I think it could have been worse. I think it somewhat bonds Utahns." Lenart notes that fortunately for the font-challenged (you know who we're talking about, Comic Sans) it looks like if all goes well, restaurants can take 'em down in May. Bars will need to have a sign stating something along the lines of "This is a bar. No one under 21 allowed." Easy-peasy.

•Nearing the end of the 2017 legislative session, state lawmakers passed the lowest blood-alcohol level while driving baseline in the nation, lowering the limit from .08 to .05. During preliminary discussions, several legislators brought up that they see this as a salvo for zero tolerance for any driver drinking alcohol in any quantity, despite the fact that there are no scientific studies backing up this claim. Statistically, drivers at .15 BAC or higher are the riskiest drivers, and this law does nothing to address that issue.
Corigliano saw this shift as damaging to both Utah's tourism draw and economically to restaurants' bottom-lines. "Right now, a regular restaurant license needs to maintain 70 percent food sales to 30 percent alcohol sales. Most restaurants hit this range or come pretty close to it," she said. "We feel the responsible drinkers who in the past had a glass of wine with dinner or shared a bottle with a group of friends will eschew alcohol altogether. …Those people who give up a drink at dinner do not order more food to compensate. So that revenue just dissipates." And margins are already tight for local, independent restaurateurs. Corigliano also notes that studies show more people die from eating and driving (or, heck, being old enough to qualify for an AARP card) than do from driving in the .05-.08 range. Despite valiant Hail Mary bills (by Jim Dabakis and Karen Kwan) to delay the start of the current law set to go into effect December 30, 2018, neither made it out of committee. We're all for responsible driving, but WTH? Here's hoping this isn't a final coup de grâce.
Roulette, bartender style. That's the term for letting your barkeep go wild, but there are some unspoken rules when playing Bartender Roulette: 1. If you absolutely hate scotch or are really in the mood for something with gin, give them a heads-up to run with; you'll both be happier. Just keep it brief. 2. Give 'em time to work. My favorite bartenders like to shake up some standards for other customers at the bar while they ponder a bit on what they'll send my way and maybe shoot me a "sweet or savory?" question or two. All part of the creative genius. 3. Don't send it back. Ever. That's why they call it roulette, buddy.
State Liquor Stores—welp, what can we say? Looks like this particular monopoly won't end anytime soon, so let's look at the silver lining, shall we? In addition to beverage taxes going to support the state's general fund, liquor sales support programs like the public school lunch fund. So, basically, you're doing it for the children. Favorite rationalization? Rather than having to call a dozen different private liquor stores to find a rare bottle of vino or unusual bourbon, just search the state DABC inventory online (abc.utah.gov) and find out not only if the brand is available in Utah, but at which store and how many bottles are in stock. Downside? The system is only as accurate as the information loaded into it.
Before making the trek to Draper or St. George for that sparkly unicorn, call ahead and talk to a real person who can check the shelf for you. Out-of-stock items can be special ordered, too. Gather a few like-minded friends desperate for Averna or jonesing for a unique gin and submit a case order through the DABC. It might take months to get your paws on it, but payment isn't due until pick-up. The search engine for locating products is kind of clunky (to put it kindly) and buried in the website, but you can find the main link excavated just for you in the online version of this article. Good hunting, friends.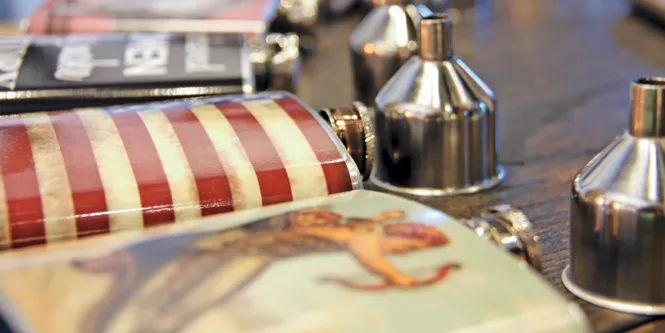 Tools for basic bartending don't need to be expensive, but you should have a solid setup for both shaking and stirring in your arsenal. Huge oversimplification here, but generally, drinks are shaken to effectively incorporate things like citrus and cream or eggs; drinks stirred over ice use this technique to chill and protect the clarity of all-alcohol recipes like Manhattans. At the absolute minimum, your shopping list should include: a metal shaker of whatever variety, some kind of strainer, pint-sized or larger stirring glass and a long-handled bar spoon. Boozetique (315 E. 300 South, 801-363-3939, boozetiqueslc.com) has everything you'll ever need in one stop, with ever-knowledgeable proprietor Ivy Earnest ready to set your ass up from entry level to advanced bartending. Conveniently located just around the corner from the top-flight 3rd & 3rd downtown wine store, the 'tique is the place to source accouterments for any wine, beer or cocktail occasion—from recycled Utah brewery label coasters ($9) to cocktail mixers ($12-$25) to a gorgeous selection of decanters ($30 and up) and vintage glassware. The emporium also stocks some of the best professional bartending equipment available in SLC; I've got the weighted Piña Founder's Tin shaker on my wish list ($27.99). Planning on some home bar gifting (the best kind of hostess "hello")? Ernest can put together a custom wood gift box with all the finished wrapping details included; you just need to sign the card.
USBG Drynks Guide. (And yes, autocorrect, that's their spelling.) The Utah Chapter of the U.S. Bartenders Guild's (usbgutah.wordpress.com) long-awaited cocktail compendium is filled with original recipes, spins on classics and gorgeous photos, all shaken and stirred by your favorite drink-slingers around town. Founded in 2013 by local potions professional Sean Neves, bartenders from the Utah chapter meet up regularly for continuing education and compete in national cocktail events (where they do pretty damned well, btw). Although most members are professional bartenders, USBG membership is open to cocktail enthusiasts and lovers of all things boozy. Perks include seminars on technique, private industry-only tasting opportunities and once-in-a-lifetime meet-ups with brand legends like Ed Hamilton, who came to SLC for a rum-education afternoon at Lake Effect that USBG members are still recovering from in teary reminiscence.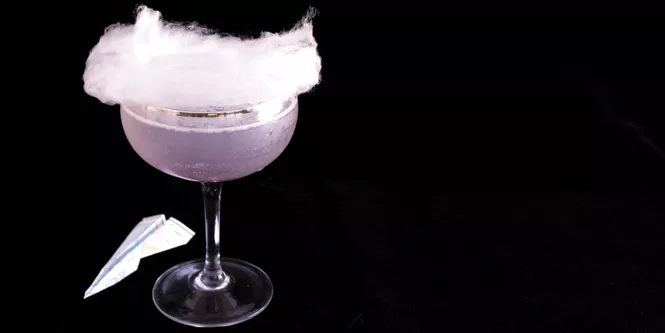 Darby Doyle
Aviation
Violette—as in crème de violette, a violet-infused liqueur essential for making Aviation cocktails, which are as gorgeous as they are tasty. Although it was undoubtedly shaken up well before then, 1916 saw the first published Aviation cocktail recipe via New York City barman Hugo Ensslin. This'd be during America's fledgling flirtation with all things flyboy-related. (U.S. History 101 here: Wright Brothers, 1903, Kitty Hawk, steampunk goggles.) During Prohibition, French crème de violette was rarer than hen's teeth in the U.S., but after WWII became more readily available at the same time commercial air travel was economically feasible for even middle-class Americans.
In comparison with our current environment of sweatpants-laden hordes and the indignities of TSA pat-downs, the 1950s seem like travel's halcyon days, at least as far as fashion and cocktails go, with "air hostesses" and "stewardesses" trained in the art of shaking and stirring dry martinis by request in the smoke-filled cabin. Hell, drinking a couple of Aviations before cramming into a typical coach seat might make our next flight a bit more bearable. The fly fellas at O.P. Rockwell (268 Main, Park City, 435-565-4486, oprockwell.com) have been making some killer variations on Aviations and Arsenic & Old Lace cocktails using violet liqueur for a while. Can't make it to PC? Finding crème de violette (or close relative Crème Yvette) can be a bit of a challenge locally, but there are almost always a handful of bottles floating around in the inventory. Pick one variety and you'll have it for a while. No home bar needs multiple bottles of purple perfumed booze taking up room that could be used for some really good bourbon.
Wine in Utah? Yup. It's not surprising, since our state's warm, dry climate and rocky soil already supports a handful of vineyards with some serious terroir. Since the 1970s, Utah growers have been experimenting with wine grape varietals from cabernet sauvignon to chardonnay. Both Layton in the north and Moab to the south now support bustling tasting rooms and wine education seminars. Utah-based winemakers also source grapes from Oregon, Washington and California to produce their juice. And The Hive Winery has been a longtime source for small-batch fruit wines, brandies and honey mead. One of the West's renegade natural fermentation winemakers, Evan Lewandowski, makes wine right here in SLC when he's not doing it in Australia, Africa or Alsace. "The soils here are varied and pretty amazing—pebbly, cobbly, rocky, sandstone, limestone, shale," Lewandowski boasts of the Beehive. "Many places are absolutely perfect for the cultivation of extremely high-quality wine grapes. The same can be said for our climate here in Utah; political climate aside. I'm one million percent certain that world-class wine will one day be grown here. It's a matter of time. If I don't do it, someone else will."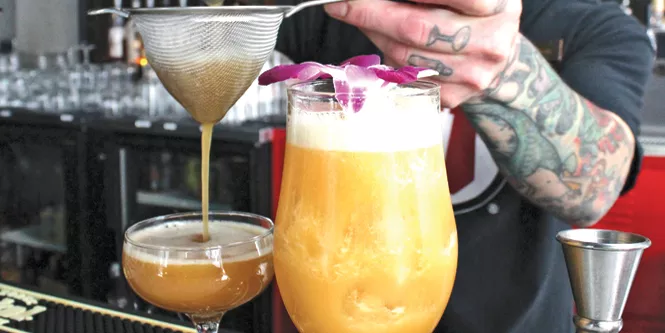 X-Factor
. Some of our contributors (and who better to ask about drowning their sorrows than overworked journalists) say these local watering holes have it:
Enrique Limón, City Weekly/City Guide editor
"For my taste, Good Grammar boasts some of the best cocktails in town. Whether you're a fan of The Walking Dead or my personal adaptation, Walking Buzzed, their Zombie is sure to do the trick. This elixir comes loaded with a combination of rum, pineapple and orange juice and a twist of lime for a true taste of the tropics—just add sunblock (not to the drink, naturally)." 69 Gallivan Ave., 385-415-5002, goodgrammar.bar

Dylan Woolf Harris, City Guide contributor
"When I'm looking to class up my beer, I order it with a skewer of olives—a tasty drink/snack combo a flight attendant clued me to one night at the Tavernacle Social Club." 201 E. 300 South, 801-519-8900, tavernacle.com

Scott Renshaw, CW A&E editor
"When waiting for a show at the Rose Wagner Center, I can't resist chasing my dinner at Squatters Pub with a Chasing Tail Golden Ale. The English-style pale ale is versatile enough so pair with plenty of meals, or a refreshing delight all on its own." 47 W. 300 South, 801-363-2739, squatters.com

Mike Riedel, CW beer columnist
"The Thor at Lake Effect satisfies my bourbon and espresso cravings in one glass. It's made with Booker's bourbon, Rittenhouse rye, espresso-infused demerara syrup, Angostura- and barrel-aged bitters. Oh, Baby!" 155 W. 200 South, 801-532-2068, lakeeffectslc.com
Darby Doyle
Don Justo
Yellow Chartreuse—a slightly mellower kissing cousin to herbal and artichoke-forward green Chartreuse—is having a little moment in the cocktail scene. Not quite top-billing among global liqueur players, but definitely getting some well-deserved ensemble cast recognition. Made in a monastery near Grenoble, France, since the 1730s, legendarily only two Carthusian monks know the recipe for concocting Chartreuse of either hue at any one time. In comparison with potent green Chartreuse (bottled at 55 percent ABV), yellow Chartreuse has a more sweet, honey-like floral quality and is bottled at lower 80 proof (40 percent ABV). Bartenders particularly like the yellow version for balancing out strong bitter or sour elements. A little bit goes a long way, well worth the $30 splurge for a half-bottle (currently only available in Utah by special order). At Finca (327 W. 200 South, 801-487-0699, fincaslc.com) try a cocktail that barkeep Jared Asplund calls the "Don Justo" ($12), made with tequila blanco, yellow Chartreuse, sherry and a Campari rinse. For cocktail nerds, that'd be a bijou variation with Campari. De-lish.
Finally,
Z is for zest. Citrus is more than something to drop in your cocktail for appearance sake, it's a key component of the drink experience. Like any good performance, building a great cocktail has a compelling backstory, a bit of drama and a memorable presentation.

At The Rest (331 S. Main, below Bodega, 801-532-4042, bodega331.com), bar manager Adam Albro told me one night when stirring up a delightful Sazerac ($11), incorporating all of these elements along the way, that "rubbing oils from lemon zest to the rim and stem of a glass isn't just for show; it adds to the whole sensory experience of the drink"—from the first whiff to the subtle fragrance lingering on your fingertips as you enjoy the cocktail. For the home bar, a good, sharp paring knife can get the zesting job done in a pinch. But fancy-schmancy shortcuts to make elaborate Pinterest-worthy garnishes require two inexpensive tools you might already have in your junk drawer: a narrow channel knife (with a V-shaped notch) and a horizontal (also called "Y") vegetable peeler. Garnish game gauntlet, thrown.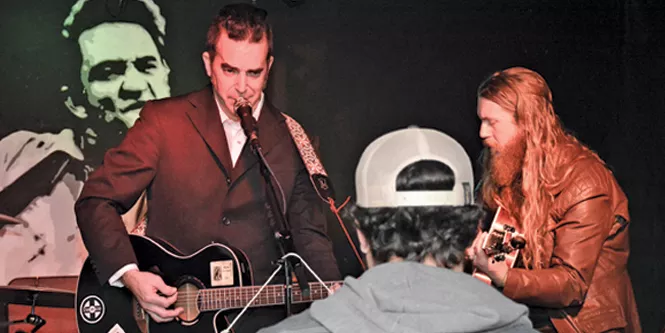 Josh Scheuerman
A Bar Named Sue
Essential Beer Bars / Sports Bars
A Bar Named Sue
This Johnny Cash-themed bar hosts Cash-themed signature events like a JC Birthday Tribute and Sing O' Fire Karaoke nights. Take a selfie with the Johnny Cash murals for extra points. 3928 S. Highland Drive, 801-274-5578; 8136 S. State, Midvale, 801-566-3222, abarnamedsue.net
The Bayou
The O.G. of all SLC beer bars. Owner Mark Alston regularly picks out new flavors to bring into The Bayou. For the best approach to new suds, download their app. 645 S. State, 801-961-8400, utahbayou.com
Beer Bar
Locals talk about going to Ty Burrell from Modern Family's bar, but Beer Bar could live on its own merits as a solid watering hole offering 140-plus beers and locally sourced pub fare. 161 E. 200 South, 801-355-3618, beerbarslc.com
Beerhive Pub
A Main Street mainstay and easy to see why. Several staffers have been around for years and are extremely helpful navigating their extensive beer list. Sporting Utah's only ice bar is a nice complement. 128 S. Main, 801-364-4268
The Break
Being nestled in the Daybreak community, you're offered some respite in Salt Lake suburbia. 11274 Kestrel Rise Road, South Jordan, 801-987-3354
Fiddler's Elbow
One of the few cornerstone Sugar House businesses left after the urban development facelifted the area. Fiddler's has been a draw for decades and looks like it will remain as such. 1063 E. 2100 South, 801-463-9393, fiddlerselbowslc.com
Ice Haüs
Beers. Brats. Booze. Right on its logo. You'll want to find yourself in Murray to experience this charmer. 7 E. 4800 South, Murray, 801-266-2127, icehausbar.com
Johnny's On Second
$4 shot and a beer. Come on, let's be real: In any metropolitan area that's just a steal. 165 E. 200 South, 801-746-3334, johnnysonsecond.com
Legend's
Here's a solid family-friendly sports bar just outside of downtown proper. Great for youth sports team dinners and hangouts with friends if you can't score tickets to the Jazz or RSL. 677 S. 200 West, 801-355-3598, whylegends.com

Lumpy's
Salt Lake's original neighborhood sports bar and supporter of all teams that rep Utah.
145 W. Pierpont Ave., Salt Lake City, 801-883-8714; 3000 S. Highland Drive, Salt Lake City, 801-484-5597, lumpysbar.com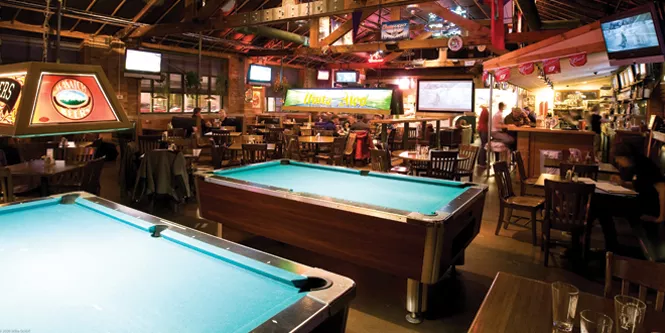 Derek Carlisle
Fiddler's Elbow
Essential Clubs
The Depot
The Depot holds it down in the Gateway district. And with one of the best lineups, they continue to help grow the thriving music scene. 400 W. South Temple, 801-355-5522, depotslc.com
Duces Wild
A Cheers-style bar, only with dancers. Call it your "slightly naughty" neighborhood bar. 2750 S. 300 West, 801-467-4600, duceswildslc.com
Hog Wallow Pub
You'd be hard-pressed to find a more unique pub in Salt Lake. You'll certainly want to find yourself on their one-of-a-kind patio after summer hikes in the Cottonwoods. 3200 E. Big Cottonwood Canyon Road, 801-733-5567, thehogwallow.com
Piper Down
For St. Patrick's Day, Piper changes all its taps to Guinness. What else do you need to know? Oh, befriend a bartender and ask about its namesake. Straight-up Utah bar lore. 1492 S. State, 801-468-1492, piperdownpub.com
Prohibition
This 1920s-themed bar in the heart of the valley serves up some fancy craft cocktails and taps that only pour local beer. 151 E. 6100 South, Murray, 801-281-4852, prohibitionutah.com
The Royal
The Royal taps into a wide variety of genres making it a Murray destination bar attracting fans from all over the valley. Reggae Thursdays are a staple and its Tuesday open mics night have been known to feature local celebrities. 4760 S. 900 East, Murray, 801-590-9940, theroyalslc.com
Sky
Owner Ken Dismore got his inspiration for Sky from some of the best clubs and music festivals around. For EDM lovers, Therapy Thursdays are top notch. 149 W. Pierpont Ave., 801-883-8714, skyslc.com
The State Room
Do these guys know how to book acts or what? A must-visit for intimate vibes and big names. 638 S. State, 800-501-2885, thestateroom.com

Trails Men's Club
Not far from downtown, Trails is Salt Lake's premier gentlemen's club with the biggest stage and the hottest ... steak dinner specials. 921 S. 300 West, 801-363-2871
The Westerner
This unpretentious west-side country bar doesn't require a cowboy hat, but you're going to want to line-dance, nonetheless. 3360 S. Redwood Road, 801-972-5447, westernerslc.com
Josh Scheuerman
Cheers To You
Essential Dives / Neighborhood Bars
Bongo Lounge
Cheap drinks flow like manna at this Millcreek dive bar. 2965 S. Highland Drive, 801-466-1577
Cheers to You
Norm hasn't been here, to our knowledge, but come enough and everybody will know your name. For a downtown bar, it certainly has that neighborhood feel. 315 S. Main, 801-575-6400; 7642 State, Midvale, 801-566-0871, cheerstoyouslc.com
Cruzrs Saloon
With darts, billiards and bar-staple game nights like Texas Hold 'em tournaments, there's something for everyone here.
3943 S. Highland Drive, 801-272-1903, facebook.com/cruzrssaloon
Dick 'n' Dixies
A Real Salt Lake fan and player favorite. Don't worry, though, Nick Rimando won't stop you from having a good time.
479 E. 300 South, 801-994-6919
Funk 'n' Dive
One of the fanciest "dive" bars you'll ever see. If you haven't tried Tatchos, do it. Do it now. 2550 Washington Blvd., Ogden, 801-621-3483, funkanddive.com
Mid City Pub
Not just a stopping point before and after you pretend to be Rory McIlroy at TopGolf. 7101 Bingham Junction Blvd., Midvale, 801-566-0505, midcitypubslc.com
O'Shucks Bar & Grill
This unassuming basement bar features $3 schooners on Wednesday nights and adjacent Ahh Sushi serves up some mean rolls. 22 E. 100 South, 801-359-6770
Patrick's Pub
Conventioneers need a break between sessions. Kitty-corner to the Salt Palace Convention Center, Patrick's is the perfect place to use that company card you snagged. 163 W. 200 South

Quarters Arcade Bar
Stiff drinks plus the state's only Killer Queen 10-player arcade game can be found at this new downtown fun hub.
5 E. 400 South, quartersslc.com
The Tap Room
There are no frills at this Sugar House staple. Just the good hooch and a friendly staff. 2021 E. Windsor St., 801-484-6692, facebook.com/slctaproom
X-Wife's Place
One of Salt Lake's last stands against credit card machines. It's cash-only at this dive bar that won't come close to breaking the bank. 465 S. 700 East, 801-532-1954
Derek Carlisle
Funk 'N Dive
Essential Lounges
Alleged
This upscale lounge in Ogden features one of the neatest rooftop patios around. 201 25th St., Ogden, 801-990-0692, alleged25th.com
Bourbon House
Bourbon House sells the most Jameson in all the land. You'll never feel more sophisticated throwing down a few picklebacks than you will here. 19 E. 200 South, 801-746-1005, bourbonhouseslc.com
Club 90
Game room, dance floor and the Green Room for private events. Club 90 has it all. 9065 S. Monroe St., Sandy, 801-566-3254, club90slc.com
Good Grammar
This new hip cocktail lounge has a colorful feel and an amazing drink selection. 69 Gallivan Ave., 385-415-5002, goodgrammar.bar
Harp and Hound
Located above the Funk 'n' Dive, the Harp and Hound is Ogden's newest and prettiest gastropub. 2550 Washington Blvd., Ogden, 801-621-3483, facebook.com/harpandhound
Keys on Main
A dueling-piano bar perfect for large parties and company outings. Flip the musicians a solid tip and your favorite tunes will be next on their list. 242 S. Main, 801-363-3638, keysonmain.com
No Name Saloon
Easily one of the most popular bars in Park City, this rustic watering hole is a must-see. 447 Main, Park City, 435-649-6667, nonamesaloon.net
Owl Bar
Robert Redford spared no expense to bring in the bar-top where Butch Cassidy and the Sundance Kid used to belly up. Finding yourself in Utah County isn't all that bad if you make your way here. 8841 N. Alpine Loop Road, Sundance, 801-223-4222, sundanceresort.com
The Ruin
Adhering to the motto "Work is the curse of the drinking class," this place delivers.
1215 E. Wilmington Ave., Ste. 120, 801-869-3730, ruinslc.com
Twist
A former boiler room that once heated up an entire city block, Twist owns that 19th-century look and now heats up on the weekends. 32 Exchange Place, 801-322-3200, twistslc.com
Enrique Limón
Viva La Diva
Essential LGBTQ Bars

Area 51
Where theme nights and good times abound. 451 S. 400 West, 801-534-0819, area51slc.com
Club Try-Angles
Play a game of pool or darts and expand your social circle at this friendly neighborhood bar. 251 W. 900 South, 801-364-3203, clubtryangles.com
Club X
Let Utah's premier Dolly Parton impersonator, Jason CoZmo, entertain you every week with his stellar Viva La Diva show. 445 S. 400 West, 801-935-4267, clubxslc.com
Karamba
For the best Sunday night party, look no further than this Sugar House haunt. 1051 E. 2100 South, 801-696-0639, karambaslc.com
Metro Music Hall
Check out the night's lieup online, and if JRC Events is behind it, go. 615 W. 100 South, metromusichall.com
The Moose Lounge
Hang out with the pretty crowd every Friday night during Revolution. 180 W. 400 South, 801-900-7499, facebook.com/themooseloungeslc
Sun Trapp
Everybody might not know your name at first, but they will after a couple of signature Mason-jar cocktails. 102 S. 600 West, 385-235-6786, suntrapp.com
Zion Bar
Where dance, drinks and drag fabulously collide. 50 W. 300 South, 801-701-8451, zionslc.com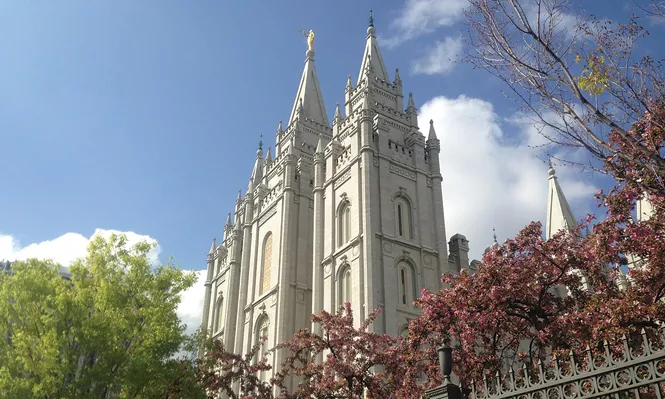 This Is The Place … to Miss
A Salt Lake expat reflects on what he pines for the most.
By Jordan Floyd
There comes a time in the life span of many a Utahn when—for whatever reason—the need to get out takes hold. Yr. corresp. faced that prospect not long ago and found himself enrolling in a graduate program in Ohio—a rip-roaring state if there ever was one. As I barreled across highways that bisected behemoth cornfields, my car filled with every earthly possession, and I watched Midwestern skylines rise suddenly from the interminable flat horizon and sink from view just as quickly, I thought: "Why am I leaving?"

Was it Alanis Morissette who sang, "Isn't it ironic? Don't you think?"

Below is a non-comprehensive and in-no-particular-order list of things I miss the most about Utah and that you might miss, too, should you decide to leave. Sure, the act of writing this piece is engaging in idealization, but isn't that what we do? Do obituaries not describe the lives of the deceased as if they had achieved sainthood? Salt Lake City might be the second greatest experiment the world has ever seen. It is a relic sitting in geographical isolation in the West. Its essence permeates our being as Salt Lakers, no matter how brief our stay. It ought to be idealized. It ought to be laughed at and criticized relentlessly, too.

Didn't someone once see the Salt Lake Valley and say, "This Is the Place"?

I suspect they were right, and if I might add: it's one hell, err heck of a place to miss.

The Mormons: There's a scene in Don DeLillo's seminal work White Noise in which the protagonist, who spends most of the novel agonizing over the fact of his inevitable death, confronts a German nun after she has informed him that her belief in God is a show. "It is our task in the world to believe things no one else takes seriously," the nun says of her vocation. "To abandon such things completely, the human race would die." And so, too, without the Mormons, would Utah's quasi-subversive, alternative peoples die. Outside Utah, drinking with friends is all there is to do.
Coffee is as frequent as a sunrise. Ideas about the non-existence of a higher power are obvious. Mormons provide a backdrop against which a lovely alternative narrative has been constructed, and one that can't exist elsewhere. Take away that backdrop, that suburban leviathan whose shoulders are covered and whose purpose is fuelled by lime- and coconut-infused Diet Cokes, and what's underground in Utah is suddenly normal. They're DeLillo's words but they just as easily could come from a strikingly curt Relief Society president: "We take vows. Poverty, chastity, obedience. Serious vows. A serious life. You could not survive without us."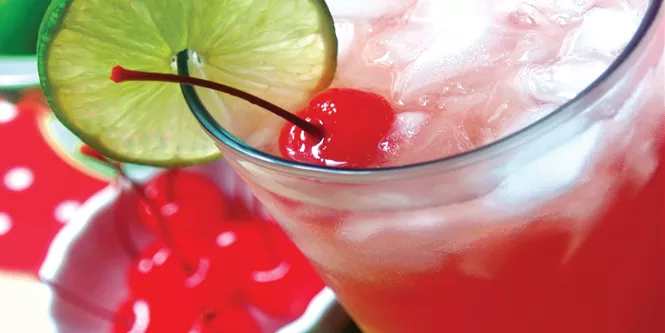 Soda Infatuation: It might be pure delusion, but soda does not taste as good in the Buckeye State as it does in the Beehive, and I suspect the story is the same in other locales. Perhaps Utahns have perfected the art of pop after years of strict devotion to drinking it. Perhaps there is something inextricable between soda and place. Where else can you find drive-thru soda shops where Utah's version of mixologists concoct drinks that redefine the word saccharine? Coffee this, beer that—sometimes all you need is an Orange Crush and there's no better place to quench that thirst than our great state.
Liquor Stores: They're a pain in the ass. Their hours suck. For a state that prides itself on some conservative notion of limited government, they're a blatant irony. But who doesn't like a challenge? The jokes on you, DABC, because you've only made us booze-types stronger. Our forethought is impeccable. Our pantries are stocked and then some, should some modern incarnation of Prohibition gain steam. We liquor-store goers are one, and that is perhaps what is best about the state-endorsed temples to inconvenience. Inside its purposefully opaque walls exists a team of drinkers united against a nebulous, sadistic mass that touts health and values and whatever. That type of camaraderie does not exist elsewhere. We're here, brothers and sisters in alcohol, and we will be drunk soon.
The Mountains in the East (Salt Lake's section of the Wasatch Range): Looking south from the north end of the valley, maybe somewhere near Foothill Drive or on the Capitol steps, it's there—the postcard image. Mt. Olympus is a granite tombstone towering above the cove. O'Sullivan Peak and Lone Peak appear behind it, their mountain masses sloping down toward the valley floor. There's something distinctly Utah that's embodied by this image of the mighty Wasatch and the presence of humans prostrate to its foothills. We are so close to what's wild. We champion these mountains and the endless list of activities done within them. We might even worship them, the trademark symbol for our life elevated.
Fry Sauce: Yes, it is simply a mixture of ketchup and mayonnaise. Yes, it can be made anywhere easily and cheaply. No, it is not the same—that is, eating fry sauce in the midst of a culture that does not recognize the sanctity of fry sauce, is the same as not eating fry sauce at all. Lap it up, literally or not. Bathe in it. For God's sake, don't take that beautiful cup of creamy sauce for granted.
The Drives: The last thing people need to be doing in this valley is driving, But should it be absolutely necessary—or should every person in the valley disappear, leaving you, dear reader, alone in a banal sci-fi plot—there are a handful of drives that are the definition of serene and embody the beauty of the Salt Lake City quotidian. Travelling east on I-80 toward downtown has you feeling like you might plunge into the center of the city at 80 miles an hour. The city seems to watch you, its skyline no better represented than from that vantage point, and greet you, nodding toward wherever west you've come from.
Speeding along the I-215 belt-route on the east bench gives you a comprehensive view of the city. Every tree and shopping mall are accounted for. Woe to those in America's flatlands, you might think, surrounded by a seemingly invisible world. Venturing from the southernmost part of the valley to the Capitol on State Street, the story of Salt Lake City's people is told: It's shining shopping malls, strip clubs and chain eateries. It's car dealerships, Costcos and pawn shops. It's a culture that feels so deceptively monolithic, but it's there—you can see it—all vibrant and odd, just outside your window.

Local Food and Drink Classics: The Pie. Crown Burger. The Red Iguana. The Pie Hole. Hire's Big "H." Wasatch. Squatters. Uinta. Redrock. Oh. My. God. Café Rio, for f*ck's sake. There are local classics in any state, the must-eat places whose status as true culinary spectacles matters very little. It can't be said that any of these restaurants are the best places to eat, or that these breweries are producing the best beers, but these places are one thing—they are home.
The Mountains in the West (Salt Lake's section of the Oquirrh Range): While the Wasatch range holds our ski resorts, our beloved fluffy snow and all that's good, the granite- and pine-covered Oquirrh range is just as irresistible—if not more.
The western range stands like a wall between the valley and a desert void that persists for miles until Reno. Its valley-facing side is a like a bathroom stall, donning the markers of those who came before. A smokestack bursts from the ground on its northernmost end. Somebody slapped a capital "C" on one of its flat faces. Mountain viscera travels along a conveyor belt that looks to have been put on the mountain by aliens. A third of the mountain, maybe, has been entirely dismantled, moved, undone. They say the Bingham Canyon Copper Mine is visible from space, but it's unlikely that any of us will ever see it like that. We see it every day and those western mountains, too, a backdrop for an ever-sprawling city. How far will we go?

Your move, Ohio.