Page 2 of 8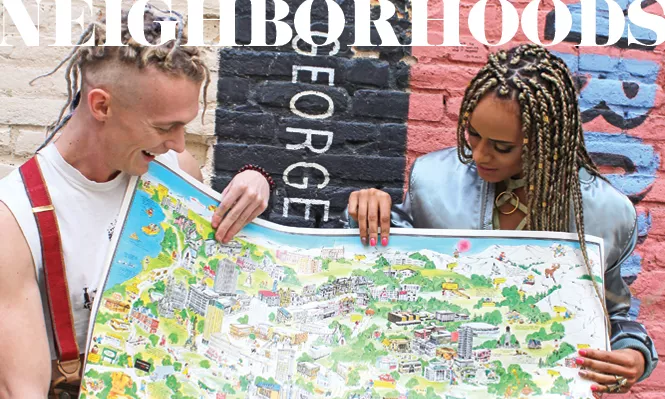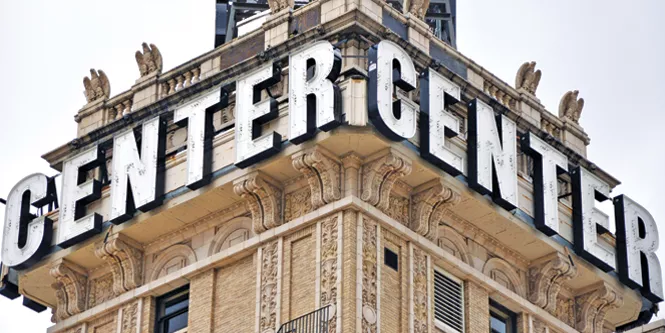 By Dylan Woolf Harris
If you're hanging onto the notion that Utah is stuffy or homogenous or oppressed, let the capital city's downtown neighborhood disabuse you of it. This town's most vibrant area is sleek and urbane, raw and alive—a hub for art, music, food, shopping and festivals. It's where commuters want to work and weekenders come to play.

With so many options, it's almost unfair to single out one downtown restaurant. For lunch, though, it's hard to go wrong at The Robin's Nest (311 S. Main, 801-466-6378, robinsnestslc.com). The over-the-counter shop specializes in sandwiches with more than 25 options in half or whole sizes. Each comes with fresh orzo pasta or chips (I highly recommend the pasta.)

For the photosynthesis-appreciating, green-thumbed, oxygen-obsessed, house plant-lover, browse Paradise Palm (307 E. 300 South, 801-582-3212, paradisepalm.com) and you might not be able to resist picking up one more bonsai tree or succulent. This plant shop has an unrivaled selection, that to even walk among makes you feel like you're connecting with Mother Earth.

The downtown bar scene spans a spectrum from divey watering hole to swanky cocktail lounge. When you're hopping between them on a weekend or Thirsty Thursday, don't skip over Murphy's Bar & Grill (160 S. Main, 801-359-7271, murphysbarandgrillut.com). Even if Jameson or Guinness isn't your beverage, this Irish bar has something for everyone, including a welcoming staff and darts in the back.

Grab a matcha latte at Three Pines Coffee (165 S. Main, 805-395-8907, threepinescoffee.com) and cruise over to the Downtown Farmers Market (slcfarmersmarket.org). The traditional summer market takes place at Pioneer Park every Saturday June-October, where you can pick up fresh ingredients and unique crafts while you people-watch the morning away. You can also find a harvest market Tuesday evenings at Pioneer Park in the fall and a winter market at the Gateway's Rio Grande Depot.

Nestled in the northeastern reaches of the city, the Avenues neighborhood is known for its quaint homes, steep hills and friendly residents—a place that belies its most notorious one-time inhabitant, serial murderer Ted Bundy. This established and charming section of Salt Lake City is quiet despite its proximity to the bustle of downtown and the University of Utah.

If you trudge up the inclining streets in the Avenues, you're going to get thirsty. And if you're thirsty in the Avenues, you're going to want to quench your parched throat with a locally brewed beer. To that end, make sure your hike leads to Avenues Proper (376 Eighth Ave., 385-227-8628 avenuesproper.com), a brewpub with a delicious selection of beers and pub grub. The Hopspital is a must-try for IPA fans.

When Bistro on 3rd (564 E. Third Ave., 801- 831-5409) changed ownership last year, regulars might have felt a pang of trepidation that this chic eatery would lose its appeal. Not to worry: The ambiance has remained inviting and the menu mouthwatering with items like the trout almondine ($19) and the veal paillard ($19). If you dine on a warm day, ask for a table on the patio.

To appreciate the Avenues is to embrace the mountainside it's built on. So consider hiking the hillsides up to Twin Peaks, a 3.7-mile, up-and-down assent to a gorgeous lookout. To get to the marked trailhead, head north on I Street, take a right on 11th Avenue, then left on Terrace Hills Drive. Follow that road as it winds through a neighborhood until it dead ends. Sunset on the summit is exquisite. As you overlook the neighborhood, the city and the valley, you might find yourself thinking, "You know what? This really is the place."

The Avenues is home to an assortment of coffee shops, each with its own vibe. If you're serious about a fresh cup of joe, though, fill up your mug at Jack Mormon Coffee (82 E St., 801-359-2979, jackmormoncoffee.com). Each order is ground and brewed in front of you, and the selection is phenomenal. The shop's merchandise or bags of coffee beans make for great gifts. T-shirt emblazoned with their trademark "Celestial Bean"? Sold.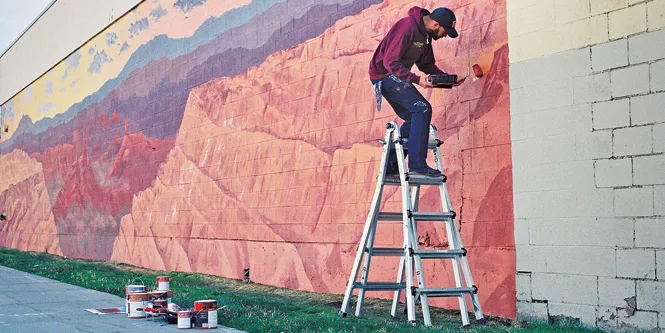 By Sarah Arnoff
A hodge-podge of rundown industrial buildings, hiply refurbished warehouses, sleek new mixed-use spaces and a surprising amount of street murals, Granary is on the verge of being one of Salt Lake's trendiest up-and-coming 'hoods. The place is only getting more stylish, as SLC is one of 11 cities that won $50,000 from the Partners in Preservation: Main Street grant campaign and is using the funds to refurbish the Utah Pickle Co. building into an event space, media studio and artist offices.

Sandwiched between antiques warehouse Euro Treasures and a casket company, sits the niche gem Land Cruiser Heritage Museum, which boasts the world's most diverse collection of Toyota Land Cruisers (470 W. 600 South, 801-7817-6017, landcruiserhm.com). Wander among their 62 prized vehicles (CruiserFest is Sept. 8, FYI), and if your car craving isn't satisfied, check out the Classic Cars International Museum (355 W. 700 South, 801-201-1683, classiccarsintl.net) a block away.

Kilby Court has long been an all-ages music scene staple, but Granary has grown to become a haven for other artists, nonprofits and small businesses. Eco-friendly ArtSpace Commons (824 S. 400 West, 801-310-9324, artspaceutah.org) is home to locals such as Bad Dog Arts, Wasatch Community Gardens, HEAL Utah, TreeUtah, Utah Chapter Sierra Club and many others.
Yogis can get their sweat on at Schole Yoga (824 S. 400 West, scholeyoga.com). Buddhists can meditate at the Urgyen Samten Ling Gonpa Tibetan Buddhist Temple (740 S. 300 West, 801-328-4629, urgyensamtenling.org) while the rest of us get schooled in the arts of Kung Fu, Qigong and Tai Chi downstairs at Red Lotus School of Movement (801-355-6375, redlotusschool.com).

By Enrique Limón
Does your idea of camping involve scrumptious cocktails, a lively patio and, most importantly, not entering the wilderness at all? Then Campfire Lounge (837 E. 2100 South, 801-467-3325, campfirelounge.com) is just for you. Sit back and relax, S'mores-tini in hand, munch on any of the house "hobo dinners"—hearty meals like chopped sirloin and veggies wrapped in foil and cooked over a campfire—and redefine roughing it. Having a fun time is guaranteed. Dousing yourself in OFF! spray is optional.

You'd be remiss not to take advantage of the great shopping. Sure, national chains abound but for something truly unique, checkout American Rust Co. (825 E. 2100 South, 385-415-2916, americanrustcompany.com), which specializes in "mantiques"—think rusted motorcycle parts, oil cans and vintage signage—All About Coins (1123 E. 2100 South, 801 467-8636, allaboutcoins.com) for all your collectible currency needs, Raunch Records (1119 E. 2100 South, 801-467-6077, raunch.storenvy.com) to live out your SLC Punk! fantasies and the local branch of the DI (2140 S. 800 East, 801-486-3474, deseretindustries.org) for everything else.

It's no surprise this magazine's neighborhoods section is laden with a few coffee shop options. After all, what's a better place to get the locals-only treatment while simultaneously taking a community's pulse? Sugar House Coffee (2011 S. 1100 East, 801-883-8867, sugarhousecoffee.com), established the same year as this magazine, has all that in spades. Check out their legendary Jazz Jam on Thursdays, mingle with the cool kids, sip on a Golden Graham latte (my personal fave) and see your worries disappear.

Sugar House Park (sugarhousepark.org) was made for lazy Sundays. Built on the site of the state's first prison, the only arresting thing here now are the sweeping vistas. Fancy a scenic jog? This is the place. You can also feed the ducks in the sprawling pond, play soccer or baseball in its regulation-size fields, go sledding during the winter months, and if never-ending breaded shrimp is what you're after, get your fix at the encroaching Sizzler. During the Fourth of July, the family focal point lights up with some of the most spectacular fireworks in all the valley.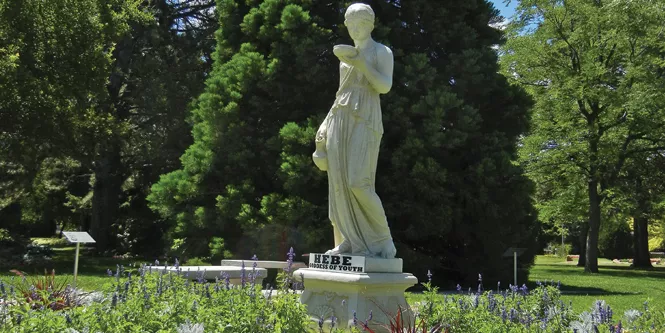 By Ray Howze
Salt Lake City's westside neighborhood is its most culturally diverse, teeming with eclectic food options and immigrant populations that include Latinos, Pacific Islanders, Africans, Asians and eastern Europeans. As a result, the area is home to a multicultural vibe with a unique flavor found nowhere else in Utah.

Experience a slice of each culture that has settled in the Salt Lake area with the variety of architecture, statues and sculptures at the International Peace Gardens (1000 S. 900 West) located at Jordan River Park. The park lies along the Jordan River and offers a lush green space away from the hustle and bustle of the city.

Take in the sights and sounds of Utah's pioneer history at the State Fairpark (155 N. 1000 West, utahstatefairpark.com). With a newly built arena, the 10,000-seat venue hosts the annual Days of '47 Rodeo, the state fair and, oh yeah, City Weekly's epic Utah Beer Fest. The sprawling event space is also the place to go for a fried snack and the occasional demolition derby.

Engage with community members and learn about events going on around the neighborhood at the Sorenson Multicultural and Unity Center (855 W. California Ave., 801-468-1300, slco.org/sorenson). Here, you can rent meeting space, work in the tech center or even get fit at the gym. Or, don your gardening gloves and get dirty in the center's Unity Gardens.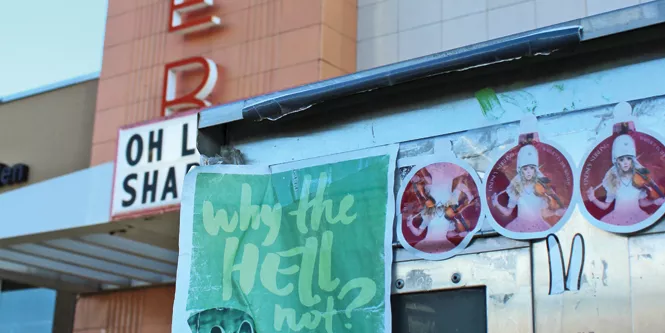 By Scott Renshaw
Old-school movie houses—you know, the kind with balconies—are few and far between anymore, so take advantage of a chance to catch new foreign, American independent and documentary films at the Tower Theatre (876 E. 900 South, 801-321-0310, saltlakefilmsociety.org). It's also a great spot for special movie events like weekend midnight horror flicks during October, plus Sundance Film Festival screenings in January. And when Netflix can't offer anything older than 1995, check out their huge rental library of classic DVDs.

Savor the flavor that can only come from food that didn't have to cross an ocean or the breadth of a continent to get to your plate at Pago (878 S. 900 East, 801-355-3425, pagoslc.com). "Farm-to-table" might have become a trendy appellation, but it's also a mission at this intimate eatery, where the menu changes seasonally to ensure that you're getting the finest locally sourced ingredients, supporting Utah producers like Amour Spreads, Parker Farms Produce, Sweet Valley Organics and more.

Browse through the kind of funky, eclectic merchandise that you can only find at a locally owned boutique like Hip & Humble (1043 E. 900 South, 801-467-3130, hipandhumble.com). For nearly 20 years, the store—and its sister location in Bountiful—have offered unique apparel, personal care and wellness items, journals and stationery, specialty kitchen gadgets and more. The bright colors and distinctive floor plan—watch your step up or down into the individual rooms—make it a place as fun to hang out in as it is to buy from.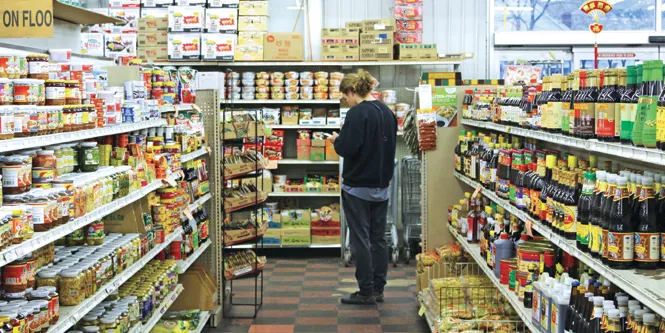 By Enrique Limón
A stone's throw away from Liberty Park, Southeast Market (422 E. 900 South, 801-363-5474, southeastmarket.com) is the ultimate bastion of adventurous cooking fare. Rows of fresh produce from near and far as well as aisles of exotic dried goods and candies can be found here. Not sure where to start? Staff here are friendly, and the blog section of their website offers foolproof recipes for everything from firecracker shrimp to Crock Pot pho, which can be made with ingredients found in the store.

The expression "party till your pants come off" has new meaning at Club Try-Angles (251 W. 900 South, 801-364-3203, clubtryangles.com). The LGBTQ haunt takes pride in being located along the recently minted Harvey Milk Boulevard and hosts theme nights—from bear night to drag queen charity bingo to, yes, underwear night—that keep the crowds packin'.

In the mood for some good and sustainable grub? Check out Vertical Diner (234 W. 900 South, 801-484-8378, verticaldiner.com). Leave your ho-hum expectations about vegan food at the door. Vertical has put its own spin on satisfying meat-free chicken-style wings and tenders, burgers and sandwiches like the TLBT (tempeh bacon, lettuce and tomato). Tap your faux leather shoes every Thursday here during their open mic night.

It's no secret that classic cocktail culture has exploded all over the country, and the Wasatch Front is no exception. If you don't know your sazeracs from your French 75s, and want to dip your toe in a welcoming environment, Water Witch (163 W. 900 South 801-462-0967, waterwitchbar.com) is sure to do the trick. Barware that walks the line between sleek and vintage (down to the exact mint-hued blender my grandmother owned ) call the place home, as well as a monumental reproduction of Alfred Lambourne "Cliffs of Promontory." Cheers to Central 9th!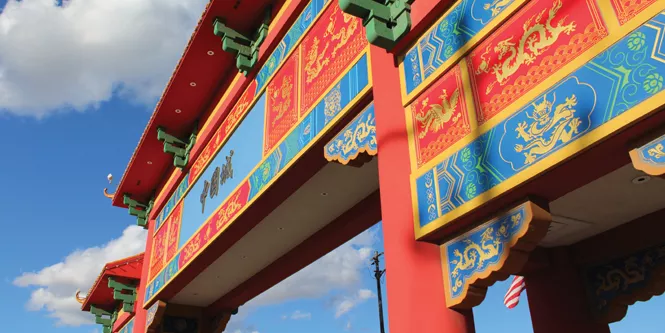 By Ray Howze
Drink at some of South Salt Lake's newest attractions. Thanks to some recently changed liquor laws, new breweries have popped up in the neighborhood such as Shades of Pale Brewery (154 W. Utopia Ave., 435-200-3009, shadesofpale.com). With SaltFire Brewing Co. (2199 S. West Temple, 801-661-1947, saltfirebrewing.com) expected to open this year and another brewery possible in 2019, the area might soon be a go-to locale for craft brews.

Bowling might not be as widely popular as it has been in decades past, but South Salt Lake is home to two alleys—Bonwood Bowl (2500 S. Main, 801-487-7758, bonwoodbowl.com) and Fat Cats (3739 S. 900 East, 801-262-9890, fatcatsfun.com/saltlakecity)—that still draw a crowd. The AMF Ritz Classic Lanes on State Street are no more, but the iconic sign was recently rebuilt and installed in the same location, offering a reminder of the classic space.

Taste a bit of the Far East at Salt Lake Chinatown (3370 S. State, saltlakechinatown.com). The area is home to the state's largest grocery store as well as some of the city's tastiest Chinese restaurants, such as CY Noodle and Chinese Restaurant and Ho Mei BBQ. You can shop, eat and drink in this Salt Lake development, so plan to spend some time here to take it all in.

Indulge in a quick bite as you rush to your next appointment at Fresh Donut & Deli (2699 S. State, 801-467-8322). The small, but simple shop offers your typical doughnut varieties as well as a scrumptious apple fritter. Grab a side of coffee for your caffeine jolt and be on your way!