Page 3 of 8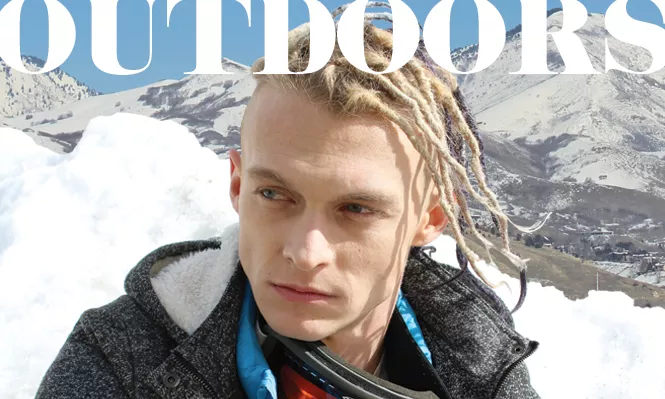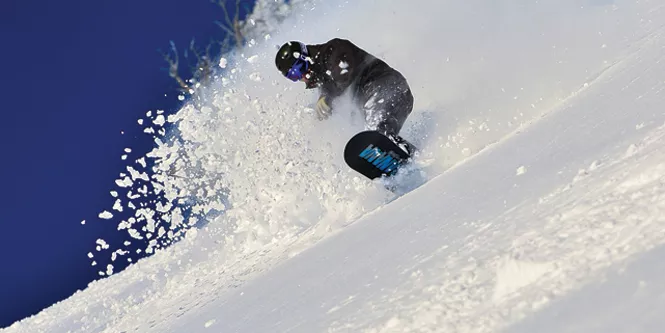 Ryan Pow shots
Snow Basin
Get Out!
From sweet hikes to slick slopes, adventure awaits in your own backyard.
By Dylan Woolf Harris
The diversity of Utah's landscapes can be spellbinding: Within its borders, the Beehive State boasts the towering Kings Peak in the mighty Uintas; red-rock sandstone in the south that has, in places, eroded away to form precarious arches and spires; remnants of a prehistoric lake have left other-worldly salt flats in the west desert and man-made Lake Powell is home to hidden coves along its ridges.

It's no secret that Utah is the premier spot to witness jaw-dropping landscapes.

These far-reaching destinations are worth exploring, and residents and visitors alike would be remiss to not set aside time to see Utah's renowned wonders. But that's the thing: Many of the state's unique places are hours-long drives away from its main urban center, and can't be appreciated in a single summer afternoon or even a quick overnighter.

Fortunately, the state's settlers built Salt Lake City against a remarkable backdrop. Beauty near to the Salt Lake Valley is arresting in itself, and offers access to unparalleled recreational opportunities, whether that's biking, hiking, camping, skiing and snowboarding, rock climbing, running or fishing. Here are some suggestions:
Skiing and Snowboarding
In more ways than one, the 2002 Winter Olympics made its mark on the region that continues to be felt 16 years later. That's certainly the case at Snowbasin where you can ski down slopes on which athletes competed. Race down the same tracks that Olympians in the men's and women's downhill, as well as slalom athletes, earned their medals.

What Powder Mountain lacks in lifts, it more than makes up for in Cat skiing—in which motorized snowcats take skiers to pristine locations, allowing them to ride the powder down.

For those looking to snowboard at a terrain park, Brighton has you covered. Since snowboards carve up the snow in a particular way, Alta and Deer Valley are for skiers only.

Park City Mountain/The Canyons is one of the largest terrains in the continental U.S. If you want to ski the entire mountain, you'll probably need to do it over the course of a few days.

Snowbird fosters a reputation for having some of the toughest slopes for hardcore skiers and snowboarders. And many call Solitude a favorite resort, where the terrain is able to absorb a lot of people.
Running
For good reason, you'll see runners in several Salt Lake City parks, most visibly Liberty Park and Sugar House Park. Loop around the large tracks with the other exercisers and you most likely won't be bothered by other park-goers. It's easy, breezy, pretty and nearby. If you want to get out of the city and into the hills, trail running is the way to go. You'll find abundant options that're a quick drive to the trailhead.

The Bonneville Shoreline Trail is easily accessible and contains several areas along its route where runners can begin their workout. The trail's branches link back to the main artery, so even if you're not familiar with the area, you should have no issue finding your way back. The Bonneville Shoreline is relatively flat and well kept, and beginners to intermediate runners will find it doable.

Access the Millcreek Pipeline Trail from one of the many trailheads found on the north side of Millcreek Canyon. Runners won't gain a lot of elevation on this trail, but it does have a few hills to keep your calves in check.

There are numerous marathons, half-marathons, 10ks and 5ks throughout the year. The Salt Lake City Marathon takes place in April, and has races for each of those distances.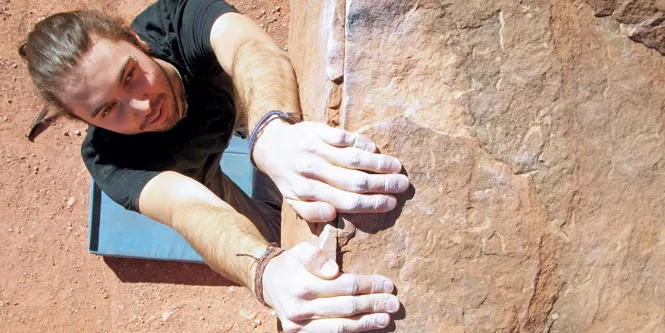 Rock Climbing and Bouldering
If top-rope climbing is your thing, check out Dogwood Crag in Big Cottonwood Canyon where climbs ranging from easy (5.5) to challenging (5.13). Park at the Dogwood picnic area about 1.2 miles up the canyon road; the crag is northeast of the lot.

The canyons also offer an array of bouldering options. Go to the park-and-ride lot in Little Cottonwood Canyon, and you'll find trails that lead to superb boulders within 100 yards. The difficulty ranges from beginner to expert.

A little further up Little Cottonwood on the north side, you'll find numerous bolted and traditional climbs—all grades of climbing. Some of the south-facing routes allow for climbing almost nine months out of the year, depending on the weather. One to consider for a longer, multi-pitch climb, is Pentapitch on the south side of the road. It's a classic. Go to the top of the canyon for bolted climbs at Hellgate.

And if you're really in a rush, there are a few world-class climbing gyms—Front Climbing Club and Momentum, for example—that have various artificial walls to keep anyone from beginner to expert in practice.
Fishing
Cutthroat trout is the official state fish, a speckled species named for the blotches of red coloring around its jawline. Cutthroat can be found in numerous ponds, lakes and rivers and are one of many popular catches.

North of the freeway next to the Murray Parkway Golf Course sits the Willow Park Pond. Anglers can cast for rainbow trout, largemouth bass, channel catfish and bluegill. Bring a picnic basket and fish from the shore.

If you're looking to go boat fishing, try Jordanelle State Park. Jordanelle, a large reservoir in neighboring Wasatch County, is stocked with trout, bass and perch. You can access Jordanelle through Parley's Canyon then south on Highway 189. Alternatively, if you're coming from the south, head up through Provo Canyon to access Highway 189 in Heber City.

For the fly fisher, head south to the Provo River where you can hook trout, carp, walleye and bass. Wade into either the lower section below the Deer Creek Reservoir, which extends all the way to Utah Lake, or the upper section that starts at Deer Creek and extends up toward Heber and the Jordanelle Dam.
Hiking
An experienced hiker will find the steep trail up the west ridge of Grandeur Peak to be a satisfying challenge with a scene at the top that makes for an unbelievable payoff, with views into Park City, Snowbasin and all across the Salt Lake Valley. Set aside at least four hours (two up and two down), as you gain approximately 3,400 feet in 1¾ miles. Access the trailhead from Wasatch Boulevard.

For a simple hike that small children will enjoy, seek out Donut Falls about 9 miles up Big Cottonwood Canyon. It's a popular hike, so you'll be sharing the trail. But it's easy to see why. The waterfall that spills through a hole the Mill D South Fork has cut through the rock is a natural beauty—and the flat trail makes for a quick jaunt, if time is a concern.

If you're looking for a longer, intermediate hike, consider the Pfeifferhorn in Little Cottonwood Canyon, accessible from the White Pine trailhead. The Alpine forest hike is a good, full-day excursion, so make sure you have steady footwear, a walking stick, a few quarts of water and keep your eyes out for rattlesnakes in the warmer months.
Biking
Corner Canyon in Draper has remained a mountain-biking haven. A network of trails makes it a can't-miss for mountain-biking enthusiasts, who will find a trail to their liking no matter their skill level. Locate Corner Canyon along Highland Drive past 1300 East. Trails are shared by hikers and horses, so remember that bikers are supposed to yield to both.

It would be reckless to talk about biking without giving a nod to Summit County. For a ride that has something for everyone, check out Round Valley, an open space north of Park City. There are four or five different trailheads, most of which are single track. A few of the flat rides are double, so you can peddle with a pal. The area caters to various skill sets, though, and some of the rides are challenging and technical. The sagebrush and aspen terrain occasionally is frequented by elk, rabbits and other critters—so be on the lookout.

If the road is calling, the Jordan River Parkway Trail provides a scenic road ride along which you won't have to worry about motorized traffic.
Camping
Take advantage of the unique Great Salt Lake and nab a camping spot on Antelope Island. Whether you're into hiking, mountain biking or you just want a family getaway to spot the bison that roam around the island like they own the place, Antelope Island is the place. You can trek up to the highest point and see the area in all its picturesque glory.

About 10 miles up Big Cottonwood Canyon, consider pitching your tent at Spruces Campground. Try to go mid-week if your schedule allows—avoid going on a holiday weekend if possible. When it's less crowded, you'd be hard-pressed to see signs that you're a half-hour outside a major, mid-sized American city.

Jordan Pines, about 9.3 miles up the canyon, offers popular group camping.

And in Big and Little Cottonwood canyons, as long as you're 200 feet from a trail and water source, you can backpack in and camp on any flat patch of land that you find (there are other rules about party size, pets, swimming, etc.) If you park at Brighton, there are a string of lakes that you can pack near that make for fun overnighters.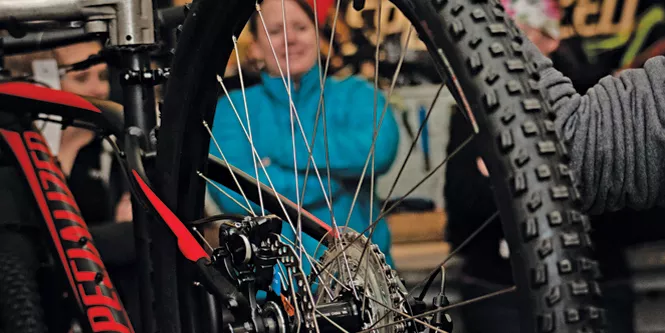 Viki Burton
Bingham Cyclery
Get Equipped
So you've planned your outdoor adventure, now it's time to pick up some gear.
By Dylan Woolf Harris

Let's go outside! The crags, trails, peaks and rivers are plentiful—and they're calling. It's no surprise then that an entire industry supporting recreational hobbies has taken root in this valley and the Wasatch region at large. Whether you're looking for gear or apparel, to rent or to buy, to learn or to share with friends, there are numerous shops to choose from. (Many of these businesses have multiple locations. Check their websites for more information). Here are a few to consider:
Ski and Snowboard
7even Skis started as a small garage-based, custom ski maker in 2009 and has since risen and established itself as a name in the marketplace. 25 W. Louise Ave., 801-856-0291, 7evenskis.com
If you're in need of a tune-up, Big Powder Ski Shop will come to your home, hotel or business so you can save more time for the slopes. 801-893-1199, bigpowderskishop.com
Bindings, boots, poles whatever you need before you hit the slopes, Christy Sports Ski & Snowboard boasts a dozen featured brands. 3939 S. Wasatch Blvd., Ste. 16, 801-272-5550, christysports.com
When you visit Salty Peaks Snowboard Shop, they guarantee you'll find an expert in-house who can help you pick out the board that's right for you. 3055 E. 3300 South, 801-467-8000, saltypeaks.com
You'll always be able to find a Ski 'N See to pick up or return rentals with 15 locations on both sides of the Wasatch Mountains. 102 W. 500 South, 801-333-7767, skinsee.com
Biking
Whether it's a bike for the trail, for road exercise, for the kids or for the commute, Bicycle Center has what you need.
2234 S. Highland Drive, 801-484-5275, bicyclecenter.com

Come ride with Bingham Cyclery, which offers regular free bike tech clinics. 336 W. 300 South, Ste. 103, 801-583-1940, binghamcyclery.com
Contender Bicycles bills itself as a collective of cyclists who are united around their love for bicycles and biking. 989 E. 900 South, 801-364-0344, contenderbicycles.com
When you're in a shop that's been pushing pedals since 1888, like Guthrie Bicycles has, you know you're in good hands. 803 E. 2100 South, 801-484-0404, guthriebike.com
Trek Bicycle, formerly Salt Lake City Bike Co., supports several charity rides throughout the year. 247 S. 500 East, 801-746-8366, trekbikes.com
Running
Suffice it to say, Dick's Sporting Goods—which has an array of sporting apparel and other goods—has running shoes in your style and size. 7170 S. 1000 East, 801-566-2920, dickssportinggoods.com

In Ogden, Peak Performance has a small but ambitious team that will help you find the right shoes for your run. 1895 S. Washington Blvd., Ogden, 801-475-0111, runpeakperformance.com
Salomon Store is an international apparel company with a store at City Creek mall. 51 S. Main, 801-521-2012, salomon.com
Salt Lake Running Co. utilizes biomechanical analysis to find the perfect shoe to reduce the chance of risk and increase the comfort. 2454 S. 700 East, 801-484-9144, saltlakerunning.com
Wasatch Running Center owner Glen Gerner developed a passion for running around the age of 10 when he and his father would jog around a nearby track. 8946 S. State, Sandy, 801-566-8786, wasatchrunningcenter.com
Hiking and Camping
Local start-up Cotopaxi offers custom packs and apparel that is guaranteed to last 61 years. 74 S. Main, 385-528-0855, cotopaxi.com
A surplus store since 1981, General Army Navy Outdoor's motto is "Get into the outdoors for less." 4974 S. Redwood Road, Taylorsville, 801-966-5556, generalarmynavy.com
For more than 60 years, Kirkham's Outdoor Products has been manufacturing gear, including durable canvas tents. 3125 S. State, 801-486-4161, kirkhams.com
Recreation Outlet has everything from sleeping bags, to hydro flasks, to knives, to hammocks and everything in between.
3160 S. State, 801-484-4800, recreationoutlet.com
You can join the REI co-op and get an annual dividend and other perks in this one-stop outdoor retail shop. 3285 E. 3300 South, 801-486-2100, rei.com
Fishing
Anglers Den aims to have the latest gear, and they're committed to finding what you need if they don't have it stocked on their shelves. 5348 S. 1900 West, Roy, 801-733-1166, anglersdenutah.com
Offering a systematic approach to fly fishing, Eddie Robinson's Fly Fishing offers classes in tying, casting and fishing on the river. 594 E. 800 South, Ste. B, Orem, 801-434-3166, eddierobinsons.com
In addition to Fishwest's store in the Salt Lake Valley, it has become a leader in online sales for fishing gear. 47 W. 10600 South, Sandy, 801-617-1225, fishwest.com
Park City's local fly shop, Trout Bum 2 Fly Shop offers tours but also fishing reports so you know where to cast. 4343 N. Highway 224, Ste. 101, Park City, 435-658-1166, troutbum2.com
Western Rivers Flyfisher knows that Utah offers unique fly-fishing experiences. They can hook you up with gear or a guided excursion. 1071 E. 900 South, 801-521-6424, westernriversflyfishing.com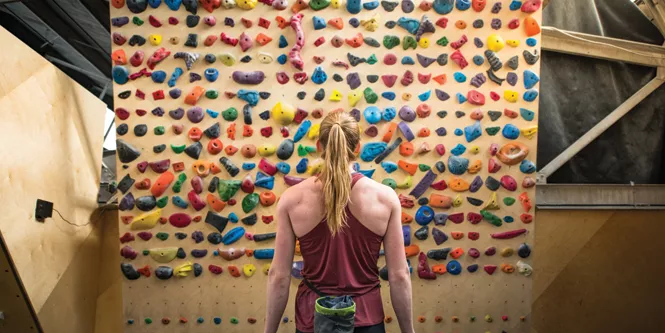 Andy Earl
Black Diamond
Rock Climbing
Established in 2010, family-run 7 Summit's Gear continues to speedily ship out gear that will get you on the rocks and boulders in no time. 516 W. 9460 South, Sandy, 801-523-3325, 7summitsgear.com
Black Diamond Equipment is headquartered in Salt Lake City but has expanded to three continents. 2092 E. 3900 South, Holladay, 1-800-775-5552, blackdiamondequipment.com
Whether you're ascending rock or ice, Gear Express has the equipment that will keep you safe. 2702 S. 3600 West, Ste. E, 801-968-7441, gearexpress.com
The Gear Room was founded by a pair of Arizona brothers who were drawn to the valley by the allure of the Wasatch Range. 2258 E. Fort Union Blvd., Ste. B6, Cottonwood Heights, 801-448-3037, thegearroomslc.com
Opening its doors in 1987, International Mountain Equipment bills itself as the state's most experienced climbing store.
3265 E. 3300 South, 801-484-8073, imedev.com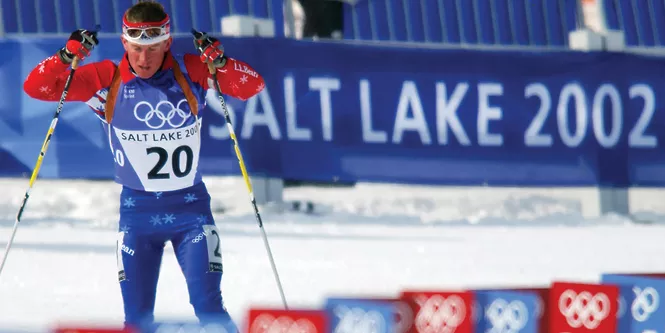 Preston Keres via wikimedia commons
Lawton Redman at the 2002 Winter Olympics
Olympic Sweet 16
Tracing this magazine's origins and keeping up with some of the 2002 Winter Games' superstars.
By Ray Howze
Still have some Olympic fever? Need to sound like an Olympic expert among your Utah friends and family? Well, with buzz picking up for a potential Salt Lake City bid for the 2030 Winter Olympics, we decided to take a look back at the games the city hosted 16 years ago and revisit the faces, icons and places you might still recognize today or might want to check out along the Wasatch Front.

Apolo Anton Ohno
While watching the 2018 Olympics, did you keep seeing a certain advertisement for a certain "gold" candy bar featuring a certain former Olympic athlete? That athlete, Apolo Anton Ohno, emerged on the global speed-skating scene back in 2002 at the Olympic Oval in Kearns. Ohno won the first of his two gold medals in Olympic competition in Salt Lake. He also won a silver medal in competition and the future U.S. Olympic star was born. Since his retirement from competitive speed skating, Ohno has stayed in the public eye through philanthropic and promotional pursuits.

The Hoberman Arch
This icon from the 2002 games isn't on display anymore. In fact, it's been collecting dust in a warehouse somewhere in the state since it was disassembled in 2014. But the Hoberman Arch was a staple of the games. Displayed at the downtown Awards Plaza during the games, the 31,000-pound aluminum structure was seen across the world as athletes posed in front of it with their medals. Following the games, it was moved to Rice-Eccles Stadium near the Olympic Cauldron until the University of Utah disassembled it in favor of stadium expansions. Not to worry, though, the arch might still make a comeback if city officials ever find a place for it.

Olympic Cauldron
Unlike the arch, the Olympic cauldron is still proudly displayed at Rice-Eccles Stadium. During the games, it was installed atop the south end-zone stands and could be seen from across the valley. The structure is 72 feet tall and when lit, the flame burns at 900 degrees Fahrenheit. Water would run down the sides of the cauldron to keep the glass from cracking or melting and give the appearance of melting ice. Following the 2002 games, it was moved to ground level in the south plaza of the stadium. It was lit again in 2006 for the Olympic games in Turin, Italy, and an attempt was made to light it in 2012 for the 10-year anniversary. However, because of old parts, the torch did not work properly and now stands on display outside the stadium.

Olympic Oval
The Olympic Oval in Kearns functioned as the site for speed skating events during the Salt Lake games. Built specifically for the Olympic Games, the oval is the highest in the world at 4,675 feet above sea level. As a result, a number of records have been set at the oval thanks to less air resistance and oxygen frozen in the ice, which makes it harder and faster, according to the Olympic Oval's website. The oval is still operational today and continually hosts national and world skating competitions as well as Olympic qualifying for U.S. speed skaters. The U.S. Olympic Speed Skating team is also headquartered here.

Olympic Park
Yes, Utah does not have an "Olympic legacy park" or museum, as one Salt Lake Tribune columnist lamented. But it does have an Olympic Park. Located in Park City, the site of 2002's ski jumping and sliding events is still functional today. In 2017, it hosted U.S. qualifying for Team USA's ski jumpers. Visitors can see the free 2002 Olympic Winter Games Museum or adventure outside to partake in the park's Adventure Course or Drop Tower. If you're wondering what happened to the memorabilia on display in what is now the box office at Rice-Eccles Stadium, those items were moved here in 2014.

Soldier Hollow
Along with the Olympic Oval and Olympic Park, Soldier Hollow—the site for cross-country skiing and biathlon events—was built specifically for the 2002 games and is still in use today. Since the games, it has been transformed into a cross-country skiing, tubing and snowshoeing resort. Located about 50 miles southeast of Salt Lake City, people can visit the resort today for cross-country lessons or partake in the biathlon themselves.

Sarah Hughes
Figure skater Sarah Hughes was another bright spot for U.S. Olympians in 2002. The New York native won gold in the singles competition at the Salt Lake games, beating out fellow U.S. rival Michelle Kwan, who placed third. Today, Hughes is a law student at the University of Pennsylvania. She hasn't shied away from the Olympics though. In February, she traveled to the Pyeongchang Winter Games as part of the U.S. presidential delegation.

Mitt Romney
It is pretty difficult to discuss Salt Lake's Olympic Games without mentioning Mitt Romney. The former presidential candidate, Massachusetts governor and current U.S. Senate candidate for Utah became CEO for the Salt Lake Olympic Committee in 1999. Romney took over following the bribery scandal that exposed widespread corruption among International Olympic Committee members. Romney oversaw a $1.3 billion operating budget and was able to bring in "tens of millions in profits" as well as set aside $40 million to fund and maintain Olympic facilities still used today, according to PolitiFact.

E-Center
Now known as the Maverik Center, the arena in West Valley City was home to the hockey events during the 2002 games. If you're hoping for any good karma in the building from the games, well, the U.S. teams were unable to win gold in 2002. The men's and women's teams lost to Canada in each gold-medal game. Today, it is home to the East Coast Hockey League's Utah Grizzlies as well as occasional minor league start-ups—most recently the Indoor Football League's Salt Lake Screaming Eagles.

Alcohol laws
Everyone knows Utah has strict liquor laws. Heck, starting in 2019, the state will have the lowest legal blood-alcohol driving limit in the country at .05. But it used to be worse. For example, to drink at a bar, customers had to buy "memberships"—kind of like a cover charge. In the years following the games, though, that started to change.

Membership fees were eliminated, beer licenses were expanded to let restaurants serve wine, too, and liquor sales in the state skyrocketed. The Olympics weren't a direct cause of that change, but they didn't hurt.

Ice Sheet at Ogden
The Ice Sheet, located on the campus of Weber State University, was not built specifically for the Olympics, but it did host the games' curling events. The facility hosted World Curling Federation-sanctioned events after the 2002 games. It also offers public skating, hockey, curling and figure-skating options as well as hosting the Ogden Mustangs, a junior ice hockey team.

U.S. Ski and Snowboard Association
In addition to Salt Lake serving as headquarters for the Olympic speed skating team, the U.S. Ski and Snowboard Association moved its headquarters to Park City following the 2002 games. The association is America's governing body for Olympic skiing and snowboarding. The HQ location is one reason many prominent athletes such as Ted Ligety live in Park City to train.

UTA Trax
Trax, the city's light rail system, now can take you to about any part of Salt Lake Valley. But it used to be much smaller. The light rail system—completed in 1999—was built in part with the Olympics in mind. The original length of the system reached Rice-Eccles Stadium—site of the opening and closing ceremonies—to Vivint Smart Home Arena and south to Sandy. Today, that system helps residents commute from one end of the city to the other.

Olympic Village
No, you can't still visit the Olympic Village, per se. But you can still see it. The housing was built for the games on the University of Utah campus next to Fort Douglas. After the Olympic athletes left the village, though, the U turned the buildings into student housing.

George W. Bush
The 2002 Winter Olympics took place just five month following the 9/11 terrorist attacks and amid heightened security and other threats. Bush, though, became the first sitting president to open the Olympic games on U.S. soil. During his speech, he strayed from the traditional, "I declare open the Games of Salt Lake City," to include, "On behalf of a proud, determined and grateful nation"—a move that drew some criticism from traditionalists. Bush also chose to open the games while standing with U.S. athletes instead of from a box above.

Countdown Clock
You can still see the Olympic Countdown clock in downtown Salt Lake. The clock, shaped like an arrowhead, is located at the Arena Trax station south of the Triad Center. It's not counting down the days until the Olympics anymore, but, who knows, one day it might do that again.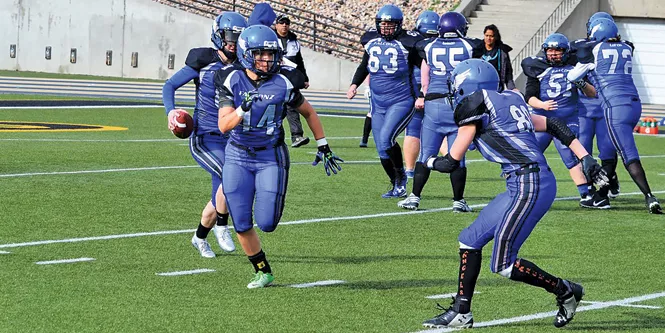 courtesy Utah Falconz
Utah Falconz
Playing Oddball
Here's where to get your off-the-beaten-path sports fix.

By Ray Howze
Do you find yourself searching for some alternatives to traditional sporting events like basketball, football and soccer around town? Well, Utah also hosts a number of annual events that might pique your interest. You just have to look a little harder.
Speed Week
Speed Week is perhaps one of Utah's most well-known sporting events outside of traditional professional sports. Racers come from around the world for a few weeks each year in August and September to the Bonneville Salt Flats to try and set new speed records. Numerous land-speed records have been set at the Salt Flats and it's even been featured in the Hollywood movie The World's Fastest Indian. However, because of the changing environment, the event was canceled in 2014 and 2015 and the course lengths have been greatly reduced. Speed Week is still a widely popular event in the west desert and always worth checking out.
World Championship Cutter and Chariot Races
Remember those images from ancient times of someone standing in a cart-like ride pulled by a horse? A chariot, maybe? You can still see that today at the World Championship Cutter and Chariot Races each spring in Ogden. The event takes place at the Golden Spike Event Center, usually in March, and features dozens of races with people not riding the horse—but riding behind it in their chariots of glory.
Psicobloc Masters Series
Ever wanted to see someone rock climb upside down? Well this event is your chance. Psicobloc, also known as deep water soloing, is a form of climbing over a body of water. The masters series championship takes place at the Utah Olympic Park in Park City during the summer months. If you're looking for some big splashes and excitement watching these climbers try to make it to the top, this is definitely worth watching.

FCS Football
OK, so we will include some traditional sports here. Kind of. For decades, the state's three marquee universities—Brigham Young University, University of Utah and Utah State University—have dominated the football headlines. But recently, two smaller schools—Weber State University and Southern Utah University—that play one level below the big dogs at the Football Championship Subdivision have made their own headlines. In 2017, the two schools faced off in the second round of the FCS playoffs and Weber State later gave heavy favorite James Madison University a scare in the following round. Since Southern Utah moved to the Big Sky Conference in 2012, the two schools have established a strong, yet underrated, rivalry and both are making noise on the FCS level.
Pioneer League Baseball
In baseball's minor leagues, sometimes it's all about the promotions to put butts in the seats. But the Ogden Raptors and Orem Owlz, members of the Pioneer League, have been making headlines for all the wrong reasons in recent seasons. In 2015, the Owlz organization announced it would host a "Caucasian Heritage Night" that featured "Wonder Bread on burgers with mayonnaise, clips from shows like 'Friends' and 'Seinfeld' and trying to solve the vertical leaping challenge."

Then, in 2017, the Raptors drew national attention after news broke it would host an "Hourglass Appreciation Night" featuring bikini clad women as commentators and dubbed by Sports Illustrated as "shockingly sexist." Uhh, a little problematic. Both promotions were canceled after being made public. We're certainly not endorsing either of these debacles, but who knows, if you attend, you might find yourself in the middle of the next politically incorrect promotion.
Utah Falconz
Want to see a championship winning football team in Utah? Look no further than the Utah Falconz, a women's tackle football team competing in the Independent Women's Football League. The team, founded in 2013, won championships in 2016 and 2017 and runs an exciting triple-option offense. The squad plays during the spring and summer months at Cottonwood High School.
Nitro World Games
The Nitro World Games feature all the crazy stunts, flips, twists and turns you're used to seeing in the extreme-sports world. The popular crew, led by the eccentric Travis Pastrana, puts on the event each summer at Rice-Eccles Stadium while the Nitro Circus crew travels the world putting on similar shows throughout the year. With a facility located here in Salt Lake, hosting the "world games" locally is a nice treat if you're interested in extreme sports.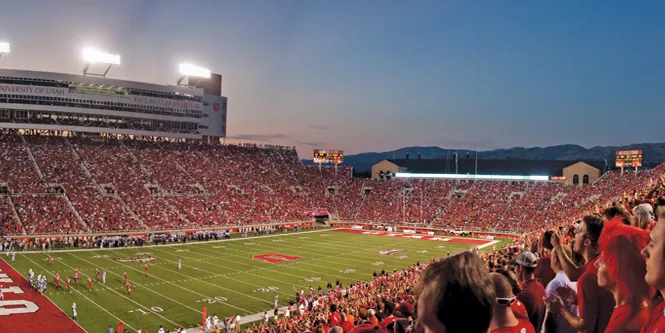 Brenton Walker
Rice Eccles Stadium
In the Mood for Something More Traditional?



Root for these home teams.



By Ray Howze
Utah is home to a handful of sports and teams that draw crowds in the thousands, especially in the fall. With teams in the NBA, MLS, Triple A baseball and prominent college football programs, there's usually a good chance you can find an intriguing sporting event near you throughout the year.
Utah Jazz
Gone are the days of John Stockton and Karl Malone, Carlos Boozer and Deron Williams and, most recently, Gordon Hayward. But don't fret. The team turned around quickly and drafted exciting young star Donovan Mitchell in 2017 to help lead the Jazz in the post-Hayward era. Mitchell won the 2018 All-Star Slam Dunk contest and doesn't show any signs of slowing down his highlight-reel dunks either. Along with Rudy Gobert, the Jazz appear to have its star players in place to build its next playoff-contending team, all while playing in a newly renovated and stylish arena.
Real Salt Lake
Real Salt Lake got off to a rough start in 2017, firing its coach three games into the season. But new coach Mike Petke turned the team around and from July to October, the club only lost three games and just missed the playoffs. With a full off season under his belt, Petke is looking to continue that trend with an exciting, promising group of young stars that include Justen Glad, Brooks Lennon and Joao Plata along with mainstays Kyle Beckerman and goalkeeper Nick Rimando. The ownership group has also built a shiny new academy and training facility in Herriman that is home to the minor league Real Monarchs and the new National Women's Soccer League club Utah Royals FC—another team to keep an eye on in 2018.
Salt Lake Bees
Sure, the roster for the Salt Lake Bees always changes as players get shuffled around by the big league clubs. But that can sometimes add to the intrigue. Who is the next MLB star? Could it be someone who spends a season, or just a few months, in Salt Lake? Recently, that star was Anaheim Angels slugger Mike Trout who spent some time with the Bees. The Bees are the designated Triple A squad for the Angels. Go to a game today, and you'll see the team still hawking Trout's jersey at its retail outlets. The season gets underway in April and offers an affordable option for families and friends to attend baseball games throughout the summer.
University of Utah and Brigham Young University
The two universities along the Wasatch Front offer big-time excitement come the fall. The schools' football programs have a fierce rivalry on the gridiron that returns to Thanksgiving weekend in 2018. With Utah in the Pac 12 Conference and BYU fighting for notoriety as an independent, there's never a shortage of storylines between the programs. And the teams' histories are littered with famous names such as Lavell Edwards, Ron McBride, Urban Meyer and Steve Young, to name a few.

Along with the football programs, Utah has a consistent Top 5-ranked gymnastics squad that competes throughout the spring. Crowds pack the Jon M. Huntsman Center for each match. As a result, the women's gymnastics team holds the record for the most well-attended women's sport in all of college athletics. If you're looking for another sport down south, BYU's volleyball team is usually ranked in the Top 25 and can make some noise come tournament time every fall.