Page 5 of 8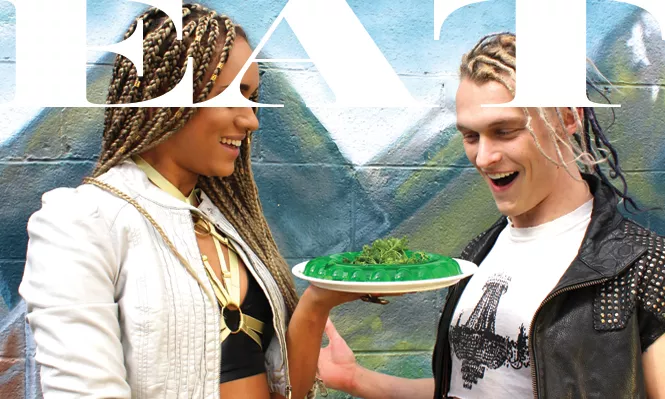 Enrique Limón
Makanmakan
Passport on a Plate



Expand your cultural horizons with these eight diverse dishes.



By Alex Springer
Utah's restaurant scene might have its fair share of nationwide chains and fast food joints, but if you scratch the surface you'll see there's a lot of diversity to be devoured. Each year manages to enrich our local cache of restaurants with exotic flavors from all over the globe. For those who long to travel the world without leaving the Wasatch Front, we've got your passport right here.
Laksa at MakanMakan
Pho is, and will always be, an amazing fixture in our collective culinary experience—but it's getting a bit off-trend as of late. For those who are eager to move onto the next big thing when it comes to noodle soups from the heart of Asia, laksa might be for you. As far as I know, Sandy's MakanMakan is the only place serving it up along the Wasatch Front, and they're doing a hell of a job. Where pho and ramen get their broth from deliciously steeped pork and beef bones, laksa originates from a base of curry and coconut milk and can be loaded up with everything from chicken to giant prawns. Its creamier texture makes the dish feel hearty and filling, and throwing in a few scoops of MakanMakan's chili paste stirs up some latent citrus flavors. Keep an eye on this up and comer—I'm sure we'll be seeing more laksa very soon. 33 E. 11400 South, Sandy, 801-251-0967, makanmakansandy.com
Lomo Saltado at Café Machu Picchu
If Café Machu Picchu is your first rodeo with Peruvian food, than your best bet would be to start with lomo saltado. It's a bounteous plate of marinated and grilled steak, tomatoes, fries, onions and peppers piled high atop a cloudy bed of white rice. As far as overall dish composition goes, this delightfully hearty meal covers all of the flavor and texture bases. The grilled onions and peppers are sweet and crunchy, the steak is tender and juicy, and the thick-cut fries are there to soak up all that wonderful flavor. After a taste of this, you'll be ready and willing to jump right into a big bowl of patasca, Machu Picchu's beef tripe-laden stew. 3018 S. State, Salt Lake City, 801-466-4908, facebook.com/machupicchucafe
Enrique Limón
It's Tofu
Shakshouka at Laziz Kitchen
Not only is shakshouka extremely fun to say out loud—go ahead and give it a try!—it's one of the most comforting brunch dishes that I've had. Like most simple dishes done particularly well, it's not much more than a few eggs cooked in an aromatic broth of tomatoes, mint, garlic, onions, green pepper and a holy union of Middle Eastern herbs known as za'atar. The flavor of tomato and poached egg is perfectly complementary, and once it all reduces into a lovely rust-colored sauce, it's enough to keep you up and running right up until dinnertime. Shakshouka is a perfect light alternative for those who are trying to take a break from the porcine trifecta of bacon, sausage and ham during their morning meal. 912 S. Jefferson St., Salt Lake City, 801-441-1228, lazizkitchen.com
Spicy Pork Barbecue & Tofu Stew at It's Tofu
Upon first glance, Korean food can be a little intimidating. They bring you all these tiny bowls with tiny condiments, the food hisses ominously as it comes to your table and all you have is a pair of chopsticks to work your way through the whole thing. Despite its departure from cultural dining norms that we're a bit more used to, Korean food packs some of the most daring and soul-satisfying flavors known to man. A nice entry point into this culinary wonderland would be one of the combo plates at It's Tofu in Cottonwood Heights. My favorite is the spicy pork barbecue with tofu stew—you get the spicy kick of the barbecued pork, the nuanced flavors and textures of a silken tofu stew, and it looks absolutely beautiful when it comes to your table. When it comes to Korean food, don't think—just eat. 6949 S. 1300 East, Cottonwood Heights, 801-566-9103, itstofu.com
Sausage Pepper Pizza at Pizza Nono
Don't get me wrong, the marvelous innovations that America has made in the field of pizza technology are truly staggering, but every so often I like my pizza to hearken back to a simpler time. Utah has no shortage of wood-fired pizza, but Pizza Nono has become one of my favorites. It's in the hip 9th & 9th area, so it's the ideal spot for a lunch break during a day of aimless window shopping. All of their pizzas are good, but the sausage pepper pizza was the one that made its way into my heart. It's a little bit sweet, a little bit spicy and it lends itself to sharing with someone else—but only if I'm in the sharing kind of mood. 925 E. 900 South, Salt Lake City, 385-444-3530, pizzanono-slc.com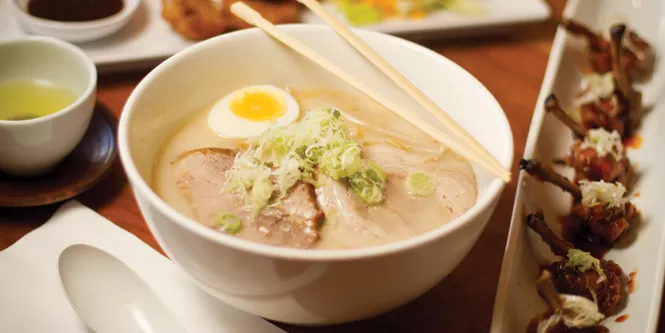 John Taylor
Tosh's Ramen
Camarón a la Diabla at Mi Lindo Nayarit
Get your Mexican seafood fix here. It's easy to be skeptical about seafood-based restaurants in Salt Lake, but Nayarit is absolutely crushing it. Those in the mood for Latin American food but are bored with chicken chimichangas need to check this place out. My current favorite is a dish called camarón a la diabla, or shrimp, she-devil-style. It's a huge pile of cooked shrimp and rice doused in a smoky, chipotle sauce that really highlights the shrimp's natural sweetness. What's more is that the dish comes with a huge contingent of flour and corn tortillas and some devilishly delicious guacamole. 145 E. 1300 South, Salt Lake City, 801-908-5727, facebook.com/mi-lindo-nayarit-utah
Tonkotsu Ramen at Tosh's Ramen
Like the laksa of MakanMakan, Tosh's tonkotsu ramen favors a thicker broth. The process of evoking this delicious broth from pork bones gives a saltier, earthier flavor to the ramen as a whole, and the slice of pork belly that it comes with just melts in your mouth. Tosh's housemade noodles function like flavor depositories—the longer they stay in the broth, the tastier they get. Tosh's ramen skills have reached master levels—there's not a bad dish in the house. However, when I'm craving authentic Japanese ramen, tonkotsu is at the top of my list. 1465 S. State, Salt Lake City, 801-466-7000; 1963 E. Murray Holladay Road, 801-278-8249, toshramen.com
Snow Cream at Shirokuma
Room for dessert? As a country whose per capita ice cream production proudly hovers right around 1½ billion gallons, you'd think that we've seen it all when it comes to frozen treats. Thanks to West Valley's Shirokuma, that's not the case. Shirokuma specializes in snow cream, which is a technique that originated in Taiwan. Unlike ice cream, snow cream comes from a method of sticking frozen blocks of flavored dairy—honeydew, matcha and taro, to name a few—into a contraption that looks like a delicatessen's meat slicer. The machine shaves off paper-thin sheets of the snow cream, which get rolled up and placed inside a bowl where they are topped with a multitude of goodies including mochi, sweet red beans and popping boba pearls. It all comes together with a soft, velvety texture that melts like snowflakes on your tongue. 2843 S. 5600 West, Ste. 120, West Valley, 801-251-0134, shirokumaslc.com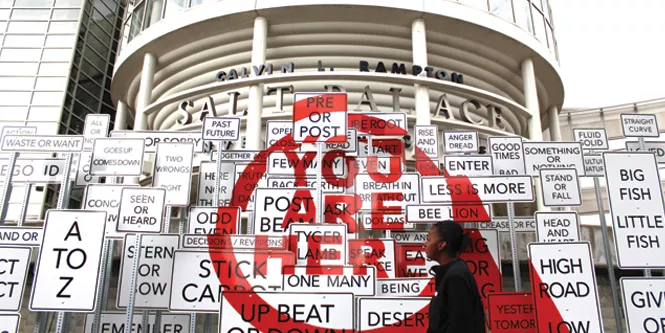 Dinner and a Show



You buy the tickets, we'll decide where to eat.



By Alex Springer
Once you've finally gotten tickets to that concert, soccer game or convention that you've been anticipating, dining plans for the day or evening come next. Deciding on the right restaurant for the occasion can be a total headache—especially if you need to accommodate a group of friends and/or family. In an effort to save you a little bit of time and sanity, we've gathered up some of Utah's most popular venues along with a few spots nearby that are worthy of any pre- or post-show feast.
Salt Palace Convention Center
Because of the Salt Palace's central location in the downtown area, there are plenty of places to eat while attending a corporate event or Salt Lake Comic Convention. But you're not looking for plenty of places to eat, are you? You're looking for the best. Here are a few places to check out while your getting your con on. 100 S. West Temple, Salt Lake City
Siegfried's Deli
This German deli and market is only a block from the convention center, and is perfect for diners who are looking for a quick bite in between meetings or panel discussions. The bratwurst sandwiches are always a great bet, but don't overlook their renditions of spaetzle or Black Forest cake. Since Siegfried's also has a wide selection of European market items, you can grab a package of Jaffa Cakes to stash for later. 20 W. 200 South, 801-355-3891, siegfriedsdelicatessen.com

Fat Jack's Burger Emporium
For those who'd like to make their mid-convention lunch break a bit more indulgent, consider hitting up Fat Jack's Burger Emporium. If you're from out of town and are in need of a crash course in local cuisine, you can try the Mormon Burger, which has a Lion of the Lord-sized portion of funeral potatoes—a Utah classic—piled on top of a burger that is already busting with bacon and cheddar cheese. 206 S. West Temple, 801-890-5155, fatjacksut.com
J. Wong's Thai & Chinese Bistro
Although their lunch specials are nothing to scoff at, J. Wong's is best saved for the end of a long day of networking or geeking out with other convention attendees. Its relaxed but stylish atmosphere has an intuitive way of helping diners wind down with a quality meal. Those familiar with Chinese and Thai cuisine will find some old favorites on the menu, along with some inventive new additions. 163 W. 200 South, 801-350-0888, jwongs.com
Valter's Osteria
If you'd like your post-convention plans to be swankier than average, Valter's Osteria is a nearby option. It's still within walking distance, though you'd want to make travel arrangements if you happen to be conventioning during a snowstorm. Here, diners can sample authentic Tuscan cuisine with an atmosphere that mixes modernist chic with old-world charm. 173 W. 300 South, 801-521-4563, valtersosteria.com
Three Pines Coffee
Convention delegates often eat early-mornings or late breakfasts. But why settle for a middle-of-the-pack coffee shop? The folks at Three Pines Coffee take their brew very seriously. Their minimalist approach to their menu means that you're getting coffee and tea cultivated to perfection. Bonus points to their selection of baked goods that come courtesy of Bubble & Brown bakery, whose salted chocolate chip cookies are legendary. 165 S. Main, 801-395-8907,
threepinescoffee.com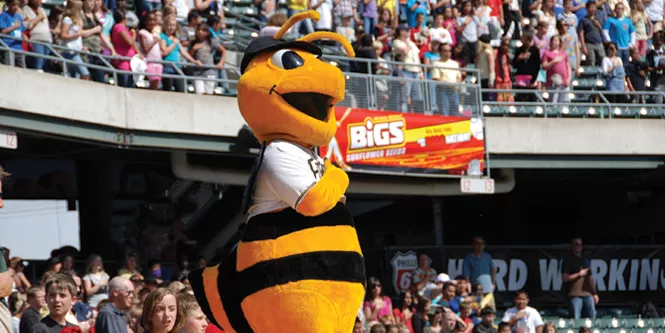 Smith's Ballpark
The Salt Lake Bees are Utah's minor league baseball favorites, and a night at the ballpark has summertime written all over it. If you're not content with the traditional hot dogs and popcorn procured inside the ballpark, here are a few home runs nearby. 77 W. 1300 South, Salt Lake City
The Soup Kitchen
Despite the fact that there is a framed display featuring a chef's jacket autographed by Larry "Soup Nazi" Thomas in the back of their Richards Street location, you'll find nothing but love at The Soup Kitchen. Located just south of the ballpark, it's a great place to stop for classic soups like chicken noodle, broccoli cheese or even a bowl of chili. They also don't mess around with their sandwiches—the Soup Kitchen Ultimate ranks among Salt Lake's finest. 1185 S. Richards St., 801-531-7093, slcsoup.com
Lucky 13
Grabbing some pre-ballgame beers and burgers at Lucky 13 is a great way to get into the spirit of America's pastime. Lucky 13 has long been praised by locals for having one of the most consistently tasty selection of burgers available. It's one of the few places I know of where you can get a burger topped with peanut butter, and impetuous diners can even attempt the Lucky 13 challenge by eating a foot-high meat tower called the Big Benny—28 ounces of ground chuck in all. Maybe consider attempting that challenge after the ball game, though. 135 W. 1300 South, 801-487-4418, lucky13slc.com
House of Tibet
Tibetan food might not spring readily to mind as a culinary accompaniment to baseball, but if you're looking for something out of the ordinary, it's a perfect match. Their spicy potatoes and momos—a Nepalese stuffed dumpling—are worth the trip, but their daily lunch buffet is a great way to fill up before an afternoon ballgame. Plus, momos kind of look like baseballs, which is enough of a reference point for me. 145 E. 1300 South, Ste. 409, 801-364-1376, houseoftibetsaltlakecity.com
Rio Tinto Stadium
Home of Real Salt Lake, Rio Tinto Stadium happened to emerge amid some exceptionally meat-based restaurants, but that seems appropriate for the epic soccer showdowns that take place there. You could dig up a salad at most of these spots if you wanted, but grilled, barbecued and roasted meat is the most plentiful and proximal option to feed your soccer fandom. 9256 S. State, Sandy
Crown Burgers
One of Utah's most prolific local burger chains—and arguably the first place to put pastrami on a hamburger—nothing quite screams "goal!" like Crown Burgers. Their streamlined approach to ordering makes sure that diners get fast and accurate service regardless of how packed the place can get before a game. As the owners hail from Greek lineage, Crown Burgers also serves up gyros and shish kebab if burgers don't happen to be your jam. 9604 S. State, 801-562-4444, crown-burgers.com
Special Courses
If you're making a day of your trip to Rio Tinto, consider spending some time browsing at the Shops at South Town mall. If you're in need of some mid-shopping sustenance, Special Courses should be a must. Owned by a military veteran, Special Courses started out as a local food truck that earned its spot in the mall's dining terrace by winning the Taste for the Space cooking competition last year. It's not often that you see local eateries inside a shopping mall, and this one should definitely be on your list. The Shops at South Town Dining Terrace, 10450 S. State, 801-427-1624, specialcourses.com

Moochie's Meatballs and More
Ever since its appearance on Food Network's Diners, Drive-Ins and Dives Moochie's has expanded its domain from its Salt Lake location all the way down to Lehi. For the uninitiated, Moochie's is a hot sandwich shop that specializes in meatball and Philly cheesesteak subs. Asking me to pick which one is my favorite is a lot like trying to ask me to pick a favorite child. If you don't mind getting a little messy, the meatball sub is the way to go. If you want veggies but also want gobs of melted American cheese, then go with the cheesesteak. Or just get both and save yourself the trouble of making a decision. 7725 S. State, 801-562-1500, moochiesmeatballs.com
Bumblebees BBQ and Grill
The cool thing about Bumblebees is that it's a burger joint where you can also get kimchi. Traditionalists can stick to the "a-town" side of the menu where you'll find burgers like the garlicky Vampire Slayer, and those hankering for a taste of Korea can find traditional fare like bulgogi. You also can't go wrong with the kimchi fried rice balls—they're a little bit of deep-fried heaven. 7692 S. State, 801-561-0608, bumblebeesbbq.com


Red Butte Garden
Whether you're visiting Red Butte Garden to see its beautiful collection of verdant botanicals or checking out a show as part of its summer concert series, you'll inevitably need a bite to eat. Red Butte has the benefit of being close to the University of Utah, and college campuses attract tasty eateries like bees to pollen. These eateries are a short drive from Red Butte—and they'll help round out your trip with some great food. 300 Wakara Way, Salt Lake City
Red Butte Café
The fact that this café shares the same name as the gardens isn't the only correlation between the two—they both happen to be filled with pleasant surprises. Red Butte's menu is a mixture of Tex-Mex cuisine, sandwiches and gourmet salads. Their lunch specials span the globe a little more thoroughly—everything from grilled salmon with udon noodles to tempura shrimp tacos can be found on the menu. It's also one of those rare places that doesn't see dessert as an afterthought. Stopping in for a slice of chocolate decadence cake on your way to or from the garden is well worth the trip. 1414 S. Foothill Drive, 801-581-9498, theredbuttecafe.com
Caputo's Market and Deli
Much more than a simple Italian market and deli, Caputo's is one of Utah's most influential thought leaders when it comes to good food. They've recently expanded their operation to a small shop on the University of Utah campus, which brings their lovingly crafted Italian sandwiches that much closer to Red Butte Garden. Perhaps the best way to take advantage of these fine specimens of the sandwich craft is to make your order ahead—the Caputo and the muffuletta are solid picks—and then pack them up for a picnic in the mountains. 215 Central Campus Drive, 801-583-8801
Taqueria 27
This purveyor of gourmet tacos and tequilas has made a name for itself with its daily specials. In addition to their regular menu of elevated street tacos, they have a "taco of the day" that strives to push the boundaries of what tacos can be. My go-to at Taqueria 27 has always been the duck confit tacos—the pinnacle of taco evolution. Their chips and guac are also way-above average—showing proper respect to fresh, undiluted avocado. 1615 S. Foothill Drive, 385-259-0712, taqueria27.com
The Pie Pizzeria
If I'm going to a concert or an outdoor movie with a group of friends, a takeout pizza from The Pie is a no brainer. Maybe it's The Pie's origins as a campus hot spot that have made its food and atmosphere so effortlessly cool, but showing up to a nighttime event at Red Butte with a pizza box emblazoned with The Pie's logo will let everyone else know that you have good taste. The Pie is open late on weekends, so retiring to its subterranean headquarters for some hot pizza and cold beer after a show is a great way to keep the party going. 273 S. 1300 East, 801-582-5700, thepie.com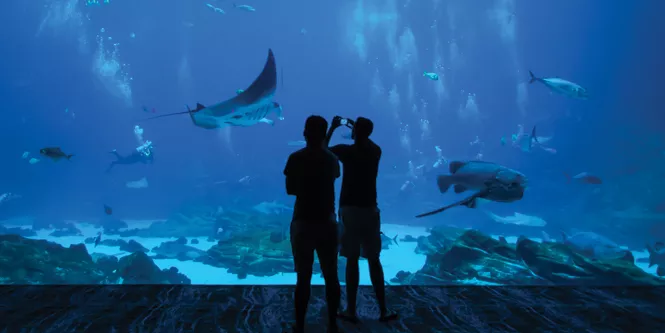 Loveland Living Planet Aquarium
It's easy to spend several hours at the Loveland Living Planet Aquarium—where else can you see otters, sloths and jellyfish? Whether your dining schedule is open to breakfast, lunch or dinner, the following restaurants are close enough to accommodate your needs. 12033 Lone Peak Parkway, Draper
Penny Ann's Café
Those looking to get an early start to their day of aquatic shenanigans should definitely check out Penny Ann's. This menu's signature item is known as Heavenly Hot Cakes, likely because they were sent to us directly from on high. They're as big as a dinner plate and made with sour cream which gives them their cloud-like texture. You can't learn anything on an empty stomach, and starting off a day at the aquarium with a visit to Penny Ann's will keep those neurons firing. 280 E. 12300 South, 801-662-0009, penyannscafe.com
Leatherby's
This family-owned restaurant has a fully stocked lunch and dinner menu, but it's their ice cream concoctions that keep people coming back. It's home to some of the most inventive sundaes, ice cream sodas and other frozen treats—items like the sweet and slightly salty Tracy's Peanut Butter Cup to the chocolate lusciousness of the Raspberry Rhapsody, to name a few. After a long day learning about all the bizarre life that lives in our oceans and lakes, some giant ice cream sundaes are just the ticket. 372 E. 12300 South, 801-571-1575, leatherbys.com
Even Stevens
If a lunchtime destination is better suited to your aquarium visit, then the Draper location of Even Stevens should be your next stop. The menu unfolds like a mixtape of sandwich greatest hits. You have your Cubano, your banh mi, your French dip and many others, all of which are gigantic and packed with sandwichy goodness. Plus, every sandwich that you buy from Even Stevens helps provide food to local charities and others in need. I have yet to encounter a tastier way to help others. 541 E. 12300 South, 801-980-0755, evenstevens.com
Waffle Love
After nearly winning it all on Food Network's Great Food Truck Race, the owners of Waffle Love used their experience to open a slew of brick-and-mortar stores around Utah. As you might have guessed from the restaurant's name, Waffle Love's claim to fame comes from the way they love their waffles. They practice the Belgian liege technique, which means their waffles are structurally sound enough to carry thick piles of biscoff spread, lemon curd and fresh fruit. They also have a savory side to their menu, serving up classics like chicken and waffles along with some truly innovative waffle sandwiches. 12291 S. State, 801-923-3588, waffluv.com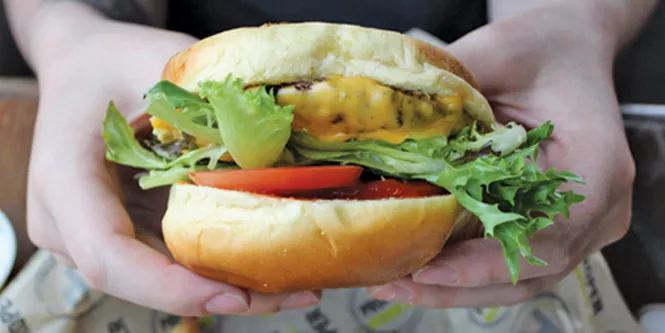 courtesy Proper Burger Co.
The plain jane at proper burger co.
Eats on the Cheap



Get the most bang for your buck with these 10 dishes.



By Alex Springer
The Plain Jane at Proper Burger Co. ($4.49)
Most of the burgers at Proper clock in at under $10, but the Plain Jane is the one that really stretches the flavor-to-dollar ratio. Adorned with naught more than a nicely grilled burger, lettuce, tomato and ketchup, the Plain Jane is the burger equivalent of a haiku—especially when considered alongside her bulkier siblings. Excess is something that Proper Burger does particularly well, but it's nice to know that they also see the value in a bit of contemplative restraint. 865 S. Main, Salt Lake City, 801-906-8604, properburgerslc.com
Chicken Tikka Puff at Saffron Valley Indian Street Foods ($2.79)
The South Jordan location of this popular Indian restaurant has been killing it with their bakery addition that recently opened a few doors down. They have all kinds of great pastries to choose from, but my current obsession is the chicken tikka puff. It's a bit like a croissant stuffed with chopped chicken marinated in tikka masala sauce. It's rare to get authentic Indian flavor in a hand-held food item, but this is perfect for a quick bite to go. I once ate a whole bag of them in a day. Long story.1098 W. South Jordan Parkway, South Jordan, 801-438-4823, saffronvalley.com
The Glacier at Millie's ($2.39-$2.69)
Who among you does not enjoy the ice-cold, syrupy goodness of a slushie? And who among you would scoff at a spiral of fresh soft serve? Now, who among you knew that the folks at Millie's Burgers in Sugar House combined both of these frozen favorites into an assortment of tasty desserts called glaciers? They're a bit like root beer floats if the root beer was replaced with a tiger's blood slushie. Or a peach slushie. Or piña colada. They're perfect for a hot Utah afternoon spent at Sugar House Park, or just whenever you feel like you're due for a pleasantly acquired brain freeze. 2092 S. 1000 East, 801-466—6043 milliesburger.com

Kolaches at Hruška's ($1.25-$3.75)
If you've never had the pleasure of eating a kolache before, I truly envy you. Your first bite of one of these fist-sized stuffed rolls is nothing short of magical. And that price is not a typo. The most fully loaded kolache—a jalapeño, cheddar and kolbasa-stuffed outlaw known as the Texan—will set you back less than five bucks. If savory isn't your thing, their fruit-filled kolaches are sure to brighten your day. Think cheese Danish with a bit more self respect. I personally think any time is a good time for kolaches, but they're perfect for those who are in need of something quick, filling and delicious for breakfast. Multiple locations, hruskaskolaches.com
Ice Cream Cone at Normal Club ($4-$7)
Whenever you get wind that the pastry chef behind one of Park City's swankiest restaurants leaves the biz to open a food truck that focuses solely on ice cream and other frozen treats, you have to take note. Their menu rotates often, but you can never go wrong with a soft-serve cone topped with their patented "dulcey dip" that coats their already stellar soft serve with a heavenly dose of dulce de leche. They're also known for topping their cones with additions like gummy worms and strawberry syrup. Look for their more permanent setup inside the east entrance of Trolley Square. 602 S. 700 East, normal.club
Jalapeño Popper at Kaiser's Texas Bar-B-Q ($1.50)
Forget the overabundance of cream cheese and the soggy outer layer that you think constitutes a jalapeño popper. Once you take a bite out of one of these spicy little ass kickers, you'll find yourself rethinking a lot about what you once considered to be snacks. First of all, this is a BBQ joint, so deep frying of any variety is out of the question. What the folks at Kaiser's have created is a smoked jalapeño pepper, stuffed with housemade sausage, capped with a mushroom, wrapped up in bacon and covered in melty cheddar cheese. It's a meal in and of itself, and I've never seen such an elegantly contrived barbecue creation. 962 S. 300 West, 801-355-0499, saltlakebbq.com
Falafel Sandwich from O'Falafel, Etc. ($6)
If it's Middle Eastern and comforting, then it's on O'Falafel's menu. As it's part of the restaurant's name, the falafel here is serious business. I prefer it on the falafel sandwich, which is a generously sized pocket of pita bread stuffed with fresh lettuce, tomato, cucumber and some expertly prepared rounds of falafel. Chili and garlic paste is the condiment of choice—they pack a few cups in with your takeout order, and big squeeze bottles of it can be found tableside—and I strongly recommend hitting your falafel sandwich with a bit of heat for good measure. It's a lovely departure from a lunchtime burger or deli sandwich. 790 E. 2100 South, 801-487-7747, ofalafeletc.com
Dulce de Leche Churro Cruffin at Fillings and Emulsions ($4.25)
For those of you who remember the brief Cronut craze that burned through the country like wildfire a few years back, you were all being misled. Doughnuts were not the direction to take warm, fluffly croissant dough. It's all about the muffins, man. Salt Lake's Fillings and Emulsions started making cruffins toward the middle of last year, and they're definitely onto something. The texture is a transcendent mixture of chewy and crispy, and the dulce de leche filling luxuriates in thick caramel goodness. Add a healthy dose of cinnamon sugar on the outside, and you'll completely forget about the existence of cronuts. 1475 S. Main, 385-229-4228, fillingsandemulsions.com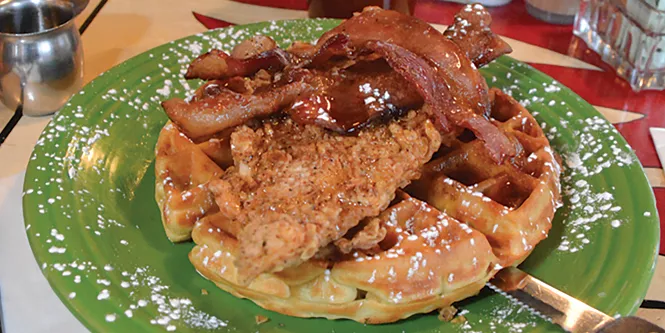 Chicken and Waffles at Pig and a Jelly Jar ($5 on Thursdays)
Pound for pound, you just can't find a better deal than Pig and a Jelly Jar's Thursday special. Everything they do here pushes the limits of what can actually fit on a dinner plate, and their trademark chicken and waffles are among the most logistically baffling. A thick, golden-brown waffle eclipses the plate, topped with a beautiful piece of fried, boneless chicken that almost eclipses the waffle. For a bit extra, you can get bacon and eggs on top, but the sheer size of this entrée always makes me feel bad for only paying five bucks for it. I'll sometimes hit up the Pig during the week when I can get this dish for full price. You know, because guilt. Multiple locations, pigandajellyjar.com
The Machine Gun Sandwich at Bruges Waffles and Frites ($9.99)
I always like to find something that pushes the boundary of my $10 price range, and the Machine Gun at Bruges Waffles and Frites is the perfect example. In fact, this Belgian behemoth pushes the boundaries at just about every opportunity. It starts with a structurally capable toasted baguette that subsequently gets stuffed with lamb sausage, twice-fried frites and creamy Andalouse dipping sauce. With frites popping out one end and sausage popping out the other, this sandwich obeys its own laws of physics. The crisp crust of the toasted baguette merges with the chewier crunch of the frites, and that sausage! It's spicy, smoky and extremely tender. This is what sandwiches want to be when they grow up. Multiple locations, brugeswaffles.com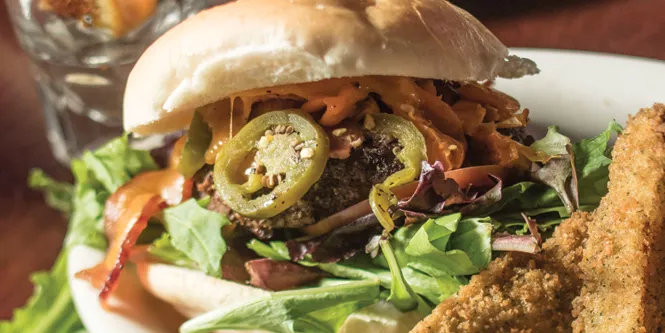 John Taylor
burgers at Lucky 13
Essential Burgers

Apollo Burger
Try the Athenian, a quarter-pound flame-broiled monster layered with roasted red peppers, feta cheese and housemade tzatziki. Multiple locations, apolloburgers.com
Chedda Burger
The no-frills Dirt Bag and cheese-curd-and-pulled-pork-topped Harlot deliver on their "burgers with attitude" promise. Multiple locations, cheddawasted.com
Cotton Bottom Inn
Best. Garlic. Burgers. Around. 'Nuff said. 6200 S. Holladay Blvd., Holladay, 801-273-9830, cottonbottominn.com
Crown Burgers
Grub at this homegrown chain always satisfies. Go for the chilli burger and throw in some cheese fries to boot. Multiple locations, crown-burgers.com
Fat Jack's Burger Emporium & Tap House
Their glorious name says it all. 206 S. West Temple, 801-890-5155, fatjacksut.com
Lucky 13
The blue-cheese-loaded Bacon Stinky Cheeseburger, the PB-slathered Nut Burger—yep there's a reason why this is a Best of Utah perennial. 135 W. 1300 South, 801-487-4418, lucky13slc.com
Millie's Burgers
Come for the tasty burgers, stay for the more than 30 different sky-high shakes. 2092 S. 1000 East, 801-466-6043
Porcupine Pub & Grille
Try scarfing down a Big Cottonwood Burger in one sitting. We dare you. 3698 Fort Union Blvd., 801-942-5555; 258 S. 1300 East, 801-582-5555, porcupinepub.com
Proper Burger Co.
Even no-fruit-on-savory-food snobs agree their housemade ham-and-pineapple-enhanced Flyin' Hawaiian is a thing of beauty. 865 S. Main, 801-906-8604, properburgerslc.com
Sage's Café
Think a non-beef patty is the stuff of sacrilege? The fine folks at Sage's are eager to change your mind. 368 E. 100 South, 801-322-3790, sagescafe.com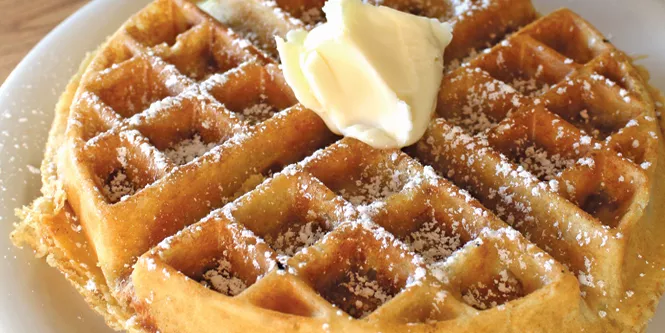 Enrique Limón
"Chicken-IN-Waffle" at Penny Ann's Café
Essential Comfort
Britton's Restaurant
Meatloaf, chicken-fried steak, chile verde burritos and all-day breakfast can be found here. 694 E. Union Square, Sandy, 801-572-5148, brittonsrestaurant.com
Cytybyrd
Treat yourself to a Monte Cristo, Reuben or grilled-cheese sandwich made from scratch. 450 S. 200 East, 801-535-6102, cytybyrd.com
Dee's Family Restaurant
A down-home menu and prime people-watching after the bars close make each visit to Dee's a unique experience. Multiple Locations
Italian Village
Lasagna, veal Parm, chicken cacciatore. Need we say more? 5370 S. 900 East, 801-266-4182
Penny Ann's Café
Though it might seem impossible, if you don't leave room for pie here, you're doing it all wrong. Multiple locations, pennyannscafe.com
Pig & a Jelly Jar
Pork belly Benedict, chicken and waffles, fries and gravy, fish 'n' chips … the delectable list goes on and on. Multiple locations, pigandajellyjar.com
Pretty Bird
Downtown just got a little bit spicier thanks to Chef Viet Pham's Nashville-style hot chicken emporium. 146 Regent St., prettybirdchicken.com
R&R BBQ
Daily specials like brisket tacos on Tuesdays and rib tips on Fridays will happily fill your calendar (and your belly). Multiple locations, randrbbq.com
Ruth's Diner
Restaurants don't get to boast a nearly 90-year legacy unless they're damned good; and Ruth's is. 4160 Emigration Canyon Road, 801-582-5807, ruthsdiner.com
Siegfried's Delicatessen
A smörgåsbord of unique dishes like deep-fried wiener schnitzel and finger-licking macaroni salad await you here. 20 W. 200 South, 801-355-3891, siegfriedsdelicatessen.com


John Taylor
Copper Onion's Carbonara
Essential Date Night
Bodega
Set the date's tone at Bodega, and seal the deal with cocktails downstairs at The Rest. You're welcome. 331 S. Main, 801-532-4042, bodega331.com
The Copper Onion
Brave enough for a day-date? Their brunch menu loaded with items such as Turkish eggs is second to none. 111 E. 300 South, 801-355-3282, thecopperonion.com
Encore Bistro
Located inside the new George S. and Dolores Doré Eccles Theater, Encore redefines "dinner and a show." 131 S. Main, 801-509-7871, cuisineunlimited.com
Epic Casual Dining
Class it up with their ahi tuna, chicken marsala and sautéed pork medallion entrées. 707 Fort Union Blvd., 801-748-1300, epiccasualdining.com
Eva
Small plates like crispy polenta and sautéed Brussels sprouts that are huge on flavor, and an intimate setting make Eva a date-night must. 317 S. Main, 801-359-8447, evaslc.com
HSL
Locally sourced dishes from the hearth, the pantry and the plancha are sure to wow. 418 E. 200 South, 801-539-9999, hslrestaurant.com
Kimi's Chop & Oyster House
Nothing on the extensive seafood bar catch your eye? Give the chop house mac and cheese a go. 2155 S. Highland Drive, 801-946-2079, kimishouse.com
Tiburon Fine Dining
From seared scallops and Mediterranean mussels to braised kurobuta pork and New Zealand elk, this place is sure to impress. 8256 S. 700 East, Sandy, 801-255-1200, tiburonfinedining.com
Tin Angel
Uh … it's won "Best First-Date Restaurant" in the Best of Utah readers' poll for a reason. 365 W. 400 South, 801-328-4155, tinangel.com
Veneto Ristorante Italiano
A stunning selection of northern-Italian dishes that are almost out done by the impressive wine list. Almost. 370 E. 900 South, 801-359-0708, venetoslc.com
Essential Greek

Andy's Lounge
Head to Ogden for some of the best Greek selection this side of Thessaloniki. 501 N. Washington Blvd., Ogden, 801-782-9972
Aristo's Greek Restaurant
Fifty small-plate selections make for a truly unforgettable dining experience. 244 S. 1300 East, 801-581-0888, aristosslc.com
Greek Souvlaki
Founded by Lee and Mary Paulos, Greek Souvlaki has been serving up goods like lamb-and-beef gyros and bifteki since 1972. Multiple locations, greeksouvlaki.com
Jim's Family Restaurant
Dishes like Jim's Famous Marinated Pork and chicken souvlaki—along with a kid-friendly menu—shine bright here. Multiple Locations, jimsfamilyrestaurant.com

Mad Greek
Try the chicken Parm gyro, tasty falafel salad or the perfectly portable dolmathes. You mad, αδερφέ? Multiple Locations
Manoli's
A hearty vegetarian meze loaded with items like yemista (smoked-feta-and-scallion-stuffed piquillo peppers) delight even non-meat eaters. 402 E. 900 South, 801-532-3760, manolison9th.com
The Other Place Restaurant
Breakfast classics get a Greek spin in dishes like gyro meat and eggs and the marinated pork and eggs. 469 E. 300 South, 801-521-6567
The Olympian Restaurant
The Zeus-sized four dishes in their Olympian Platter (Greek salad, two souvlaki skewers, three meatballs and three dolmathes) plus dessert are enough to feed a small army. 2181 S. 700 East, 801-487-1407
Padeli's Street Greek
Classic and authentic Greek meets Chipotle at this lively build-your-own-meal spot. 30 E. 300 South, 801-322-1111, padelisstreetgreek.com
Yanni's Greek Express
Nosh on any of their impressive staples, and make sure to leave room for some galaktoboureko. 2761 S. Highland Drive, 801-466-6525
Josh Scheuerman
ribs at Gracie's
Essential Gastropubs

Bohemian Brewery & Grill
Wash down those roasted garlic bulbs or towering Bohemian club with any of their European-style craft-brew lagers. 94 Fort Union Blvd., Midvale, 801-566-5474, bohemianbrewery.com
Copper Common
The menu here changes regularly. Luckily, the top-notch service doesn't. 111 E. 300 South, 801-355-0543, coppercommon.com
Copper Creek Pub & Grub
A dozen beers on tap complement the varied and down-home menu. Copper Bomb hoagie, anyone? 3451 S. 5600 West, 801-417-0052, coppercreekpub.com
Garage On Beck
Head down Beck Street for some of the most amazing Mormon funeral potatoes. Try fiery for a zippy kick in the pants. 1199 Beck St., 801-521-3904, garageonbeck.com
Gracie's
Sit at a table or pony up at the bar for signature dishes like the barbecue bison burger, Ballard Hog Farm pork chop or red-eye-gravy-smothered poutine. 326 S. West Temple, 801-819-7565, graciesslc.com
The Green Pig Pub
Whether you opt for some chile verde nachos, avocado rolls, potato sliders or a dozen killer chicken wings, you can't go wrong here. 31 E. 400 South, 801-532-7441, thegreenpigpub.com
Poplar Street Pub
Three sitting areas inside 6,000 square feet, plus a mouth-watering line of "championship series" burgers get the job done. Did we mention the 30 beers? 242 S. 200 West, 801-532-2715, poplarstreetpub.com
Squatters Pub Brewery
Their Salt Lake City International Airport location is rumored to be the reason why so many tourists keep coming back for more. Multiple locations, squatters.com
Whiskey Street
Come here for new takes on old classics, like bourbon-bacon caramel popcorn, pork belly corndogs, hazelnut-dusted calamari and grilled shrimp BLT. 323 S. Main, 801-433-1371, whiskeystreet.com
White Horse
Serving everything from duck confit wings to shellfish that adheres to their "tide to table" philosophy.
325 S. Main, 801-363-0137, whitehorseslc.com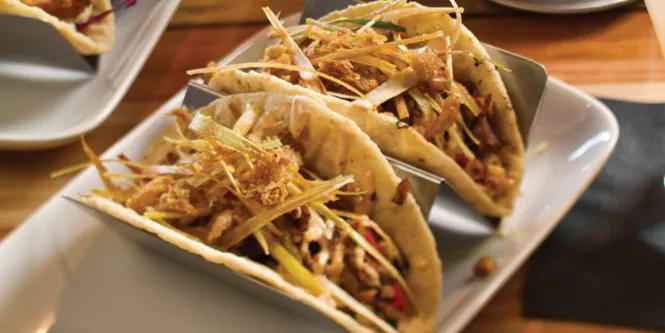 Niki Chan
TaquerÍa 27
Essential Mexican

Alamexo
Molcajetes, tortas and calabacitas all live at this chic and comfortable cantina. 268 S. State, 801-779-4747; 1059 E. 900 South, 801-658-5859, alamexo.com
Beto's Mexican Food
One taste of any of their combination plates (enchiladas, machaca, filete ranchero, etc.) and it's easy to see why this is a local favorite. Multiple locations
Blue Iguana
All the staples, plus a killer margarita list make this downtown eatery a Mexi-must. 165 S. West Temple, 801-533-8900; 255 Main, Park City, 435-649-3097, blueiguanarestaurant.net
Chile-Tepín
Between their parrilladas, alambres and carnitas selections, get ready for a truly authentic meal. 307 W. 200 South, 801-883-9255, facebook.com/chiletepin
La Oaxaqueña
Loaded tlayudas, mole negro and nopal Zapoteco bring a true taste of Oaxaca to your taste buds. 499 E. 2700 South, 801-484-6584
Red Iguana
Get ready for a wait during peak hours. Your patience will be rewarded with sensational moles, finger-licking chile colorado and cochinita pibíl. Multiple locations, rediguana.com
Salsa Leedos Mexican Grill
Fine Mexican in the heart of Riverton. Pick your top favorites and create your own two- or three-item combo. 13298 S. Market Center Drive, Riverton, 801-565-8818, salsaleedos.net
Tacos El Toro
Otherwise known as Sears tacos; one bite of their street tacos, burritos or quesadillas, and it's easy to see why folks gather at this mighty roadside cart. 800 S. State, 801-667-4663
Taco Taco
Come for the luchador vs. Donald Trump stickers, stay for the rockin' chicken mole burrito. 208 E. 500 South, 801-428-2704, tacotacoslc.com
Taquería 27
Standards get new life with offerings like a duck confit quesadilla, the jícama-topped Cobb salad and grilled-pear and roasted-beet tacos. Multiple locations, taqueria27.com


Niki Chan
Star of india's tandoori chicken
Essential Middle-Eastern + Indian
Cedars of Lebanon
For more than three decades, Cedars has served up exceptional fattoush, muhammara, kibbeh and more. 152 E. 200 South, 801-364-4096, cedarsoflebanonrestaurant.com
Curry Fried Chicken
Their CFC plate puts the Colonel's to shame. 660 S. State, 801-924-9188
Curry 'n' Kabobs
You'll find this Afghan and Indian gem tucked behind Market on Main. 268 S. Main, 801-363-0300
Himalayan Kitchen
Nepali cuisine elevated. 360 S. State, 801-328-2077, himalayankitchen.com
Laziz Kitchen
Your destination for kafta, shish tawook and solid mana'oushe sandwiches. 912 S. Jefferson St., 801-441-1288, laziz-foods.com
Mazza Middle Eastern Cuisine
While the food is extraordinary, house cocktails like the refreshingly sweet Desert Rose and the Whiskey White, garnished with cardamom pods, steal the show. 1515 S. 1500 East, 801-484-9259; 912 E. 900 South,801-521-4572, mazzacafe.com
O'Falafel Middle Eastern Cuisine
Soups, salads, sandwiches, pita quiches—this place has all the delicious bases covered. 790 E. 2100 South, 801-487-7747, ofalafeletc.com
Shahrazad Restaurant
Longing to prep some of their foods almost as good as the pros do? Check out their adjoining market, which carries locally sourced produce and rare spices. 1615 W. 2100, 801-975-9977, shahrazadrestaurantslc.com
Shawarma King
Shawarma, kebabs, falafel and hummus all wrapped up in an inviting setting. 725 E. 3300 South, 801-803-9434; 2223 S. Highland Drive, 385-415-2100, slcshawarmaking.com
Star of India
A shiny beacon for lamb and goat curries or those of the vegetarian kind.
1659 W. North Temple, 801-363-7555, starofindiaonline.com
Essential Pizza

Big Daddy's Pizza
Offering all-night delivery, Big D's is the place to call to fill those late-night hunger pangs. Multiple locations, bigdaddyspizza.com
Este Pizzeria
Create your own New York-style pizza—thin-crust with a crisp edge and pliable inside—or try one of their daily specials. Gluten-free crust also is available. Multiple locations, estepizzaco.com
Litza's Pizza
A local staple since 1965, all dough, sauce, garlic butter and salad dressings are made from scratch here. Multiple locations, litzaspizza.com
Mellow Mushroom
MM uses Appalachian spring water for their crust and high-quality ingredients to create a distinct and flavorful pie.
1080 E. 2100 South, 801-844-1444, mellowmushroom.com
Pie Hole
Thin-crust pizza here is cheap, sold by the slice and damned good. Don't miss out on their SLC-famous potato bacon option. 344 S. State,801-359-4653, pieholeutah.com

The Pie Pizzeria
Wherever you land on the vegan-to-carnivore spectrum, your pizza cravings will be satisfied with The Pie's all-inclusive topping options. Multiple locations, thepie.com
Rusted Sun Pizzeria
People flock to the ovens to get the Mediterranean—a Rusted Sun fan-favorite—dished up with tangy marinara, fresh mozzarella, salami, artichoke hearts, green olives and a taste of feta cheese. 2010 S. State, 801-483-2120
Settebello Pizzeria Napoletana
Take a trip around the world at this authentically Neapolitan-inspired pizzeria that boasts prosciutto from Parma, cheese from Modena and salumi from Seattle. 260 S. 200 West, 801-322-3556, settebello.net
Sicilia Pizza & Kitchen
Bite into the Meat Amori, which is capped with pepperoni, fresh Italian sausage, seasoned beef and ham. 35 W. 300 South, 801-961-7077, siciliapizza.net
Wild Pepper Pizza
Want more bang for your buck? Wild Pepper promises their pies are two inches larger than their competitors. 777 S. State, 801-220-0777, wildpepperpizza.com
Niki Chan
Sour Cherry Blintzes at Feldman's Deli
Essential World
Café Machu Picchu
A bona fide Peruvian rotisserie serving up finger-licking pollo a la brasa. 3018 S. State, 801-466-4908
Chabaar Beyond Thai
True Thai flavors, along with excellent cooking classes. Check out their website for full schedule. 87 W. 7200 South, 801-566-5100, amystakeonthai.com
Cucina Toscana
Home of fresh fish, perfect pasta and terrific tiramisu. 282 S. 300 West, 801-328-3463, toscanaslc.com
Curry in a Hurry
Service might be fast here, but the mindfulness and time members of the Nisar family took to perfect their recipes is evident in every bite. 2020 S. State, 801-467-4137, ilovecurryinahurry.com
El Viroleno
At just around two bucks a pop, treat yourself to every pupusa on the menu. 471 W. 800 South, 801-595-7021
Feldman's Deli
A superb delicatessen offering mile-high sandwiches and Old World specialties. 2005 E. 2700 South, 801-906-0369, feldmansdeli.com
Mandarin
Kids eat free, and the whole family can enjoy succulent dishes and jazzy drinks like the plum wine spritzer. 348 E. 900 North, Bountiful, 801-298-2406, mandarinutah.com
Mom's Kitchen
Traditional Taiwanese and Chinese dishes prepared with love. 2233 S. State, 801-486-0092, momskitchenrestaurantsaltlakecity.com
Oh Mai
SLC's best bánh mì, hands down. Multiple locations, ohmaisandwich.com
Yoshi's Japanese Grill
Asian-inspired fare that's been been making loyal patrons flock to Murray for more than 15 years. 5692 S. 900 East, Murray, 801-713-9423, japanesegrill.com