Page 6 of 8
Have You Scene These Guys?



10 local bands visitors need to check out.



By Randy Harward
You might already know some bands from Utah. We've got major pop acts like Neon Trees, Imagine Dragons and electric violinist/Dancing With the Stars alum Lindsey Stirling. Joining them soon could be pop-rockers The Aces and electro-pop duo Strange Familia. There's also plenty of nationally known metal and punk groups, with experimental doom duo Eagle Twin, violin-propelled doom act SubRosa, power metal quintet Visigoth, and screamo giants The Used—whose original drummer Branden Steineckert has been drumming for Rancid for more than a decade. Well, the Salt Lake City scene is much bigger than that, so each year we like to help our out-of-town guests get hip to the best of the rest.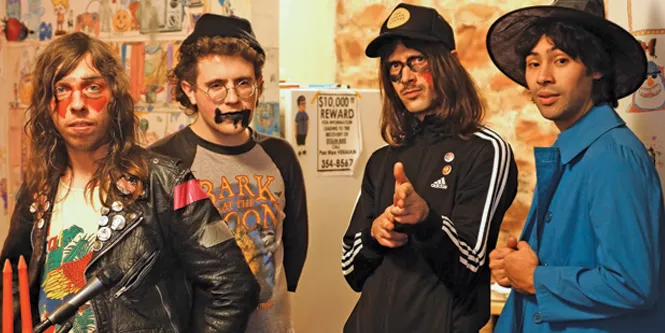 '90s Television
90stelevision.bandcamp.com
Above all, bands need great songs. But there's something to be said for presentation. True to their name, '90s Television often dresses their stages in plush dolls, plastic action figures and other graven images that honor '90s nostalgia. Musically, though, they're not beholden to any particular decade. Their poppy, lo-fi psych-pop tunes draw from The Beatles, Spacemen 3, The Beach Boys, The Clash and ELO—which made them a splendid support act for Kurt Vile's Twilight Concert Series appearance last summer. Where to catch them: The Urban Lounge, Diabolical Records, Kilby Court.
Blackkiss
blackkissdrifters.com
Pete Sands grew up on a Navajo reservation and wound up inspired by his grandmother's record collection, which encompassed the likes of Johnny Cash, Waylon Jennings, Willie Nelson, Elvis Presley, Loretta Lynn and Frank Sinatra. His songs dwell on the dark side of country, with a dusty, gloomy mystery of Jim Jarmusch's black-and-white postmodern western, Dead Man. Just the same, Sands possesses the keen observational eye and sensitivity essential to any singer-songwriter, regardless of genre. Where to catch him: When he's not touring or playing Yelawolf's Slumfest, Sands gigs locally at The State Room and The Acoustic Space.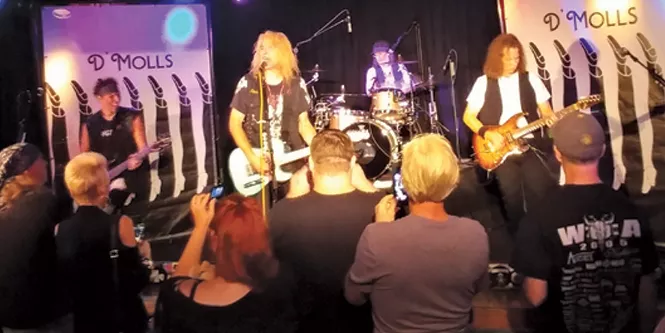 D'Molls
facebook.com/therealdmolls/
While they never achieved the same level of success as their peers on the Sunset Strip, D'Molls still put out two critically acclaimed albums on Atlantic Records and maintain a loyal cult following. And now that singer-guitarist Desi Rexx has relocated to Utah and teamed up with bassist/producer Jonni Lightfoot (Air Supply, Skit Skat), we can call 'em local! You can catch them headlining club bills or opening bigger shows for friends like Skid Row and Enuff Z'nuff when they roll through SLC. Where to catch them: Liquid Joe's, larger venues.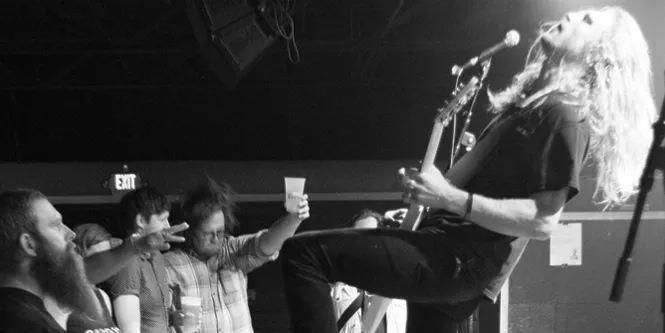 Kapix
facebook.com/kapix801
Do you like stompin' guitar-rock in the vein of Motörhead and AC/DC? If so, you'll dig Prom Queen, the new EP by this power trio co-fronted by 6-foot-2 Olympic snowboarder Hagen Kearney. It's anthem after anthem of fist-pumping rock 'n' roll with meaty riffs, luscious licks and pounding rhythm—perfect for highway driving, competitive drinking, extreme sports and no-regrets hearing loss. And also sweaty, shoulder-to-shoulder club shows. Where to catch them: The Urban Lounge, The Royal.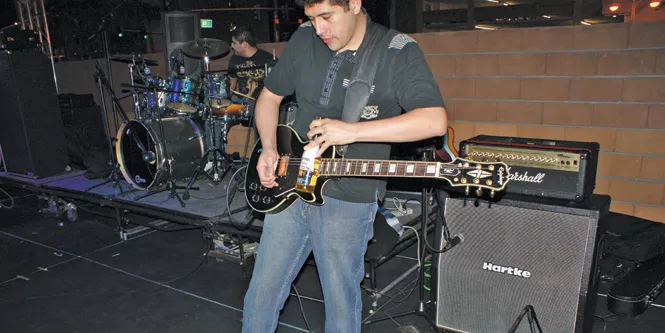 Leyenda Oculta
reverbnation.com/leyendaoculta4
Rock 'n' roll sounds more badass en Español. Think about it: When Los Lobos fires up their amps, it's powerful. And how about Tito and Tarantula, the band in From Dusk Till Dawn? Even without the vampire stuff, those cucarachas enojadas sound mean as hell. Leyenda Oculta, which means "hidden legend," is one of SLC's best kept secrets. Their self-titled album is packed with electrifying, blues-based rockers like "El Rey," "Viva El Rock 'n' Roll" and "Pagarán." But they're only part of a burgeoning rock en Español scene, along with other great bands like La Calavera, De Despedida, Call Musor and Cenizas Ajenas—all of them likely to be on the same bills as Leyenda. Where to catch them: Liquid Joe's, The Complex, Mexican Civic Center.
Rhyme Time
rhymetime.bandcamp.com
At one time Scott Knopf went by the handle Atheist as a member of local hip-hop group House of Lewis—you might recall them from the 11th season of America's Got Talent. Knopf still works with those guys, but when he's solo, he's Rhyme Time. His agile, geeky, playful rhymes are immediately endearing, especially when layered over beats that reach into other genres for inspiration. You might've heard his happy, bumpin' track "Rocking to Brock (feat. UniqueSyntax) on ESPN or the Central Coast Disc Golf channel on YouTube. While you're tubing, check out Knopf's variety show, Rhyme Time Television. Where to catch him: The Urban Lounge, Metro Music Hall.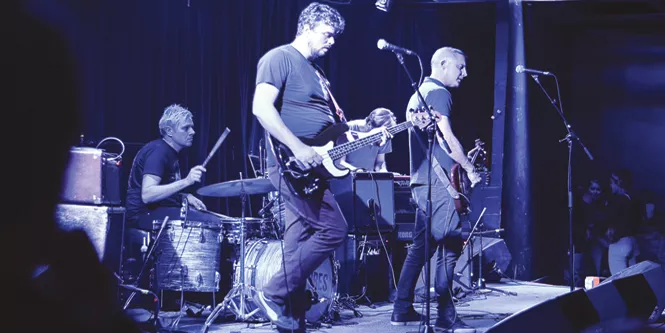 Starmy
starmy.bandcamp.com
Although frontguy Mike Sartain talks about packin' it in after more than two decades, he doesn't. That's good, too, because he's a go-to source for cathartic, introspective songs that just plain rock. You know that great feeling when you're standing front-and-center, and your feet hurt from standing all night but you don't really mind because your nerves are dull from all that beer and the songs—total rockers, along with a few slower tracks—are really speaking to you, answering life's hard questions? Happens at every Starmy show. Where to catch them: Lately, they tend to stick to The Urban Lounge.
Tony Holiday & the Velvetones
facebook.com/tonyholidaymusic
Blues fans—you'll be pleased to know we have a vibrant blues scene with acts of some national renown. Tony Holiday's excellent songs, fiery harp playing and gritty resonant vocals, and the Velvetones' ace chops have earned them quite a reputation on the blues circuit. Holiday's new album Tony Holiday's Porch Sessions even features guest appearances by a litany of blues greats including Charlie Musselwhite and John Németh. Live, this big band is a force. Where to catch them: The State Room, Garage On Beck, Lake Effect.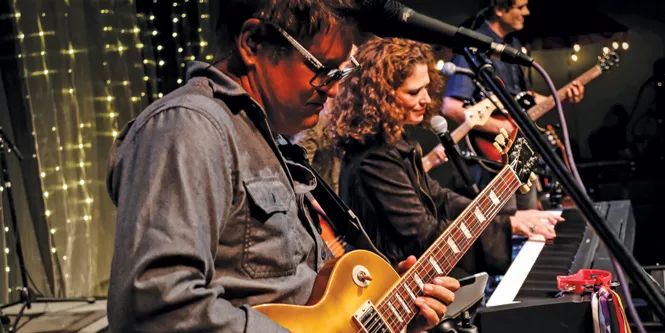 Troubadour 77
troubadour77.com
Monty Powell and Anna Wilson have written songs for the likes of Billy Ray Cyrus ("Could've Been Me"), Tim McGraw ("One of These Days") and Keith Urban ("Days Go By")—to the tune of 70 million units sold. They left Nashville behind to come here and form this band, a vehicle for their '70s Laurel Canyon country-rock tunes. Do yourself a favor and see if they're playing while you're in town. If not, at least pick up their stellar debut album, Selma Avenue. It's named for the L.A. street that was home to Criterion Music Corp., the studio where artists like Jackson Browne and Linda Ronstadt tracked some of their biggest albums. Where to catch them: Snowbasin, Peery's Egyptian Theater, The Royal.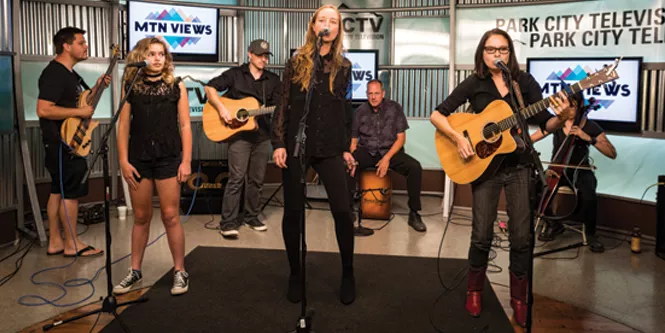 Winter Grain
wintergrain.com
One listen to their eponymous EP—tracked with Ryan Hadlock (Brandi Carlile, Foo Fighters) at Bear Creek Studios in Seattle—and you'll be head over heels for this co-ed folk-rock band led by real-life couple Kate Anderson and Secily Saunders. It's a stunning set of well-honed tunes propelled by sublime vocal harmonies and Anderson's candid, keen lyrics. Live, they range from four- to nine-member configurations, adding extra vocalists, cello and drums. But no matter the arrangement, you'll be floored by the songs. Where to catch them: The Urban Lounge, Pale Horse Sound.
Enrique Limón
Randy's Records
On the Records



Where to go when you wanna stack wax like paper.



By Randy Harward
When you've dug through every crate in every record store in your hometown, a new city with a new batch of record stores is something like a Wonka-esque fantasy wrapped in a wet dream. Welcome to Salt Lake City, where contrary to popular belief and flyover jokes, we have record stores that sell more than releases by The Osmonds, the Mormon Tabernacle Choir and David Archuleta. To paraphrase the president: That would be sad. We know music! We have the best music! And here's where to find some.
Albatross Recordings & Ephemera
1305 S. 900 East
instagram.com/albatrossrecslc
Est.: 2014
Look Here For: Cool and strange music—anything truly, wonderfully weird. The closest you'll get to pop music might be an ultra-rare import version of My Bloody Valentine's Loveless.

Beyond the Music: Horror- and occult-themed art, books and tchotchkes.

Staff: Most of the time, your host will be mellow, soft-spoken Timo. If not, you're probably talkin' to Cesar Reyes, who's also pretty cool (so's his band, Super 78).

Tip: "Ephemera" should be your first clue that the stuff Timo stocks is, shall we say, special. Don't expect much in the way of vanilla. Also, look for occasional in-store performances by acts that you've never heard of (a good thing).

Diabolical Records
238 S. Edison, 801-792-9204
facebook.com/diabolicalslc
Est.: 2013
Look Here For: What the kids are into. The cool ones. Not the ones who listen to Lil Yachty. Also, Diabolical has the best local music selection in town.

Beyond the Music: Free zines and sometimes even cassettes and CDs—and very cool Diabolical T-shirts.

Staff: Adam Tye and Alana Boscan met at a party and bonded over their mutual music-nerdiness. Now married, they run one of the coolest record shops in town, with an interior resembling a small suburban home—where the kids really make a racket.

Tip: Diabolical hosts shows by local and national acts whenever possible—always at 8 p.m. and always for only a $5 suggested donation. Follow them on Facebook for details.

The Heavy Metal Shop
63 Exchange Place, 801-467-7071
heavymetalshop.com
Est.: 1987
Look Here For: Metal, duh. All strains, too. But there's also punk, outlaw country and more.

Beyond the Music: You've probably seen your favorite band member sporting a THMS shirt or hoodie in magazines or onstage. They also have hats, fannypacks, stickers and pins.

Staff: Kevin Kirk is the man. He's been "peddlin' evil since 1987" but can talk about all kinds of music. He also has the respect of the metal elite—and pictures to prove it. He's friends with muthahuggin' Slayer.

Tip: Seriously. The shirts and hoodies are iconic. Visiting here without buying one is like going to Baskin-Robbins and leaving without ice cream. Also, THMS hosts some of the best in-store performances (Dwarves, Michael Dean Damron).

Graywhale Entertainment
Four locations: Salt Lake City (University of Utah), Taylorsville, Sandy, Ogden
graywhaleslc.com
Est.: 1986
Look Here For: Everything from mainstream vanilla to the deliciously obscure.

Beyond the Music: The Taylorsville location is like a locally owned F.Y.E., with DVDs, Blu-rays, video games, toys and books. Horror fans will dig the selection, curated by in-house horror buffs.

Staff: The co-ed staff skews younger at Graywhale, but most of 'em—like Darby Johnson—are friendly and know their stuff. Don't worry, fellow geezers. There's always at least one O.G. (old guy) like store director Brandon Anderson around to help us locate our moldy oldies.

Tip: You can search Graywhale's massive inventory—everything, at every location—on their website. You can also buy concert tickets here. The university store specializes in blues, jazz and world music.

Randy's Record Shop
157 E. 900 South, 801-532-4413
randysrecords.com
Est.: 1978
Look Here For: What you can't find. With 40 years of experience under his belt, if Randy doesn't have it, he'll find it.

Beyond the Music: Although you might see some DVDs and Blu-rays, it's really all about music here.

Staff: Randy Stinson spends most of the day in the back room, but his son Sam (known around town as DJ Feral Cat) and local musician Jeremy Devine (The Nods, '90s Television) will happily help wax addicts find a fix.

Tip: Check the wall behind the counter for sick rarities. Also, every couple of months Randy commandeers the back room of the flower shop across the street for a weekend-long $2 vinyl sale, offering literally thousands of LPs, CDs, cassettes and DVDs.

Raunch Records
1119 E. 2100 South, 801-467-6077
raunch.storeenvy.com
Est.: 1984
Look Here For: Real-deal punk. There's other stuff, of course—but Raunch is a punk-rock mecca. Be warned, posers: This ain't Hot Topic.

Beyond the Music: Raunch is also a skate shop with decks, grip tape, wheels and hardware. You'll also find a great selection books, magazines, comics, art prints—and even a Motörhead-branded sex gizmo.

Staff: Brad Collins and his best girl/partner Dorthy Burns personify the mom-and-pop, brick-and-mortar record stores we all love to support. You might say they have a Mutt and Jeff thing going on, with Brad pretending to be surly and Dorthy being a total sweetheart.

Tip: The American Sign Language hand symbols on the Raunch stickers don't spell the store's name. And the Raunch T-shirts are designed by well-known skateboard artists like Pushead (Metallica).

Sound & Vision Vinyl
3444 S. Main, 385-229-4165
soundandvisionvinyl.com
Est.: 2015
Look Here For: Vinyl—from new releases to reissues to used, as well as some choice imports and live recordings like—a Led Zeppelin show in SLC from 1973.

Beyond the Music: S&V has rare collectibles and memorabilia, as well as sweet cigar box guitars made with pop culture lunchboxes.

Staff: Maccarrone is a lifelong music-pusher from Brooklyn who was there during punk's 1977 dawn. He hung out the legendary venue Max's Kansas City, and he knows everybody. He also fronted the New York hardcore band Dead Virgins, whose rare recordings go for a cool 100 bucks—or more—on eBay. If you can find them.

Tip: You won't find many CDs here, but the ones you do see likely came from Mike's personal collection, which is
comprehensive.
Festivalia



The ultimate guide to music festivals in SLC and beyond.



By Randy Harward
So your significant other just had to visit their family instead of heading to Bonnaroo or Coachella. We get it. Lucky for you, the number of music festivals in Utah multiplies like Mormon families and/or rabbits. There's bound to be one happening when you visit. But as it's a little early in the year to compile a list like this, bear in mind that many of these festivals are still in the planning stages—details are based on 2017 information and are subject to change.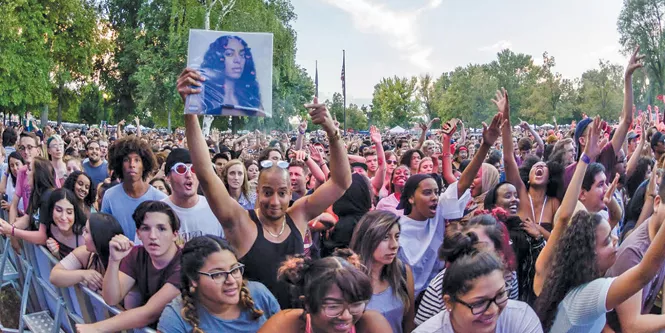 Photo Collective Studios / Dave Brewer
Twilight Concert Series
Living Traditions Festival
livingtraditionsfestival.com
Free two-day festival celebrating cultural diversity with food and music from many countries.
When: late May
Where: Library Square, Washington Square (SLC)
Price: Free admission
Age restriction: None
Blues, Brews & BBQ
snowbasin.com/the-mountain/entertainment/blues-brews-bbq
This free concert series offers big bills with local and national acts—not just blues, but funk, soul, country and rock—as well as the titular taste treats.
When: Sundays from June through September
Where: Snowbasin Resort (Huntsville)
Price: Free admission
Age restriction: None
Ogden Twilight
ogdentwilight.com
Hipster fare in the indie rock and electro-pop vein.
When: Thursdays in June
Where: Ogden Amphitheater (Ogden)
Price: $5-$25
Age restriction: None
Utah Blues Festival
utahbluesfest.org
A perennial favorite featuring blues luminaries and local acts, as well as workshops.
When: Mid-June
Where: Usually at the Gallivan Center.
Price: Varies
Age restriction: None

Utah Arts Festival
uaf.org
Headlined by a touring act, but featuring many top local acts over four days.
When: late June
Where: Library Square, Washington Square (SLC)
Price: $6-$35 (under 12 free)
Age restriction: None

Bonanza Campout
bonanzacampout.com
Indie rock bands and singer-songwriters over two days in a scenic location.
When: late June
Where: River's Edge (Heber City)
Price: $70-$300
Age restriction: None
Lunar Transit
lunartransit.com
Electronic music under the stars.
When: Sundays from June through September
Where: Eagle Point Resort (Beaver)
Price: $85
Age restriction: Unknown

Wasatch Mountain Music Festival
wasatchmountainmusic.com
Multi-day country, folk and bluegrass festival.
When: mid-July
Where: Soldier Hollow (Midway)
Price: $27.50-$91 (under 15 free with parent)
Age restriction: None
Twilight Concert Series
twilightconcerts.com
Affordable and well-curated series featuring big-name indie rock and hip-hop acts with support from marquee locals.
When: Thursdays from July through early September
Where: Gallivan Center (SLC)
Price: $10
Age restriction: None
Mystic Hot Springs Music Festival
mystichotspringsmusicfestival.com
Four-day event near natural hot spring, featuring mainly jam bands. Camping available.
When: mid-to-late July
Where: Mystic Hot Springs (Monroe)
Price: $60-$150
Age restriction: 5 and older

Country Fan Fest
countryfanfest.com
Utah's biggest country music festival, spanning three days, headlined by major acts. Camping available.
When: late July
Where: Deseret Peak (Tooele)
Price: $50-$300
Age restriction: None
SLC Jazz Festival
slcjazzfestival.com
Two-day event featuring big-time jazz names and homegrown talent.
When: late July
Where: Gallivan Center (SLC)
Price: Varies
Age restriction: None
Troubadour Fest
troubadour77.com
Inaugural festival organized by country-rockers Troubadour 77 and Live Nation focuses on singer-songwriters, including the original authors of tunes made famous by other artists.
When: Aug. 3-4
Where: Snowbasin Resort
Price: TBD
Age restriction: None
Craft Lake City DIY Festival
craftlakecity.com
Two-day craft festival with lots of local music.
When: early-to-mid August
Where: Gallivan Center (SLC)
Price: Varies
Age restriction: None
Honeypot Blown Glass Competition & Art Festival
Honeypotglasscomp.com
Single-day festival built around competitive glass blowing, with a variety of local music.
When: early August
Where: Varies (SLC)
Price: Varies
Age restriction: None
Women's Redrock Music Festival
womensredrockmusicfest.com
This one's all about the ladies. Expect lots of folk music—but plenty of rock, too. Camping available.
When: early-to-mid August
Where: Torrey
Price: $40-$90
Age restriction: None
Das Energi
dasenergifestival.com
Two-day EDM festival with tons of acts—from locals to internationally famous headliners.
When: mid-August
Where: The Great Saltair (Magna)
Price: $65-$225
Age restriction: 18+
Reggae Rise Up
reggaeriseup.com/festival/reggae-rise-festival-utah
Big reggae festival with major headliners, mid-sized support acts and locals. Camping available.
When: mid-to-late August
Where: River's Edge (Heber City)
Price: $30-$150
Age restriction: None
Western Legends Roundup
westernlegendsroundup.com
Country music, cowboy poetry and more in rural Utah.
When: mid-to-late August
Where: Various locations (Kanab)
Price: Varies
Age restriction: None
Crucialfest 7
crucialfest.com
Half-national, half-local festival featuring heavy metal, punk, indie, alternative and more.
When: Typically August
Where: Various downtown venues (SLC)
Price: $45-$165
Age restriction: Day shows tend to be all-ages. Night shows are 21 and over.
Urban Arts Festival
urbanartsfest.org
Hip-hop reigns at this popular multi-day fall festival, but you'll find funk, jazz and rock here, too.
When: mid-September
Where: Various locations (SLC)
Price: Free admission
Age restriction: None
Josh Scheuerman
Dirty Heads and Soja at the Gallivan Center
Where Ya Tunes At?
Here's where to find the best local music in SLC.
By Randy Harward
You don't need this guide to find good live music venues in Salt Lake City. The place is silly with them now. We have the underground rooms only cool people are supposed to know about, the all-ages sheds, dives, hipster bars, saloons, outdoor venues, theaters, arenas—everything. All you gotta do to find one is put your ear to the ground and feel the bass. Or keep reading.


801 Event Center
facebook.com/801eventcenter
1055 W. North Temple, SLC
801-347-5745
Serving SLC's vibrant Latino community, the 801 hosts a spectrum of music con sabor, whether it's banda, reggaeton, pop, hip-hop or rock.
A Bar Named Sue
abarnamedsue.net
3928 S. Highland Drive, SLC
801-274-5578

A Bar Named Sue on State
8136 S. State, Midvale
801-566-3222
Cash is king at these themed neighborhood bars, where you can enjoy live music (old-school country, rock 'n' roll), DJs, karaoke and free beer pong—with cash prizes.
ABG's Libation Emporium
abgsbar.com
190 W. Center St., Provo
801-373-1200
You might hear that Provo is squeaky clean. It is—but that makes this punk rock dive even more awesome.
The Acoustic Space at The Gateway
theacousticspace.com
124 S. 400 West, SLC
801-657-2325
It's not necessarily acoustic here; you'll find bands as well as solo singer-songwriters. All booked by renowned bluesman Tony Holiday.

Albatross Recordings & Ephemera
instagram.com/albatrossrecslc
1305 S. 900 East, SLC
The infrequent shows are events—owner Timo Hatziathanasiou books far-out music to go along with his outre LPs, books and tchotkes.
Alleged
facebook.com/alleged25th
201 25th St., Ogden
801-990-0692
A former brothel, Alleged is a modern lounge booking occasional live local and regional bands. No "dates," though.
Area 51
area51slc.com
451 S. 400 West, SLC
801-534-0819
This is SLC's goth-industrial mecca, but you'll also catch metal and punk bands here, and enjoy two different types of '80s nights presided over by top local DJs.
The Avant Groove
avantgroove.com
122 W. Pierpont Ave., SLC
801-953-0433
This new venue bills itself as a jazz club and martini bar, but you'll hear some blues grooves, too.
Bar-X/Beer Bar
beerbarslc.com
155 E. 200 South, SLC
801-355-2287
385-259-0905
Modern Family's Ty Burrell co-owns these companion establishments—the only place in town to catch legendary local band The Rubes (albeit doing mostly rock, R&B and country covers from the '50s and s'60s) on the fourth Sunday of the month.
Barbary Coast Saloon
facebook.com/barbary-coast-saloon
4242 S. State, Murray
801-265-9889
Biker bars have some great music—
everything from country to blues to rock, and it's no different here.
The Bayou
utahbayou.com
645 S. State, SLC
801-961-8400
On Fridays and Saturdays, enjoy live
local jazz at this popular Cajun restaurant and beer emporium.
The Beehive
beehivecollectiveslc.com/the-beehive
666 S. State, SLC
385-645-3116
An all-ages, inclusive venue located at the Devil's coordinate, the Beehive specializes in local music but is open to any event.
Black Lion
facebook.com/blacklionevents
9854 S. 700 East, Sandy
801-495-9699
You can rent the Black Lion for your own concert—or simply check out one of their sporadic multi-band events.
Bourbon House
bourbonhouseslc.com
19 E. 200 South, SLC
801-746-1005
The name alone will get you in the door, but you'll stay for the local jazz jam as well as funk, soul and DJ acts.
Brewskis
brewskisonline.net
244 25th St., Ogden
801-394-1713
Here, you'll find mostly local bands, and a lot of great blues acts—but also rock, new wave, singer-songwriters, hair metal tribute acts and cover bands.
The Cabin
thecabinparkcity.com
825 S. Main, Park City
435-565-2337
In addition to live original local music on the weekends, The Cabin offers weekly open mics, karaoke, dueling pianos and DJs.
Chakra Lounge
facebook.com/chakraloungeslc
364 S. State, SLC
801-328-2077
A comfortable lounge, Chakra programs anything from DJs to karaoke to live local music.

Club 90
club90slc.com
9065 S. Monroe St., Sandy
801-566-3254
Club 90's main attractions are cover bands because they want you out of your seat. But check their calendar for weekly jazz and bluegrass.
Club Karamba
karambaslc.com
1051 E. 2100 South, SLC
801-696-0639
At Karamba, the music is all geared to make you move—you'll find pop, DJs, Latin big bands and even the occasional rock en Español act.
Club X
clubxslc.com
445 S. 400 West, SLC
801-935-4267
Club X offers everything from DJ nights, to live punk and metal.
The Complex
thecomplexslc.com
536 W. 100 South, SLC
801-528-9197
With its three stages, this massive downtown venue books touring metal, punk, indie and hip-hop acts—and you can drink here, too.
Copper Common
facebook.com/coppercommon
111 E. 300 South, Ste. 190
801-355-0543
A fine pub/restaurant, Copper Common hosts the occasional live music event—and a popular concert series—curated by local musician/radio personality Bad Brad Wheeler—during the Sundance Film Festival in late January.
Dejoria Center
dejoriacenter.com
970 Utah-32, Kamas
435-783-3113
At this rustic special events center in the Uinta mountains, enjoy the likes of country singer LeAnn Rimes, hair metal band Slaughter and country gents the Bar J Wranglers.
Eccles Theater
live-at-the-eccles.com
131 S. Main, SLC
801-355-2787
SLC's newest major venue offers
everything from singer-songwriters like Amos Lee to mope-rocker Morrissey to country legend Kenny Rogers to Elvis tributes to Johnny Freakin' Mathis.
The Depot
depotslc.com
400 W. South Temple, SLC
801-355-5522
A club/theater, the Depot accommodates mid-level to major touring acts in a variety of genres—but mostly all strains of rock: classic (Todd Rundgren), alternative (Dinosaur Jr.), and papal-satanic (Ghost).
Diabolical Records
facebook.com/diabolicalslc
238 S. Edison St., SLC
801-792-9204
Secreted down a one-way downtown street, Diabolical hosts some of SLC's best local punk, indie, metal, new wave and goth rock—plus deliciously obscure touring acts like Nobunny and Tatsuya Nakatani.

Donkey Tails Cantina
guadalahonkys.com/donkey_tails.html
136 E. 12300 South, Draper
801-571-8134
If you learned anything from Star Wars, it's that Han shot first and cantinas have cool music—and there's nothin' like a massive combo platter while you enjoy some live tunes.
Downstairs
downstairspc.com
625 Main, Park City
435-615-7200
Dance music rules Downstairs, and you'll see mostly dance artists and DJs.
Downtown Farmers Market
(Pioneer Park)
slcfarmersmarket.org
350 W. 300 South, SLC
801-359-5118
A popular weekend destination for locals, the Downtown Farmers Market books local music to soundtrack your Saturday produce-pickin'.
Eccles Center
ecclescenter.org
1750 Kearns Blvd., Park City
435-655-3114
Now in its 20th season, the Eccles Center hosts a wide array of music events throughout the year from blues to jazz to folk to rock and even orchestral performances.
The Egyptian Theatre
egyptiantheatrecompany.org
328 Main, Park City
435-649-9371
The gorgeous Egyptian books multi-night stands by oldies bands (Herman's Hermits), classic rockers (Al Stewart), instrumental virtuosos (Robben Ford, Leo Kottke) and disco legends (Village People).
Elevate
elevatenightlifeslc.com
149 W. 200 South, SLC
801-478-4310
Dance music reigns at this popular downtown joint, which books local,
national and international DJs and bands.
Even Stevens
evenstevens.com, multiple locations
The Utah-based philanthropic sandwich shop chain books live local music and stages the Givestock Festival—featuring local and national acts—every summer.
Elixir Lounge
elixirloungeslc.com
6405 S. 3000 East, Holladay
801-943-1696
A stylish lounge near Big Cottonwood Canyon, Elixir offers live acoustic music and DJs.
Feldman's Deli
feldmansdeli.com
2005 E. 2700 South, SLC
801-906-0369
The city's only Jewish deli has live local music several days a week, including owner Michael "Deli Man" Feldman playing blues and folk.
Flanagan's On Main
flanagansonmain.com
438 Main, Park City
435-649-8600
On the weekends, Flanagan's offers live music—both covers and originals by local artists, plus DJ sets.
Funk 'N Dive Bar
funkanddive.com
2550 Washington Blvd., Ogden
801-621-3483
There's some great music up in O-town, and you'll find a lot of it here—rock, blues, hip-hop, DJs and even old-timey jazz.
The Gallivan Center
thegallivancenter.com
239 S. Main, SLC
801-535-6110
This downtown outdoor mini-amphitheater once hosted large local festivals and major touring acts (Gov't Mule, The Black Keys), but it's now known for scheduling local jazz, blues, soul and singer-songwriters.
Garage On Beck
garageonbeck.com
1199 Beck St., North Salt Lake
801-521-3904
An actual roadhouse with a breathtaking view of an oil refinery, The Garage books all the best roots music—blues, rockabilly, swing, country, folk and even some surf and (wait for it) garage rock!
Gracie's
graciesslc.com
326 S. West Temple, SLC
801-819-7565
Classy Gracie's doesn't seem like a live music venue—but they bring us rockabilly, blues, folk, DJs and a weekly jazz and bluegrass jams with David Halliday and the Jazz Vespers Quartet and Pixie & the Partygrass Boys, respectively.
The Great Saltair
thesaltair.com
12408 W. Saltair Drive, Magna
801-250-6205
Although the original castle-like edifice burned down long ago, the new building has hosted many major rock acts from Dio to Simple Minds to The Cult and The Flaming Lips, as well as huge EDM shows.
The Green Pig Pub
thegreenpigpub.com
31 E. 400 South, SLC
801-532-7441
The name just squeals blues, and you'll find it here—along with the occasional rock or jam band.
The Hog Wallow Pub
thehogwallow.com
3200 E. Big Cottonwood Canyon Road, Cottonwood Heights
801-733-5567
Live music and good eats are what's up at this cool little venue at the mouth of Big Cottonwood Canyon, which books blues, folk, funk, jam and rock.
The Ice Haüs
facebook.com/theicehaus
7 E. 4800 South, Murray
801-266-2127
Tucked away in industrial SLC suburb Murray, the Haüs offers DJs, singer-songwriters, and funk, soul and jazz bands.
In The Venue/Club Sound
inthevenueslc.com
219 S. 600 West, SLC
801-359-3219
Two venues in one—ITV is the big all-ages room with a retractable roof, Club Sound is the smaller 21-plus place, and everyone from violin virtuoso Lindsey Stirling to punk rockers band religion to outsider singer-songwriter Daniel Johnston have performed here.
Infinity Event Center
infinityeventcenter.com
26 E. 600 South, SLC
385-242-7488
Booking mainly one-off shows by outside promoters, this is the only place in town where you can see Mexican arena rockers like Cuca, who are like the Rolling Stones and Mötley Crüe back in their home country.
Johnny's On Second
johnnysonsecond.com
165 E. 200 South, SLC
801-746-3334
At Johnny's, the music is fairly varied with DJs and local bands flying the flag for alt-country, blues, rockabilly, funk and folk.
Kamikaze's
kamikazesogden.com
2404 Adams Ave., Ogden
801-621-9138
Another O-Town fixture, Kamikaze's offers mainly local music without a favorite genre. You'll find punk, rock, country and celtic folk—among other things.
Keys On Main
keysonmain.com
242 S. Main, SLC
801-363-3638
As the name implies, this is a piano bar where you'll find ivory ticklers going Steinway-to-Steinway performing songs you choose—until somebody else pays them to stop.
Kilby Court
kilbycourt.com
741 S. Kilby Court (330 West), SLC
801-364-3538
Salt Lake's best all-ages venue is also one of the most unique. "Kilby," as we call it, is where we go to get sweaty while watching buzz bands play a cramped little garage, or sit outside like we're too cool for school.
Kingsbury Hall
kingsburyhall.utah.edu
1395 E. President's Circle, SLC
801-581-7100
The University of Utah's posh venue has hosted some incredible performances from the likes of the Violent Femmes, Lucinda Williams and Elvis Costello. It sounds as good as it looks, too.
Lake Effect
lakeeffectslc.com
155 W. 200 South, SLC
801-532-2068
This ultra-cool hipster bar wears its name (a reference to a certain body of water's B.O.) offers top-shelf local bands and DJs Thursday through Saturday.

Liquid Joe's
liquidjoes.net
1249 E. 3300 South, SLC
801-467-5637
An everyman's club that books smaller local acts and big-name heritage hair metal bands, plus underground hip-hop and the occasional cult band like Roger Clyne & the Peacemakers.
The Loading Dock
theloadingdockslc.com
445 S. 400 West, SLC
385-229-4493
An all-ages venue specializing in extreme metal, Hot Topic bands and the occasional oddball, like roots rock maniac Lincoln Durham.
Maverik Center
maverikcenter.com
3200 S. Decker Lake Drive,
West Valley City
801-988-8800
An arena that, depending on the show, converts to a theater, the Mav has hosted Tool, The Cure, Van Halen, Harry Connick Jr., Melissa Etheridge and Widespread Panic.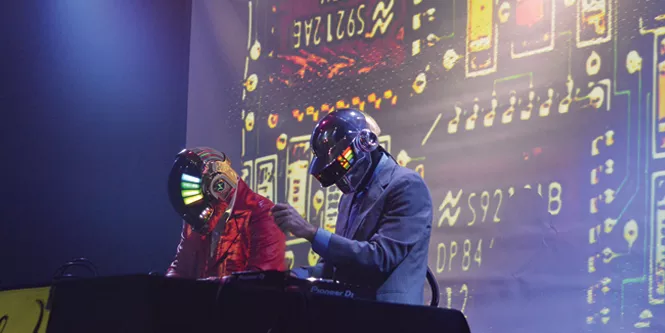 Josh Scheuerman
Daft Punk Tribute at Metro Music Hall
Metro Music Hall
metromusichall.com
615 W. 100 South, SLC
385-528-0952
At first, the Metro was pretty metal. Now they book everything, and you should check out the monthly event Hip-Hop Roots, showcasing hot local MCs, b-boys and graffiti writers.
The Moose Lounge
facebook.com/themooseloungeslc
180 W. 400 South, SLC
801-900-7499
A lounge and dance club with a dress code, the Moose books touring hip-hop acts and has a rockin' gay night (Revolution Fridays).
O.P. Rockwell
oprockwell.com
268 Main, Park City
435-565-4486
This joint books great bands like The Mother Hips and Andy Frasco & the U.N. while also knowing the value of an all-female AC/DC tribute act like Hell's Belles.
Outlaw Saloon
outlawsaloon.com
1254 W. 2100 South, Ogden
801-334-9260
On Friday and Saturday nights, you can find some of Utah's best country music acts—and even the occasional touring twanger.
Pale Horse Sound
palehorsesound.com
1989 S. 1100 East, SLC
435-764-7640
A recording studio that doubles as a music venue, hosting mainly local acts.
Park City Live
parkcitylive.net
427 Main, Park City
435-649-9123
Formerly known as Harry O's, this theater brings in some great shows by jam bands (Galactic), electronic acts (Major Lazer) and singer-songwriters (Martin Sexton).
Pat's BBQ
patsbbq.com
155 W. Commonwealth Ave., SLC
801-590-3090
If you like good BBQ, this is the place to go—and if you go on the weekend, you'll hear some good local tunes, too.
Peery's Egyptian Theater
egyptiantheaterogden.com
2415 Washington Blvd., Ogden
801-689-8700
This posh theater offers classical, opera, orchestral, jazz, swing and the occasional popular music act—but schedules more dance, film and theater events.
Peppermill Concert Hall
wendoverfun.com/shows
680 Wendover Blvd., Wendover
800-217-0049
The locals love to escape to their own version of Sin City, where they can gamble and drink and catch concerts by Night Ranger, The Temptations and Engelbert Humperdinck.
Piper Down Pub
piperdownpub.com
1492 S. State, SLC
801-468-1492
Salt Lake's most popular Irish pub books live music several times a month. Some local, some national—and anything from the expected Celtic sounds to blues, folk, rockabilly and sometimes punk.

Prohibition
prohibitionutah.com
151 E. 6100 South, Murray
801-281-4852
True to its namesake era, this time-warp of a bar hosts jazz, swing and blues from the '20s and '30s. On Wednesdays, they offer free swing dancing lessons with a live band.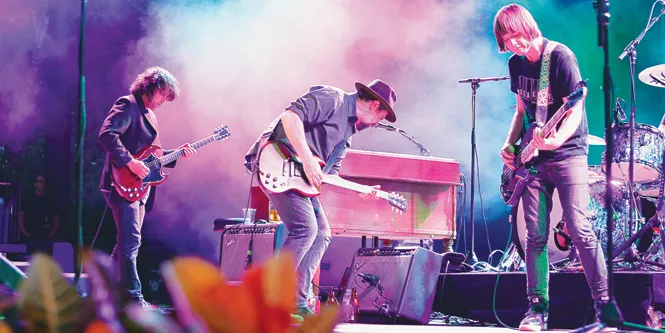 Josh Scheuerman
Drive By Truckers at Red Butte Garden
Red Butte Garden
redbuttegarden.org
300 Wakara Way, SLC
801-585-0556
Every summer we look forward to this arboretum's annual outdoor concert series, which attracts more and bigger shows every year, and allows us to bring coolers crammed with grub 'n' booze.
The Red Door
thereddoorslc.com
57 W. 200 South
801-363-6030
A martini bar/wine lounge, you'll find DJs on Thursdays and Fridays and a live band on Saturdays.
The Royal
theroyalslc.com
4760 S. 900 East, SLC
801-590-9940
Any given day, you can find anything from folk to reggae at this live music cathedral.
The Ruin
ruinslc.com
1215 E. Wilmington, SLC
801-869-3730
This cool little joint is calm on the weekdays, but it gets loud on the weekends with live local bands and DJs.
Rye
facebook.com/ryeslc
239 S. 500 East, SLC
801-364-4655
Adjacent to The Urban Lounge and owned by the same people, Rye is a breakfast/lunch restaurant, but started hosting occasional concerts by local and touring acts last year.
Sandy Amphitheater
sandyamp.com
1245 E. 9400 South, Sandy
801-568-6097
It abuts a park and a residential area, and is near a hospital. That may be why the shows here—the Lost '80s Tour, Toad the Wet Sprocket, Weird Al, Doobie Brothers—seem so quiet.

Scallywags
facebook.com/scallywagsslc
3040 S. State, SLC
801-604-0869
A pirate-themed huka bar, Scallywags hosts DJs and occasional hip-hop.
Sky
skyslc.com
149 W. Pierpont Ave., SLC
801-883-8714
Mostly it's DJs and dance music at Sky, a downtown venue with a drop-top roof, but sometimes they'll book pretty cool bands like the Meat Puppets or Soul Asylum.
Snowbasin
snowbasin.com
3925 Snowbasin Road, Huntsville
801-620-1000
The resort's Blues, Brews & BBQ concert series fills five hours every Sunday with sun, suds, meat and free concerts by touring rock, blues, jam and soul acts.
Snowbird
snowbird.com
9385 S. Snowbird Center Drive, Snowbird
801-933-2222
The renowned ski resort offers live music throughout its resort.
The Spur Bar & Grill
thespurbarandgrill.com
352 Main, Park City
435-615-1618
There is something for everyone on the Spur's stage: cover bands, original local music and dueling pianos.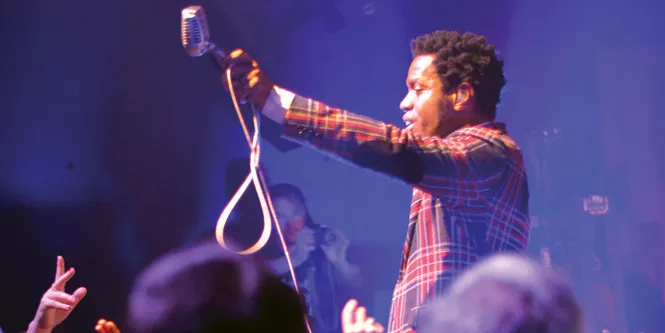 Josh Scheuerman
Vintage at the State Room
The State Room
thestateroom.com
638 S. State, SLC
800-596-3560
Real music lovers will adore this theater where you can watch the likes of Todd Snider, Junior Brown or Los Lobos from the floor or from church pews and theater seats, arranged stadium-style, while enjoying a stiff drink.
Sugar House Coffee
sugarhousecoffee.com
2011 S. 1100 East, SLC
801-883-8867
You'll find local jazz and Irish music, and an open-mic opp at this popular coffeehouse. Jazz jam on Thursdays.
Sugar House Farmers Market
sugarhousefarmersmarket.org
1040 E. Sugarmont Drive, SLC
Live local music every Wednesday evening from July through September in a lush neighborhood park.
Sugar Space Arts Warehouse
facebook.com/sugarspaceslc
132 S. 800 West, SLC
385-202-5504
Music is just one of the arts supported by Sugar Space, which books local acts here and there.
The Tavernacle
tavernacle.com
201 E. 300 South, SLC
801-519-8900
Here's another dueling pianos bar—where it gets pretty wild as two pianists play covers for money and the highest bidder wins.
Touché Tavern
touchetavern.com
3350 S. State, SLC
801-290-2531
It's hard to see where any band could set up in this tiny but kinda classy dive—but that makes the shows (solo acoustic to full-band) more intimate.
Twilite Lounge
twilitelounge.com
347 E. 200 South, SLC
801-532-9400
You know your favorite neighborhood dive back home? This is ours. Stop by "The Twi" on Wednesdays and see Jazz Jaguars, a trio of local rockers performing lounge versions of their louder stuff.
Twist
twistslc.com
32 Exchange Place, SLC
801-322-3200
A very cool room with eclectic offerings including residencies by top local DJs, acoustic sets by local singer-songwriters, and even some funk.
The Underground
facebook.com/the-underground
833 S. Main, SLC
There's a reason it's called the Underground—this is where you'll see fringe acts, whether it's local punks or a touring one-man-band with a B-flick aesthetic.
The Union Event Center
theunioneventcenter.com
235 N. 500 West, SLC
385-831-7770
Recently partnered with AEG Presents, this is the place to catch up-and-coming and established touring acts.
Josh Scheuerman
Alex Cameron at The Urban Lounge
The Urban Lounge
theurbanloungeslc.com
241 S. 500 East, SLC
801-746-0557
"The Urban" reigns supreme in the local music scene, booking mid-to-big names in a room that sounds great, but seems far too small for the talent—which we love, especially when the booker pairs them up with the crème de la local crème.
Usana Amphitheatre
usana-amp.com
5150 S. 6055 West, Magna
801-417-5343
Usana hosts our largest outdoor concerts, the summer/fall blockbusters like Black Sabbath, Willie Nelson and Kenny Chesney.
Velour
velourlive.com
135 N. University Ave., Provo
801-818-2263
This is the other all-ages venue in Provo championing local musicians, perhaps the alpha of the two. Corey Fox created something special with Velour, which birthed Neon Trees.

Vivint Smart Home Arena
vivintarena.com
301 W. South Temple
801-325-7528
When the Utah Jazz aren't around, and it's too cold for Usana, this is where they book the really big shows.
The Westerner
westernerslc.com
3360 S. Redwood Road,
West Valley City
801-972-5447
There aren't too many places that specialize in country music—maybe because the Westerner whoops all comers, with a massive dance floor and every local country act beatin' down its doors.
Willie's Lounge
willieslounge.com
1716 S. Main, SLC
760-828-7351
Find trivia on Wednesdays, karaoke Fridays and Sundays and live music most every other night.
The Yes Hell
facebook.com/theyeshell
2426 Grant Ave., Ogden
Owned and operated by obscenely talented local singer-songwriter Sam Smith (not that Sam Smith), this is a promising new venue with a well-curated slate of talent.
Zest Kitchen & Bar
zestslc.com
275 S. 200 West, SLC
801-433-0589
Gourmet healthy organic vegan, vegetarian, gluten-free grub, craft cocktails and live DJs? This is the place to go to expand the horizons of your oral and aural palettes with food and music you've never experienced before.