Page 7 of 8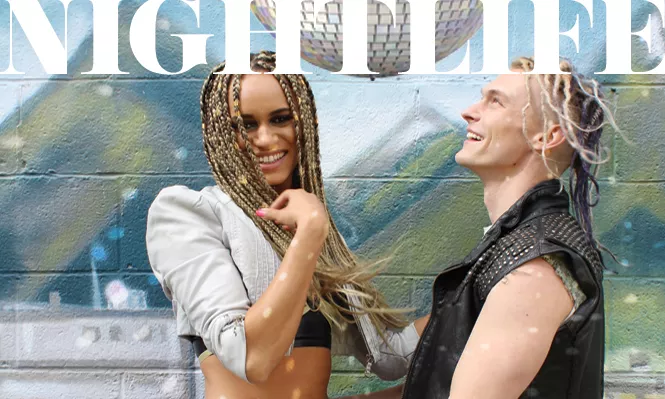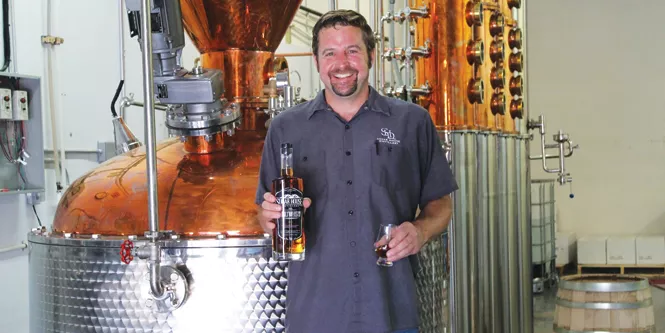 Darby Doyle
Eric Robinson, master distiller at Sugar House Distillery
Holy Spirits



A-Z Cocktail Guide



By Darby Doyle
Imagine America's early days as a fledgling republic, just stretching its fuzzy baby eagle wings into nationhood, centered on face-to-face conversations. You know, actual human interaction. And those theoretical and eventually subversive political debates between men—and more than a few under-recognized women—often happened over a mug of beer, tankard of hard cider or glass of rum. In a time of widespread illiteracy and news that could only travel as fast as the messenger's fleetest horse, the vast majority of the early republic's revolutionary-minded populace learned about current events and formed their opinions about them by word of mouth. Most newspapers and political pamphlets were sent directly to taverns or roadside inns, where, in turn, the few literate customers present would read them aloud to their curious and unlettered neighbors. Bakers, lawyers and ministers sat elbow-to-elbow with barbers, politicians and farriers.
Discussions ran late into the night, with good ale or bad whiskey a common—hell, necessary—accompaniment.

After all, this was an era when George Washington owned one of the East Coast's largest distilleries, John Adams drank a tankard of cider with breakfast every morning, Thomas Jefferson was credited with hosting the first presidential cocktail party and we all know what Sam Adams was up to. With drinking water being a suspect commodity, fermented and brewed potions were considered eminently potable. And for most of the nation, taverns, by their nature, were places where patrons expected to get the triumvirate of camaraderie, the glue that held, and still holds, secular communities together: a bit of sustenance, lively conversation and a great drink.

In the spirit of camaraderie and thoughtful discourse exhibited by these revolutionary imbibers, we've compiled this compendium of cocktail lore as an incentive not necessarily to drink more, but drink better. To sit down at the long bar, make eye contact and say, "Hey." Host more cocktail parties, splurge on some gorgeous glassware. And whenever possible, give some local love to producers and artisans based right here in the Beehive State. Daniel Handler (aka Lemony Snicket) wisely said, "Alcohol starts endless debates, and endless debates are best settled over a drink."

A is for American single-malt whiskey
It ain't anything like your grandpa's musty Dewar's-and-soda dumped in a rocks glass. It's also very different in flavor profile and complexity from more familiar single-malt scotch, which by law may only be made in Scotland (like Champagne can only be from that region of France, and tequila from a specific area in Mexico). Leave it to renegade American distillers to challenge the sometimes-murky categories of U.S. whiskey production beyond, say, bourbon.

There are only a few U.S. distillers making malt whiskey, but bartenders and booze geeks alike are looking for this trend to boom big-time—and soon.

So let's break down what exactly American single-malt whiskey means and why you should care about its growing cred in the whiskey world. Jeff Thompson, founder and president of the Utah Whiskey Drinkers Union (an affinity group of 500-plus local members), gave me some insight into why distillers are fighting to get a consistent "standard of identity" on the legal books for the currently crazy category. "American malts are made with the same ingredients as scotch or most Irish whiskey, but it's made with American standards, ingenuity and some definite flair," he says. He gives an example that most single-malts coming from Scotland are made from one kind of malted barley (usually locally sourced) and then fermented, distilled and bottled at the same single distillery.

American distillers have completely turned this model upside down. Thompson recommends trying out Utah's only grain-to-glass malt whiskey producer, Sugar House Distillery, to get a taste of what's going in the genre at a solid price point compared to imported single-malt scotch. SHD uses three kinds of malted barley, all sourced within 120 miles of our salty city; they ferment, distill and bottle on site and age in new American charred oak in the tradition of bourbon.

Seattle's award-winning Westland Distillery uses five varieties of barley in their mix, turning up the curiosity factor to 11.

"These distillers are taking the idea of this classic, almost sacred, whiskey and turning it on its ear, which is a very American thing to do," Thompson says. This risky business is paying off big-time for local producers: Last summer, Sugar House Distillery's 100 percent malt whiskey scored 91 points from Wine Enthusiast, with the reviewer impressed by the oak-forward nose and palate "with a core of toffee and caramel and a long, creamy finish accented with hot cinnamon." Thirty miles southeast in Park City, Alpine Distilling bottles a 100 percent barley malt called Traveler's Rest Whiskey, aged 16 months and finished with French oak, which won a gold medal in the 2017 SIP awards. Meanwhile, South Salt Lake's Dented Brick Distillery recently welcomed Hugh Moon to their already impressive draft. Per DB's website, the white whiskey pays homage to its namesake—Joseph Smith's mythical bodyguard—by providing a fair amount of "good satisfaction." We'll raise our sacrament cups to that.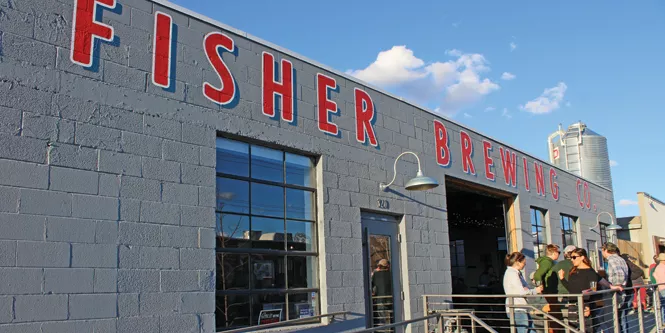 Beets, Blueberries and Beyond in local beer: If you find seasonal beet beer on A. Fisher Brewing's revolving tap menu, snap up the opportunity to taste it before it's gone. No joke. I've heard that it's refreshing, earthy and only slightly sweet but, goddammit, I haven't been able to try it first hand because it sold out before I could get my greedy paws on a stone-cold glass. Co-owner Tim Dwyer was cheerfully unapologetic when I first stopped by the revived brewery's sweet industrial spot in the Granary District. "We use local ingredients when they're available and brew in small batches. When it's gone, it's gone," he said. Fortunately, there were more than enough brews available at Fisher to assuage my disappointment. Denied on imbibing beets as a particular unusual ingredient, this intrepid gumshoe did the tough work of sampling sips from a slew of local suds-makers using unusual ingredients, proving that local creativity abounds.
On the summer shortlist for hops inspiration: Wasatch Brewery's refreshing and bright blueberry hefeweizen, Shades of Pale's clementine-based Slick City Citrus IPA and Proper Brewing's Lake Effect, a gose based on an old-school Leipziger ale recipe brewed with at least 50 percent wheat, coriander and local salt. Oh, and, hard cider fans, rejoice! Mountain West has made a 6.9 percent ABV cider, called Desolation, with prickly pear in a surprisingly dry and simultaneously melon-like mellow concoction not to be missed.

Craving some chocolate? I'm sure you are; Utahns famously fiend all things cacao: We're arguably one of the top consumers of bean-to-bar chocolate in the U.S. But what to imbibe along with it? I asked Matt Caputo of Caputo's Market & Deli, which is known internationally as one of the nation's biggest and best purveyors of artisan chocolate, with some 400-plus varieties available at any given time. He says he taste-tests almost a pound of chocolate every day to figure out which bars make the cut. His advice: "If you're going grape-based, Madeira is amazing with chocolate." He also suggests an aged rum like Appleton Estate 12-year, sipped neat. (I heartily concur). "You wouldn't think it'd work, but beer also goes great with cacao," he says. Think the yeasty, almost bread-like earthy flavors of a rich chocolate like Ritual's Balao 75 percent from Ecuador. Absolutely perfect with the bitter tang of a bold IPA or a classic Belgian sour. What to avoid? "Wine and chocolate just don't mix," Caputo asserts. "Red wine tannins, in particular, are horrible with cacao." Duly noted.
Distilling. That'd be the craft of taking ground grain (or fruit, or molasses, etc.) and fermenting it with yeast and water to make beer or wine, which then gets processed in a still to vaporize the liquid and extract alcohol. U.S. regulations allow quite a bit of wiggle room on how companies and the people who operate them title themselves. According to Distiller's Guild of Utah President Ethan Miller, local booze brands "represent several different business models" that reflect national liquor production examples. These vary from artisan distillers who (bless their OCD hearts) control every aspect of the process—from sourcing local grain for fermentation through tightly monitored distilling runs and various barrel-aging strategies, to independent bottlers who import base spirits from manufacturing facilities out of state and adjust or "rectify" them on-site with filtering or adding spring water at desired proof for sale. Some companies—like Utah's first licensed distillery since Prohibition, High West—do a bit of both, combining a model of on-site distilling for some products and blending spirits brought in from elsewhere for other label runs with award-winning results.
So it's basically a buyer education situation: Many people don't care how the juice was made, as long as they like what ends up in the glass at an appealing price. Best way to see how your booze gets into the bottle? Go for a tour and talk to the owners and distillers about their process. Utah distilleries offer up to 2.5 combined ounces of sampling on-site for a small fee in addition to tours of their facilities, under educational permits granted by the Utah Department of Alcoholic Beverage Control Commission. The best kind of try-before-you-buy.
Eggs. Or to be precise, egg whites. Although eggnogs and some punch concoctions call for whole eggs, separated egg whites are an optional (though some would say optimal) ingredient for developing body in drinks like New York sours and other citrus-forward flavor bombs. They're epitomized in booze history as a key component of "fizz" cocktails, famous as a classification of restoratives and hangover cures. Booze + protein = Hallelujah. At one New Orleans bar, Ramos gin fizzes were so popular, they had a whole crew of cruelly underpaid young barbacks whose only job was to shake-shake-shake each drink for 12 full minutes. In 1914, cocktail chronicler Ernest P. Rawling said of the fizz, "After a long automobile trip on hot and dusty roads, it is then that the gin fizz comes like a cooling breeze from the sea, bringing new life and the zest and joy of living."
Considered one of the great classifications of cocktails for summertime refreshment, some contemporary bars cleverly use free-standing, milkshake-whirling contraptions to do the work of a platoon of tin-shaking barbacks. Some local spots nailing the hell out of the frothy fizz experience are the fine folks at Under Current (279 S. 300 East, 801-574-2556, undercurrentbar.com), who have at least one original fizz on the menu at any time. Rye (239 S. 500 East, 801-364-4655, ryeslc.com) cleverly includes a Wake Up fizz on their day drinks menu (starting at 11:30 a.m.) with a nod to its original hair-of-the-dog restorative qualities. The barkeeps at Tupelo Park City (508 Main, Park City, 435-615-7700, tupeloparkcity.com) recommend tossing the straw when served a fizz of any variety "to get that frothy goodness right up front." It's all part of the fizz experience.
Frozen drinks in a flash? Who are we kidding? Sometimes we don't have the time, energy or desire to dig out the blender, see if it still works after the last daiquiri debacle when the mood music of the party was overwhelmed by the grating racket of sub-par ice crushing. Cheap drink hack to the rescue!
Step 1: Make a trip to your Kwick-E-Mart's swirling frozen beverage dispenser. Fill up a few cups of Slurpee, Frazil or Slush Puppie with your favorite flavors.
2: When at home, add the alcoholic doctoring of choice, stir well to combine, add a lid to keep spills to a minimum and store in the freezer. The high sugar content of the slushy substance (usually packed with high-fructose corn syrup and artificial food dye; e.g. the breakfast of champions) combined with alcohol's lower freezing point means that these perfect ready-to-go sippers won't freeze into a block of ice prior to serving.
3: To get the party started, have the slush sit at room temperature for a couple minutes to soften up, then stir with a long spoon to recombine ingredients evenly and reactivate that distinctive carbonated zip.
4: Pour into your serving vessel of choice—don't forget the wide-ass straw. With more than 200 flavors available on rotation nationally, Slurpee's got you covered for endless frozen cocktail options—think white rum in Piña Colada, a slug of bourbon in Wild Cherry, some tequila in your Cactus Cooler, vodka in your Sour Patch Watermelon, or my fave: equal parts bitter Campari and gin to balance that super-sweet Lemonade. It's the best kind of brain freeze.
Glassware of the proper variety for a specific beverage is to mismatched stadium cups as ironed cloth napkins are to a pilfered stash of paper take-out ones. Yup, it's time to grow out of your D.I.-purchased mismatched glass set, kiddos, and move to the grown-ups table, elegant coupe glass in hand. For me, gorgeous glassware says as much about a host as their (hopefully overflowing) bookshelf. John Waters was onto something when he said, "If you go home with somebody and they don't have books, don't fuck 'em." From old Southern etiquette books to contemporary bar manuals, drink pros recognize that the right glass for the job is about more than appearance: The volume of the beverage served, how long and well it stays chilled and how aromas are concentrated or dissipated are a crucial part of the cocktail experience.
Ever drink a big, bold California cabernet out of a Champagne flute? Ruins the whole dealio. In Charles H. Baker's 1939 The Gentleman's Companion, Volume II: The Exotic Drinking Book, he includes a delightful rant on why all drinks should be served in stemmed glasses (except for old fashioneds) to avoid clammy handshakes and keep drinks colder longer. He concludes with dry sarcasm, "Many people hold that all cocktails can be served in the usual 2-ounce Manhattan-type glass; and just as rightly we contend that anyone can wear a crimson bowtie with tails." The horror!
He recommends nine varieties (not including wine glasses) as a minimum for a proper glass wardrobe. True story: I'm a huge vintage glass hoarder/collector and completely rationalize my several dozen varieties because it's for work, dammit. And not to knock the D.I., I've found some real treasures at rock-bottom prices, like adorable Nick & Nora coupes scored for 68 cents each.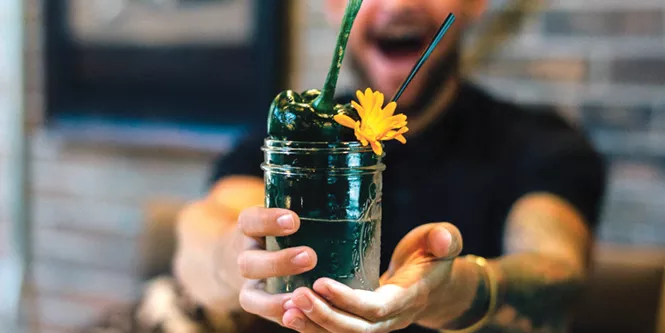 Kerri Fukui
Life of Poblano
Hot pepper-based ingredients—like jalapeño syrup, charred shoshito-infused vodka, local Bitters Lab (bitterslab.com) habanero-lime bitters, Ancho Reyes chile liqueur—are part of a continuing cocktail trend, as they add a spicy kick to counterbalance citrus and sweet. At Pallet (237 S. 400 West, 801-935-4431, eatpallet.com) a couple of seasons ago, award-winning bar manager Bijan Ghiai made an unforgettably clever cocktail, The Life of Poblano, served in a hollowed-out whole chile and made with spicy-sweet Ancho Reyes and smoky mezcal. When mixing up this beaut, be sure to crank up the "Real Friends" track and shake it like a Polaroid picture. As one friend described the drink, "It's three parts Bijan, one part Yeezy."
Igloo, or your manufacturer of choice for beverage storage and transport. Let's take a minute to ponder that taken-for-granted underdog of summer, the good old-fashioned hard-sided cooler. Just the right size for a couple of beers and a sandwich, or big enough to haul drinks for Beyoncé's entire entourage. Be it green, red, white or a hue no longer recognizable underneath the sticker decoupage repping beer brands, skate companies, ski gear and your uncle's belly-up IT start-up, it's the battered beer-toting essential of summertime sipping found at every family barbeque, picnic in the park or Bear Lake boat trip. Cooler tech has come a long way since the 1950s, when the first portable jug-like water coolers and ice chests became popular. Now, the humble cooler comes in hundreds of iterations, with options like all-terrain wheels, bear- and kid-proof locking lids, built-in bottle openers, sound docks and LED lighting. Pretty posh. Find top-of-the-line Yeti and Utah-made Camp Chef (campchef.com) tough-as-nails badass coolers at Kirkham's Outdoor Products (3125 S. State, 801-486-4161, kirkhams.com), locally owned for 70-plus years.
Jägermeister lovers now have more reasons to rethink their brand loyalty after trying truly original herbal spirits from Utah companies. Check out Ogden's Own Underground Herbal Spirit and Waterpocket Distillery's Notom Amaro for some local incentive. A little bit about this category of booze: Herbal liqueurs are required to have at least 2.5 percent added sugar by weight to the base spirit, but many manufacturers use up to 20 percent (yes, 20 percent by weight) sugar in their recipes. Beyond that, the "herbal" flavor component runs the gamut, but usually includes both bitter and aromatic ingredients like herbs, roots and fruit peel; alcohol by volume/proof is all over the place. Jägermeister is one of the oldest examples, made in Germany since 1935 with the distinctive stag on the label (Jägermeister translates as "master hunter").
And although there are reputedly more than 56 ingredients, none is deer blood, as was an urban myth circulated in the 1990s that just won't die. (Snopes, people.) Underground Herbal Spirit is bottled at 80 proof (40 percent ABV, in comparison with J-bomb at 70 proof) and uses about half as much sugar as most liqueurs, allowing for the blend of 33 herbs and spices to shine through. It's also racking up the recognition, winning a Double-Gold Medal in the San Francisco World Spirits Competition and was selected Best Liqueur in the Americas at the Spirits of the Americas Competition. New kid on Utah's growing distilling block, Waterpocket, is developing a truly original "Long Lost" series of spirits meticulously researched by distiller Alan Scott, who painstakingly recreates historical recipes and tweaks them for modern taste profiles and distilling technology.
If you're thinking cheerful druid mad scientist, that's pretty close to the Waterpocket tour experience (hey, Alan: That's your Halloween costume this year; you can thank me later). While there, try their boozy Notom, which Scott describes as "an amaro from the central European Kräuterlikör tradition. Gentian and rhubarb roots add bittering which is balanced by fennel, green anise, clove and cinnamon aromatics." He suggests drinking it warm for the full impact of the botanicals, but also likes it chilled for a smooth after-dinner digestif.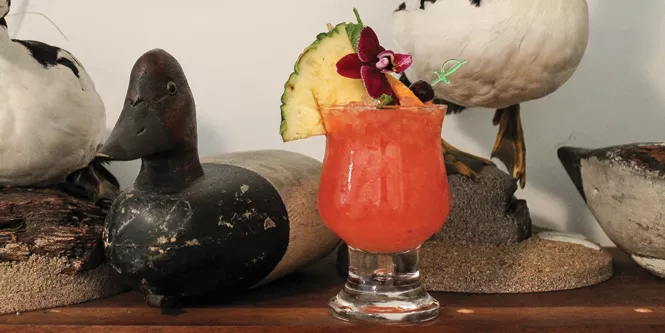 Darby Doyle
Knickerbocker à la Monsieur
Knickerbocker cocktails, now virtually extinct, deserve a resurrection. This class of cocktails rising from New York in the 1850s and '60s had at its base a heady combination of rum, citrus juice, fruit syrup and Curaçao, and was perhaps named after the Empire state's Knickerbocker ice company, or later on the timeline, the legendary Knickerbocker Bar—a good bet, considering its role as one of the first punches to be served with copious amounts of shaved ice.
Drink historian David Wondrich calls it "the spiritual progenitor of the Tiki drink," also associated with the fly fellas who drank these refreshing coolers in the summertime wearing their knickerbocker truncated knee-breeches. Keep it local using one of Utah's many rum producers (Dented Brick, Distillery 36, Kid Curry, Outlaw Distillery or Sugar House Distillery) and make the raspberry syrup from berries snagged at your nearest farmers market.

Liqueurs, part deux: We already congratulated Utah booze-makers tackling herbal liqueur, but there's a slew of other local liqueurs on the shelves or in development. This category especially illustrates where Utah producers have gone creatively bonkers, in the best way. In addition to the previously mentioned Notom, Waterpocket Distillery is developing several others, including coffee, an Irish-cream style and a mind-blowing Oread, which distiller Alan Scott describes as "a complex botanical spirit based on the Danzig liqueur tradition. Distilled like gin, it melds the flavors of sage, star anise and sweet orange peel on a ginger and galangal root base.
It is moderately sweetened to let the flavors of the botanicals do most of the work." A longtime local favorite for fruit wines and mead, The Hive Winery started making brandies and liqueurs with local fruit (pear, cherry, raspberry, currant—whatever they can get their hands on). Distiller Lori Yahne claims she has "the state's smallest commercial still" working just 25 gallons of fruit wine at a time to distill down to 3-6 gallons of spirit. At New World Distillery in Eden, distiller Chris Cross came out of the gate swinging with a kickass gin, an agave spirit and an agave-distilled vodka. Up in Park City? Check out Alpine Distilling's Preserve Liqueur, with sweet floral notes coming through the liqueur made with tea, fruit and spice.
Milk Punch. Apologies to the lactose intolerant, but for those of us diving into dairy on the daily, there's nothing like the crystal clear aspect achieved by a milk punch. Nope, it's not a concoction similar to a melted milkshake, as I imagined the first time I saw it described in a vintage bar manual. That'd be the other kind of milk punch, popularized in the Deep South and made with cream, brandy and a titch of nutmeg—a whole 'nuther animal. In this historical instance, the current punch renaissance is more like a technique than a recipe, and moreover, it's one of the earliest culinary hacks transmitted to the bartender's bag of tricks. Now often called "fat washing," folks in 17th century Western Europe added milk to boozy citrus punches to mellow the stomach-achy acidic effects of all of that lemon and lime juice.
Very non-scientific short version: After clearing away the bubbly raft of gunk created when dairy fat from milk and citrus react and bind together, the resulting potion retained a full-bodied flavor with stunning clarity and had a longer shelf-life, a boon in the days before refrigeration. In his seminal work on the subject, Punch: The Delights and Danger of the Flowing Bowl, booze historian David Wondrich notes that milk punches became so popular in the early 19th century that they were available bottled. Wondrich writes, "Queen Victoria so liked the version Nathaniel Whisson & Co. bottled that in 1838 she had them named 'Purveyors of Milk Punch to Her Majesty.'" Modern bartenders make small-batch versions to serve as single-serving cocktails, which you'll sometimes see on the menu at Water Witch (163 W. 900 South, 801-462-0967, waterwitchbar.com); co-owner Scott Gardner is a huge fan of the technique and one of Salt Lake's most vocal punch proselytizers. Bartenders are even playing with vegan alternatives to cow's milk using coconut and other nut milks. Keep an eye on this bit of bar geekery on the verge of going mainstream.
Negroni cocktails are classic for a reason. Equal parts gin, sweet vermouth and Campari chilled with ice, the sky's the limit for improvisation. And if you can't fly to Italy for the summer, ordering one at your favorite bar is the next best thing. Considered one of the harbingers of the summer drinks season, bartenders (aided by the marketing chops of the above mentioned brand) have designated the first full week in June national Negroni Week, an annual event with bars and restaurants all over the country donating $1 (or more) of every Negroni sale to support causes near and dear to the hearts and wallets of participants. According to U.S. Bartenders Guild Utah chapter vice president Tracy Gomez, 15 state hotspots participated last year; most donating to the Utah Rivers Council. Nationally, bartenders raised just over $400,000. Cheers to doing good by drinking well! Check out their Instagram
@team_negroni_utah for more.
Orgeat is a cloudy almond-based syrup with fragrant rose or orange water notes. Pronounced "or-zhyuh" with a silent T [or for the dictionary-obsessed, \ˈȯr-ˌzhä(t)\], 'twas originally made by the French back in the day with barley water with the intent of settling icky tummies. But like related pharmaceuticals, bitters and tonic water, it meandered into the drinks ethos as a cocktail ingredient, swapping out almond for less shelf-stable barley over time. Orgeat became popular during the mid-century tiki craze, for which Victor Bergeron of Trader Vic's fame took cocky credit, saying, "There has been a lot of conversation over the beginning of the mai tai. And I want to get the record straight. I originated the mai tai back in 1944." He claims he made it at his original Oakland restaurant for friends visiting from Tahiti, who took one sip and proclaimed, "mai tai—roa aé," which Bergeron translated as, "out of this world—the best." Bergeron stuck with "mai tai" and, during the 1950s, it was served at all of his Hawaii bars, as well as cruise ships like the Matson Steamship Lines, President Lines and the Royal Hawaiian, Moana and Surfrider hotels. It eventually swept the nation. "Anybody who says I didn't create this drink is a dirty stinker," Bergeron continued.
Paloma. Move over, margarita; it's time to share some tequila sexy-time with La Paloma. A cocktail more popular in northern Mexico—and in Texas ruby-red grapefruit country—than the margarita, it's a simple combination of tequila, a bit of lime juice and grapefruit soda (like Jarritos), all poured directly over crushed ice. For a truly authentic Paloma experience, City Weekly Editor Enrique Limón recommends the superlative Paloma served at Chile Tepín (307 W. 200 South, 801-883-9255, facebook.com/chiletepin) presented with a salted rim and traditional cantarito (clay cup). Restaurant owner Carlos Rodríguez revealed to Limón that he makes the house Paloma with Cazadores Reposado tequila and fresh lime and grapefruit juices, creating a lovely balance of sour and sweet refreshment along with a decidedly boozy kick. We'll say ¡salúd! to that.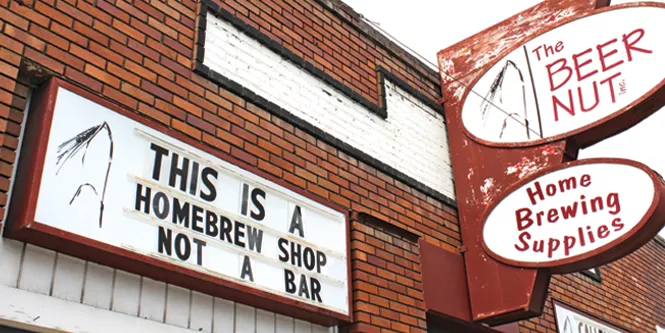 Quirky. That'd be a generous way to describe our state's annual whiplash of alcohol legislation, with the 2018 session staying true to confusing and complicated course. Keep in mind some of these changes are still under review and won't go into effect for months. Some recent highlights:

•Despite hopes otherwise, our often-mocked Zion Curtain still hasn't come down entirely. See, Legislators believe Utah's youth stands on the precipice of addiction and moral peril with every cocktail shaken and stirred in front of their vulnerable eyes. Restaurants now have the option of creating a "moat" limiting general seating visibility to the bar area for the under-21 set. Current Fish & Oyster famously hosted their curtain demolition party after last year's legislative session. New theme night alert! And according to SLC rock star liquor lawyer, Tanner Lenart, there's a "small restaurant license" exception to the moat requirement, sensibly (say what?!) saving some small restaurants from having to go 21-plus only altogether. Says Lenart: "See: lots of narrow buildings in Park City."

•All these months into it, are you as confused by those "restaurant, not a bar" signs as I am? Can I order a drink at a restaurant? Eat at a bar? Most restaurateurs I talked to said, with a shrug and eye roll, that it's just one more piece of paper they're adding to the wall-o'-framed permits by the hostess stand. Good news on the confusion front! I asked Salt Lake Area Restaurant Association Executive Director Michele Corigliano to shed some light on the subject when they first took effect. "It's become an inside joke and, quite frankly, I think it could have been worse. I think it somewhat bonds Utahns." Lenart notes that fortunately for the font-challenged (you know who we're talking about, Comic Sans) it looks like if all goes well, restaurants can take 'em down in May. Bars will need to have a sign stating something along the lines of "This is a bar. No one under 21 allowed." Easy-peasy.

•Nearing the end of the 2017 legislative session, state lawmakers passed the lowest blood-alcohol level while driving baseline in the nation, lowering the limit from .08 to .05. During preliminary discussions, several legislators brought up that they see this as a salvo for zero tolerance for any driver drinking alcohol in any quantity, despite the fact that there are no scientific studies backing up this claim. Statistically, drivers at .15 BAC or higher are the riskiest drivers, and this law does nothing to address that issue.
Corigliano saw this shift as damaging to both Utah's tourism draw and economically to restaurants' bottom-lines. "Right now, a regular restaurant license needs to maintain 70 percent food sales to 30 percent alcohol sales. Most restaurants hit this range or come pretty close to it," she said. "We feel the responsible drinkers who in the past had a glass of wine with dinner or shared a bottle with a group of friends will eschew alcohol altogether. …Those people who give up a drink at dinner do not order more food to compensate. So that revenue just dissipates." And margins are already tight for local, independent restaurateurs. Corigliano also notes that studies show more people die from eating and driving (or, heck, being old enough to qualify for an AARP card) than do from driving in the .05-.08 range. Despite valiant Hail Mary bills (by Jim Dabakis and Karen Kwan) to delay the start of the current law set to go into effect December 30, 2018, neither made it out of committee. We're all for responsible driving, but WTH? Here's hoping this isn't a final coup de grâce.
Roulette, bartender style. That's the term for letting your barkeep go wild, but there are some unspoken rules when playing Bartender Roulette: 1. If you absolutely hate scotch or are really in the mood for something with gin, give them a heads-up to run with; you'll both be happier. Just keep it brief. 2. Give 'em time to work. My favorite bartenders like to shake up some standards for other customers at the bar while they ponder a bit on what they'll send my way and maybe shoot me a "sweet or savory?" question or two. All part of the creative genius. 3. Don't send it back. Ever. That's why they call it roulette, buddy.
State Liquor Stores—welp, what can we say? Looks like this particular monopoly won't end anytime soon, so let's look at the silver lining, shall we? In addition to beverage taxes going to support the state's general fund, liquor sales support programs like the public school lunch fund. So, basically, you're doing it for the children. Favorite rationalization? Rather than having to call a dozen different private liquor stores to find a rare bottle of vino or unusual bourbon, just search the state DABC inventory online (abc.utah.gov) and find out not only if the brand is available in Utah, but at which store and how many bottles are in stock. Downside? The system is only as accurate as the information loaded into it.
Before making the trek to Draper or St. George for that sparkly unicorn, call ahead and talk to a real person who can check the shelf for you. Out-of-stock items can be special ordered, too. Gather a few like-minded friends desperate for Averna or jonesing for a unique gin and submit a case order through the DABC. It might take months to get your paws on it, but payment isn't due until pick-up. The search engine for locating products is kind of clunky (to put it kindly) and buried in the website, but you can find the main link excavated just for you in the online version of this article. Good hunting, friends.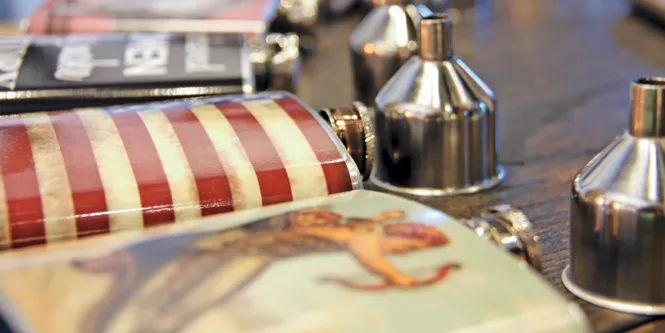 Tools for basic bartending don't need to be expensive, but you should have a solid setup for both shaking and stirring in your arsenal. Huge oversimplification here, but generally, drinks are shaken to effectively incorporate things like citrus and cream or eggs; drinks stirred over ice use this technique to chill and protect the clarity of all-alcohol recipes like Manhattans. At the absolute minimum, your shopping list should include: a metal shaker of whatever variety, some kind of strainer, pint-sized or larger stirring glass and a long-handled bar spoon. Boozetique (315 E. 300 South, 801-363-3939, boozetiqueslc.com) has everything you'll ever need in one stop, with ever-knowledgeable proprietor Ivy Earnest ready to set your ass up from entry level to advanced bartending. Conveniently located just around the corner from the top-flight 3rd & 3rd downtown wine store, the 'tique is the place to source accouterments for any wine, beer or cocktail occasion—from recycled Utah brewery label coasters ($9) to cocktail mixers ($12-$25) to a gorgeous selection of decanters ($30 and up) and vintage glassware. The emporium also stocks some of the best professional bartending equipment available in SLC; I've got the weighted Piña Founder's Tin shaker on my wish list ($27.99). Planning on some home bar gifting (the best kind of hostess "hello")? Ernest can put together a custom wood gift box with all the finished wrapping details included; you just need to sign the card.
USBG Drynks Guide. (And yes, autocorrect, that's their spelling.) The Utah Chapter of the U.S. Bartenders Guild's (usbgutah.wordpress.com) long-awaited cocktail compendium is filled with original recipes, spins on classics and gorgeous photos, all shaken and stirred by your favorite drink-slingers around town. Founded in 2013 by local potions professional Sean Neves, bartenders from the Utah chapter meet up regularly for continuing education and compete in national cocktail events (where they do pretty damned well, btw). Although most members are professional bartenders, USBG membership is open to cocktail enthusiasts and lovers of all things boozy. Perks include seminars on technique, private industry-only tasting opportunities and once-in-a-lifetime meet-ups with brand legends like Ed Hamilton, who came to SLC for a rum-education afternoon at Lake Effect that USBG members are still recovering from in teary reminiscence.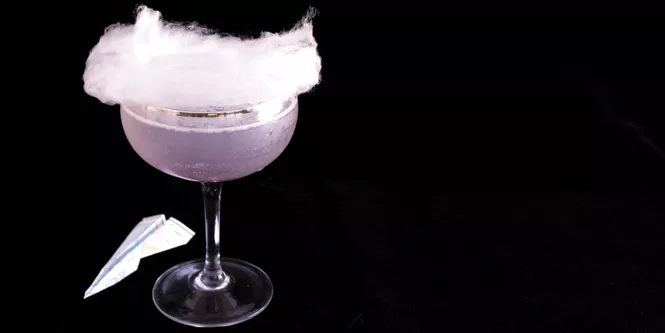 Darby Doyle
Aviation
Violette—as in crème de violette, a violet-infused liqueur essential for making Aviation cocktails, which are as gorgeous as they are tasty. Although it was undoubtedly shaken up well before then, 1916 saw the first published Aviation cocktail recipe via New York City barman Hugo Ensslin. This'd be during America's fledgling flirtation with all things flyboy-related. (U.S. History 101 here: Wright Brothers, 1903, Kitty Hawk, steampunk goggles.) During Prohibition, French crème de violette was rarer than hen's teeth in the U.S., but after WWII became more readily available at the same time commercial air travel was economically feasible for even middle-class Americans.
In comparison with our current environment of sweatpants-laden hordes and the indignities of TSA pat-downs, the 1950s seem like travel's halcyon days, at least as far as fashion and cocktails go, with "air hostesses" and "stewardesses" trained in the art of shaking and stirring dry martinis by request in the smoke-filled cabin. Hell, drinking a couple of Aviations before cramming into a typical coach seat might make our next flight a bit more bearable. The fly fellas at O.P. Rockwell (268 Main, Park City, 435-565-4486, oprockwell.com) have been making some killer variations on Aviations and Arsenic & Old Lace cocktails using violet liqueur for a while. Can't make it to PC? Finding crème de violette (or close relative Crème Yvette) can be a bit of a challenge locally, but there are almost always a handful of bottles floating around in the inventory. Pick one variety and you'll have it for a while. No home bar needs multiple bottles of purple perfumed booze taking up room that could be used for some really good bourbon.
Wine in Utah? Yup. It's not surprising, since our state's warm, dry climate and rocky soil already supports a handful of vineyards with some serious terroir. Since the 1970s, Utah growers have been experimenting with wine grape varietals from cabernet sauvignon to chardonnay. Both Layton in the north and Moab to the south now support bustling tasting rooms and wine education seminars. Utah-based winemakers also source grapes from Oregon, Washington and California to produce their juice. And The Hive Winery has been a longtime source for small-batch fruit wines, brandies and honey mead. One of the West's renegade natural fermentation winemakers, Evan Lewandowski, makes wine right here in SLC when he's not doing it in Australia, Africa or Alsace. "The soils here are varied and pretty amazing—pebbly, cobbly, rocky, sandstone, limestone, shale," Lewandowski boasts of the Beehive. "Many places are absolutely perfect for the cultivation of extremely high-quality wine grapes. The same can be said for our climate here in Utah; political climate aside. I'm one million percent certain that world-class wine will one day be grown here. It's a matter of time. If I don't do it, someone else will."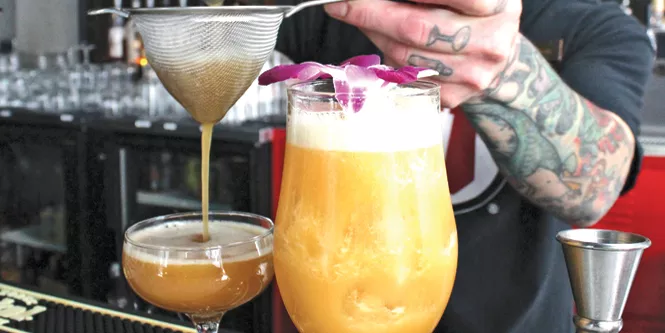 X-Factor
. Some of our contributors (and who better to ask about drowning their sorrows than overworked journalists) say these local watering holes have it:
Enrique Limón, City Weekly/City Guide editor
"For my taste, Good Grammar boasts some of the best cocktails in town. Whether you're a fan of The Walking Dead or my personal adaptation, Walking Buzzed, their Zombie is sure to do the trick. This elixir comes loaded with a combination of rum, pineapple and orange juice and a twist of lime for a true taste of the tropics—just add sunblock (not to the drink, naturally)." 69 Gallivan Ave., 385-415-5002, goodgrammar.bar

Dylan Woolf Harris, City Guide contributor
"When I'm looking to class up my beer, I order it with a skewer of olives—a tasty drink/snack combo a flight attendant clued me to one night at the Tavernacle Social Club." 201 E. 300 South, 801-519-8900, tavernacle.com

Scott Renshaw, CW A&E editor
"When waiting for a show at the Rose Wagner Center, I can't resist chasing my dinner at Squatters Pub with a Chasing Tail Golden Ale. The English-style pale ale is versatile enough so pair with plenty of meals, or a refreshing delight all on its own." 47 W. 300 South, 801-363-2739, squatters.com

Mike Riedel, CW beer columnist
"The Thor at Lake Effect satisfies my bourbon and espresso cravings in one glass. It's made with Booker's bourbon, Rittenhouse rye, espresso-infused demerara syrup, Angostura- and barrel-aged bitters. Oh, Baby!" 155 W. 200 South, 801-532-2068, lakeeffectslc.com
Darby Doyle
Don Justo
Yellow Chartreuse—a slightly mellower kissing cousin to herbal and artichoke-forward green Chartreuse—is having a little moment in the cocktail scene. Not quite top-billing among global liqueur players, but definitely getting some well-deserved ensemble cast recognition. Made in a monastery near Grenoble, France, since the 1730s, legendarily only two Carthusian monks know the recipe for concocting Chartreuse of either hue at any one time. In comparison with potent green Chartreuse (bottled at 55 percent ABV), yellow Chartreuse has a more sweet, honey-like floral quality and is bottled at lower 80 proof (40 percent ABV). Bartenders particularly like the yellow version for balancing out strong bitter or sour elements. A little bit goes a long way, well worth the $30 splurge for a half-bottle (currently only available in Utah by special order). At Finca (327 W. 200 South, 801-487-0699, fincaslc.com) try a cocktail that barkeep Jared Asplund calls the "Don Justo" ($12), made with tequila blanco, yellow Chartreuse, sherry and a Campari rinse. For cocktail nerds, that'd be a bijou variation with Campari. De-lish.
Finally,
Z is for zest. Citrus is more than something to drop in your cocktail for appearance sake, it's a key component of the drink experience. Like any good performance, building a great cocktail has a compelling backstory, a bit of drama and a memorable presentation.

At The Rest (331 S. Main, below Bodega, 801-532-4042, bodega331.com), bar manager Adam Albro told me one night when stirring up a delightful Sazerac ($11), incorporating all of these elements along the way, that "rubbing oils from lemon zest to the rim and stem of a glass isn't just for show; it adds to the whole sensory experience of the drink"—from the first whiff to the subtle fragrance lingering on your fingertips as you enjoy the cocktail. For the home bar, a good, sharp paring knife can get the zesting job done in a pinch. But fancy-schmancy shortcuts to make elaborate Pinterest-worthy garnishes require two inexpensive tools you might already have in your junk drawer: a narrow channel knife (with a V-shaped notch) and a horizontal (also called "Y") vegetable peeler. Garnish game gauntlet, thrown.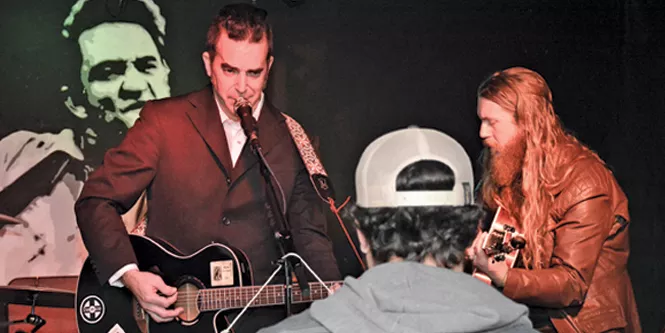 Josh Scheuerman
A Bar Named Sue
Essential Beer Bars / Sports Bars
A Bar Named Sue
This Johnny Cash-themed bar hosts Cash-themed signature events like a JC Birthday Tribute and Sing O' Fire Karaoke nights. Take a selfie with the Johnny Cash murals for extra points. 3928 S. Highland Drive, 801-274-5578; 8136 S. State, Midvale, 801-566-3222, abarnamedsue.net
The Bayou
The O.G. of all SLC beer bars. Owner Mark Alston regularly picks out new flavors to bring into The Bayou. For the best approach to new suds, download their app. 645 S. State, 801-961-8400, utahbayou.com
Beer Bar
Locals talk about going to Ty Burrell from Modern Family's bar, but Beer Bar could live on its own merits as a solid watering hole offering 140-plus beers and locally sourced pub fare. 161 E. 200 South, 801-355-3618, beerbarslc.com
Beerhive Pub
A Main Street mainstay and easy to see why. Several staffers have been around for years and are extremely helpful navigating their extensive beer list. Sporting Utah's only ice bar is a nice complement. 128 S. Main, 801-364-4268
The Break
Being nestled in the Daybreak community, you're offered some respite in Salt Lake suburbia. 11274 Kestrel Rise Road, South Jordan, 801-987-3354
Fiddler's Elbow
One of the few cornerstone Sugar House businesses left after the urban development facelifted the area. Fiddler's has been a draw for decades and looks like it will remain as such. 1063 E. 2100 South, 801-463-9393, fiddlerselbowslc.com
Ice Haüs
Beers. Brats. Booze. Right on its logo. You'll want to find yourself in Murray to experience this charmer. 7 E. 4800 South, Murray, 801-266-2127, icehausbar.com
Johnny's On Second
$4 shot and a beer. Come on, let's be real: In any metropolitan area that's just a steal. 165 E. 200 South, 801-746-3334, johnnysonsecond.com
Legend's
Here's a solid family-friendly sports bar just outside of downtown proper. Great for youth sports team dinners and hangouts with friends if you can't score tickets to the Jazz or RSL. 677 S. 200 West, 801-355-3598, whylegends.com

Lumpy's
Salt Lake's original neighborhood sports bar and supporter of all teams that rep Utah.
145 W. Pierpont Ave., Salt Lake City, 801-883-8714; 3000 S. Highland Drive, Salt Lake City, 801-484-5597, lumpysbar.com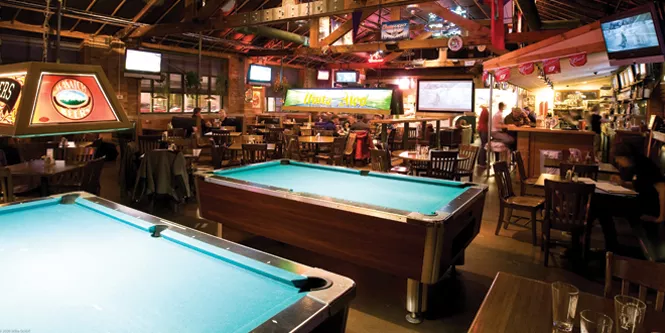 Derek Carlisle
Fiddler's Elbow
Essential Clubs
The Depot
The Depot holds it down in the Gateway district. And with one of the best lineups, they continue to help grow the thriving music scene. 400 W. South Temple, 801-355-5522, depotslc.com
Duces Wild
A Cheers-style bar, only with dancers. Call it your "slightly naughty" neighborhood bar. 2750 S. 300 West, 801-467-4600, duceswildslc.com
Hog Wallow Pub
You'd be hard-pressed to find a more unique pub in Salt Lake. You'll certainly want to find yourself on their one-of-a-kind patio after summer hikes in the Cottonwoods. 3200 E. Big Cottonwood Canyon Road, 801-733-5567, thehogwallow.com
Piper Down
For St. Patrick's Day, Piper changes all its taps to Guinness. What else do you need to know? Oh, befriend a bartender and ask about its namesake. Straight-up Utah bar lore. 1492 S. State, 801-468-1492, piperdownpub.com
Prohibition
This 1920s-themed bar in the heart of the valley serves up some fancy craft cocktails and taps that only pour local beer. 151 E. 6100 South, Murray, 801-281-4852, prohibitionutah.com
The Royal
The Royal taps into a wide variety of genres making it a Murray destination bar attracting fans from all over the valley. Reggae Thursdays are a staple and its Tuesday open mics night have been known to feature local celebrities. 4760 S. 900 East, Murray, 801-590-9940, theroyalslc.com
Sky
Owner Ken Dismore got his inspiration for Sky from some of the best clubs and music festivals around. For EDM lovers, Therapy Thursdays are top notch. 149 W. Pierpont Ave., 801-883-8714, skyslc.com
The State Room
Do these guys know how to book acts or what? A must-visit for intimate vibes and big names. 638 S. State, 800-501-2885, thestateroom.com

Trails Men's Club
Not far from downtown, Trails is Salt Lake's premier gentlemen's club with the biggest stage and the hottest ... steak dinner specials. 921 S. 300 West, 801-363-2871
The Westerner
This unpretentious west-side country bar doesn't require a cowboy hat, but you're going to want to line-dance, nonetheless. 3360 S. Redwood Road, 801-972-5447, westernerslc.com
Josh Scheuerman
Cheers To You
Essential Dives / Neighborhood Bars
Bongo Lounge
Cheap drinks flow like manna at this Millcreek dive bar. 2965 S. Highland Drive, 801-466-1577
Cheers to You
Norm hasn't been here, to our knowledge, but come enough and everybody will know your name. For a downtown bar, it certainly has that neighborhood feel. 315 S. Main, 801-575-6400; 7642 State, Midvale, 801-566-0871, cheerstoyouslc.com
Cruzrs Saloon
With darts, billiards and bar-staple game nights like Texas Hold 'em tournaments, there's something for everyone here.
3943 S. Highland Drive, 801-272-1903, facebook.com/cruzrssaloon
Dick 'n' Dixies
A Real Salt Lake fan and player favorite. Don't worry, though, Nick Rimando won't stop you from having a good time.
479 E. 300 South, 801-994-6919
Funk 'n' Dive
One of the fanciest "dive" bars you'll ever see. If you haven't tried Tatchos, do it. Do it now. 2550 Washington Blvd., Ogden, 801-621-3483, funkanddive.com
Mid City Pub
Not just a stopping point before and after you pretend to be Rory McIlroy at TopGolf. 7101 Bingham Junction Blvd., Midvale, 801-566-0505, midcitypubslc.com
O'Shucks Bar & Grill
This unassuming basement bar features $3 schooners on Wednesday nights and adjacent Ahh Sushi serves up some mean rolls. 22 E. 100 South, 801-359-6770
Patrick's Pub
Conventioneers need a break between sessions. Kitty-corner to the Salt Palace Convention Center, Patrick's is the perfect place to use that company card you snagged. 163 W. 200 South

Quarters Arcade Bar
Stiff drinks plus the state's only Killer Queen 10-player arcade game can be found at this new downtown fun hub.
5 E. 400 South, quartersslc.com
The Tap Room
There are no frills at this Sugar House staple. Just the good hooch and a friendly staff. 2021 E. Windsor St., 801-484-6692, facebook.com/slctaproom
X-Wife's Place
One of Salt Lake's last stands against credit card machines. It's cash-only at this dive bar that won't come close to breaking the bank. 465 S. 700 East, 801-532-1954
Derek Carlisle
Funk 'N Dive
Essential Lounges
Alleged
This upscale lounge in Ogden features one of the neatest rooftop patios around. 201 25th St., Ogden, 801-990-0692, alleged25th.com
Bourbon House
Bourbon House sells the most Jameson in all the land. You'll never feel more sophisticated throwing down a few picklebacks than you will here. 19 E. 200 South, 801-746-1005, bourbonhouseslc.com
Club 90
Game room, dance floor and the Green Room for private events. Club 90 has it all. 9065 S. Monroe St., Sandy, 801-566-3254, club90slc.com
Good Grammar
This new hip cocktail lounge has a colorful feel and an amazing drink selection. 69 Gallivan Ave., 385-415-5002, goodgrammar.bar
Harp and Hound
Located above the Funk 'n' Dive, the Harp and Hound is Ogden's newest and prettiest gastropub. 2550 Washington Blvd., Ogden, 801-621-3483, facebook.com/harpandhound
Keys on Main
A dueling-piano bar perfect for large parties and company outings. Flip the musicians a solid tip and your favorite tunes will be next on their list. 242 S. Main, 801-363-3638, keysonmain.com
No Name Saloon
Easily one of the most popular bars in Park City, this rustic watering hole is a must-see. 447 Main, Park City, 435-649-6667, nonamesaloon.net
Owl Bar
Robert Redford spared no expense to bring in the bar-top where Butch Cassidy and the Sundance Kid used to belly up. Finding yourself in Utah County isn't all that bad if you make your way here. 8841 N. Alpine Loop Road, Sundance, 801-223-4222, sundanceresort.com
The Ruin
Adhering to the motto "Work is the curse of the drinking class," this place delivers.
1215 E. Wilmington Ave., Ste. 120, 801-869-3730, ruinslc.com
Twist
A former boiler room that once heated up an entire city block, Twist owns that 19th-century look and now heats up on the weekends. 32 Exchange Place, 801-322-3200, twistslc.com
Enrique Limón
Viva La Diva
Essential LGBTQ Bars

Area 51
Where theme nights and good times abound. 451 S. 400 West, 801-534-0819, area51slc.com
Club Try-Angles
Play a game of pool or darts and expand your social circle at this friendly neighborhood bar. 251 W. 900 South, 801-364-3203, clubtryangles.com
Club X
Let Utah's premier Dolly Parton impersonator, Jason CoZmo, entertain you every week with his stellar Viva La Diva show. 445 S. 400 West, 801-935-4267, clubxslc.com
Karamba
For the best Sunday night party, look no further than this Sugar House haunt. 1051 E. 2100 South, 801-696-0639, karambaslc.com
Metro Music Hall
Check out the night's lieup online, and if JRC Events is behind it, go. 615 W. 100 South, metromusichall.com
The Moose Lounge
Hang out with the pretty crowd every Friday night during Revolution. 180 W. 400 South, 801-900-7499, facebook.com/themooseloungeslc
Sun Trapp
Everybody might not know your name at first, but they will after a couple of signature Mason-jar cocktails. 102 S. 600 West, 385-235-6786, suntrapp.com
Zion Bar
Where dance, drinks and drag fabulously collide. 50 W. 300 South, 801-701-8451, zionslc.com