As evidenced by the ushering of tank top weather (aka anything 40 degrees and higher), post-Legislative session hand-wringing and the arrival of this publication, spring has sprung in Salt Lake City.
Our humble City Guide made its debut 17 years ago amid the hubbub of the 2002 Winter Olympic Games. Since then, and with swelling excitement for an Olympics-hosting redux, it continues to be Utahns' go-to fun compass.
In its pages, you'll get chummy with some of our city's cultural power players, experience Sundance like a pro and add 10 new bands to ye olde Pandora playlist. You'll also find a rundown of our state's legendary outdoor activities, an insider's celebration of SLC neighborhoods and a mouth-watering collection of cheap eats from across the Wasatch Front.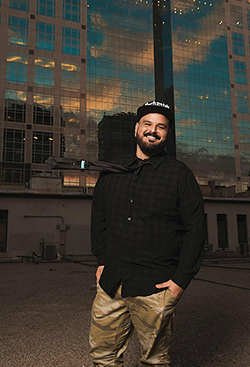 Hungry for more? A ranking of Jazz-themed murals, comprehensive directories of everything you can think of—from local galleries to trivia nights—plus a cocktails compilation and a DIY brewery tour are sure to wet your whistle.
How about a chance to experience Utah the Romney way? Yep, that's in here, too.
In the end, whether you're a fresh transplant or Jell-O green proudly runs through your veins, we hope you hold on to this compendium and think of it as a trusty barometer of all things cool in the Beehive. They don't call it the Punxsutawney Phil of magazines for nothing.
—Enrique Limón
Utah's Super Politicos!
A few political headline-makers to get familiar with, and, of course, keep a bionic eye on.
By City Weekly staff
Whether they spend most of their time in Washington, D.C., or leave you scratching your head with their legislative capers, these are some super political figures you'll want to get familiar with.
Gary Herbert
Elected position: Governor
Dates in office: 2009-present
Superpower: The Chosen One/All-Seeing Overlord. He wields the magic pen that overwrites the will of the voters and ignores their pleas for Medicaid expansion and medical cannabis.

Spencer Cox
Elected position: Lieutenant Governor
Dates in office: 2013-present
Superpower: Lightning fast fingers/hands. His friendly and quirky personality often shows through Twitter and has created an aura of intense likability across both sides of the aisle.

Jackie Biskupski
Elected position: Salt Lake City Mayor
Dates in office: 2016-present
Superpower: Can deflect criticism with her bracelets of submission. Not consulting with neighbors of potential homeless resource center sites? Pew! Moving in on the city's Northwest Quadrant? Pew-pew!

Mike Lee
Elected position: U.S. Senator
Dates in office: 2011-present
Superpower: Telekinesis. This Tea-Party era senator holds a not-so-surprising amount of clout among right-wing Republicans, giving him the ability to move people and their decisions with his Mojo Jojo mind.
Chris Stewart
Elected position: U.S. Representative, District 2
Dates in office: 2013-present
Superpower: Force-field protection. Despite a December 2018 comment stating, "Journalists disappear all over the country," Stewart's political clout hasn't appeared to take a hit in this post-truth political era.

Rob Bishop
Elected position: U.S. Representative, District 1
Dates in office: 2003-present
Superpower: Liquefaction: Similar to what happens in an earthquake, Bishop—who conveniently sits on the House Natural Resources Committee—hasn't exactly helped preserve Utah's Bears Ears and Grand Staircase-Escalante national monuments, leaving the land prone to destruction.

Mia Love
Elected position: Former U.S. Representative, District 4
Dates in office: 2015-18
Superpower: Selective hearing. She seems impervious to arguments about a woman's right to choose whether to have a baby, or pleas from immigrant families asking to remain in the U.S.
Jason Chaffetz
Elected position: Former U.S. Representative, District 3
Dates in office: 2009-17
Superpower: Vitalum vitalis. While he's no longer a politician after abruptly ending his federal political career, Chaffetz has seemingly resurrected his name, keeping it in the national conversation at Fox News. He also showed an uncanny ability to raise the "What about the emails?" question with the greatest of ease.
Banner Decisions
5 local artists take a stab at creating the perfect SLC flag.
By Enrique Limón

Vexillologists (people who study flags) have spoken: The current clipart atrocity we call a city flag is a snoozer. While the results of a design survey launched by the mayor's office last November are still unknown as of press time, any of these snazzy designs would be considered an upgrade.

"The majority of Salt Lake City isn't Mormon, yet that's mainly what we're known for and who we're ruled by. Seeing as we can't escape our own history, I say we embrace it. The Joseph Smith sphinx at Gilgal Gardens is the perfect symbol for this acceptance—strange, kinda scary and pieced together from bizarre interpretations of other cultures. Our state bird, the seagull, inhales the sweet scent of Industry atop the idol. It's a nice day, so we can catch a small glimpse of the enchanting mountains that guard our flourishing home."
—Robin Banks, artist and illustrator
"When I did the piece for the 337 Project entrance, I did a big coffee cup and a big donut that was a tractor wheel covered with cloth as a Willow pattern of Salt Lake, The idea was that SLC was the 'Big Donut' rather than the Big Apple of NYC. I'm not sure what the hole in the middle represents; we can ponder that. When you suggested the flag idea, and I saw the current one—a computer driven boring image with no character whatsoever—it reminded me that I'd thought about SLC/donut and it was not unlike the oval on the flag, so decided to play with that. But SLC is never those dull colors. I wish that when they do proper stuff like this, they would get wild and show some character."
—The Beatles' Sgt. Pepper's Lonely Hearts Club Band album cover co-creator Jann Haworth
"Whenever people visit from out of town I suggest they visit the space Jesus to experience the center of the universe."
—Trent Call, artist and illustrator
"... I designed this flag for all who live, fight and resist on this stolen land, in this salty city. It pictures what community might look like in a post-apocalyptic world after everything has fallen, and after what community might look like in a post-apocalyptic world after everything has fallen, and after the inversion has taken over. I would like to think that we too can survive."
—Ella Mendoza, artist and activist

"Since road and other construction never seems to stop, I thought our flag should show just that."
—Sean Hair, City Weekly graphic artist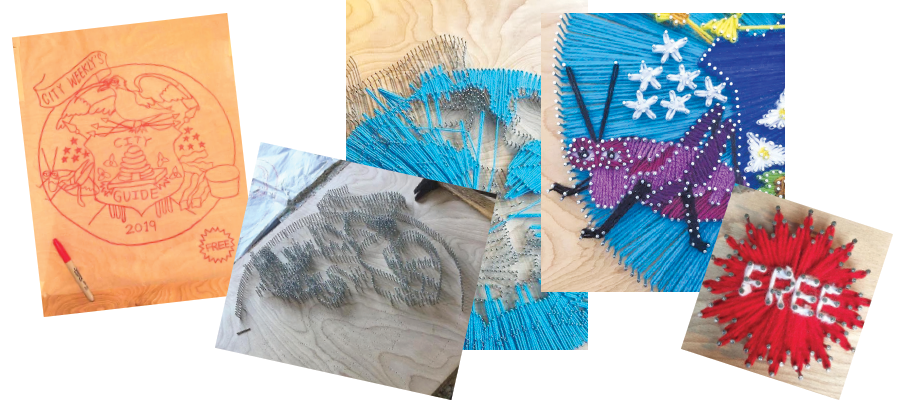 Perhaps it's his Navy corpsman background, but Geoffrey Redd (aka Yarns & Noble) jumped at the opportunity of reinterpreting the Utah state seal for our cover. To say his process is meticulous is an understatement. It all starts with a wooden board, hundreds (sometimes thousands) of hand-hammered nails, enough yarn to fill a kitten's most debaucherous dreams and limitless imagination.
A Mormon cricket? No problem. Fry sauce—even though he wasn't familiar with the condiment? You got it. "Tell me that's not mayonnaise-and-ketchup-colored yarn?" the artist says of the latter. The end result is a stringy love letter to the Beehive State unlike any other. Two dueling bills were in play during the last legislative session aiming to redesign the state flag, but both fell by the wayside. Lawmakers take note: Some fries (and accompanying sauce) are sure to make it pop.
For more from the artist, visit yarnsandnoble.com