As evidenced by the ushering of tank top weather (aka anything 40 degrees and higher), post-Legislative session hand-wringing and the arrival of this publication, spring has sprung in Salt Lake City.
Our humble City Guide made its debut 17 years ago amid the hubbub of the 2002 Winter Olympic Games. Since then, and with swelling excitement for an Olympics-hosting redux, it continues to be Utahns' go-to fun compass.
In its pages, you'll get chummy with some of our city's cultural power players, experience Sundance like a pro and add 10 new bands to ye olde Pandora playlist. You'll also find a rundown of our state's legendary outdoor activities, an insider's celebration of SLC neighborhoods and a mouth-watering collection of cheap eats from across the Wasatch Front.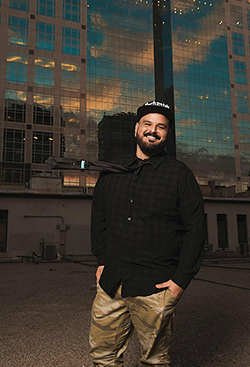 Hungry for more? A ranking of Jazz-themed murals, comprehensive directories of everything you can think of—from local galleries to trivia nights—plus a cocktails compilation and a DIY brewery tour are sure to wet your whistle.
How about a chance to experience Utah the Romney way? Yep, that's in here, too.
In the end, whether you're a fresh transplant or Jell-O green proudly runs through your veins, we hope you hold on to this compendium and think of it as a trusty barometer of all things cool in the Beehive. They don't call it the Punxsutawney Phil of magazines for nothing.
—Enrique Limón
Utah's Super Politicos!
A few political headline-makers to get familiar with, and, of course, keep a bionic eye on.
By City Weekly staff
Whether they spend most of their time in Washington, D.C., or leave you scratching your head with their legislative capers, these are some super political figures you'll want to get familiar with.
Gary Herbert
Elected position: Governor
Dates in office: 2009-present
Superpower: The Chosen One/All-Seeing Overlord. He wields the magic pen that overwrites the will of the voters and ignores their pleas for Medicaid expansion and medical cannabis.

Spencer Cox
Elected position: Lieutenant Governor
Dates in office: 2013-present
Superpower: Lightning fast fingers/hands. His friendly and quirky personality often shows through Twitter and has created an aura of intense likability across both sides of the aisle.

Jackie Biskupski
Elected position: Salt Lake City Mayor
Dates in office: 2016-present
Superpower: Can deflect criticism with her bracelets of submission. Not consulting with neighbors of potential homeless resource center sites? Pew! Moving in on the city's Northwest Quadrant? Pew-pew!

Mike Lee
Elected position: U.S. Senator
Dates in office: 2011-present
Superpower: Telekinesis. This Tea-Party era senator holds a not-so-surprising amount of clout among right-wing Republicans, giving him the ability to move people and their decisions with his Mojo Jojo mind.
Chris Stewart
Elected position: U.S. Representative, District 2
Dates in office: 2013-present
Superpower: Force-field protection. Despite a December 2018 comment stating, "Journalists disappear all over the country," Stewart's political clout hasn't appeared to take a hit in this post-truth political era.

Rob Bishop
Elected position: U.S. Representative, District 1
Dates in office: 2003-present
Superpower: Liquefaction: Similar to what happens in an earthquake, Bishop—who conveniently sits on the House Natural Resources Committee—hasn't exactly helped preserve Utah's Bears Ears and Grand Staircase-Escalante national monuments, leaving the land prone to destruction.

Mia Love
Elected position: Former U.S. Representative, District 4
Dates in office: 2015-18
Superpower: Selective hearing. She seems impervious to arguments about a woman's right to choose whether to have a baby, or pleas from immigrant families asking to remain in the U.S.
Jason Chaffetz
Elected position: Former U.S. Representative, District 3
Dates in office: 2009-17
Superpower: Vitalum vitalis. While he's no longer a politician after abruptly ending his federal political career, Chaffetz has seemingly resurrected his name, keeping it in the national conversation at Fox News. He also showed an uncanny ability to raise the "What about the emails?" question with the greatest of ease.
Banner Decisions
5 local artists take a stab at creating the perfect SLC flag.
By Enrique Limón

Vexillologists (people who study flags) have spoken: The current clipart atrocity we call a city flag is a snoozer. While the results of a design survey launched by the mayor's office last November are still unknown as of press time, any of these snazzy designs would be considered an upgrade.

"The majority of Salt Lake City isn't Mormon, yet that's mainly what we're known for and who we're ruled by. Seeing as we can't escape our own history, I say we embrace it. The Joseph Smith sphinx at Gilgal Gardens is the perfect symbol for this acceptance—strange, kinda scary and pieced together from bizarre interpretations of other cultures. Our state bird, the seagull, inhales the sweet scent of Industry atop the idol. It's a nice day, so we can catch a small glimpse of the enchanting mountains that guard our flourishing home."
—Robin Banks, artist and illustrator
"When I did the piece for the 337 Project entrance, I did a big coffee cup and a big donut that was a tractor wheel covered with cloth as a Willow pattern of Salt Lake, The idea was that SLC was the 'Big Donut' rather than the Big Apple of NYC. I'm not sure what the hole in the middle represents; we can ponder that. When you suggested the flag idea, and I saw the current one—a computer driven boring image with no character whatsoever—it reminded me that I'd thought about SLC/donut and it was not unlike the oval on the flag, so decided to play with that. But SLC is never those dull colors. I wish that when they do proper stuff like this, they would get wild and show some character."
—The Beatles' Sgt. Pepper's Lonely Hearts Club Band album cover co-creator Jann Haworth
"Whenever people visit from out of town I suggest they visit the space Jesus to experience the center of the universe."
—Trent Call, artist and illustrator
"... I designed this flag for all who live, fight and resist on this stolen land, in this salty city. It pictures what community might look like in a post-apocalyptic world after everything has fallen, and after what community might look like in a post-apocalyptic world after everything has fallen, and after the inversion has taken over. I would like to think that we too can survive."
—Ella Mendoza, artist and activist

"Since road and other construction never seems to stop, I thought our flag should show just that."
—Sean Hair, City Weekly graphic artist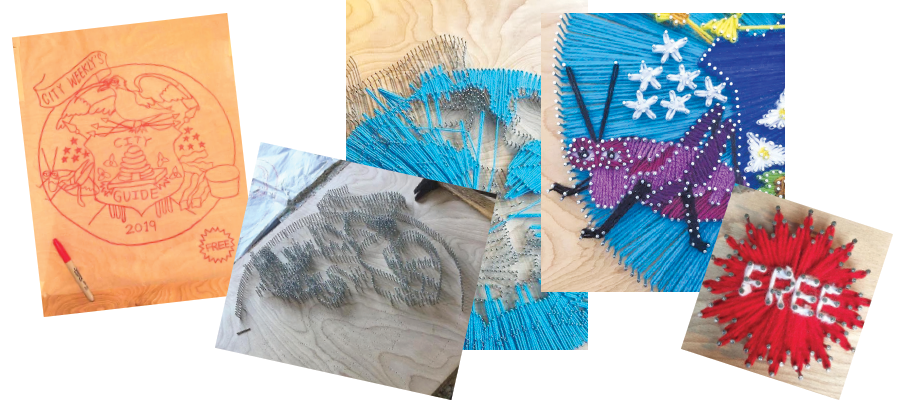 Perhaps it's his Navy corpsman background, but Geoffrey Redd (aka Yarns & Noble) jumped at the opportunity of reinterpreting the Utah state seal for our cover. To say his process is meticulous is an understatement. It all starts with a wooden board, hundreds (sometimes thousands) of hand-hammered nails, enough yarn to fill a kitten's most debaucherous dreams and limitless imagination.
A Mormon cricket? No problem. Fry sauce—even though he wasn't familiar with the condiment? You got it. "Tell me that's not mayonnaise-and-ketchup-colored yarn?" the artist says of the latter. The end result is a stringy love letter to the Beehive State unlike any other. Two dueling bills were in play during the last legislative session aiming to redesign the state flag, but both fell by the wayside. Lawmakers take note: Some fries (and accompanying sauce) are sure to make it pop.
For more from the artist, visit yarnsandnoble.com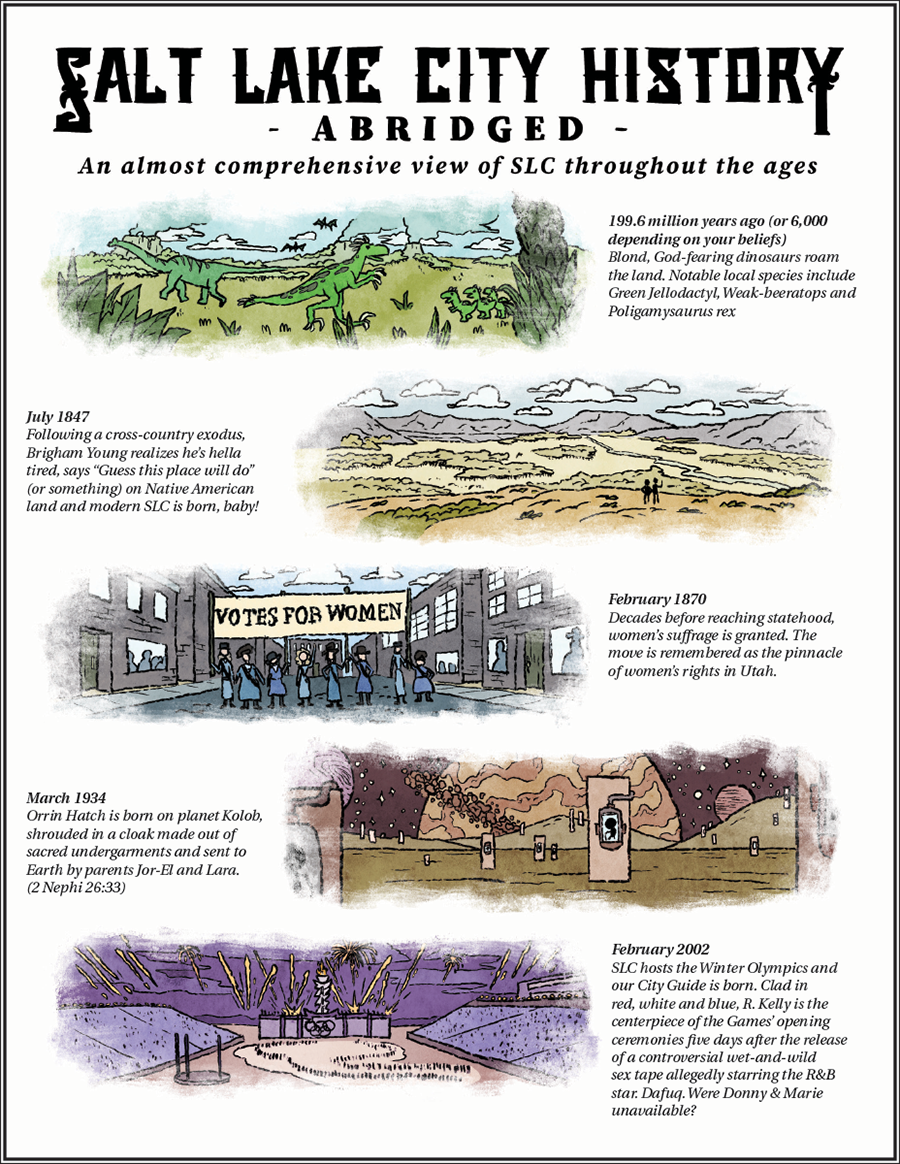 Enrique Limón
Aaron T. Stephan's "Point of View"
Downtown
Both compact (only 10 or 12 blocks square, depending on how you're counting) and sprawling (thanks to extra-wide streets and long city blocks), downtown SLC hums with a vitality built around great food and drink, art galleries, theaters, museums and music venues, all connected by an efficient light rail system. Whether you're just in for a day or discovering a new home base, it would be easy to fill your days and nights without ever leaving the area's confines.
SEE
One of the most intriguing curiosities in downtown Utah, Gilgal Sculpture Garden (749 E. 500 South, gilgalgarden.org) is an outdoor installation tucked away behind neighborhood homes. The brainchild of Thomas Battersby Child Jr., assisted by sculptor Maurice Brooks, was an 18-year project, turning massive stones into works inspired by Mormon history and scripture. While the best-known work is a sphinx bearing the face of LDS church founder Joseph Smith, more than a dozen other pieces fill the space with an impressive size and scope.
EXPERIENCE
There's a special vibe to the arenas in cities that don't share their sports fan base with pro football or Major League Baseball. This year, the Utah Jazz (utahjazz.com) mark the 40th anniversary of the team's move to Salt Lake City from New Orleans, and crowds at Vivint Smart Home Arena get fired up at preserving the home-court advantage a little high altitude provides. Rising stars Donovan Mitchell and Rudy Gobert furnish the offensive and defensive firepower.
SIP
If you're still laboring under the impression that Utah's teetotaling history means you can't find a good adult beverage, Whiskey Street (323 S. Main, whiskeystreet.com) is just the place to adjust your thinking. The establishment's name comes from Brigham Young's dismissive term for the thoroughfare where non-Mormons of yesteryear quenched their thirst. The list of more than 400 different whiskeys is only the start of a menu that also showcases amazing specialty cocktails and beer from local brewers.
LEARN
If you're going to be in Utah for any extended period, it helps to understand the faith tradition that has shaped it for more than 170 years. While you can snap photos galore on Temple Square, and get info at its visitor's center, two great educational opportunities lie just to the west. At the Church History Museum (45 N. West Temple, history.lds.org), exhibits and artworks convey the story of Mormon pioneers and the origins of the LDS church. Next door, the Family History Library (35 N. West Temple, familysearch.org) offers a massive storehouse of documents including immigration records and census data for anyone exploring genealogy.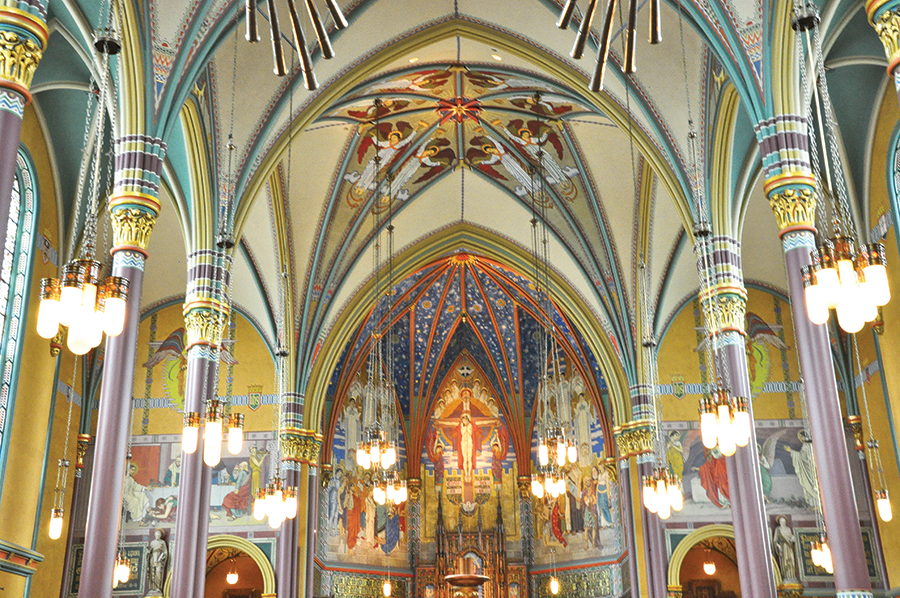 Derek Carlisle
Murals at Cathedral of the Madeleine by Felix Lieftuchter, circa 1918
The Avenues
The Avenues is Salt Lake's largest historic district. It's a treasure trove for many reasons: its tree-lined streets, its smaller, pedestrian-friendly blocks (at only 2.5 acres square, they're half the size of the standard Salt Lake City street grid), and its mix of historic residential buildings and small shops and restaurants. It's a wonderful place to take a walk and escape the crowds. And its steeply sloping streets offer magnificent views of the valley.
SEE
At the lower boundary of the Avenues lies historic South Temple, named one of the 10 Great Streets in America by the American Planning Association. Originally called Brigham Street, the grand boulevard boasts some of Salt Lake's most iconic architecture, from the mansions built by Brigham Young to house his many wives to the Masonic Temple and the 1909 Cathedral of the Madeleine. Venture farther north to see examples of classic architecture, from Gothic and Queen Anne to Craftsman and Classic Revival. One of the earliest neighborhoods in SLC, most homes and shops were built between 1860 and 1930.
EXPERIENCE
Along the east side of the Avenues sprawls the historic Salt Lake City Cemetery (200 N. E St., 801-596-5020). It's a peaceful, tree-lined site where you can find the graves of founding members and prophets of the LDS church, and, if you're from the area, probably some of your own ancestors. You can also find funky, mysterious gravestones, like the one that reads "Lilly E. Gray, Victim of the Beast 666," and even take a guided ghost walk from Grimm Ghost Tours (grimmghosttours.com). Adjoining the cemetery are two public parks, Lindsey Gardens and the 11th Avenue Park, perfect for dog-walking, a casual game of Frisbee or a sunset picnic overlooking the Salt Lake Valley. And surrounding the neighborhood's upper boundary are a variety of trailheads into the foothills, including access to the Bonneville Shoreline Trail, City Creek Canyon and Perry's Hollow.
EAT
Stop by the cozy Avenues Publik (502 Third Ave.,385-229-4836, publikcoffee.com) outpost for top-notch coffee and Millennial toast. For Thai, try the popular Sawadee on South Temple (hint: they have excellent lunch specials). Saffron Valley offers classic Indian fare and a daily lunch buffet. And two classy, modern restaurants specialize in American fare: Try Avenues Bistro for brunch or an intimate dinner; a little higher up, Proper Brewing Co.'s Avenues Proper offers local brews and hip burgers.
INDULGE
For one of the best haircuts in the valley, make an appointment at Avenues Barber (566 Third Ave., 801-300-9594). The proprietor of the one-man shop, Ben Paul, somehow manages to keep up the most engaging conversation while delivering impressive haircuts at a super-reasonable price. Those with longer strands can get their hair cut next door at Balbina's Hair Cottage. And for all-around luxury, book a spa treatment or massage at The Kura Door (1136 Third Ave., 801-364-2400), a Japanese-style day spa.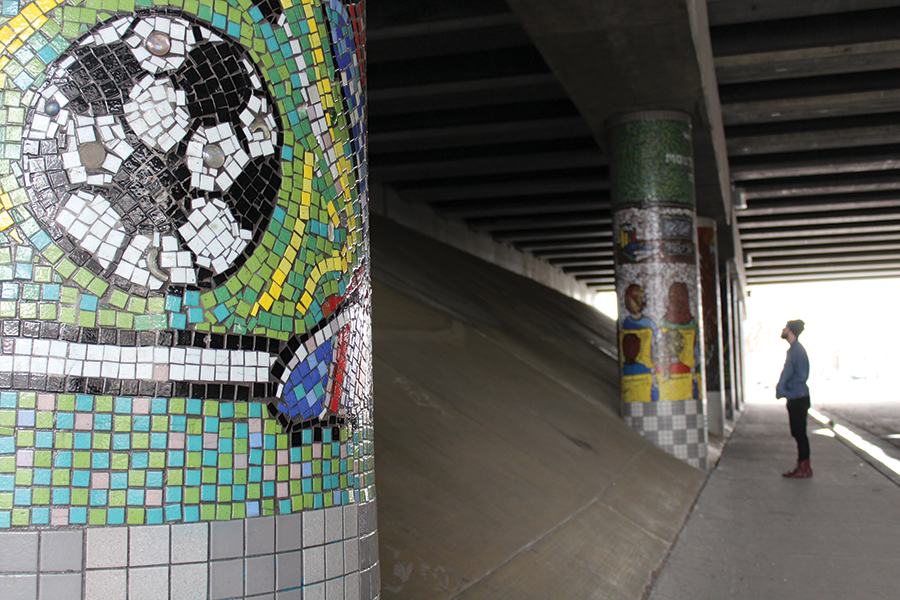 Enrique Limón
"Pillars of the Community" at I-15 underpass at 300 North, Multiple artists
Westside
The Westside has something important that's missing from a few neighborhoods east of I-15: character. Glendale, Poplar Grove and Fairpark are some of the most diverse spots around, giving visitors and locals a chance to get their Epcot on and revel in a cultural smorgasbord. If you're yearning for a little diversity because of Utah and its capital city's overwhelming Wonder Bread whiteness, check out Salt Lake City's underrated Westside communities.
MULTI-TASK
Have you ever been so bored waiting for the maintenance on your car to get finished that you thought, "Damn, I really want to slam a burrito down my gullet right now"? Then you need Victor's Tires (1406 S. 700 West, 801-978-9595, victorstires.net). The family-owned tire shop doubles as a Mexican restaurant—or is it a taquería that also sells auto parts?—serving up inexpensive eats to car owners and chicharrón lovers alike.
MEDITATE
A monument to unity and hope, the International Peace Gardens (1060 W. Dalton Ave., 801-938-5326, internationalpeacegardens.org) is a relaxing sanctuary located off the Jordan River. Dedicated in 1952, the grounds showcase symbols, heritage and folklore from 26 countries, in addition to ample garden architecture and native plantings. The space encourages visitors to silently stroll and contemplate the value and importance of international cooperation, a hopeful message in these trying isolationist times.
SEE
Fisher Mansion (1206 W. 200 South) is beside the Jordan River Parkway Trail, making it an ideal stop for cyclists already out and about, enjoying some fresh air. Listed on the National Register of Historic Places, the estate was the home of Albert Fisher, a German immigrant and brewer whose legacy lives on in the Central Ninth neighborhood's Fisher Brewing Co. The semi-spooky haunt sometimes serves as a beer garden, further honoring the master's memory.
EAT
Delicious multicultural eats abound in Westside. In the mood for authentic East African cuisine? Head to Noor Restaurant (1151 S. Redwood Road, Ste. 108, 801-975-6356) for some liver sokaar canjeero or lamb saltato. If meat's not your thing, check out All Chay (1264 W. 500 North, 801-521-4789), a Vietnamese restaurant that exclusively serves vegan grub, giving a healthy twist to favorites like teriyaki chicken and barbecue banh mi.
Enrique Limón
Laser-cut panels outside Tracy Aviary's façade, AJC Architects
Liberty Park
Call the area what you want—Central City, the Maven District, Mid 9th or LiPAJ (Liberty Park Adjacent). Fine ... I made that last one up. Truth is, the hub that surrounds the city's second-largest public park is ever booming—and surprising at every turn.
NOSH
Next door to Randy's Records, you'll find another kind of circular ambrosia at Chip Cookies (155 E. 900 South, Ste. 101, 801-889-2412, chipcookies.co). Its signature chocolate chip iteration is enough to keep you coming back for more, but the ante is upped each holiday with offerings like the Cadbury Chip (Easter), Lucky Chip (St. Patrick's Day), Red Velvet Chip (Valentine's Day) and the Reeses Chip (All Hallows' Eve). Best part? They're open till midnight on Saturdays and 2 a.m. Monday-Friday. Best part, Part 2? They deliver.
CLEANSE
A botánica in the middle of SLC? Oh yes. First things first: If you've never heard the term, a botánica is a specialty shop that deals in folk medicines, sacred amulets, Santa Muerte prayer books, religious candles, incense and just about any other bad juju-busting item you can think of. At unassuming Botánica San Antonio (270 E. 900 South, 801-355-0578), you'll find all that and more, along with tarot-card readings and a money-attracting body wash to boot.
FLOCK
Nestled in the southwest corner of Liberty Park, Tracy Aviary (589 E. 1300 South, 801-596-8500, tracyaviary.org) is the largest and oldest of the nation's two free-standing aviaries. Each year, an estimated 60,000 kids get a chance to be up-close and personal with a seemingly endless variety of winged species. An array of educational opportunities abound—from "Little Chicks" classes to the Teen STEAM Café. While you're there, tell Andy the condor we said hi.
PURR
Tinker's Cat Café (302 E. 900 South, 801-519-2287, tinkerscatcafe.com) is further proof that the eclectic neighborhood is on its way to becoming SLC's Harajuku. Split in two, one half dispenses all the goods you'd expect from a coffee shop—including meow-cchiatos and cat-puccinos—while the other provides face time with loads of kitties. Be advised that à la mogwai, strict rules are in place, like no picking up the felines and no flash photography. Experiencing love at first sight? All the cats in the lounge are available for adoption.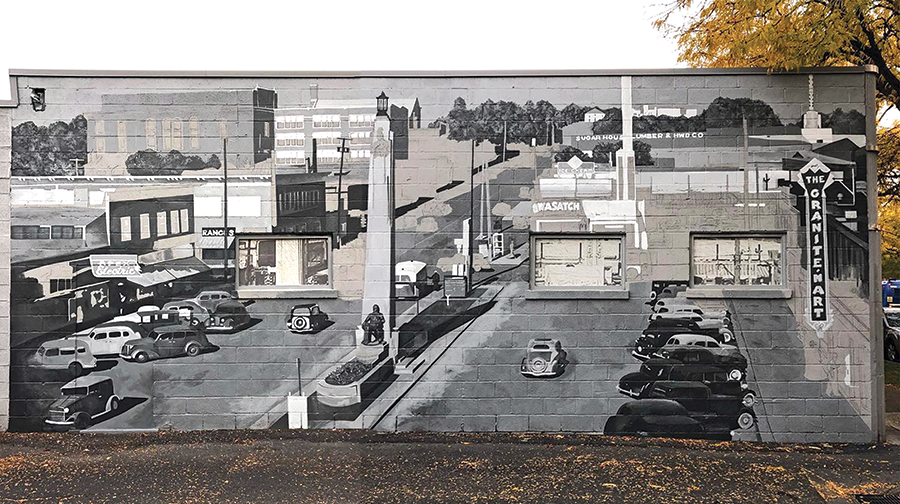 Josh Scheuerman
"Sugar House 1940" - mural by Josh Scheuerman
Sugar House
For generations, the rotating Snelgrove's Ice Cream cone has guarded the entrance to this idiosyncratic 'hood like a fiberglass Colossus of Rhodes. Simultaneously old-school SLC and sprawling, new-wave cool, this is where history collides with gentrification, big-box shops meet mom-and-pops and everything tastes just a tad sweeter.
READ
At the Sugar House crossroads of 1100 East and 2100 South, resides a monolithic Barnes & Noble. But just half a block to the north, OG tome retailer Central Book Exchange (2017 S. 1100 East, 801-485-3913, central-bookexchange.com) has been doling out literary masterpieces to the masses since 1968. Along with purchasing rare and out-of-print editions, true to its name, you can take in your old books and swap 'em out for different ones. Chances are you can do that on a loop till your last days, considering the shop's inventory is 90,000 strong—and counting.
GEEK OUT!
Few things scream Utah wholesomeness as much as board games. Yep, right along with fry sauce and green Jell-O, the Beehive is a bastion of tabletop games. Enter Game Night Games (2148 S. 900 East, Ste. 2, 801-467-2400, gamenightgames.com). Name your vice—from Candy Land to Pandemic—chances are you'll find it here. In the mode to socialize? Game Night's backroom hosts regular a Pokémon league and Magic: The Gathering smackdowns.
EAT
Get ready to step through time at Millie's (2092 S. 1000 East, 801-466-6043, milliesburger.com). Standing strong for more than 40 years, the throwback joint has seen many a chain eatery open and close up shop, all while feeding the hungry Sugar House hordes. The menu is an Archie-approved bric-a-brac that includes corn dogs, tacos, chicken-fried steak and even a halibut sandwich. Once you've almost had your fill, try one a signature Glacier—a syrupy slushie-meets-fo-yo combo that's as good as it sounds.
LEARN
The liberal arts Westminster College (1840 S. 1300 East, westminstercollege.edu) has kept up with the times since its founding in 1875. Proof of this is the college's Office of Diversity, Equity & Inclusion's regular lecture series. Free and open to the public, each gathering provides an eye-opening take on race, media, gender-identity and politics. Check out their website for a full schedule.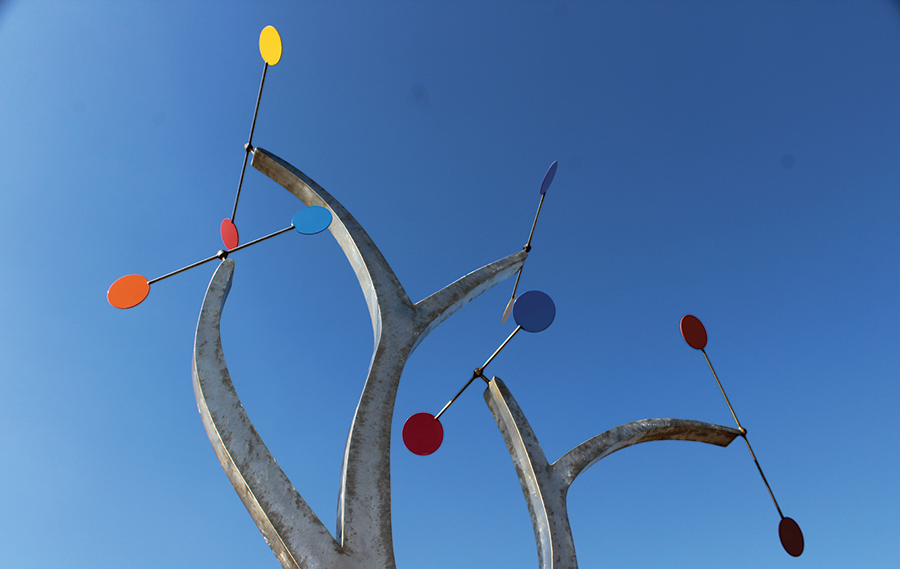 Enrique Limón
"The Nine Muses" (detail) by Troy Pillow
9th & 9th
Salt Lake City's 9th & 9th district is perhaps its most hip, most eclectic neighborhood. It's home to some of the city's long-established businesses and some of its chic, new shops and grub. On the surface, it might seem like one intersection, but there's much more to this booming area.
SEE
You can't walk through 9th & 9th and miss the Tower Theatre (876 E. 900 South, 801-321-0310, saltlakefilmsociety.org). It emanates an old-school vibe even from the outside with its signage touting the latest quirky or cult-film classic. This is the kind of theater that still has a balcony and even a rental library where you can find that flick you can't see on Netflix. In October, don't miss the weekend midnight horror flicks, and in January, you'll want to stop by for Sundance Film Festival screenings.
SIP
Trying to get your hands on that hard-to-find local brew? East Liberty Tap House (850 E. 900 South, 801-441-2845, eastlibertytaphouse.com) might be your answer. This cozy neighborhood pub offers a variety of food choices such as burgers, salads, tacos and even lamb belly, but it also carries a number of beers you won't find at just any restaurant. The tap house has an outdoor patio for the warmer months where you can soak in all things 9th & 9th.
EAT
In those warmer months (or the colder ones), you might need a cool-down snack at Dolcetti Gelato (902 E. 900 South, 801-485-3254, dolcettigelato.com). Owners Elizabeth and Mark England learned the tricks of the gelato trade in Italy, so you know this place is legit. With freshly made flavors each day, including herbs from their own garden, this corner shop is the place to be for your latest dessert delicacy.
FEEL
Get in tune with your body at 9th & 9th's Centered City Yoga (926 E. 900 South, 801-521-9642, centeredcityyoga.com). Whether you're just starting out or you're a yoga vet, this local studio has the class for you. Check out their Rise & Shine class, their LGBTQ-friendly class or one of their many other options to get your body and soul on the right track.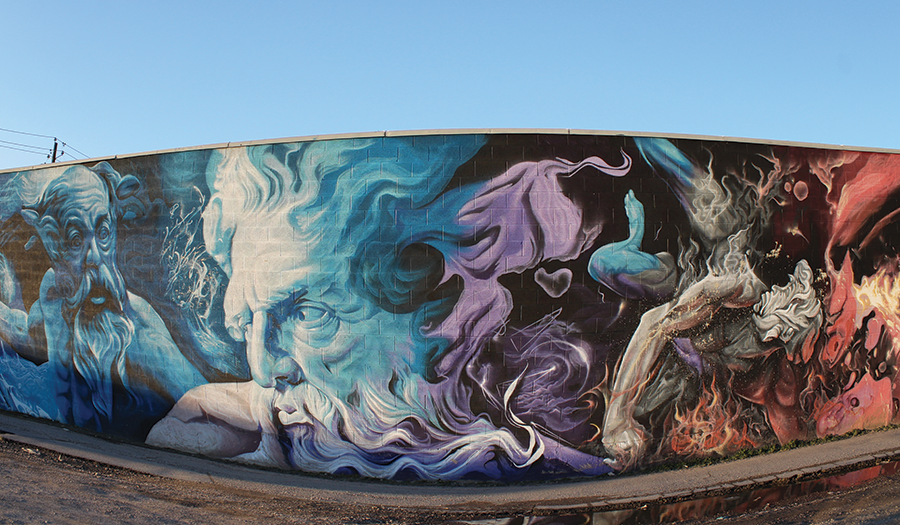 Enrique Limón
"Godlike" by Sril
South salt Lake
It may have cribbed the name of the metropolis to the north, but it'd be a mistake to consider South Salt Lake the capital city's snot-nosed little brother. SoSL's 6.9 square miles are jam-packed with options for day- and nighttime activities, from barbecue to bowling. And with a reliable, if limited, Trax S-line that runs through Sugar House, no wonder the town slogan is, "A City on the Move."
FEAST
The symbol for Pat's BBQ (155 W. Commonwealth Ave., 801-590-3090, patsbbq.com) is a sunglass-wearing, robe-lounging pig, which is exactly how you'll feel when you gorge yourself on their delectable pulled pork and brisket sandwiches: full, relaxed and deeply satisfying. The hearty sides and flavorful meats are a match made in barbecue heaven. Live music and an endorsement by the Flavortown Mayor himself, Guy Fieri, don't hurt, either.
PLAY
Bowling is the best form of stress relief. Slowly losing your mind because your in-laws moved close by? Your work is meaningless? Head over to local mainstay, 62-year-old Bonwood Bowl (2500 Main, 801-487-7758, bonwoodbowl.com) for some creative visualization. Just imagine those pins are the plastic equivalent of whatever plagues your mind, and BAZINGA! Smash that stress away. Or, you know, compete against your friends and have fun.
FROLICK
Whether you have kids or enjoy going on hallucinogenic adventures in public spaces, Fitts Park (3050 S. 500 East, 801-483-6000, southsaltlakecity.com) is a must-do city staple. This place has it all: pavilions, green space, geese, even a big ol' dragon. The wildlife and river are a relaxing respite from the city, and the community programs like "Cool Summer Nights" are a G-rated, family friendly way to spend weekend evenings outside.
EXPLORE
Although not as massive as those in bigger cities like Chicago and San Francisco, Salt Lake Chinatown (3370 S. State, saltlakechinatown.com) is a respectable 5.7-acre collection of shops and restaurants that celebrate Asian and Chinese communities from across the state. The area also houses the Chinatown Supermarket (3390 S. State, 801-906-8788, chinatownsupermarkets.com), a huge emporium that bills itself as the largest Asian grocery store in Utah.
Enrique Limón
"Xochimilco" mural at Salt Lake's Indoor Swap Meet, artist unknown
West Valley City
Utah's second-largest city is a force to be reckoned with. The Salt Lake City suburb, now estimated to be home to more than 130,000 residents, is a sprawling expanse of diverse foods, culture and sights not to be overshadowed by its big brother to the northeast.
EAT
Sure, you can stop by any old cantina and get the latest dressed-up meat folded inside a tortilla, but if you want some of that authentic taste from down south, don't miss Tacos Mi Caramelo (1808 W. 3500 South, 801-883-9245, tacosmicaramelo.com). This West Valley joint slings tacos, quesadillas and mulitas with the best of 'em. And for the bold, try some of the other meats on your taco like cachete (beef cheek), lengua (tongue) or buche (pork stomach).
SIP
Get your boots on and your dance moves ready if you're heading out to one of this city's most popular country bars. The Westerner (3360 S. Redwood Road, 801-972-5447, westernerslc.com) isn't just a bar, it's a dance hall where you can line dance and do-si-do to live music every weekend. Just be sure you haven't had one too many if you plan to hop on the mechanical bull.
SEE
Home to the state's minor league hockey team, the Utah Grizzlies, Maverik Center (3200 S. Decker Lake Drive, 801-988-8800, maverikcenter.com) is one of West Valley's longest-standing entertainment venues. In addition to hockey, the arena hosts touring musical acts and for the first time in 2019, the Pac-12 gymnastics championships. If you need an affordable family-friendly event, check out a Grizzlies game, and if you're buying tickets to the next big-name artist in town, chances are you'll be coming here sooner than later.
EXPERIENCE
With more than 60,000 square feet of shopping space, the Indoor Swap Meet (1500 W. 3500 South, 801-887-7927, saltlakesindoorswapmeet.com) could be the next place you find that gift or trinket you haven't found at your typical brick-and-mortar shop or thrift store. Looking for a turntable, handbag or something else on the cheap? This sprawling hodge-podge of vendors fits that bill.
Niki Chan
Dog Lake in Millcreek Canyon
Get Out!
Your guide to the best outdoor adventures the Salt Lake City metro area has to offer.
By Naomi Clegg
Salt Lake City is on virtually every list of best outdoor cities in the U.S. for a reason. We sit in a bowl surrounded by mountains, the Wasatch Range to the east and the Oquirrh Mountains to the west, which offer boundless options for mountain sports and recreational activities within a few hours' drive or less. Whether you're a hiking enthusiast or a marathon runner, a road biker or a car camper, a skier or a snowboarder, there's a little something for everyone here.
Niki Chan
SLC Bike Collective
Biking
An increased focus on infrastructure improvements has made Salt Lake City one of the best cities for bicycling in the West. Cycle the city with bikeslc.com's comprehensive bike map, which shows every existing bike trail and lane in the city and its surrounding environs. Recreational riders can also take bike-maintenance classes at the Salt Lake City Bicycle Collective or join a variety of group rides through the collective and other organizations.
Golden Spoke Trail, newly christened in 2018, joins a network of six pre-existing trail systems together to form a 106-mile paved trail that stretches from Provo to Ogden. With the completion of the last remaining segments, it's now the longest continuous, multi-use urban trail network west of the Mississippi River. Following, at various points, the edge of the Wasatch Range and the Jordan River, the trail is smooth and mostly flat, making it great for a family ride or walk and a tempting option for the road cyclist's first century ride.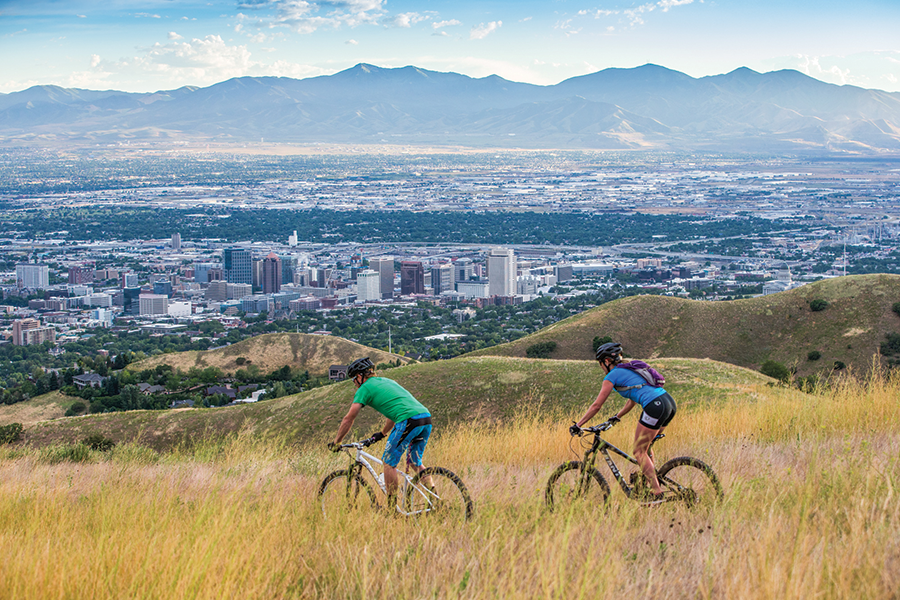 ut.gov
Shoreline Trail
For cyclists looking for more of a challenge, any of the six paved-road canyons that line the east edge of the valley are a good bet. Emigration Canyon consistently proves the most popular. Climb the canyon entirely within a bike lane on the 8-mile, 1,200-foot route, which rises moderately to Little Mountain Summit. If that doesn't get your heart thumping adequately, tack on another 7 miles and 1,500 feet and pedal to Big Mountain Summit for even more spectacular views.
Mountain bikers, we didn't forget about you: For an easily accessible, choose-your-own-length ride, the Bonneville Shoreline Trail is a great single-track option for newbies and more skilled riders alike. Hop on and off at any point between Ensign Peak and the mouth of Emigration Canyon for a quick post-work ride and killer views. And for a dense trail network with a wide variety of terrain, from beginner to advanced, head down to Corner Canyon in Draper. It's a mountain-bikers' mecca—but make sure you yield to hikers and horses.
Hiking
Nestled into the foothills next to the University of Utah is arguably one of Salt Lake City's most popular trails. The approximately 2.5-mile round-trip hike climbs through rocky terrain and seasonal wildflowers until it reaches an area dubbed The Living Room, where hikers can rest their legs on stone "sofas" and enjoy a view of the valley. It's a short—but challenging—jaunt accessible to families, dog-walkers and plain ol' recreational hikers.
Venture up the canyons, and you'll reach trailheads that take you to the many lakes that dot the mountains. And up there, it's all about the lakes! Start from Mill B South Fork for the trail to Lake Blanche, a 7-mile out-and-back hike—but don't stop when you get to Lake Blanche. Continue along the trail to reach two more, slightly smaller sister lakes, Lake Florence and Lake Lillian. Or, head farther up the canyon, where you'll hit the Mill D North Fork, from which you can access the beautiful, gently rising Desolation Lake Trail, which winds gently through stands of aspens and wildflowers before reaching the peaceful, emerald-green lake. This 8-miler might be best in the fall, when the shaking aspens turn a vivid bright yellow. For a more family-friendly option from the same trailhead, take the classic 3-mile hike to Donut Falls.
And for a shorter but still plenty-rewarding lake experience accessible to small kids, start from the Brighton parking lot on the 4-mile round-trip hike to Lake Mary and its two sisters, Martha and Catherine. This hike is particularly lovely in July and August, when the plentiful wildflowers filling the pathside fields come out in full force.
Josh Scheuerman
Frary Peak Trail
Camping
Considering we're the Great Salt Lake's eponymous city, it's pretty easy to spend time here without setting eyes on the lake's salty shores. Buck the trend by making the sub-one-hour drive out to the lake for some rustic car camping. A seven-mile causeway leads out to the lake's largest island, where primitive camping sites are available year-round at Bridger Bay Campground. Antelope Island is home to a herd of 600 American bison, along with antelope (of course), deer, coyotes, bighorn sheep, shorebirds and waterfowl. Hike out to Dooley Knob or Frary Peak for excellent views of the lake, or spend your time bird-watching and animal-spotting. But watch out for gnats, which are out in full force from approximately April to June—if you go during these months, bring a head net. Trust us!
For a less-exposed, more mountainous experience, head up Little Cottonwood Canyon to the Albion Basin campsite, which has 19 first-come, first-served sites nestled among white pine and aspen. Peak season is July through September, when the warm summer weather reaches up into the canyons. Be warned: no water or hookups are available at these campsites. But braving the vault toilets is worth it for the summer wildflowers; a short mile-long hike leads to the lovely Cecret Lake.
Also in Little Cottonwood Canyon is Tanners Flat Campground, a 38-site spot in a wooded area with easy access to many recreational activities and (bonus!) a plethora of nearby waterfalls. Hike the popular Red Pine Lake and White Pine Lake trails, mountain bike along Cottonwood Creek Trail and Albion Meadows Trail, take a trip just up the road to the Tanners Gulch climbing area or spend a lazy afternoon trout fishing in Little Cottonwood Creek. Water is provided, as is an onsite volleyball court.
Of course, for a reservation-less option, you can always pack out your gear to a site along the many trails in Big and Little Cottonwood canyons. Dispersed camping is legal pretty much anywhere in the canyons, as long as you're 200 feet from trails and water sources. And always remember Leave No Trace principles.
Running
Two of Salt Lake's largest parks prove popular for the running crowd, with large paved loops surrounding ponds and grass fields at Sugar House Park and Liberty Park. The tree-lined paths provide a green shelter within the city and make it easy to track your running distance (both loops are approximately 1.4 miles).
For a running refuge seconds from the bustle of downtown, run the trail that starts at Memory Grove Park, right down the hill from the Capitol. The in-and-out path is approximately 2 miles roundtrip. For a longer run, continue up the paved City Creek Canyon path for another four miles. It winds through a pretty forested area next to the creek and provides some good elevation gain on the last couple miles. Or head above the canyon for a short but intense thigh-burner up the steep slope to Ensign Peak.
Venture further into trail-running territory along the Bonneville Shoreline Trail, which is popular for both runners and bikers and, despite its high elevation, is relatively flat. Or take your run indoors and train on the same track run by the world's best athletes at the Olympic Oval in Kearns, a climate-controlled 442-meter loop around an ice rink with an eight-lane sprint zone. A day pass is four bucks.
Salt Lake and the surrounding areas are home to many races, including the Salt Lake City Marathon, Half and 5k, which starts at the University of Utah campus. Also popular is the nearby Ogden Marathon, which winds gently through Ogden Canyon for a total elevation loss of just over 1,000 feet. And of course there's the Ragnar, which this year will take place on a 6.5-mile loop at This Is The Place Heritage Park, for a tag-team marathon-length race.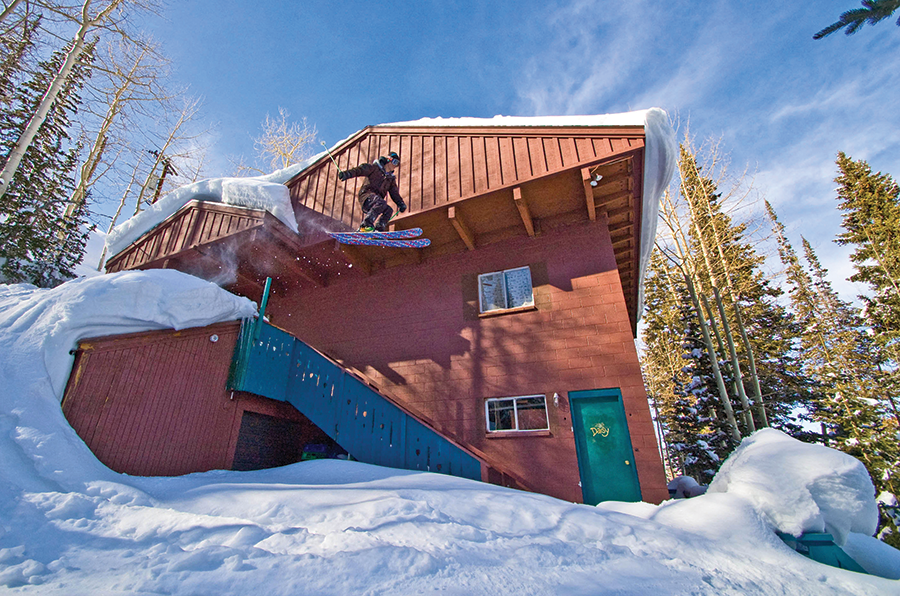 Josh Scheuerman
Brighton Ski Resort
Skiing and Snowboarding
Just a quick drive up one of the many canyons that surround Salt Lake City gets you to some of the world's best ski resorts. Take a jaunt up Little Cottonwood Canyon for a skiers' favorite, Alta, which due to its fortunate geography gets some of the best snow in North America. This skiers-only resort is sometimes described as "steep, deep and cheap." Don't come for the nightlife; come for the snow and the variety of well-maintained runs, from beginner to expert.
Sharing the canyon is Snowbird, a hip resort that along with some of the most advanced runs for skiers and snowboarders, offers fine dining options, a full spa and a variety of cultural events, including regular live music and speakers.
A local favorite up Big Cottonwood Canyon, Brighton is affordable and super accessible to kids and beginners. Kids under 10 are free, and the resort is famous for its variety of ski and board classes and lessons. Also up Big Cottonwood is Solitude, an uncrowded resort with a variety of terrain.
Park City Resort has the most territory of any resort in the U.S. and is also one the most popular (and, sometimes, the most crowded). It's a ubiquitous Utah ski experience. Deer Valley is a pricier option for skiers only that offers fast lifts, a world-class ski school and excellent service, dining and lodging. Go here if you're looking for luxury.
Ski down the same slopes where athletes won medals in the '02 Olympics at Snowbasin. It's one of the oldest resorts in the U.S., with great cafeteria food and uncrowded verticals. And for the least crowds, Powder Mountain has a cap on guests and thousands of acres accessible by foot or motorized snowcat.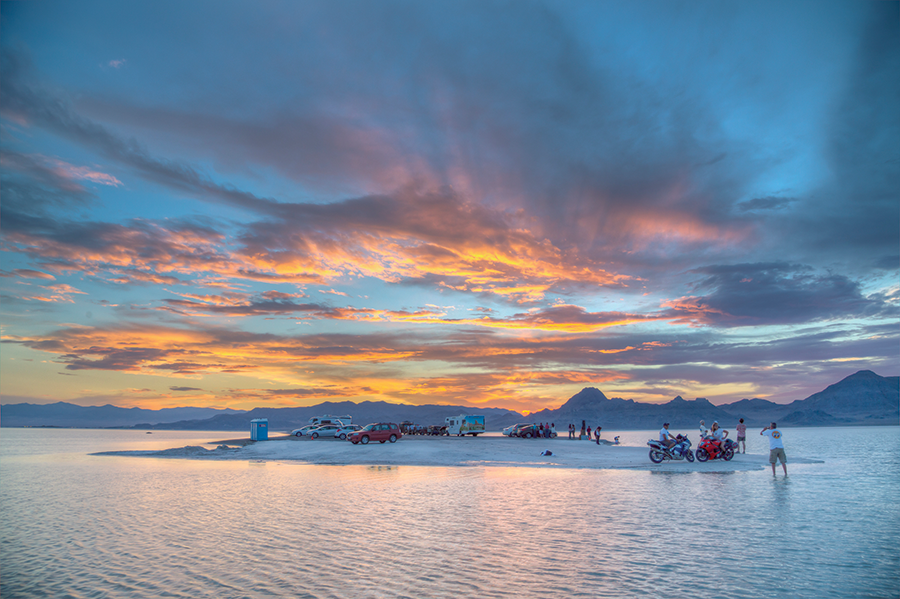 BLM
Salt Flats
Sports and Salt
Experience 'sort of stunning' sunsets and work out your core at the Great Salt Lake.
By Kelan Lyons
Mention to a Utahn that you're going to spend some time in the city's namesake body of water, and the response is invariably the same: a scrunched-up nose, a look of disdain and some version of the words, Why would you want to do that?
"The lake itself does tend to get a bad rap. People always want to talk about the smell and the bugs," Dave Ghizzone, owner of Gonzo Boat Rentals and Tours, says, though he swears the odor comes from nearby Farmington Bay. Smell be damned, the Great Salt Lake is an underrated spot in the hot summer months for boating, rowing or, for the truly bold, taking a dip. With unbeatable vistas of mountains and magnificent sunsets, braving the bugs and smell is worth it. Plus, Ghizzone says, "Once you're out on the main body of water, there's really no odor at all."
Ditch your preconceptions and get out on the water. Here are some suggestions.
Pedal Boating
Pedal boats are a great way to kill an afternoon on the water. "They're not very fast, but they are a lot of fun, especially on a calm day," Ghizzone says of the watercrafts. His business rents out four-seater pedal boats, which Ghizzone describes as "kind of a legacy thing" for the Great Salt Lake and "more of a family activity"; children are allowed to join adults, he says, provided they wear a life jacket. The boats are tough to tip over, and peddling isn't difficult because, thanks to the salt, the boats sit up higher on the water, making them great options for weekend warriors who want to spend time with their kids.
Sailing
Fearful landlubbers, take note: The chances of your boat taking on water in the GSL are low. "You don't have to worry about sinking because the water's so dense," Dave Shearer, the state park's harbor master, says, though he warns sailors to pay attention to weather forecasts. "If the wind picks up, you can get some pretty quick waves out there," he says, but "average daily conditions out here are very good." Shearer recommends prospective boaters check out Sailfest, held in June by the Great Sale Lake Yacht Club, or contact Gonzo Boat Rentals and Tours. "There's plenty of opportunities to get out on the water," he says.
Stand Up Paddleboarding
A cross between surfing and kayaking, stand up paddleboarding is more commonly known by its acronym, SUP, not to be confused with the greeting. SUPers stand on a board and use a paddle to navigate the water, giving their bodies—especially their cores—a full workout while doing their best not to lose their balance and stay dry. Trent Hickman, owner and operator of Park City SUP, says the views GSL SUPers get of the Wasatch Mountain Range, not to mention the sunsets, "can be sort of stunning." Hickman says he doesn't think the saltiness makes SUPing any harder, but, "if it's highly windy or choppy, that can make it incredibly difficult."
Kayaking
Amanda Green, co-owner of Green Adventure Sport Rentals, compared her Great Salt Lake kayaking experience to "paddling through cough syrup." (Ghizzone says there's less resistance in the water because of the salt, rejecting Green's cough syrup comparison, unless you're paddling through waves. And Hickman says the difficulty of paddling through the lake "can be subjective.") Using a kayak, Green says, "you can still have the beauty of seeing everything, but not the itchiness of the salt ... I like it because I don't like to swim." Green encourages potential kayakers not to worry about winged menaces: bugs hug the shoreline, she says, but they're not as prevalent farther out on the water.
Jade Clement
Rowing at the Great Salt Lake
Rowing
Dubbed the "polar opposite of kayaking" by Great Salt Lake Rowing president Irene Lysenko, rowing is a full-body workout in which participants face backward—not forward, as in kayaking—and use a combination of legwork and teamwork to glide through the water while taking in some breathtaking views. "It's incredibly beautiful," Lysenko says. "You just can't beat the sunsets. Beginners, head to the Great Salt Lake Marina on Saturday, June 2, for National Learn to Row Day, where you'll get free rowing education and experience. Those looking for a series of classes should check out the GSLR's lessons page. The best part? "It's low-impact," Lysenko says. "You can row forever. You never age out of it."
Swimming, or, for the less ambitious, floating
To get as close as humanly possible to Jesus' water-walking feat, just lie back. "You can float effortlessly," Shearer, the harbor master, says, thanks to the lake's high salt concentration. Prospective floaters should head to the lake's northern arm, since it's twice as salty as the arm to the south. Visit the popular Bridger Bay Beach to lie back, gaze at the sky and meditate to the sound of the birds as you float in the water's salty embrace. Or, if you're an open-water swimmer, brave the brine flies and shrimp and do some freestyle with a backdrop much prettier than your standard swimming pool or body of open water and soak it all it. This, my friends, is summer in Utah.
Big Game Hunting
An ode to selfie-worthy local sports mascots.
By Ray Howze
Salt Lake City and the Wasatch Front are home to a number of sports teams—professional or minor league—and most have their own furry, oversized, lovable mascot. Take a look at what creatures you might come across at your next sporting event
Jazz Bear
As Utah's most well-known mascot, the Utah Jazz Bear has performed stunts and entertained audiences since 1994, conveniently right before the Jazz went on their historic NBA Finals run. Whether he's standing atop a 20-foot ladder, sliding down the concourse steps in the arena or covering you in Silly String, the Bear will certainly leave his mark on you. The Bear was also selected to the Mascot Hall of Fame in 2006, cementing his legacy in mascot lore.
Bumble
Minor League baseball has a long history in Salt Lake, but its current iteration of AAA ball started in 1994 with the Salt Lake Buzz. The team's name changed to the Stingers from 2001-05, but finally settled on the Bees. Since then, Bumble has brought smiles to kids and families, showing bees shouldn't be feared. Bumble's bio says he comes from Honeyville, Utah, but was kicked out for being too large of a bee. He seems to fit right in at Smith's Ballpark, though.
Swoop
The University of Utah's red-tailed hawk mascot first appeared in 1996 with the blessing of the Ute tribal council—the inspiration behind the school's team name, Utes—and hasn't stopped flying around since (in spirit, of course, because it's not a real bird). The hawk was chosen as the mascot because of its indigenous heritage to the state and is seen leading the football team onto the field on its motorcycle.
Cosmo Cougar
Brigham Young University's mascot, Cosmo, recently went viral for its dance moves with the school's cheer team and racked up more than four million views on YouTube. The mascot initially started out as a live cougar before Cosmo was introduced in 1953. The cougar harkens to the cats found in the hills around the Wasatch Front, but Cosmo at least only attacks you with fun. Incidentally, the 2015-18 iteration of Cosmo this year came out as gay.
Grizzbee
The mascot for Utah's minor league hockey team the Utah Grizzlies is a cartoon-ed version of an intimidating grizzly bear. But no one said all mascots have to be menacing. Give Grizzbee a hello next time you're at Maverik Center.
Leo the Lion
The mascot for Utah's Major League Soccer team, Real Salt Lake, is meant to pair with the organization's royal motif (real means royal in Spanish). Best known for his artistic works The Last Defender and The Mona Kreisa (an ode to former coach Jason Kreis and the Mona Lisa), according to the team's website, Leo romps around Rio Tinto Stadium throughout the year.
Cleo
As the newest mascot on the block, Cleo, the female counterpart to Leo, cheers on the Utah Royals FC, who are members of the National Women's Soccer League. Catch Cleo at one of the team's home games this year as its second season gets underway.
SLAM DUNK!
Utah Jazz murals ranked
By Enrique Limón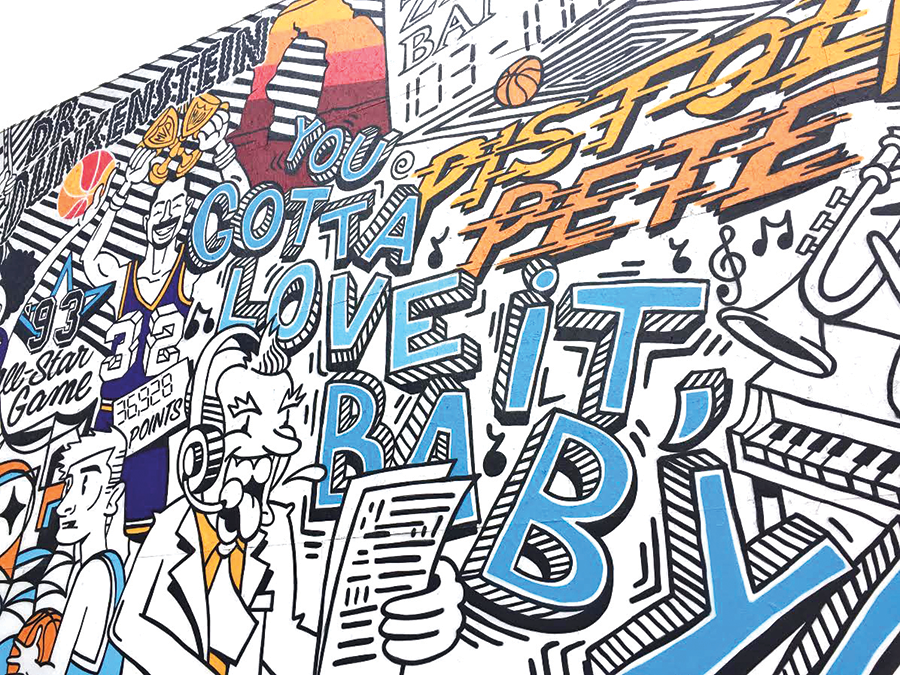 1. Behold the pop wonder that is Trent Call's Jazz ode near the corner of 100 South and Main. "Hot Rod" Hundley, Rudy Gobert and Dr. Dunkenstein and more call the 3,400-square-foot piece home. Working mostly at night, the artist completed it in around a week's time. Chances are you'll spot new references every time you gaze at it, though Call says it's not necessarily Easter egg-laden. "It's more of a fun who's who and what's what for the fans to geek-out on," he says. "But I will say there are a few super secrets that only like three people know about."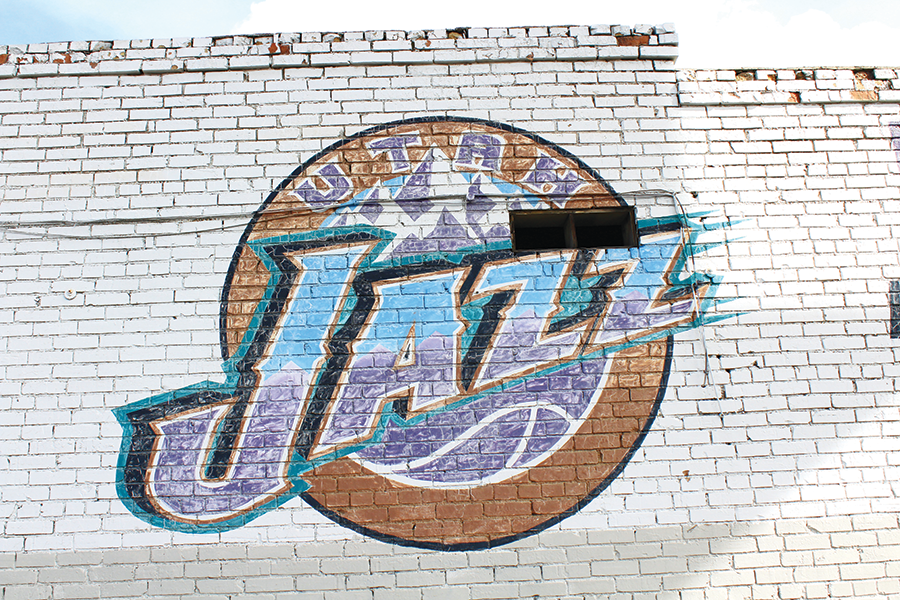 2. Not so much a mural, but a ghost sign reminiscent of the glory days of yesteryear, this weather-worn logo from the 1996-2004 era is holding strong at the old Packer Glass Co. HQ, near the corner of 400 South and 200 West. The purple-and-copper logo iteration marked a departure from the team's original musical note branding, which it would later revisit. Close your eyes hard enough and you can almost hear Jerry Sloan grinding his teeth during the '98 NBA Finals.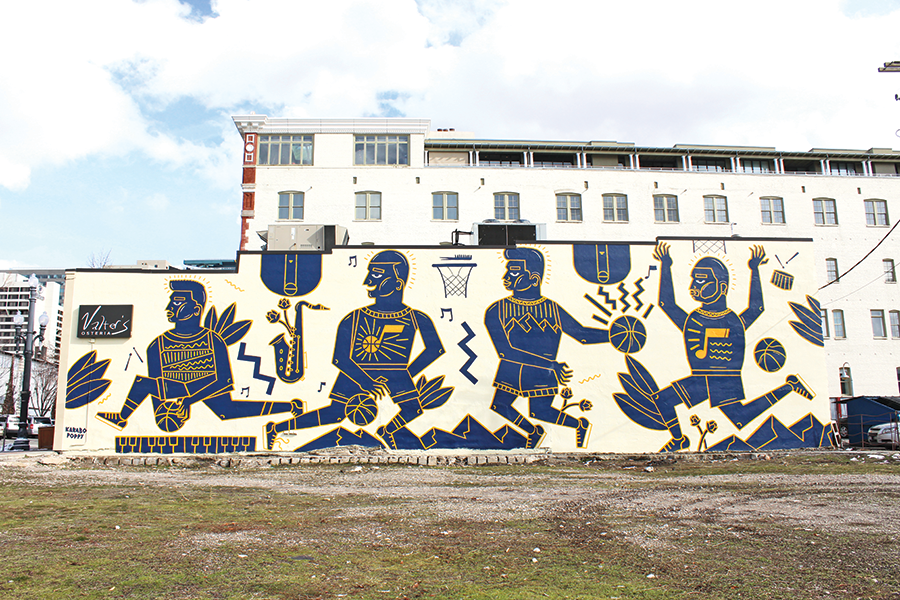 3. Clocking in at 20-by-78-feet, Karabo Poppy's tribute to the home team on the west side of Valter's Osteria is monumental indeed. Influenced by signs at hair salons she's seen during her youth in South Africa, the piece also gives nods to hieroglyphics, the mighty Wasatch range and the team's New Orleans origins via a saxophone. "When I approach a new piece, I always look at it in a way that celebrates hybridity," Poppy told NBA.com.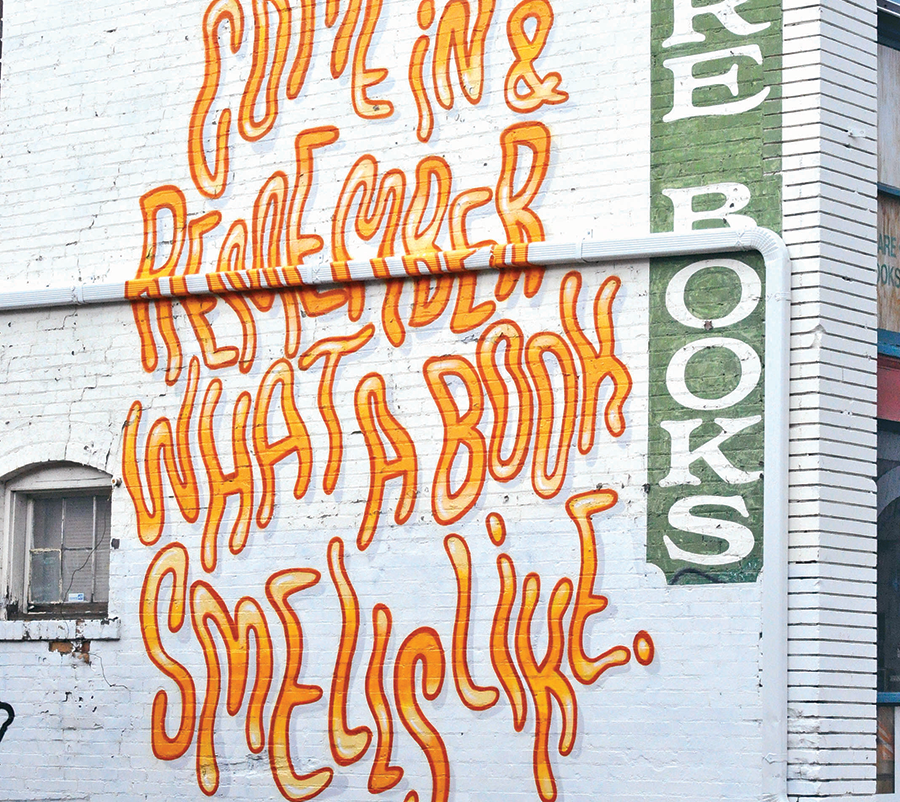 Tag, You're Art!
Ever wonder where the local culturati get their A&E kicks at? Read on.
By Scott Renshaw
If the health of a city's arts scene is any indication of its vitality, Salt Lake City is alive and kicking. From theater to dance and comedy to literary arts, SLC is full of ways to enjoy and celebrate the work of creative people. And what's more exciting still, is that those creative people love celebrating each other.
As an indication of that mutual support, we invited prominent folks in the local arts community to "tag" one another's organizations as something that helps inspire them. I got the ball rolling, then watched as those folks cheered on their artistic colleagues. A rising tide of creativity really does lift all boats.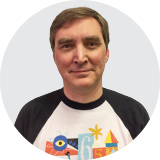 Scott Renshaw, City Weekly A&E Editor, on the Salt Lake Film Society
"More than 20 years ago, when I relocated to Utah from Northern California as a freelance film critic, I wondered what kind of cinephile culture I'd find here. Silly me. Not only was I not thinking about the influence of the Sundance Film Festival, but I didn't know about the long history of the Tower Theatre. When the Salt Lake Film Society formed in 2001, dedicated to preserving the Tower and guaranteeing a home for independent film, foreign film and documentaries at the Broadway Centre, it was clear that this city is as inspired as I am by great cinema, no matter where it originates."
saltlakefilmsociety.org
Salt Lake Film Society Executive Director Tori Baker on Salt Lake Acting Co.
"Art links us to one another and provides so many varying ways to express humanity. While I find inspiration, personal growth and empowering storytelling most often through the art of cinema, I frequently reach for variety and inspiration from performing arts. When I look to explore the intimacy and texture of a live theater experience, there's no place like Salt Lake Acting Co. SLAC always pushes boundaries and expands my visions of storytelling, inspires my thinking, entertains me, and connects me to my community. Their unique space informs much of the experience, and also has a sense of grounding and nostalgia."
saltlakeactingcompany.org
Salt Lake Acting Co. Artistic Director Cynthia Fleming on Ballet West
"My love for Ballet West is very personal. From the age of 6—when Ballet West was known as Utah Civic Ballet—my mother and I would attend, captivated by dancers like Janice James and Tom Ruud. The company provided an introduction to an art form that would eventually shape my entire life and career. In fact, I'm currently having a 'pinch me' moment, as SLAC prepares to produce Silent Dancer, a Jazz Age romance with choreography by Christopher Ruud—his first project after his final BW appearance in Swan Lake this February. The power of dance is undeniable, and no one does it better in Utah than Ballet West."
balletwest.org
Ballet West Artistic Director Adam Sklute on Weller Book Works
"To nurture my own creativity and find inspiration, my husband, Christopher, and I enjoy exploring Salt Lake's bookstores. There are so many wonderful gems with owners who are passionate and brilliant. One of my favorites is Weller Book Works in Trolley Square. I miss the old location on Main Street, with its labyrinth of underground tunnels, but the soul remains in the beautiful new space, guided by Tony and Catherine Weller. Go visit them and the three generations of family members working there; you'll find me in the arts or cooking sections!"
wellerbookworks.com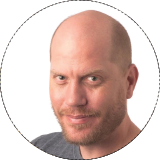 Weller Book Works' Events & Outreach Coordinator Lane Richins on Pygmalion Theater Co.
"As the only theater company in the city with a mission statement dedicated to women's voices, Pygmalion Theatre Co. is where I turn for inspiration. In some ways, they are like many other companies ... strong storytelling, quality actors, technical prowess ... but it is their fervent diligence to their statement that sets them apart. Now more than ever, the voices of women are propelling us into a new future, and Pygmalion puts those voices front and center with every production. That is something I figuratively and physically applaud."
pygmalionproductions.org
Pygmalion Theatre Co. Artistic Director Fran Pruyn on Salt Lake Vocal Artists
"I am a big fan of Salt Lake Vocal Artists, and try to attend all of their local concerts. SLVA is an offshoot of the Salt Lake Choral Artists which features those in the community choir who have professional-level capability. They perform enormously complex classical, contemporary and culturally diverse choral music. Its a low-profile, but enormously skilled group of artists who swell the halls with the dense SSAATTBB harmonics of composers from a large range of styles and periods. SLVA performs around the world, and I am privileged to live in a city that values its contribution."
saltlakechoralartists.com
After much prodding, the chain ended, perhaps ironically, with silence from Salt Lake Vocal Artists. Yet there's potentially no end to the ways this community's creative people influence and inspire one another. Great art is often the beginning point for someone else's great art.
Courtesy Photo
Eccles Center
Other local arts stalwarts to build your own list
Broadway at the Eccles: Touring productions of recent and popular Broadway stage hits. broadway-at-the-eccles.com
The King's English Bookshop: Locally-owned independent bookseller, regularly hosting live author readings and other literary events. kingsenglish.com
Pioneer Theatre Co.: Classic plays, Shakespeare, recent Broadway favorites and award-winning new works at the University of Utah's resident professional theater. pioneertheatre.org
Plan-B Theatre Co.: Promoting seasons of new plays by local and regional playwrights, often with cutting-edge themes. planbtheatre.org
Repertory Dance Theatre: Dedicated to preserving and celebrating the history of dance. rdtutah.org
Ririe-Woodbury Dance Co.: Longstanding modern dance company showcasing new and classic choreography. ririewoodbury.com
Utah Presents: The best of touring performing artists—in dance, theater, comedy and more—at the University of Utah's prime venues. utahpresents.org
Utah Symphony & Opera: Performing the classic works of the symphonic and operatic canon, plus new commissions and pops concerts. usuo.org
Wiseguys Comedy Clubs: Three locally-owned Utah venues offering a stage for the best in national touring comedians, plus rising local talent. wiseguyscomedy.com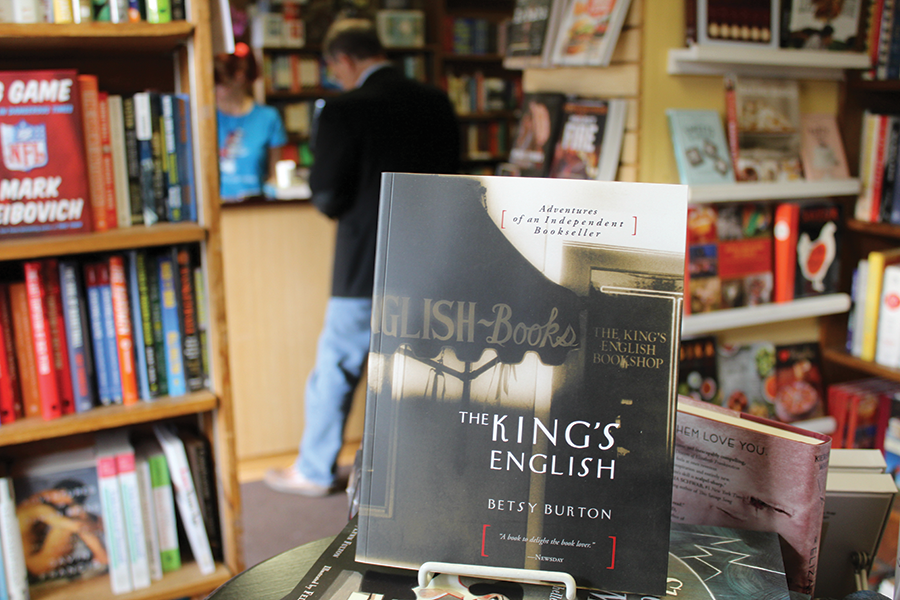 Enrique Limón
King's English Bookstore
For the Books
Get your read on at these great independent booksellers in SLC and beyond.
By Michael D. Ferry
Each year, cyclists from around the world assemble for the now-famous Tour of Utah cycling competition. Steep climbs and fast descents push racers to their limit. Each year there are several competitors who do not finish the race, opting instead to detour to the closest bookstore and enjoy a relaxed afternoon browsing the shelves for their next great read. While these competitors might not finish on the podium, they are rewarded with stacks of great reading material, which many would argue is even better than receiving a medal.
Our state features some of the most brilliant bookstores in the country. There are several larger retailers located around Utah, but here's a quick tour of the best independent booksellers from Sandy to Ogden.
Aaron Cance with The Printed Garden in Sandy (9445 S. Union Square, theprintedgarden.com) encourages everyone to visit an indie bookstore to see why they are great. "Locally owned businesses are what make neighborhoods interesting," Cance says. "You can expect a personal experience with staff that really care about what they're doing. Our store, for example is not a large store, but neither is there any filler on our shelves. If a guest were to walk into our store with a blindfold on, he or she could pull a book off the shelf, and it would be a really good book."
After finding a book at Printed Garden, take off the blindfold and continue to the next stop on the tour. "Many people might not have a specific book in mind when they come in, but they look through our shelves and when they find 'it', they just know," says Cindy Dumas, owner of Marissa's Books in Murray (5692 S. 900 East, Ste. 10, facebook.com/marissasbooks), describing one type of experience customers might expect when they visit. For Dumas, searching for great collections of books and new, unique gift items that customers will love is her favorite part of being a bookseller. "Each time someone comes to our store," she says, "they can expect to find something original, distinct and a little different from the previous time they visited." If you visit Marissa's, you can also find used books in great condition, and most of their new children's books are just $2.
Sugar House's Central Book Exchange (2017 S. 1100 East, central-bookexchange.com) is the place to go if you like to be surrounded by floor to ceiling stacks of every literary genre imaginable; you see—and smell—nothing but books. It is a small store, but they take advantage of every inch of shelf space. Their inventory is primarily used titles, which you can pick up for just a few bucks each.
Rob Eckman, from The King's English Bookshop in Salt Lake City (1511 S. 1500 East, kingsenglish.com), explains how independent bookstores serve as creative centers for our community and support the literary arts: "Bookshops are unique and special places. We are not only a place to find and read books but we are also gathering places and safe places where ideas can be discussed and shared." Eckman soon excuses himself for another engagement, because "it's Children's Story Time, and the kids don't like to be kept waiting." His official title is Marketing Manager, but Eckman is also known as "Genius Storyteller" and "Emperor of the Kids Room".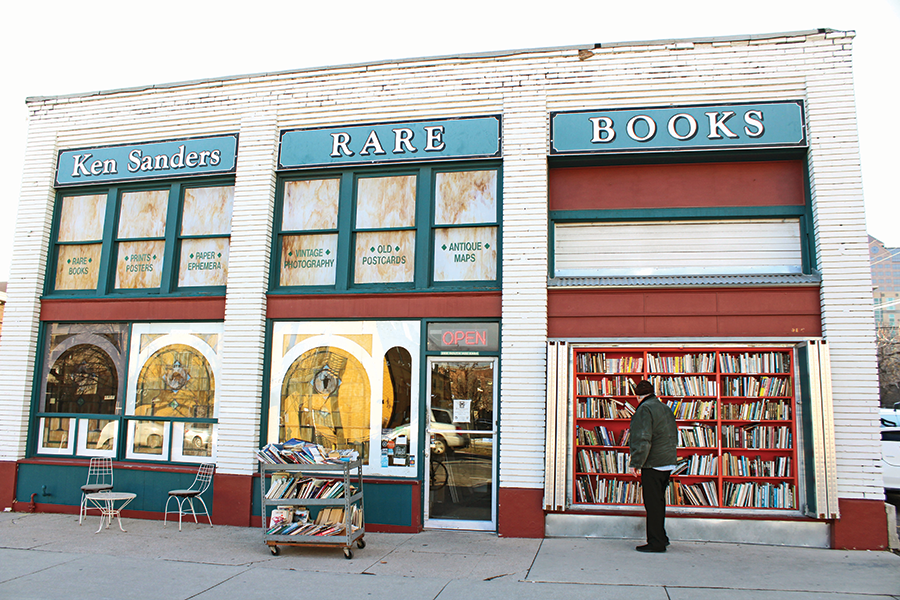 Enrique Limón
Ken Sanders
Salt Lake City also plays host to Trolley Square's Weller Book Works (607 Trolley Square,wellerbookworks.com), with its two levels filled with thousands of books to browse. You'll never get through them all, so ask the friendly staff for recommendations. Be sure to drop in at Ken Sanders Rare Books (268 S. 200 East, kensandersbooks.com) to see one of the most valuable rare book collections in Utah. If you are looking for a book much older than you, or anyone you know, this is the bookstore for you.
Traveling north to Bountiful finds The Book Garden (2 N. Main, bookgarden2.com) and bookseller LeAnn Jorgensen. One of Jorgensen's favorite events of the year is Independent Bookstore Day in April, when book lovers are encouraged to visit as many bookstores as they can. "Independent Bookstore Day is a fun day for everyone. We love to see the shop-hoppers that are determined to visit each and every bookstore within driving distance during that day," she says.
You don't have to wait for Independent Bookstore Day to visit a great shop like Booked on 25th in Ogden (147 25th St., bookedon25th.com). In addition to new releases and best-selling books, you can also find bookish gifts and merchandise that you won't find anywhere online: shirts, mugs and other items featuring their signature black crow (or is it ... a raven?).
These bookstores play an important role in making great books available and helping us discover them. In addition to great books, patrons can expect to find activities like author appearances and book signings; check online calendars for each store to see what they have coming up.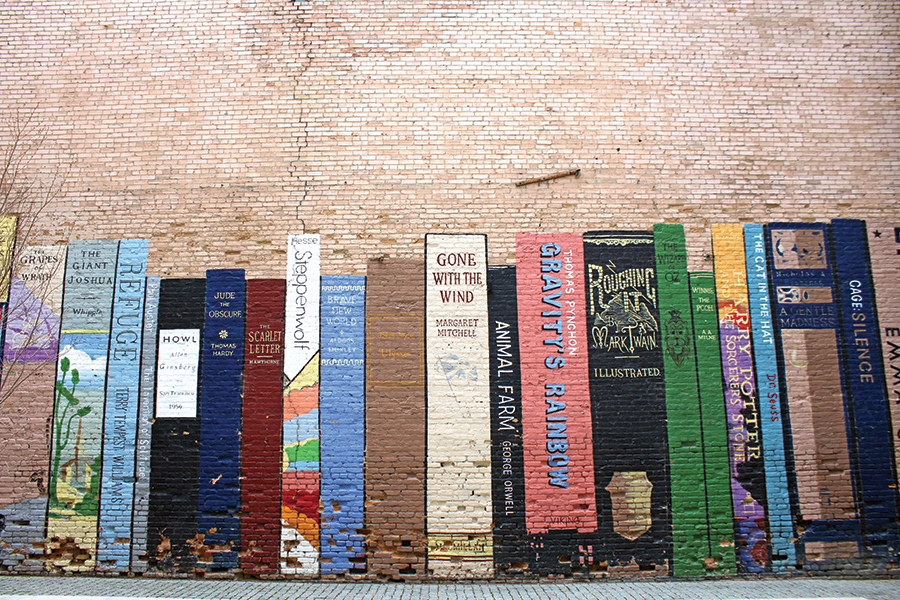 Beehive Scribes
Be cool when you run into these famous local authors.
By Amanda Rock
Consider yourself warned. Famous authors live in Salt Lake and you could run into them grocery shopping or grabbing a bite to eat. Don't panic. Be cool. Authors are totally normal people and why wouldn't you bump into them at Smith's? Should you ask for their autograph? A selfie? Ask where they get their ideas? Gush about their latest novel? Ask when their next novel is coming out? Probably. Here's five to watch out for:
Shannon Hale
You don't have to explain what fry sauce is to Shannon Hale. This New York Times bestselling author is a Salt Lake City native. More than 25 books are in her catalog, including Princess Academy, which won the prestigious Newbery Honor award. Along with husband Dean Hale (who also calls SLC home), she writes the Unbeatable Squirrel Girl novels. Hale's books feature awesome female characters and she writes them for everyone to read—girls, boys, kids, teens and adults. She's a champion for equal reading rights, fighting gender bias whenever she can. shannonhale.com
Gabriel Tallent
When Celeste Ng and Stephen King rave about your first novel, you know you've made it. My Absolute Darling by Gabriel Tallent is heartbreaking, beautiful and impossible to put down. The most talked about book of 2017, My Absolute Darling received stellar reviews and it was the first debut novel to appear on the best-seller lists in the U.S. and U.K. at the same time. Raised on the Mendocino coast by his two mothers, Tallent now resides in Salt Lake City. gabrieltallent.com
Paisley Rekdal
The Utah Poet Laureate is required reading for locals of all stripes. Besides poetry, the University of Utah English professor also pens novels and essays. Rekdal's work has appeared in The New York Times Magazine, American Poetry Review and The New Republic, among other popular publications. She's received a Guggenheim Fellowship as well as other distinguished awards. Nightingale, her newest collection of poems, will be published this spring. paisleyrekdal.com
Jessica Day George
New York Times bestselling author Jessica Day George also put down roots in SLC with her husband and three kids. She writes compelling fantasy books and fairy tales for young adults and adult-adults who appreciate a good story about debutantes in the 1890s who travel to Romania and maybe become servants to the Draculas. (Pick up a copy of Silver in the Blood and let's read it together!) In 2007, she won the Whitney Award for Best Book by a New Author for Dragon Slippers. jessicadaygeorge.com
James A. McLaughlin
OK, you're less likely to run into James A. McLaughlin, as I think he prefers the mountains to the city. Relocating to the Wasatch Range east of Salt Lake from rural Virginia where he grew up, McLaughlin is an avid photographer, capturing landscapes and wildlife. Bearskin, his first novel, has been nominated for the Edgar and Barry awards for Best First Novel. Set in the Appalachian Mountains of Virginia, Bearskin is an action-packed thriller written with a naturalist's voice. He's currently working on two novels related to Bearskin. jamesamclaughlin.com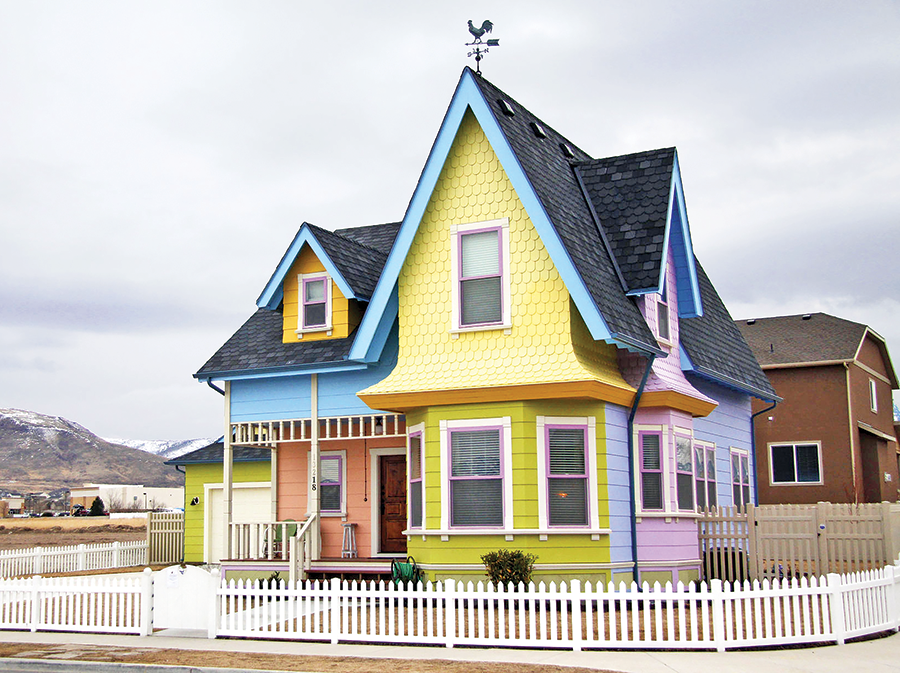 Frankie Richardson
Up House
By the ways
Your guide to the oddities and eyesores that dot Utah's roads.
By Naomi Clegg
Look, sometimes you just have a craving for the weird, the nonsensical, the spectacular. That's what this guide is for. Utah is a naturally weird place—its pioneer history and often-inhabitable landscapes, for starters—that has, over the years, attracted a bunch of oddballs, who have, in turn, built the following odds and ends. Some are rooted in superstitious religious lore, others in Utah's rich cinematic, scientific and settler history. All get you off the beaten path—figuratively, of course, because all of these sites are easily accessible from our highways and byways. As always, use your turn signals.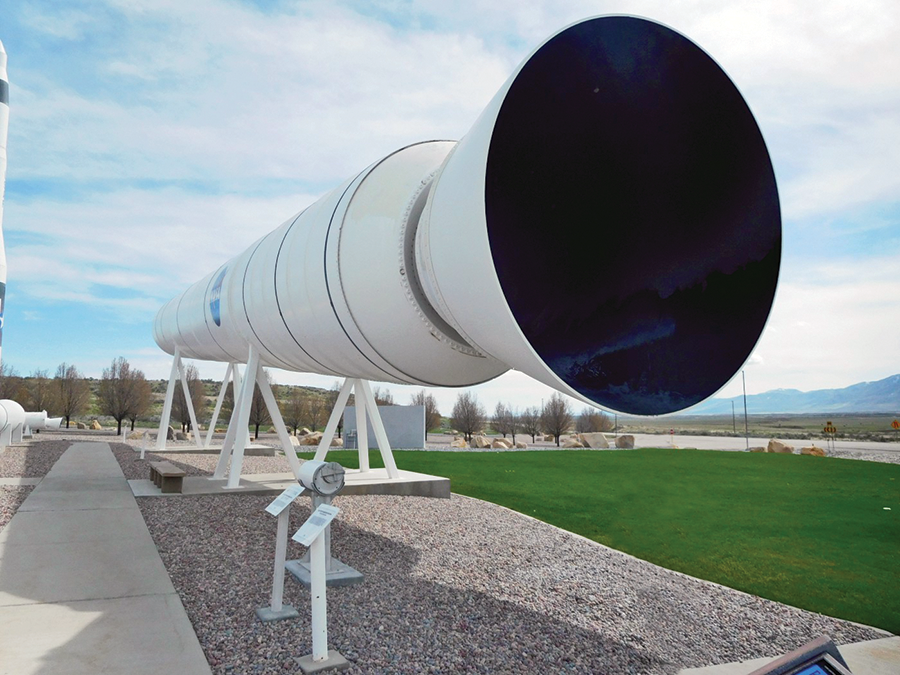 Niki Chan
ATK Rocket Garden
ATK Rocket Garden, Corinne
If you head out to Utah's Golden Spike National Historic Site at Promontory Summit, north of the Great Salt Lake, you can learn about the people who helped complete the first transcontinental railroad. But, take a detour about a mile before you hit the turnoff, and you'll encounter a rocket garden in front of rocket manufacturer ATK's facility. The site boasts 20 or so real-life space rockets, including educational plaques. While you're there, check out the famous Spiral Jetty earthwork, just 19 miles away.
Red Iguana's Red Iguana Statue, SLC
Red Iguana is known for its famed Mexican food. It's so well-liked that the owners built a Red Iguana 2 a block away and a food-court outpost at nearby City Creek Center. Stop for lunch at the original location, and don't forget to get your picture taken next to the larger-than-life red iguana, which stares menacingly from its post in the parking lot. Sculpted by Utah artist Stephen Kesler, the 33-foot-long, 13-foot-high lizard is named Xochitónal after the giant iguana guardian of the Aztec underworld. Kesler says this bad boy took two years to create—probably because he hand-sculpted all 120,000 of its scales.
Up House, Herriman
Once you've had your fill of obscure Mormon theology, head southwest to Utah's paean to industry: the world's largest man-made excavation, the half-mile-deep Bingham Canyon Open Pit Copper Mine. On your way there or back, drive through Herriman. This Utah township is much like the many other Utah burbs, but tucked between the cardboard-cutout lookalike homes is an exact replica of the quaint, multi-colored home from the animated feature Up—although it's now privately owned and can only be viewed from the outside. Utah's Bangerter Homes built the cutesy dwelling with permission from Disney on the condition that the plans be surrendered after its construction, making it literally one-of-a-kind.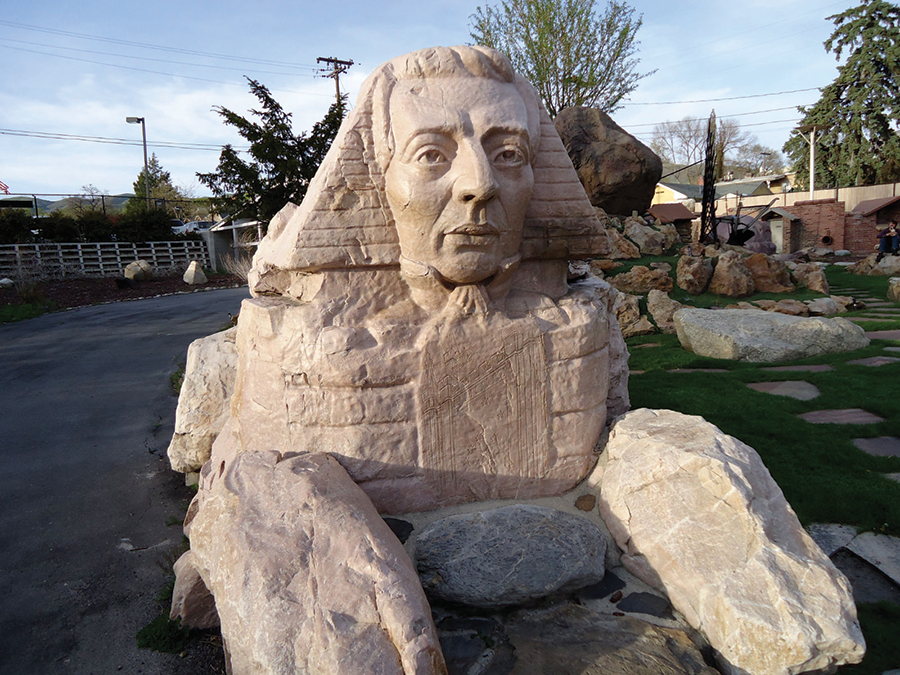 Enrique Limón
Gilga Gardens
Gilgal Sculpture Garden, SLC
Ah, the infamous Gilgal Garden. A place of trippy treasures, the garden was built beginning in 1945 by Thomas Child, a local LDS bishop, thinker and man of mysteries. "You may think I am a nut, but I hope I have aroused your thinking and curiosity," Child said of his garden. Now a park open to the public, the garden showcases Child's very specific religious beliefs in the form of sculptures and quote-inscribed plaques. A pinnacle of Utah-ism, it boasts as its centerpiece a Sphinx topped with the head of Mormonism's founding prophet, Joseph Smith.
Janice Gleeson
Stonehenge
Stonehenge, American Fork
For those wanting a taste of Neolithic history, luckily, you don't even have to leave Utah. Sitting right on the front lawn of Utah County's Stonehenge of American Fork, a nursing and rehab facility, is a replica of the world's most famous prehistoric monument—albeit in smaller and less timeworn form. As one Yelper notes, "The spirit of [Stonehenge] ... truly lives here in American Fork!"
Eagle's Landing Petting Zoo, Scipio
If you're heading down to Southern Utah, take a break in Scipio, right off I-15. Across from the Flying J gas station and the Dairy Queen in this tiny pit stop of a town, you'll find a lovely little petting zoo, replete with a donkey, camel, llama and zebra, along with rabbits, ostriches, peacocks and more species of the cute and fuzzy. It's a great opportunity to stretch your legs after a few hours in the car, for grown adults and antsy kiddos alike. Just watch out for the llama. It spits.
Cove Fort Historic Site, Beaver
Keep heading south past Fishlake National Forest. (All right, maybe stop in Fillmore to check out the Territorial Statehouse State Park Museum—Utah's oldest existing government building and one-time meeting place for the Legislature.) A little farther down I-15, right before you get to the town of Sulphurdale, take a small detour to visit the Cove Fort Historic Site, a fort built of volcanic rock in 1867 at the request of Mormon prophet No. 2, Brigham Young. The site was once a waystop on the Mormon Road, a section of the California Wagon Trail. Today, LDS missionaries offer tours of the historic homes, blacksmith shop and telegraph office.

Landlocked Lighthouse, Cedar City
We've covered rockets, prophet-sphinxes and larger-than-life iguanas. So how's about a little apocalyptic lore? This fully functioning lighthouse at the entrance of Cedar City's Providence Center Mall stands 88 feet high—in one of the most landlocked states in the nation. It's 450 miles away from the nearest ocean, but that didn't stop the developers, who purportedly built it to prepare for when Utah becomes the new Western coastline, after an Earth-rendering earthquake drops all of California into the sea. Nice to know you, San Diego!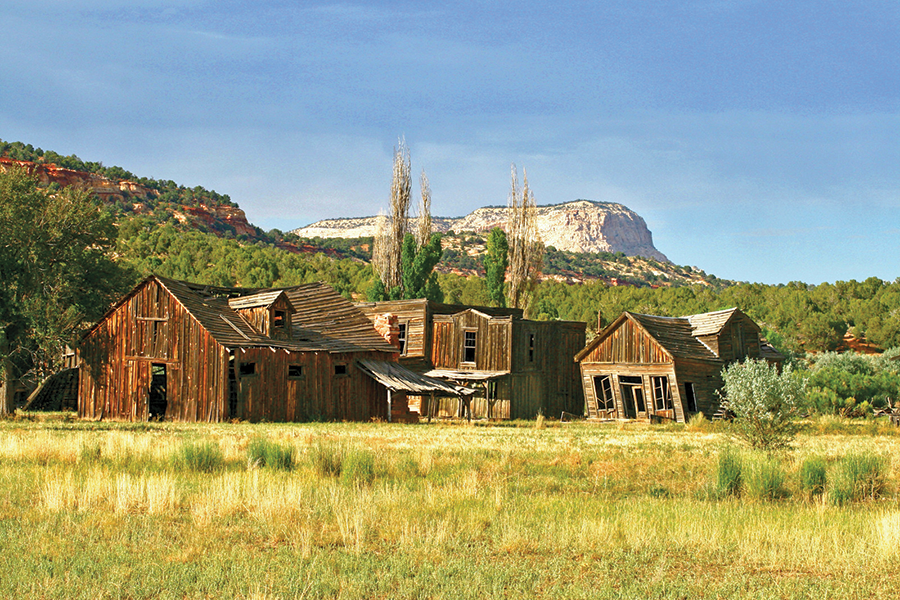 Tyler Cornell
Gunsmoke Ghost Town
Gunsmoke Town, Kanab
Western fans will remember the 20-season TV show Gunsmoke, which ran from 1955-75. In the show, Marshal Matt Dillon lays down the law in Dodge City, Kan. Turns out, "Kansas" was actually Kanab. Now deteriorating, the Gunsmoke town down Johnson Canyon Road near Kanab has become a real Western ghost town. While you're passing through Kanab, stop for a few more local oddities, including the ultra-big grocery cart in front of Honey's Marketplace and the bizarro Moqui Cave, which is home to one of the largest collections of fluorescent rocks in the U.S.
Goulding's Monument Valley Museum
Last stop. Right on the Utah-Arizona border sits the famed Monument Valley, and the lodge-cum-campground-cum-trading-post-cum-museum that is Goulding's. Before you get out into the red, red rocks, nose around the museum, which showcases Native American artwork and crafts, historic photographs and stills and memorabilia from the many Western movies shot at this picturesque location. For all you movie geeks, "a classic John Ford-John Wayne film is always playing," its website says.
Wish You Were Here?
On the quest for the ultimate SLC souvenir.
By City Weekly Staff
The disposable keychain, the sad snowglobe, the ever-elusive non-moose-related knick-knack. Few things scream vacation success quite like the cheesy souvenir. With that in mind, we unleashed four contributors to scope out and purchase a cheese-tastic SLC memento across the same number of local retailers. As varied as their personalities, the items they secured inspired revelry, indigestion and existential dread.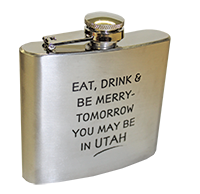 Flask ($9.99)
Found at Market on Main, 268 Main, 801-363-0280
One day after work, I went to find a snack at a small Afghani market called Market on Main Street. My venture for some chips quickly became an afterthought, once I spotted a small but mighty section of Salt Lake City souvenirs. As I perused, I was fascinated by the unique key chains and mini spoons with Utah designs, among other fun items. My eyes were finally drawn to a flask engraved with the message "Eat, Drink, & Be Merry—tomorrow you may be in Utah," which spoke to my newly minted 21-year-old self. I immediately picked it up, and proceeded to checkout, snackless. Despite its message, my flask is now filled with merriment—even in Utah. (Dash Anderson)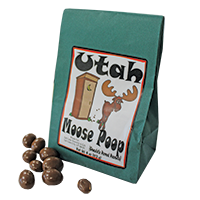 Authentic Utah Moose Poop ($5.99)
Found at Salt Lake City Souvenir & Gift,
24 W. 100 South, 801-456-1229,
saltlakesouvenirandgift.com
OK, let's talk biology. Pooping is arguably one of the best things to do, well, ever. Clearly this was on my mind when I ventured into the downtown bastion of all things SLC souvenirs known as Salt Lake City Souvenir & Gift. Upon my return to the newsroom, I discovered, the gift isn't real moose poop, but actually delicious chocolate-panned peanuts. Still, this #fakepoop spoke to me in ways that basic "SL,UT" key chains could only dream of. The decision wasn't easy; it was between this or some hand-carved healing crystals. I'm glad I followed my heart (and my intestinal tract) on this one. (Rachelle Fernandez)
Moose shot glass ($6.59)
Found at Simply Salt Lake, 90 S. West Temple, 801-534-4906
In keeping with the theme, the Salt Palace Convention Center has been one of Salt Lake City's most iconic landmarks since 1995, and no iconic landmark would be complete without a gift shop. Located inside the center itself, Simply Salt Lake offers a wide variety of Utah-themed apparel, snacks and other trinkets and doodads. A surprising number of these feature moose, including this novelty shot glass with a very tiny, very drunk moose at the bottom. Apart from the amusing incongruity of buying a shot glass in such a notoriously dry state, I liked the idea that using it requires literally drowning the little guy in alcohol. (Nic Renshaw)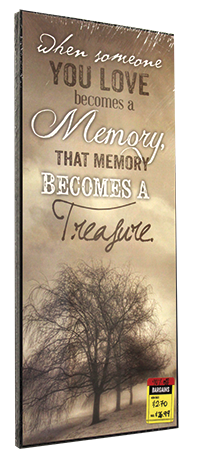 Existential dread wall art ($2.70; originally $26.99)
Found at Deseret Book, 45 W. South Temple, 801-328-8191, deseretbook.com
While I was tempted to purchase plastic missionary figurines (sold in pairs, of course) or a book about the history of those who explored and settled the "Americas" (no, Lehi was not given a chapter), at 90 percent off, there was no way I could pass on this gloomy wall decoration that, with the easy confidence only a promise of a personalized planet can instill, assures whoever might look at it that "when someone you love becomes a memory, that memory becomes a treasure." Really, I did a church service here, buying an item as downright depressing and existential-dread inducing as this—one that reminds you that everyone you know and love will, at one point or another, become a flawed and fleeting memory via a multi-font inspirational quote set on top of the sepia image of a bare willow tree surrounded by snow. You're welcome, future shoppers. (Jordan Floyd)
Universal Pictures
Back to the Future 3
Bee Movies
10 shot-in-Utah flicks sure to get you in a Beehive state of mind.
By David Riedel
Do you love Utah? The movies sure do! On John Ford's résumé alone, you'll find Monument Valley listed at least seven times. And while many classic (and not-so-classic) films have been shot in the Beehive State, here are 10 that, in my estimation, stand above the others for reasons that are completely arbitrary, and only obliquely touch on love (or sex).
Universal Pictures
Butch Cassidy and the Sundance Kid
Best period movie with the worst use of a contemporary song that kills any romance in the air
In 1890's Butch Cassidy and the Sundance Kid, while Butch (Paul Newman) and Etta (Katharine Ross) sweetly bicycle through ghost-town Grafton, B.J. Thomas croons the very 1960s "Raindrops Keep Fallin' On My Head" by Burt Bacharach and Hal David. Sample lyric: "Raindrops keep fallin' on my head/ Just like the guy whose feet are too big for his bed/ Nothing seems to fit." This song won an Academy Award, people! Proving the Oscars have always been #SoWhite—and pretty clueless, to boot.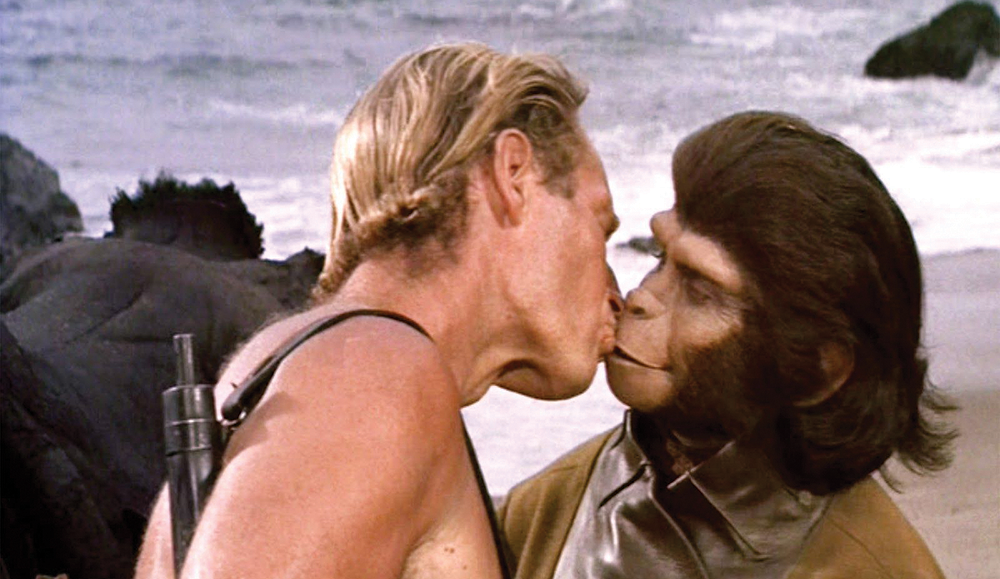 20th Century Fox
Planet of the Apes
Best movie that makes you feel less weird about your particular fetish
It's not love that Taylor (Charlton Heston) is showing Dr. Zira (Kim Hunter) when he says he wants to kiss her in Planet of the Apes. It's respect, which Zira undermines immediately when she tells Taylor that he's "so damned ugly." Still, man-on-ape action makes your man (or woman)-on-whatever obsession seem less weird, right? Look out for Lake Powell and Glen Canyon while you're watching those damned dirty apes.
Best time-travel movie with a sweet romance
Back to the Future Part III has lots of things going for it, starting with its vast improvement over Part II. It also features the only real love story in the series, a romance between Doc Brown (Christopher Lloyd) and schoolteacher Clara Clayton (Mary Steenburgen). Sure, Marty (Michael J. Fox) has a girlfriend, Jennifer (either Claudia Wells or Elisabeth Shue), but it's the Doc's trip down Cupid Lane that we watch unfold on screen. Monument Valley plays a small role outside that romance—the movie is done with it shortly after Marty arrives in 1885.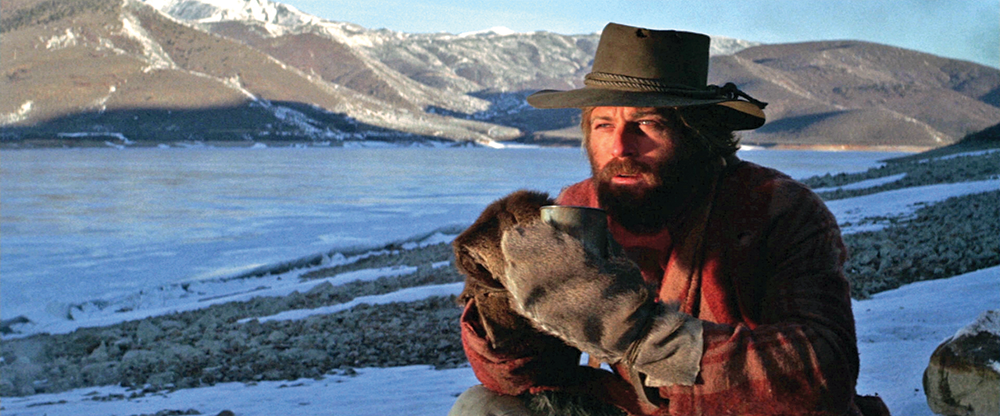 Warner Bros.
Jeremiah Johnson
Best movie to watch if you're into the strong, silent type
Jeremiah Johnson features star Robert Redford's love for Utah and its many breathtaking locations, including Ashley National Forest, Snow Canyon State Park and Zion National Park to name but three (and there are plenty more). This movie isn't the easiest to watch—there's a lot of violence, not much talking and Johnson is something of a prick—but if you can find a pristine print (or the Blu-ray), Jeremiah Johnson is a rewarding portrait of a difficult person (and spectacular landscapes).
Universal Pictures
Fletch
Best movie to use as a break-up tool
While Fletch has provided hours of joy through the ages for countless doofuses, it also really, really pisses people off. The reason (and this, along with my contention that it pisses people off, is totally made up): It's so endlessly quotable that those same countless doofuses have rendered its lines charmless. Do you really need to hear some chowderhead say, "It's all ball bearings nowadays" ever again? Probably not. So if you're the kind of creep who wants to end a relationship but doesn't have the guts to do it, just quote Fletch on a loop until your BF or GF storms off in anger. Then relax with a bloody mary, and a steak sandwich while visiting your friends Marvin and Velma in Provo.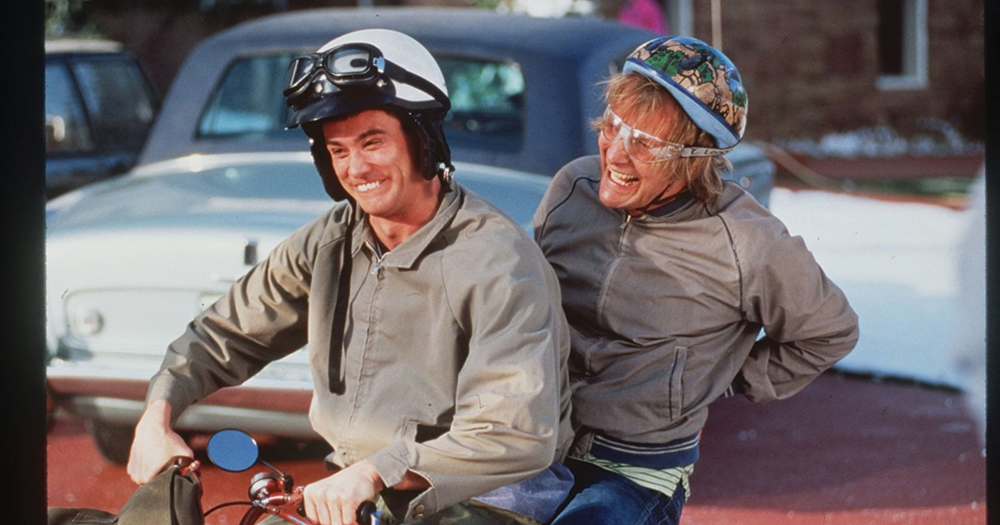 New Line Cinema
Dumb and Dumber
Best movie to watch while in the grips of unrequited love
Dumb and Dumber takes place in Providence, R.I., and Aspen, Colo., but the bulk of it was filmed in Utah. Harry and Lloyd's apartment exterior? Salt Lake City (standing in for Providence). Mary's home in Lloyd's fantasy? La Caille in Sandy. The list goes on. And if you're the kind of person who falls in love with someone who's both unavailable and out of your league, you'll have a lot in common with Lloyd (Jim Carrey). Plus, Dumb and Dumber is still hilarious.
Best movie to watch if you and your S.O. have the kind of relationship no one else understands
In Gerry, after being lost for nearly two hours in disparate and remote locations such as Death Valley, Argentina (!), and the Bonneville Salt Flats, Matt Damon strangles pal Casey Affleck to death and then saves himself. Is it a mercy killing? Or is it totally selfish? You and your lover know the truth, and are prepared to undertake similar radical notions of love if the need arises.
Best stand-in for the U.S. Capitol in a dumb romantic comedy
Although the Utah Film Commission website is light on specifics, Legally Blonde 2: Red, White and Blonde is on its list, so how could it not end up here? That's the Utah Capitol's exterior standing in for the U.S. Capitol, if every Legally Blonde fan site in the world is to be believed. And LB2 features choreography by Toni Basil. What's not to love?
Best movie to watch if you love Utah (and the 1980s and Kenny Loggins)
The 1980s have so many things to adore: The fashion, the music and actors well into their 20s playing teenagers. Kevin Bacon and Lori Singer were born in the '50s but they're two lovestruck kids in Bomont (or Beaumont), a city in an unnamed state that has banned dancing in Footloose. Sharp viewers know Payson, American Fork, Provo, Lehi and Orem play Bomont. Dianne Wiest and John Lithgow play concerned parents and Loggins plays the hell out of the soundtrack. Don't get me wrong, Footloose is completely stupid, but as a product of its time, it's perfect. It deserves our love.
Best movie to watch before revenge killing the people who killed your loved ones
The Outlaw Josey Wales, a super-violent tale, makes a couple stops in Utah, at Glen Canyon and the ghost town of Paria in Kane County. And it features Clint Eastwood doing what he does best: killin'. And it ain't just killin' for the sake of killin'. It's killin' because someone kilt Josey's family. Yee-haw! (Aside: In later years, it was discovered Asa Carter, a former speechwriter for segregationist Alabama Gov. George Wallace, wrote Gone to Texas, the novel on which Josey Wales is based, under a pseudonym. Yikes!)
Sundance Survival Guide
You too can experience Park City's famed film fest like the elite.
By Scott Renshaw
Utah and Salt Lake City are known for many things—skiing, the LDS church, weird liquor laws—but the Sundance Film Festival is one of the state's highest-profile internationally-known events. The annual showcase for American and worldwide independent film—headlined by founder Robert Redford—brings celebrities, journalists, industry insiders and stargazers to pack the mountain town of Park City every January. Perhaps surprisingly, it's easier for Utah locals to experience it than folks in major media markets. Here are some tips for prospective first-timers considering a dive into this fascinating event.
Privileges for Utah Locals: If you're now a Utah resident, congratulations! You have a leg-up on certain perqs and ticketing privileges. In the fall, the festival opens a window for Utahns to purchase Local Express festival passes, granting priority seating to film screenings held at the festival venues in Salt Lake City. They sell out quickly, so check sundance.org regularly for announcements about when you can purchase. If you're not sure about attending 10 days' worth of movies, Best of Fest screenings are held after the festival ends, showcasing award-winners and once again available only to locals through the official festival app.
Navigating Park City: If you want to get the full flavor of Sundance, you'll need to head into the mountains; you just need to know when and where to go. Official festival parking is limited and expensive, so the best way to get around if you're making a day trip from the Salt Lake Valley is to find street parking—usually around the official festival headquarters in the Prospector Square area—and take the free festival shuttles everywhere else you want to go. Then carve out some time to hang out on Main Street, the central point for most of the action and celebrity-sighting thanks to the various sponsor venues and restaurants and clubs used for special events. If you're planning to attend a film screening, get familiar with the distance between venues, and be aware that at certain peak commute times—weekend evenings heading into Main Street, or between 3-6 p.m. when day skiers and locals are heading out of town—many of the main arteries are so clogged with traffic that it can take an hour to get from one side of Park City to the other.
Seeing Movies: This is a film festival, after all. While most Park City screenings are officially sold-out well in advance of the festival week, that's mostly to account for pass-holders who have the option to attend any screening at a given time, and ticket holders who might not show up. That means that wait-list tickets are available for each venue, with the number varying based on the size of the venue and the time of day. Your best shot at getting in will be the largest theater spaces—the MARC theater and Eccles Theater in Park City, and the Grand Theatre in Salt Lake City—at the earliest and latest screening times daily. Log on to the official festival app, create an account, and get ready to reserve a virtual spot in the waitlist line (usually two hours before scheduled screening time). Then, depending on the wait number you receive, decide whether you want to make sure you're there in person at your venue 30 minutes before show time to purchase your tickets (cash only). As far as what to see—keep an ear to social media (especially City Weekly's, wink-wink) after the first couple of days of the festival. It doesn't take long for the cream to rise to the top.
Eating While Sundancing: Especially in Park City, dining options are pricey. While many venues offer food options, some don't allow any food inside the theaters, and like all movie-theater food, it's not a great bang for the buck. Brown-bag it whenever possible: Pick up something at a nearby supermarket, and enjoy a granola bar, bagel or piece of fruit rather than a $15 sandwich. Now pass the popcorn.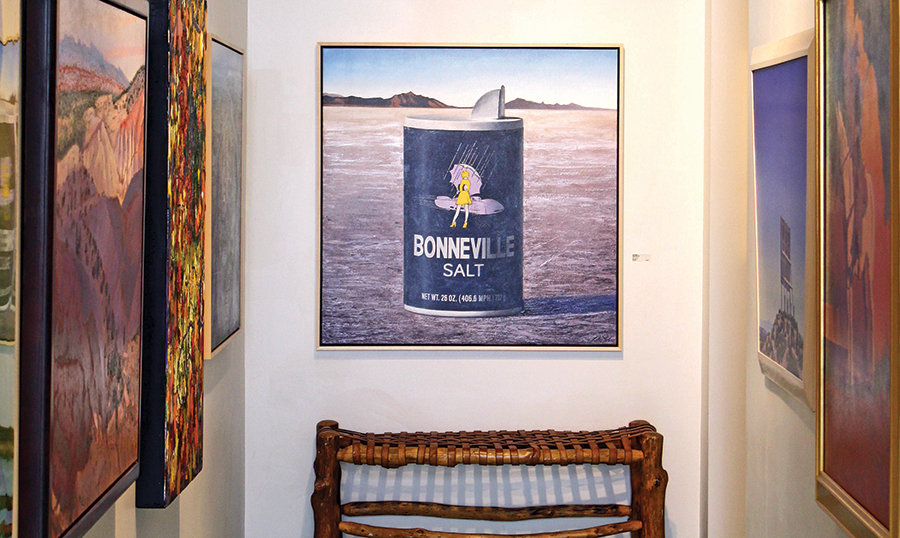 Enrique Limón
Modern West Fine Art Gallery
Museum Directory
SALT LAKE VALLEY GALLERIES
15th Street Gallery
Specializes in showcasing award-winning and emerging Utah artists. 1519 S. 1500 East, 801-468-1515, 15thstreetgallery.com
"A" Gallery
This gorgeous gallery and courtyard combo also offers custom art consultations,
installations and space rentals. 1321 S. 2100 East, 801-583-4800, agalleryonline.com
Alice Gallery
Located within the historic Glendinning Mansion, Alice Gallery hosts collaborative exhibitions for Utah artists and their communities. 617 E. South Temple, 801-236-7555, heritage.utah.gov
Alpine Art
This well-lit and spacious fine art gallery doubles as a framing workshop to accommodate local business and designer needs. 430 E. South Temple, 801-355-1155, alpineartinc.com
Anthony's Fine Art and Antiques
Housed in a 100-year-old church, this eclectic collection of museum-quality art and antique decor is staffed by a multi-generational team of specialists. 401 E. 200 South, 801-328-2231, anthonysfineart.com
Art Access
Educational and professional programs, as well as exhibitions, provide opportunities for artists with disabilities and from other traditionally marginalized communities. 230 S. 500 West, Ste. 125, 328-0703, accessart.org
Art at the Main
In partnership with the Salt Lake City Public Library, this is a cooperative gallery that supports and features members of the local art community. 210 E. 400 South, 801-363-4088, artatthemain.com
Arts of the World Gallery
Promising a pinch of magic to its patrons, Arts of the World offers a distinct selection of international and hand-crafted treasures. 802 S. 600 East, 801-532-8035, artsoftheworldgallery.com
Brushworks Gallery
Features a variety of Utah artists specializing in oils and watercolors, plus custom framing services. 160 E. 800 South, 801-363-0600, brushworksgallery.com
Commerce & Craft
This original small-production art house promises each piece was handmade and lovingly procured. 1950 S. 1100 East, 801-207-1030, commerceandcraft.com
David Dee Fine Arts
Art collector and connector David Dee mainly features work of the early American West in his authenticated gallery, but provides other art services as well. 1709 E. 1300 South, Ste. 201, 801-583-8143, daviddeefinearts.com
David Ericson Fine Art
Featuring high quality works, David Ericson builds his galleries with care while offering consulting and art appraisals to the public. 418 S. 200 West, 801-533-8245, davidericson-fineart.com
Downtown Artist Collective
Locally funded and staffed, DAC regularly spotlights new artists. 258 E. 100 South, downtownartistcollective.org
DRAW Inc. Gallery
Serving marginalized communities with youth art classes, DRAW also operates a top-notch online store. 752 6th Ave., 801-893-2404, drawinc.org
Evergreen Framing Co. & Gallery
Evergreen is a platform for unique artist exhibitions and provides a comprehensive catalogue of collectible gifts. 3295 S. 2000 East, 801-467-8770, evergreengallery.com
Evolutionary Healthcare
An unexpected gallery can be found on the walls of this private health care facility and is open during regular business hours. 461 E. 200 South, 801-519-2461, evolutionaryhealthcare.com
Finch Lane Gallery
Located in Reservoir Park, this celebrated gallery switches its exhibits year-round and any artist can apply. 1340 E. 100 South, 801-596-5000, saltlakearts.org
Flow Art Space
Presenting local and national, emerging and established artists who work in a variety of media. 363 S. 500 East, Ste. 208, 612-242-8796, flowartspace.com
Fringe Gallery
Staying true to its name, Fringe exhibits unconventional and contemporary-focused art pieces. 345 W. Pierpont Ave., 385-202-7511, thefringegallery.com
God Hates Robots
SLC's premier experimental art gallery. 314 W. 300 South, Ste. 250, 801-596-3370, godhatesrobots.com
Hope Gallery
This gallery displays a classy collection of European works and reproductions. 151 S. Main, 801-532-1336, hopegallery.com
Horne Fine Art
Tall ceilings and open skylights make this a sharp exhibition space and working studio. 142 E. 800 South, 801-533-4200, hornefineart.com
Lanny Barnard Gallery
This gallery offers a mix of styles, art mediums, as well as a varied selection of gifts. 110 Trolley Square, 602 S. 700 East, 801-364-4482, lannybarnardgalleryslc.com
Mestizo Institute of Culture and Arts (MICA) Gallery
This gallery brings together artists, activists and educators to create social change through art. 631 W. North Temple, Ste. 700, 801-596-0500
Modern West Fine Art
This gallery supports modern and contemporary artists across mediums and influences, with an emphasis on Western themes.
177 E. 200 South, 801-355-3383, modernwestfineart.com
Nox Contemporary
Nox champions challenging works that shy away from the conventional. 440 S. 400 West, Ste. H, 801-289-6269, bit.ly/2J1Xo0a
Phillips Gallery
A gallery space for Utah-based artists that offers other consultation services. 444 E. 200 South, 801-364-8284, phillips-gallery.com
Relics Framemakers & Gallery
Relics is known for its quality craftsmanship, expertise and regional artist support. 4685 S. Holladay Blvd., 801-272-8312, relicsgallery.com
Rio Gallery
This historic and collaborative gallery is nestled in the lobby of the Rio Grand Depot. 300 S. Rio Grande St., 801-245-7272, visualart.utah.gov
Sego 3 Fine Art
A procurer of high-quality American Great Basin artwork. 661 S. 200 East, 801-328-9848, sego3.com
The Stockist
This lifestyle boutique hosts a variety of unique vendors and products. 875 E. 900 South, 801-535-3458, thestockistshop.com
Urban Arts Gallery
Located in The Gateway mall, this free gallery showcases contemporary work, often with pop-culture themes. 116 S. Rio Grande St., 801-230-0820, urbanartsgallery.org
Utah Cultural Celebration Center
This center preserves a permanent collection of cultural art installations and artifacts. 1355 W. 3100 South, 801-965-5100, culturalcelebration.org
Williams Fine Art
Buying and selling the finest works by both living and deceased Utah and Western artists. 132 E St., 801-712-7577, williamsfineart.com
Winderemere Real Estate's Redman Gallery
Enjoy the breathtaking view from this elevated gallery on the upper floors of the Windermere Real Estate Building. 6th and 7th floors of the Redman Building, 1240 E. 2100 South, Ste. 600, 801-485-3151, redmangallery.com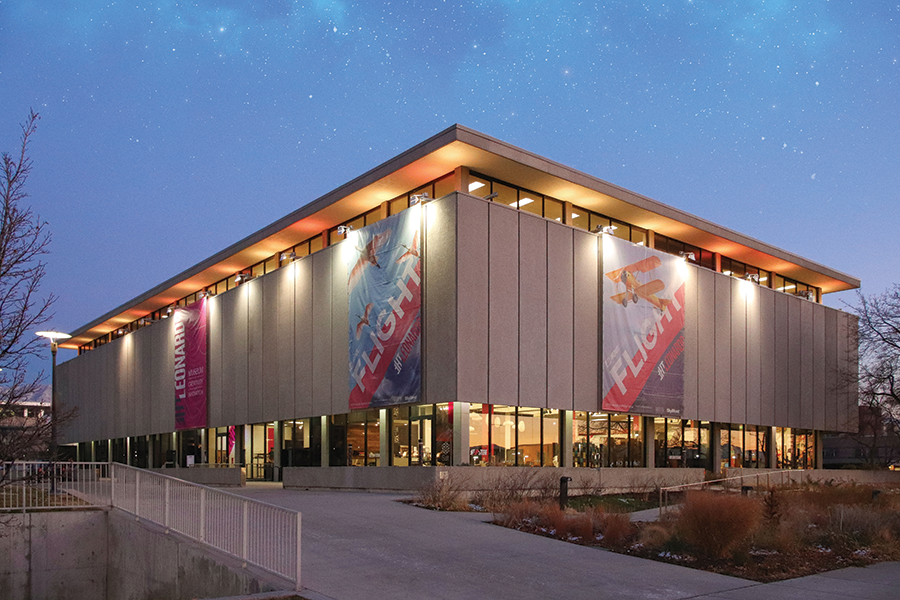 Drew Ehrgott
The Leonardo
MUSEUMS
Chase Home Museum
The only museum in the country dedicated to displaying a state-owned collection of contemporary folk art. Liberty Park (600 S. 900 East), artsandmuseums.utah.gov
Church History Museum
Discover the story of The Church of Jesus Christ of Latter-day Saints through educational exhibits and programs. 45 N. West Temple, 801-240-3310, history.lds.org
Clark Planetarium
Three floors of free, hands-on, interactive exhibits to help understand our world, space, the solar system, and beyond. 110 S. 400 West, 385-468-7827, clarkplanetarium.org
Discovery Gateway
Hands-on exhibits, both permanent and touring, with a family-friendly focus on imagination, science, art and exploration. 444 W. 100 South, 801-456-5437, discoverygateway.org
Fort Douglas Military Museum
Exhibits and educational programming to engage and inform the public about Utah's rich military history. 32 Potter St., fortdouglas.org
Hill Aerospace Museum
Featuring nearly 100 aircraft and thousands of artifacts depicting the history of aviation. 7961 Wardleigh Road, Hill Air Force Base, aerospaceutah.org
The Leonardo
Combines science, technology and art in activities that inspire creativity and innovation in visitors. 209 E. 500 South, 801-531-9800, theleonardo.org
Museum of Ancient Life
One of the world's largest displays of mounted dinosaurs, with 60 complete skeletons, plus more than 50 hands-on exhibits. 3003 N. Thanksgiving Way, Lehi, 801-768-2300, thanksgivingpoint.org
Natural History Museum of Utah
Illuminating the natural world of Utah and the place of human cultures within it. 301 Wakara Way, 801-581-4303, nhmu.utah.edu
Utah Museum of Contemporary Art
This award-winning museum connects guests to contemporary culture and education. 20 S. West Temple, 801-328-4201, utahmoca.org
Utah Museum of Fine Arts
This museum houses a charming café, gift store and rotating collection of multicultural art. 410 Campus Center Drive, 801-581-7332, umfa.utah.edu
Courtesy Photo
Kimball Art Center
PARK CITY GALLERIES
Bret Webster Images
This gallery honors and exhibits the photography of American artist Bret Webster. 312 Main, 435-200-8258, bretwebsterimages.com
Gallery MAR
Gallery MAR always keeps their collections fresh while providing a comprehensive list of art services including installations. 436 Main, 435-649-3001, gallerymar.com
J GO Gallery
Jo GO charms guests with its American Western aesthetic and conversational atmosphere. 268 Main, 435-649-1006, jgogallery.com
Julie Nester Gallery
This diverse collection offers event rentals and an original selection of art. 1280 Iron Horse Drive, 435-649-7855, julienestergallery.com
Kimball Art Center
This center uses education, exhibitions, and events to connect the community.
1401 Kearns Blvd., 435-649-8882, kimballartcenter.org
Lund's Fine Art Gallery
Nature and landscape paintings are the focus at Allen Lund's refreshing studio-gallery. 591 Main, 435-655-4349, lundsfineart.gallery
Mangelsen Images of Nature Gallery
This gallery observes the beauty of nature through the captivating photography of Thomas Mangelsen. 364 Main, 435-649-7598, mangelsen.com
Meyer Gallery
Located in Park City's Historic District, this gallery puts guests first with its accessible customer service and striking artwork. 305 Main, 435-649-8160, meyergallery.com
Montgomery-Lee Fine Art
This clean multi-level gallery features the fine art of both internationally acclaimed artists and new faces. 608 Main, 435-655-3264, montgomeryleefineart.com
Mountain Trails Gallery
Featuring Western and contemporary artists, this gallery also offers commissions and bronze-monument installations. 301 Main, 435-615-8748, mountaintrailsgallery.com
Prothro Gallery
This Park City boutique encourages a friendly atmosphere and specializes in modern works. 314 Main, 435-200-8866, prothrogallery.com
Susan Swartz Studios
Susan Swartz's dramatic and colorful paintings of the natural world are commemorated in this studio. 260 Main, 435-655-1201, susanswartz.com
Terzian Galleries
This gallery's well-rounded staff is known for making meaningful connections with artists and clients. 625 Main, 435-649-4927, terziangalleries.com
Trove Gallery
This cozy local favorite represents a variety of talented Utah artists. 804 Main, 435-655-3803, troveparkcity.com
Compiled by Samantha Herzog and Scott Renshaw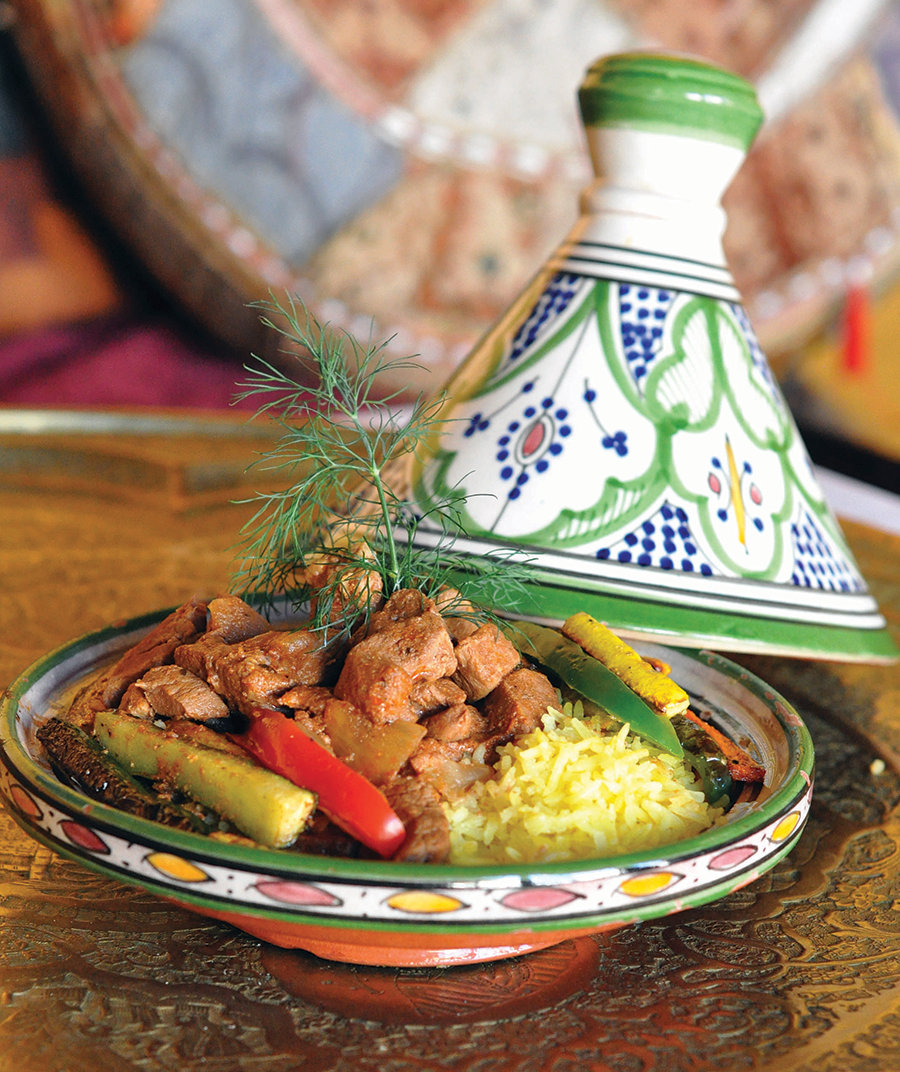 Derek Carlisle
Cedars of Lebanon
Passport on a Plate
Some trans-continental cuisine to suit the world traveler within you.
By Alex Springer
Contrary to popular belief, the Beehive's food scene is far from bland. Informed by an influx of immigration and a natural progression of down-home faves, it's hard to keep tabs on the sheer amount of culinary diversity that's popping up all over the state. But, hey, one can try. Clear some space, your foodie passport is about to get nine stamps.
Lamb Tagine at Cedars of Lebanon
If you're a fan of curry but are looking for something outside the realm of Salt Lake's Indian and Thai locales, then scurry on over to Cedars of Lebanon for any of their tagine dishes—though the lamb is my personal favorite. Named for the conical Moroccan cooking vessel in which the food cooks, the lamb tagine is served in a dark, earthy curry that blends all the nuance of the Moroccan spice game with the rich lamb flavor. If you're feeling up to it, you can also enjoy this dish while learning to belly dance if you happen to dine on the weekend.
152 E. 200 South, 801-364-4096, cedarsoflebanonrestaurant.com
Albóndigas at Julia's Mexican Food
I've had albóndigas, or spiced meatballs served in a savory broth, a number of times, but it wasn't until I tried the offerings at Julia's that I realized how spectacular this food truly is. I had been experiencing them through the lens of tapas joints who saw them as a cheap throwaway item on their menu, resulting in a mediocre experience. Julia's, on the other hand, takes their albóndigas seriously. First of all, they're gigantic—big enough to eat plates of lesser meatballs themselves. They come served in a broth heavy with chile oil and a basket of housemade tortillas—a perfect example of Latin American comfort food.
51 S. 1000 West, 801-521-4228
Ema Datshi at Bhutan House
If you're new to Bhutanese cuisine, then a steamy bowl of ema datshi should be your first stop. It's the country's national dish, and offers up a tasty snapshot of the cuisine's particular spice spectrum. Ema datshi is a vegetable-based stew that is topped with crumbles of Bhutanese cottage cheese and served with naan, and it warms you up from the inside out. Bhutanese cuisine tends to distribute its spice and heat through a slow burn that smolders within you throughout the entire meal, and this is a prime example of that technique.
1241 E. 8600 South, Sandy, 801-679-0945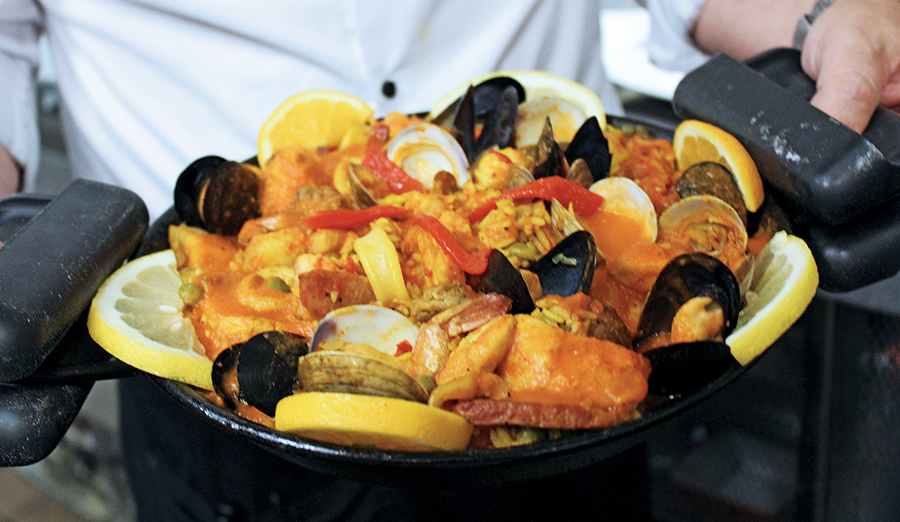 Enrique Limón
Café Madrid
Paella at Café Madrid
There's no shortage of pomp and circumstance when you order paella at this Spanish-centric restaurant. First of all, you've got to place your order at least a day in advance—the folks at Café Madrid are committed to making paella the old-fashioned way, which tends to take much longer than the typical restaurant order. When it's finally time, the dish arrives in a gigantic pot, with the aromas of saffron and sausage flirting with the senses. Digging in to this golden heap of rice, seafood and meat is a fantastic experience, and one order is more than enough for two people. If you've got the time, it's a dish well worth planning an evening around.
5244 S. Highland Drive, Holladay, 801-273-0837, cafemadrid.net
Mapo Doufu at Szechuan Garden
As many great chefs can attest, tofu absolutely sings when you prepare it correctly. Take the mapo doufo—or "pockmarked granny tofu"—at Szechuan Garden. It's a heaping bowl of tofu cubes that have been tossed in a mythical brew of Sichuan peppercorns and finely ground meat. The Sichuan numbing heat takes hold immediately, transporting your taste buds into realms of consciousness you didn't know were there. The smoky heat washes over your mouth like waves, and, despite the heat, you can't help but dive in for more.
1275 E. 8600 South, Sandy, 801-233-0027, szechuangardensandy.com
Derek Carlisle
Mahider Ethiopian Restaurant
The Taste of Mahider at Mahider Ethiopian Restaurant
Eating is much more fun if it's approached communally, and there are few local places that embody that approach more than Mahider. The Taste of Mahider can be ordered for two or up to four, and features a bit of everything on the menu—the siga wot in particular is a bit of beef stew heaven. The fun part arrives when your guests aren't familiar with the Ethiopian custom of eating with your fingers—with the help of injera, a sourdough flatbread that serves as your one and only utensil. It's a feast that encompasses the best parts of Ethiopian food, and is sure to be a memorable meal among you and yours.
1465 S. State, Ste. 7, 801-975-1111, mahiderethiopian.com
The Pork Combo at BFF Turon
Filipino food is a fascinating mixture of several different Asian cuisines, and the folks at BFF Turon have brought just a taste of this vast menu to their recently opened location. The pork combo with rice and noodles is a testament to marinades and slow cooking—the meat is tender, and the gravy in which it has been cooking is a rich kick to the senses. If Filipino food hasn't really been on your radar, it's time to realign and check this place out.
8860 S. Redwood Road, West Jordan, 801-280-6344
Derek Carlisle
The Angry Korean
Bulgogi at The Angry Korean
The Angry Korean has recently metamorphosed from a food truck to a brick-and-mortar location, and we couldn't be happier. Korean food is taking off around the Wasatch Front, but it's still green enough to be in need of some new talent—which is exactly what's on display at The Angry Korean. The traditional bulgogi is served in a huge metal bowl, topped with a fried egg and a few Korean dumplings and delicious until the very bottom. If you've still got room when you're done, their locally baked cheesecake is a sweet way to wrap things up.
11587 S. District Main Drive, Ste. 300, South Jordan, 801-307-8300, facebook.com/theangrykorean
Fettuccine at Horn of Africa
The words "fettuccine" and "Africa" don't often show up in the same sentence—unless you're talking about the heaping helpings of Somali food dished up every day at Horn of Africa. Here you can get a large portion of perfectly cooked fettuccine topped with marinated chunks of bone-in goat meat and sautéed peppers, which is a Somali trademark. It's a combo that starts feeling more familiar the more you eat—meat and noodles have always been a match made in heaven. It's a leap outside the box you'll be glad you took.
1320 S. Swaner Road, 801-908-5498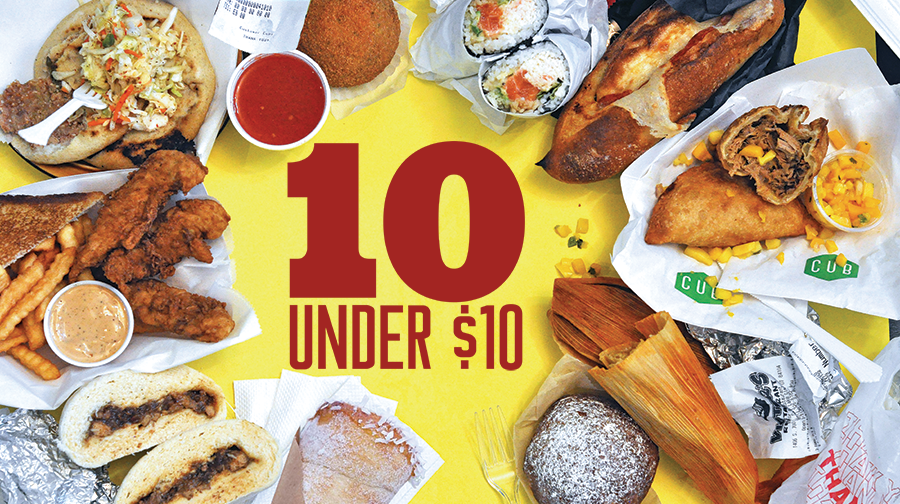 10 under $10
Fill up your belly without emptying your wallet.
By Alex Springer
1. Pupusas at Juanita Restaurant ($1.75-$2.25)
I've had pupusas—El Salvadoran stuffed tortillas that are endlessly comforting—at a few different places, and I have to say that those cooked up at Juanita are among the best. They've nailed the perfect ratio between the outer chewiness of a fried corn tortilla and the inner flavor, making a ridiculously cheap way to spend a lunch hour. Three of these lovely hombres are more than enough to bring down the direst of lunchtime cravings, and they're made to order right on the spot. The pork chicharrón is the tastiest, but don't overlook the pupusa con loroco, which is stuffed with cheese and an edible Salvadoran flower that stacks up nicely with gobs of melted cheese. Unlike tacos or tostadas elsewhere, pupusas are completely sealed, which makes them great to eat on the run.
271 W. 900 South, 385-259-0144
2. Keke Pua'a at Sagato Bakery ($2.95)
If you've ever visited a dim sum joint, you're no doubt familiar with bao, or buns of baked or steamed dough filled with barbecued pork. You're also likely familiar with the fact that they're a bit on the tiny side, which means enduring judgmental stares from your company when you order a fourth helping. As it turns out, Samoan cuisine has a similar dish called keke pua'a, and it's roughly three times the size of a traditional bao. I tried one of these softball-sized pork buns not long after Sagato Bakery opened, and one of them was enough to sustain me through a Saturday morning at IKEA. At a mere three bucks, keke pua'a is one of the most effective—and tasty—ways to keep yourself full if you've got a day packed with errands ahead of you.
44 W. 7200 South, Midvale, 385-557-1728, sagatofoods.com
3. The Citrus Burrito at Sushi Burrito ($9.49)
Sushi burritos might have already experienced their 15 minutes of fame, but just because something isn't trendy anymore doesn't mean it's not a good idea. When you consider the flavor profile, quantity and ingredients, the citrus burrito at Sushi Burrito takes the nigiri for best bang for your buck. It's a generous roll of sushi that combines fresh salmon, crab, avocado, cucumber, eel sauce and a paper-thin slice of lemon, all of which plays very nicely together. Plus, it's one of the more cost-effective ways to get your sushi fix, not to mention the fact that its burrito presentation makes it ideal for long, contemplative walks through the city.
180 E. 800 South, 801-995-0909, sushiburritoutah.com
4. The Stuffed Demi Baguette at Fillings and Emulsions ($3.99)
I once found myself in this bakery's neck of the woods right around breakfast time, and noticed these baskets full of sandwich-sized baguettes. As I looked at the label, I learned that these well-laminated loaves were stuffed with prosciutto. I purchased two of them without blinking, and the baker on duty popped them into a small toaster oven for a few minutes. After I paid and walked out the door, I took the first bite of what soon became a long-standing relationship. When these little guys get nice and warm, the inside becomes soft and luxurious while the outside remains crisp and buttery. The prosciutto inside just ties everything together with just the right amount of saltiness. If you have even a fleeting affection toward bread, this demi baguette needs to be on your must list.
1475 S. Main, 385-229-4228, fillingsandemulsions.com
5. Tamales at Victor's Tires ($1.99)
For something as chronically mass produced as tamales, it's a rare treat to find a place that gives these staples of Latin cuisine the proper respect—and you can get your tires rotated while enjoying them. There is some variety to the tamales at Victor's, and I can safely recommend the pork tamal with red sauce for anyone who has trouble making decisions. The texture of the masa, the flavor of the meat and the spicy kick of the sauce transcends the $2 price point. I'm beginning to invent tire problems just so I have a more reasonable excuse to load up a plate of tamales.
1406 S. 700 West, 801-978-9595
6. The Cheese Pocket at Gourmandise to Go ($1.95)
These powdered-sugar-dusted spheres of golden dough typically hang out just below the croissants at Gourmandise To Go. Sure, their upstairs neighbors are a bit fancier and a bit more fun to pronounce, but the cheese pockets have personality—and personality goes a long way. There's not much mystery to these—they're quite literally pockets of cheese—but before your mind races to the domain of the pizza pocket, let me clarify. The cheese found within is sweetened, much like the cheese you would find in the center of a Danish. There's just enough of it to tingle the taste buds, and the flaky, pillowy exterior provides just enough texture to remain interesting. If croissants are the Gryffindors of the bakery display case, cheese pockets are the Hufflepuffs.
1000 S. Main, 801-419-0412, gourmandisethebakery.com
7. The Bacon Arancini at Arancini Snack ($5.99)
While the logic behind this fact baffles me, hand-held snacks are not easy to come by at a shopping mall unless you're in the mood for a corn dog or a cookie. If you happen to be shopping at Fashion Place Mall, however, you can mosey on over to Arancini Snack for something hot, tasty and easy to munch on while window shopping. Their menu is based on the Sicilian arancini, which is a ball of rice and cheese that has been battered and deep-fried. Arancini Snack offers variations on this classic by adding bacon or pepperoni to the decadent mixture. The bacon version packs the most flavor into the arancini package, but you really can't go wrong here.
6191 S. State, Murray, 801-300-7127
8. The Chimney Cake at Sweet Chimneys ($6.50)
This food truck is relatively new in the SLC food scene, but the chimney cakes that they're cranking out actually have quite the history. They were originally invented in Hungary in the mid-15th century where bakers got the idea to wrap thin strips of pastry dough around a conical spit and roast the dough over an open flame. Nowadays, that process is a bit easier to streamline, which means the folks at Sweet Chimneys can dedicate more time to topping their chimney cakes with chocolate, coconut and other sweet supplements.
801-577-1088, facebook.com/sweetchimneysutah
9. The Cuban at Empanada Express ($3.95)
A good Cubano sandwich hits all the right notes for me, and the folks at Empanada Express have perfectly distilled those notes into a smaller and cheaper package. It's got the melted cheese, the ham and the pickle, all of which have been balanced to perfection. It's also cheap enough to order a few of these at a time. There remain several great, cost-effective empanadas on the menu, but this is the one that I can't stop craving.
7178 Union Park Ave., Midvale, 801-998-8212
10 The Whole Menu at Mr. Charlie's Chicken Fingers ($1.25-$9.50)
Mr. Charlie's Chicken Fingers has found the one thing that they can do better than anyone else, and they've brought it to the suburbs. The chicken fingers here are tasty both fried and grilled, and they can be piled high on a sandwich or eaten individually. Mr. Charlie also is packing some mayo-based dipping sauce that is so spectacular that it might give Utah fry sauce a run for its money. The place is still fairly new, but it's maintaining a no-frills menu that tastes spectacular, so I see it sticking around for some time.
554 W. 4500 South, Murray, 801-803-9486, mrcharlieschickenfingers.com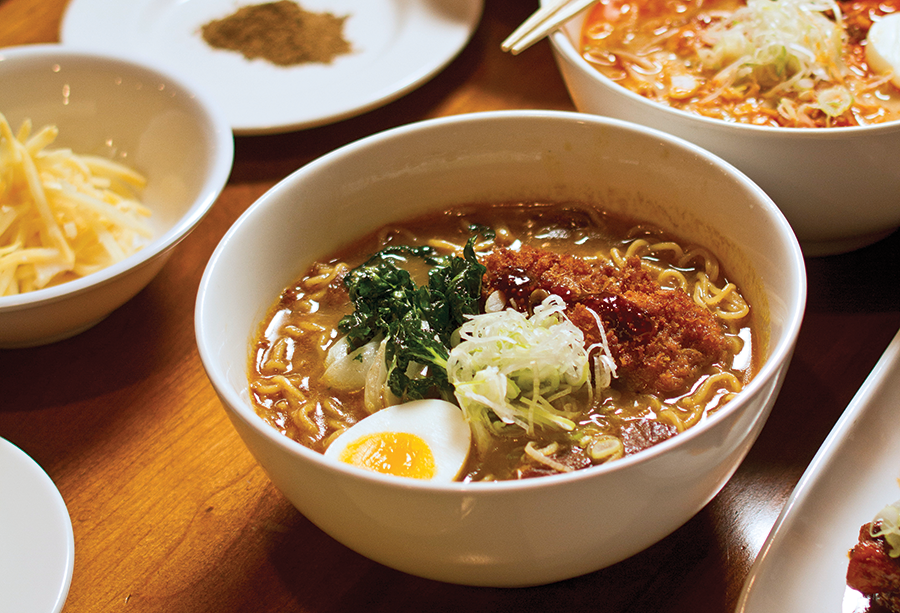 John Taylor
Tosh Ramen
Tasty Tour
Load-up your UTA card—these dishes are worth traveling for.
By Alex Springer
West Valley City
The westside has no shortage of Vietnamese pho joints and Mexican grills, which makes it a fun place to explore. The friendly competition among these restaurants has yielded an ecosystem of flavors so nuanced that eatery hopping for different takes on the same banh mi or carne asada is the best approach. At the moment, Hot Banh (2662 S. 5600 West, 801-964-6558, facebook.com/hotbanh) and Don Pollo Mexican Grill (3451 S. 5600 West, 385-557-2101, donpollogrillutah.com) are the most popular destinations for Vietnamese and Mexican food respectively, and luckily they're close enough to each other that you can try both during your lunch hour. If you're in the mood for something on the sweeter side, take a trip closer to the Maverik Center for some gourmet doughnuts at Donut Boy (2194 W. 3500 South, 385-528-0782,donutboyutah.com) or some rolled ice cream at Café Silvestre (3524 S. 2200 West, 801-972-5582, cafesilvestrerestaurants.com).
Holladay
The intersection of Murray Holladay Road and 2000 East is home to some local heavy hitters, and they're all on the same block. You've got Fav Bistro (1984 E. Murray Holladay Road, 801-676-9300, asooksri.com/about-fav-bistro), home to some fabulous Thai staples as well as the most unconventionally delicious brunch menus in town—kow tom, a soulful chicken and rice soup, and the Thai fried egg are just a few of the standouts. A quick jaunt to the east and you've got the Holladay location of Pig & a Jelly Jar (1968 E. Murray Holladay Road, 385-695-5148, pigandajellyjar.com), our local source for quality, Southern-inspired breakfast, lunch and dinner, and a hop across the street brings you to Tosh's Ramen (1963 E. Murray Holladay Road, 801-466-7000, toshramen.com). All three restaurants couldn't be more different in terms of menu, and the fact that they're all gathered so close to one another makes it difficult to pick a spot when you're checking out a movie at the Cottonwood Megaplex.
Provo
Despite its Happy Valley reputation, downtown Provo isn't a bad place to hang out. There's plenty of local music, and the food scene keeps on growing. Black Sheep Café (19 N. University Ave., 801-607-2485, blacksheepcafe.com) was the restaurant that first caught my eye down here—their high-end take on Navajo tacos and Southwestern cuisine is something truly special. Just up the street, contemporary American powerhouse Communal (102 N. University Ave., 801-373-8000, communalrestaurant.com) is one of Utah's local pioneers when it comes to the sustainable, farm-to-table movement that we're now enjoying more regularly. For something that lends itself more to a cheap bite before getting a taste of some Provo nightlife, check out Hruska's Kolaches (434 W. Center St., 801-623-3578, hruskaskolaches.com) for some delightful sweet and savory kolaches or Bumblebee's (1254 N. State, 801-607-2543, bumblebeesbbq.com) for some Korean-American fusion.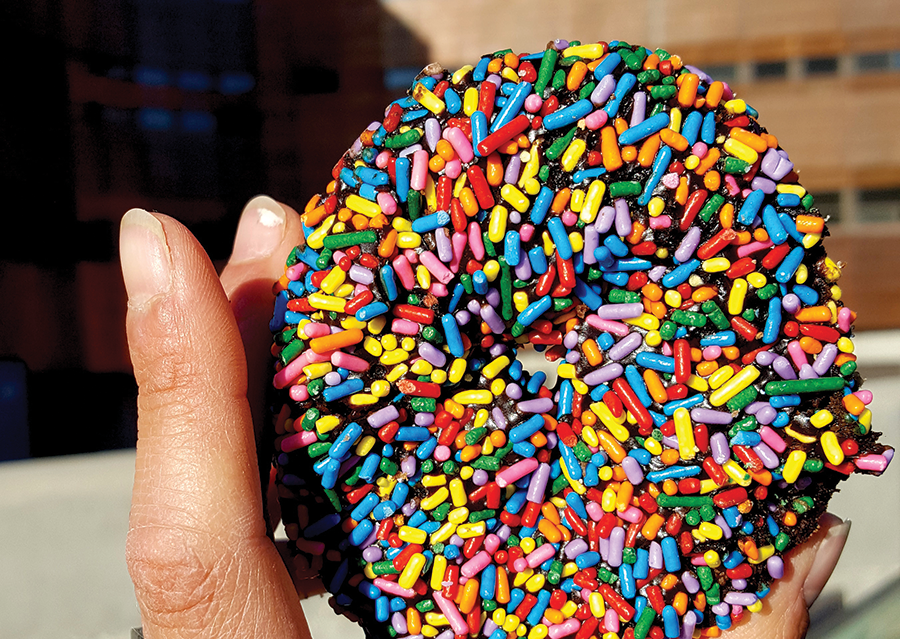 Misty Hansen
Banbury Cross
Holey Doughnut Empire
Behold the lords and ladies of Utah's doughnut scene.
By Alex Springer
Quick confession: Doughnuts never ranked very high on my list of baked goods. I'd never say no to a free doughnut, but I'd never wake up in the middle of the night with a craving for one, either. As two of my pop-cultural spirit animals—Homer Simpson and Dale Cooper—seem to enjoy these fried rings of pastry on a transcendental level, I decided to dedicate some serious time to doughnut studies. After plotting our course, my wife and daughter—wearing her "Donut worry, be happy" T-shirt, obvs—visited bakeries from Lehi to West Valley to learn from Utah's finest doughnut designers.
The Tycoons of Tradition
Banbury Cross (705 S. 700 East, 801-537-1433) has been making doughnuts for hungry Utahns for more than 30 years, and it's the foundation of local doughnut culture. They've perfected the crisp-to-chewy ratio—their doughnuts manage to retain a fluffy, but not too fluffy, inner texture which is contained by a paper-thin outer layer of crispness. Rumor around the newsroom has it that their maple bars have healing powers. For serious doughnut reflection, all roads lead to Banbury Cross.
Open Monday-Saturday, 5 a.m.-5 p.m.; Sunday, 6 a.m.-1 p.m.
The Pharaohs of Fritter
If you gave me a box of assorted doughnuts, I'd choose regular glazed over a fritter any day of the week. That was until I tried the apple fritter at Fresh Donut & Deli (2699 S. State, 801-467-8322). From bite one, my taste buds swelled with unanticipated depth of flavor—this monster tastes like it came from the ovens of a French boulangerie. There's a mouth-hugging flavor of slightly burnt caramel that comes from the many nooks and crannies within the fritter's landscape, and it's perfectly complemented by the baked apples inside. It's forever changed the way I think about fritters.
Monday-Saturday, 5 a.m.-5 p.m.
The Kaisers of Cake
There are cake doughnuts, and then there are Dunford Bakers cake doughnuts. It's not too difficult to find prepackaged pastries at grocery stores from this West Jordan bakery (8556 S. 2940 West, 801-304-0400), but they're best sampled fresh from the source itself. Their chocolate and white cake doughnuts are beautifully rich and dense, and typically come robed in a thick shell of icing. Somehow, Dunford Bakers has managed to create a perfect hybrid of doughnut, cake and brownie, making this an economical three-treats-in-one dessert that actually eats like three desserts.
Monday-Friday, 6 a.m.-6 p.m.; Saturday, 7 a.m.-3 p.m.
The Viscounts of Vegan
Utah is slowly becoming home to a wide variety of plant-based comfort foods, and Central Ninth's The Big O Doughnuts (248 W. 900 South, 385-770-7024) has vegan doughnut lovers covered. My go-to at Big O is their strawberry glazed—not only is it flaky and sweet, but the icing is filled with crumbled freeze-dried strawberries, which cuts through the sweetness with a katana of tart—a ka-tart-na, if you will. Their menu is huge, so expect to be a repeat visitor once they've got you hooked.
Wednesday-Friday, 7 a.m.-2 p.m.; Saturday-Sunday, 9 a.m.-3 p.m.; Friday-Saturday, 6 p.m.- midnight.
The Sovereigns of Shapes
Nestled in Lehi's cozy main street area, the Lehi Bakery (172 W. Main, 801-768-9544) took a look at round doughnuts and promptly said, "Nah, bro." Their trademark is the square doughnut, which proudly defies the status quo. Outside of their shape, the square doughnut's flavors remain traditional, but this one works a little bit better for sandwich purposes if you're so inclined. They also offer foot-shaped doughnuts with whipped cream toes, and buttermilk bars that look like miniature loaves of pound cake. With their flavors on point, Lehi Bakery remains a bastion for the structural rebels and outlaws of the doughnut scene.
Tuesday-Friday 7 a.m.-6:30 p.m.; Saturday, 7 a.m.-4 p.m.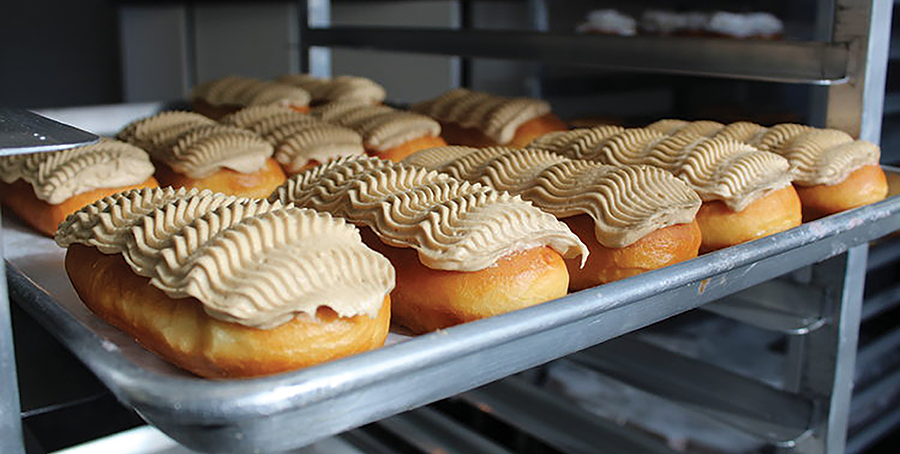 Courtsey
Doughnut Boy
The Imperators of Innovation
With the exception of Big O, the other monarchs on this list have had at least a few decades to perfect their craft. West Valley upstart Donut Boy (2194 W. 3500 South, 385-528-0782) has only been around for two years, but they're already making some serious waves in WVC. Their menu rotates regularly, but in my few visits, a pie-doughnut fusion appears to be a pronounced theme. Their interpretations of banana cream pie and apple pie are amazing, but they've reached the pinnacle of doughnut technology with their strawberry shortcake—a raised doughnut, filled with fresh strawberries and pastry cream, topped with strawberry icing, more berries and whipped cream. Here, worlds collide in the best possible way.
Monday-Saturday, 6 a.m.-1 p.m.; Sunday, 7 a.m.-1 p.m.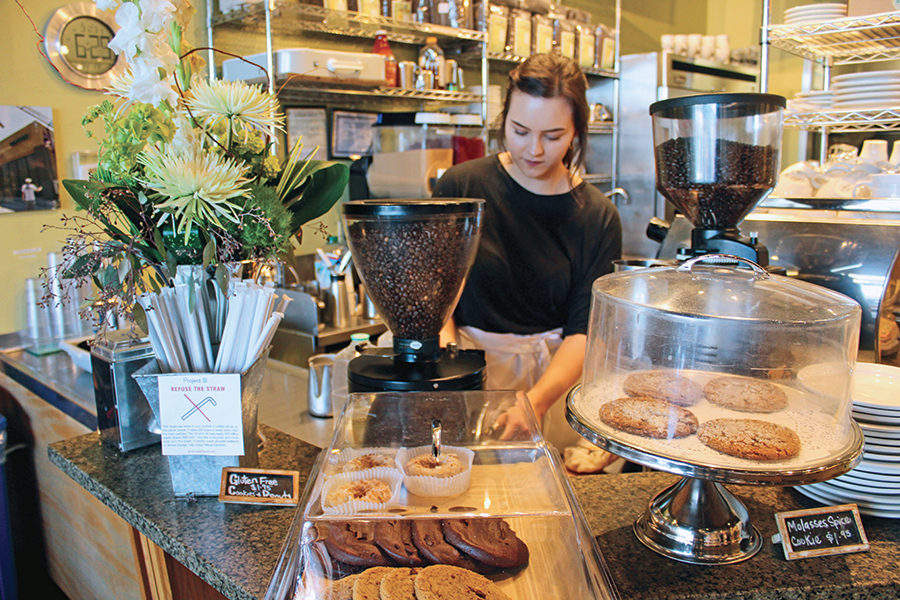 Caffeine Capital City
There's no good coffee in SLC, right? These 31 neighborhood cafés beg to differ.
By City Weekly Staff
Alchemy Coffee
Locally roasted, organic coffee call this Liberty Wells hub home.
390 E. 1700 South, 801-322-0735, alchemycoffee.com
Bad Ass Coffee
South Salt Lake's Kona coffee cathedral.
3530 S. State, 801-265-1182, badasscoffee.com
Beans & Brews
These high-altitude roasters have been a Salt Lake success story since 1993.
Multiple locations, beansandbrews.com
Bjorn's Brew
Good karma is served with every cup, and a part of your purchase goes to local animal charities.
2358 S. Foothill Drive, 801-915-6438; 2165 S. State, 801-935-4445, bjornsbrew.com
Blue Copper Coffee Room
"Diligently roasted" right here in SLC.
179 W. 900 South, 385-222-7046, bluecopperslc.com
Brew Monkey Coffee House
Home of the Caramel Monkeyato and the white mocha Monkey Jumble.
3441 S. 8400 West, Magna, 801-508-1086, brewmonkeycoffeehouse.com
Caffé Expresso
Salt Lake Valley's drive-thru coffee pioneers.
Multiple locations, caffeexpresso.com
Campos Coffee Roastery
The best thing out of Australia since Muriel's Wedding. Give their nitro cold-brew on tap a go.
228 S. Edison St., 801-953-1512; 1385 Lowell Ave., Park City, 435-731-8377, us.camposcoffee.com
Coffee Garden
The fact this magazine came out is credited largely to its downtown location.
878 E. 900 South, 801-355-3425; 254 S. Main, 801-364-0768, bit.ly/cofgard
Coffee Noir
Spring an extra 30 cents, and top your latte with some housemade coffee whipped cream, made with cold-brew concentrate.
1035 E. 200 South, 801-532-1888, coffeenoir.com
Higher Ground Coffee
Celebrating 10 years, this Millcreek coffee house adheres to the motto, "Don't be a dick."
2005 E. 3300 South, 801-485-5427, highergroundcoffeeshop.com
Jack Mormon Coffee
Roasting from a selection of more than 60 single-estate coffees from around the globe.
82 E St., 801-359-2979, jackmormoncoffee.com
Jitterbug Coffee Hop
Find Bug Juice and Milky Way espressos at this epitome of retro charm.
1855 S. 700 East, 801-487-8100, jitterbugcoffeehop.com
Kafeneio
Try the hazelnut Achilles' Triumph or the white-chocolate-drizzled Chimera Fire at this Greek-owned establishment.
258 W. 3300 South, 801-485-1282, kafeneiocoffee.com
Kings Peak Coffee Roasters
A ho never gets cold, and neither does Kings Peak's cardamom-and-cinnamon, brown-sugar-infused Cardi B latte.
412 S. 700 West, Ste. 140, 385-267-1890, kingspeakcoffeeroasters.com

La Barba Coffee
The American West's home for fine, fair-trade sourced beans.
Multiple locations,
labarbacoffee.com
Mestizo Coffee House
You haven't lived until you've tried this coffee shop/gallery's mocha and cayenne pepper Bowl of Sol.
631 W. North Temple, 801-596-0500, mestizocoffeehouse.com
Millcreek Coffee Roasters
A Millcreek original since 1992.
657 S. Main, 801-595-8646; SLC Airport Concourse C, 801-575-2802, millcreekcoffee.com
Moka
Along with great coffee, it plays host to the Marmalade Coffee and Chocolate Society's monthly meetings.
280 W. 500 North (inside Marmalade Library), 801-594-8680, mokaslc.com
Nostalgia Café
This hip shop subscribes to the slogan, "Delicate but potent."
248 E. 100 South, 801-532-5638, nostalgiacoffee.com
Pinned Coffee Co.
Be it from a flat white or a Red Bull frappe, a good buzz is guaranteed here.
3685 W. 5400 South, Taylorsville, 801-656-8563; 10428 S. Jordan Gateway, Ste. 99, South Jordan, 385-237-3838, pinnedcoffeeco.com
Publik Coffee Roasters
SLC's epitome of coffee cool.
Multiple locations, publikcoffee.com
Raw Bean Coffee House
Honest offerings made from locally roasted beans make this place a hit.
Multiple locations, rawbeancoffee.com
Red Moose Coffee Co.
House specialty Mint Moose mocha is sure to put a pep in your step.
1693 S. 900 East, 801-906-8864, redmooseroasting.com
Rise & Grind Coffee
This Midvale favorite delivers exactly what its name promises.
7301 S. 900 East, Ste. 18, 801-503-2009, risegrindcoffee.com
Salt Lake Roasting Co.
A true neighborhood coffee staple if there ever was one.
820 E. 400 South, 801-363-7572; 210 E. 400 South (inside Main Library), 801-363-7572, roasting.com
Sugar House Coffee
Give the Golden Graham latte a go; you won't regret it.
2011 S. 1100 East, 801-883-8867, sugarhousecoffee.com
The People's Coffee
Sip on a cortado here and watch your worries disappear.
221 E. 300 South, 801-906-8761, facebook.com/thepeoplescoffee
The Rose Establishment
Everything here tastes sweeter with a splash of housemade cashew milk.
235 S. 400 West, 801-208-5569, theroseestb.com
Three Pines Coffee
Your hunt for a decent matcha latte is over.
165 S. Main, 805-395-8907, threepinescoffee.com
Watchtower Café
This nerd-tastic spot is geek-tested, fanboy approved.
1588 S. State, 801-477-7671, watchtower-cafe.com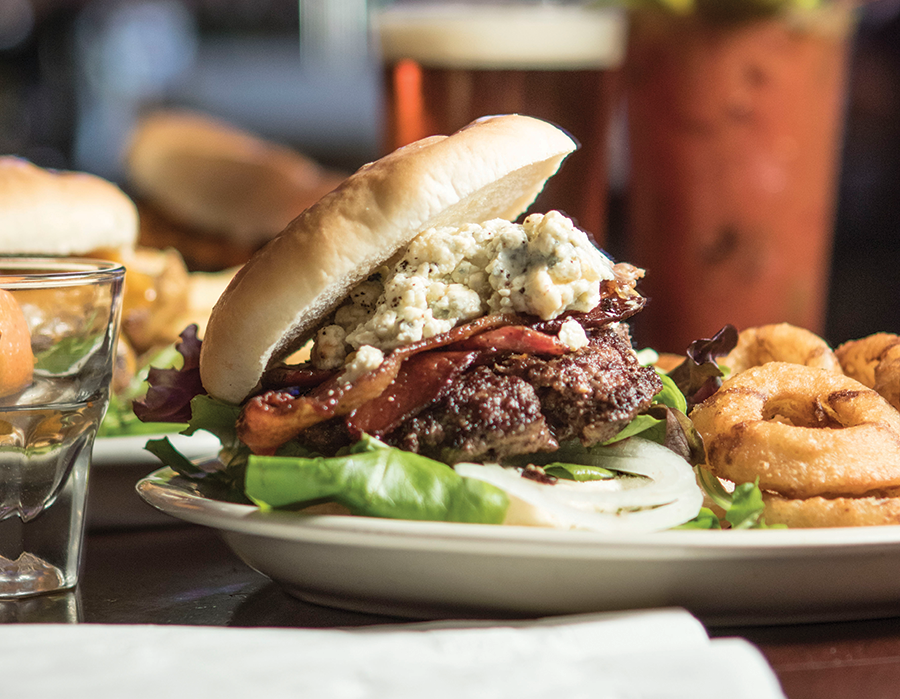 John Taylor
Lucky 13
Restaurant Directory
Essential Burgers
Apollo Burger
Try the Athenian, a quarter-pound flame-broiled monster layered with roasted red peppers, feta cheese and housemade tzatziki. Multiple locations, apolloburgers.com
Chedda Burger
The no-frills Dirt Bag and cheese-curd-and-pulled-pork-topped Harlot deliver on their "burgers with attitude" promise. Multiple locations, cheddawasted.com
Cotton Bottom Inn
Best. Garlic. Burgers. Around. 'Nuff said. 6200 S. Holladay Blvd., Holladay, 801-273-9830, cottonbottominn.com
Crown Burgers
Grub at this homegrown chain always satisfies. Go for the chili burger and throw in some cheese fries to boot. Multiple locations, crown-burgers.com
Fat Jack's Burger Emporium & Tap House
Their glorious name says it all. 206 S. West Temple, 801-890-5155, fatjacksut.com
Lucky 13
The blue cheese-loaded Bacon Stinky Cheeseburger, the PB-slathered Nut Burger—yep there's a reason why this is a Best of Utah perennial. 135 W. 1300 South, 801-487-4418, lucky13slc.com
Millie's Burgers
Come for the tasty burgers, stay for the more than 30 different sky-high shakes. 2092 S. 1000 East, 801-466-6043
Porcupine Pub & Grille
Try scarfing down a Big Cottonwood Burger in one sitting. We dare you. 3698 Fort Union Blvd., 801-942-5555; 258 S. 1300 East, 801-582-5555, porcupinepub.com
Proper Burger Co.
Even no-fruit-on-savory-food snobs agree their housemade ham-and-pineapple-enhanced Flyin' Hawaiian is a thing of beauty. 865 S. Main, 801-906-8604, properburgerslc.com
Vertical Diner
Think a non-beef patty is the stuff of sacrilege? The fine folks at Vertical Diner are eager to change your mind. 234 W. 900 South, 801-484-8378, verticaldiner.com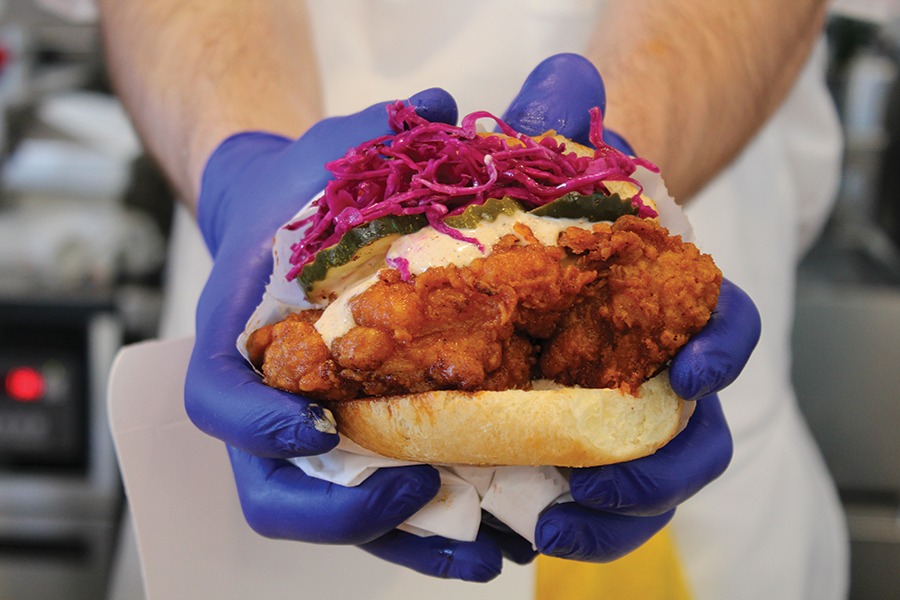 Enrique Limón
Pretty Bird
Essential Comfort
Ab's Drive-In
Retro charm and killer shakes have made this humble West Valley eatery a neighborhood staple since 1951. 4591 S. 5600 West, WVC, 801-968-2130, absdrivein.com
Cytybyrd Café
Treat yourself to a Monte Cristo, Reuben or grilled-cheese sandwich made from scratch. 450 S. 200 East, 801-535-6102, cytybyrd.com
Dee's Family Restaurant
A down-home menu and prime people-watching after the bars close make each visit to Dee's a unique experience. Multiple locations.
Italian Village
Lasagna, veal Parm, chicken cacciatore. Need we say more? 5370 S. 900 East, 801-266-4182
Penny Ann's Café
Although it might seem impossible, if you don't leave room for pie here, you're doing it all wrong. Multiple locations, pennyannscafe.com
Pig & a Jelly Jar
Pork belly Benedict, chicken and waffles, fries and gravy, fish 'n' chips ... the delectable list goes on and on. Multiple locations, pigandajellyjar.com
Pretty Bird
Downtown got a little bit spicier thanks to Chef Viet Pham's Nashville-style hot chicken emporium. 146 S. Regent St., prettybirdchicken.com
R&R BBQ
Daily specials like brisket tacos on Tuesdays and rib tips on Fridays will happily fill your calendar (and your belly). Multiple locations, randrbbq.com
Ruth's Diner
Restaurants don't get to boast a nearly 90-year legacy unless they're damned good; and Ruth's is. 4160 Emigration Canyon Road, 801-582-5807, ruthsdiner.com
Siegfried's Delicatessen
A smörgåsbord of unique dishes like deep-fried wiener schnitzel and finger-licking macaroni salad await you here. 20 W. 200 South, 801-355-3891, siegfriedsdelicatessen.com
John Taylor
The Copper Onion
Essential Date Night
Bodega
Set the date's tone at Bodega, and seal the deal with cocktails downstairs at The Rest. You're welcome. 331 S. Main, 801-532-4042, bodega331.com
The Copper Onion
Brave enough for a day-date? Their brunch menu loaded with items such as Turkish eggs is second to none. 111 E. 300 South, 801-355-3282, thecopperonion.com
Encore Bistro
Located inside the new George S. and Dolores Doré Eccles Theater, Encore redefines "dinner and a show." 131 S. Main, 801-509-7871, cuisineunlimited.com
Epic Casual Dining
Class it up with their ahi tuna, chicken marsala and sautéed pork medallion entrées. 707 Fort Union Blvd., 801-748-1300, epiccasualdining.com
Eva
Small plates like crispy polenta and sautéed Brussels sprouts that are huge on flavor, and an intimate setting make Eva a date-night must. 317 S. Main, 801-359-8447, evaslc.com
HSL
Locally sourced dishes from the hearth, the pantry and the plancha are sure to wow. 418 E. 200 South, 801-539-9999, hslrestaurant.com
Kimi's Chop & Oyster House
Nothing on the extensive seafood bar catch your eye? Give the chop house mac and cheese a go. 2155 S. Highland Drive, 801-946-2079, kimishouse.com
Tiburon Fine Dining
From seared scallops and Mediterranean mussels to braised kurobuta pork and New Zealand elk, this place is sure to impress. 8256 S. 700 East, Sandy, 801-255-1200, tiburonfinedining.com
Tin Angel
Uh ... it's won "Best First-Date Restaurant" in the Best of Utah readers' poll for a reason. 365 W. 400 South, 801-328-4155, tinangel.com
Veneto Ristorante Italiano
A stunning selection of northern-Italian dishes that are almost out done by the impressive wine list. Almost. 370 E. 900 South, 801-359-0708, venetoslc.com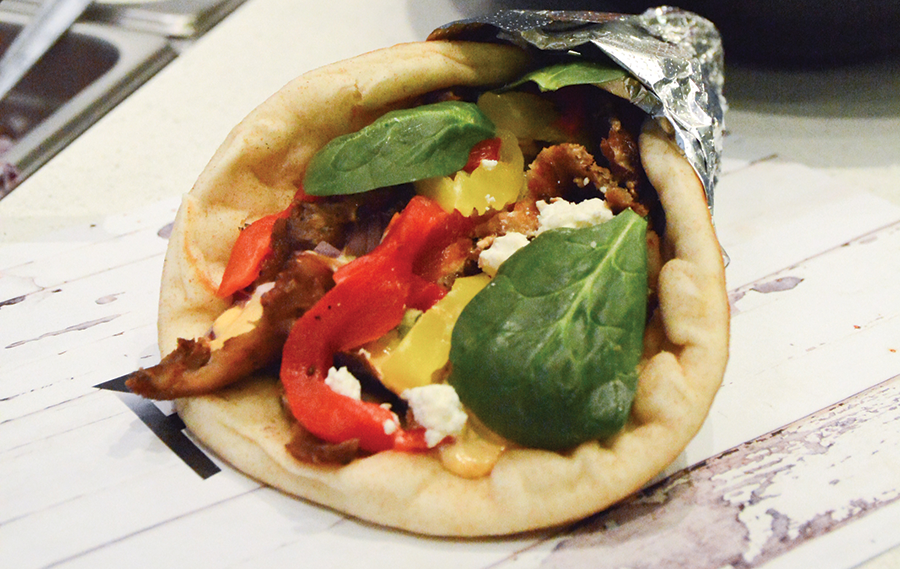 Josh Scheuerman
Padeli's
Essential Greek
Andy's Lounge
Head to Ogden for some of the best Greek selection this side of Thessaloniki. 501 N. Washington Blvd., Ogden, 801-782-9972
Aristo's Greek Restaurant
Fifty small-plate selections make for a truly unforgettable dining experience. 244 S. 1300 East, 801-581-0888, aristosslc.com
Greek Souvlaki
Founded by Lee and Mary Paulos, Greek Souvlaki has been serving up goods like lamb-and-beef gyros and bifteki since 1972. Multiple locations, greeksouvlaki.com
Jim's Family Restaurant
Dishes like Jim's Famous Marinated Pork and chicken souvlaki—along with a kid-friendly menu—shine bright here. Multiple locations, jimsfamilyrestaurant.com
Mad Greek
Try the chicken Parm gyro, tasty falafel salad or the perfectly portable dolmathes. You mad, αδερφέ? Multiple locations.
Manoli's
A hearty vegetarian meze loaded with items like yemista (smoked-feta-and-scallion-stuffed piquillo peppers) delight even non-meat eaters. 402 E. 900 South, 801-532-3760, manolison9th.com
The Other Place Restaurant
Breakfast classics get a Greek spin in dishes like gyro meat and eggs and the marinated pork and eggs. 469 E. 300 South, 801-521-6567
The Olympian Restaurant
The Zeus-sized four dishes in their Olympian Platter (Greek salad, two souvlaki skewers, three meatballs and three dolmathes) plus dessert are enough to feed a small army. 2181 S. 700 East, 801-487-1407
Padeli's Street Greek
Classic and authentic Greek meets Chipotle at this lively build-your-own-meal spot. 30 E. 300 South, 801-322-1111, padelisstreetgreek.com
Yanni's Greek Express
Nosh on any of their impressive staples, and make sure to leave room for some galaktoboureko. 2761 S. Highland Drive, 801-466-6525
Josh Scheuerman
Gracies
Essential Gastropubs
Bohemian Brewery & Grill
Wash down those roasted garlic bulbs or towering Bohemian club with any of their European-style craft-brew lagers. 94 E. Fort Union Blvd., Midvale, 801-566-5474, bohemianbrewery.com
Copper Common
The menu here changes regularly. Luckily, the top-notch service doesn't. 111 E. 300 South, 801-355-0543, coppercommon.com
Copper Creek Pub & Grub
A dozen beers on tap complement the varied and down-home menu. Copper Bomb hoagie, anyone? 3451 S. 5600 West, 801-417-0051, coppercreekpub.com
Garage On Beck
Head down Beck Street for some of the most amazing Mormon funeral potatoes. Try the fiery for a zippy kick in the pants. 1199 Beck St., 801-521-3904, garageonbeck.com
Gracie's
Sit at a table or pony up at the bar for signature dishes like the barbecue bison burger, Ballard Hog Farm pork chop or red-eye-gravy-smothered poutine. 326 S. West Temple, 801-819-7565, graciesslc.com
The Green Pig Pub
Whether you opt for some chile verde nachos, avocado rolls, potato sliders or a dozen killer chicken wings, you can't go wrong here. 31 E. 400 South, 801-532-7441, thegreenpigpub.com
Poplar Street Pub
Three sitting areas inside 6,000 square feet, plus a mouth-watering line of "championship series" burgers, get the job done. Did we mention the 30 beers? 242 S. 200 West, 801-532-2715, poplarstreetpub.com
Squatters Pub Brewery
Their Salt Lake City International Airport location is rumored to be the reason why so many tourists keep coming back for more. Multiple locations, squatters.com
Whiskey Street
Come here for new takes on old classics, like bourbon-bacon caramel popcorn, pork belly corndogs, hazelnut-dusted calamari and grilled shrimp BLT. 323 S. Main, 801-433-1371, whiskeystreet.com
White Horse
Serving everything from duck confit wings to shellfish that adheres to their "tide to table" philosophy. 325 S. Main, 801-363-0137, whitehorseslc.com
Arm Bruster Photography
Taqueria 27
Essential Mexican
Alamexo
Molcajetes, tortas and calabacitas all live at this chic-and-comfortable cantina. 268 S. State, 801-779-4747; 1059 E. 900 South, 801-658-5859, alamexo.com
Beto's Mexican Food
One taste of any of their combination plates (enchiladas, machaca, filete ranchero, etc.) and it's easy to see why this is a local favorite. Multiple locations.
Blue Iguana
All the staples, plus a killer margarita list, make this downtown eatery a Mexi-must. 165 S. West Temple, 801-533-8900; 255 Main, Park City, 435-649-3097, blueiguanarestaurant.net
Chile-Tepín
Between their parrilladas, alambres and carnitas selections, get ready for a truly authentic meal. 307 W. 200 South, 801-883-9255, facebook.com/chiletepin
La Oaxaqueña
Loaded tlayudas, mole negro and nopal Zapoteco bring a true taste of Oaxaca to your taste buds. 493 E. 2700 South, 801-484-6584
Red Iguana
Get ready for a wait during peak hours. Your patience will be rewarded with sensational moles, finger-licking chile Colorado and cochinita pibíl. Multiple locations, rediguana.com
Salsa Leedos Mexican Grill
Fine Mexican in the heart of Riverton. Pick your top favorites and create your own two- or three-item combo. 13298 S. Market Center Drive, Riverton, 801-565-8818, salsaleedos.net
Tacos El Toro
Forever known as Sears tacos; one bite of their street tacos, burritos or quesadillas, and it's easy to see why folks gather at this mighty roadside cart. 800 S. State
Taco Taco
Come for the luchador vs. Donald Trump stickers, stay for the rockin' chicken mole burrito. 208 E. 500 South, 801-428-2704, tacotacoslc.com
Taquería 27
Standards get new life with offerings like a duck confit quesadilla, the jícama-topped Cobb salad and grilled-pear and roasted-beet tacos. Multiple locations, taqueria27.com
Josh Scheuerman
Laziz
Essential Middle-Eastern + Indian
Cedars of Lebanon
For more than three decades, Cedars has served up exceptional fattoush, muhammara, kibbeh and more. 152 E. 200 South, 801-364-4096, cedarsoflebanonrestaurant.com
Curry Fried Chicken
Their CFC plate puts the Colonel's to shame. 660 S. State, 801-924-9188
Curry 'n' Kabobs
You'll find this Afghan and Indian gem tucked behind the Market on Main. 268 S. Main, 801-363-0300
Himalayan Kitchen
Nepali cuisine elevated. 360 S. State, 801-328-2077, himalayankitchen.com
Laziz Kitchen
Your destination for kafta, shish tawook and solid mana'oushe sandwiches. 912 S. Jefferson St., 801-441-1228, laziz-foods.com
Mazza Middle Eastern Cuisine
While the food is extraordinary, house cocktails like the refreshingly sweet Desert Rose and the Whiskey White, garnished with cardamom pods, steal the show. 1515 S. 1500 East, 801-484-9259; 912 E. 900 South, 801-521-4572, mazzacafe.com
O'Falafel Middle Eastern Cuisine
Soups, salads, sandwiches, pita quiches—this place has all the delicious bases covered. 790 E. 2100 South, 801-487-7747, ofalafeletc.com
Shahrazad Restaurant
Longing to prep some of their foods almost as good as the pros do? Check out their adjoining market, which carries locally sourced produce and rare spices. 1615 W. 2100, 801-975-9977, shahrazadrestaurantslc.com
Shawarma King
Shawarma, kebabs, falafel and hummus all wrapped up in an inviting setting. 725 E. 3300 South, 801-803-9434; 2223 S. Highland Drive, 385-415-2100, slcshawarmaking.com
Star of India
A shiny beacon for lamb and goat curries or those of the vegetarian kind.
1659 W. North Temple, 801-363-7555, starofindiaonline.com
John Taylor
Settebello
Essential Pizza
Big Daddy's Pizza
Offering all-night delivery, Big D's is the place to call to fill those late-night hunger pangs. Multiple locations, bigdaddyspizza.com
Este Pizzeria
Create your own New York-style pizza—thin-crust with a crisp edge and pliable inside—or try one of their daily specials. Gluten-free crust also is available. Multiple locations, estepizzaco.com
Litza's Pizza
A local staple since 1965, all dough, sauce, garlic butter and salad dressings are made from scratch here. Multiple locations, litzaspizza.com
Mellow Mushroom
MM uses Appalachian spring water for their crust and high-quality ingredients to create a distinct and flavorful pie. 1080 E. 2100 South, 801-844-1444, mellowmushroom.com
Pie Hole
Thin-crust pizza here is cheap, sold by the slice and damned good. Don't miss out on their SLC-famous potato bacon option. 344 S. State, 801-359-4653, pieholeutah.com
The Pie Pizzeria
Wherever you land on the vegan-to-carnivore spectrum, your pizza cravings will be satisfied with The Pie's all-inclusive topping options. Multiple locations, thepie.com
Rusted Sun Pizzeria
People flock to the ovens to get the Mediterranean—a Rusted Sun fan-favorite—dished up with tangy marinara, fresh mozzarella, salami, artichoke hearts, green olives and a taste of feta cheese. 2010 S. State, 801-483-2120
Settebello Pizzeria Napoletana
Take a trip around the world at this authentically Neapolitan-inspired pizzeria that boasts prosciutto from Parma, cheese from Modena and salumi from Seattle. 260 S. 200 West, 801-322-3556, settebello.net
Sicilia Pizza & Kitchen
Bite into the Meat Amori, which is capped with pepperoni, fresh Italian sausage, seasoned beef and ham. 35 W. 300 South, 801-961-7077, siciliapizza.net
Wild Pepper Pizza
Want more bang for your buck? Wild Pepper promises their pies are two inches larger than their competitors. 777 S. State, 801-220-0777, wildpepperpizza.com
John Taylor
Chabaar
Essential World
Chabaar Beyond Thai
True Thai flavors, along with excellent cooking classes. Check out their website for a full schedule. 87 W. 7200 South, 801-566-5100, amystakeonthai.com
Cucina Toscana
Home of fresh fish, perfect pasta and terrific tiramisu. 282 S. 300 West, 801-328-3463, toscanaslc.com
Curry in a Hurry
Service might be fast here, but the mindfulness and time members of the Nisar family took to perfect their recipes is evident in every bite. 2020 S. State, 801-467-4137, ilovecurryinahurry.com
El Viroleno
At just around two bucks a pop, treat yourself to every pupusa on the menu. 471 W. 800 South, 801-595-7021
Feldman's Deli
A superb delicatessen offering mile-high sandwiches and Old World specialties. 2005 E. 2700 South, 801-906-0369, feldmansdeli.com
Mandarin
Kids eat free, and the whole family can enjoy succulent dishes and jazzy drinks like the plum wine spritzer. 348 E. 900 North, Bountiful, 801-298-2406, mandarinutah.com
Mom's Kitchen
Traditional Taiwanese and Chinese dishes prepared with love. 2233 S. State, 801-486-0092, momskitchenrestaurantsaltlakecity.com
Oh Mai
SLC's best bánh mì, hands down. Multiple locations, ohmaisandwich.com
Ruby's Peruvian Taste
A taste of the Andes delivered straight to the Wasatch Front. 970 E. 3300 South, 801-899-7507
WB's
Latin and European dishes can be found at this new Ogden hotspot. 455 25th St., Ogden, themonarchogden.com
Yoshi's Japanese Grill
Asian-inspired fare that's been making loyal patrons flock to Murray for more than 15 years. 5692 S. 900 East, Murray, 801-713-9423, japanesegrill.com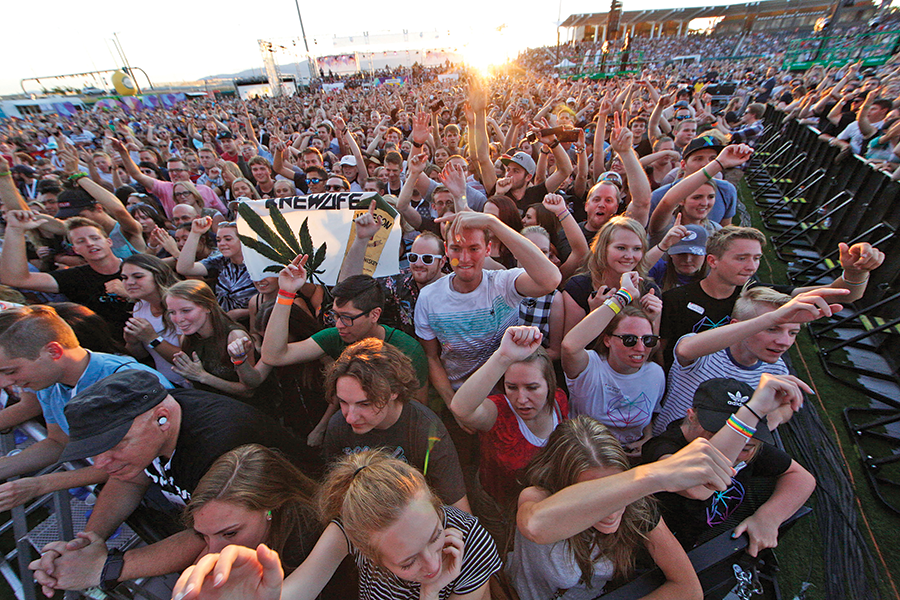 Radar: On!
10 local acts to get behind now.
By Nick McGregor
First things first—picking 10 artists to watch in a city as stuffed to the gills with talent as Salt Lake City is a tall order. This list could easily be expanded and endlessly debated, incorporating the new talent that pops up in our fair metropolis all the time and the old standbys stretching their creative legs in surprising new ways. But for now, this brief compendium provides a peek into our thriving music community circa 2019. In it, you'll find a mix of fresh fast risers, hidden gems waiting to launch and old-school favorites on a new tip. These are our 10 Salt Lake City acts to watch. Maybe we'll even figure out a way to get a few of them to collaborate dream team-style in the future. Without further ado ...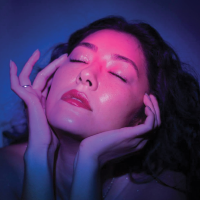 1. Marina Marqueza
. To some listeners, this Japanese-Venezuelan electro-pop artist
might be new. Sure, her self-produced debut album,
Orbit Pluto
, just came out in January. But Marqueza's been around for some time, channeling her synth-driven, R&B-inspired influences into heart-stopping performances on the Craft Lake City stage and at other one-off local events. (Before she ever released an album,
City Weekly
even nominated her for a Best Pop Artist in Utah award). With fresh press from outlets like
Remezcla
and a message of healing, love and support for immigrant and queer/trans communities, Marqueza has a bright future ahead of her—especially as she spreads the message of SLC's diversity and inclusion to a burgeoning international audience.
2. The Violet Temper.
For a duo, Lindsey Heath and Cache Tolman make an unholy racket, combining everything from avant-jazz to heavy metal alternative rock into a new sound the two call "doom shoegaze." Don't let that complicated description turn you off, however; if you like music with a pulsating heart, mind-blowing chops and stylistic nods to everyone from The Smiths to Swans to Smashing Pumpkins you'll love The Violet Temper. After their album release show in December and follow-up performances earlier this year, TVT are taking a moment to regroup. Hopefully, that means they'll be back this spring and summer spreading their astral vibes once more.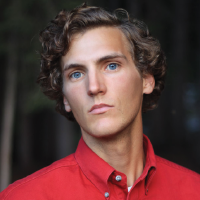 3. Branson Anderson.
Although he hails from Logandale, Nev., a sleepy desert town founded in the 1860s and now known as the home of the Clark County Fair and Rodeo, Anderson now calls Utah home, living in a camp trailer and digging into life as a sort of modern-day Dust Bowl troubadour. Avoiding traditional song structures in favor of a talking-blues style reminiscent of Bob Dylan, Johnny Cash, Robert Johnson and Jack White, Anderson's 2017 debut album,
Graydog
, and his forthcoming follow-up,
Applecore, Baltimore
, were both produced by Utah folk-blues icon Joshua James. Opening stints for outlaw country artists like Corb Lund and Charlie Parr have given Anderson the opportunity to hone his timing and delivery. Catch him March 1 at Kilby Court and stay tuned for more album release shows to come this summer.
4. Ol' Fashion Depot.
These nü-blues prodigies were unofficially passed the Salt Lake City torch when harmonica master Tony Holiday decamped for Memphis. If Ol' Fashion Depot's recent blizzard of tour dates is any indication, their live show should be tight as a drum. But it's the psychedelic sensibility that J-Rad Cooley, Josh Karrick, Josh Fox and Burny bring to their
Midnight Sessions
(three of which are available on Bandcamp) that set this quartet apart. Part revivalists honoring blues tradition, part futurists barreling into a brave new world and part shape-shifters who both represent Salt Lake City and stand alone, Ol' Fashion Depot are a force of Mountain West nature. If you like jazz, blues, rock 'n' roll and soul, don't miss any of this band's many upcoming gigs.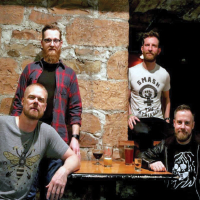 5. Swarmer.
Desert music never sounded so good. Hearkening back to the good ol' days of Kyuss—the sun-drenched stoner band that preceded Queens of the Stone Age—Swarmer pieces together different permutations of rock and metal into a singular blend. Its four band members have done time in past bands like Accidente, Bird Eater, Cherubin, Day of Less, Drowning By Numbers, Form of Rocket, Gaza, Laughter, Motherkilljoy, Pilot This Plane Down and Team Dead—and all those influences are evident on
One Pound
, Swarmer's debut EP. Out last December, it combines the ferocious roar of heavy metal with the spacey breakdowns of psychedelia.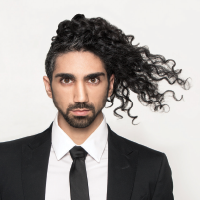 6. Amin "Shahzad" Adibnazari.
Although Salt Lake City has a small but thriving Iranian-American community—most notably represented by former Congressional candidate and current Salt Lake County Councilwoman Shireen Ghorbani—Amin "Shahzad" Adibnazari might be the first Iranian-American rapper to come out of the Beehive State. With a unique cultural background and experience working alongside producers and sound engineers from Capitol Records and Sterling Sound, Shahzad's newest single "On My Own" combines the passion of an underrepresented background with a razor-sharp lyrical tongue honed by poetry studies and ready to lay waste to weaker MCs. Following the positive blueprint laid out by MC predecessors like Black Thought, Mos Def and Lupe Fiasco, Shahzad writes in search of freedom and peace from the struggles he's experienced. No matter where you're from, that's a universal human perspective.
7. Baby Gurl.
It's been more than three years since Jordan Fairbanks and Chris Wadsworth released new music as Baby Gurl, their anarchic two-piece noise-rock outfit that in 2016 won
City Weekly's
runner-up award for Best Live Act in Utah. However, the terrific twosome played a handful of shows in late 2018 that got longtime fans fired up for their particular brand of gleeful, gender-fluid jams (see past favorites like "Gay for Gallops," "Tuna in the Key of Pussy" and "Acoustic Wheel Chair Song," along with Baby Gurl's cult favorite split EP with Gaytheist. Yes, you'll most likely find them in a middle of most lineups; they recently threw their weight around at a fundraiser for new all-ages Ogden venue The Co-Op, but last summer they did headline a show in Denver. Could further top-tier gigs be on the way for the duo? If Fairbanks and Wadsworth, who call themselves fellow Farts-a-Lots on Facebook have any say in the matter, we probably won't know until the night before it happens. But that will make the next big Baby Gurl moment that much more special.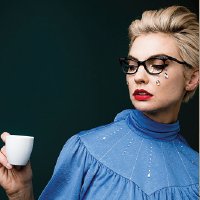 8. Mindy Gledhill.
Talk about a riveting story: When Mindy Gledhill reached out to
City Weekly
earlier this year to talk about her new album,
Rabbit Hole
, she didn't shy away from the way her music directly addresses her break with The Church of Jesus Christ of Latter-day Saints. Once an LDS-approved recording artist famous for her sunny folk-pop, Gledhill's tunes now hit both slick R&B production notes and wrenchingly emotional lyrical perspectives. As an outspoken ex-Mormon unafraid to address Utah's patriarchal religious culture, she's now attracting the biggest crowds of her career, selling out shows in New York, Boston, San Francisco and other major markets. In early May, she returns home to The State Room for a triumphant celebration of what's sure to be one hell of a 2019.
9. gLife.
George McDonald is a hip-hop lifer, spending the last decade on the road after cultivating a rabid local fanbase in and around town. The prolific MC blends streetwise rhyming à la
La Coka Nostra, Jedi Mind Tricks and Eminem with a melodic singing style that recalls Nelly, Eamon and Bone Thugs-n-Harmony. But it's his electro-flavored beats that really stand out, turning your typical gLife song into a sonic feast for the ears. Alongside Adlib and Space Kamp, gLife sets out on a Break Rules Spread Love North American tour this year, which is sure to make a splash.
10. Ritt Momney.
Forget the fact that their band name riffs hilariously on ol' Mittens, Utah's new U.S. senator and an eternally dull thorn in Donald Trump's side. Ritt Momney has bigger goals in mind than just novelty status here in their hometown. With frontman Jack Rutter laying down enough confessional indie-rock gems to transform 2019 full-length
Her and All of My Friends
into an instant classic and Auden Winchester, Noah Hamula and Jonas Torgersen providing pitch-perfect backing instrumentation, the future looks bright for these young musicians. They understand the power of transcending genre, mixing psychedelic synth-rock and bedroom pop but not being afraid of jumping into new territory. A heartfelt delivery and a keen eye for details helped Ritt Momney stand out on a recent mini-tour of California with fellow upstarts The Backseat Lovers; the real competition will come when we see which band explodes onto a national stage faster.
The Record That Changed Me
7 local music power players reflect on the tunes that defined them.
By Nick McGregor
Without music, life would be a mistake." So said philosopher Friedrich Nietzsche way back in the late 1800s. Such a strong statement still rings true, however—perhaps even more so—in this music-saturated day and time. City Weekly asked seven local music power players to dig into the past and remember the records that changed them 10, 20, 30, even 40 years ago—ranging from Siouxsie to Steely Dan—that opened up their world, and in one case, made a wayward youth abandon his carnie dreams.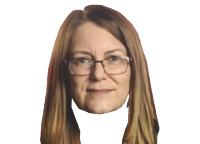 Lara Jones, KRCL community content manager and executive producer of RadioActive
"Confession: Back in the '80s, I was a teenage disc jockey. Everything 'new wave' or 'post modern' was the soundtrack to my life and work. From the moment I heard 'Spellbound,' I was all in for Siouxsie and the Banshees, a woman-fronted band, which gave me the idea I might be able to do it, too. And I did."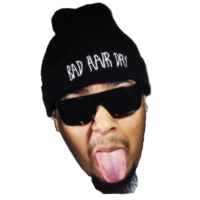 André "DJ Bad Hair Day" Adams of the Flight89 Podcast
"As a young black youth in the '90s, chaos was everywhere. I'm talking drugs, domestic violence between my parents, homelessness and the death of my best friend Rosie Tapia. But through that chaos I found the record that changed me. 'Breakadawn' by illustrious hip-hop group De La Soul really was the spark that gave me hope for a new day where chaos wasn't the focus of my life—rather just more pages in my book."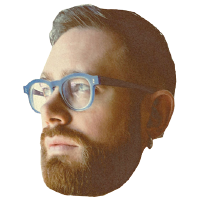 Jesse Walker, DJ, designer, producer, and New City Movement co-founder
"In middle school, my friends' older, cooler siblings exposed us to the vivid electro-pop of Depeche Mode, which gained the English band a devout new following. I spent a summer devouring 101 when my world turned Technicolor after a penny I taped to a BMG music service ad delivered Depeche Mode's Violator to my door. Everything about that seminal album crystallized my interest in electronic music, remix culture and design as I was coming of age in the middle of Idaho."
Sarah DeGraw, singer-songwriter and The Odd Jobs bandleader
"I had been working at my desk one day in the spring and somehow a track from Dark Side of the Moon by Pink Floyd played. I had heard the album before, but in this moment I fell into a daze, stopped what I was doing and played the record from track one. I supposed the journey of it is what moved me. I sat motionless for the entirety of the record and at its end, I wept. There can be no transcendence of light without the depth of darkness, and that depth shook me."
Corey Cresswell, DJ, assistant electrician at Ballet West and co-founder of International Society of Rock 'n' Roll
"Rocket to Russia by The Ramones—that's the record! It was the sound I was looking for as a young man just getting into music and searching for something to get me going. Nothing was hitting until I heard that record. It set the path and introduced me to tons of great bands that The Ramones covered, like The Trashmen and Bobby Freeman. Later on, I moved to Phil Spector's work. That Ramones record gets the credit for me deciding to pursue a career in the business—otherwise I was going to be a carnie! Rock 'n' roll saves lives!"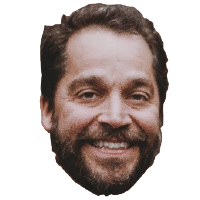 Darin Piccoli, co-owner of The State Room, The Commonwealth Room, O.P. Rockwell and First Tracks Entertainment
"You got me digging for sure. There are so many influential albums it's hard to remember or pick one! But as I poured through them last week in the office, I got stuck on three. First, The Isley Brothers' Givin' it Back, a great album of their funky take on classics, including a great version of 'Ohio.' Second, Steely Dan's Aja—'nuff said. But the first album I purchased was Peter Frampton's Frampton Comes Alive! I'm pretty sure I got it solely for 'Do You Feel Like We Do,' but the pink vinyl was the closer. I remember hearing that song on the radio; having never heard the guitar talk box before, I was blown away."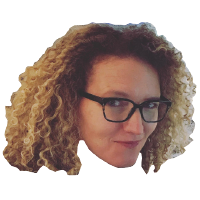 Eugenie Hero Jaffe, KRCL On-Air host, Salt Shaker producer and web & social media manager

"In 1979, I was 8 years old and my big sister was 18. She had an expansive record collection that I was not allowed to touch. One day she drove me to Mushroom Record & Tapes and coaxed me to buy The Beatles'
Revolver
, which I'm pretty sure was $6. 'Why not Michael Jackson's
Off the Wall
?' I asked her. 'You'll really like this Beatles record,' she said. 'You should get it.'
Revolver
opens with 'Taxman' and goes right into the crushing 'Eleanor Rigby,' followed by the juxtaposition of songs from 'Good Day Sunshine' to 'For No One.' It was a pendulum swing, especially for an 8-year-old. As I listened, I dutifully wrote my name on the top right corner of the album—this one was all mine. Later, I would discover that
Revolver
was the only Beatles album my sister was missing from her collection. I never let go of it."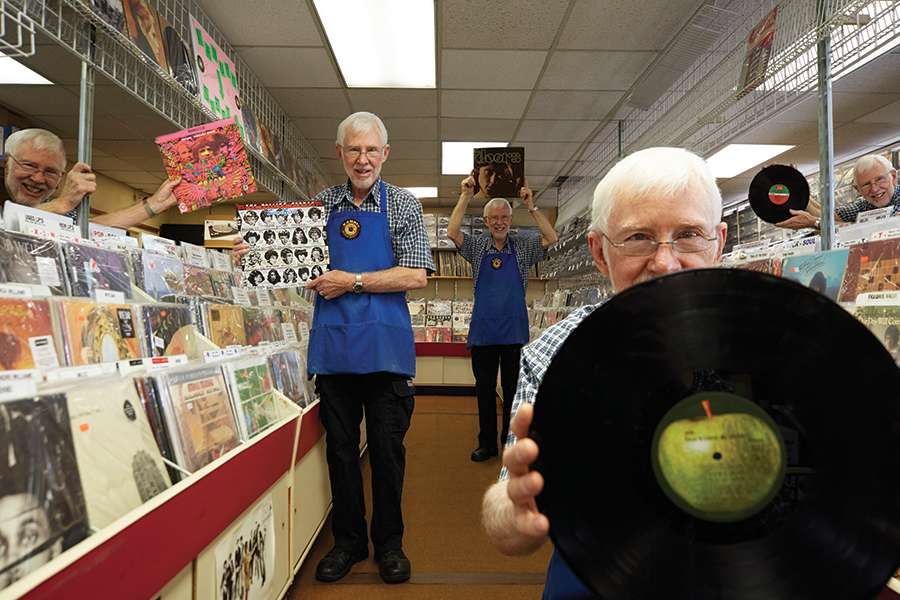 Steven Vargo
Randy's Records
Round, Round
Make your own lifelong memories at these indie vinyl venues 'round town.
By Naomi Clegg
Albatross Recordings & Ephemera
Albatross recently moved a few blocks and is now housed inside Oliver & Princess Natasha's Unique Home Décor, which offers a collection of the distinctive and obscure. It's a treasure trove for vintage clothes and décor, books, posters, antiques, local art and pins, tchotchkes galore, and, of course, records. Come here for rarities you didn't know you wanted (think: obscure horror-film soundtracks) stocked by proprietor Timo Hatziathanasiou.
25 S. Kensington Ave. , Ste. A, instagram.com/albatrossrecslc
Diabolical Records
Diabolical Records is, well, diabolical, in the very best sense of the word. Owners Adam Tye and Alana Boscan met at a party and bonded over music; now, they channel their music nerdiness into one of the coolest shops in town, with an extensive selection of local and indie music (think: what the kids are into) and regular, intimate shows by local and national acts, always at 8 p.m. and always affordable.
238 S. Edison St., 801-792-9204, diabolicalrecords.com
The Heavy Metal Shop
Proprietor Kevin Kirk has been "peddlin' evil since 1987." THMS is the place for metalheads, and not just the local variety—Kirk has earned well-deserved respect from the metal elite, including thrash metal OGs Slayer. Along with metal records and their ilk, the shop stocks a vast selection of THMS merchandise—down to baby-sized tees.
63 Exchange Place, 801-467-7071, heavymetalshop.com
Randy's Record Shop
Randy's is the daddy of SLC record stores. Founded in 1978 by Randy Stinson, this 900 South standard is known for having—or finding—the elusive. The well-stocked shop is manned by a knowledgeable, helpful staff. Look here for what you can't find elsewhere—and watch out for quarterly $2 vinyl sales held across the street.
157 E. 900 South, 801-532-4413, randysrecords.com
Raunch Records
This punk-rock skate shop, opened by Brad Collins and company in 1984, reopened in 2009 after an 11-year hiatus. The Sugar House emporium is a hardcore and punk-rock mecca that also stocks a full selection of skate decks, grip tape and wheels, along with books, comics and art prints. Don't expect a Hot Topic vibe—this place is the real deal.
1119 E. 2100 South, 801-467-6077,
facebook.com/punkrockskateshop
Sound & Vision Vinyl
Brooklyn-born Mike Maccarone earned his music chops hanging out in NYC during the early days of punk and fronting classic punk-rock band Dead Virgins. Having made his way to Utah, Maccarone opened his old-school record shop in 2015 and stocks rock 'n' roll classics from The Beatles to Bowie. Stop by to say hi and chat up the latest ... and or greatest in vinyl.
3444 S. Main, 385-229-4165, soundandvisionvinyl.com
But, wait. There's more!
Graywhale Entertainment
The University location of this used-and-new record and CD establishment recently shut down, to the horror of local fans. But don't fear—you can buy, sell, and trade vinyl and CDs at three other locations, in Sandy, Ogden and Taylorsville. Visit for an FYE-style one-stop-media shop, with DVDs, books, video games, collectibles, and a vast selection of music new and old. Or, check out the Graywhale's massive inventory on their website.
Multiple locations, graywhaleslc.com
Lavender Vinyl
Blake Lundell and Kylee Hallows have worked in indie record stores up and down the Wasatch Front for more than a decade. In 2016, they made their dreams come true when they opened up a record shop of their own in lovely downtown Ogden. The duo carry everything from indie rock and metal to world music and hip-hop; Hallows specializes in "lady-driven" music. Buy and sell here!
123 25th St., Ogden, 385-240-0336, lavendervinyl.com
3hive Co-op Shop
Started by three friends (thus the name), 3hive began as a blog and music-streaming site in 2004, when the trio shared their music faves with fans. In fall of 2018, Sam Cannon, Sean Ziebarth and Jon Armstrong, plus a collection of music-loving friends, opened the doors to a cozy record jukebox shop across from the Provo City Library; the weekends-only shop features new music and frequently hosts local artists like Mindy Gledhill and The Moth & The Flame.
50 E. 500 North, Ste. 105, Provo, 801-900-3116, 3hive.com
Josh Scheuerman
Bar Named Sue
Live Music Directory
3hive Record Co-op 50 E. 500 North, Ste. 105, Provo, 801-900-3116, 3hive.com
Weekends-only record shop with occasional live acoustic performances by local artists.
801 Event Center 1055 W. North Temple, 801-347-5745, 801conventionandeventcenter.com
West-side convention and event center that hosts a variety of Latin American artists and other big-crowd music events.
A Bar Named Sue 3928 S. Highland Drive, 801-274-5578, abarnamedsue.net
Basement dive bar with free billiards, darts and shuffleboard; pool tables and flat-screens to watch the game; and live music four nights a week.
A Bar Named Sue on State 8136 S. State, Midvale, 801-566-3222, abarnamedsue.net
Midvale outpost of the Highland Drive sports bar; games, sports, outdoor patio and frequent live music and karaoke.
ABG's Libation Emporium 190 W. Center St., Provo, 801-373-1200, abgsbar.com
One of the few places in Provo to get your drink on, with pool, classic bar grub and live music on Fridays.
Abravanel Hall 123 W. South Temple, 801-355-2787, artsaltlake.org
Concert hall that's home to the Utah Symphony, hosts classical music concerts and more.
Alleged 205 25th St., Ogden, 801-990-0692, alleged25th.com
Three-story Ogden bar within walking distance of the Frontrunner, with a rooftop bar, live music, and DJs downstairs for dancing.
Area 51 451 S. 400 West, 801-534-0819, area51slc.com
Two-story nightclub with three bars and three separate dance floors; karaoke and themed DJ sets Wednesday through Saturday (from '80s to dark punk to Top 40), very LGBTQ and alternative friendly.
Bar-X 155 E. 200 South, 801-355-2287, beerbarslc.com
Craft cocktails and live music right next to buzzy Beer Bar. Old-fashioned speakeasy feel with frequent live music.
Barbary Coast 4242 S. State, Murray, 801-265-9889
Biker saloon with great bar food, vintage cocktails and live music (in warm weather, on the outdoor patio).
Big Willie's 1717 S. Main, 801-463-4996, bigwillieslounge.com
Neighborhood sports bar with cheap drinks and large servings of tasty food; karaoke and darts Sunday, open mic comedy night Monday and occasional live music.
The Bayou 645 S. State, 801-961-8400, utahbayou.com
Buzzy restaurant with Cajun-style favorites and SLC's most extensive beer menu (there's even an app for beer options!); live music Fridays and Saturdays.
The Beehive 666 S. State, 385- 645-3116, beehivecollectiveslc.com
Collective with an eclectic variety of drag and vaudeville performances, comedy and local and touring artists.
Bourbon House 19 E. 200 South, 801-746-1005, bourbonhouseslc.com
Basement lounge with craft cocktails, unique brunch and bar food, live music and DJs, plus flat-screens for sports fans.
Brewskis 244 25th St., Ogden, 801-394-1713, brewskisonline.net
Ogden bar and grill with all the standard offerings: pizza and sandwiches, beer, pool, and live music on weekends.
The Cabin 825 Main, Park City, 435-565-2337, thecabinparkcity.com
Park City drinks-only bar that's got a lot going on, from Sundance crowds to a variety of live music every weekend and many weekdays, with pool, pingpong, karaoke and DJs.
Chakra Lounge 364 S. State, 801-328-4037, chakralounge.net
Small plates and cocktails, with movie night Monday, bingo Tuesday, live music Wednesday, karaoke Thursday and DJs for dancing Friday and Saturday.
Cheers To You 315 S. Main, 801-575-6400, cheerstoyouslc.com
Downtown dive bar with pool, cheap beer and karaoke.
Cheers To You Midvale 7642 S. State, 801-566-0871, cheerstoyoumidvale.com
Midvale sports bar outpost, with cheap drinks, pool, jukebox and karaoke.
Steve Conlin
The Commonwealth Room
The Commonwealth Room 195 W. 2100 South, 801-741-4200, thecommonwealthroom.com
Music venue with 700-person capacity, featuring nationally touring artists of all music genres.
Club 48 16 W. 4800 South, Murray, 801-262-7555, club48ut.com
Murray dive bar with karaoke Wednesday, Friday & Saturday, DJs, darts and live music.
Club 90 9065 S. Monroe St., Sandy, 801-566-3254, club90slc.com
Bustling bar and club that has it all: poker Monday, karaoke Tuesday-Thursday, DJs & live music Friday-Saturday, live bluegrass Sunday, and Paint Nites.
Club Try-Angles 251 W. 900 South, 801-364-3203, clubtryangles.com
SLC's No. 1 late-night gay bar. Your place for a welcoming atmosphere, plus karaoke Thursday, DJs and dancing Friday & Saturday, and occasional drag shows.
The Complex 536 W. 100 South, 801-528-9197, thecomplexslc.com
Music venue presenting a variety of live music, including big national tours, and drag acts.
Cruzrs Saloon 3943 S. Highland Drive, facebook.com/cruzrssaloon
Holladay dive bar across from A Bar Named Sue, with a patio, pool, poker, cheap drinks, karaoke and occasional live music.
DeJoria Center 970 N. State Road 32, Kamas, 435-783-3113, dejoriacenter.com
Event venue 16 miles outside of Park City, with a tavern, plays, and a variety of live music.
Josh Scheuerman
The Depot
The Depot 13 N. 400 West, 801-456-2800, depotslc.com
Four-story concert venue located just north of The Gateway mall in the historic Union Pacific depot; 1,200-person capacity with a bar and a wide variety of live music.
Diabolical Records 238 S. Edison St., 801-792-9204, diabolicalrecords.com
Hip record shop with a great selection of local and indie music and intimate near-weekly live music performances, always at 8 p.m. and always affordable.
Donkey Tails Cantina 136 E. 12300 South, Draper, 801-571-8134, guadalahonkys.com
Bar in Draper adjoining Guadalahonky's Mexican restaurant. A little bit sports bar and a little bit neighborhood lounge. Karaoke Wednesday, local live music on weekends.
Downstairs 625 Main, Park City, 435-226-5340, downstairspc.com
Park City dance club and bar with DJs Wednesday-Sunday and live music.
Eccles Center 1750 Kearns Blvd., Park City, 435-655-3114, ecclescenter.org
Theater for Park City Institute with live music, dance and other performing arts acts.
Eccles Theater 131 S. Main, 801-355-2787, artsaltlake.org
Downtown performing arts establishment for theater and musicals, comedy, lectures and national live music acts.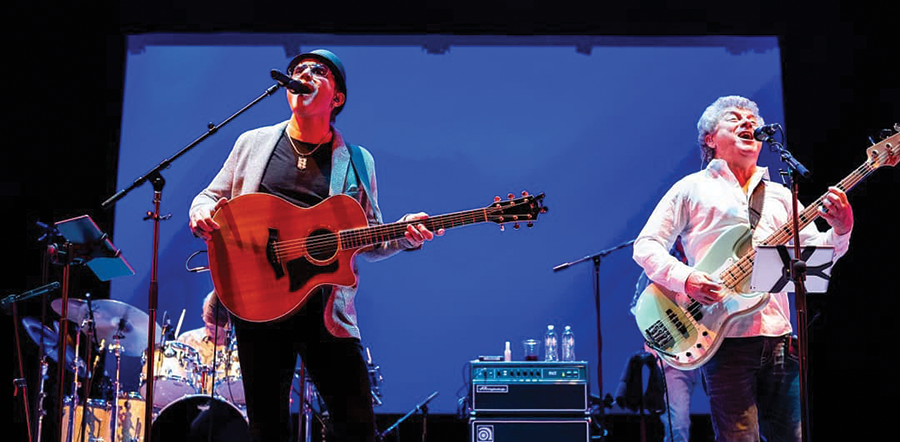 Courtesy Photo
Egyptian Theatre
Egyptian Theatre 328 Main, Park City, 435-649-9371
Theater for musicals and well-established live music acts, ranging from blues and rock 'n' roll to classical.
Elixir Lounge 6405 S. 3000 East, Ste. 101, Holladay, 801-943-1696, elixirloungeutah.com
Cocktail lounge in Holladay area that serves up tapas and custom drinks, plus live music on weekends and DJs.
Feldman's Deli 2005 E. 2700 South, 801-906-0369
Deli that serves up damn good sandwiches and live music sets.
The Filling Station 8987 W. 2810 South, Magna, 801-981-8937, facebook.com/thefillingstation1
Magna dive bar; your spot on the westside for karaoke, poker, sports and live music.
Flanagan's On Main 438 Main, Park City, 435-649-8600, flanagansonmain.com
Irish pub in park city, with award-winning Irish fair and beer (of course); trivia Tuesday, karaoke Friday, live music and DJs.
Funk 'n' Dive Bar 2550 Washington Blvd., Ogden, 801-621-3483, funkanddive.com
A speakeasy originally built in the basement of the Ogden Courthouse by then-Mayor Ora Bundy. Highly rated bar with beer, food and vegan options, plus trivia Wednesday, karaoke Thursday and live music Friday & Saturday.
Garage On Beck 1199 Beck St., 801-521-3904, garageonbeck.com
A North Salt Lake bar and grill with great pub grub—including a local favorite, funeral potatoes—a patio and weekly live music acts.
Gold Blood Collective 1526 S. State, goldbloodcollective.com
Boutique streetwear shop and artist collective that hosts live DIY shows.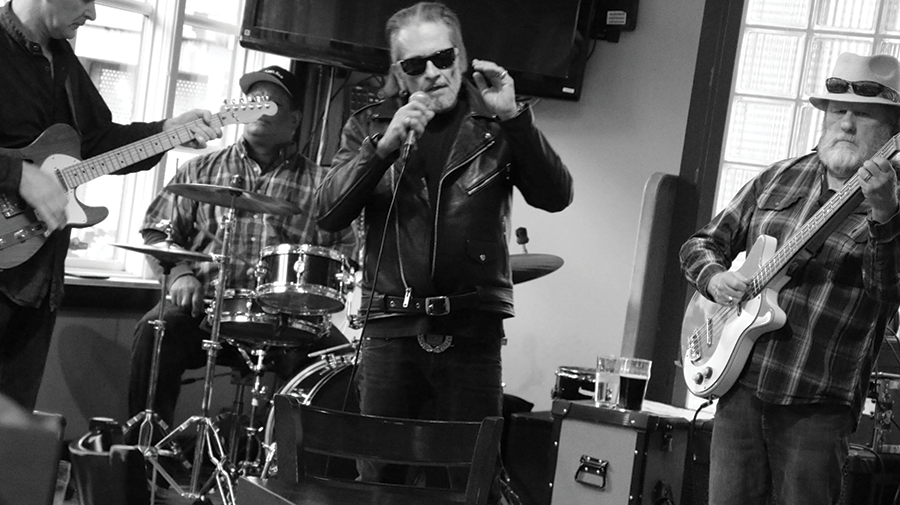 Courtesy Photo
Gracie's
Gracie's 326 S. West Temple, 801-819-7565, graciesslc.com
An SLC standard and popular brunch spot. Multi-level bar and gastropub offering American fare and drinks, with a patio, live music and DJs for dancing.
The Great Saltair 12408 W. Saltair Drive, Magna, 801-250-6205, thesaltair.com
One of a long lineage of resorts on the shore of the Great Salt Lake, this large music venue offers a variety of touring acts and big concerts and festivals.
The Green Pig Pub 31 E. 400 South, 801-532-7441, thegreenpigpub.com
Downtown sports bar and pub, with classic pub grub, an open blues jam on Monday, live music and DJs Thursday-Saturday, plus trivia Wednesday and Sunday.
HandleBar 751 N. 300 West, 801-953-0588, handlebarslc.com
New "biker" bar in the Marmalade area that caters to thirsty cyclists and mustachioed men. Food and drinks, plus karaoke Monday, trivia Tuesday and live music.
Harp and Hound 2550 Washington Blvd., Ogden, 801-621-3483, harphound.com
Upscale Ogden pub above Funk 'n' Dive speakeasy, with live music on weekends.
The Heavy Metal Shop 63 E. Exchange Place, 801-467-7071, heavymetalshop.com
Slayer's favorite record shop and the place for metal fans, with occasional live shows from local and national artists.
Highlander 6194 S. Highland Drive, Murray, 801-277-8251, highlanderutah.com
Sports bar with karaoke seven days a week at 9 p.m.
Hog Wallow Pub 3200 E. Big Cottonwood Canyon Road, 801-733-5567, thehogwallow.com
Pub at the base of Big Cottonwood Canyon, great after a hard day of skiing, boarding or hiking. Food, beer and live music in styles ranging from American and jazz to funk and reggae.
Ice Haüs 7 E. 4800 South, Murray, 801-266-2127, icehausbar.com
Beer. Brats. Booze. Burgers. Plus trivia Monday, karaoke, bingo and live music.
Infinity Event Center 26 E. 600 South, 385-242-7488, infinityeventcenter.com
Large downtown event center with live music, country, and Latin dancing and parties.
In The Venue/Club Sound 219 S. 600 West, 801-359-3219
Westside concert venue that hosts all walks of the musical spectrum.
Jackalope Lounge 372 S. State, 801-359-8054
This State Street dive serves up the best Miller High Life deal in town and hosts the occasional DJ and theme party.
Johnny's On Second 165 E. 200 South, 801-746-3334, johnnysonsecond.com
This ragtag watering hole keeps you moving with DJs during the week, karaoke on Wednesday and live music on Saturday.
Kamikazes 2404 Adams Ave., Ogden, 801-621-9138
This Ogden staple gets its charm from being located in a former church but doesn't let that stop it from keeping the drinks flowing and the karaoke and live music going.
Karamba 1051 E. 2100 South, 801-696-0639, karambaslc.com
Latin dance club in Sugar House featuring DJs spinning bachata, cumbia, merengue and salsa.
Keys On Main 242 S. Main, 801-363-3638, keysonmain.com
One of Salt Lake City's two dueling piano bars that hosts shows Wednesday through Saturday and karaoke on Tuesday.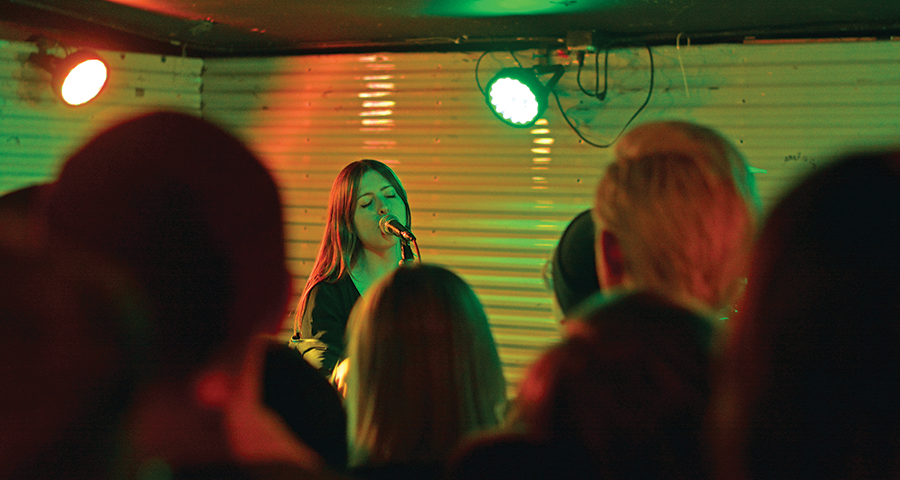 Josh Scheuerman
Kilby Court
Kilby Court 741 S. Kilby Court (330 West), kilbycourt.com
A local favorite. Small, homey, all-ages live music venue that hosts both local and touring bands.
Kingsbury Hall 1395 E. Presidents Circle, 801-581-7100, tickets.utah.edu
The University of Utah's performing arts center that hosts a variety of concerts, plays and speakers.
Lavender Vinyl 123 25th St., Ogden, 385-240-0336, lavendervinyl.com
A record shop in downtown Ogden that hosts live music shows as well as "Vinyl Night" where people can bring their favorite albums to be played on their house sound system.
The Leprechaun Inn 4700 S. 900 East, Murray, 801-268-3294
A Murray dive located in the Ivy Place Shopping Village that serves bar food, hosts pool leagues and features karaoke Saturday nights.
Liquid Joe's 1249 E. 3300 South, Millcreek, 801-467-5637, liquidjoes.net
Live music favorite that hosts numerous shows throughout the week and the place to check out local cover band The Spazmatics.
The Loading Dock 445 S. 400 West, 385-229-4493, loadingdockslc.com
Located near Area 51 in downtown Salt Lake City, this industrial-looking venue is a great place to see your next concert.
Lumpy's on Highland 3000 S. Highland Drive, 801-484-5597, lumpysbar.com
A solid spot for a sport fanatic to catch the game and to get their karaoke on Tuesdays and Fridays.
Manny's 1704 S. Main, 801-467-6289
A Main Street dive with karaoke nights throughout the week.
Maverik Center 3200 S. Decker Lake Drive, West Valley, 801-988-8800, maverikcenter.com
An arena-sized venue that hosts a variety of big-name touring artists and traveling shows.
Maxwell's East Coast Eatery 357 S. Main, 801-328-0304, maxwellsece.com
After getting your grub on with one of this place's tasty pizzas, get your groove on with one of their DJs on Friday and Saturday nights.
Josh Scheuerman
Metro Music Hall
Metro Music Hall 615 W. 100 South, 385-528-0952, metromusichall.com
A popular venue for live music shows, DJs and drag shows.
The Moose Lounge 180 W. 400 South, 801-900-7499
Bar featuring DJs and dance parties as well as LGBTQ nights.
Music Garage 1192 Wilmington Ave., 801-577-2263, musicgarage.org
Music school that offers performing lessons in guitar, vocals, drum, bass and many more.
O.P. Rockwell 268 Main, Park City, 415-250-7988, oprockwell.com
A popular cocktail lounge and music hall located on Park City's bustling Main Street.
Outlaw Saloon 1254 W. 2100 South, Ogden, 801-334-9260, outlawsaloon.com
Popular Ogden country bar that features live music on the weekends.
Park City Live 427 Main, Park City, 435-649-9123, parkcitylive.net
Hot spot for headlining DJs and other well-known music acts on Park City's historic Main Street.
Pat's BBQ 155 W. Commonwealth Ave., 801-484-5963, patsbbq.com
Tasty barbecue joint that features local bands on its indoor stage.
Peery's Egyptian Theater 2415 Washington Blvd., Ogden, 866-472-4627, egyptiantheaterogden.com
Ogden entertainment venue that features all sorts of music acts, such as jazz, rock and classical.
Piper Down 1492 S. State, 801-468-1492, piperdownpub.com
Irish pub with live music on weekends and acoustic acts on Tuesdays.
Poplar Street Pub 242 S. 200 West, 801-532-2715, poplarstreetpub.com
Expansive bar with a patio, food selection, karaoke on Mondays and live music on weekends.
Prohibition 151 E. 6100 South, Murray, 801-281-4852, prohibitionutah.com
Speakeasy-style bar featuring DJs, dancing, burlesque and burly-oke, a burlesque take on karaoke.
Raunch Records 1119 E. 2100 South, 801-467-6077
Old-school record shop that occasionally features punk bands and other acts.
Red Butte Garden Amphitheater 2155 Red Butte Canyon Road, 801-585-0556, redbuttegarden.org
Stellar outdoor venue above the University of Utah hosting music acts throughout the summer.
The Red Door 57 W. 200 South, Ste. 102, 801-363-6030, thereddoorslc.com
Great martini and cocktail bar with DJs and other live music acts.
The Royal 4760 S. 900 East, 801-590-9940, theroyalslc.com
Popular Murray bar with a creekside patio and frequent live music acts on its indoor stage. Also a good place to catch Royal Bliss.
The Ruin 1215 Wilmington Ave., Ste. 120, 801-869-3730, ruinslc.com
Sugar House bar that hosts DJs and live music acts.
Silver Star Café 1825 Three Kings Drive, Park City, 435-655-3456, thesilverstarcafe.com
A hidden gem in Park City that features folk, jazz, blues, Americana and bluegrass acts Thursdays through Saturdays.
Sky 149 W. Pierpont Ave., 801-883-8714, skyslc.com
Popular downtown nightclub where you can dance and watch a range of DJs and other music acts.
Soundwell 149 W. 200 South, 801-290-1001, soundwellslc.com
Downtown concert venue that hosts a wide variety of musical artists.
The Spur Bar & Grill 352 Main, Park City, 435-615-1618, thespurbarandgrill.com
Park City fine-dining locale that hosts live music seven days a week.
The State Room 638 S. State, 801-596-3560, thestateroom.com
Intimate State Street concert venue to catch your favorite singer-songwriter and other musical performers.
The Sun Trapp 102 S. 600 West, 385-235-6786
Historic LGBTQ spot featuring DJs, karaoke and drag events.
Switch 625 S. 600 West, 801-513-2955, switchslc.com
Downtown venue to dance to music from house and techno DJs.
Tavernacle 201 E. 300 South, 801-519-8900, tavernacle.com
Downtown dueling-piano bar that also hosts karaoke Sundays through Tuesdays.
Third Space Studios 247 W. Center St., Provo, 801-362-8658, thirdspaceprovo.org
A communal creative space that artists can rent for practice or their own performances.
Tin Angel 365 W. 400 South, 801-328-4155, thetinangel.com
Hip downtown bistro featuring local artists and the occasional live music act.
Tinwell 837 S. Main, 801-953-1769, tinwellbar.com
Diverse Main Street bar with classy and dive-y elements and DJs on its back patio.
The Touché Tavern 3550 S. State, 801-290-2531, touchetavern.com
A self-described "classy dive bar" that features live music on weekends.
Twist 32 Exchange Place,
801-322-3200, twistslc.com
Two-level downtown bar that hosts live music acts and DJs.
The Underground 833 S. Main, 385-645-3116, theundergroundslc.com
Small, intimate Main Street venue hosting a variety of musical acts.
The Union Tavern 7176 S. 900 East, Midvale, 801-938-4505, theunionslc.com
Popular Midvale bar that features cosplay night, karaoke, acoustic acts on Wednesday and live music and dancing on weekends.
Josh Scheuerman
Urban Lounge
Urban Lounge 241 S. 500 East, 801-746-0557, theurbanloungeslc.com
Downtown concert venue with music acts nearly every night of the week and a stage that gets you up close and personal with the artists.
USANA Amphitheatre 5150 Upper Ridge Road, West Valley City, 801-417-5343
Large outdoor concert venue in West Valley City that hosts big-name artists throughout the warmer months.
Velour 135 N. University Ave., Provo, 801-818-2263, velourlive.com
An all-ages Provo venue that hosts various musical artists as well as open mic nights.
Josh Scheuerman
Vivint Smart Home Arena
Vivint Smart Home Arena 301 W. South Temple, 801-325-2000, vivintarena.com
This place isn't just home to the Utah Jazz. It also hosts arena-filling musical acts throughout the year.
The Wall at BYU 1151 Wilkinson Student Center, Provo, 801-422-4470, thewallbyu.com
An eclectic event space that hosts everything from battle of the bands and acoustic and karaoke nights to dance parties.
Wasted Space 342 S. State, 801-531-2107
State Street dive that features DJs and various karaoke nights.
The Westerner 3360 S. Redwood Road, West Valley, 801-972-5447, westernerslc.com
Come to West Valley's most popular country bar to get your line-dancing and boot(y)-shaking on.
Willie's Lounge 1716 S. Main, 760-828-7351, willieslounge.com
Sports bar with karaoke Thursday through Saturday and occasional live music acts.
The Yes Hell 2430 Grant Ave., Ogden, 801-903-3671
Hip bar in downtown Ogden that frequently hosts live music at its dining adjacent stage.
Zest Kitchen & Bar 275 S. 200 West, 801-433-0589, zestslc.com
This restaurant and fresh juice cocktail bar isn't just about taste. It also features DJs and live music.

Holy Spirits
A-Z Cocktail Guide
By Darby Doyle
It seems like just yesterday when this intrepid booze writer was contacted by City Weekly's fearless editor and asked to assemble a comprehensive A-to-Z guide of all the goodly drinks action going down in Deseret. Now in its third year, this directory of delicious drinkables is a testament to how Zion's spirits culture has not only grown but is thriving with a capital T. No olive or maraschino cherry was left unturned in prepping this compendium. So hunker down with your favorite adult beverage and give it a go.
A is for Agave
Spirits 101: More than 200 varieties of agave plants grow wild throughout Mexico and the Southwest, and alcoholic products from this species include, yes, tequila, but also mezcal, bacanora, raicilla, sotol and a lower-ABV fermented agave nectar beverage called pulque. Distinctively smoky mezcal can legally be made with a bunch of different agave options, however, only the Weber blue (agave tequilana) plant may be used to make tequila. And much like Champagne or Cognac in France must be made in those eponymous regions with specific varietals, authentic tequila can only be produced in a small area of Mexico centered around the state of Jalisco. For a local connection, try top-shelf premium brand VIDA Tequila (vidatequila.com), a company owned by Utah-based Lisa Barlow, who's a huge supporter of our craft-cocktail scene or, head up 50 miles north to Eden's New World Distillery (4795 E. 2600 North, Eden, 385-244-0144, newworlddistillery.com) and see how 100 percent agave spirits are fermented and distilled on site by artisans Chris and Ashley Cross to make their distinctive Rabbit and Grass Agave Spirit and (a rarity) agave-based vodka.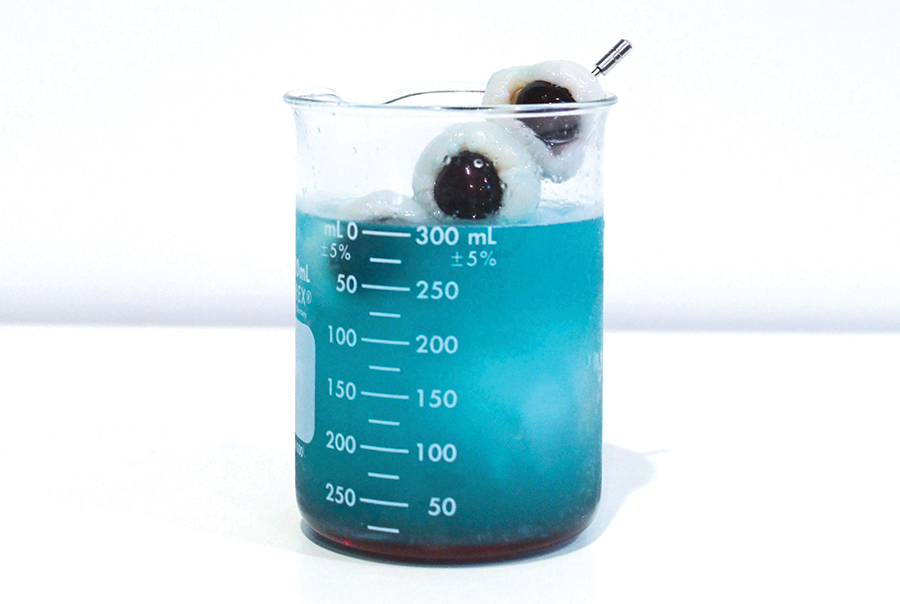 Blue Curaçao
Huge-ass hair, leg-warmers, shoulder-baring slouchy sweaters, heavy eyeliner for everyone. Apartheid, the Cold War, Reaganomics. Oh, the '80s: how we love and loathe the era of Me First. Whether your early clubbing years started out in this incubator of neon-bathed nightlife or you're young enough to consider the scene "retro," SLC's beloved Area 51 nightclub has been the go-to spot for New Wave and Alternative nostalgia, pop and a helluva lot of fun. If you can't wait for Thursday night to get your cocktail fashion fix, pick up a bottle of that sticky sweet synthetic wonder known as Blue Curaçao, and add it to your vodka-soda highball for that singularly '80s appeal to the outrageous. Area 51, 451 S. 400 West, 801-534-0819, area51slc.com
Cannabis
Cannabis-infused cocktails seem like the next big trend, right? Looking to our Left Coast neighbors for inspiration, it became immediately apparent that imbibing cannabis as an ingredient should be approached with a good dose of caution. In an article exploring the pros and cons of cannabis cocktails, bar industry mag Imbibe notes the biggest challenge (and this is talking in terms of home mixology) is that calibrating appropriate dosing still is a work in progress. Due to the solvent nature of alcohol and varying levels of cannabis strength found in the wild, you could be amplifying the sedative and psychoactive qualities of both ingredients. No bueno. But not to worry, the buzz in the bar scene indicates that there are plenty of bartenders out there doing the tough work of experimentation to make sure that by the time Utah gets the green light on ganja, we'll know what's what. Until then, when in West Hollywood, check out non-alcoholic cannabis mocktails like the one at Gracias Madre (graciasmadreweho.com): their "On The Wagon" drinks menu includes a CBD Snowcone ($15) made with lemon, hibiscus, agave and non-psychoactive cannabidiol oil.
Digestif
... or apéritif: What's the diff? They're French terms describing when certain spirits are consumed while dining; in Italian, it's aperitivo and digestivo. Traditionally, European meals begin with an apéritif like sherry, vermouth or a lower alcohol cocktail served to stimulate the appetite. Digestifs, as their name implies, are imbibed following a meal to aid digestion (the beverages most synonymous with a classic digestivo are bracing Italian amari like Cynar, Fernet and luscious Averna). SLC's own Waterpocket Distillery makes a distinctive and complex digestif called Toadstool Notom Amari that's become an underground (and over-the-bar) hit with tipplers all over the state. "Like coffee to a kid, many hate bitter digestifs at first, but then find it's a standard adult pleasure they couldn't live without," Waterpocket Distillery owner/distiller Alan Scott, says. "Our senses signal warning with bitter flavors at first. But once you've crossed over, it's like realizing you've been looking at rainbows with only half the colors ... Finishing a meal with a classic bitter digestif like our Notom Amaro completes the picture." Scott recommends it as a classic pairing for a rich meal. I like it pretty much any time. Head to the distillery (2084 W. 2200 South, 385-202-5725, waterpocket.co) for the full experience.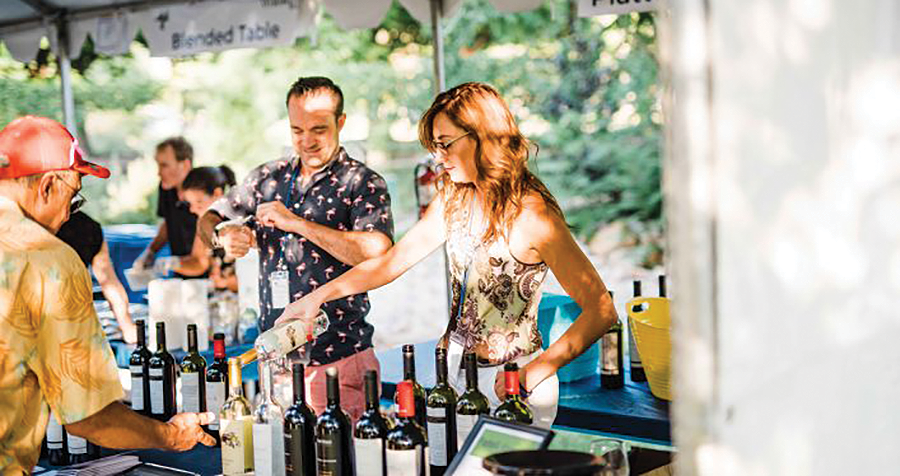 Eat Drink SLC
Held each July among the cool tree canopy and entertaining fowl at Tracy Aviary, Eat Drink SLC (eatdrinkslc.com) is one of our perennial favorite fundraiser/drinks events in a city brimming with great boozy fests. Looking for more opportunities to meet and sample sips from our state's growing cadre of brewers, distillers and winemakers? Mark your calendars for the ever-popular Taste of the Wasatch at Solitude Resort (tasteofwasatch.com), the fifth annual Made in Utah Festival (madeinutahfest.com) at the Gateway Aug. 24-25 and Food & Wine Fest (saltlakefoodandwinefest.com) presented by the Salt Lake Area Restaurant Association, Sept. 11-16.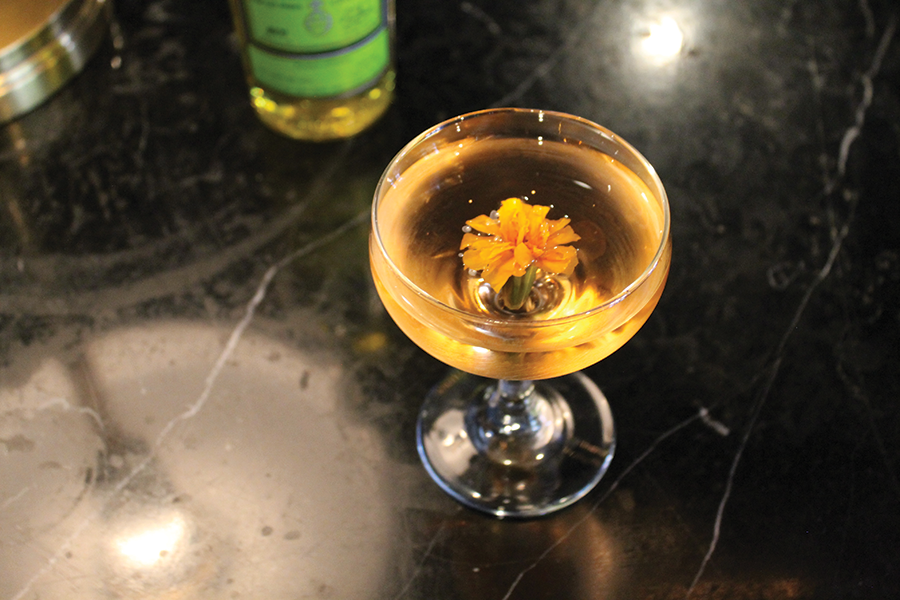 Flower
Flowery garnishes continue to grace both plates and cocktails with edible flair. Restaurants across the Wasatch Front have been fortunate since 2012 to source gorgeous veggies, fruits and flowers directly from Frog Bench Farms (frogbenchfarms.com), a private chef-oriented farm on SLC's East Bench foothills. Owners Paula and Joe Sargetakis and farm manager Stacy Semborski make a point that appearance has equal priority as flavor in everything they grow at the sustainable farm, which includes more than a dozen flower varieties like borage, marigold, lavender, nasturtium and viola.
Gin
... for the win! Only a handful of years ago, there was no such thing as Utah gin. Boy howdy, has that changed for the better! Within the popular spirits category, you can source local juniper-forward juice from all over the state. At the Beehive state's northern reaches, find Oomaw Gin from New World Distillery in Eden and Madam Pattirini from the 5 Wives Vodka bottlers at Ogden's Own. In SLC, Chris Barlow of Beehive Distilling has been batching up award-winning Jackrabbit and aged Old Tom-style Barrel Reserve, and relatively new kids on the distilling block, Hammer Spring Distillers' Hammer Spring Gin, is a botanical spirit with nice notes of sage and white peppercorn. Dented Brick Distillery now has two gins on distilling rotation, with a craft well gin that's as easy drinking as it is affordable, and their premium line Great Basin Bristlecone is raking in critical praise in its second year of production. Thirsty for more? When in Park City, visit Alpine Distilling and pick up a bottle of their Summit gin for a pleasant surprise. And in recent years, Utah distilling has expanded south, with the fine folks at Moab Brewery throwing their hats into the hard-spirits pool with Moab Distillery. When at the shop (next door to the popular brewery), purchase a bottle of Spot On, made with crisp botanicals and water from the La Sal Mountains.
Hard Cider
It's been brewed in the Americas since long before Johnny Appleseed embarked on his apocryphal mission of fruit propagation. In fact, hard apple cider was the most popular beverage quaffed in our nation's Colonial era, even more so than beer, wine or whiskey. In recent years, the refreshing beverage has made a big-time comeback, with fermented fruit ciders produced from coast to coast. Salt Lake's Mountain West Hard Cider (425 N. 400 West, 801-935-4147, mountainwestcider.com) makes a few delicious varieties of hard apple ciders, available by the bottle at state liquor stores, or try the whole lineup right at the source at Mountain West Cider's dog-friendly outdoor patio, The Garten, shared with the fine folks at Red Rock Brewing. For something unusual—with a nice citrusy zing and sweet melon notes—check out their Desolation Prickly Pear Hard Cider, infused with purée from the eponymous cactus fruit.
Imbibe!
Reading is fundamental, and this tome by David Wondrich, is one of the top 10 drinks-history books for any self-respecting home bar bookshelf. Part drinks history, part cocktail cookbook plus all sass and badass bravado, Wondrich's books are the boozy bridge between vintage bar guides and the rest of a geeked-out collection of global mixology guidance. As John Waters said, "Don't sleep with people who don't read." The cocktail corollary? Don't drink with people who don't have interesting stories; pick up (or download, you techie bastards) a copy of any of Wondrich's books and you'll be chock full of cocktail-party drinks knowledge.
Judging
... 24 cocktails in two hours and living to tell the tale. Last April, I was invited to be a guest judge at the Utah chapter of the U.S. Bartenders' Guild annual cocktail competition and evaluate eight bartenders' drinks in three rounds alongside UMOCA president Kristian Anderson and Brown-Forman sales manager Mark Kuehn (who knows a thing or two about whiskey). That's right. Twenty-four cocktails in just about two hours. Now, that doesn't mean we finished all those concoctions, but it was a nice night's work for my liver. Peep the USBG Utah Instagram feed @usbgutah for the 411 on this and future events, many of which are open to the public.
Competition winner Christian Saez shared one of his three cocktail recipes from the showdown, telling me, "The idea came from a smoothie I had in Manhattan, which was pineapple, cucumber and matcha. I thought it was super bourgeois and I paid $7 for it, so I named this cocktail the 'Woodford Bourbgeois.'" This whiskey sour variation was one of my favorites from the night (such as I remember it):
Woodford Bourbgeois
1 1/2 ounces Woodford Reserve Bourbon
1 ounce pineapple juice
3/4 ounce matcha syrup
1/2 ounce fresh lemon juice
Shake all ingredients with ice. Strain into a cucumber-shrub rinsed glass; garnish with an edible orchid and fresh ground cinnamon.
Kiitos
The brewery joined Utah's growing ranks of Beehive breweries in 2017, giving some serious cred to our cadre of craft brewers kickin' ass, takin' names and generally showing that our brewski-lovin' populace has cheerfully adopted a "more the merrier" sensibility. Hot out of the gate, the A. Fisher Brewing revival, as well as ventures RoHa Brewing Project and 2 Row Brewing have added some diversity to the brewing buzz. Shameless plug alert: You can meet the folks from Kiitos and other stellar Beehive state breweries at City Weekly's own Utah Beer Festival (utahbeerfestival.com) which turns 10 this year. Mark you calendars for Saturday and Sunday Aug. 17 and 18. Tickets sell out, so act fast.
Low ABV Upscale sippers with reduced or no alcohol continue to gain ground. Although folks still use the term "mocktail," many bars have changed their selections to embrace the middle way, so to speak, including lighter aperitif cocktails like those popular in Europe at lunchtime on their menus; a nice option when you'd still like a pretty potion but don't want to return to work plastered—à la a liquid lunch. A while back, I spoke with Under Current Bar (279 S. 300 East, 801-574-2556, undercurrentbar.com) managing partner Amy Eldredge about the trend, and she said there are many reasons why bar patrons choose to eliminate entirely or limit their alcohol consumption and that, "the customer experience and the drink presentation should absolutely be of the same quality" as full-strength cocktails. Whether it's a completely booze-free juice spritzer or a lower-ABV vermouth aperitif cocktail, the experience is equally elegant as that of our friends who are ordering barrel-strength bourbon.
Mexican Wine
Specifically that hailing from Baja's Valle de Guadalupe have made a huge splash in the wine world in recent years. At just 90 miles south of San Diego, the region's wine geography has been compared to California's Napa Valley for both culinary experiences and access to estate varietals, with more than 150 wineries now operating. And it's fucking gorgeous. "It's just like being in Italy, except you're speaking Spanish," CW editor Enrique Limón says. And you don't have jet lag or, let's face it, the sticker shock of either Napa or Naples. Win-win. State liquor store brass: Start stocking it, please?
No Nonsense
Bartenders and bars that keep it real hold a special place in our hearts (and livers). For those times when we want our beverages served with a side order of zero fucks, here are some of CW staff's favorite watering holes:
1. Enrique Limón, editor
Greg Arata at Junior's Tavern (30 E. 300 South, 801-322-0318) is the real deal. He's shared more stories with local media types than he has collectible hooch cans behind protective glass. The man knows how to pour a frosty one—and how to keep a secret, to boot.
2. Kelan Lyons, staff writer
I love the dimly lit backroom speakeasy at Bar X (155 E. 200 South, 801-355-2287), where bartenders will make you a mystery drink if you aren't wanting a more classic cocktail. Initially skeptical because Utah laws prevent bartenders from having heavy hands, I was pleasantly surprised by the taste and strength of each adult beverage. That is, until I had a few and couldn't taste them anymore.
3. Sarah Arnoff, contributor
One face familiar to me since the wee age of 21 is that of bartender Ed at the Tap Room (2021 E. Windsor St., 801-484-6692). Ed and his mix of surly and friendly demeanor has presided over the haunt for years. I spent many a long afternoon sipping a draft and playing Medieval Madness pinball in their narrow basement digs at their old Highland Drive location. That lovably dingy basement is long gone, paved over with progress. But the Tap's Windsor Street home has the same vibe, with just Ed still slinging drinks behind the much more spacious bar.
4. Ray Howze, editorial assistant
Everyone needs a go-to bartender in their life. When they walk into a place and the bartender knows your name and your drink of choice. Megan Brown and Marley Bramble at Murphy's Bar & Grill (160 S. Main, 801-359-7271) have kept our beverages flowing for years and sometimes all it takes is a nod. As an Irish bar, they also know their way around an Irish Car Bomb or two. The dimly lit dive-bar salt-of-the-earth feel offers a chance for you to be yourself while Brown and Bramble—who don't take shit from anyone—and others keep your libations coming.
On Tap
At bars and restaurants all over town, you'll now find more than beer on tap. For example, Current Fish & Oyster (currentfishandoyster.com) has developed a delightful wine-on-tap program, with seasonally changing selections pairing with the popular restaurant's seafood-forward menu. At the lobby bar of the sleek and modern AC Hotel (225 W. 200 South, 385-722-9600, marriott.com/slcad), drinks manager Tracy Gomez has worked within prescribed DABC service rules to create an on-tap cocktail, which is part of the hotel's brand. During a recent visit to what's become one of my favorite new downtown spots to sip on a blistering summer afternoon, Gomez pulled from the tap a zippy spin on a classic Negroni, which she batches with Wahaka Espadin mezcal, Campari and Lustau Vermut. "It's definitely an assertive cocktail, smoky mezcal goes toe-to-toe with the bitter Campari but it's softened beautifully by the Spanish vermouth," Gomez says. She anticipates they'll be changing the on-tap cocktail every two months or so to keep things lively. Cheers to that!
Pisco
The brandy distilled in Peru and Chile from white muscat grapes is here to mix it up. In Utah liquor stores, the most popularly-exported brand is easily identified on the shelf by its famous black "Easter Island head" bottle shape. It's no surprise that cocktails hailing from pisco's countries of origin use bright, fresh flavors and quite a bit of citrus, such as the classic Pisco Sour. For a local spin on pisco mixology, head to Lake Effect (155 W. 200 South, 801-532-2068, lakeeffectslc.com) and try their Zion cocktail with Logia pisco, a touch of serrano pepper and lots of fruit-forward yumminess like pineapple gomme, mango and fresh lime juice.
Quickles
Aka quick pickles. In addition to being a fun word to say five times fast, you can add this technique to your Bloody Mary or Dirty Martini garnish repertoire for some serious cocktail cred (or, I guess, could spruce up a sandwich—your call). Rather than letting those fragile thin-skinned cucumbers turn to moldy mush in the fridge veggie drawer, make a few Iron Chef-worthy pretty knife cuts to make bias-cut thin ovals, or get out your mandolin or Y-peeler to create long wide strips of cucumber. No need to peel 'em first. Plop those in a clean glass-lidded jar with equal parts boiling water and vinegar (white, apple cider, champagne, rice, red wine, whatevs), plenty of kosher salt to taste, and the herbal profile of your choice. My faves? A few cloves of fresh crushed garlic, fresh dill, some black peppercorns and dill seed. Cool to room temperature, add the jar lid, shake well, refrigerate for at least four hours and shazam! You've got a pretty quick pickle (quickle!) that looks amazing threaded on a skewer accordion-style. Keep refrigerated for up to a week.
Rimming
As in specialty salts and sugars. Move over, margarita, there's more to coating the rim of a glass with salt for that something extra to take your summer beverage to the next level. Whether it's bacon-infused salts for your Bloody Mary brunch or citrus-packed sugar for boozy lemonade, a sparkly sassy rim on the glass kicks the whole experience up a notch. For some local flair, source your salts and sugars from our favorite Spice Gal at Aimee's Home Cookin' (aimeeshomecookin.com).
Straws Suck
Caveat: There are some legit reasons why some people need straws; after all the bendy-straw was invented to allow bedridden patients, especially those with jaw injuries, an easier way to slurp. But do you really need the two black stirring straws that for decades seem to have been served de-facto with every highball? Nope, and neither do our landfills or oceans, let alone the environmental cost of producing more plastic shit. Other options abound, just ask the folks at East Liberty Tap House (850 E. 900 South, 801-441-2845, eastlibertytaphouse.com). "If a drink needs a straw, we use paper," owner Scott Evans says. Hop on the straw-ditching trend now, that way you won't gasp as hard come next year, when Starbucks ditches the pesky tubes for good.
Tiki Time!
I'll preface by saying tiki drinks have somewhat of a complicated history. They're this close to feeling like there might be some dubious cultural appropriation going on, but for the most part, the spirit of tiki is a pretty benign celebration of pan-Polynesian ingredients and American wackiness. So says a middle-aged white woman living in Utah (send your rage to comments@cityweekly.com). Longing for a taste of the South Pacific closer to home? Central 9th's Water Witch (163 W. 900 South, 801-462-0967, waterwitchbar.com) has you covered. "Sunday has become a great drinking day in SLC, and it's evolved into a big tiki party at the Witch," bar co-owner Sean Neves says. If you can't make it over there yourself, the hilarious videos they post to their @waterwitchslc Instagram feed show these guys might be serious about their drinks, but they don't take themselves seriously. At all. I asked barman Mike Wright to throw together a drink that he thinks represents Tiki Sundays at the Witch and I was not disappointed with his "The Blue Bird" tiki tipple.
The Blue Bird
1 ounce El Dorado 3-year rum
1/2 ounce Don Q coconut rum
3/4 ounce pineapple juice
3/4 ounce Blue Curaçao
1/2 ounce lime
1/2 ounce coconut simple syrup
Buzz with crushed ice and serve in wine glass. Garnish with lemon wedge and a paper flower. "The lemon is a color-contrast garnish. It looks cooler," Wright says, "it's gotta look cool." Damn right it does.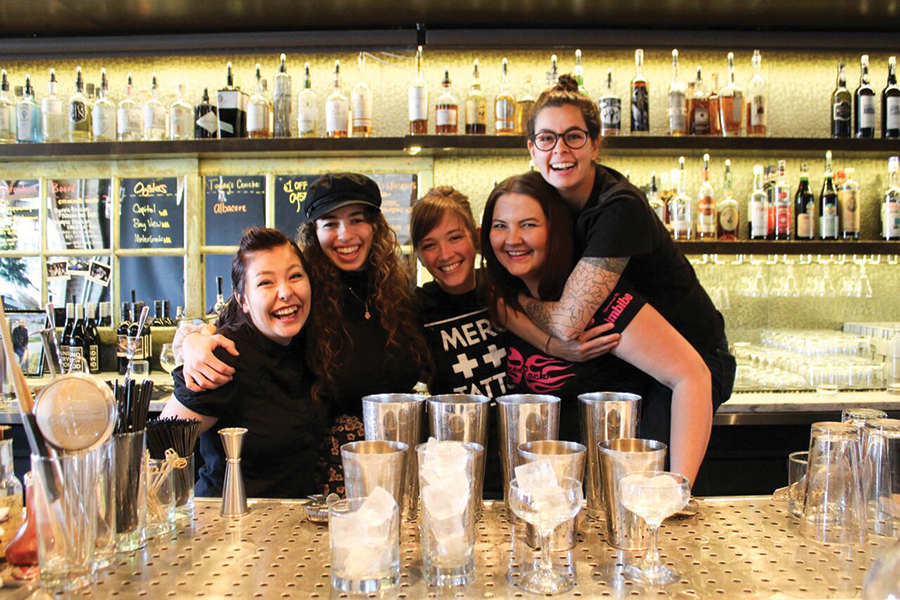 Utah's Badass Women Bartenders
A while back, a cover story in City Weekly ("Speed Racers" profiled the feisty Utah contingent of 10 female bartenders who traveled to Phoenix last spring for the annual Speed Rack bartender competition. Started in 2011 as a fundraising event in NYC to champion professional women bartenders' skills, the competition has taken a badass fundraising/advocacy turn. "They raise a shit-ton of money for breast cancer programs," homegrown Speed Rack competitor Jessica Sandberg says, noting that the now-international events exceeds $100,000 in proceeds each year. As expected, the Utah posse kicked boozy booty in the speed rounds where each contestant prepared four cocktails on the fly in head-to-head (or shaker-to-shaker) elimination, with Sandberg making it to the quarter-finals. She shook up an Irish Rose that one of the judges said was the best she'd ever had. And she did it in just more than a minute while also making three other on-point cocktails. No biggie.
Variety
It is the spice of life after all, which is why it's becoming more difficult every year to pick a "favorite" Utah whiskey brand. As mentioned before in these pages, the local/regional booze world is a pretty spot-on slice representing the spirits industry overall, with some brands purchasing spirits distilled in Kentucky and Indiana and re-bottling with their own labels (a common practice that still blows people's minds), whereas other brands choose to monitor the entire process from milling the grain for their whiskey on-site, fermenting with custom yeast and aging the distillate in their warehouses (bless their OCD hearts). Some brands do a bit of each strategy, depending on the spirit. In addition to now-established whiskey makers High West, Sugar House Distillery and Outlaw Distillery, last year, Waterpocket Distillery bottled a really delightful Robber's Roost Light Whiskey. For those palates that prefer sweet fruit-flavored whiskies, Alpine Distillery in Park City makes Lafayette spiced whiskey with apricot, primrose and cinnamon. From the folks at Ogden's Own, they're bottling three flavored whiskey options in the "Porter's" line-up: Porter's Peach, Apple and spicy Fire Canadian whiskey. In the classic easy-sipping bourbon category, look for Utah-owned brand Black Feather Whiskey, a super-smooth sauce that goes down easy neat. It's also equally nice on a sweltering night with a bigass ice cube, dash of bitters and splash of soda.
Wine & Mines
This quirky tour at the hands of Park City's Fox School of Wine (foxschoolofwine.com) should move to the top of anyone's "entertain the visiting relatives for an afternoon" list. The three-hour chauffeured trip around the historic mining sites of Park City starts at the Montage at Deer Valley and ends beside what was once the mining boomtown's red light district. Along the way, "Headmistress of Wine" sommelier Kirsten Fox narrates an entertaining and informative tour of the mountain town's history, with six thematic wine pairings—and snacks to boot.
XXX
It's about time locally produced moonshine gets some love. Did you know that Utah's first and largest-producing distiller back in the day, Hugh Moon, was one of Brigham Young's famous band of bodyguards, The Sons of Dan? That is until Young decided the church needed to get out of the distilling business and he basically backstabbed Moon by sending him on an extended mission. The legend goes that while Moon was in exile, Young confiscated all of his hooch-making equipment and supplies, essentially bankrupting the family. Dented Brick Distillery is built on one of Moon's old properties containing the original well used to make whiskey. And it's released Hugh Moon White Whiskey, an unaged spirit made with 100-percent locally-sourced unmalted rye in honor of his contributions to local distilling. With a little searching, you'll find quite a few Utah distilleries making limited releases of "white dog" unaged whiskey, which is basically whiskey before it hits a barrel (resting in barrels is what turns whiskey it's distinctive amber color). Sugar House Distillery makes a grain-to-glass New Make Whiskey with the same mash and process used to make their bourbon. Up in Wanship, High West Distillery bottles Silver Western Oat Whiskey, an oat-and-barley whiskey that barely touches the barrel.
Yo-ho-ho
... and a bottle of rum. There are times when a quick and easy highball (liquor + fizzy something over ice = highball) is about all the creative cocktail energy that a weary wordsmith can muster on a hot-as-blazes afternoon. Enter the Cuba Libre. Essentially, it's a rum and coke with a squeeze of lime, you know, to keep it classy. Ideally, you'll be using a local white rum like one bearing the cleverest name in all the land: Brigham Rum from those masterminds at Distillery 36 (2374 S. Redwood Road, 801-983-7303, distillery36.com). Seal the deal with a full-strength Mexican Coke from a glass bottle and say, "Ahoy!" to good times.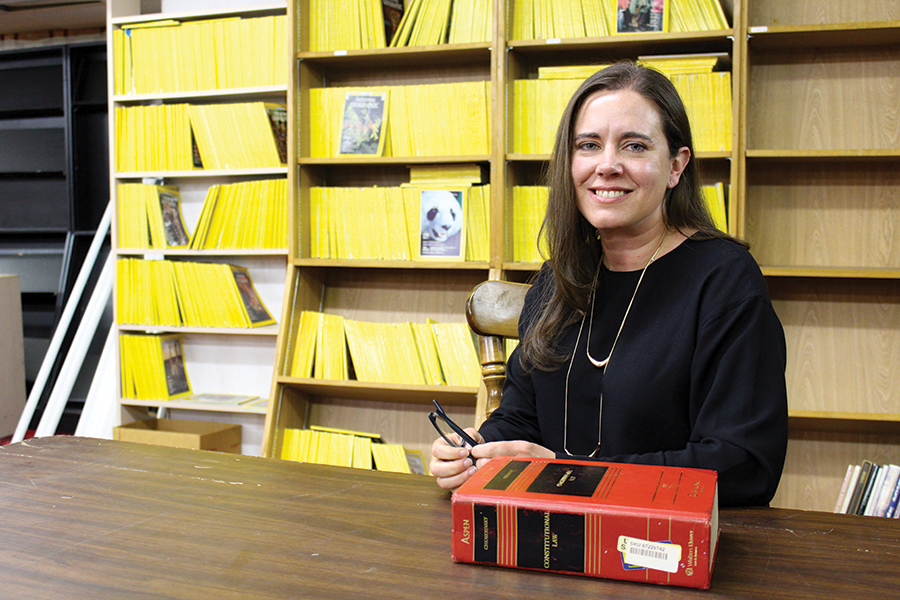 Enrique Limón
Tanner Lenart
Zion's Foibles
Oh, Utah. Just when we thought things were starting to be a little more "normal" around the restaurant/bar world—with those weird Zion curtains coming down and restaurants getting to pitch their confusing "this is not a bar" signs—the state throws a whole new set of WTF variables in the mix. I followed up with my favorite liquor lawyer Tanner Lenart with the firm Christensen & Jensen about what she considers to be the head-scratching highlights of her work. Two of the biggest misses of the season? "The multiple meetings I had about the definition of a wall, and whether a wall can have a door, or a window, or be glass, or made out of lattice." Sounds like a big waste of a lot of people's time. Lenart also finds issue with the arbitrary way some state legislators have defined restaurant spaces, saying, "I've never heard any rationale behind the 10-foot rule for where minors can sit in a restaurant. There's no basis for that number, or any evidence that minors sitting at different seats in a restaurant have a propensity to drink any more or less when they come of age." Amen, sister. Now, we hope our representatives will hear our perspective, too. You can read more about the attorney in a profile by CW staff writer Kelan Lyons ("Her Best Shot," May 3) regarding the latest liquor lunacy at the legislative session and Lenart's collaborative art project using recycled "This is a restaurant" signs.
To all the fine folks of our frequently befuddled Beehive, let's raise a toast to the weird, wacky and wonderful world of Utah's spirits. And, to the people who make, serve and imbibe them, we say a hearty cheers!
Enrique Limón
Squatters
Beer Lake City
Walk, bike or ride to SLC's cluster of craft breweries.
By Mike Riedel
It used to be that "Salt Lake City" and "beer" were rarely uttered in the same sentence. Now, our little mountain hub is finally finding its beer groove, and is in the midst of a craft beer boom that would make ol' Brigham blush. Need proof? Over the past three years, a baker's dozen of new breweries have opened across the state, six of those in the central downtown area. Here's a quick brewery guide to the craft beer spots in the capital city's inner grid.
Toasted Barrel Brewery
Billed as Utah's dedicated sour brewery, Toasted Barrel's goal is to push the limits of what sour and wild beers can be by producing exotic and standard styles, all with an emphasis on hand craftsmanship. Owners Sage Dawson and Lynn Litchfield came by craft beer beer through the joy of homebrewing, but found little in the way of regularly-available, local sour beers. Now the city's northernmost brewery has a regular selection of young and old sours, including beers like their Sour Farmhouse ale and their newest release, Black Currant Sour.
412 W. 600 North, 801-657-6942, toastedbarrelbrewery.com
Red Rock Brewing Co.
One of Salt Lake's O.G. breweries, this downtown staple opened its doors in 1994 and has been upping the city's beer game since, challenging the public's perception on what quality local craft beer can be and nabbing the Great American Beer Festival's Large Brewpub of the Year award in 2007. No matter if you skew toward ales or lagers, low- or high-point, Red Rock's consistent portfolio of award-winning beers keeps the comfy brewpub packed on a nightly basis. Their Elephino Double IPA is the state's second-most popular local beer, and their Nut Brown Ale has more awards than the Osmonds have kids.
Multiple locations, redrockbrewing.com
Squatters Beers
Think of them as brew pioneers. Way back in 1989, Peter Cole and Jeff Polychronis decided to gamble that their fellow Utahns would crave locally crafted beers in a cozy downtown setting. Apparently, they had a good read on our thirst for craft beer, because they've only continued to grow since. Initially, the brewpub occupied the first floor of its 300 South location; it now takes up all three levels. Building on that legacy, head brewer Jason Stock keeps the beer selection fresh, innovative and traditional all at once and handsomely adorns every bottle of Hop Rising, the state's best selling high-point beer.
147 W. 300 South, 801-363-2739; 1900 Park Ave., Park City, 435-649-9868, squatters.com
Kiitos Brewing
One of Utah's newest breweries is all about gratitude. Hell, the word Kiitos means "thank you" in Finnish. Located on the far west side of SLC's Granary district, Kiitos has rapidly built a reputation for making excellent beers in the low- and high-point ranges. The large, unassuming brewery houses a bar, retail store and a Tommy-approved selection of pinball machines. Head Brewer Clay Turnbow committed early on to making full-flavor draft offerings while rolling out the barrels (literally) with a diverse range of barrel-aged beers. Try their Vanilla Stout. Yum!
608 W. 700 South, 801-215-9165, kiitosbrewing.com
Josh Scheuerman
Fisher Brewery
Fisher Brewing Co.
It's rare when you can take a brand and successfully reinvent it. That's what happened back in February 2017 when four pals opened up the second incarnation of the A. Fisher Brewing Co. in Salt Lake's Granary district. The original brewery shuttered in 1963, and primarily brewed light lagers. This new iteration went in a completely different direction: small and localized. The hyper-local concept in brewing was just catching on around the U.S. when Fisher debuted, and nobody suspected just how popular this model would make the small draft-only brewery. Concentrating on small batches and wide variety, this brewery has become one of the city's greatest success stories.
320 W. 800 South, 801-487-2337, fisherbeer.com
Templin Family (T.F.) Brewing
The newest brewery in central Salt Lake is the brainchild of noted local brewer Kevin Templin, who made a name for himself as head brewer for Red Rock Brewing. Looking toward German traditions for his family-style brewery, Templin decided to concentrate on old-world beer styles with an emphasis on comfort beers. Long festival-style tables with benches that encourage social interactions, mixed with a variety of high- and low-point beers have created a cozy atmosphere that's drawing in beer lovers every hour of the day. Try a Schnitt pour when you don't want full beer. You know, just for schnitts and giggles.
936 S. 300 West, 385-270-5972, tfbrewing.com
Proper Brewing Co.
In early 2013, two brothers by the name of Connelly opened a brewpub in the Avenues neighborhood. The Avenues Proper and Publick House was an instant hit, and the beer gushed out of the small, neighborhood brewery. To keep up with demand, the Connellys created Proper Brewing Co. on Main Street, the heart of downtown. The beer flows much more freely here, with 10 rotating beers on tap and multiple bottled high-point offerings. Proper's Vienna-style Leisure Brau always puts me in my happy place.
857 S. Main, 801-953-1707, properbrewingco.com
Epic Brewing Co.
Utah's largest locally-owned brewery has been bucking the system since opening their doors in 2010. When this maverick brewery debuted, they were the first in the state to offer high-point beers exclusively. Eventually, they got into the lucrative draft-beer scene, but the State Street brewery's bread and butter has always been its cutting-edge big beers. From its Big Bad Baptist Imperial stout to a cornucopia of IPAs, this downtown staple continues to be ... well, Epic. Don't forget to check out their newly expanded taproom.
825 S. State, 801-906-0123, epicbrewing.com
Desert Edge Brewery
In 1972, a restaurant called The Pub opened in Salt Lake City's Trolley Square. Back then, it was mostly Coors that made its way down college students' gullets. In 1995, The Pub expanded into the craft beer business and dropped its generic name in favor of the jazzier Desert Edge. It won Utah's first gold medal at the Great American Beer Festival for its Happy Valley Hefeweizen the following year. Over its history, brewers have come and gone, but current head brewer Chad Krussel is making a name for himself at the east side brewpub with his American pale ales. If you haven't tried Krussell's Citra Rye Pale Ale yet, well, your life just sucks.
551 S. 600 East, Trolley Square, 801-521-8917, desertedgebrewery.com
RoHa Brewing Project
Chris Haas, RoHa's co-owner and head brewer, built a reputation brewing at the aforementioned Desert Edge Brewery by concocting classic beer styles with mass appeal. After decades in the biz, Haas and his partners established the RoHa Brewing Project in April of 2017. The philosophy remained the same: Create technically proficient beers that are appealing and interesting with the added freedom of no draft restrictions. Right out the gate, RoHa's Thursday India Pale Ale won a bronze medal at the North American Brewers Association competition. If IPAs aren't your thing, their Kensington Saison is sure to satisfy nicely. As always, cheers!
30 E. Kensington Ave., 385-227-8982, rohabrewing.com
Thirsty for more? Catch Mike Riedel's regular "Beer Nerd" feature in City Weekly.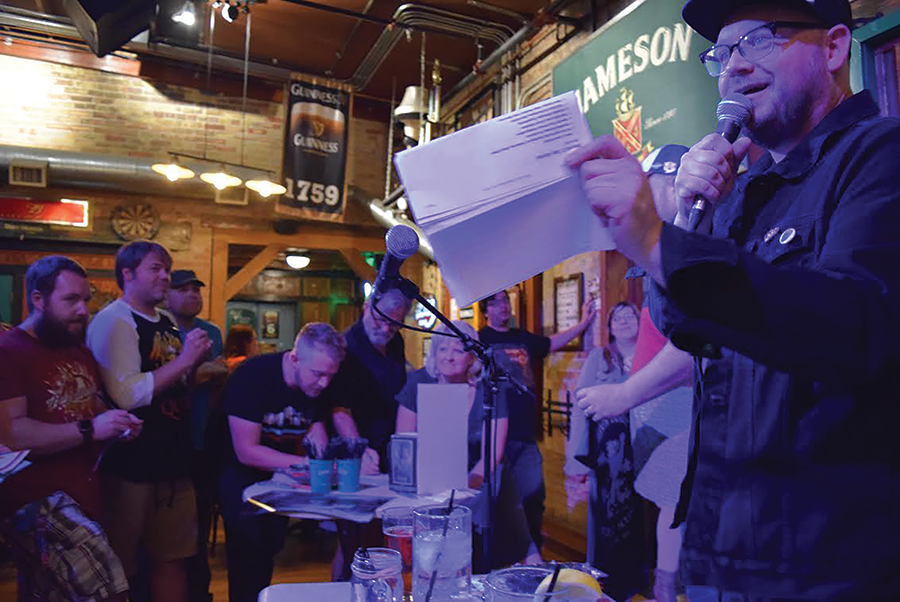 Ray Howze
Piper Down
Geek Lake City
Where and when to get your trivia on.
By Ray Howze
Being nerdy is cool despite what you might've heard during your adolescence. Being nerdy and drinking beer with your friends is even cooler. So, a roundup of places 'round town where you can show off your knowledge and throw back a few, was in order.
There are two main trivia styles around town, one hosted by Geeks Who Drink and the other put on by The Trivia Factory. Each has a different format—the former asks you a series of themed questions for each round, while Trivia Factory nights ask one question at a time followed by a song where you can identify the artist for an extra point. Whichever you choose, you can bet on encountering a few brain-busters.
Geeks Who Drink
Where: Piper Down (1492 S. State, 801-468-1492, piperdownpub.com)
When: Sundays at 8 p.m., Wednesdays at 7:30 p.m.
411: Popular Irish pub on State Street with plenty of Guinness and Irish grub to boot.
Where: Twist (32 Exchange Place, 801-322-3200, twistslc.com)
When: Mondays at 7 p.m.
411: Two-level downtown bar located in an old, now renovated, 19th-century boiler room.
Where: Prohibition (151 E. 6100 South, Murray, 801-281-4852, prohibitionutah.com)
When: Mondays at 8 p.m.
411: Speakeasy-style bar with various theme nights, DJs and live music.
The Silver Mine Taproom at Whole Foods (6598 N. Landmark Drive, Park City)
When: Tuesdays at 6 p.m.
411: Trek up to Park City to see this taproom adjoining the new Whole Foods near the Tanger Outlets.
Where: Dick N' Dixie's (479 E. 300 South, 801-994-6919)
When: Tuesdays at 7:30 p.m.
411: Cozy downtown bar with plenty of TVs to catch the latest Utah Jazz or Real Salt Lake game.
Where: A Bar Named Sue (3928 S. Highland Drive, 801-274-5578; 8136 S. State, 801-566-3222, abarnamedsue.net)
When: Tuesdays at 8 p.m., both locations
411: Salt Lake dive bar with food, live music and karaoke.
Where: Gracie's (326 S. West Temple, 801-819-7565, graciesslc.com)
When: Wednesdays at 6:30 p.m.
411: Popular downtown SLC gastropub with plenty of outdoor patio space, two levels and plenty of American fare.
Where: Park City Brewery (2720 Rasmussen Road, Ste. A1, 435-200-8906, parkcitybrewery.com)
When: Wednesdays at 7 p.m.
411: Instead of just drinking their beer in the valley, why don't you head to the source and visit their taproom?
Where: Strap Tank Brewery (1750 W. 596 South, Springville, 385-325-0262, straptankbrewery.com)
When: Wednesdays at 7 p.m.
411: Located south of Provo, don't miss this brewpub built inside a scaled-down replica of the original Harley Davidson motorcycle factory.
Where: Tap Room (2021 S. Windsor St., 801-484-6692)
When: Wednesdays at 8 p.m.
411: Small Sugar House bar where you can bring in your own food or order one of their hot dogs and wash it down with one of their many whiskeys.
Where: Wakara Bar (480 Wakara Way, 801-581-1000)
When: Thursdays at 7 p.m.
411: Located inside the Marriott at the U, this place still gets its geek on one night a week.
Where: Alleged (205 25th St., Ogden, 801-990-0692, alleged25th.com)
When: Thursdays at 7:30 p.m.
411: Three-story Ogden bar with a rooftop patio, live music and plenty of room for dancing.
The Trivia Factory
Where: SaltFire Brewing Co. (2199 S. West Temple, 385-955-0504, saltfirebrewing.com)
When: Mondays at 6 p.m.
411: One of Salt Lake City's many new breweries with a taproom and plenty of beers to taste.
Where: Proper Brewing Co. (857 S. Main, 801-953-1707, properbrewingco.com)
When: Tuesdays at 7 p.m.
411: Part of the Proper Burger/Brewing family, this brewpub has plenty of delectable beers to try while you test your knowledge.
Where: Bout Time Pub & Grub (5502 W. 13400 South, Herriman, 801-878-3600, bouttimepub.com)
When: Tuesdays at 7:30 p.m.
411: Sports bar located in Herriman with plenty of bar food and TVs to catch your favorite sports team.
Where: Green Pig (31 E. 400 South, 801-532-7441, thegreenpigpub.com)
When: Wednesdays at 7 p.m.
411: With one of the city's funnest and well-known trivia hosts, you won't get bored at this bustling downtown hotspot with a view.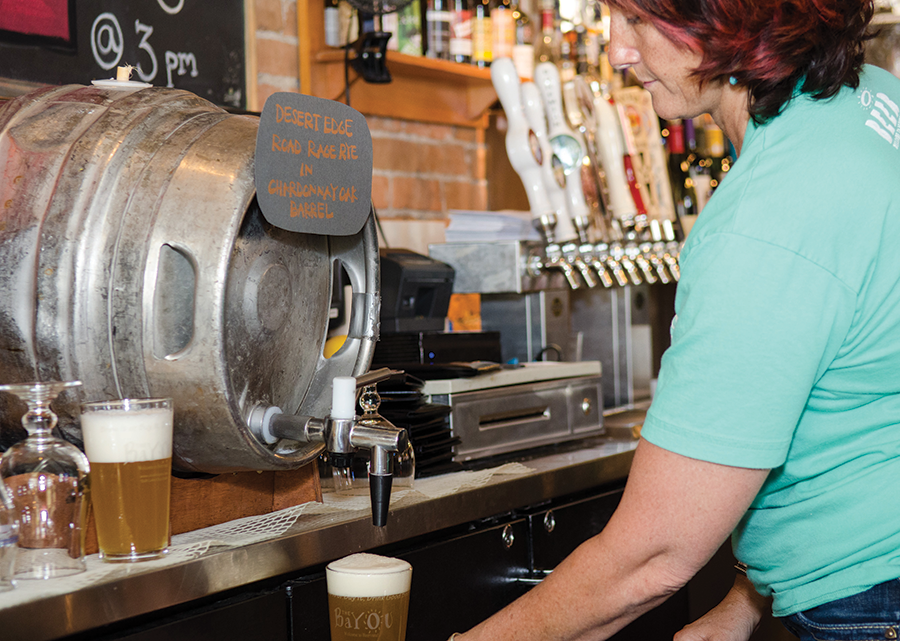 John Taylor
The Bayou
Nightlife Directory
Essential Beer Bars / Sports Bars
A Bar Named Sue
This Johnny Cash-themed bar hosts Cash-themed signature events like a JC Birthday Tribute and Sing O' Fire Karaoke nights. Take a selfie with the Johnny Cash murals for extra points. 3928 S. Highland Drive, 801-274-5578; 8136 S. State, Midvale, 801-566-3222, abarnamedsue.net
The Bayou
The O.G. of all SLC beer bars. Owner Mark Alston regularly picks out new flavors to bring into The Bayou. For the best approach to new suds, download their app. 645 S. State, 801-961-8400, utahbayou.com
Beer Bar
Locals talk about going to Ty Burrell from Modern Family's bar, but Beer Bar could live on its own merits as a solid watering hole offering 140-plus beers and locally sourced pub fare. 161 E. 200 South, 801-355-3618, beerbarslc.com
Beerhive Pub
A Main Street mainstay and easy to see why. Several staffers have been around for years and are extremely helpful navigating their extensive beer list. Sporting Utah's only ice bar is a nice complement. 128 S. Main, 801-364-4268
The Break
Being nestled in the Daybreak community, you're offered some respite in Salt Lake suburbia. 11274 Kestrel Rise Road, South Jordan, 801-987-3354
Fiddler's Elbow
One of the few cornerstone Sugar House businesses left after the urban development facelifted the area. Fiddler's has been a draw for decades and looks like it will remain as such. 1063 E. 2100 South, 801-463-9393, fiddlerselbowslc.com
Ice Haüs
Beers. Brats. Booze. Right on its logo. You'll want to find yourself in Murray to experience this charmer. 7 E. 4800 South, Murray, 801-266-2127, icehausbar.com
Johnny's On Second
$4 shot and a beer. Come on, let's be real: In any metropolitan area that's just a steal. 165 E. 200 South, 801-746-3334, johnnysonsecond.com
Legend's
Here's a solid family-friendly sports bar just outside of downtown proper. Great for youth sports team dinners and hangouts with friends if you can't score tickets to the Jazz or RSL. 677 S. 200 West, 801-355-3598, whylegends.com
Lumpy's
Salt Lake's original neighborhood sports bar and supporter of all teams that rep Utah.
3000 S. Highland Drive, Salt Lake City, 801-484-5597, lumpysbar.com
Essential Clubs
The Depot
The Depot holds it down in the Gateway district. And with one of the best lineups, they continue to help grow the thriving music scene. 400 W. South Temple, 801-355-5522, depotslc.com
Duces Wild
A Cheers-style bar, only with dancers. Call it your "slightly naughty" neighborhood bar. 2750 S. 300 West, 801-467-4600, duceswildslc.com
Hog Wallow Pub
You'd be hard-pressed to find a more unique pub in Salt Lake. You'll certainly want to find yourself on their one-of-a-kind patio after summer hikes in the Cottonwoods. 3200 E. Big Cottonwood Canyon Road, 801-733-5567, thehogwallow.com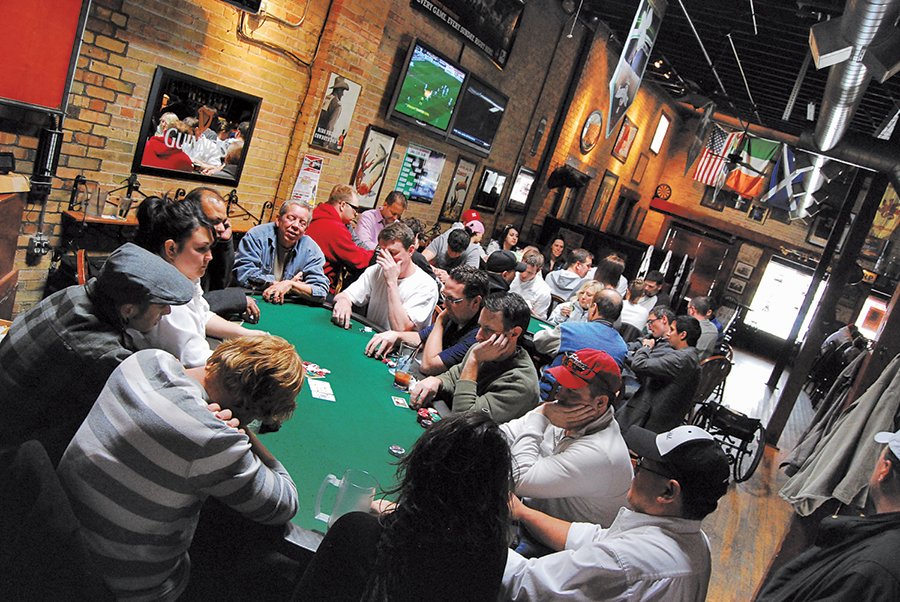 Josh Scheuerman
Piper Down
Piper Down
For St. Patrick's Day, Piper changes all its taps to Guinness. What else do you need to know? Oh, befriend a bartender and ask about its namesake. Straight-up Utah bar lore. 1492 S. State, 801-468-1492,
Prohibition
This 1920s-themed bar in the heart of the valley serves up some fancy craft cocktails and taps that only pour local beer. 151 E. 6100 South, Murray, 801-281-4852, prohibitionutah.com
The Royal
The Royal taps into a wide variety of genres making it a Murray destination bar attracting fans from all over the valley. Reggae Thursdays are a staple and its Tuesday open mics night have been known to feature local celebrities. 4760 S. 900 East, Murray, 801-590-9940, theroyalslc.com
Sky
Owner Ken Dinsmore got his inspiration for Sky from some of the best clubs and music festivals around. For EDM lovers, Therapy Thursdays are top notch. 149 W. Pierpont Ave., 801-883-8714, skyslc.com
The State Room
Do these guys know how to book acts or what? A must-visit for intimate vibes and big names. 638 S. State, 800-501-2885, thestateroom.com
Trails Men's Club
Not far from downtown, Trails is Salt Lake's premier gentlemen's club with the biggest stage and the hottest ... steak dinner specials. 921 S. 300 West, 801-363-2871
The Westerner
This unpretentious west-side country bar doesn't require a cowboy hat, but you're going to want to line-dance, nonetheless. 3360 S. Redwood Road, 801-972-5447, westernerslc.com
Essential Dives / Neighborhood Bars
Bongo Lounge
Cheap drinks flow like manna at this Millcreek dive bar. 2965 S. Highland Drive, 801-466-1577
Cheers to You
Norm hasn't been here, to our knowledge, but come enough and everybody will know your name. For a downtown bar, it certainly has that neighborhood feel. 315 S. Main, 801-575-6400; 7642 S. State, Midvale, 801-566-0871, cheerstoyouslc.com
Cruzrs Saloon
With darts, billiards and bar-staple game nights like Texas Hold 'em tournaments, there's something for everyone here.
3943 S. Highland Drive, 801-272-1903, facebook.com/cruzrssaloon
Dick 'n' Dixies
A Real Salt Lake fan and player favorite. Don't worry, though, Nick Rimando won't stop you from having a good time. 479 E. 300 South, 801-994-6919
Funk 'n' Dive
One of the fanciest "dive" bars you'll ever see. If you haven't tried Tatchos, do it. Do it now. 2550 Washington Blvd., Ogden, 801-621-3483, funkanddive.com
Mid City Pub
Not just a stopping point before and after you pretend to be Rory McIlroy at TopGolf. 7101 Bingham Junction Blvd., Midvale, 801-566-0505, midcitypubslc.com
O'Shucks Bar & Grill
This unassuming basement bar features $3 schooners on Wednesday nights and adjacent Ahh Sushi serves up some mean rolls. 22 E. 100 South, 801-359-6770
Patrick's Pub
Conventioneers need a break between sessions. Kitty-corner to the Salt Palace Convention Center, Patrick's is the perfect place to use that company card you snagged. 163 W. 200 South
Twilite Lounge
Where cheap beer, good times and a tabletop Pac-Man can be found.
347 E. 200 South, 801-532-9400, twilitelounge.com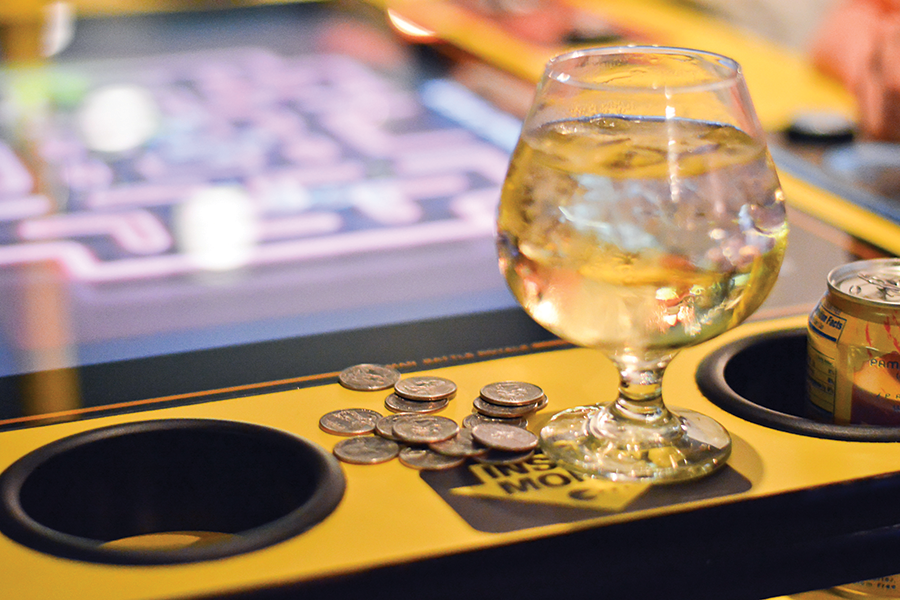 Josh Scheuerman
Quarters Arcade Bar
Quarters Arcade Bar
Stiff drinks plus the state's only Killer Queen 10-player arcade game can be found at this new downtown fun hub.
5 E. 400 South, quartersslc.com
The Tap Room
There are no frills at this Sugar House staple. Just the good hooch and a friendly staff. 2021 E. Windsor St., 801-484-6692, facebook.com/slctaproom
X-Wife's Place
One of Salt Lake's last stands against credit card machines. It's cash-only at this dive bar that won't come close to breaking the bank. 465 S. 700 East, 801-532-1954
Essential Lounges
Alleged
This upscale lounge in Ogden features one of the neatest rooftop patios around. 201 25th St., Ogden, 801-990-0692, alleged25th.com
Bourbon House
Bourbon House sells the most Jameson in all the land. You'll never feel more sophisticated throwing down a few picklebacks than you will here. 19 E. 200 South, 801-746-1005, bourbonhouseslc.com
Club 90
Game room, dance floor and the Green Room for private events. Club 90 has it all. 9065 S. Monroe St., Sandy, 801-566-3254, club90slc.com
Good Grammar
This new hip cocktail lounge has a colorful feel and an amazing drink selection. 69 Gallivan Ave., 3 85-415-5002, goodgrammar.bar
Harp and Hound
Located above the Funk 'n' Dive, the Harp and Hound is Ogden's newest and prettiest gastropub. 2550 Washington Blvd., Ogden, 801-621-3483, facebook.com/harpandhound
Keys on Main
A dueling-piano bar perfect for large parties and company outings. Flip the musicians a solid tip and your favorite tunes will be next on their list. 242 S. Main, 801-363-3638, keysonmain.com
No Name Saloon
Easily one of the most popular bars in Park City, this rustic watering hole is a must-see. 447 Main, Park City, 435-649-6667, nonamesaloon.net
Owl Bar
Robert Redford spared no expense to bring in the bar-top where Butch Cassidy and the Sundance Kid used to belly up. Finding yourself in Utah County isn't all that bad if you make your way here. 8841 N. Alpine Loop Road, Sundance, 801-223-4222, sundanceresort.com
The Ruin
Adhering to the motto "Work is the curse of the drinking class," this place delivers. 1215 E. Wilmington Ave., Ste. 120, 801-869-3730, ruinslc.com
Twist
A former boiler room that once heated up an entire city block, Twist owns that 19th-century look and now heats up on the weekends. 32 Exchange Place, 801-322-3200, twistslc.com
Essential LGBTQ Bars
Area 51
Where theme nights and good times abound. 451 S. 400 West, 801-534-0819, area51slc.com
Club Try-Angles
Play a game of pool or darts and expand your social circle at this friendly neighborhood bar. 251 W. 900 South, 801-364-3203, clubtryangles.com
Karamba
For the best Sunday night party, look no further than this Sugar House haunt. 1051 E. 2100 South, 801-696-0639, karambaslc.com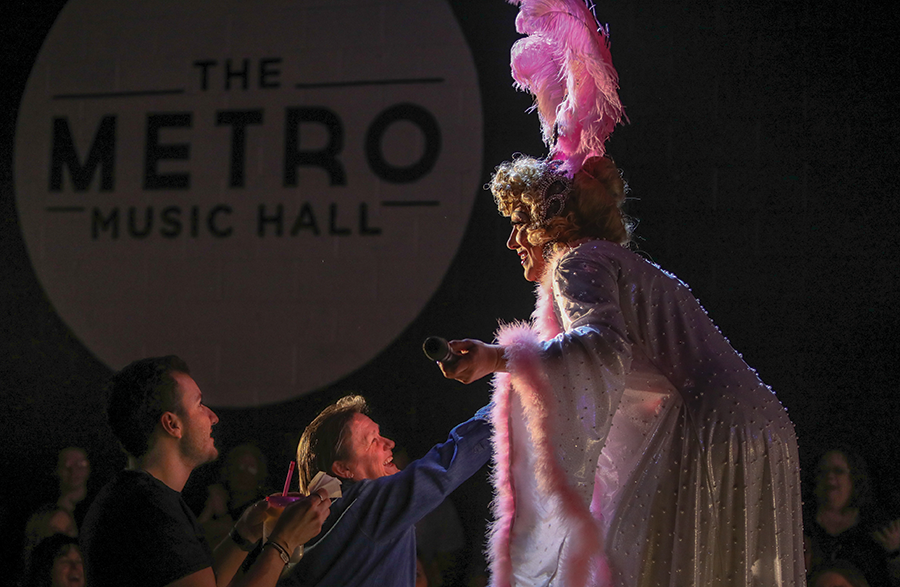 Steve Conlin
Metro Music Hall
Metro Music Hall
The place to enjoy nationally renowned drag queens, as well as SLC's own Jason CoZmo.
615 W. 100 South, metromusichall.com
Pose Lounge
SLC's newest hotspot rests atop Himalayan Kitchen. 360 S. State, facebook.com/poseloungeslc
Sun Trapp
Everybody might not know your name at first, but they will after a couple of signature Mason-jar cocktails. 102 S. 600 West, 385-235-6786, suntrapp.com
New Kids on the Bar Block
Alibi
Bartender-managed and urbanite-approved, this downtown hub has quickly become a crowd favorite. 369 S. Main, 801-532-2707, facebook.com/alibislc
Bar George
Looking for a natural wine bar smack in the middle of downtown? Your ship has come in. 327 W. 200 South, 801-487-0699, bargeorgeslc.com
Button Down
This establishment delivers on its promise to deliver "the ultimate sports bar experience." 122 W. Pierpont Ave., 385-259-0573, buttondown.bar
Button Up
Fresh event center and lounge with a classy vibe. 134 W. Pierpont Ave., 801-971-6660
HandleBar
A new take on "biker bar" that has become a Marmalade community staple. 751 N. 300 West, 801-953-0588, handlebarslc.com
London Belle Supper Club
Stellar cocktails and small plates call the downtown supper club home. 321 S. Main, 801-363-8888, londonbelleslc.com
Post Office Place
Give their smoky Oaxacagroni—a mezcal- and chicha-infused take on the classic—a go. 16 W. Market St., facebook.com/postbarslc
Purgatory
The only place in town to get a tequila shot with a yuzu lime Jell-O chaser. 'Nuff said. 62 E. 700 South, 801-596-2294, purgatorybar.com
Courtesy Photo
Tin Tiki
TinTiki
Dubbed the city's "Best Secret Rum-Fueled Hideaway" in City Weekly's Best of Utah, the kitchy spot is just that. 837 Main, 801-953-1769, tinwellbar.com
White Horse Spirits & Kitchen
Give the Fee Brothers Old Fashioned Aromatic Bitters-misted White Horse Old Fashioned a go, and witness your worries melt away. 325 Main, 801-363-0137, whitehorseslc.com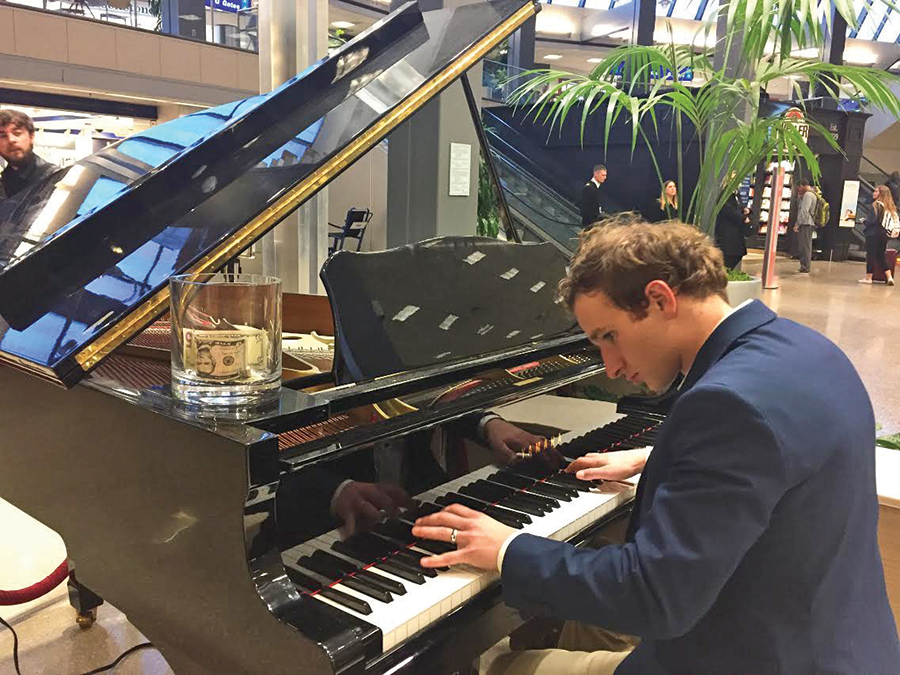 Enrique Limón
Jacob Khalil
And Now For A Musical Interlude Of Note
Meet your friendly airport pianist, Jacob Khalil.
By Enrique Limón
If Bugs Bunny cartoons are to be believed, music has the power to calm even the most savage of beasts. No one sees that adage in action as much as Jacob Khalil, the 25-year-old self-taught pianist, who perched on the bench of a baby grand by the airport's Terminal 1 food court, croons visitors and locals returning home alike.
What have been some of the highlights you've experienced as airport pianist?
"I keep a list of all of the comments that people make to me, and most of them are, like, 'Wow, I was having a crappy day, I missed my flight' or 'My flight was delayed and you were the one highlight of my day' or something like that. I realized very quickly, a few days into the job, that I was kind of a relief for lots of people."
What's a regular shift like?
"I take no more than maybe three breaks, and I work for anywhere from five to seven hours."
Oh, wow.
"That's actually the reaction I get a lot of times: 'How do you sit there for so long?' But I dunno, I just love it. Time goes by, and then I look at my watch and I'm, like, 'Oh, man. I have to go now.' Or there are moments I'm, like, 'Oh, my gosh. I gotta pee. I'm about to pee my pants.' Because I really enjoy [playing] a lot, I don't ever feel like, 'When am I gonna be out of here?'"
How do you keep it varied?
"There are moments there are a lot of people in the airport, so I bring out all the popular songs that people know. I can see people who are coming down the escalator, and when I see that, it's basically when I know tons are people are coming, so I'll play kind of loud, and maybe a popular song most people know ..."
Like what?
"Nowadays, I play 'A Million Dreams' from The Greatest Showman a lot—people love that one. People also ask me to play The Phantom of the Opera songs, 'All I Ask of You' and 'The Music of the Night.'"
Any odd requests?
"Let me think. You know, most of the time people will come up, and they know I'm a piano player. I haven't gotten a Metallica song request yet, although I'd be happy to take that on. There was somebody who asked me to play 'Flight of the Bumblebee.' It's crazy-fast, and it's a tough piece. A lot of the times, I can make it up; hear it on my phone and I can play it. But something like that, there's hardly any way I can make it up. I should probably learn that one."
Quickfire round. What song would you play for someone who just lost their flight and is bummed out?
"Probably 'Changing Cars.' There's something about that one. It's almost a meditative song that puts people in a good mood."
What song would you play for a family at the food court with a crying baby?
"Charlie Chaplin's Smile when your heart is breaking ... that one."
Last question: What's your favorite part of the job?
"Definitely all the people I meet, and being able to see people get their burdens lifted. Because, man, the airport—I don't know what it is—but there are a lot of people who are just upset."
The Last Word w/ Mitt Romney
By Enrique Limón
When not writing and passing laws, approving presidential appointments or lighting up the internet with his unique candle-blowing technique, Utah's newly minted junior senator enjoys taking in everything our fine state has to offer. In a candid chat, Romney provided us with binders full of answers, recalling national park visits and epic skiing adventures along the way. Billionaires ... they're just like us!
1. FAVORITE UTAH MEMORY? "Probably going through The Narrows at Zion National Park ... absolutely fabulous. I went with my grandkids. That's probably not as high-ranking as getting married here with my wife—that should be my favorite Utah Memory."

2. FAVORITE LOCAL DESTINATION? "Let's see, J. Dawgs for hot dogs, Stacked—which is in Logan—for pancakes and that'll do me for now."

3. FAVORITE OUTDOOR ACTIVITY? "Snow skiing." YOU'RE GOOD AT THAT, HUH? "I'm OK at that, but I do love it."

4. FAVORITE LOCAL MEAL? "There's a place called Freshies, which is in Park City and now Salt Lake. That's probably my favorite."

5. ARE THEIR ROLLS MASSACHUSETTS APPROVED? "You know, it won the national contest for the best lobster roll in the country—it's very good."

6. FRY SAUCE: YEA OR NAY? "Oh, yea. And it's fry sauce. Don't name it anything else."