Page 2 of 8
Enrique Limón
Aaron T. Stephan's "Point of View"
Downtown
Both compact (only 10 or 12 blocks square, depending on how you're counting) and sprawling (thanks to extra-wide streets and long city blocks), downtown SLC hums with a vitality built around great food and drink, art galleries, theaters, museums and music venues, all connected by an efficient light rail system. Whether you're just in for a day or discovering a new home base, it would be easy to fill your days and nights without ever leaving the area's confines.
SEE
One of the most intriguing curiosities in downtown Utah, Gilgal Sculpture Garden (749 E. 500 South, gilgalgarden.org) is an outdoor installation tucked away behind neighborhood homes. The brainchild of Thomas Battersby Child Jr., assisted by sculptor Maurice Brooks, was an 18-year project, turning massive stones into works inspired by Mormon history and scripture. While the best-known work is a sphinx bearing the face of LDS church founder Joseph Smith, more than a dozen other pieces fill the space with an impressive size and scope.
EXPERIENCE
There's a special vibe to the arenas in cities that don't share their sports fan base with pro football or Major League Baseball. This year, the Utah Jazz (utahjazz.com) mark the 40th anniversary of the team's move to Salt Lake City from New Orleans, and crowds at Vivint Smart Home Arena get fired up at preserving the home-court advantage a little high altitude provides. Rising stars Donovan Mitchell and Rudy Gobert furnish the offensive and defensive firepower.
SIP
If you're still laboring under the impression that Utah's teetotaling history means you can't find a good adult beverage, Whiskey Street (323 S. Main, whiskeystreet.com) is just the place to adjust your thinking. The establishment's name comes from Brigham Young's dismissive term for the thoroughfare where non-Mormons of yesteryear quenched their thirst. The list of more than 400 different whiskeys is only the start of a menu that also showcases amazing specialty cocktails and beer from local brewers.
LEARN
If you're going to be in Utah for any extended period, it helps to understand the faith tradition that has shaped it for more than 170 years. While you can snap photos galore on Temple Square, and get info at its visitor's center, two great educational opportunities lie just to the west. At the Church History Museum (45 N. West Temple, history.lds.org), exhibits and artworks convey the story of Mormon pioneers and the origins of the LDS church. Next door, the Family History Library (35 N. West Temple, familysearch.org) offers a massive storehouse of documents including immigration records and census data for anyone exploring genealogy.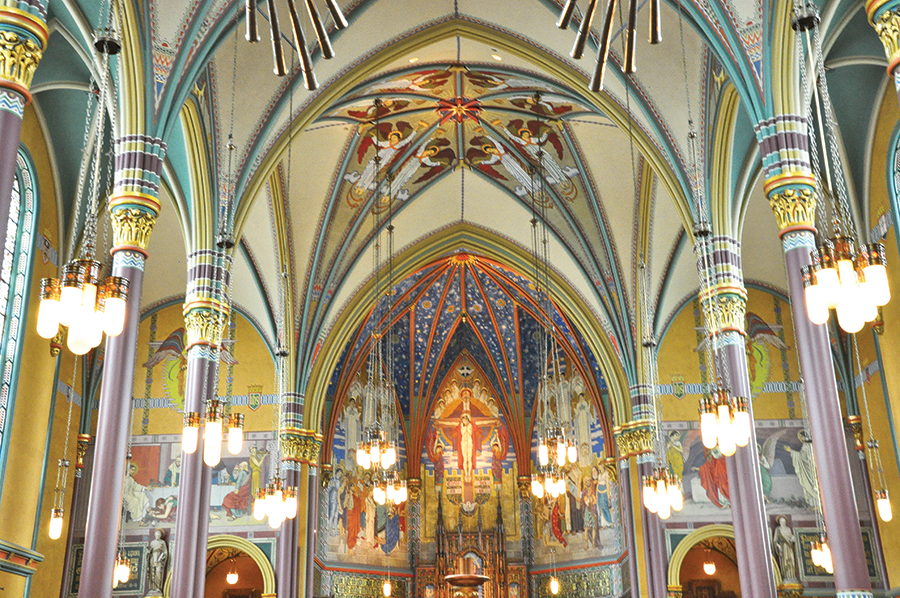 Derek Carlisle
Murals at Cathedral of the Madeleine by Felix Lieftuchter, circa 1918
The Avenues
The Avenues is Salt Lake's largest historic district. It's a treasure trove for many reasons: its tree-lined streets, its smaller, pedestrian-friendly blocks (at only 2.5 acres square, they're half the size of the standard Salt Lake City street grid), and its mix of historic residential buildings and small shops and restaurants. It's a wonderful place to take a walk and escape the crowds. And its steeply sloping streets offer magnificent views of the valley.
SEE
At the lower boundary of the Avenues lies historic South Temple, named one of the 10 Great Streets in America by the American Planning Association. Originally called Brigham Street, the grand boulevard boasts some of Salt Lake's most iconic architecture, from the mansions built by Brigham Young to house his many wives to the Masonic Temple and the 1909 Cathedral of the Madeleine. Venture farther north to see examples of classic architecture, from Gothic and Queen Anne to Craftsman and Classic Revival. One of the earliest neighborhoods in SLC, most homes and shops were built between 1860 and 1930.
EXPERIENCE
Along the east side of the Avenues sprawls the historic Salt Lake City Cemetery (200 N. E St., 801-596-5020). It's a peaceful, tree-lined site where you can find the graves of founding members and prophets of the LDS church, and, if you're from the area, probably some of your own ancestors. You can also find funky, mysterious gravestones, like the one that reads "Lilly E. Gray, Victim of the Beast 666," and even take a guided ghost walk from Grimm Ghost Tours (grimmghosttours.com). Adjoining the cemetery are two public parks, Lindsey Gardens and the 11th Avenue Park, perfect for dog-walking, a casual game of Frisbee or a sunset picnic overlooking the Salt Lake Valley. And surrounding the neighborhood's upper boundary are a variety of trailheads into the foothills, including access to the Bonneville Shoreline Trail, City Creek Canyon and Perry's Hollow.
EAT
Stop by the cozy Avenues Publik (502 Third Ave.,385-229-4836, publikcoffee.com) outpost for top-notch coffee and Millennial toast. For Thai, try the popular Sawadee on South Temple (hint: they have excellent lunch specials). Saffron Valley offers classic Indian fare and a daily lunch buffet. And two classy, modern restaurants specialize in American fare: Try Avenues Bistro for brunch or an intimate dinner; a little higher up, Proper Brewing Co.'s Avenues Proper offers local brews and hip burgers.
INDULGE
For one of the best haircuts in the valley, make an appointment at Avenues Barber (566 Third Ave., 801-300-9594). The proprietor of the one-man shop, Ben Paul, somehow manages to keep up the most engaging conversation while delivering impressive haircuts at a super-reasonable price. Those with longer strands can get their hair cut next door at Balbina's Hair Cottage. And for all-around luxury, book a spa treatment or massage at The Kura Door (1136 Third Ave., 801-364-2400), a Japanese-style day spa.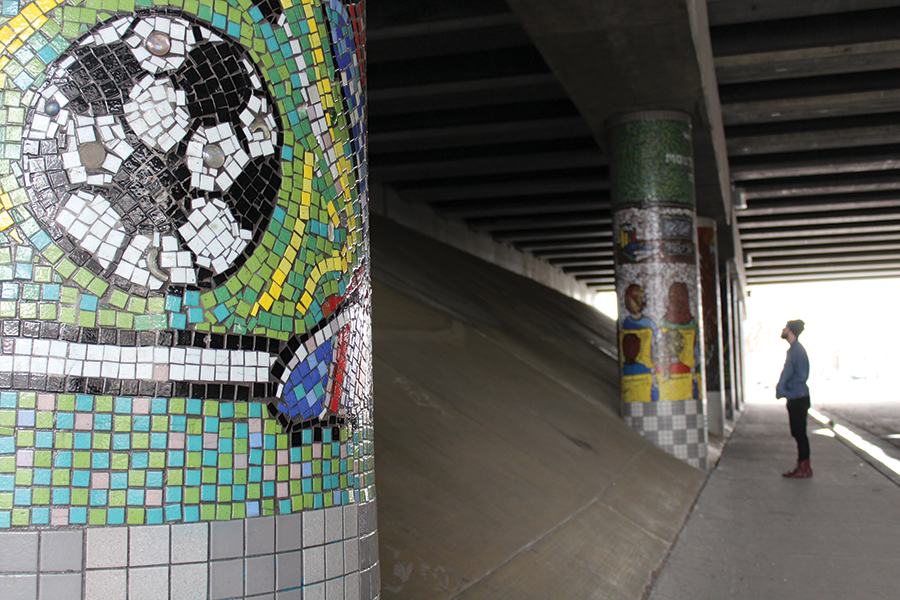 Enrique Limón
"Pillars of the Community" at I-15 underpass at 300 North, Multiple artists
Westside
The Westside has something important that's missing from a few neighborhoods east of I-15: character. Glendale, Poplar Grove and Fairpark are some of the most diverse spots around, giving visitors and locals a chance to get their Epcot on and revel in a cultural smorgasbord. If you're yearning for a little diversity because of Utah and its capital city's overwhelming Wonder Bread whiteness, check out Salt Lake City's underrated Westside communities.
MULTI-TASK
Have you ever been so bored waiting for the maintenance on your car to get finished that you thought, "Damn, I really want to slam a burrito down my gullet right now"? Then you need Victor's Tires (1406 S. 700 West, 801-978-9595, victorstires.net). The family-owned tire shop doubles as a Mexican restaurant—or is it a taquería that also sells auto parts?—serving up inexpensive eats to car owners and chicharrón lovers alike.
MEDITATE
A monument to unity and hope, the International Peace Gardens (1060 W. Dalton Ave., 801-938-5326, internationalpeacegardens.org) is a relaxing sanctuary located off the Jordan River. Dedicated in 1952, the grounds showcase symbols, heritage and folklore from 26 countries, in addition to ample garden architecture and native plantings. The space encourages visitors to silently stroll and contemplate the value and importance of international cooperation, a hopeful message in these trying isolationist times.
SEE
Fisher Mansion (1206 W. 200 South) is beside the Jordan River Parkway Trail, making it an ideal stop for cyclists already out and about, enjoying some fresh air. Listed on the National Register of Historic Places, the estate was the home of Albert Fisher, a German immigrant and brewer whose legacy lives on in the Central Ninth neighborhood's Fisher Brewing Co. The semi-spooky haunt sometimes serves as a beer garden, further honoring the master's memory.
EAT
Delicious multicultural eats abound in Westside. In the mood for authentic East African cuisine? Head to Noor Restaurant (1151 S. Redwood Road, Ste. 108, 801-975-6356) for some liver sokaar canjeero or lamb saltato. If meat's not your thing, check out All Chay (1264 W. 500 North, 801-521-4789), a Vietnamese restaurant that exclusively serves vegan grub, giving a healthy twist to favorites like teriyaki chicken and barbecue banh mi.
Enrique Limón
Laser-cut panels outside Tracy Aviary's façade, AJC Architects
Liberty Park
Call the area what you want—Central City, the Maven District, Mid 9th or LiPAJ (Liberty Park Adjacent). Fine ... I made that last one up. Truth is, the hub that surrounds the city's second-largest public park is ever booming—and surprising at every turn.
NOSH
Next door to Randy's Records, you'll find another kind of circular ambrosia at Chip Cookies (155 E. 900 South, Ste. 101, 801-889-2412, chipcookies.co). Its signature chocolate chip iteration is enough to keep you coming back for more, but the ante is upped each holiday with offerings like the Cadbury Chip (Easter), Lucky Chip (St. Patrick's Day), Red Velvet Chip (Valentine's Day) and the Reeses Chip (All Hallows' Eve). Best part? They're open till midnight on Saturdays and 2 a.m. Monday-Friday. Best part, Part 2? They deliver.
CLEANSE
A botánica in the middle of SLC? Oh yes. First things first: If you've never heard the term, a botánica is a specialty shop that deals in folk medicines, sacred amulets, Santa Muerte prayer books, religious candles, incense and just about any other bad juju-busting item you can think of. At unassuming Botánica San Antonio (270 E. 900 South, 801-355-0578), you'll find all that and more, along with tarot-card readings and a money-attracting body wash to boot.
FLOCK
Nestled in the southwest corner of Liberty Park, Tracy Aviary (589 E. 1300 South, 801-596-8500, tracyaviary.org) is the largest and oldest of the nation's two free-standing aviaries. Each year, an estimated 60,000 kids get a chance to be up-close and personal with a seemingly endless variety of winged species. An array of educational opportunities abound—from "Little Chicks" classes to the Teen STEAM Café. While you're there, tell Andy the condor we said hi.
PURR
Tinker's Cat Café (302 E. 900 South, 801-519-2287, tinkerscatcafe.com) is further proof that the eclectic neighborhood is on its way to becoming SLC's Harajuku. Split in two, one half dispenses all the goods you'd expect from a coffee shop—including meow-cchiatos and cat-puccinos—while the other provides face time with loads of kitties. Be advised that à la mogwai, strict rules are in place, like no picking up the felines and no flash photography. Experiencing love at first sight? All the cats in the lounge are available for adoption.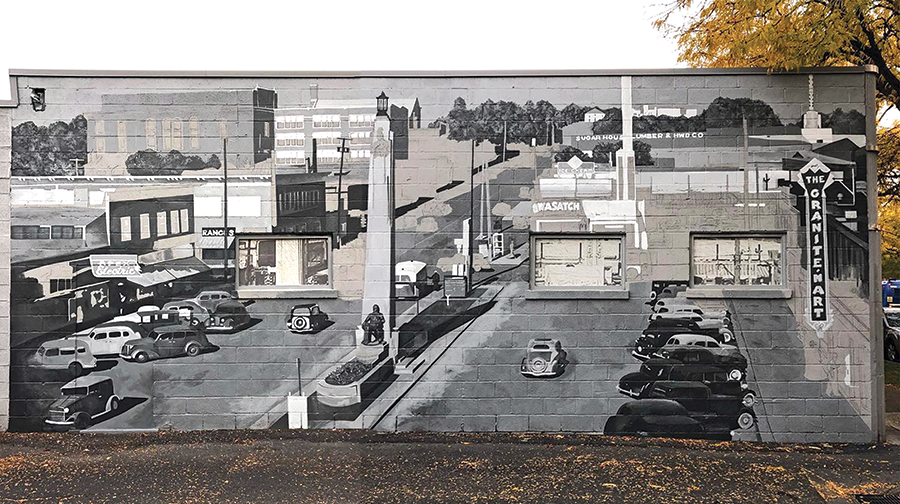 Josh Scheuerman
"Sugar House 1940" - mural by Josh Scheuerman
Sugar House
For generations, the rotating Snelgrove's Ice Cream cone has guarded the entrance to this idiosyncratic 'hood like a fiberglass Colossus of Rhodes. Simultaneously old-school SLC and sprawling, new-wave cool, this is where history collides with gentrification, big-box shops meet mom-and-pops and everything tastes just a tad sweeter.
READ
At the Sugar House crossroads of 1100 East and 2100 South, resides a monolithic Barnes & Noble. But just half a block to the north, OG tome retailer Central Book Exchange (2017 S. 1100 East, 801-485-3913, central-bookexchange.com) has been doling out literary masterpieces to the masses since 1968. Along with purchasing rare and out-of-print editions, true to its name, you can take in your old books and swap 'em out for different ones. Chances are you can do that on a loop till your last days, considering the shop's inventory is 90,000 strong—and counting.
GEEK OUT!
Few things scream Utah wholesomeness as much as board games. Yep, right along with fry sauce and green Jell-O, the Beehive is a bastion of tabletop games. Enter Game Night Games (2148 S. 900 East, Ste. 2, 801-467-2400, gamenightgames.com). Name your vice—from Candy Land to Pandemic—chances are you'll find it here. In the mode to socialize? Game Night's backroom hosts regular a Pokémon league and Magic: The Gathering smackdowns.
EAT
Get ready to step through time at Millie's (2092 S. 1000 East, 801-466-6043, milliesburger.com). Standing strong for more than 40 years, the throwback joint has seen many a chain eatery open and close up shop, all while feeding the hungry Sugar House hordes. The menu is an Archie-approved bric-a-brac that includes corn dogs, tacos, chicken-fried steak and even a halibut sandwich. Once you've almost had your fill, try one a signature Glacier—a syrupy slushie-meets-fo-yo combo that's as good as it sounds.
LEARN
The liberal arts Westminster College (1840 S. 1300 East, westminstercollege.edu) has kept up with the times since its founding in 1875. Proof of this is the college's Office of Diversity, Equity & Inclusion's regular lecture series. Free and open to the public, each gathering provides an eye-opening take on race, media, gender-identity and politics. Check out their website for a full schedule.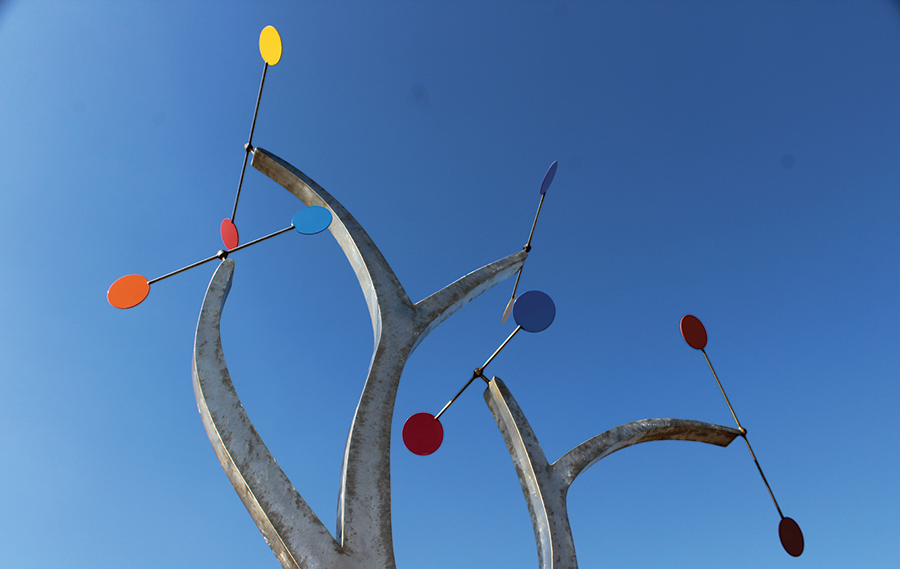 Enrique Limón
"The Nine Muses" (detail) by Troy Pillow
9th & 9th
Salt Lake City's 9th & 9th district is perhaps its most hip, most eclectic neighborhood. It's home to some of the city's long-established businesses and some of its chic, new shops and grub. On the surface, it might seem like one intersection, but there's much more to this booming area.
SEE
You can't walk through 9th & 9th and miss the Tower Theatre (876 E. 900 South, 801-321-0310, saltlakefilmsociety.org). It emanates an old-school vibe even from the outside with its signage touting the latest quirky or cult-film classic. This is the kind of theater that still has a balcony and even a rental library where you can find that flick you can't see on Netflix. In October, don't miss the weekend midnight horror flicks, and in January, you'll want to stop by for Sundance Film Festival screenings.
SIP
Trying to get your hands on that hard-to-find local brew? East Liberty Tap House (850 E. 900 South, 801-441-2845, eastlibertytaphouse.com) might be your answer. This cozy neighborhood pub offers a variety of food choices such as burgers, salads, tacos and even lamb belly, but it also carries a number of beers you won't find at just any restaurant. The tap house has an outdoor patio for the warmer months where you can soak in all things 9th & 9th.
EAT
In those warmer months (or the colder ones), you might need a cool-down snack at Dolcetti Gelato (902 E. 900 South, 801-485-3254, dolcettigelato.com). Owners Elizabeth and Mark England learned the tricks of the gelato trade in Italy, so you know this place is legit. With freshly made flavors each day, including herbs from their own garden, this corner shop is the place to be for your latest dessert delicacy.
FEEL
Get in tune with your body at 9th & 9th's Centered City Yoga (926 E. 900 South, 801-521-9642, centeredcityyoga.com). Whether you're just starting out or you're a yoga vet, this local studio has the class for you. Check out their Rise & Shine class, their LGBTQ-friendly class or one of their many other options to get your body and soul on the right track.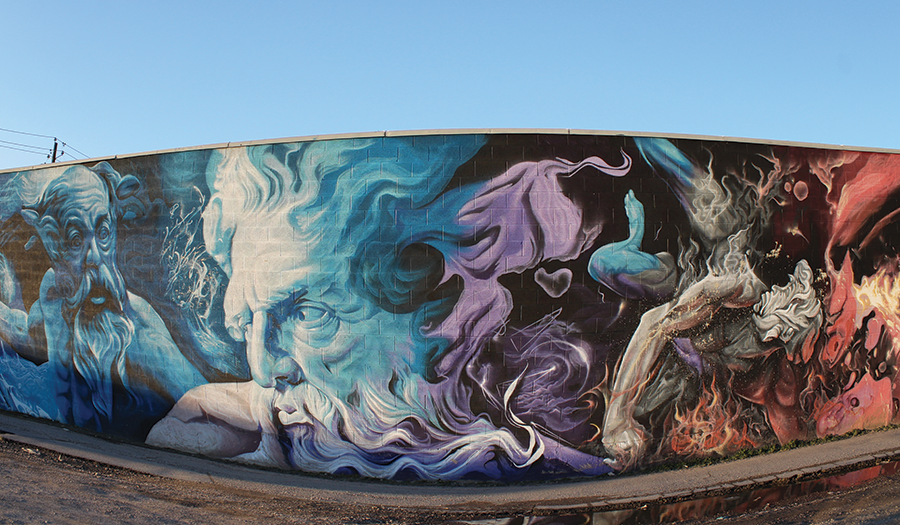 Enrique Limón
"Godlike" by Sril
South salt Lake
It may have cribbed the name of the metropolis to the north, but it'd be a mistake to consider South Salt Lake the capital city's snot-nosed little brother. SoSL's 6.9 square miles are jam-packed with options for day- and nighttime activities, from barbecue to bowling. And with a reliable, if limited, Trax S-line that runs through Sugar House, no wonder the town slogan is, "A City on the Move."
FEAST
The symbol for Pat's BBQ (155 W. Commonwealth Ave., 801-590-3090, patsbbq.com) is a sunglass-wearing, robe-lounging pig, which is exactly how you'll feel when you gorge yourself on their delectable pulled pork and brisket sandwiches: full, relaxed and deeply satisfying. The hearty sides and flavorful meats are a match made in barbecue heaven. Live music and an endorsement by the Flavortown Mayor himself, Guy Fieri, don't hurt, either.
PLAY
Bowling is the best form of stress relief. Slowly losing your mind because your in-laws moved close by? Your work is meaningless? Head over to local mainstay, 62-year-old Bonwood Bowl (2500 Main, 801-487-7758, bonwoodbowl.com) for some creative visualization. Just imagine those pins are the plastic equivalent of whatever plagues your mind, and BAZINGA! Smash that stress away. Or, you know, compete against your friends and have fun.
FROLICK
Whether you have kids or enjoy going on hallucinogenic adventures in public spaces, Fitts Park (3050 S. 500 East, 801-483-6000, southsaltlakecity.com) is a must-do city staple. This place has it all: pavilions, green space, geese, even a big ol' dragon. The wildlife and river are a relaxing respite from the city, and the community programs like "Cool Summer Nights" are a G-rated, family friendly way to spend weekend evenings outside.
EXPLORE
Although not as massive as those in bigger cities like Chicago and San Francisco, Salt Lake Chinatown (3370 S. State, saltlakechinatown.com) is a respectable 5.7-acre collection of shops and restaurants that celebrate Asian and Chinese communities from across the state. The area also houses the Chinatown Supermarket (3390 S. State, 801-906-8788, chinatownsupermarkets.com), a huge emporium that bills itself as the largest Asian grocery store in Utah.
Enrique Limón
"Xochimilco" mural at Salt Lake's Indoor Swap Meet, artist unknown
West Valley City
Utah's second-largest city is a force to be reckoned with. The Salt Lake City suburb, now estimated to be home to more than 130,000 residents, is a sprawling expanse of diverse foods, culture and sights not to be overshadowed by its big brother to the northeast.
EAT
Sure, you can stop by any old cantina and get the latest dressed-up meat folded inside a tortilla, but if you want some of that authentic taste from down south, don't miss Tacos Mi Caramelo (1808 W. 3500 South, 801-883-9245, tacosmicaramelo.com). This West Valley joint slings tacos, quesadillas and mulitas with the best of 'em. And for the bold, try some of the other meats on your taco like cachete (beef cheek), lengua (tongue) or buche (pork stomach).
SIP
Get your boots on and your dance moves ready if you're heading out to one of this city's most popular country bars. The Westerner (3360 S. Redwood Road, 801-972-5447, westernerslc.com) isn't just a bar, it's a dance hall where you can line dance and do-si-do to live music every weekend. Just be sure you haven't had one too many if you plan to hop on the mechanical bull.
SEE
Home to the state's minor league hockey team, the Utah Grizzlies, Maverik Center (3200 S. Decker Lake Drive, 801-988-8800, maverikcenter.com) is one of West Valley's longest-standing entertainment venues. In addition to hockey, the arena hosts touring musical acts and for the first time in 2019, the Pac-12 gymnastics championships. If you need an affordable family-friendly event, check out a Grizzlies game, and if you're buying tickets to the next big-name artist in town, chances are you'll be coming here sooner than later.
EXPERIENCE
With more than 60,000 square feet of shopping space, the Indoor Swap Meet (1500 W. 3500 South, 801-887-7927, saltlakesindoorswapmeet.com) could be the next place you find that gift or trinket you haven't found at your typical brick-and-mortar shop or thrift store. Looking for a turntable, handbag or something else on the cheap? This sprawling hodge-podge of vendors fits that bill.