Page 4 of 8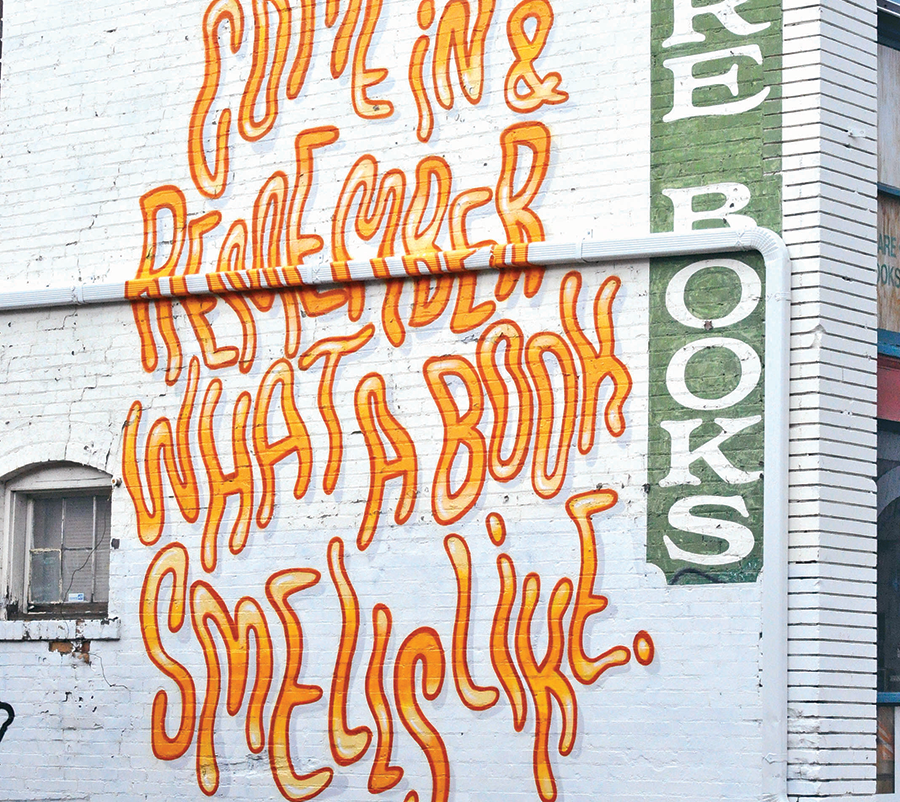 Tag, You're Art!
Ever wonder where the local culturati get their A&E kicks at? Read on.
By Scott Renshaw
If the health of a city's arts scene is any indication of its vitality, Salt Lake City is alive and kicking. From theater to dance and comedy to literary arts, SLC is full of ways to enjoy and celebrate the work of creative people. And what's more exciting still, is that those creative people love celebrating each other.
As an indication of that mutual support, we invited prominent folks in the local arts community to "tag" one another's organizations as something that helps inspire them. I got the ball rolling, then watched as those folks cheered on their artistic colleagues. A rising tide of creativity really does lift all boats.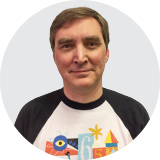 Scott Renshaw, City Weekly A&E Editor, on the Salt Lake Film Society
"More than 20 years ago, when I relocated to Utah from Northern California as a freelance film critic, I wondered what kind of cinephile culture I'd find here. Silly me. Not only was I not thinking about the influence of the Sundance Film Festival, but I didn't know about the long history of the Tower Theatre. When the Salt Lake Film Society formed in 2001, dedicated to preserving the Tower and guaranteeing a home for independent film, foreign film and documentaries at the Broadway Centre, it was clear that this city is as inspired as I am by great cinema, no matter where it originates."
saltlakefilmsociety.org
Salt Lake Film Society Executive Director Tori Baker on Salt Lake Acting Co.
"Art links us to one another and provides so many varying ways to express humanity. While I find inspiration, personal growth and empowering storytelling most often through the art of cinema, I frequently reach for variety and inspiration from performing arts. When I look to explore the intimacy and texture of a live theater experience, there's no place like Salt Lake Acting Co. SLAC always pushes boundaries and expands my visions of storytelling, inspires my thinking, entertains me, and connects me to my community. Their unique space informs much of the experience, and also has a sense of grounding and nostalgia."
saltlakeactingcompany.org
Salt Lake Acting Co. Artistic Director Cynthia Fleming on Ballet West
"My love for Ballet West is very personal. From the age of 6—when Ballet West was known as Utah Civic Ballet—my mother and I would attend, captivated by dancers like Janice James and Tom Ruud. The company provided an introduction to an art form that would eventually shape my entire life and career. In fact, I'm currently having a 'pinch me' moment, as SLAC prepares to produce Silent Dancer, a Jazz Age romance with choreography by Christopher Ruud—his first project after his final BW appearance in Swan Lake this February. The power of dance is undeniable, and no one does it better in Utah than Ballet West."
balletwest.org
Ballet West Artistic Director Adam Sklute on Weller Book Works
"To nurture my own creativity and find inspiration, my husband, Christopher, and I enjoy exploring Salt Lake's bookstores. There are so many wonderful gems with owners who are passionate and brilliant. One of my favorites is Weller Book Works in Trolley Square. I miss the old location on Main Street, with its labyrinth of underground tunnels, but the soul remains in the beautiful new space, guided by Tony and Catherine Weller. Go visit them and the three generations of family members working there; you'll find me in the arts or cooking sections!"
wellerbookworks.com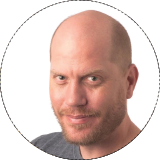 Weller Book Works' Events & Outreach Coordinator Lane Richins on Pygmalion Theater Co.
"As the only theater company in the city with a mission statement dedicated to women's voices, Pygmalion Theatre Co. is where I turn for inspiration. In some ways, they are like many other companies ... strong storytelling, quality actors, technical prowess ... but it is their fervent diligence to their statement that sets them apart. Now more than ever, the voices of women are propelling us into a new future, and Pygmalion puts those voices front and center with every production. That is something I figuratively and physically applaud."
pygmalionproductions.org
Pygmalion Theatre Co. Artistic Director Fran Pruyn on Salt Lake Vocal Artists
"I am a big fan of Salt Lake Vocal Artists, and try to attend all of their local concerts. SLVA is an offshoot of the Salt Lake Choral Artists which features those in the community choir who have professional-level capability. They perform enormously complex classical, contemporary and culturally diverse choral music. Its a low-profile, but enormously skilled group of artists who swell the halls with the dense SSAATTBB harmonics of composers from a large range of styles and periods. SLVA performs around the world, and I am privileged to live in a city that values its contribution."
saltlakechoralartists.com
After much prodding, the chain ended, perhaps ironically, with silence from Salt Lake Vocal Artists. Yet there's potentially no end to the ways this community's creative people influence and inspire one another. Great art is often the beginning point for someone else's great art.
Courtesy Photo
Eccles Center
Other local arts stalwarts to build your own list
Broadway at the Eccles: Touring productions of recent and popular Broadway stage hits. broadway-at-the-eccles.com
The King's English Bookshop: Locally-owned independent bookseller, regularly hosting live author readings and other literary events. kingsenglish.com
Pioneer Theatre Co.: Classic plays, Shakespeare, recent Broadway favorites and award-winning new works at the University of Utah's resident professional theater. pioneertheatre.org
Plan-B Theatre Co.: Promoting seasons of new plays by local and regional playwrights, often with cutting-edge themes. planbtheatre.org
Repertory Dance Theatre: Dedicated to preserving and celebrating the history of dance. rdtutah.org
Ririe-Woodbury Dance Co.: Longstanding modern dance company showcasing new and classic choreography. ririewoodbury.com
Utah Presents: The best of touring performing artists—in dance, theater, comedy and more—at the University of Utah's prime venues. utahpresents.org
Utah Symphony & Opera: Performing the classic works of the symphonic and operatic canon, plus new commissions and pops concerts. usuo.org
Wiseguys Comedy Clubs: Three locally-owned Utah venues offering a stage for the best in national touring comedians, plus rising local talent. wiseguyscomedy.com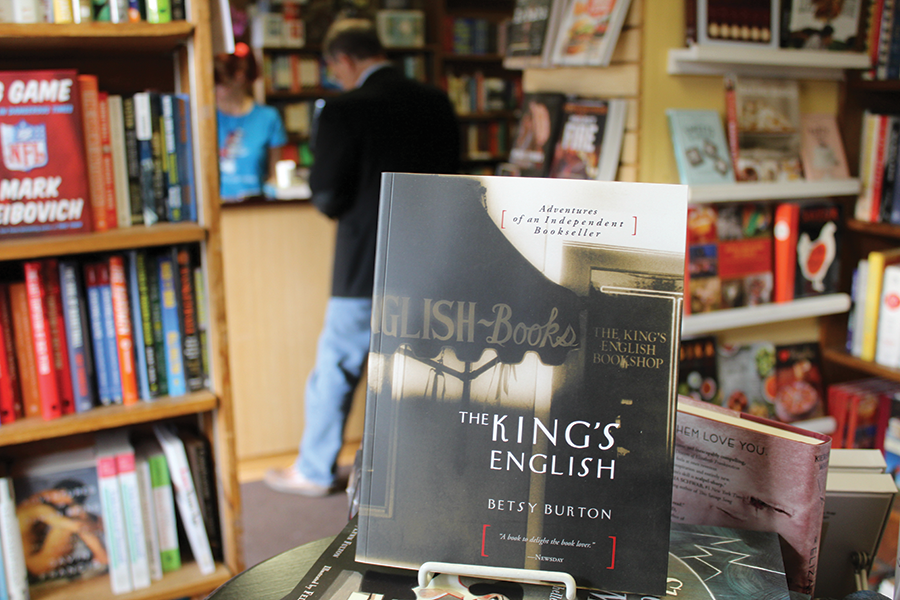 Enrique Limón
King's English Bookstore
For the Books
Get your read on at these great independent booksellers in SLC and beyond.
By Michael D. Ferry
Each year, cyclists from around the world assemble for the now-famous Tour of Utah cycling competition. Steep climbs and fast descents push racers to their limit. Each year there are several competitors who do not finish the race, opting instead to detour to the closest bookstore and enjoy a relaxed afternoon browsing the shelves for their next great read. While these competitors might not finish on the podium, they are rewarded with stacks of great reading material, which many would argue is even better than receiving a medal.
Our state features some of the most brilliant bookstores in the country. There are several larger retailers located around Utah, but here's a quick tour of the best independent booksellers from Sandy to Ogden.
Aaron Cance with The Printed Garden in Sandy (9445 S. Union Square, theprintedgarden.com) encourages everyone to visit an indie bookstore to see why they are great. "Locally owned businesses are what make neighborhoods interesting," Cance says. "You can expect a personal experience with staff that really care about what they're doing. Our store, for example is not a large store, but neither is there any filler on our shelves. If a guest were to walk into our store with a blindfold on, he or she could pull a book off the shelf, and it would be a really good book."
After finding a book at Printed Garden, take off the blindfold and continue to the next stop on the tour. "Many people might not have a specific book in mind when they come in, but they look through our shelves and when they find 'it', they just know," says Cindy Dumas, owner of Marissa's Books in Murray (5692 S. 900 East, Ste. 10, facebook.com/marissasbooks), describing one type of experience customers might expect when they visit. For Dumas, searching for great collections of books and new, unique gift items that customers will love is her favorite part of being a bookseller. "Each time someone comes to our store," she says, "they can expect to find something original, distinct and a little different from the previous time they visited." If you visit Marissa's, you can also find used books in great condition, and most of their new children's books are just $2.
Sugar House's Central Book Exchange (2017 S. 1100 East, central-bookexchange.com) is the place to go if you like to be surrounded by floor to ceiling stacks of every literary genre imaginable; you see—and smell—nothing but books. It is a small store, but they take advantage of every inch of shelf space. Their inventory is primarily used titles, which you can pick up for just a few bucks each.
Rob Eckman, from The King's English Bookshop in Salt Lake City (1511 S. 1500 East, kingsenglish.com), explains how independent bookstores serve as creative centers for our community and support the literary arts: "Bookshops are unique and special places. We are not only a place to find and read books but we are also gathering places and safe places where ideas can be discussed and shared." Eckman soon excuses himself for another engagement, because "it's Children's Story Time, and the kids don't like to be kept waiting." His official title is Marketing Manager, but Eckman is also known as "Genius Storyteller" and "Emperor of the Kids Room".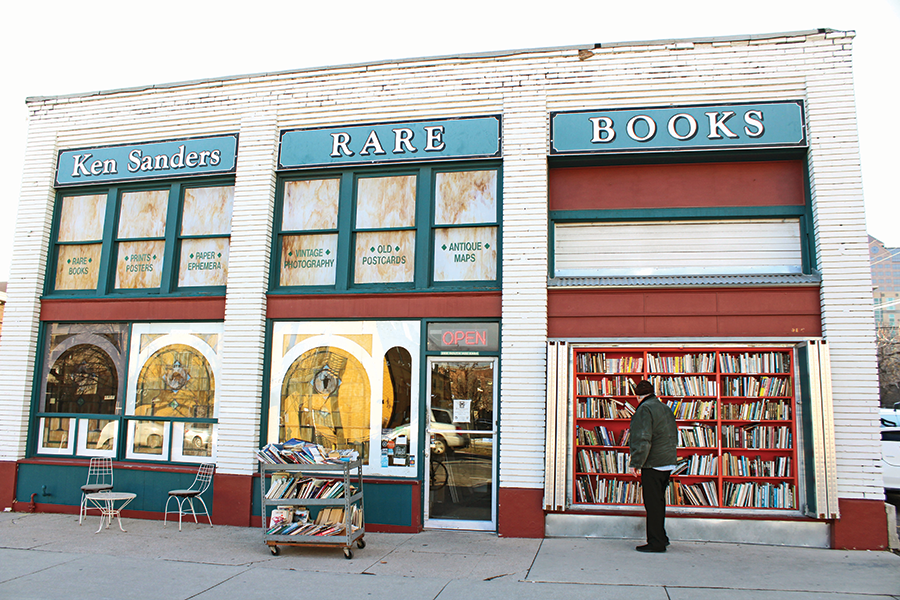 Enrique Limón
Ken Sanders
Salt Lake City also plays host to Trolley Square's Weller Book Works (607 Trolley Square,wellerbookworks.com), with its two levels filled with thousands of books to browse. You'll never get through them all, so ask the friendly staff for recommendations. Be sure to drop in at Ken Sanders Rare Books (268 S. 200 East, kensandersbooks.com) to see one of the most valuable rare book collections in Utah. If you are looking for a book much older than you, or anyone you know, this is the bookstore for you.
Traveling north to Bountiful finds The Book Garden (2 N. Main, bookgarden2.com) and bookseller LeAnn Jorgensen. One of Jorgensen's favorite events of the year is Independent Bookstore Day in April, when book lovers are encouraged to visit as many bookstores as they can. "Independent Bookstore Day is a fun day for everyone. We love to see the shop-hoppers that are determined to visit each and every bookstore within driving distance during that day," she says.
You don't have to wait for Independent Bookstore Day to visit a great shop like Booked on 25th in Ogden (147 25th St., bookedon25th.com). In addition to new releases and best-selling books, you can also find bookish gifts and merchandise that you won't find anywhere online: shirts, mugs and other items featuring their signature black crow (or is it ... a raven?).
These bookstores play an important role in making great books available and helping us discover them. In addition to great books, patrons can expect to find activities like author appearances and book signings; check online calendars for each store to see what they have coming up.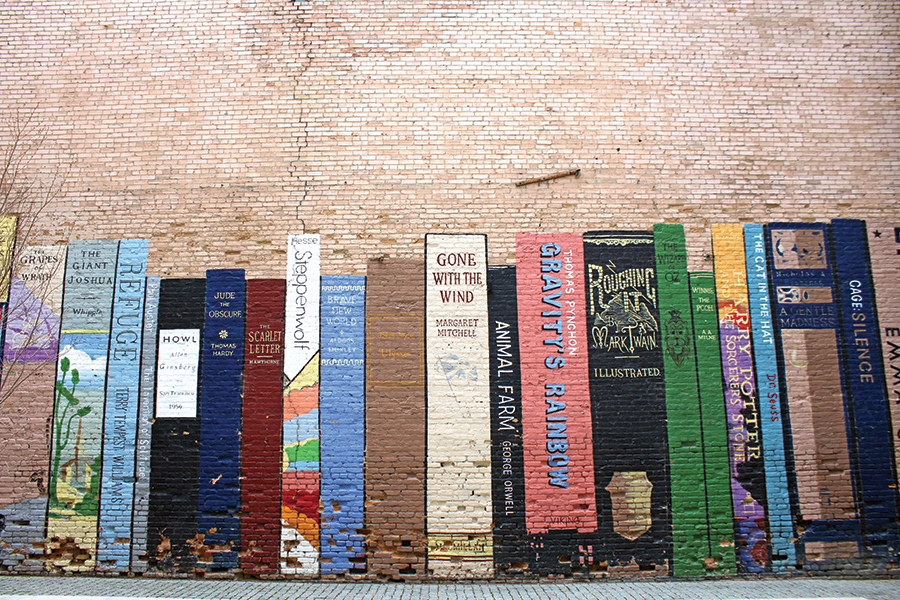 Beehive Scribes
Be cool when you run into these famous local authors.
By Amanda Rock
Consider yourself warned. Famous authors live in Salt Lake and you could run into them grocery shopping or grabbing a bite to eat. Don't panic. Be cool. Authors are totally normal people and why wouldn't you bump into them at Smith's? Should you ask for their autograph? A selfie? Ask where they get their ideas? Gush about their latest novel? Ask when their next novel is coming out? Probably. Here's five to watch out for:
Shannon Hale
You don't have to explain what fry sauce is to Shannon Hale. This New York Times bestselling author is a Salt Lake City native. More than 25 books are in her catalog, including Princess Academy, which won the prestigious Newbery Honor award. Along with husband Dean Hale (who also calls SLC home), she writes the Unbeatable Squirrel Girl novels. Hale's books feature awesome female characters and she writes them for everyone to read—girls, boys, kids, teens and adults. She's a champion for equal reading rights, fighting gender bias whenever she can. shannonhale.com
Gabriel Tallent
When Celeste Ng and Stephen King rave about your first novel, you know you've made it. My Absolute Darling by Gabriel Tallent is heartbreaking, beautiful and impossible to put down. The most talked about book of 2017, My Absolute Darling received stellar reviews and it was the first debut novel to appear on the best-seller lists in the U.S. and U.K. at the same time. Raised on the Mendocino coast by his two mothers, Tallent now resides in Salt Lake City. gabrieltallent.com
Paisley Rekdal
The Utah Poet Laureate is required reading for locals of all stripes. Besides poetry, the University of Utah English professor also pens novels and essays. Rekdal's work has appeared in The New York Times Magazine, American Poetry Review and The New Republic, among other popular publications. She's received a Guggenheim Fellowship as well as other distinguished awards. Nightingale, her newest collection of poems, will be published this spring. paisleyrekdal.com
Jessica Day George
New York Times bestselling author Jessica Day George also put down roots in SLC with her husband and three kids. She writes compelling fantasy books and fairy tales for young adults and adult-adults who appreciate a good story about debutantes in the 1890s who travel to Romania and maybe become servants to the Draculas. (Pick up a copy of Silver in the Blood and let's read it together!) In 2007, she won the Whitney Award for Best Book by a New Author for Dragon Slippers. jessicadaygeorge.com
James A. McLaughlin
OK, you're less likely to run into James A. McLaughlin, as I think he prefers the mountains to the city. Relocating to the Wasatch Range east of Salt Lake from rural Virginia where he grew up, McLaughlin is an avid photographer, capturing landscapes and wildlife. Bearskin, his first novel, has been nominated for the Edgar and Barry awards for Best First Novel. Set in the Appalachian Mountains of Virginia, Bearskin is an action-packed thriller written with a naturalist's voice. He's currently working on two novels related to Bearskin. jamesamclaughlin.com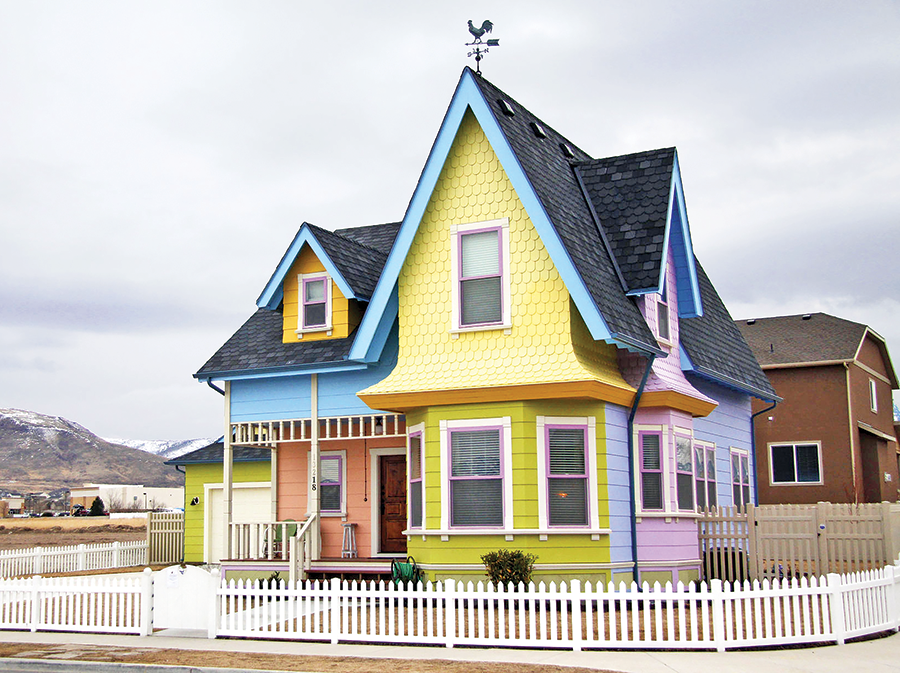 Frankie Richardson
Up House
By the ways
Your guide to the oddities and eyesores that dot Utah's roads.
By Naomi Clegg
Look, sometimes you just have a craving for the weird, the nonsensical, the spectacular. That's what this guide is for. Utah is a naturally weird place—its pioneer history and often-inhabitable landscapes, for starters—that has, over the years, attracted a bunch of oddballs, who have, in turn, built the following odds and ends. Some are rooted in superstitious religious lore, others in Utah's rich cinematic, scientific and settler history. All get you off the beaten path—figuratively, of course, because all of these sites are easily accessible from our highways and byways. As always, use your turn signals.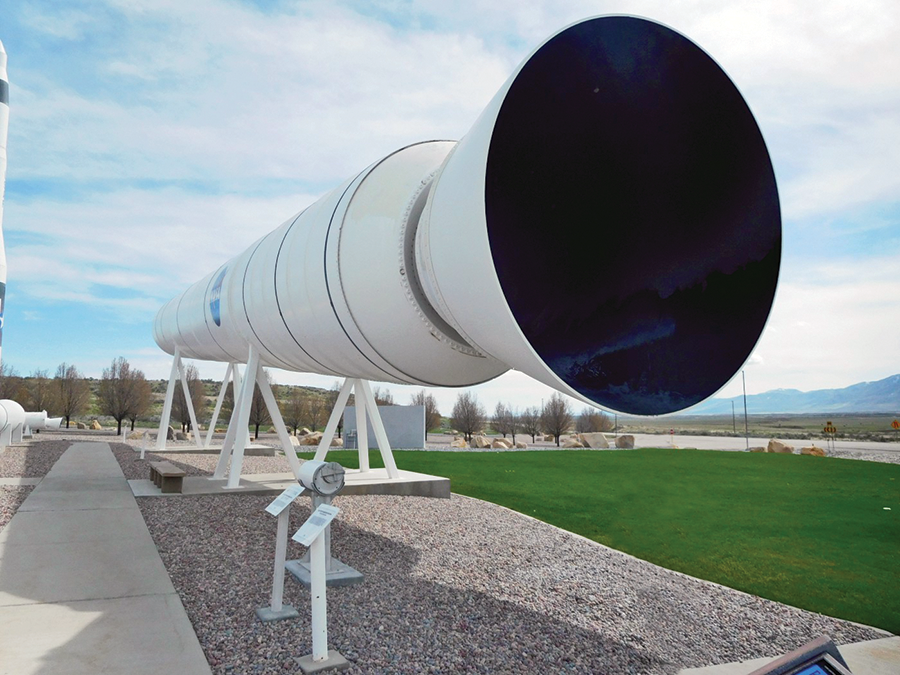 Niki Chan
ATK Rocket Garden
ATK Rocket Garden, Corinne
If you head out to Utah's Golden Spike National Historic Site at Promontory Summit, north of the Great Salt Lake, you can learn about the people who helped complete the first transcontinental railroad. But, take a detour about a mile before you hit the turnoff, and you'll encounter a rocket garden in front of rocket manufacturer ATK's facility. The site boasts 20 or so real-life space rockets, including educational plaques. While you're there, check out the famous Spiral Jetty earthwork, just 19 miles away.
Red Iguana's Red Iguana Statue, SLC
Red Iguana is known for its famed Mexican food. It's so well-liked that the owners built a Red Iguana 2 a block away and a food-court outpost at nearby City Creek Center. Stop for lunch at the original location, and don't forget to get your picture taken next to the larger-than-life red iguana, which stares menacingly from its post in the parking lot. Sculpted by Utah artist Stephen Kesler, the 33-foot-long, 13-foot-high lizard is named Xochitónal after the giant iguana guardian of the Aztec underworld. Kesler says this bad boy took two years to create—probably because he hand-sculpted all 120,000 of its scales.
Up House, Herriman
Once you've had your fill of obscure Mormon theology, head southwest to Utah's paean to industry: the world's largest man-made excavation, the half-mile-deep Bingham Canyon Open Pit Copper Mine. On your way there or back, drive through Herriman. This Utah township is much like the many other Utah burbs, but tucked between the cardboard-cutout lookalike homes is an exact replica of the quaint, multi-colored home from the animated feature Up—although it's now privately owned and can only be viewed from the outside. Utah's Bangerter Homes built the cutesy dwelling with permission from Disney on the condition that the plans be surrendered after its construction, making it literally one-of-a-kind.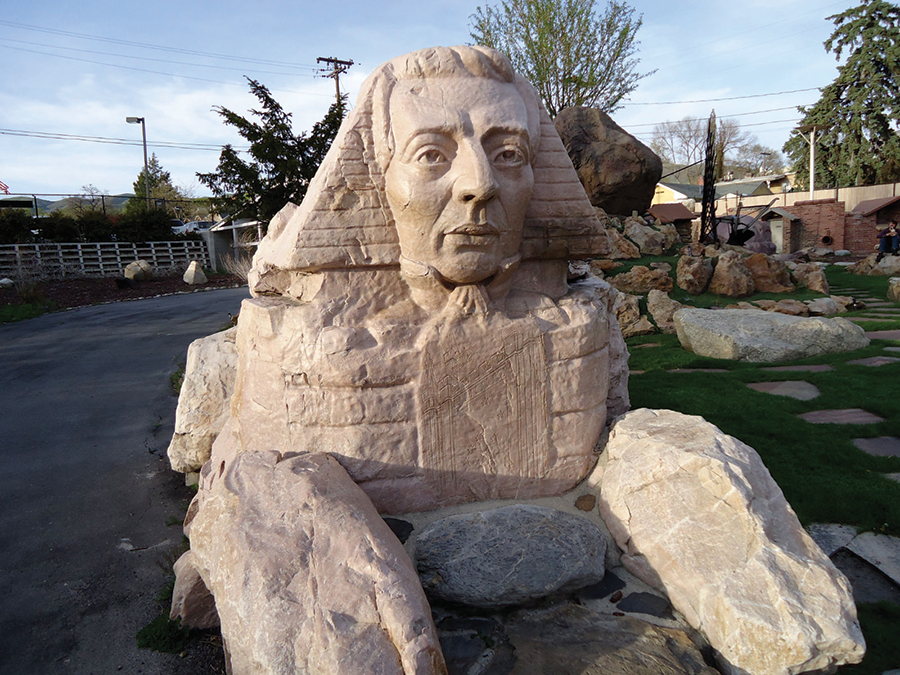 Enrique Limón
Gilga Gardens
Gilgal Sculpture Garden, SLC
Ah, the infamous Gilgal Garden. A place of trippy treasures, the garden was built beginning in 1945 by Thomas Child, a local LDS bishop, thinker and man of mysteries. "You may think I am a nut, but I hope I have aroused your thinking and curiosity," Child said of his garden. Now a park open to the public, the garden showcases Child's very specific religious beliefs in the form of sculptures and quote-inscribed plaques. A pinnacle of Utah-ism, it boasts as its centerpiece a Sphinx topped with the head of Mormonism's founding prophet, Joseph Smith.
Janice Gleeson
Stonehenge
Stonehenge, American Fork
For those wanting a taste of Neolithic history, luckily, you don't even have to leave Utah. Sitting right on the front lawn of Utah County's Stonehenge of American Fork, a nursing and rehab facility, is a replica of the world's most famous prehistoric monument—albeit in smaller and less timeworn form. As one Yelper notes, "The spirit of [Stonehenge] ... truly lives here in American Fork!"
Eagle's Landing Petting Zoo, Scipio
If you're heading down to Southern Utah, take a break in Scipio, right off I-15. Across from the Flying J gas station and the Dairy Queen in this tiny pit stop of a town, you'll find a lovely little petting zoo, replete with a donkey, camel, llama and zebra, along with rabbits, ostriches, peacocks and more species of the cute and fuzzy. It's a great opportunity to stretch your legs after a few hours in the car, for grown adults and antsy kiddos alike. Just watch out for the llama. It spits.
Cove Fort Historic Site, Beaver
Keep heading south past Fishlake National Forest. (All right, maybe stop in Fillmore to check out the Territorial Statehouse State Park Museum—Utah's oldest existing government building and one-time meeting place for the Legislature.) A little farther down I-15, right before you get to the town of Sulphurdale, take a small detour to visit the Cove Fort Historic Site, a fort built of volcanic rock in 1867 at the request of Mormon prophet No. 2, Brigham Young. The site was once a waystop on the Mormon Road, a section of the California Wagon Trail. Today, LDS missionaries offer tours of the historic homes, blacksmith shop and telegraph office.

Landlocked Lighthouse, Cedar City
We've covered rockets, prophet-sphinxes and larger-than-life iguanas. So how's about a little apocalyptic lore? This fully functioning lighthouse at the entrance of Cedar City's Providence Center Mall stands 88 feet high—in one of the most landlocked states in the nation. It's 450 miles away from the nearest ocean, but that didn't stop the developers, who purportedly built it to prepare for when Utah becomes the new Western coastline, after an Earth-rendering earthquake drops all of California into the sea. Nice to know you, San Diego!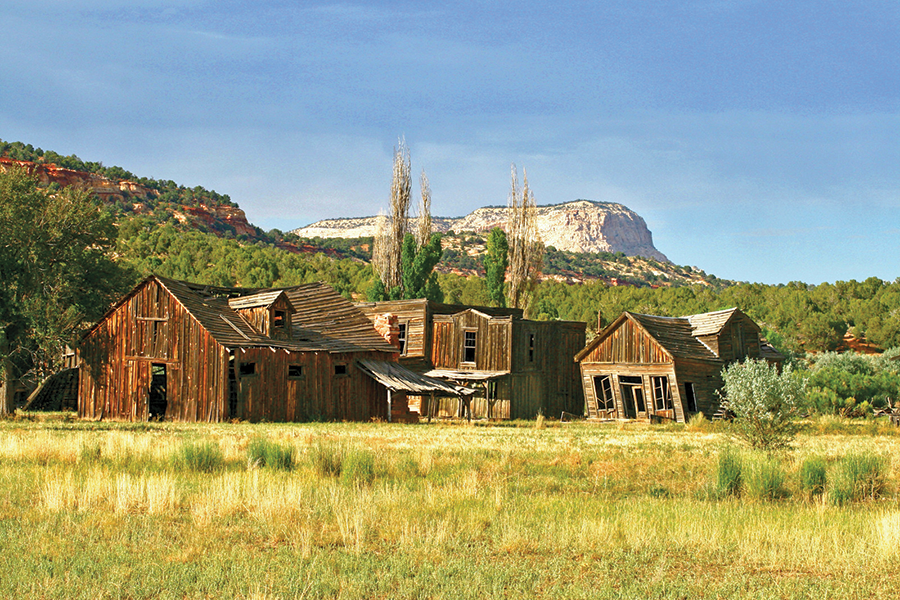 Tyler Cornell
Gunsmoke Ghost Town
Gunsmoke Town, Kanab
Western fans will remember the 20-season TV show Gunsmoke, which ran from 1955-75. In the show, Marshal Matt Dillon lays down the law in Dodge City, Kan. Turns out, "Kansas" was actually Kanab. Now deteriorating, the Gunsmoke town down Johnson Canyon Road near Kanab has become a real Western ghost town. While you're passing through Kanab, stop for a few more local oddities, including the ultra-big grocery cart in front of Honey's Marketplace and the bizarro Moqui Cave, which is home to one of the largest collections of fluorescent rocks in the U.S.
Goulding's Monument Valley Museum
Last stop. Right on the Utah-Arizona border sits the famed Monument Valley, and the lodge-cum-campground-cum-trading-post-cum-museum that is Goulding's. Before you get out into the red, red rocks, nose around the museum, which showcases Native American artwork and crafts, historic photographs and stills and memorabilia from the many Western movies shot at this picturesque location. For all you movie geeks, "a classic John Ford-John Wayne film is always playing," its website says.
Wish You Were Here?
On the quest for the ultimate SLC souvenir.
By City Weekly Staff
The disposable keychain, the sad snowglobe, the ever-elusive non-moose-related knick-knack. Few things scream vacation success quite like the cheesy souvenir. With that in mind, we unleashed four contributors to scope out and purchase a cheese-tastic SLC memento across the same number of local retailers. As varied as their personalities, the items they secured inspired revelry, indigestion and existential dread.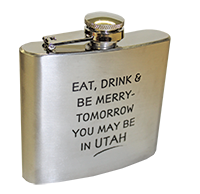 Flask ($9.99)
Found at Market on Main, 268 Main, 801-363-0280
One day after work, I went to find a snack at a small Afghani market called Market on Main Street. My venture for some chips quickly became an afterthought, once I spotted a small but mighty section of Salt Lake City souvenirs. As I perused, I was fascinated by the unique key chains and mini spoons with Utah designs, among other fun items. My eyes were finally drawn to a flask engraved with the message "Eat, Drink, & Be Merry—tomorrow you may be in Utah," which spoke to my newly minted 21-year-old self. I immediately picked it up, and proceeded to checkout, snackless. Despite its message, my flask is now filled with merriment—even in Utah. (Dash Anderson)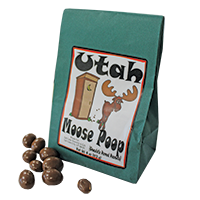 Authentic Utah Moose Poop ($5.99)
Found at Salt Lake City Souvenir & Gift,
24 W. 100 South, 801-456-1229,
saltlakesouvenirandgift.com
OK, let's talk biology. Pooping is arguably one of the best things to do, well, ever. Clearly this was on my mind when I ventured into the downtown bastion of all things SLC souvenirs known as Salt Lake City Souvenir & Gift. Upon my return to the newsroom, I discovered, the gift isn't real moose poop, but actually delicious chocolate-panned peanuts. Still, this #fakepoop spoke to me in ways that basic "SL,UT" key chains could only dream of. The decision wasn't easy; it was between this or some hand-carved healing crystals. I'm glad I followed my heart (and my intestinal tract) on this one. (Rachelle Fernandez)
Moose shot glass ($6.59)
Found at Simply Salt Lake, 90 S. West Temple, 801-534-4906
In keeping with the theme, the Salt Palace Convention Center has been one of Salt Lake City's most iconic landmarks since 1995, and no iconic landmark would be complete without a gift shop. Located inside the center itself, Simply Salt Lake offers a wide variety of Utah-themed apparel, snacks and other trinkets and doodads. A surprising number of these feature moose, including this novelty shot glass with a very tiny, very drunk moose at the bottom. Apart from the amusing incongruity of buying a shot glass in such a notoriously dry state, I liked the idea that using it requires literally drowning the little guy in alcohol. (Nic Renshaw)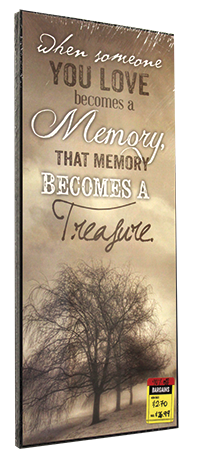 Existential dread wall art ($2.70; originally $26.99)
Found at Deseret Book, 45 W. South Temple, 801-328-8191, deseretbook.com
While I was tempted to purchase plastic missionary figurines (sold in pairs, of course) or a book about the history of those who explored and settled the "Americas" (no, Lehi was not given a chapter), at 90 percent off, there was no way I could pass on this gloomy wall decoration that, with the easy confidence only a promise of a personalized planet can instill, assures whoever might look at it that "when someone you love becomes a memory, that memory becomes a treasure." Really, I did a church service here, buying an item as downright depressing and existential-dread inducing as this—one that reminds you that everyone you know and love will, at one point or another, become a flawed and fleeting memory via a multi-font inspirational quote set on top of the sepia image of a bare willow tree surrounded by snow. You're welcome, future shoppers. (Jordan Floyd)
Universal Pictures
Back to the Future 3
Bee Movies
10 shot-in-Utah flicks sure to get you in a Beehive state of mind.
By David Riedel
Do you love Utah? The movies sure do! On John Ford's résumé alone, you'll find Monument Valley listed at least seven times. And while many classic (and not-so-classic) films have been shot in the Beehive State, here are 10 that, in my estimation, stand above the others for reasons that are completely arbitrary, and only obliquely touch on love (or sex).
Universal Pictures
Butch Cassidy and the Sundance Kid
Best period movie with the worst use of a contemporary song that kills any romance in the air
In 1890's Butch Cassidy and the Sundance Kid, while Butch (Paul Newman) and Etta (Katharine Ross) sweetly bicycle through ghost-town Grafton, B.J. Thomas croons the very 1960s "Raindrops Keep Fallin' On My Head" by Burt Bacharach and Hal David. Sample lyric: "Raindrops keep fallin' on my head/ Just like the guy whose feet are too big for his bed/ Nothing seems to fit." This song won an Academy Award, people! Proving the Oscars have always been #SoWhite—and pretty clueless, to boot.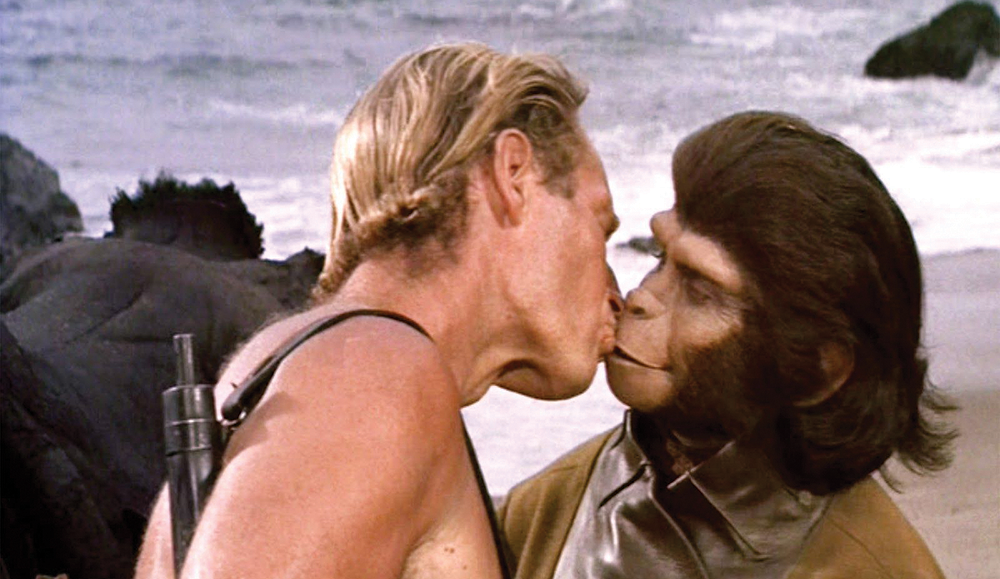 20th Century Fox
Planet of the Apes
Best movie that makes you feel less weird about your particular fetish
It's not love that Taylor (Charlton Heston) is showing Dr. Zira (Kim Hunter) when he says he wants to kiss her in Planet of the Apes. It's respect, which Zira undermines immediately when she tells Taylor that he's "so damned ugly." Still, man-on-ape action makes your man (or woman)-on-whatever obsession seem less weird, right? Look out for Lake Powell and Glen Canyon while you're watching those damned dirty apes.
Best time-travel movie with a sweet romance
Back to the Future Part III has lots of things going for it, starting with its vast improvement over Part II. It also features the only real love story in the series, a romance between Doc Brown (Christopher Lloyd) and schoolteacher Clara Clayton (Mary Steenburgen). Sure, Marty (Michael J. Fox) has a girlfriend, Jennifer (either Claudia Wells or Elisabeth Shue), but it's the Doc's trip down Cupid Lane that we watch unfold on screen. Monument Valley plays a small role outside that romance—the movie is done with it shortly after Marty arrives in 1885.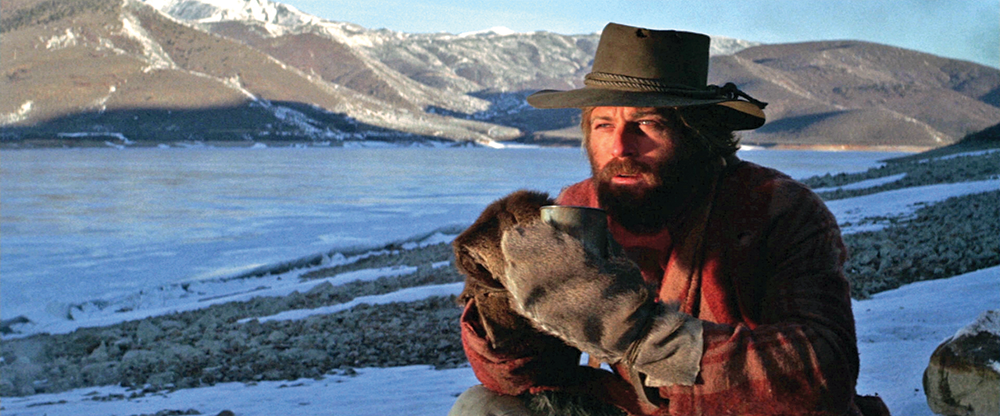 Warner Bros.
Jeremiah Johnson
Best movie to watch if you're into the strong, silent type
Jeremiah Johnson features star Robert Redford's love for Utah and its many breathtaking locations, including Ashley National Forest, Snow Canyon State Park and Zion National Park to name but three (and there are plenty more). This movie isn't the easiest to watch—there's a lot of violence, not much talking and Johnson is something of a prick—but if you can find a pristine print (or the Blu-ray), Jeremiah Johnson is a rewarding portrait of a difficult person (and spectacular landscapes).
Universal Pictures
Fletch
Best movie to use as a break-up tool
While Fletch has provided hours of joy through the ages for countless doofuses, it also really, really pisses people off. The reason (and this, along with my contention that it pisses people off, is totally made up): It's so endlessly quotable that those same countless doofuses have rendered its lines charmless. Do you really need to hear some chowderhead say, "It's all ball bearings nowadays" ever again? Probably not. So if you're the kind of creep who wants to end a relationship but doesn't have the guts to do it, just quote Fletch on a loop until your BF or GF storms off in anger. Then relax with a bloody mary, and a steak sandwich while visiting your friends Marvin and Velma in Provo.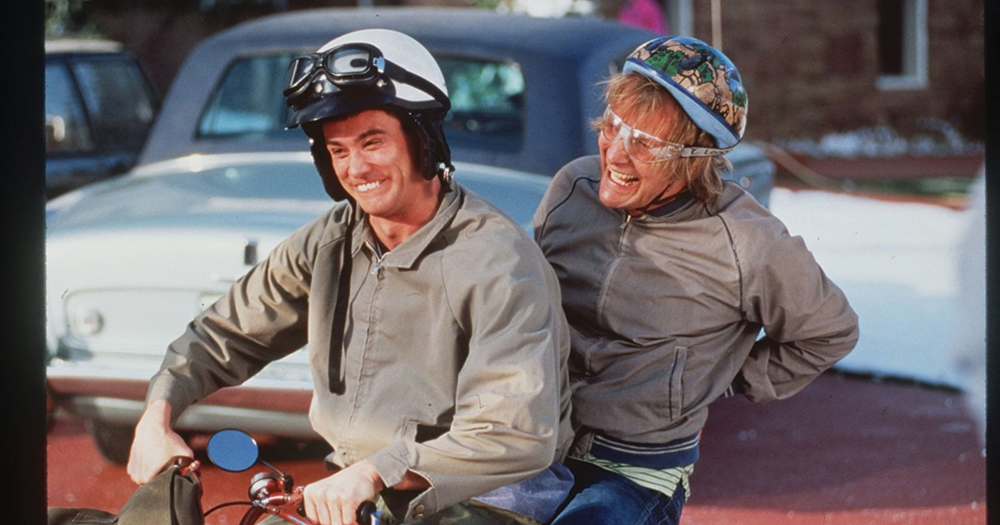 New Line Cinema
Dumb and Dumber
Best movie to watch while in the grips of unrequited love
Dumb and Dumber takes place in Providence, R.I., and Aspen, Colo., but the bulk of it was filmed in Utah. Harry and Lloyd's apartment exterior? Salt Lake City (standing in for Providence). Mary's home in Lloyd's fantasy? La Caille in Sandy. The list goes on. And if you're the kind of person who falls in love with someone who's both unavailable and out of your league, you'll have a lot in common with Lloyd (Jim Carrey). Plus, Dumb and Dumber is still hilarious.
Best movie to watch if you and your S.O. have the kind of relationship no one else understands
In Gerry, after being lost for nearly two hours in disparate and remote locations such as Death Valley, Argentina (!), and the Bonneville Salt Flats, Matt Damon strangles pal Casey Affleck to death and then saves himself. Is it a mercy killing? Or is it totally selfish? You and your lover know the truth, and are prepared to undertake similar radical notions of love if the need arises.
Best stand-in for the U.S. Capitol in a dumb romantic comedy
Although the Utah Film Commission website is light on specifics, Legally Blonde 2: Red, White and Blonde is on its list, so how could it not end up here? That's the Utah Capitol's exterior standing in for the U.S. Capitol, if every Legally Blonde fan site in the world is to be believed. And LB2 features choreography by Toni Basil. What's not to love?
Best movie to watch if you love Utah (and the 1980s and Kenny Loggins)
The 1980s have so many things to adore: The fashion, the music and actors well into their 20s playing teenagers. Kevin Bacon and Lori Singer were born in the '50s but they're two lovestruck kids in Bomont (or Beaumont), a city in an unnamed state that has banned dancing in Footloose. Sharp viewers know Payson, American Fork, Provo, Lehi and Orem play Bomont. Dianne Wiest and John Lithgow play concerned parents and Loggins plays the hell out of the soundtrack. Don't get me wrong, Footloose is completely stupid, but as a product of its time, it's perfect. It deserves our love.
Best movie to watch before revenge killing the people who killed your loved ones
The Outlaw Josey Wales, a super-violent tale, makes a couple stops in Utah, at Glen Canyon and the ghost town of Paria in Kane County. And it features Clint Eastwood doing what he does best: killin'. And it ain't just killin' for the sake of killin'. It's killin' because someone kilt Josey's family. Yee-haw! (Aside: In later years, it was discovered Asa Carter, a former speechwriter for segregationist Alabama Gov. George Wallace, wrote Gone to Texas, the novel on which Josey Wales is based, under a pseudonym. Yikes!)
Sundance Survival Guide
You too can experience Park City's famed film fest like the elite.
By Scott Renshaw
Utah and Salt Lake City are known for many things—skiing, the LDS church, weird liquor laws—but the Sundance Film Festival is one of the state's highest-profile internationally-known events. The annual showcase for American and worldwide independent film—headlined by founder Robert Redford—brings celebrities, journalists, industry insiders and stargazers to pack the mountain town of Park City every January. Perhaps surprisingly, it's easier for Utah locals to experience it than folks in major media markets. Here are some tips for prospective first-timers considering a dive into this fascinating event.
Privileges for Utah Locals: If you're now a Utah resident, congratulations! You have a leg-up on certain perqs and ticketing privileges. In the fall, the festival opens a window for Utahns to purchase Local Express festival passes, granting priority seating to film screenings held at the festival venues in Salt Lake City. They sell out quickly, so check sundance.org regularly for announcements about when you can purchase. If you're not sure about attending 10 days' worth of movies, Best of Fest screenings are held after the festival ends, showcasing award-winners and once again available only to locals through the official festival app.
Navigating Park City: If you want to get the full flavor of Sundance, you'll need to head into the mountains; you just need to know when and where to go. Official festival parking is limited and expensive, so the best way to get around if you're making a day trip from the Salt Lake Valley is to find street parking—usually around the official festival headquarters in the Prospector Square area—and take the free festival shuttles everywhere else you want to go. Then carve out some time to hang out on Main Street, the central point for most of the action and celebrity-sighting thanks to the various sponsor venues and restaurants and clubs used for special events. If you're planning to attend a film screening, get familiar with the distance between venues, and be aware that at certain peak commute times—weekend evenings heading into Main Street, or between 3-6 p.m. when day skiers and locals are heading out of town—many of the main arteries are so clogged with traffic that it can take an hour to get from one side of Park City to the other.
Seeing Movies: This is a film festival, after all. While most Park City screenings are officially sold-out well in advance of the festival week, that's mostly to account for pass-holders who have the option to attend any screening at a given time, and ticket holders who might not show up. That means that wait-list tickets are available for each venue, with the number varying based on the size of the venue and the time of day. Your best shot at getting in will be the largest theater spaces—the MARC theater and Eccles Theater in Park City, and the Grand Theatre in Salt Lake City—at the earliest and latest screening times daily. Log on to the official festival app, create an account, and get ready to reserve a virtual spot in the waitlist line (usually two hours before scheduled screening time). Then, depending on the wait number you receive, decide whether you want to make sure you're there in person at your venue 30 minutes before show time to purchase your tickets (cash only). As far as what to see—keep an ear to social media (especially City Weekly's, wink-wink) after the first couple of days of the festival. It doesn't take long for the cream to rise to the top.
Eating While Sundancing: Especially in Park City, dining options are pricey. While many venues offer food options, some don't allow any food inside the theaters, and like all movie-theater food, it's not a great bang for the buck. Brown-bag it whenever possible: Pick up something at a nearby supermarket, and enjoy a granola bar, bagel or piece of fruit rather than a $15 sandwich. Now pass the popcorn.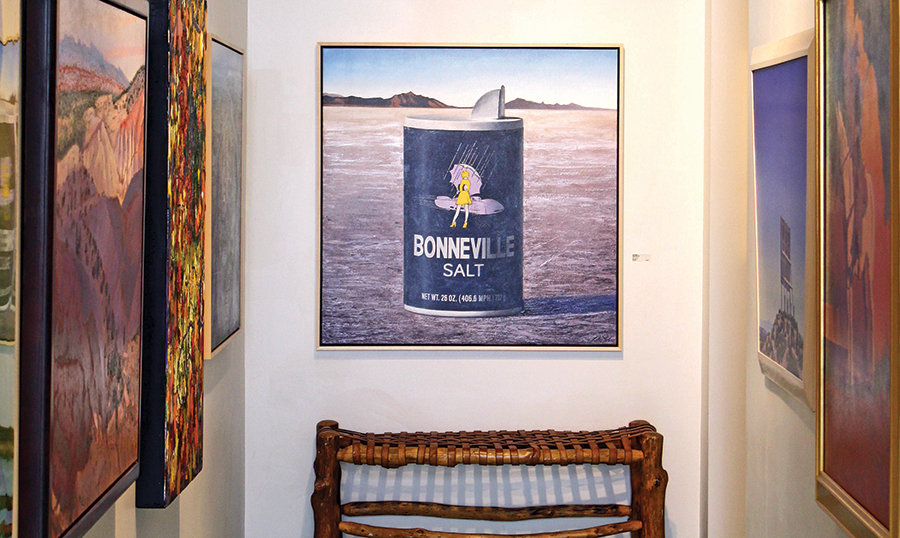 Enrique Limón
Modern West Fine Art Gallery
Museum Directory
SALT LAKE VALLEY GALLERIES
15th Street Gallery
Specializes in showcasing award-winning and emerging Utah artists. 1519 S. 1500 East, 801-468-1515, 15thstreetgallery.com
"A" Gallery
This gorgeous gallery and courtyard combo also offers custom art consultations,
installations and space rentals. 1321 S. 2100 East, 801-583-4800, agalleryonline.com
Alice Gallery
Located within the historic Glendinning Mansion, Alice Gallery hosts collaborative exhibitions for Utah artists and their communities. 617 E. South Temple, 801-236-7555, heritage.utah.gov
Alpine Art
This well-lit and spacious fine art gallery doubles as a framing workshop to accommodate local business and designer needs. 430 E. South Temple, 801-355-1155, alpineartinc.com
Anthony's Fine Art and Antiques
Housed in a 100-year-old church, this eclectic collection of museum-quality art and antique decor is staffed by a multi-generational team of specialists. 401 E. 200 South, 801-328-2231, anthonysfineart.com
Art Access
Educational and professional programs, as well as exhibitions, provide opportunities for artists with disabilities and from other traditionally marginalized communities. 230 S. 500 West, Ste. 125, 328-0703, accessart.org
Art at the Main
In partnership with the Salt Lake City Public Library, this is a cooperative gallery that supports and features members of the local art community. 210 E. 400 South, 801-363-4088, artatthemain.com
Arts of the World Gallery
Promising a pinch of magic to its patrons, Arts of the World offers a distinct selection of international and hand-crafted treasures. 802 S. 600 East, 801-532-8035, artsoftheworldgallery.com
Brushworks Gallery
Features a variety of Utah artists specializing in oils and watercolors, plus custom framing services. 160 E. 800 South, 801-363-0600, brushworksgallery.com
Commerce & Craft
This original small-production art house promises each piece was handmade and lovingly procured. 1950 S. 1100 East, 801-207-1030, commerceandcraft.com
David Dee Fine Arts
Art collector and connector David Dee mainly features work of the early American West in his authenticated gallery, but provides other art services as well. 1709 E. 1300 South, Ste. 201, 801-583-8143, daviddeefinearts.com
David Ericson Fine Art
Featuring high quality works, David Ericson builds his galleries with care while offering consulting and art appraisals to the public. 418 S. 200 West, 801-533-8245, davidericson-fineart.com
Downtown Artist Collective
Locally funded and staffed, DAC regularly spotlights new artists. 258 E. 100 South, downtownartistcollective.org
DRAW Inc. Gallery
Serving marginalized communities with youth art classes, DRAW also operates a top-notch online store. 752 6th Ave., 801-893-2404, drawinc.org
Evergreen Framing Co. & Gallery
Evergreen is a platform for unique artist exhibitions and provides a comprehensive catalogue of collectible gifts. 3295 S. 2000 East, 801-467-8770, evergreengallery.com
Evolutionary Healthcare
An unexpected gallery can be found on the walls of this private health care facility and is open during regular business hours. 461 E. 200 South, 801-519-2461, evolutionaryhealthcare.com
Finch Lane Gallery
Located in Reservoir Park, this celebrated gallery switches its exhibits year-round and any artist can apply. 1340 E. 100 South, 801-596-5000, saltlakearts.org
Flow Art Space
Presenting local and national, emerging and established artists who work in a variety of media. 363 S. 500 East, Ste. 208, 612-242-8796, flowartspace.com
Fringe Gallery
Staying true to its name, Fringe exhibits unconventional and contemporary-focused art pieces. 345 W. Pierpont Ave., 385-202-7511, thefringegallery.com
God Hates Robots
SLC's premier experimental art gallery. 314 W. 300 South, Ste. 250, 801-596-3370, godhatesrobots.com
Hope Gallery
This gallery displays a classy collection of European works and reproductions. 151 S. Main, 801-532-1336, hopegallery.com
Horne Fine Art
Tall ceilings and open skylights make this a sharp exhibition space and working studio. 142 E. 800 South, 801-533-4200, hornefineart.com
Lanny Barnard Gallery
This gallery offers a mix of styles, art mediums, as well as a varied selection of gifts. 110 Trolley Square, 602 S. 700 East, 801-364-4482, lannybarnardgalleryslc.com
Mestizo Institute of Culture and Arts (MICA) Gallery
This gallery brings together artists, activists and educators to create social change through art. 631 W. North Temple, Ste. 700, 801-596-0500
Modern West Fine Art
This gallery supports modern and contemporary artists across mediums and influences, with an emphasis on Western themes.
177 E. 200 South, 801-355-3383, modernwestfineart.com
Nox Contemporary
Nox champions challenging works that shy away from the conventional. 440 S. 400 West, Ste. H, 801-289-6269, bit.ly/2J1Xo0a
Phillips Gallery
A gallery space for Utah-based artists that offers other consultation services. 444 E. 200 South, 801-364-8284, phillips-gallery.com
Relics Framemakers & Gallery
Relics is known for its quality craftsmanship, expertise and regional artist support. 4685 S. Holladay Blvd., 801-272-8312, relicsgallery.com
Rio Gallery
This historic and collaborative gallery is nestled in the lobby of the Rio Grand Depot. 300 S. Rio Grande St., 801-245-7272, visualart.utah.gov
Sego 3 Fine Art
A procurer of high-quality American Great Basin artwork. 661 S. 200 East, 801-328-9848, sego3.com
The Stockist
This lifestyle boutique hosts a variety of unique vendors and products. 875 E. 900 South, 801-535-3458, thestockistshop.com
Urban Arts Gallery
Located in The Gateway mall, this free gallery showcases contemporary work, often with pop-culture themes. 116 S. Rio Grande St., 801-230-0820, urbanartsgallery.org
Utah Cultural Celebration Center
This center preserves a permanent collection of cultural art installations and artifacts. 1355 W. 3100 South, 801-965-5100, culturalcelebration.org
Williams Fine Art
Buying and selling the finest works by both living and deceased Utah and Western artists. 132 E St., 801-712-7577, williamsfineart.com
Winderemere Real Estate's Redman Gallery
Enjoy the breathtaking view from this elevated gallery on the upper floors of the Windermere Real Estate Building. 6th and 7th floors of the Redman Building, 1240 E. 2100 South, Ste. 600, 801-485-3151, redmangallery.com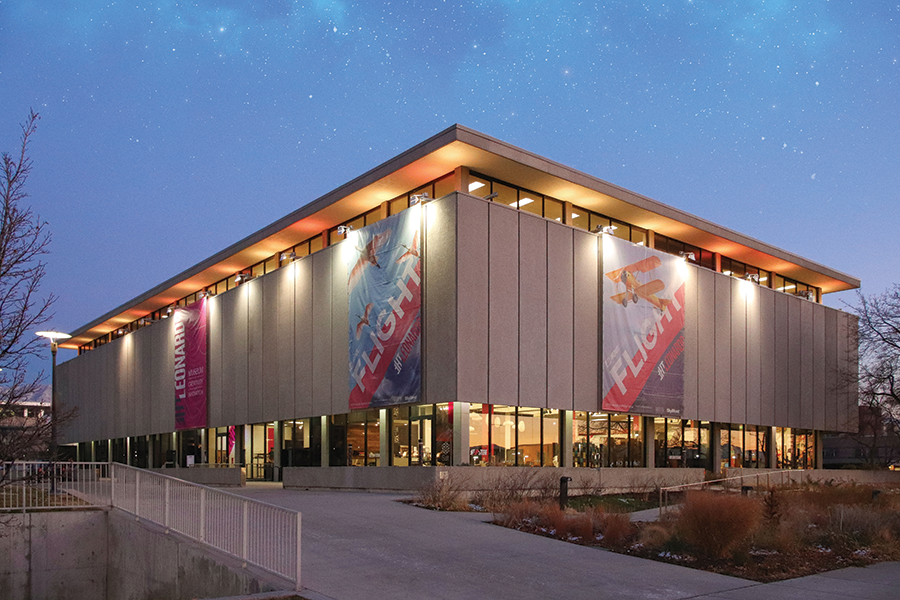 Drew Ehrgott
The Leonardo
MUSEUMS
Chase Home Museum
The only museum in the country dedicated to displaying a state-owned collection of contemporary folk art. Liberty Park (600 S. 900 East), artsandmuseums.utah.gov
Church History Museum
Discover the story of The Church of Jesus Christ of Latter-day Saints through educational exhibits and programs. 45 N. West Temple, 801-240-3310, history.lds.org
Clark Planetarium
Three floors of free, hands-on, interactive exhibits to help understand our world, space, the solar system, and beyond. 110 S. 400 West, 385-468-7827, clarkplanetarium.org
Discovery Gateway
Hands-on exhibits, both permanent and touring, with a family-friendly focus on imagination, science, art and exploration. 444 W. 100 South, 801-456-5437, discoverygateway.org
Fort Douglas Military Museum
Exhibits and educational programming to engage and inform the public about Utah's rich military history. 32 Potter St., fortdouglas.org
Hill Aerospace Museum
Featuring nearly 100 aircraft and thousands of artifacts depicting the history of aviation. 7961 Wardleigh Road, Hill Air Force Base, aerospaceutah.org
The Leonardo
Combines science, technology and art in activities that inspire creativity and innovation in visitors. 209 E. 500 South, 801-531-9800, theleonardo.org
Museum of Ancient Life
One of the world's largest displays of mounted dinosaurs, with 60 complete skeletons, plus more than 50 hands-on exhibits. 3003 N. Thanksgiving Way, Lehi, 801-768-2300, thanksgivingpoint.org
Natural History Museum of Utah
Illuminating the natural world of Utah and the place of human cultures within it. 301 Wakara Way, 801-581-4303, nhmu.utah.edu
Utah Museum of Contemporary Art
This award-winning museum connects guests to contemporary culture and education. 20 S. West Temple, 801-328-4201, utahmoca.org
Utah Museum of Fine Arts
This museum houses a charming café, gift store and rotating collection of multicultural art. 410 Campus Center Drive, 801-581-7332, umfa.utah.edu
Courtesy Photo
Kimball Art Center
PARK CITY GALLERIES
Bret Webster Images
This gallery honors and exhibits the photography of American artist Bret Webster. 312 Main, 435-200-8258, bretwebsterimages.com
Gallery MAR
Gallery MAR always keeps their collections fresh while providing a comprehensive list of art services including installations. 436 Main, 435-649-3001, gallerymar.com
J GO Gallery
Jo GO charms guests with its American Western aesthetic and conversational atmosphere. 268 Main, 435-649-1006, jgogallery.com
Julie Nester Gallery
This diverse collection offers event rentals and an original selection of art. 1280 Iron Horse Drive, 435-649-7855, julienestergallery.com
Kimball Art Center
This center uses education, exhibitions, and events to connect the community.
1401 Kearns Blvd., 435-649-8882, kimballartcenter.org
Lund's Fine Art Gallery
Nature and landscape paintings are the focus at Allen Lund's refreshing studio-gallery. 591 Main, 435-655-4349, lundsfineart.gallery
Mangelsen Images of Nature Gallery
This gallery observes the beauty of nature through the captivating photography of Thomas Mangelsen. 364 Main, 435-649-7598, mangelsen.com
Meyer Gallery
Located in Park City's Historic District, this gallery puts guests first with its accessible customer service and striking artwork. 305 Main, 435-649-8160, meyergallery.com
Montgomery-Lee Fine Art
This clean multi-level gallery features the fine art of both internationally acclaimed artists and new faces. 608 Main, 435-655-3264, montgomeryleefineart.com
Mountain Trails Gallery
Featuring Western and contemporary artists, this gallery also offers commissions and bronze-monument installations. 301 Main, 435-615-8748, mountaintrailsgallery.com
Prothro Gallery
This Park City boutique encourages a friendly atmosphere and specializes in modern works. 314 Main, 435-200-8866, prothrogallery.com
Susan Swartz Studios
Susan Swartz's dramatic and colorful paintings of the natural world are commemorated in this studio. 260 Main, 435-655-1201, susanswartz.com
Terzian Galleries
This gallery's well-rounded staff is known for making meaningful connections with artists and clients. 625 Main, 435-649-4927, terziangalleries.com
Trove Gallery
This cozy local favorite represents a variety of talented Utah artists. 804 Main, 435-655-3803, troveparkcity.com
Compiled by Samantha Herzog and Scott Renshaw