Page 5 of 8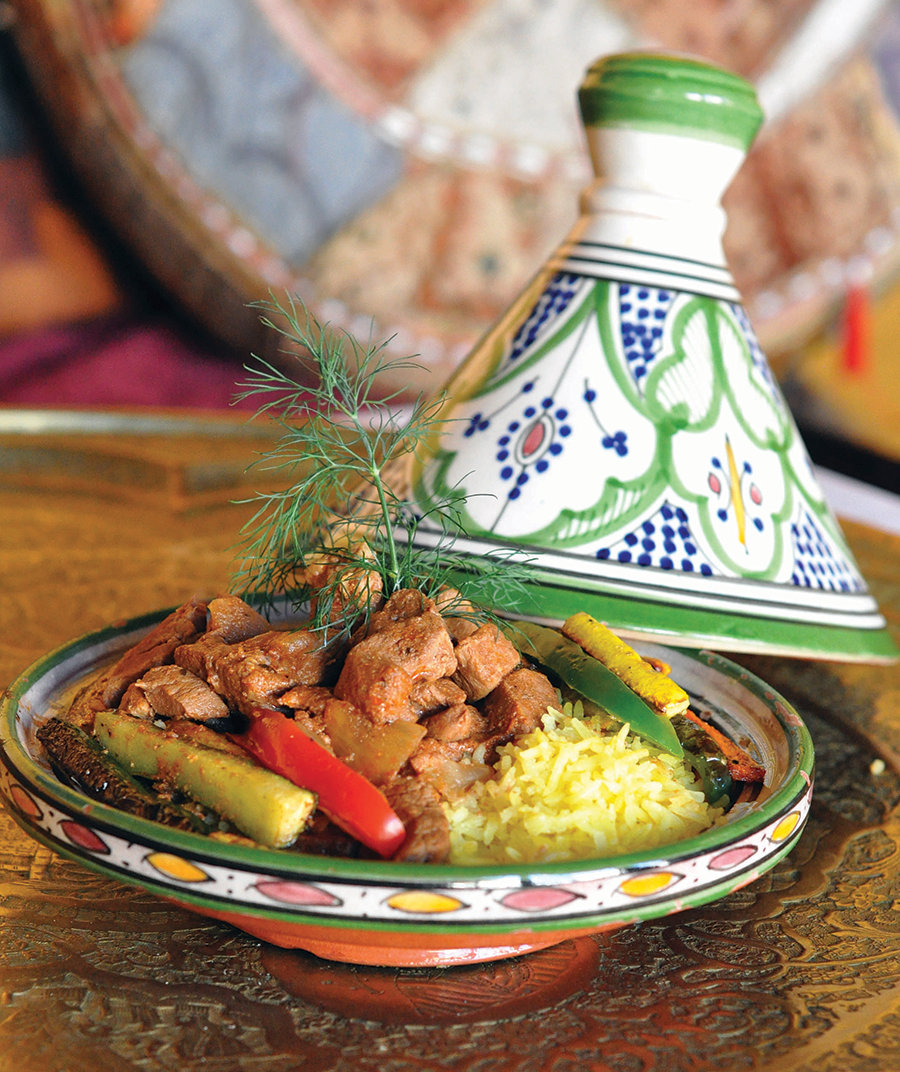 Derek Carlisle
Cedars of Lebanon
Passport on a Plate
Some trans-continental cuisine to suit the world traveler within you.
By Alex Springer
Contrary to popular belief, the Beehive's food scene is far from bland. Informed by an influx of immigration and a natural progression of down-home faves, it's hard to keep tabs on the sheer amount of culinary diversity that's popping up all over the state. But, hey, one can try. Clear some space, your foodie passport is about to get nine stamps.
Lamb Tagine at Cedars of Lebanon
If you're a fan of curry but are looking for something outside the realm of Salt Lake's Indian and Thai locales, then scurry on over to Cedars of Lebanon for any of their tagine dishes—though the lamb is my personal favorite. Named for the conical Moroccan cooking vessel in which the food cooks, the lamb tagine is served in a dark, earthy curry that blends all the nuance of the Moroccan spice game with the rich lamb flavor. If you're feeling up to it, you can also enjoy this dish while learning to belly dance if you happen to dine on the weekend.
152 E. 200 South, 801-364-4096, cedarsoflebanonrestaurant.com
Albóndigas at Julia's Mexican Food
I've had albóndigas, or spiced meatballs served in a savory broth, a number of times, but it wasn't until I tried the offerings at Julia's that I realized how spectacular this food truly is. I had been experiencing them through the lens of tapas joints who saw them as a cheap throwaway item on their menu, resulting in a mediocre experience. Julia's, on the other hand, takes their albóndigas seriously. First of all, they're gigantic—big enough to eat plates of lesser meatballs themselves. They come served in a broth heavy with chile oil and a basket of housemade tortillas—a perfect example of Latin American comfort food.
51 S. 1000 West, 801-521-4228
Ema Datshi at Bhutan House
If you're new to Bhutanese cuisine, then a steamy bowl of ema datshi should be your first stop. It's the country's national dish, and offers up a tasty snapshot of the cuisine's particular spice spectrum. Ema datshi is a vegetable-based stew that is topped with crumbles of Bhutanese cottage cheese and served with naan, and it warms you up from the inside out. Bhutanese cuisine tends to distribute its spice and heat through a slow burn that smolders within you throughout the entire meal, and this is a prime example of that technique.
1241 E. 8600 South, Sandy, 801-679-0945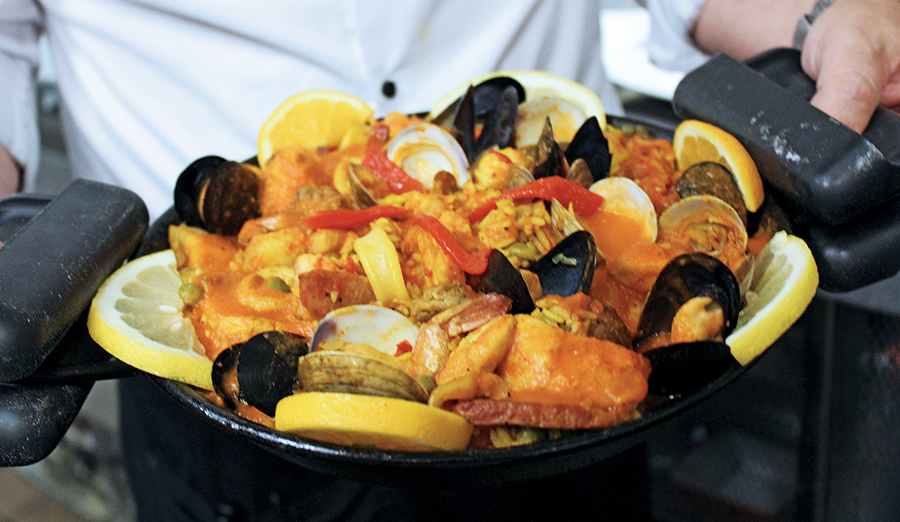 Enrique Limón
Café Madrid
Paella at Café Madrid
There's no shortage of pomp and circumstance when you order paella at this Spanish-centric restaurant. First of all, you've got to place your order at least a day in advance—the folks at Café Madrid are committed to making paella the old-fashioned way, which tends to take much longer than the typical restaurant order. When it's finally time, the dish arrives in a gigantic pot, with the aromas of saffron and sausage flirting with the senses. Digging in to this golden heap of rice, seafood and meat is a fantastic experience, and one order is more than enough for two people. If you've got the time, it's a dish well worth planning an evening around.
5244 S. Highland Drive, Holladay, 801-273-0837, cafemadrid.net
Mapo Doufu at Szechuan Garden
As many great chefs can attest, tofu absolutely sings when you prepare it correctly. Take the mapo doufo—or "pockmarked granny tofu"—at Szechuan Garden. It's a heaping bowl of tofu cubes that have been tossed in a mythical brew of Sichuan peppercorns and finely ground meat. The Sichuan numbing heat takes hold immediately, transporting your taste buds into realms of consciousness you didn't know were there. The smoky heat washes over your mouth like waves, and, despite the heat, you can't help but dive in for more.
1275 E. 8600 South, Sandy, 801-233-0027, szechuangardensandy.com
Derek Carlisle
Mahider Ethiopian Restaurant
The Taste of Mahider at Mahider Ethiopian Restaurant
Eating is much more fun if it's approached communally, and there are few local places that embody that approach more than Mahider. The Taste of Mahider can be ordered for two or up to four, and features a bit of everything on the menu—the siga wot in particular is a bit of beef stew heaven. The fun part arrives when your guests aren't familiar with the Ethiopian custom of eating with your fingers—with the help of injera, a sourdough flatbread that serves as your one and only utensil. It's a feast that encompasses the best parts of Ethiopian food, and is sure to be a memorable meal among you and yours.
1465 S. State, Ste. 7, 801-975-1111, mahiderethiopian.com
The Pork Combo at BFF Turon
Filipino food is a fascinating mixture of several different Asian cuisines, and the folks at BFF Turon have brought just a taste of this vast menu to their recently opened location. The pork combo with rice and noodles is a testament to marinades and slow cooking—the meat is tender, and the gravy in which it has been cooking is a rich kick to the senses. If Filipino food hasn't really been on your radar, it's time to realign and check this place out.
8860 S. Redwood Road, West Jordan, 801-280-6344
Derek Carlisle
The Angry Korean
Bulgogi at The Angry Korean
The Angry Korean has recently metamorphosed from a food truck to a brick-and-mortar location, and we couldn't be happier. Korean food is taking off around the Wasatch Front, but it's still green enough to be in need of some new talent—which is exactly what's on display at The Angry Korean. The traditional bulgogi is served in a huge metal bowl, topped with a fried egg and a few Korean dumplings and delicious until the very bottom. If you've still got room when you're done, their locally baked cheesecake is a sweet way to wrap things up.
11587 S. District Main Drive, Ste. 300, South Jordan, 801-307-8300, facebook.com/theangrykorean
Fettuccine at Horn of Africa
The words "fettuccine" and "Africa" don't often show up in the same sentence—unless you're talking about the heaping helpings of Somali food dished up every day at Horn of Africa. Here you can get a large portion of perfectly cooked fettuccine topped with marinated chunks of bone-in goat meat and sautéed peppers, which is a Somali trademark. It's a combo that starts feeling more familiar the more you eat—meat and noodles have always been a match made in heaven. It's a leap outside the box you'll be glad you took.
1320 S. Swaner Road, 801-908-5498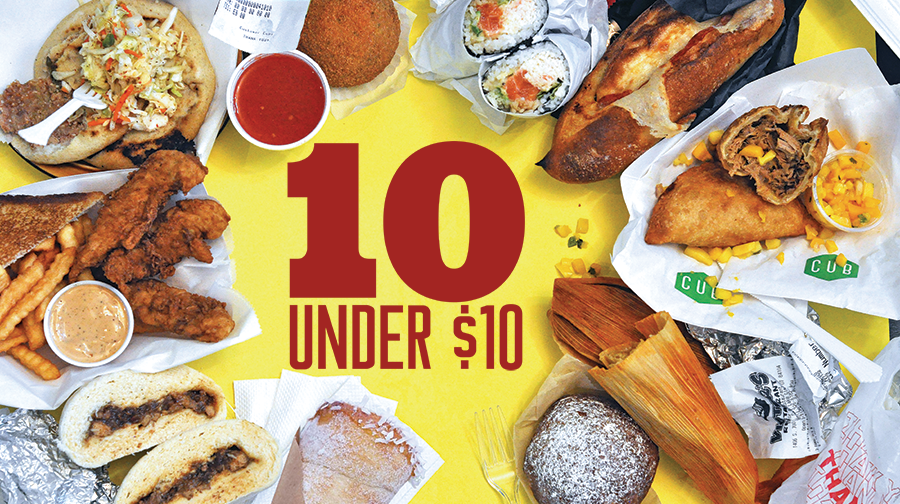 10 under $10
Fill up your belly without emptying your wallet.
By Alex Springer
1. Pupusas at Juanita Restaurant ($1.75-$2.25)
I've had pupusas—El Salvadoran stuffed tortillas that are endlessly comforting—at a few different places, and I have to say that those cooked up at Juanita are among the best. They've nailed the perfect ratio between the outer chewiness of a fried corn tortilla and the inner flavor, making a ridiculously cheap way to spend a lunch hour. Three of these lovely hombres are more than enough to bring down the direst of lunchtime cravings, and they're made to order right on the spot. The pork chicharrón is the tastiest, but don't overlook the pupusa con loroco, which is stuffed with cheese and an edible Salvadoran flower that stacks up nicely with gobs of melted cheese. Unlike tacos or tostadas elsewhere, pupusas are completely sealed, which makes them great to eat on the run.
271 W. 900 South, 385-259-0144
2. Keke Pua'a at Sagato Bakery ($2.95)
If you've ever visited a dim sum joint, you're no doubt familiar with bao, or buns of baked or steamed dough filled with barbecued pork. You're also likely familiar with the fact that they're a bit on the tiny side, which means enduring judgmental stares from your company when you order a fourth helping. As it turns out, Samoan cuisine has a similar dish called keke pua'a, and it's roughly three times the size of a traditional bao. I tried one of these softball-sized pork buns not long after Sagato Bakery opened, and one of them was enough to sustain me through a Saturday morning at IKEA. At a mere three bucks, keke pua'a is one of the most effective—and tasty—ways to keep yourself full if you've got a day packed with errands ahead of you.
44 W. 7200 South, Midvale, 385-557-1728, sagatofoods.com
3. The Citrus Burrito at Sushi Burrito ($9.49)
Sushi burritos might have already experienced their 15 minutes of fame, but just because something isn't trendy anymore doesn't mean it's not a good idea. When you consider the flavor profile, quantity and ingredients, the citrus burrito at Sushi Burrito takes the nigiri for best bang for your buck. It's a generous roll of sushi that combines fresh salmon, crab, avocado, cucumber, eel sauce and a paper-thin slice of lemon, all of which plays very nicely together. Plus, it's one of the more cost-effective ways to get your sushi fix, not to mention the fact that its burrito presentation makes it ideal for long, contemplative walks through the city.
180 E. 800 South, 801-995-0909, sushiburritoutah.com
4. The Stuffed Demi Baguette at Fillings and Emulsions ($3.99)
I once found myself in this bakery's neck of the woods right around breakfast time, and noticed these baskets full of sandwich-sized baguettes. As I looked at the label, I learned that these well-laminated loaves were stuffed with prosciutto. I purchased two of them without blinking, and the baker on duty popped them into a small toaster oven for a few minutes. After I paid and walked out the door, I took the first bite of what soon became a long-standing relationship. When these little guys get nice and warm, the inside becomes soft and luxurious while the outside remains crisp and buttery. The prosciutto inside just ties everything together with just the right amount of saltiness. If you have even a fleeting affection toward bread, this demi baguette needs to be on your must list.
1475 S. Main, 385-229-4228, fillingsandemulsions.com
5. Tamales at Victor's Tires ($1.99)
For something as chronically mass produced as tamales, it's a rare treat to find a place that gives these staples of Latin cuisine the proper respect—and you can get your tires rotated while enjoying them. There is some variety to the tamales at Victor's, and I can safely recommend the pork tamal with red sauce for anyone who has trouble making decisions. The texture of the masa, the flavor of the meat and the spicy kick of the sauce transcends the $2 price point. I'm beginning to invent tire problems just so I have a more reasonable excuse to load up a plate of tamales.
1406 S. 700 West, 801-978-9595
6. The Cheese Pocket at Gourmandise to Go ($1.95)
These powdered-sugar-dusted spheres of golden dough typically hang out just below the croissants at Gourmandise To Go. Sure, their upstairs neighbors are a bit fancier and a bit more fun to pronounce, but the cheese pockets have personality—and personality goes a long way. There's not much mystery to these—they're quite literally pockets of cheese—but before your mind races to the domain of the pizza pocket, let me clarify. The cheese found within is sweetened, much like the cheese you would find in the center of a Danish. There's just enough of it to tingle the taste buds, and the flaky, pillowy exterior provides just enough texture to remain interesting. If croissants are the Gryffindors of the bakery display case, cheese pockets are the Hufflepuffs.
1000 S. Main, 801-419-0412, gourmandisethebakery.com
7. The Bacon Arancini at Arancini Snack ($5.99)
While the logic behind this fact baffles me, hand-held snacks are not easy to come by at a shopping mall unless you're in the mood for a corn dog or a cookie. If you happen to be shopping at Fashion Place Mall, however, you can mosey on over to Arancini Snack for something hot, tasty and easy to munch on while window shopping. Their menu is based on the Sicilian arancini, which is a ball of rice and cheese that has been battered and deep-fried. Arancini Snack offers variations on this classic by adding bacon or pepperoni to the decadent mixture. The bacon version packs the most flavor into the arancini package, but you really can't go wrong here.
6191 S. State, Murray, 801-300-7127
8. The Chimney Cake at Sweet Chimneys ($6.50)
This food truck is relatively new in the SLC food scene, but the chimney cakes that they're cranking out actually have quite the history. They were originally invented in Hungary in the mid-15th century where bakers got the idea to wrap thin strips of pastry dough around a conical spit and roast the dough over an open flame. Nowadays, that process is a bit easier to streamline, which means the folks at Sweet Chimneys can dedicate more time to topping their chimney cakes with chocolate, coconut and other sweet supplements.
801-577-1088, facebook.com/sweetchimneysutah
9. The Cuban at Empanada Express ($3.95)
A good Cubano sandwich hits all the right notes for me, and the folks at Empanada Express have perfectly distilled those notes into a smaller and cheaper package. It's got the melted cheese, the ham and the pickle, all of which have been balanced to perfection. It's also cheap enough to order a few of these at a time. There remain several great, cost-effective empanadas on the menu, but this is the one that I can't stop craving.
7178 Union Park Ave., Midvale, 801-998-8212
10 The Whole Menu at Mr. Charlie's Chicken Fingers ($1.25-$9.50)
Mr. Charlie's Chicken Fingers has found the one thing that they can do better than anyone else, and they've brought it to the suburbs. The chicken fingers here are tasty both fried and grilled, and they can be piled high on a sandwich or eaten individually. Mr. Charlie also is packing some mayo-based dipping sauce that is so spectacular that it might give Utah fry sauce a run for its money. The place is still fairly new, but it's maintaining a no-frills menu that tastes spectacular, so I see it sticking around for some time.
554 W. 4500 South, Murray, 801-803-9486, mrcharlieschickenfingers.com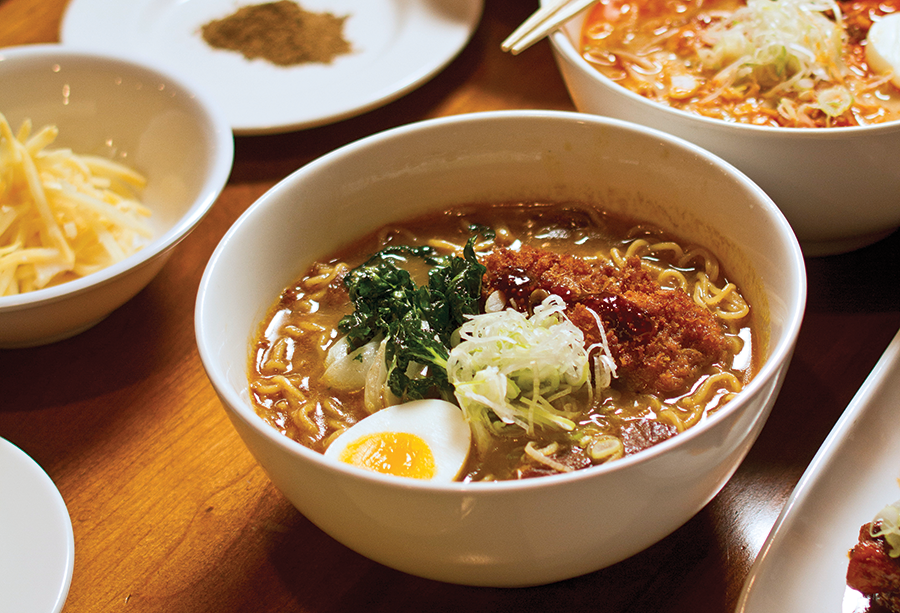 John Taylor
Tosh Ramen
Tasty Tour
Load-up your UTA card—these dishes are worth traveling for.
By Alex Springer
West Valley City
The westside has no shortage of Vietnamese pho joints and Mexican grills, which makes it a fun place to explore. The friendly competition among these restaurants has yielded an ecosystem of flavors so nuanced that eatery hopping for different takes on the same banh mi or carne asada is the best approach. At the moment, Hot Banh (2662 S. 5600 West, 801-964-6558, facebook.com/hotbanh) and Don Pollo Mexican Grill (3451 S. 5600 West, 385-557-2101, donpollogrillutah.com) are the most popular destinations for Vietnamese and Mexican food respectively, and luckily they're close enough to each other that you can try both during your lunch hour. If you're in the mood for something on the sweeter side, take a trip closer to the Maverik Center for some gourmet doughnuts at Donut Boy (2194 W. 3500 South, 385-528-0782,donutboyutah.com) or some rolled ice cream at Café Silvestre (3524 S. 2200 West, 801-972-5582, cafesilvestrerestaurants.com).
Holladay
The intersection of Murray Holladay Road and 2000 East is home to some local heavy hitters, and they're all on the same block. You've got Fav Bistro (1984 E. Murray Holladay Road, 801-676-9300, asooksri.com/about-fav-bistro), home to some fabulous Thai staples as well as the most unconventionally delicious brunch menus in town—kow tom, a soulful chicken and rice soup, and the Thai fried egg are just a few of the standouts. A quick jaunt to the east and you've got the Holladay location of Pig & a Jelly Jar (1968 E. Murray Holladay Road, 385-695-5148, pigandajellyjar.com), our local source for quality, Southern-inspired breakfast, lunch and dinner, and a hop across the street brings you to Tosh's Ramen (1963 E. Murray Holladay Road, 801-466-7000, toshramen.com). All three restaurants couldn't be more different in terms of menu, and the fact that they're all gathered so close to one another makes it difficult to pick a spot when you're checking out a movie at the Cottonwood Megaplex.
Provo
Despite its Happy Valley reputation, downtown Provo isn't a bad place to hang out. There's plenty of local music, and the food scene keeps on growing. Black Sheep Café (19 N. University Ave., 801-607-2485, blacksheepcafe.com) was the restaurant that first caught my eye down here—their high-end take on Navajo tacos and Southwestern cuisine is something truly special. Just up the street, contemporary American powerhouse Communal (102 N. University Ave., 801-373-8000, communalrestaurant.com) is one of Utah's local pioneers when it comes to the sustainable, farm-to-table movement that we're now enjoying more regularly. For something that lends itself more to a cheap bite before getting a taste of some Provo nightlife, check out Hruska's Kolaches (434 W. Center St., 801-623-3578, hruskaskolaches.com) for some delightful sweet and savory kolaches or Bumblebee's (1254 N. State, 801-607-2543, bumblebeesbbq.com) for some Korean-American fusion.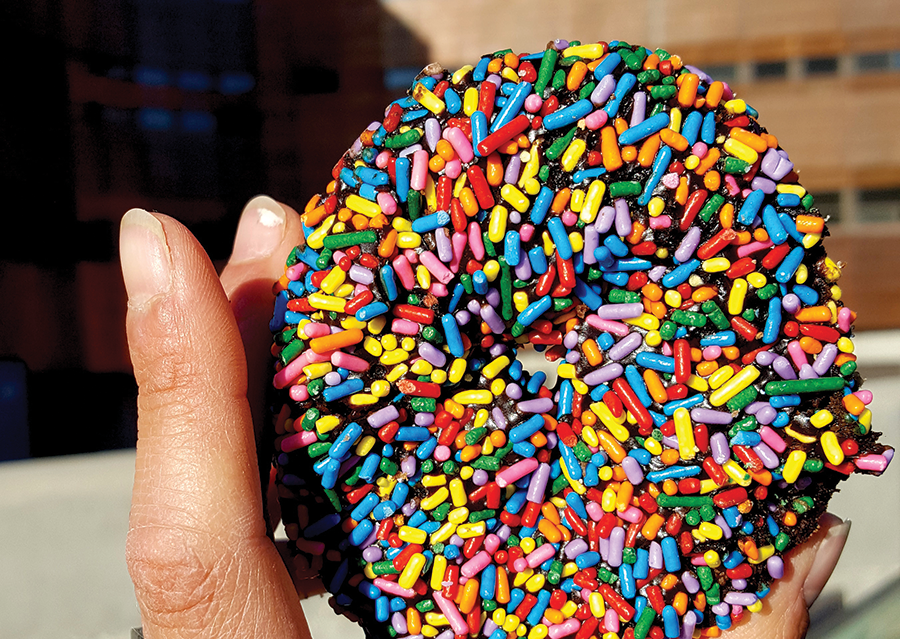 Misty Hansen
Banbury Cross
Holey Doughnut Empire
Behold the lords and ladies of Utah's doughnut scene.
By Alex Springer
Quick confession: Doughnuts never ranked very high on my list of baked goods. I'd never say no to a free doughnut, but I'd never wake up in the middle of the night with a craving for one, either. As two of my pop-cultural spirit animals—Homer Simpson and Dale Cooper—seem to enjoy these fried rings of pastry on a transcendental level, I decided to dedicate some serious time to doughnut studies. After plotting our course, my wife and daughter—wearing her "Donut worry, be happy" T-shirt, obvs—visited bakeries from Lehi to West Valley to learn from Utah's finest doughnut designers.
The Tycoons of Tradition
Banbury Cross (705 S. 700 East, 801-537-1433) has been making doughnuts for hungry Utahns for more than 30 years, and it's the foundation of local doughnut culture. They've perfected the crisp-to-chewy ratio—their doughnuts manage to retain a fluffy, but not too fluffy, inner texture which is contained by a paper-thin outer layer of crispness. Rumor around the newsroom has it that their maple bars have healing powers. For serious doughnut reflection, all roads lead to Banbury Cross.
Open Monday-Saturday, 5 a.m.-5 p.m.; Sunday, 6 a.m.-1 p.m.
The Pharaohs of Fritter
If you gave me a box of assorted doughnuts, I'd choose regular glazed over a fritter any day of the week. That was until I tried the apple fritter at Fresh Donut & Deli (2699 S. State, 801-467-8322). From bite one, my taste buds swelled with unanticipated depth of flavor—this monster tastes like it came from the ovens of a French boulangerie. There's a mouth-hugging flavor of slightly burnt caramel that comes from the many nooks and crannies within the fritter's landscape, and it's perfectly complemented by the baked apples inside. It's forever changed the way I think about fritters.
Monday-Saturday, 5 a.m.-5 p.m.
The Kaisers of Cake
There are cake doughnuts, and then there are Dunford Bakers cake doughnuts. It's not too difficult to find prepackaged pastries at grocery stores from this West Jordan bakery (8556 S. 2940 West, 801-304-0400), but they're best sampled fresh from the source itself. Their chocolate and white cake doughnuts are beautifully rich and dense, and typically come robed in a thick shell of icing. Somehow, Dunford Bakers has managed to create a perfect hybrid of doughnut, cake and brownie, making this an economical three-treats-in-one dessert that actually eats like three desserts.
Monday-Friday, 6 a.m.-6 p.m.; Saturday, 7 a.m.-3 p.m.
The Viscounts of Vegan
Utah is slowly becoming home to a wide variety of plant-based comfort foods, and Central Ninth's The Big O Doughnuts (248 W. 900 South, 385-770-7024) has vegan doughnut lovers covered. My go-to at Big O is their strawberry glazed—not only is it flaky and sweet, but the icing is filled with crumbled freeze-dried strawberries, which cuts through the sweetness with a katana of tart—a ka-tart-na, if you will. Their menu is huge, so expect to be a repeat visitor once they've got you hooked.
Wednesday-Friday, 7 a.m.-2 p.m.; Saturday-Sunday, 9 a.m.-3 p.m.; Friday-Saturday, 6 p.m.- midnight.
The Sovereigns of Shapes
Nestled in Lehi's cozy main street area, the Lehi Bakery (172 W. Main, 801-768-9544) took a look at round doughnuts and promptly said, "Nah, bro." Their trademark is the square doughnut, which proudly defies the status quo. Outside of their shape, the square doughnut's flavors remain traditional, but this one works a little bit better for sandwich purposes if you're so inclined. They also offer foot-shaped doughnuts with whipped cream toes, and buttermilk bars that look like miniature loaves of pound cake. With their flavors on point, Lehi Bakery remains a bastion for the structural rebels and outlaws of the doughnut scene.
Tuesday-Friday 7 a.m.-6:30 p.m.; Saturday, 7 a.m.-4 p.m.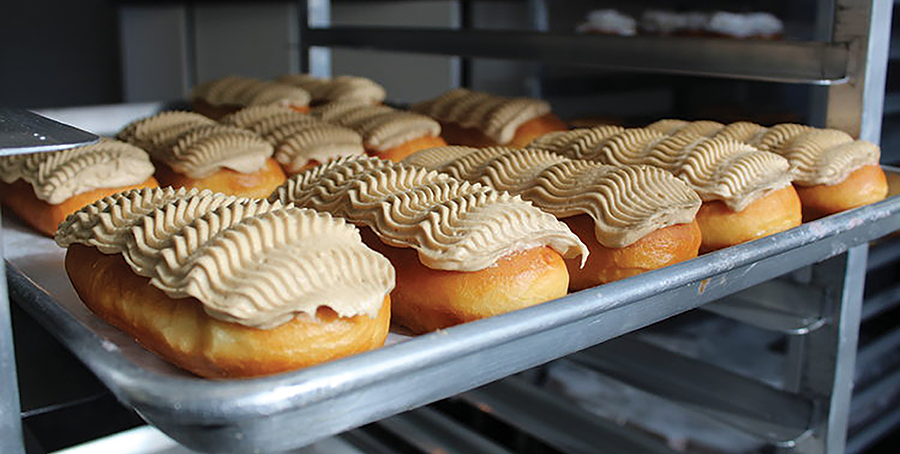 Courtsey
Doughnut Boy
The Imperators of Innovation
With the exception of Big O, the other monarchs on this list have had at least a few decades to perfect their craft. West Valley upstart Donut Boy (2194 W. 3500 South, 385-528-0782) has only been around for two years, but they're already making some serious waves in WVC. Their menu rotates regularly, but in my few visits, a pie-doughnut fusion appears to be a pronounced theme. Their interpretations of banana cream pie and apple pie are amazing, but they've reached the pinnacle of doughnut technology with their strawberry shortcake—a raised doughnut, filled with fresh strawberries and pastry cream, topped with strawberry icing, more berries and whipped cream. Here, worlds collide in the best possible way.
Monday-Saturday, 6 a.m.-1 p.m.; Sunday, 7 a.m.-1 p.m.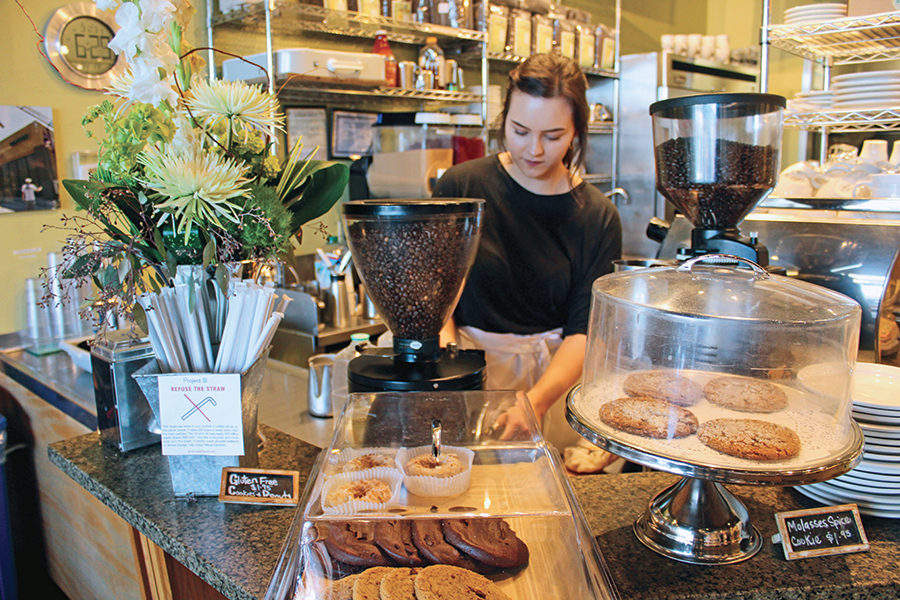 Caffeine Capital City
There's no good coffee in SLC, right? These 31 neighborhood cafés beg to differ.
By City Weekly Staff
Alchemy Coffee
Locally roasted, organic coffee call this Liberty Wells hub home.
390 E. 1700 South, 801-322-0735, alchemycoffee.com
Bad Ass Coffee
South Salt Lake's Kona coffee cathedral.
3530 S. State, 801-265-1182, badasscoffee.com
Beans & Brews
These high-altitude roasters have been a Salt Lake success story since 1993.
Multiple locations, beansandbrews.com
Bjorn's Brew
Good karma is served with every cup, and a part of your purchase goes to local animal charities.
2358 S. Foothill Drive, 801-915-6438; 2165 S. State, 801-935-4445, bjornsbrew.com
Blue Copper Coffee Room
"Diligently roasted" right here in SLC.
179 W. 900 South, 385-222-7046, bluecopperslc.com
Brew Monkey Coffee House
Home of the Caramel Monkeyato and the white mocha Monkey Jumble.
3441 S. 8400 West, Magna, 801-508-1086, brewmonkeycoffeehouse.com
Caffé Expresso
Salt Lake Valley's drive-thru coffee pioneers.
Multiple locations, caffeexpresso.com
Campos Coffee Roastery
The best thing out of Australia since Muriel's Wedding. Give their nitro cold-brew on tap a go.
228 S. Edison St., 801-953-1512; 1385 Lowell Ave., Park City, 435-731-8377, us.camposcoffee.com
Coffee Garden
The fact this magazine came out is credited largely to its downtown location.
878 E. 900 South, 801-355-3425; 254 S. Main, 801-364-0768, bit.ly/cofgard
Coffee Noir
Spring an extra 30 cents, and top your latte with some housemade coffee whipped cream, made with cold-brew concentrate.
1035 E. 200 South, 801-532-1888, coffeenoir.com
Higher Ground Coffee
Celebrating 10 years, this Millcreek coffee house adheres to the motto, "Don't be a dick."
2005 E. 3300 South, 801-485-5427, highergroundcoffeeshop.com
Jack Mormon Coffee
Roasting from a selection of more than 60 single-estate coffees from around the globe.
82 E St., 801-359-2979, jackmormoncoffee.com
Jitterbug Coffee Hop
Find Bug Juice and Milky Way espressos at this epitome of retro charm.
1855 S. 700 East, 801-487-8100, jitterbugcoffeehop.com
Kafeneio
Try the hazelnut Achilles' Triumph or the white-chocolate-drizzled Chimera Fire at this Greek-owned establishment.
258 W. 3300 South, 801-485-1282, kafeneiocoffee.com
Kings Peak Coffee Roasters
A ho never gets cold, and neither does Kings Peak's cardamom-and-cinnamon, brown-sugar-infused Cardi B latte.
412 S. 700 West, Ste. 140, 385-267-1890, kingspeakcoffeeroasters.com

La Barba Coffee
The American West's home for fine, fair-trade sourced beans.
Multiple locations,
labarbacoffee.com
Mestizo Coffee House
You haven't lived until you've tried this coffee shop/gallery's mocha and cayenne pepper Bowl of Sol.
631 W. North Temple, 801-596-0500, mestizocoffeehouse.com
Millcreek Coffee Roasters
A Millcreek original since 1992.
657 S. Main, 801-595-8646; SLC Airport Concourse C, 801-575-2802, millcreekcoffee.com
Moka
Along with great coffee, it plays host to the Marmalade Coffee and Chocolate Society's monthly meetings.
280 W. 500 North (inside Marmalade Library), 801-594-8680, mokaslc.com
Nostalgia Café
This hip shop subscribes to the slogan, "Delicate but potent."
248 E. 100 South, 801-532-5638, nostalgiacoffee.com
Pinned Coffee Co.
Be it from a flat white or a Red Bull frappe, a good buzz is guaranteed here.
3685 W. 5400 South, Taylorsville, 801-656-8563; 10428 S. Jordan Gateway, Ste. 99, South Jordan, 385-237-3838, pinnedcoffeeco.com
Publik Coffee Roasters
SLC's epitome of coffee cool.
Multiple locations, publikcoffee.com
Raw Bean Coffee House
Honest offerings made from locally roasted beans make this place a hit.
Multiple locations, rawbeancoffee.com
Red Moose Coffee Co.
House specialty Mint Moose mocha is sure to put a pep in your step.
1693 S. 900 East, 801-906-8864, redmooseroasting.com
Rise & Grind Coffee
This Midvale favorite delivers exactly what its name promises.
7301 S. 900 East, Ste. 18, 801-503-2009, risegrindcoffee.com
Salt Lake Roasting Co.
A true neighborhood coffee staple if there ever was one.
820 E. 400 South, 801-363-7572; 210 E. 400 South (inside Main Library), 801-363-7572, roasting.com
Sugar House Coffee
Give the Golden Graham latte a go; you won't regret it.
2011 S. 1100 East, 801-883-8867, sugarhousecoffee.com
The People's Coffee
Sip on a cortado here and watch your worries disappear.
221 E. 300 South, 801-906-8761, facebook.com/thepeoplescoffee
The Rose Establishment
Everything here tastes sweeter with a splash of housemade cashew milk.
235 S. 400 West, 801-208-5569, theroseestb.com
Three Pines Coffee
Your hunt for a decent matcha latte is over.
165 S. Main, 805-395-8907, threepinescoffee.com
Watchtower Café
This nerd-tastic spot is geek-tested, fanboy approved.
1588 S. State, 801-477-7671, watchtower-cafe.com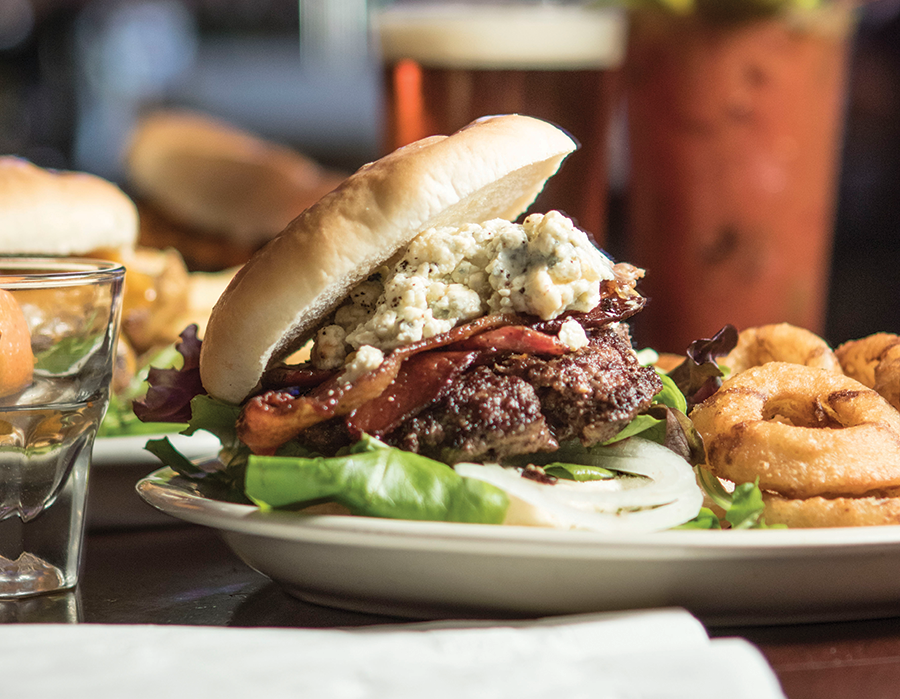 John Taylor
Lucky 13
Restaurant Directory
Essential Burgers
Apollo Burger
Try the Athenian, a quarter-pound flame-broiled monster layered with roasted red peppers, feta cheese and housemade tzatziki. Multiple locations, apolloburgers.com
Chedda Burger
The no-frills Dirt Bag and cheese-curd-and-pulled-pork-topped Harlot deliver on their "burgers with attitude" promise. Multiple locations, cheddawasted.com
Cotton Bottom Inn
Best. Garlic. Burgers. Around. 'Nuff said. 6200 S. Holladay Blvd., Holladay, 801-273-9830, cottonbottominn.com
Crown Burgers
Grub at this homegrown chain always satisfies. Go for the chili burger and throw in some cheese fries to boot. Multiple locations, crown-burgers.com
Fat Jack's Burger Emporium & Tap House
Their glorious name says it all. 206 S. West Temple, 801-890-5155, fatjacksut.com
Lucky 13
The blue cheese-loaded Bacon Stinky Cheeseburger, the PB-slathered Nut Burger—yep there's a reason why this is a Best of Utah perennial. 135 W. 1300 South, 801-487-4418, lucky13slc.com
Millie's Burgers
Come for the tasty burgers, stay for the more than 30 different sky-high shakes. 2092 S. 1000 East, 801-466-6043
Porcupine Pub & Grille
Try scarfing down a Big Cottonwood Burger in one sitting. We dare you. 3698 Fort Union Blvd., 801-942-5555; 258 S. 1300 East, 801-582-5555, porcupinepub.com
Proper Burger Co.
Even no-fruit-on-savory-food snobs agree their housemade ham-and-pineapple-enhanced Flyin' Hawaiian is a thing of beauty. 865 S. Main, 801-906-8604, properburgerslc.com
Vertical Diner
Think a non-beef patty is the stuff of sacrilege? The fine folks at Vertical Diner are eager to change your mind. 234 W. 900 South, 801-484-8378, verticaldiner.com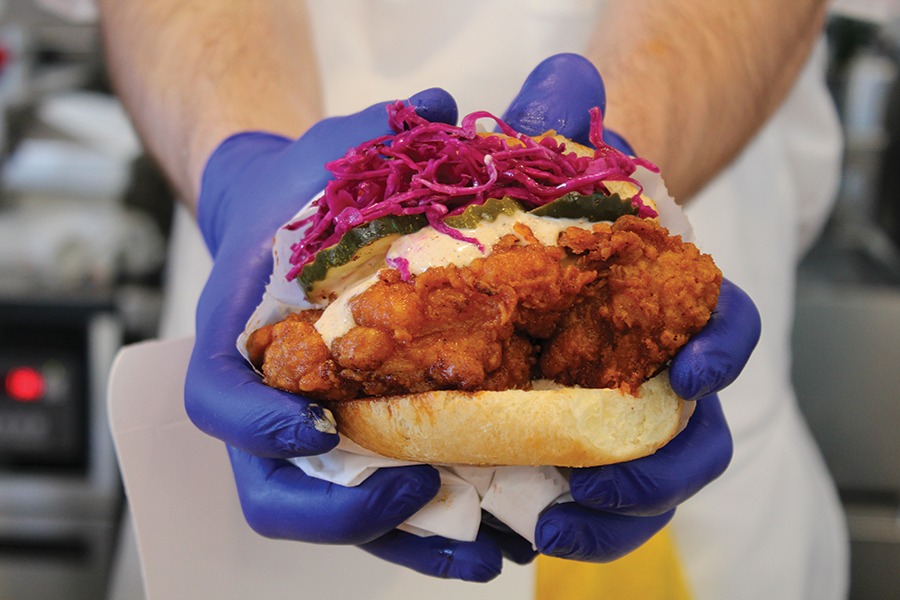 Enrique Limón
Pretty Bird
Essential Comfort
Ab's Drive-In
Retro charm and killer shakes have made this humble West Valley eatery a neighborhood staple since 1951. 4591 S. 5600 West, WVC, 801-968-2130, absdrivein.com
Cytybyrd Café
Treat yourself to a Monte Cristo, Reuben or grilled-cheese sandwich made from scratch. 450 S. 200 East, 801-535-6102, cytybyrd.com
Dee's Family Restaurant
A down-home menu and prime people-watching after the bars close make each visit to Dee's a unique experience. Multiple locations.
Italian Village
Lasagna, veal Parm, chicken cacciatore. Need we say more? 5370 S. 900 East, 801-266-4182
Penny Ann's Café
Although it might seem impossible, if you don't leave room for pie here, you're doing it all wrong. Multiple locations, pennyannscafe.com
Pig & a Jelly Jar
Pork belly Benedict, chicken and waffles, fries and gravy, fish 'n' chips ... the delectable list goes on and on. Multiple locations, pigandajellyjar.com
Pretty Bird
Downtown got a little bit spicier thanks to Chef Viet Pham's Nashville-style hot chicken emporium. 146 S. Regent St., prettybirdchicken.com
R&R BBQ
Daily specials like brisket tacos on Tuesdays and rib tips on Fridays will happily fill your calendar (and your belly). Multiple locations, randrbbq.com
Ruth's Diner
Restaurants don't get to boast a nearly 90-year legacy unless they're damned good; and Ruth's is. 4160 Emigration Canyon Road, 801-582-5807, ruthsdiner.com
Siegfried's Delicatessen
A smörgåsbord of unique dishes like deep-fried wiener schnitzel and finger-licking macaroni salad await you here. 20 W. 200 South, 801-355-3891, siegfriedsdelicatessen.com
John Taylor
The Copper Onion
Essential Date Night
Bodega
Set the date's tone at Bodega, and seal the deal with cocktails downstairs at The Rest. You're welcome. 331 S. Main, 801-532-4042, bodega331.com
The Copper Onion
Brave enough for a day-date? Their brunch menu loaded with items such as Turkish eggs is second to none. 111 E. 300 South, 801-355-3282, thecopperonion.com
Encore Bistro
Located inside the new George S. and Dolores Doré Eccles Theater, Encore redefines "dinner and a show." 131 S. Main, 801-509-7871, cuisineunlimited.com
Epic Casual Dining
Class it up with their ahi tuna, chicken marsala and sautéed pork medallion entrées. 707 Fort Union Blvd., 801-748-1300, epiccasualdining.com
Eva
Small plates like crispy polenta and sautéed Brussels sprouts that are huge on flavor, and an intimate setting make Eva a date-night must. 317 S. Main, 801-359-8447, evaslc.com
HSL
Locally sourced dishes from the hearth, the pantry and the plancha are sure to wow. 418 E. 200 South, 801-539-9999, hslrestaurant.com
Kimi's Chop & Oyster House
Nothing on the extensive seafood bar catch your eye? Give the chop house mac and cheese a go. 2155 S. Highland Drive, 801-946-2079, kimishouse.com
Tiburon Fine Dining
From seared scallops and Mediterranean mussels to braised kurobuta pork and New Zealand elk, this place is sure to impress. 8256 S. 700 East, Sandy, 801-255-1200, tiburonfinedining.com
Tin Angel
Uh ... it's won "Best First-Date Restaurant" in the Best of Utah readers' poll for a reason. 365 W. 400 South, 801-328-4155, tinangel.com
Veneto Ristorante Italiano
A stunning selection of northern-Italian dishes that are almost out done by the impressive wine list. Almost. 370 E. 900 South, 801-359-0708, venetoslc.com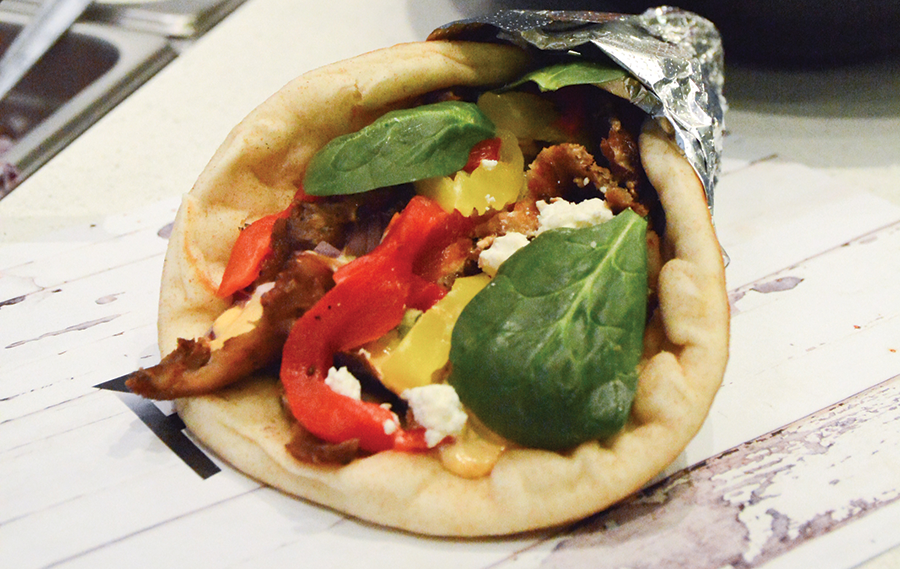 Josh Scheuerman
Padeli's
Essential Greek
Andy's Lounge
Head to Ogden for some of the best Greek selection this side of Thessaloniki. 501 N. Washington Blvd., Ogden, 801-782-9972
Aristo's Greek Restaurant
Fifty small-plate selections make for a truly unforgettable dining experience. 244 S. 1300 East, 801-581-0888, aristosslc.com
Greek Souvlaki
Founded by Lee and Mary Paulos, Greek Souvlaki has been serving up goods like lamb-and-beef gyros and bifteki since 1972. Multiple locations, greeksouvlaki.com
Jim's Family Restaurant
Dishes like Jim's Famous Marinated Pork and chicken souvlaki—along with a kid-friendly menu—shine bright here. Multiple locations, jimsfamilyrestaurant.com
Mad Greek
Try the chicken Parm gyro, tasty falafel salad or the perfectly portable dolmathes. You mad, αδερφέ? Multiple locations.
Manoli's
A hearty vegetarian meze loaded with items like yemista (smoked-feta-and-scallion-stuffed piquillo peppers) delight even non-meat eaters. 402 E. 900 South, 801-532-3760, manolison9th.com
The Other Place Restaurant
Breakfast classics get a Greek spin in dishes like gyro meat and eggs and the marinated pork and eggs. 469 E. 300 South, 801-521-6567
The Olympian Restaurant
The Zeus-sized four dishes in their Olympian Platter (Greek salad, two souvlaki skewers, three meatballs and three dolmathes) plus dessert are enough to feed a small army. 2181 S. 700 East, 801-487-1407
Padeli's Street Greek
Classic and authentic Greek meets Chipotle at this lively build-your-own-meal spot. 30 E. 300 South, 801-322-1111, padelisstreetgreek.com
Yanni's Greek Express
Nosh on any of their impressive staples, and make sure to leave room for some galaktoboureko. 2761 S. Highland Drive, 801-466-6525
Josh Scheuerman
Gracies
Essential Gastropubs
Bohemian Brewery & Grill
Wash down those roasted garlic bulbs or towering Bohemian club with any of their European-style craft-brew lagers. 94 E. Fort Union Blvd., Midvale, 801-566-5474, bohemianbrewery.com
Copper Common
The menu here changes regularly. Luckily, the top-notch service doesn't. 111 E. 300 South, 801-355-0543, coppercommon.com
Copper Creek Pub & Grub
A dozen beers on tap complement the varied and down-home menu. Copper Bomb hoagie, anyone? 3451 S. 5600 West, 801-417-0051, coppercreekpub.com
Garage On Beck
Head down Beck Street for some of the most amazing Mormon funeral potatoes. Try the fiery for a zippy kick in the pants. 1199 Beck St., 801-521-3904, garageonbeck.com
Gracie's
Sit at a table or pony up at the bar for signature dishes like the barbecue bison burger, Ballard Hog Farm pork chop or red-eye-gravy-smothered poutine. 326 S. West Temple, 801-819-7565, graciesslc.com
The Green Pig Pub
Whether you opt for some chile verde nachos, avocado rolls, potato sliders or a dozen killer chicken wings, you can't go wrong here. 31 E. 400 South, 801-532-7441, thegreenpigpub.com
Poplar Street Pub
Three sitting areas inside 6,000 square feet, plus a mouth-watering line of "championship series" burgers, get the job done. Did we mention the 30 beers? 242 S. 200 West, 801-532-2715, poplarstreetpub.com
Squatters Pub Brewery
Their Salt Lake City International Airport location is rumored to be the reason why so many tourists keep coming back for more. Multiple locations, squatters.com
Whiskey Street
Come here for new takes on old classics, like bourbon-bacon caramel popcorn, pork belly corndogs, hazelnut-dusted calamari and grilled shrimp BLT. 323 S. Main, 801-433-1371, whiskeystreet.com
White Horse
Serving everything from duck confit wings to shellfish that adheres to their "tide to table" philosophy. 325 S. Main, 801-363-0137, whitehorseslc.com
Arm Bruster Photography
Taqueria 27
Essential Mexican
Alamexo
Molcajetes, tortas and calabacitas all live at this chic-and-comfortable cantina. 268 S. State, 801-779-4747; 1059 E. 900 South, 801-658-5859, alamexo.com
Beto's Mexican Food
One taste of any of their combination plates (enchiladas, machaca, filete ranchero, etc.) and it's easy to see why this is a local favorite. Multiple locations.
Blue Iguana
All the staples, plus a killer margarita list, make this downtown eatery a Mexi-must. 165 S. West Temple, 801-533-8900; 255 Main, Park City, 435-649-3097, blueiguanarestaurant.net
Chile-Tepín
Between their parrilladas, alambres and carnitas selections, get ready for a truly authentic meal. 307 W. 200 South, 801-883-9255, facebook.com/chiletepin
La Oaxaqueña
Loaded tlayudas, mole negro and nopal Zapoteco bring a true taste of Oaxaca to your taste buds. 493 E. 2700 South, 801-484-6584
Red Iguana
Get ready for a wait during peak hours. Your patience will be rewarded with sensational moles, finger-licking chile Colorado and cochinita pibíl. Multiple locations, rediguana.com
Salsa Leedos Mexican Grill
Fine Mexican in the heart of Riverton. Pick your top favorites and create your own two- or three-item combo. 13298 S. Market Center Drive, Riverton, 801-565-8818, salsaleedos.net
Tacos El Toro
Forever known as Sears tacos; one bite of their street tacos, burritos or quesadillas, and it's easy to see why folks gather at this mighty roadside cart. 800 S. State
Taco Taco
Come for the luchador vs. Donald Trump stickers, stay for the rockin' chicken mole burrito. 208 E. 500 South, 801-428-2704, tacotacoslc.com
Taquería 27
Standards get new life with offerings like a duck confit quesadilla, the jícama-topped Cobb salad and grilled-pear and roasted-beet tacos. Multiple locations, taqueria27.com
Josh Scheuerman
Laziz
Essential Middle-Eastern + Indian
Cedars of Lebanon
For more than three decades, Cedars has served up exceptional fattoush, muhammara, kibbeh and more. 152 E. 200 South, 801-364-4096, cedarsoflebanonrestaurant.com
Curry Fried Chicken
Their CFC plate puts the Colonel's to shame. 660 S. State, 801-924-9188
Curry 'n' Kabobs
You'll find this Afghan and Indian gem tucked behind the Market on Main. 268 S. Main, 801-363-0300
Himalayan Kitchen
Nepali cuisine elevated. 360 S. State, 801-328-2077, himalayankitchen.com
Laziz Kitchen
Your destination for kafta, shish tawook and solid mana'oushe sandwiches. 912 S. Jefferson St., 801-441-1228, laziz-foods.com
Mazza Middle Eastern Cuisine
While the food is extraordinary, house cocktails like the refreshingly sweet Desert Rose and the Whiskey White, garnished with cardamom pods, steal the show. 1515 S. 1500 East, 801-484-9259; 912 E. 900 South, 801-521-4572, mazzacafe.com
O'Falafel Middle Eastern Cuisine
Soups, salads, sandwiches, pita quiches—this place has all the delicious bases covered. 790 E. 2100 South, 801-487-7747, ofalafeletc.com
Shahrazad Restaurant
Longing to prep some of their foods almost as good as the pros do? Check out their adjoining market, which carries locally sourced produce and rare spices. 1615 W. 2100, 801-975-9977, shahrazadrestaurantslc.com
Shawarma King
Shawarma, kebabs, falafel and hummus all wrapped up in an inviting setting. 725 E. 3300 South, 801-803-9434; 2223 S. Highland Drive, 385-415-2100, slcshawarmaking.com
Star of India
A shiny beacon for lamb and goat curries or those of the vegetarian kind.
1659 W. North Temple, 801-363-7555, starofindiaonline.com
John Taylor
Settebello
Essential Pizza
Big Daddy's Pizza
Offering all-night delivery, Big D's is the place to call to fill those late-night hunger pangs. Multiple locations, bigdaddyspizza.com
Este Pizzeria
Create your own New York-style pizza—thin-crust with a crisp edge and pliable inside—or try one of their daily specials. Gluten-free crust also is available. Multiple locations, estepizzaco.com
Litza's Pizza
A local staple since 1965, all dough, sauce, garlic butter and salad dressings are made from scratch here. Multiple locations, litzaspizza.com
Mellow Mushroom
MM uses Appalachian spring water for their crust and high-quality ingredients to create a distinct and flavorful pie. 1080 E. 2100 South, 801-844-1444, mellowmushroom.com
Pie Hole
Thin-crust pizza here is cheap, sold by the slice and damned good. Don't miss out on their SLC-famous potato bacon option. 344 S. State, 801-359-4653, pieholeutah.com
The Pie Pizzeria
Wherever you land on the vegan-to-carnivore spectrum, your pizza cravings will be satisfied with The Pie's all-inclusive topping options. Multiple locations, thepie.com
Rusted Sun Pizzeria
People flock to the ovens to get the Mediterranean—a Rusted Sun fan-favorite—dished up with tangy marinara, fresh mozzarella, salami, artichoke hearts, green olives and a taste of feta cheese. 2010 S. State, 801-483-2120
Settebello Pizzeria Napoletana
Take a trip around the world at this authentically Neapolitan-inspired pizzeria that boasts prosciutto from Parma, cheese from Modena and salumi from Seattle. 260 S. 200 West, 801-322-3556, settebello.net
Sicilia Pizza & Kitchen
Bite into the Meat Amori, which is capped with pepperoni, fresh Italian sausage, seasoned beef and ham. 35 W. 300 South, 801-961-7077, siciliapizza.net
Wild Pepper Pizza
Want more bang for your buck? Wild Pepper promises their pies are two inches larger than their competitors. 777 S. State, 801-220-0777, wildpepperpizza.com
John Taylor
Chabaar
Essential World
Chabaar Beyond Thai
True Thai flavors, along with excellent cooking classes. Check out their website for a full schedule. 87 W. 7200 South, 801-566-5100, amystakeonthai.com
Cucina Toscana
Home of fresh fish, perfect pasta and terrific tiramisu. 282 S. 300 West, 801-328-3463, toscanaslc.com
Curry in a Hurry
Service might be fast here, but the mindfulness and time members of the Nisar family took to perfect their recipes is evident in every bite. 2020 S. State, 801-467-4137, ilovecurryinahurry.com
El Viroleno
At just around two bucks a pop, treat yourself to every pupusa on the menu. 471 W. 800 South, 801-595-7021
Feldman's Deli
A superb delicatessen offering mile-high sandwiches and Old World specialties. 2005 E. 2700 South, 801-906-0369, feldmansdeli.com
Mandarin
Kids eat free, and the whole family can enjoy succulent dishes and jazzy drinks like the plum wine spritzer. 348 E. 900 North, Bountiful, 801-298-2406, mandarinutah.com
Mom's Kitchen
Traditional Taiwanese and Chinese dishes prepared with love. 2233 S. State, 801-486-0092, momskitchenrestaurantsaltlakecity.com
Oh Mai
SLC's best bánh mì, hands down. Multiple locations, ohmaisandwich.com
Ruby's Peruvian Taste
A taste of the Andes delivered straight to the Wasatch Front. 970 E. 3300 South, 801-899-7507
WB's
Latin and European dishes can be found at this new Ogden hotspot. 455 25th St., Ogden, themonarchogden.com
Yoshi's Japanese Grill
Asian-inspired fare that's been making loyal patrons flock to Murray for more than 15 years. 5692 S. 900 East, Murray, 801-713-9423, japanesegrill.com