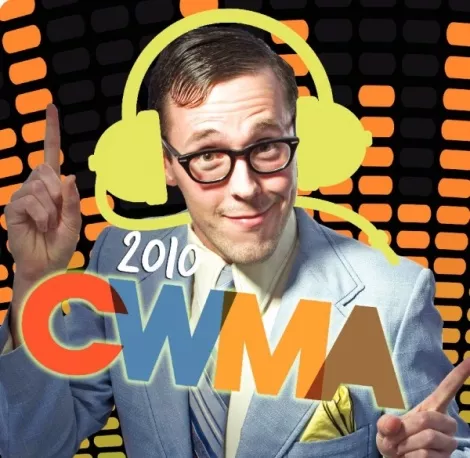 The results are in. Local bands who vied for recognition in the City Weekly Music Awards competition have played their guts out.
The 2010 CWMA showcases started with 30 acts nominated by a committee of Utah music movers/shakers/tastemakers. Their nominees yielded some amazing displays of sonic glory before three bands claimed the title of "creme de la creme" — selected by readers, who voted on old-fashioned paper at the clubs, by text message and online.
This year's top vote-getters are, in order, Paul Jacobsen & Madison Arm, Michael Gross & The Statuettes, and Bird Eater and The Naked Eyes (who tied for third). Don´t miss the Feb. 20 closing party featuring headliner The Helio Sequence and the finalists (except Michael Gross, who are unable to play), where you can cast your vote for the No. 1 CWMA performer.
Get free tickets to the CWMA closing party

In addition to showcase winners voted on by readers (highlighted in the Feb. 11 issue), the CW staff has selected its own picks of people, places and things that make the local music scene complete. We wrote about them on the following pages. (Let us know yours at by commenting below)
Contributors: Jamie Gadette, Trevor Hale, Randy Harward, Jon Paxton, Gavin Sheehan, Brian Staker and Jacob Stringer.
PSYCH WITH SOUL
Who would have guessed a psychedelic-rock quintet out of Ogden would become one of Utah's best acts in 2009? Fox Van Cleef's debut EP, Cigarettes, Terrorism, Etc., blew up on radio with the single "Lies," winning over fans and critics alike. Of course, it didn't hurt that they gave away the material for free. They're definitely in this business to entertain rather than simply cash in. How refreshing! (Gavin Sheehan)
IT TAKES FIVER TO TANGO
For the past year or so, Quinteto Noir—"Not always a quintet, not always dark, always something surprising"—has been serenading gallery strollers at the Michael Berry Gallery. Founded as a collective to provide live music for the Wasatch Tango Club, Quinteto Noir has morphed into something far more dynamic. Consisting primarily of five musicians—Anne DeLong, Beatrice Upenicks, Sandy Meeks, Tom Goodwin and leader Brian Salisbury—the group uses Gallery Stroll nights for open-ended experimentation, always with a pure, raw intensity that will keep you yearning for the next third Friday. Michael Berry Gallery, 163 E. Broadway, 801-521-0243 (Jacob Stringer)
SET THE BAR & CLEAR IT
North Platte Records often comes up in relation to its roster's biggest name, Joshua James, whose recent achievements include several dates opening for Ben Harper. James started the label with co-owner McKay Stevens, who released material by his band, The Vibrant Sound, on North Platte to rave reviews, as well as James' highly anticipated follow-up Build Me This, which got national indie attention. With Desert Noises' heavy U.S. touring and Issac "RuRu" Russell signing to Capitol, North Platte's achievements mark the first time in a long time a Utah label has made such a swift, mainstream impact. (Gavin Sheehan)
UTAH UNPLUGGED
By day, Andrew Shaw serves as assistant manager of community affairs for Salt Lake City´s Main Library. By night—OK, weekend days, too—he's an active local musician, playing in Calico and performing solo as The Platte. It makes sense that he'd merge his two interests with Music @ Main, a free concert series at the library that champions musical intimacy—Salt Lake City's own version of "MTV Unplugged." Every third Wednesday of the month, musicians sit down to discuss their works and perform an acoustic set for an open audience, giving fans an opportunity to see another side of their favorite local artists. (Gavin Sheehan)
NORTHERN EXPOSURE
A haven for music in one of the most unlikely spots, Farmington's Collective Loft is a must-visit venue for bands up north. While maintaining its focus as an open gallery for local artists, the talented individuals who run the space have opened it up to acoustic performances and impromptu gatherings, as well as made it home to two clothing lines—not too shabby for an upstairs room in the heart of Lagoon territory. (Gavin Sheehan)
LONE STAR
After years spent playing in and touring with numerous Salt Lake City hardcore bands, including Day Two and Gaza, Matt Nanes branched out on his own with Swans of Never. He enlisted the help of fellow musicians to make his self-titled EP sound fuller, but the emphasis remains on his solo performance. Expect an acoustic follow-up with major heart to hit streets later this year. Nanes is just hitting his stride. MySpace.com/SwansofNever (Trevor Hale)
THE NORTHERN SHIFT
With DIY venues in Salt Lake City becoming few and far between, someone was bound to pick up the slack eventually. Jason Allen jumped at the chance and launched The Basement, an allages spot in downtown Ogden. Hosting shows of all kinds, from metal to indie to straight up rock, The Basement has become the place for DIY touring bands to continue charging DIY prices. It's also the perfect place for locals to cut their teeth en route to the big time. It has the potential to be this generation's Kilby Court of the north. TheBasementMusic.com (Trevor Hale)
ROTTEN IS AS ROTTEN DUZ
Rotten Musicians had a banner year in 2009, with a phenomenal sophomore album, Say You Love Her (MySpace.com/RottenMusicians) and a killer video for " 20 Broadsword" that led to a soundtrack inclusion in a LARP (live action roleplaying game) documentary. They also composed the Wasatch Roller Derby theme song, all while showing endless hustle and creativity in their respective other projects, ensuring we'll enjoy a bounteous hip-hop feast in 2010. On the menu so far are two EPs available on one vinyl LP from Numbs, and a solo joint from Mark Dago featuring fellow Rotten member Fisch. (Randy Harward)
2009 WINNERS NEON TREES
We like to think we had a little something to do with Neon Trees' steady ascent to stardom. Provo's electro-indie rockers took top honors at last year's City Weekly Music Awards and subsequently pursued major-label success—their full-length Mercury/Island Def Jam debut hits streets March 16 and first single "Animal" is already heating up national airwaves. Neon Trees are becoming "a pretty big deal," with plans to play Jimmy Kimmel Live! on March 23, followed by an opening slot on an upcoming Mute Math/30 Seconds to Mars tour. But these hot young things haven't neglected their roots. They remain fierce champions of Utah's arts and music community, supporting it at every turn. Says bassist Branden Campbell, "We never stopped claiming Provo as our roots." (Jamie Gadette)
BISHOPS OF CHAOS
It's not as though Utah lacks black metal the same way we lack Dunkin' Donuts franchises. This blasphemous, portentous, tri-tonal music has lurked on our dark yet smooth underbelly for years. Its most visible presence was Ibex Throne, which achieved a modicum of notice between 1997 and 2007 before splintering into different groups. One more recent standout is Yaotl Mictlan, a band that incorporates Aztec mythology and traditional instrumentation into their tunes and add a righteous anger at the theft of their homeland, Aztlán, to their beef with Jesus. They just signed to Candlelight Records (Opeth, Zyklon, Gorgoroth). Another offshoot, Gravecode Nebula, explores the deeper caverns of black doom metal by applying the slow sludge of doom to the same Christianbaiting themes. And don't forget The Pagan Dead's psychobilly variation. So maybe we don't have a full-on, death-masked group of churchburners here in SLC, but there's a burgeoning, surprisingly diverse scene. Now all we need is a Mormon black-metal band to go with the so-called Christian ones. Deseret Atrophy, anyone? Hell Cumorah? Morinicus? Orson Scat Carved? (Randy Harward)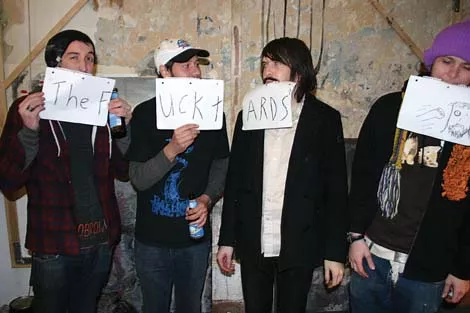 YOU CAN`T SAY THAT ON TELEVISION
Action-sports cable channel Fuel TV came to Utah in 2009 to profile local snowboarder Laura Hadar. The resulting segment features a performance by local punks, The Fucktards. Front man Mike Brown said this about the Fuel TV experience: "They kept acting like The Fucktards were doing them a huge favor. So, if getting blackout-wasted on national TV is a favor, well then, I wouldn't mind doing more favors for people." Check out the blackout at Fuel.tv/Firsthand (Jon Paxton)
JOCKO PROMO
Ya gotta wonder why SLC sometimes gets overlooked by touring bands. Did our strange liquor laws keep them at bay? Turns out it isn´t always because of our conservative repute—mainly, it concerns logistics. Bands generally trace the borders and coasts of the country, ducking into Denver or flying up to Phoenix when it makes sense. Utah is a nearly eight-hour detour from the Mile High City—which could entail skipping the verdant Pacific Northwest markets. At the time, local concert promotion consisted of a few big dogs, individual club bookers, and the efforts of upstart independents. Those indie guys, along with some new blood— Will Sartain, Ginger Kid, The Kollective, Postfontaine, etc.—have stepped up, bringing more and better shows to town while giving local bands a leg up with opening slots. Keep it up, y'all. (Randy Harward)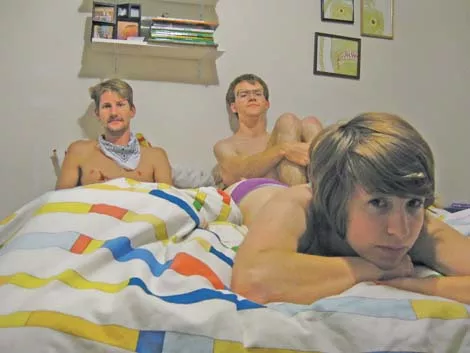 TWEE LAKE CITY
If you asked Lydia Worden, lead singer of the twee-pop trio Sleepover, what the band sounds like, she might answer "1993"—and she would be right. The early ´90s marked the height of the cuddly-cute twee movement here in the states, complete with jangling guitars, overt references to ´60s pop and fey, childlike lyrics. Worden and bandmates Stephen Walter and Braden McKenna openheartedly embrace the twee, and so can you, now that they have just released their self-titled debut album, free for download, via Magic Goat (MagicGoatMusic.com). (Jacob Stringer)
NO JOKE
When Sen. Orrin Hatch released a Hanukkah song in December, his involvement provoked attention far and wide—including from The Tonight Show with Conan O'Brien (RIP), which responded with a Mormon jingle. Though Hatch´s tune sparked parodies and jokes, the senator maintains his status as a serious songwriter in the LDS Church community, noting that, "As a Mormon, I have always been a supporter of … the Jewish community." (Jon Paxton)
SOMEWHERE, OUT THERE
Wayne County has long been a haven for lovers of southern Utah scenery, but folk artist David Williams—who splits his time between Torrey and Salt Lake City—along with compadres in Band of Annuals and Black Hens, has, in recent years, brought in live acts to complement the region's gorgeous red rock. Noteworthy touring acts who've headlined the Rim Rock Patio include Magnolia Electric Co., Laura Gibson, Wye Oak, David Dondero and Blitzen Trapper. Keep your summer schedule open for a road trip down south. (Brian Staker)
THE ULTIMATE TRIBUTE
Thirty years ago, Victims Willing singer Brad Barker recruited Terrance D.H., Joe Jewkes and Barker's brother Brent to start one of Salt Lake City's original punk outfits, alongside Bad Yodelers and the Massacre Guys. When Brent died in 2008 following a routine medical procedure, Brad "thought about what was important" and reformed the band last year. After a few rehearsals, the group returned to the stage as though the intervening decades of bad music, fashion and politics never happened. (Brian Staker)
HOW LEWD!
Before it shut its doors, Brad Collins' underground music store was known all over the country during the '80s and '90s as one of the best places to score bona fide punk-rock platters, tapes and CDs. Originally located under downtown Salt Lake City's 400 South viaduct, Raunch Records drew kids from the suburbs who wanted to find out what music was cool, in addition to listening to Collins' KRCL show, Behind the Zion Curtain. After relocating to Sugar House, the store closed in 1998, but partly due to a movement of support on Facebook, Collins reopened Raunch at 1119 E. 2100 South on Black Friday 2009. (Brian Staker)
LONGER LIFELINE THAN THAT VAMPIRE FRANCHISE
Calm down—you know all those vicious rumors about the Twilight Concert Series meeting a grisly, premature end? So false. Yes, downtown Salt Lake City's biggest weekly music festival will not take place in its longstanding home at the Gallivan Center, which is scheduled to undergo some major renovations this spring. But fans who raved about 2009 headliners Bon Iver, M. Ward, Sonic Youth (left) and others can rest easy knowing that founder Casey Jarman says, "Twilight will happen [in 2010]. It will just be in a different form than it has been in past years." Stay tuned. And in the meantime, toast Jarman and the SLC Arts Council for making this town a cooler place to live. (Jon Paxton)
AB IN C
On Nov. 13, a group of local musicians—including members of Tolchock Trio and The Rubes—set up a makeshift stage at Captain Captain Studios for an uberbohemian, after-midnight performance of Terry Riley's "In C," using laptops (and a kegdrum kit) and a stunning visual component to reinterpret the modern American composer's symphony. Cast in shifting lights that bathed the show in mystery, their version of Riley's classical suite caused shivers—and maybe busted a few eardrums. SLC Electric Ensemble later delivered an encore performance at the University of Utah's Libby Gardner Concert Hall and again at the Tower Theatre. These talented chaps plan to record their version of "In C," which they plan to play once more at a release show, TBA. They're also working on new material including wicked-cool sound installations. (Jamie Gadette)
HEY, IT WORKED FOR GLEN HANSARD...
Utah's Bramble took their love of guerrilla-style street performance to the 2010 Sundance Film Festival, where they encountered both awe and skepticism on snow-covered Main Street. "All the folks from Los Angeles (which is nearly everyone) think we're crazy. And we are. It's been adventurous, to say the least, which is perfectly in accordance with the spirit of the band." The local folk-punk rockers are trying to drum up some excitement for their EP, H.A.G.S. (Have a Great Summer), much of which they wrote on a carefree bike tour last summer and recorded back in Salt Lake City with Jeff Adams at Archive Studios. Their gonzo spirit remains intact on the album, but nothing beats seeing them while shopping for fruit at the Farmers Market. (Jamie Gadette)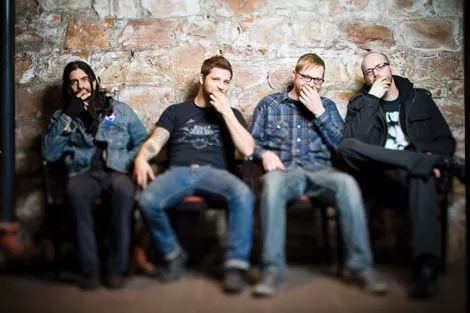 CWMA FINALIST BIRD EATER
Bird Eater might share three-fifths of their lineup with Gaza, but Jon Parkin, the towering lead singer for both acts, says the distinction between each outfit is clear: Gaza create in-your-face punk rock fueled by serious political and social ideologies. Bird Eater produce straightforward death metal rooted in classic country murder-ballad mythology. "You put on your cowboy hat for one and anarchy shirt for the other," he says. Gaza are also committed road warriors, while Bird Eater are largely a studio project, though recent demos sparked interest from several labels and, with the right support, they might consider touring. Until then, Bird Eater plan to use their brutal, unforgiving sound ("the voice of the desert in its harshness") to make the world a better place. Last month, they raised $1,800 at a No More Homeless Pets benefit and hope to generate similar funds at a March 27 Humane Society of Utah charity gig. Make no mistake—these guys are loud and a bit terrifying, but their hearts are pretty huge, too. (Jamie Gadette)
TASTY LICKS
Local restaurants have increasingly been teaming up with local musicians to enhance the dining experience. Thanks to their love of both worlds, David Williams can often be found serenading customers at Eva as well as Tin Angel, which hosts live acts Thursdays through Saturdays; Vertical Diner invites bands to literally sing for their supper on the patio (weather permitting) and Caffe Niche frequently showcases Red Rock Hot Club, John Henry and Joshua Payne Orchestra, who started a weekly Thursday residency in February. The Salt Lake City collective played several renegade midnight street shows over the summer, treating night owls to unique, avant-garde sounds. Utah's "big band from outer space" is just the latest addition to a satisfying trend. (Jamie Gadette)
IT`S NOTEWORTHY. NO, SERIOUSLY-THAT`S THEIR NAME
NBC jumped on the Glee-inspired train recently with its a cappela competition The Sing-Off, which featured local all-female group Noteworthy racing to win $100,000 in December 2009. Unfortunately, the group from Brigham Young University did not win, but sang to rave reviews regardless. Panel member Ben Folds even gave them props, saying they had "loads of charisma ... loads of energy." NoteworthyLadies.com (Jon Paxton)
PUMP UP THE GAM
Not only has the GAM Foundation— initially developed to increase the awareness, appreciation and popularity of jazz in our community—produced several hundred concerts with its Jazz at the Sheraton series (including Ahmad Jamal, Brad Mehldau, Dave Brubeck … the list goes on and on), its organizers have also contributed more than $1 million to music departments through GAM's jazz education outreach program. The true cherry on top is watching local audiences enjoying access to jazz the way it's meant to be experienced—live, high-energy and sonically brilliant. JazzSLC.com (Jacob Stringer)
CWMA FINALIST PAUL JACOBSEN & MADISON ARM
Paul Jacobsen might believe, "I am the weak link in the Madison Arm," but without him, the group wouldn't exist—neither would their songs, which the local folk/Americana artist writes and brings to very infrequent practice sessions. Perhaps more accurately, "It doesn't hurt to have one of my favorite songwriters (Ryan Tanner) in the band. If you think Jason Isbell didn't make Patterson Hood work harder, you're wrong. Or you need to go buy a Drive-By Truckers record." Jacobsen and the Madison Arm plan to release an EP later this year ("some old songs revisited, some new songs, a few covers"), contribute to albums by Sarah Sample and Dustin Christensen, release a collection of old hymns covered by new artists, and work on Atherton's long-awaited follow-up to Skyline Motel. Jacobsen also plans to hit the road on regional solo tours and participate in songwriting competitions, which, as he jokes, "are the road to lucre." (Jamie Gadette)
SMELLS LIKE TEAM SPIRIT
The Salt Lake Alternative Jazz Orchestra (SLAJO) is a bit of a Utah institution. After six years of playing what they deem to be future jazz big band, including riotous renditions of jazz standards mixed with jazz takes on modern pop tunes—like Radiohead or Nirvana—this (relatively) young, 14-piece orchestra is comfortable playing both main stages at jazz festivals and in dank, subterranean, local clubs. SLAJO.com (Jacob Stringer)
SPONTENEOUS CARNAVAL COMBUSTION
Since launching in 1990, Samba Gringa Brazilian Rhythm & Dance has grown into a full-fledged school, community-arts staple and club phenomena. As the official band of the 2009 MLS Champions Real Salt Lake, Samba Gringa energizes each and every home game with their incessant, heart-thumping rhythms. But the real fun begins when these musicians and dancers migrate indoors, igniting a contagious carnaval environment in clubs citywide. There's no escaping the fun once the drum-corps starts in, the crowd starts gyrating and the feather dancers make their inevitable appearance. If you're lucky, there may even be fire. SambaGringa.org (Jacob Stringer)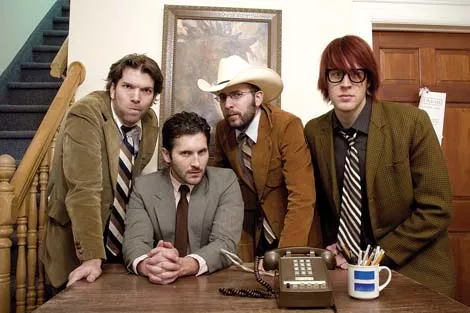 CWMA FINALIST MICHAEL GROSS & THE STATUETTES
Congratulations to Michael Gross & the Statuettes for making it to the top 3. Unfortunately, these humble pop-rockers didn't think they'd get this far and booked an out-of-town show for the night of the CWMA closing party. For those who've never experienced the band live, be sure to catch them on the flip side. Their sound, as Gross describes, "is not flashy, and it´s not rocket science, but it's honest." It's also incredibly catchy. Their latest release, Impulse & Exports, is six tracks of surging, straightforward pop with a glistening electronic edge pulsing beneath crystal-clear vocals. The group plans to write and record new tunes in the coming year, play as many shows as possible and, perhaps, start accepting the fact that they're good enough—and gosh darn it, people like them. (Jamie Gadette)

GETTING SOMETHING FOR NOTHING
Jonathan Meiburg from the band Shearwater is quoted as saying, "One of our very favorite shows of 2008 was our Slowtrain in-store. We drove straight from San Francisco, pulled up to the back of the store, dragged our entire setup inside and played our new album, Rook, start-to-finish—and they let us get away with it." What he didn't understand was that it was us, the locals, who felt like we got away with something. Leave it to Slowtrain to get touring acts like Shearwater, Northfolk & Western, Callow and Girls to play free, all-ages shows whose impact lasts long after the tour van pulls away. 221 E. Broadway, 801-364-2611 SlowtrainMusic.com (Jacob Stringer)
SCRATCH BACK
Chase Loter, aka DJ Chase 1-2 (winner of the 2010 CWMA DJ of the Year) and Craig Te'o took a struggling record store and turned business around to become Fourth Street Music, a hub for DJs and local hip-hop heads popular for its impressive vinyl selection. The duo recently packed up and merged with local hip-hop store Uprok at a new location (342 S. State), formally taking over the music end of the partnership. Still firmly behind the turntables, they continue their efforts to promote local music. (Gavin Sheehan)
SALVATION IN THE SUBURBS
Liquid Joe's seems to wax and wane in and out of locals' consciousness. There are periods where both national and international touring acts regularly make appearances, but for now the Salt Lake City mainstay seems to be enjoying a stint as the place to catch local tribute faves Metal Gods and Spazmatics. Organizers recently started hosting two local weekly showcases, giving each band 50 tickets to hand out to friends and family, ensuring a great appreciative house for every show. Downtown residents, what more incentive do you need to head to the ´burbs? 1249 E. 3300 South, 801- 467-JOES, LiquidJoes.net (Jacob Stringer)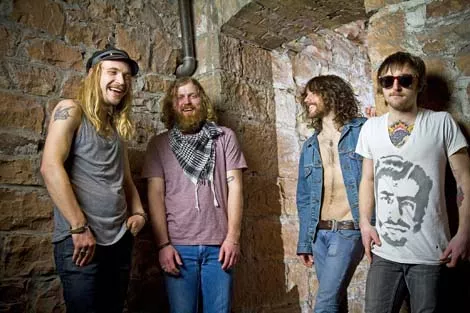 CWMA FINALIST THE NAKED EYES
The Naked Eyes have pretty hair— lush, flowing locks like those of Jimmy Page or Eric Clapton circa Cream. Their physical attributes are only partially responsible for the crowd of attractive young ladies who groove in the front row at each Naked Eyes show. Mostly, the Ogden boys' appeal stems from the hypnotic storm of swirling psychedelic rock they generate seemingly without breaking a sweat. Perhaps their audience is also turned on to The Naked Eyes' crafting abilities. Each copy of the band's Spell Talk comes cloaked in a hand-woven jacket with painted-on text. The future is bright, and these guys have the coolest shades.