From the simmering sonic soup of local music, and out of the reverb, smoke, fist-pumps and glitter, emerges … The Chosen One.
In the beginning, area music scenesters and critics nominated nearly 100 bands who accomplished something exceptional in the past calendar year, and through Tetris-like booking and planning, the 24 bands in this issue were chosen. This year's crop, we believe, is a representational blend of all that makes Utah's music scene worth talking about.
Fans voted online and at showcases for their favorite act. For brevity's sake, we did away with the final showdown of the top three vote-getters. After eight live-music showcases over two weekends, the 2012 City Weekly Music Awards ended with one victor, Max Pain & the Groovies.
But, also, the CWMAs is about recognizing all of the best original Utah bands and giving readers a series of showcases where they can see and hear those artists do their thing. And this year was a damned fine year, indeed.
Contributors: Austen Diamond, Spencer Flanagan, Randy Harward, Jeanette D. Moses, Dan Nailen, Gavin Sheehan, Jordan Wallis
Photos: Dom Darling, Meredith Newsome, Sam Scholes, Dannielle Stout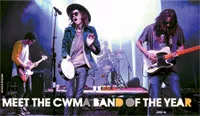 Max Pain & the Groovies
By Austen Diamond
A broken chandelier, a flame-blackened carpet and hangovers of epic proportions were the wake that Max Pain & the Groovies left behind after their first concert, a house-party show on New Year's Eve 2009—an outcome that could have been seen as an indicator that this jangly rock & roll band had traction or, at least, had a rowdy group of friends. Both are true.
Fast forward two years: It was the perfect cocktail of the many Max Pain supporters who voted online and also came to the City Weekly Music Awards showcase at The Complex on Feb. 12 that secured this five-piece as the Band of the Year.
Mainly, they'd say, it was the showcase. "It was the fucking show of our lives—a real rock & roll experience—with, like, a light show that was synced up to the drums, and kids were getting thrown out by security. It was rad," says singer David Johnson. No chandeliers or swaths of carpet were harmed in the making of this CWMA showcase, however.
"We are definitely a live act," says bassist Jake Brimley. "We just want everyone to have a good time, to be partying all night—we don't want to play and see people sitting off to the side."
A psych-blues-soaked Max Pain concert involves a ton of body gyrating and chest juking, fist pumping and bliss. That's their bread and butter. "It's what we stand behind," adds drummer Tcoy Coughlin. "It's all about the crowd interaction."
"But it all comes down to the tunes. It's super spontaneous. We don't plan [songwriting] out, really," says guitarist Dallin Smith. Every song is created as a jam out. And that organic unfolding is apparent in the visceral reaction of their fans.
Although their shows are all-out, and the band exudes a stoner-rock vibe, they work exceptionally hard. Aside from constantly gigging locally in 2011, the band released a Black-Sabbath-meets-Deep-Purple, Halloween-themed five-song EP shortly before their full-length debut, Tortilla Gold, an album that showcases the band's different musical stylings housed under their penchant for rock & roll. The band also began touring this year; in fact, they arrived back in Salt Lake City from their first West Coast tour a few weeks before the CWMA gig.
The five members are all 21 or 22 years old, and are fully committed to a rock & roll lifestyle. "None of us have a real job," Brimley says with a laugh.
"We're all in. And we've been blessed with a head start, because Salt Lake is so supportive," says guitarist Shane Preece.
"We want to make Salt Lake proud. The sky's the limit," Coughlin says.
So far, that goal has been working out, with a mixture of grace and grit. "Somehow, we've pulled off the tour and making records, I think, with a little caffeine and anxiety," Coughlin says, whom the band cites as the leader.
As the new CWMA Band of the Year, Max Pain & the Groovies' focus for 2012 is to tour nationally. "I think all of this money [a $2,000 prize] is going to get sucked up in gas dollars," Coughlin says.
"Yeah, we always drive the dumbest things, the gnarliest gas guzzlers," Brimley says.
"Gas money and a keg. We are definitely going to throw a huge party to celebrate," Preece says.

You either lose yourself or you find yourself at Burning Man, the annual art-music gathering. James Loomis—DJ illoom—found himself, at least his musical self, in the "audio hallucinations and mashed-up collage of images."
That was 2004. Although Loomis began DJing in 1998, he says that year marked a pivotal turning point for his music. Soon after Burning Man, Loomis opened a show for the then-unheard of Bassnectar, whose genre-bending bass sounds got Loomis "out of the box" and digging through crates for similar new mutant bass stylings.
Because of the Internet, Loomis was on the cusp of "dubstep"—a tongue-in-cheek term labeled in 2005 by the London-based two-step pioneers Horsepower Productions. "A new subwoofer darling was born," Loomis says. Dubstep usually knocks at 140 beats per minute, an easily pollinate-able tempo where genres such as reggae or metal can be incorporated—a major reason for its success. In fall 2006, Loomis' Liquid Dubwise night—now Dubwise—became 100 percent dubstep. With a five-year stretch, Dubwise is the third-longest-running dubstep night in North America, he says.
Loomis, a furniture artist by trade, uses his electronic components similarly to how he uses his craftsman tools. "The speakers are your instruments; it's actually what's making the sound [rather than amplified instruments]—through production, based on size and fidelity, and definition and sound quality," Loomis says. "The sonic characteristics of electronics played over loudspeakers is far superior. I guarantee that I can get a thicker, crackin' tone through a synth than someone can get through [an analog] bass."
A dubstep show is a cohesive group experience; it's a physical sort of music, and listening to it in, say, your kitchen would only keep time. For it to be truly integrated—and that is the best word, because it needs to "vibrate your gonads"—it has to be felt on a dance floor with big-ass booming speakers. This is why Dubwise attracts up to 330 folks—a sell-out at The Urban Lounge—each month.
Loomis is both a DJ and a producer—he says achieving both is the "Holy Grail," but there are protocols for each, so to speak. "I'm a real purist. I think production needs to stay in the studio, and DJing is DJing," he says, adding that he's seen a recent trend of producers "DJing" by hitting play on a laptop in front of a live audience. "There's no risk in that."
Loomis played at W Lounge for the first of two CWMA DJ Spin-offs this year, and he had two goals for his 20-minute set: "To mix as tight and fast as possible, which is as risky as it gets, and to incorporate a bunch of my own music," he says, adding that he played about 15 tunes. "I wouldn't want winning to be a popularity contest. I wanted to show that, if this is a DJ battle, this is what I can do."