From the simmering sonic soup of local music, and out of the reverb, smoke, fist-pumps and glitter, emerges … The Chosen One.
In the beginning, area music scenesters and critics nominated nearly 100 bands who accomplished something exceptional in the past calendar year, and through Tetris-like booking and planning, the 24 bands in this issue were chosen. This year's crop, we believe, is a representational blend of all that makes Utah's music scene worth talking about.
Fans voted online and at showcases for their favorite act. For brevity's sake, we did away with the final showdown of the top three vote-getters. After eight live-music showcases over two weekends, the 2012 City Weekly Music Awards ended with one victor, Max Pain & the Groovies.
But, also, the CWMAs is about recognizing all of the best original Utah bands and giving readers a series of showcases where they can see and hear those artists do their thing. And this year was a damned fine year, indeed.
Contributors: Austen Diamond, Spencer Flanagan, Randy Harward, Jeanette D. Moses, Dan Nailen, Gavin Sheehan, Jordan Wallis
Photos: Dom Darling, Meredith Newsome, Sam Scholes, Dannielle Stout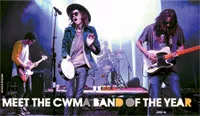 Max Pain & the Groovies
By Austen Diamond
A broken chandelier, a flame-blackened carpet and hangovers of epic proportions were the wake that Max Pain & the Groovies left behind after their first concert, a house-party show on New Year's Eve 2009—an outcome that could have been seen as an indicator that this jangly rock & roll band had traction or, at least, had a rowdy group of friends. Both are true.
Fast forward two years: It was the perfect cocktail of the many Max Pain supporters who voted online and also came to the City Weekly Music Awards showcase at The Complex on Feb. 12 that secured this five-piece as the Band of the Year.
Mainly, they'd say, it was the showcase. "It was the fucking show of our lives—a real rock & roll experience—with, like, a light show that was synced up to the drums, and kids were getting thrown out by security. It was rad," says singer David Johnson. No chandeliers or swaths of carpet were harmed in the making of this CWMA showcase, however.
"We are definitely a live act," says bassist Jake Brimley. "We just want everyone to have a good time, to be partying all night—we don't want to play and see people sitting off to the side."
A psych-blues-soaked Max Pain concert involves a ton of body gyrating and chest juking, fist pumping and bliss. That's their bread and butter. "It's what we stand behind," adds drummer Tcoy Coughlin. "It's all about the crowd interaction."
"But it all comes down to the tunes. It's super spontaneous. We don't plan [songwriting] out, really," says guitarist Dallin Smith. Every song is created as a jam out. And that organic unfolding is apparent in the visceral reaction of their fans.
Although their shows are all-out, and the band exudes a stoner-rock vibe, they work exceptionally hard. Aside from constantly gigging locally in 2011, the band released a Black-Sabbath-meets-Deep-Purple, Halloween-themed five-song EP shortly before their full-length debut, Tortilla Gold, an album that showcases the band's different musical stylings housed under their penchant for rock & roll. The band also began touring this year; in fact, they arrived back in Salt Lake City from their first West Coast tour a few weeks before the CWMA gig.
The five members are all 21 or 22 years old, and are fully committed to a rock & roll lifestyle. "None of us have a real job," Brimley says with a laugh.
"We're all in. And we've been blessed with a head start, because Salt Lake is so supportive," says guitarist Shane Preece.
"We want to make Salt Lake proud. The sky's the limit," Coughlin says.
So far, that goal has been working out, with a mixture of grace and grit. "Somehow, we've pulled off the tour and making records, I think, with a little caffeine and anxiety," Coughlin says, whom the band cites as the leader.
As the new CWMA Band of the Year, Max Pain & the Groovies' focus for 2012 is to tour nationally. "I think all of this money [a $2,000 prize] is going to get sucked up in gas dollars," Coughlin says.
"Yeah, we always drive the dumbest things, the gnarliest gas guzzlers," Brimley says.
"Gas money and a keg. We are definitely going to throw a huge party to celebrate," Preece says.

You either lose yourself or you find yourself at Burning Man, the annual art-music gathering. James Loomis—DJ illoom—found himself, at least his musical self, in the "audio hallucinations and mashed-up collage of images."
That was 2004. Although Loomis began DJing in 1998, he says that year marked a pivotal turning point for his music. Soon after Burning Man, Loomis opened a show for the then-unheard of Bassnectar, whose genre-bending bass sounds got Loomis "out of the box" and digging through crates for similar new mutant bass stylings.
Because of the Internet, Loomis was on the cusp of "dubstep"—a tongue-in-cheek term labeled in 2005 by the London-based two-step pioneers Horsepower Productions. "A new subwoofer darling was born," Loomis says. Dubstep usually knocks at 140 beats per minute, an easily pollinate-able tempo where genres such as reggae or metal can be incorporated—a major reason for its success. In fall 2006, Loomis' Liquid Dubwise night—now Dubwise—became 100 percent dubstep. With a five-year stretch, Dubwise is the third-longest-running dubstep night in North America, he says.
Loomis, a furniture artist by trade, uses his electronic components similarly to how he uses his craftsman tools. "The speakers are your instruments; it's actually what's making the sound [rather than amplified instruments]—through production, based on size and fidelity, and definition and sound quality," Loomis says. "The sonic characteristics of electronics played over loudspeakers is far superior. I guarantee that I can get a thicker, crackin' tone through a synth than someone can get through [an analog] bass."
A dubstep show is a cohesive group experience; it's a physical sort of music, and listening to it in, say, your kitchen would only keep time. For it to be truly integrated—and that is the best word, because it needs to "vibrate your gonads"—it has to be felt on a dance floor with big-ass booming speakers. This is why Dubwise attracts up to 330 folks—a sell-out at The Urban Lounge—each month.
Loomis is both a DJ and a producer—he says achieving both is the "Holy Grail," but there are protocols for each, so to speak. "I'm a real purist. I think production needs to stay in the studio, and DJing is DJing," he says, adding that he's seen a recent trend of producers "DJing" by hitting play on a laptop in front of a live audience. "There's no risk in that."
Loomis played at W Lounge for the first of two CWMA DJ Spin-offs this year, and he had two goals for his 20-minute set: "To mix as tight and fast as possible, which is as risky as it gets, and to incorporate a bunch of my own music," he says, adding that he played about 15 tunes. "I wouldn't want winning to be a popularity contest. I wanted to show that, if this is a DJ battle, this is what I can do." 


The 321s
Formed in March 2011, the female-fronted 321s play sugary-sweet retro pop music reminiscent of groups from the '50s and '60s. The songs are written about falling in love, looking for love or losing love, but even the saddest, most heartbroken tracks shimmer sweetly with Kris Fenn's soulful voice and the infectious melodies inherent to the pop genre. The 321s are lighthearted, fun and provide something new in Salt Lake City's music scene. Facebook.com/The321s
Bronco
2011 was a big year for Salt Lake City's country-fried, whiskey-soaked Bronco. It started with the winter release of their excellent second full-length, Painting Pictures of a Perfect Life, and ended with a fall tour of the Pacific Northwest, the band's first such excursion, which included eight shows and 2,500 miles traveled. Painting Pictures was a huge leap forward from the rock-solid Constant Everything of 2007, with singer/songwriter Tyler Anderson delivering character sketches on songs like "Bishop's Daughter" and "Brother's Keeper" that sink into your soul and stay there. BroncoTheBand.com

Burnell Washburn
Washburn accomplished something special during his rise through the hip-hop scene in 2011. He released a full-length album, Food of Love; gained a major following among local audiences; and earned the respect of his peers, all before he was even old enough to play most of the venues in the state. Washburn turned 21 this past August, but he still managed to do more than some veteran MCs have done in five years, proving that talent and respect have no age limit. BurnellWashburn.com

The Chickens
When thinking about a funk band called The Chickens, it's hard not to reminisce about Rufus Thomas' 1970 Stax hit "Do the Funky Chicken." But this brand-new septet, consisting of a mishmash of some of the finest local musicians, is anything but a silly dance. Maybe the classic funk album The Meters' Struttin' is more appropriate, although The Chickens also meld acid jazz and afrobeat into their cosmopolitan, if not worldly, sound, which is a well-received fresh egg in the local music scene. Facebook.com/WeAreTheChickens

David Williams
David Williams won some national kudos this year by having a video of his song "Sunday Morning" featured as the Jan. 4, 2012, video of the day on the indie-music-focused Website Daytrotter.com. More notably, the tour to and from the festival is the focus of a documentary film, Intro, nominated for Best International Documentary in the Torino Film Festival. And while he's currently busy creating the score to that documentary, it's not his first venture into that creative department: He scored The Parade, which debuted at the Salt Lake City Film Festival in August 2011. DavidWilliamsMusic.tumblr.com

Dusk One
While Mindstate have been sitting in hiatus, Dusk One took the opportunity to further his solo career and make a bigger name for himself in the hip-hop scene. In early 2011, Dusk teamed up with the masterful producer Fisch Loops to release The Brady Effect EP, which sampled music and lines from the classic '70s sitcom. But Dusk's biggest contribution this year, if you ask around the scene, was supporting upcoming talent looking to break out. DuskRaps.com

Fictionist
Provo band Fictionist's year was obviously highlighted by the group's run to the final four in Rolling Stone's contest to put a worthy unsigned band on its cover for the first time ever. Lost in the excitement and hoopla was Fictionist's growth as a performing entity. Their sound—always tricky to stick with a simple label—continued to defy easy categorization. Sometimes it's prog-rock, sometimes it's delicate pop, and there's more than a little classic-rock, jam-band vibe in there, too. Lead singer Stuart Maxfield's confidence as a frontman also seemed to grow by leaps and bounds along the way. In the end, Fictionist didn't end up the first unsigned band on the cover of Rolling Stone. They ended up signed to major label Atlantic Records. Fictionist.com

The Folka Dots
The tender harmonies of the Folka Dots are fluffier than Appalachian biscuits on a Sunday morn, and the acoustic grooves are more sumptuous than a plate of bacon. The five-piece band draws upon unamplified stringed instruments and takes musical cues from the South, but their music is less humid and has a decidedly Western tinge. It's a barefoot-in-the-grass sentimentality that lends itself perfectly to playing the many farmers markets across the valley during warmer months. There, they've cut their chops and have cooked up some delectable new tunes, which they are baking in the studio early 2012. TheFolkaDots.com

Holy Water Buffalo
At the very end of 2010, Heber City band Holy Water Buffalo released an incredibly assured self-titled debut album. While the guitar-oriented, classic-rock vibe wasn't a surprise to anyone who had seen the young quartet play live, the set introduced the band to a bigger audience thanks to the likes of KRCL offering ample local airplay. A year later, and Holy Water Buffalo is arguably an even more potent force, having played virtually every venue in the state and expanding their attack to clubs outside of Utah. If you can find a harder working band in the state, let us know. HolyWaterBuffalo.com

Grey Fiction
Salt Lake City's alternative, experimental rockers Grey Fiction were recently crowned the victors of Velour's semi-annual Battle of the Bands in mid-December. Since, the band of three brothers has been busy playing shows up and down the valley, and already has a slew of upcoming tour dates across the country planned for this year—including some in February, in which they drove back to Utah on their day off to play the CWMA showcase. The band members' sheer talent, exceptional songwriting and incredible stage presence are backed by unforgettable, often wailing vocals—along with a little light show and some heavy fog—to create a Grey Fiction show that can only be described as epic. GreyFictionMusic.com

Isaac Russell
Columbia Records signee Isaac Russell knows where it's at: The troubadour just moved back to Provo from Los Angeles because the Wasatch Mountains and the Provo scene make for more fertile songwriting environs. The 20-year-old shows prowess beyond his years as he conjures up tunes in the vein of Elliot Smith and Ryan Adams, but with the fractured folk bent of his hometown. Now nestled home, he can focus on the follow-up to his 2010 self-titled debut EP on Columbia, and we can't wait to see what's in store. IsaacRussell.com

Laserfang
Grab your glitter and some face paint because Laserfang has reunited! These Salt Lake City favorites broke up last winter after releasing their debut album, Mammoth, due to lead singer Shane Asbridge's move to Rapid City, S.D. Asbridge returned to Salt Lake City in October to play a Halloween bash at The Urban Lounge, and the show proved that Laserfang's music still matches the enormity of the album title. Their epic electro-infused apocalypse-style dance rock inspires excessive booty shaking. Facebook.com/Laserfang

The Mighty Sequoyah
Provo folk rockers The Mighty Sequoyah—who get their name from the Cherokee Indian who invented the Cherokee alphabet—released both their debut album, Relative, and a Christmas album in 2011, and the band is already gearing up to record their follow-up album this year. Frontman Caleb Darger sings with the spirit of folk legends like Bob Dylan on issues of faith, tolerance and love, backed by the rest of his band as they create some of the most beautiful harmonies around. Facebook.com/TheMightySequoyah




The Moth & the Flame
Paying dues at open-mic nights apparently pays off in Provo. At least, it did for this 2011 buzz band. The core of the group, Brandon Robbins and Mark Garbett, began their foray into indie hipsterdom by playing loose tunes to who knows who on Tuesday nights at Velour. Producer (and now band member) Nate Pyfer saw gold, though. The three then churned out ambient-rich, lush tunes on the self-titled debut—nine songs that oscillate from dark and brooding to synthy, Radiohead-esque gems. And with that, they sold out two CD release shows at Velour in November. How's that for a success story? HowWeWokeUp.com

Night Sweats
Early in 2011, local concert-goers were introduced to Night Sweats. The band's dark and detached, yet very musical, compositions represent an avenue of rock music that would otherwise go unrepresented in Salt Lake City. The group's arrangements are a dense mix of intense synth keyboards, epic guitar, brooding vocals and drums reminiscent of The Faint's early work. In 2012, fans can look forward to the release of their forthcoming full-length LP, which is currently in its final stages of production. Facebook.com/NightSweats

No-Nation Orchestra
To see the dozen or so members of No-Nation Orchestra onstage is a sight to behold, one that is completely enthralling beyond just the sheer number of musicians. The Stephen Chai-led outfit has an interesting synergy of the Talking Heads without the weirdness, Fela Kuti with an absolute hipster vibe and Prince minus the leotards. The debut EP, More More More, that Chai released in 2011 is a short-and-sweet canvas that's painted with various musical brushes, but all the colors pop, just like the syncopated percussion in these indie/afrobeat gems. But with only five songs, it left us wanting more, more, more. NoNationOrchestra.com
Numbs
It may have taken pioneering Utah hip-hop group the Numbs four years between albums, but that just meant they had plenty to say with their 2011 release, Soulburn. It's an inspired collection of the group's playful wordplay, delivered courtesy of Mark Dago, Rooster and Gunnar McKell. With DJ Shanty back on board, and a major assist from collaborator/beatmaster Linus Stubbs, as well, Numbs brought old-school funk and soul samples to the fore on songs like "Situations Critical" and "The Great Escape." If the results are always this good, Numbs can feel free to take four years every time they want to make a new album, as long as they keep delivering frantic live shows in between. Numbs.bandcamp.com

Palace of Buddies
The instrumental rock duo of Nick Foster and Tim Myers has ruled the venues this year as the ultimate go-to band for a guaranteed audience. And they capped off the year with their long-awaited second full-length album, Summertime. Their performances have grown from a simplistic two-man set to a vibrant display as both men switch out instruments to give you your money's worth every night.PalaceOfBuddies.com

The Poorwills
The Poorwills are a band born of the CWMAs—not because of it, but for it. Singer-songwriter Glade Sowards invited a cast of friends/musicians to join him at The Woodshed to play the 2010 City Weekly Music Awards showcase, and it went swimmingly. Taking cues from the likes of Crosby, Stills, Nash & Young and the Beach Boys, The Poorwills released their debut, Drinks on the Wing, in May 2011. It's a rock-meets-barbershop sound that swings with twangy riffs, gentle acoustic strumming and simple beats, but what is most stunning are the four-part harmonies—veritable come-to-Jesus moments. Facebook.com/ThePoorwills

Ryan Tanner
You might know the mild-mannered troubadour as part of The Lower Lights or Paul Jacobsen & the Madison Arm, but in 2011, Ryan Tanner's solo songwriting took him in exciting new directions. He won the grand prize in American Songwriter magazine's nationwide lyric contest in its November/December 2010 issue, which earned him a trip to Nashville in 2011 for a chance to write and record with one of his roots-music heroes, Jim Lauderdale. Later, he released an excellent solo EP, Seven Years, and followed that with a showcase at the Americana Music Association's annual convention. With songs that soar and sear, Tanner is a true local treasure. RyanTannerMusic.com

The Suicycles
One of the most dominant bands of 2011, the Suicycles had three releases, two videos, an appearance at almost every major festival and a quick following that trumped frontman Camden Chamberlain's previous band. It didn't hurt that part of the success of the electro-rock quintet can be chalked up to making themselves high-profile in the public eye by creating their own radio show and cultivating a commanding presence online. All that's left to do is tour. TheSuicycles.com

The Trappers
The Trappers are nothing if not distinct—be it the different onstage personas of the five members or the rootsy brand of alt-country they play. Their sound is brought to life with rolling drums and the heartwarming twang of Fender Telecasters. Their self-titled 2010 release is still a golden-hued gem on a bleak winter day, and it goes down oh so nicely with a smooth bourbon. These boys can be seen often playing out with their "sibling" band The Folka Dots, and together the two make a mighty fine cocktail. TheTrappersMusic.com
YYBS
The first time the Young Yet Brilliant Sleuths lived up to their name was when they put out a teaser four-song EP. It was just enough to show off the honest, insightful lyrics of Tres Wilson, while giving a nice glimpse at some fresh, melodic and delightful indie rock. But the brilliance came in what they left off; the debut effort was not a disjointed effort just to have a bigger album for sale. Now, the barely legal foursome have been busy in the studio to investigate their sound and ascertain a cohesive collection that will drop sometime later this year. Brilliant! Facebook.com/YoungYetBrilliantSleuths
A few music-related shoutouts from
City Weekly writers:

Great Song Placement

Joshua James
Northplatte Records co-founder Joshua James landed "Coal War"—the intro track on his album Build Me This—on the season premiere of Sons of Anarchy on Sept. 6. The tune starts off with James' soft and raspy voice chanting, "Ain't cuttin' my hair till the good Lord comes," in a gospel-y sort of way. It builds and hits its roots-rock climax just after the four-minute mark—a long gem of a track befitting the show's notorious bike gang. JoshuaJames.tv
Best Big Screen
KRCL's Music Meets Movies
KRCL's Music Meets Movies series just hit its one-year anniversary, and to celebrate, the listener-supported station wrangled everyone up in a Yellow Submarine, so to speak, by screening the classic 1964 Beatles anime. The series started as a new medium for outreach, and, over the past year, KRCL has screened The Last Waltz, Futurism Written (Joe Strummer documentary), and the Rolling Stones' Rock & Roll Circus and Exile on Main St., among others. The films are shown the second Thursday of each month, with a break during the summer, at Brewvies Cinema Pub (677 S. 200 West). KRCL.org
Celebrity Stand-ins
Utah Singers Take On Panic!
While many Panic! At the Disco fanatics were distraught with the news that frontman Brendon Urie was ill with malaria and couldn't sing at X96's Big Ass Show, it granted a great opportunity for a few locals to fill in. King Niko vocalist Ransom Wydner sang "Nine in the Afternoon," up-and-comer Brogan Kelby piped "The Ballad of Mona Lisa" and Neon Trees' Tyler Glenn sang on a few tunes, as well. National attention poured in via Billboard.com, AltPress.com and AmpMagazine.com, which let the world know, yet again, that Salt Lake City's music scene ain't so bad.
Impressive Festival
Crucial Fest
It's no great secret that a lot of the big outdoor metal tours avoid Utah like the plague. (Seriously, think back to the last time you ever saw Ozzfest making its way to town.) Rather than wait around for the next big overpriced thing, if it ever were to happen, Exigent Records owner Jarom Bischoff set out to create his own festival. Eight shows over five days with over 50 of Salt Lake City's finest thrashers, headbangers, screamers and intensely hard-rock and metal bands, all culminating with an all-day festival at Liberty Park. CrucialFest.tumblr.com
Indie Rising
Local Music Studios
For the past five years, if not longer, the DIY movement has reigned supreme for anyone looking to make an album from nothing. However, good musicians eventually want quality, which has given a number of affordable Utah producers and recording spaces new life this past calendar year—over 250 local albums were released. Some studios and solo producers that saw success and praise with killer albums include Kitefishing, Andy Patterson, Black Pyramid, 29th Street, June Audio, Salt Lake Recording Service, David Payne, Midnight Records, Feral Frequency and Man vs. Music. Let's hope this trend sticks around much longer than the other.
Shape-Shifter
Joshua Payne Orchestra/Trio
For the past 10 years, the Joshua Payne Orchestra, and their performances on street corners and underpasses, has been one of the local jazz scene's defining charms. Their alter ego, the Joshua Payne Trio, gigs nearly every night of the week, trumpeting a repertoire of unique cover songs that surpasses the bar set by the average lounge act. In 2011, between their onstage engagements, the orchestra recorded Zoom. Since the record's September release, the nine-piece progressive-jazz outfit has come in from the cold to appear monthly at The Circle Lounge, among their other engagements. Fortunately, despite the orchestra's now busier concert schedule, the other face of the group remains as visible as ever.
Passing of an Indie Legacy
Slowtrain
After a five-year run during which Chris and Anna Brozek made their Slowtrain record store the go-to local shop for discerning indie-rock fans, they shut Slowtrain's doors on Christmas Eve 2011, shortly after the arrival of their first child, daughter Iris. Slowtrain will be remembered for a lot of great in-store performances by the likes of Girls, Shearwater and in-house fave David Williams, but even more so for the Brozeks' importance to the community in providing a gathering place and shopping spot that always felt like much more than just a record store.