VISUAL ARTS
By Brian Staker
There is a certain stance patrons take at gallery openings—you know, playing it cool, detached, shifting weight from one foot to the other as if slightly bored, and for heck's sake, don't get too close to the artwork. But then, some pictures grab you by the eyeballs, pull you into their world, and you can't help but zoom in up close to see what is going on at the "street level" of the energy emanating from between the frames.
At first, you might not recognize the local city scenes in the oil paintings of JAMES RANDLE and JARED GILLETT. After all, you've passed by these storefronts so many times you don't notice them anymore. But the stylistic signage on Gillett's snapshots of establishments like Barrett's Automotive (pictured) and Bar X announce their entrances with such emphasis that you want to see who's playing at Burt's Tiki Lounge. Randle's panoramic railroad yards, warehouses and run-down truck yards on the industrial side of town seem to stretch off into a working-class America that is fading like an endangered species.
There rarely has been a pair of painters better suited for a duo show. Gillett's canvasses typically frame a single business façade from across the street, but details of lettering or window fliers draw you in to examine the intricate brushwork, and Randle's wide-angle views seem like an establishing shot in the same gritty realist film, setting the stage for the dramatic tableau of everyday life.
New Works by James Randle & Jared Gillett @ Kayo Gallery, 177 E. Broadway, 532-0080, through Oct. 13. KayoGallery.com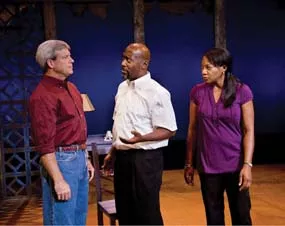 THEATER
By Scott Renshaw
The works by playwright J.T. Rogers previously produced by Salt Lake Acting Company—including Seeing the Elephant and Madagascar—have often announced their theatricality with an intellectual puzzle-box flourish. But there's a different kind of emotional urgency in THE OVERWHELMING that still proves challenging to think about afterwards.

Set in 1994, it follows American academic Jack Exley (Kevin Doyle) as he travels to Rwanda to research a book on grass-roots philanthropy that will include his old college friend Joseph (Victor Mack), a clinic doctor. But when Jack realizes that Joseph is missing—and events in the country boil towards the genocide that will become internationally infamous—he finds that morality is becoming harder and harder to define.

Rather than serving simply as a tract on man's inhumanity to man, The Overwhelming offers up a tangle of conflicting perspectives and motivations. A Hutu government official (Victor Morris), a cynical human-rights observer (Nick O'Donnell) and even Jack's new wife, an African-American essayist (Yolanda Wood), become voices on a conflict that challenge Jack's narrow perspective of right and wrong. The dense plotting keeps you shifting in your sense of who, if anyone, is our hero. And, no matter your political sensibilities, the idea of any intervention being able to resolve generations-old hatreds—and the contemporary parallels never require a heavy elbow to the ribs—begins to seem like an absurdity. Rogers, director Keven Myhre and his cast take on an overwhelming recent tragedy and refuse to tidy it up.

The Overwhelming @ Salt Lake Acting Company, 168 W. 500 North, 363-7522, through Oct. 12. SaltLakeActingCompany.org
COMEDY
By Jennifer Heaney
Unless NORM MACDONALD has seriously cleaned up his act, Wiseguys—Utah's haven for good, clean comedy—is about to need its mouth washed out with soap. Those who have seen or heard Macdonald perform know he's more than just a little rough around the edges. If it weren't for his disarming, cherubic dimples and oddly slurred speech, he probably wouldn't get away with the kind of things he says onstage.

His tumultuous years as the anchor of "Weekend Update" on Saturday Night Live during the 1990s give just a taste of the kind of remarks Macdonald is known to make. His startling, cutthroat comments and wicked, random humor have included calling Michael Jackson a "pedophile" on national TV with the same levity as a person would tell a blonde joke to his or her best friend. And it is widely assumed that he was fired from SNL due to his relentless bashing of O.J. Simpson. His last mention of O.J. was when the trial ended in an acquittal, and Macdonald remarked, "Well, it's official: Murder is legal in the state of California."

In the 10 years since SNL, little seems to have changed; Macdonald's comedy is not family-friendly. However, those of us who believe Macdonald helped make the '90s the greatest decade of SNL will find his comedy to be exactly what we're dying for: ruthless, shocking, sarcastic and unapologetic, just like we are. Ogden rocks, by the way.

Norm Macdonald at Wiseguys Comedy Cafe, 269 25th St, Ogden, 801-622-5588. Friday, October 3, 8 and 10 p.m. WiseguysComedy.com

Here & Now: Other New Happenings This Week

A SLIGHT DISCOMFORT Salt Lake Acting Company produces Jeff Metcalf's one-man show about dealing with a prostate cancer diagnosis. Salt Lake Acting Company Chapel Theater, 168 W. 500 North, 363-7522, Oct. 1–19. SaltLakeActingCompany.org

INTO THE WOODS Stephen Sondheim's musical journey into the land of Grimm's fairy tales. Hale Centre Theatre, 3333 S. Decker Lake Dr., 984-9000, Oct. 1–Nov. 29. HaleCentreTheatre.org

THE ED FORMAN SHOW Comedian Aaron Ross re-creates the vibe of 1970s talk shows. Burt's Tiki Lounge, 726 S. State, 521-0572, Thursday, Oct. 2, 8 p.m. MySpace.com/EdForman

THE MESSENGERS Repertory Dance Theatre presents a collection of works based on myth and legend. Rose Wagner Center, 138 W. 300 South, 355-ARTS, Oct. 2-4. RDTUtah.org

SUGAR HOUSE STROLL Visual arts, improvisational dance and live music energize the Salt Lake City neighborhood, courtesy Brolly Arts and TRASA Urban Arts Collective. Highland Drive and 2100 South, Friday, Oct. 3, 5–9 p.m.

UTAH STORIES An evening of traditional storytelling and folklore featuring Dr. Emil Wolfgramm (Tongan stories) and Wayne Gardner (American Indian tales). Ken Sanders Rare Books, 268 S. 200 East, 521-3819, Friday, Oct. 3, 7:30 p.m. KenSandersBooks.com

ANN PATCHETT The award-winning author of Bel Canto and Run visits as part of the Salt Lake City Library's Dewey Lecture Series. Main Library, 210 E. 400 South, 524-8200, Saturday, Oct. 4, 7:30 p.m. SLCPL.lib.UT.us

JON SCIESZKA The author of such kid classics as The Stinky Cheese Man comes to town with his new memoir, Knucklehead. The King's English Bookshop, 1511 S. 1500 East, 484-9100, Monday, Oct. 6, 3:30 p.m. KingsEnglish.Booksense.com

THE RAT PACK: LIVE AT THE SANDS Not really Frank, Sammy and Dino—they're dead—but incredible simulations singing classic songs. Kingsbury Hall, 1395 E. Presidents Circle, 581-7100, Oct. 7-12. TheRatPackLiveAtTheSands.com