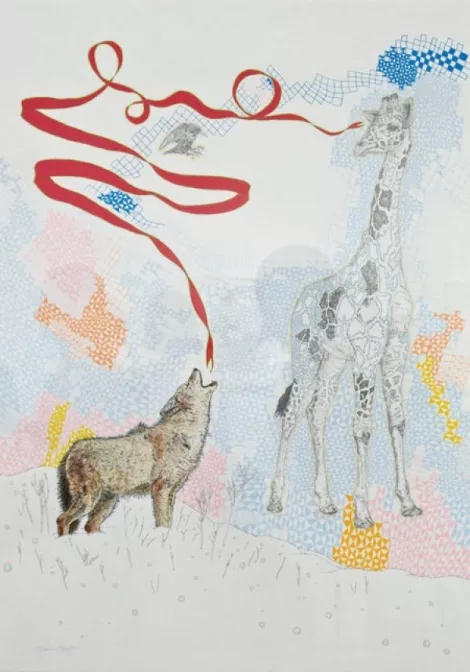 In a wonderfully fantastical, delicate and clean manner, three artists—Claire Taylor, Amber Heaton, and David Habben (
Read Article
)—deliver an excellent works-on-paper exhibition. Mythical-heroic, anthropomorphic and deep sea, this show is packed with masterfully executed pieces.
I've said it so many times: that Claire Taylor—always wowing art patrons with her immaculate prints and drawings, luring them into her magic microcosm of charm and perfect line. For this show, she produced only drawings—amazing little vague narratives that employ animals as human references (pictured). This work seems to have taken a slightly different turn design-wise than her drawings past; bright splashes of color and wavering geometric matrices now intermingle with the characters and landscapes and, in some cases, compose them. The drawings are energetic and very much in line with contemporary trends in the best sense.
Heaton, in a refreshingly bold move, painted the entire back wall of the gallery solid black, and constructed a deep-seascape teeming with diaphanous hybrids of real and imagined creatures. Each one is a delicately printed cut-out; many resemble a heart or other glassine internal organ, and make up in total a splendid paper installation—complete with a sprawling tentacle of three-dimensional Japanese paper constructs. Even the giant squid is made up of separately printed components and, although the most formidable of the creatures, it is, upon close inspection, one of the most incredibly printed.
The continuity of the show, combined with the skill level, places it among the best Kayo has hosted this year.
Claire Taylor & Amber Heaton @ Kayo Gallery, 177 E. Broadway, July 17–Aug. 18. Kayogallery.com.