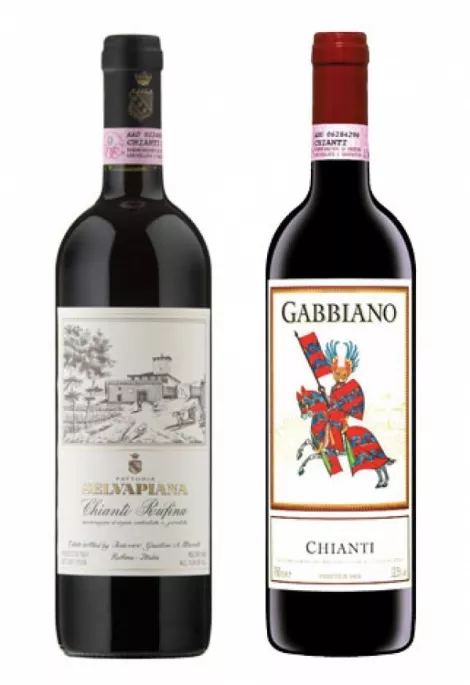 A very appealing, family-style dinner at the new Cena restaurant in Deer Valley recently reminded me how much I really enjoy an Italian classic: Chianti. Of course, It's damned near impossible since
The Silence of the Lambs
not to associate Chianti with liver and fava beans. But trust me: It's also great with simple stews, steaks and Sunday-night spaghetti. And, whereas Chianti was once a mostly one-dimensional Italian red, it now runs the gamut from the light, Beaujolais-type wines of Colline Pisane and Colli Aretini to very complex and elegant Chianti Classico Riservas.
But let's back up. What is Chianti? First, all Chianti is an Italian red wine. There is no white Chianti, although small amounts of white grapes sometimes go into the making of Chianti. Traditionally, Chianti was made with red Sangiovese and Canaiolo grapes blended with white Trebbiano and Malvasia grapes. The white grapes were added to the red to lighten the wine, but these wines tended to be flimsy, with little aging potential. In the 1970s, the Chianti market pretty much bottomed out, thanks to a predominance of inferior wines cloaked in basket-woven bottles parked on checkered tablecloths. And yes, you can still buy Melini Chianti in the straw flask ($12.99), presumably intended for beatniks and/or those with unchecked nostalgic tendencies.
Chianti vineyards span much of central Tuscany, divided into seven Chianti regions: Chianti Classico, Colli Aretini, Colli Senesi, Colli Fiorentini, Chianti Montalbano, Chianti Rufina and Colline Pisane. The one we should care about most is Chianti Classico, since these wines are widely available here in the U.S. Chianti Classico was given its own DOCG (Denominazione di Origine Controllata e Garantita) in 1984—the Italian way of confirming a wine's heritage, legitimacy, and quality. By Italian law, Chianti Classico must be made of at least 75 percent (and up to 100 percent) Sangiovese grapes. It can also include up to 15 percent "other" red grapes, including Merlot and Cabernet Sauvignon, up to 10 percent Canaiolo, and up to 6 percent white grapes: Malvasia or Trebbiano. (With Chianti Classico Riserva, no white grapes are allowed, but that's another story.)
Cabernet is a typical blending grape for Chianti Classico since its tannins and richness tend to lend some backbone to the predominant Sangiovese grapes, which are acidic and more delicate than Cabernet or Merlot. The key is to strike the right balance between the Sangiovese and Cabernet or Merlot; it's all too easy to create an out-of-whack, unbalanced wine with these grapes. In the best examples, the proper blend results in Chianti that is redolent of dried cherry and plum flavors, with good acidity to make it food-friendly and enough tannins to give the wine structure and age appeal.
Even with the relatively weak dollar-to-euro exchange rate, Chianti can still be a very good buy, and there's a wide range available here. Most Chianti Classico from producers like Brolio, Castello Bossi, Castello Meleto, Cecchi, Coltibuono, Gabbiano, and Rocca delle Macie sells for around $11-$25. Chianti Classico Riserva—which is aged at least two years in wood casks, by law—is generally a bit more expensive, with the best ones selling in Utah in the $20-$40 range. One Chianti producer I especially respect is Selvapiana, maker of wines produced in the hills of the Rufina district, near Florence. Selvapiana Chianti Rufina is a very good value, priced at $18, or you could bump up to Selvapiana Vigneto Bucerchiale Rufina Riserva Chianti for $38. At the high end of the Chianti spectrum, you might try Badia a Coltibuono Chianti Classico Gran Riserva 1995 ($75), a spaghetti red you won't soon forget.