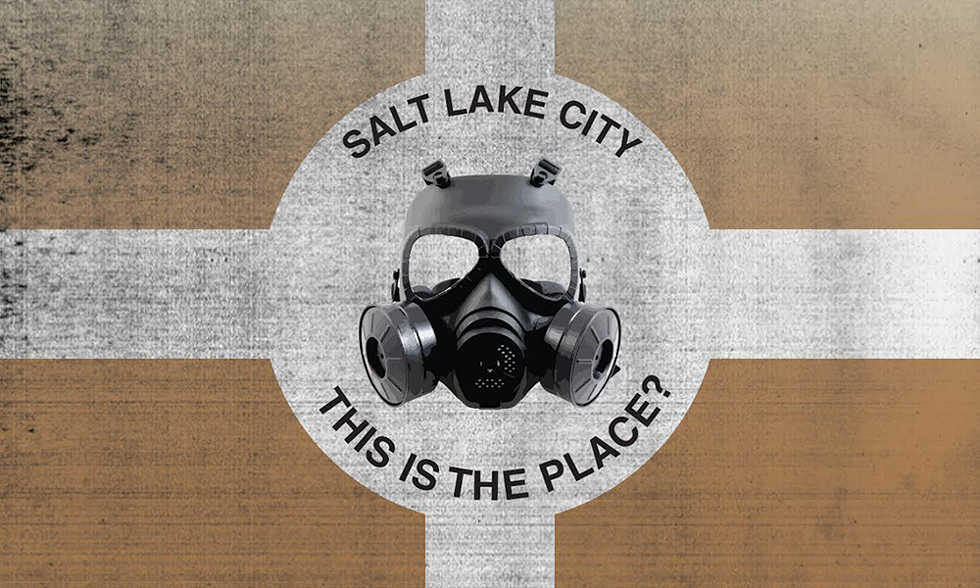 Last month, local and state politicos, athletic types and Olympic aficionados gathered at the City and County Building, locked hands and raised their arms like they'd just won a gold medal as they celebrated Utah potentially hosting another Winter Games. As he basked in the Olympic euphoria, Gov. Gary Herbert seemed flat-footed when City Weekly asked if he was concerned climate change could hamper the Beehive State's second throwing of the international soirée.
"There's always concern about climate change and global warming, and whether that's man-caused or just happening in the Earth's cycles. Doesn't matter. But certainly there's concern about that," Herbert said.
Anyone with eyes or lungs might raise an eyebrow (and belt out a hearty cough). Still, the governor seemed perpetually optimistic. "We can host the Winter Olympics, and I'm sure the climate will, in fact, be in condition to have that happen," he elaborated. "We're going to do everything we can to make sure we're good stewards of the Earth."
Utah lawmakers can't control the weather—they're not Greek gods, no matter how much lip service they pay to the Olympics—but Herbert's comments implied legislators will do what they can to protect the state's climate. How much of an impact can they really have, though? And, given that just about every Republican state lawmaker got an "F" grade in the Utah Sierra Club's legislative scorecard last year, why should we be optimistic that the Republican-dominated Legislature will pass climate-friendly legislation?
"Given the political landscape nationally ... there is a big role local governments can play," Jessica Reimer, HEAL Utah policy associate, says. "I think Utah can show real leadership if they wanted to, in terms of taking action on climate."
Ashley Soltysiak, Utah Sierra Club chapter director, says state lawmakers have the power to incentivize utility companies to use cleaner, renewable energy like solar power. "I don't think the Utah Legislature is going to single-handedly address climate change," she says, "but we can be a leader for other conservative states who at the moment are heavily tied to coal."
Reimer points to the resolution Herbert signed last year, which made Utah the first red state to officially acknowledge climate change and the role fossil fuels play in the crisis, as a step in the right direction. "Even though it's a big, global problem," she says, "what we can do at the local level is just as important."
Climate advocates say they'll be tracking a few bills in the upcoming Legislative session. One piece of legislation would increase the fines for "coal rolling," slang for when a driver tampers with their engine so it spews black smoke. Another would create funding for free-fare days on UTA buses and Trax so locals don't have to drive on heavy inversion days.
Public transportation will no doubt play a big role in cutting down on pollution as state and city populations grow. Expanded access is great, Breathe Utah Executive Director Debbie Sigman says, but free fare days are a short-term fix; added infrastructure, expanded train and bus routes, and more drivers and conductors would go a long way toward minimizing air pollution.
"A community's travel patterns are established through habit, and infrastructure gives rise to convenience," she says. "We as a community want to convert motorists to riders. And that takes a commitment to building the infrastructure to make it possible."
While Salt Lake City and Utah public officials have made plans and advanced bills that would expand public transportation, Sigman says more can be done. One roadblock to passing such comprehensive, long-term legislation at the state level is that climate change is an amorphous problem with consequences that emerge slowly over years. It just isn't as sexy of an issue as tending to the economy, Republicans' bread and butter. "If unemployment is on the rise, then there are people who don't have access to basic needs. And that tends to be the first and foremost for legislators," Sigman says. "And so if an environmental appropriation looks like it's going to get in the way of making sure that a legislators' constituent is going to have a stable job or access to a new job, then the choice is clear."
But, Sigman warns, inaction will force the state to spend more in the future, when the issues raised by climate change are even more pressing. "Imagine what kind of infrastructure it would take to accommodate a water supply with a shrinking snowpack."
Environmental-advocacy groups have had to adjust their arguments' focus to appeal to some of the more conservative lawmakers in the Legislature. Soltysiak says it's wise to highlight the economic impacts of climate change and poor air quality to underscore their pernicious effects on Utahns. "Those are issues that are very present and visible, that people can wrap their heads around easily," she says. "I think people stop listening to you at a certain point if you use the wrong jargon."
Rep. Joel Briscoe, D-Salt Lake City, is one legislator that groups like Soltysiak's won't have to work hard to sway. For the third time in his eight-year career on Capitol Hill, Briscoe plans on introducing a carbon pricing bill in the upcoming session. Research suggests that such a tariff could reduce greenhouse gas emissions, an important goal considering U.S. carbon emissions rose by 3.4 percent last year, the biggest increase in eight years. "I don't know how to be more direct in dealing with climate-change issues," Briscoe says.
If passed, the bill would tax fossil fuels at $10 per metric ton of carbon dioxide emissions. About 90 percent of the revenue would be returned to Utahns. The state sales taxes on grocery store food, electricity and home-heating fuels would be eliminated, as would the corporate income tax on mining and manufacturing businesses. The state would also match 10 percent of the federal earned-income tax credit and extend and expand the retirement tax credit, benefitting low-income families and the elderly. The rest of the revenue—about $50 million a year—would be spent on reducing air pollution and generating economic development in rural communities.
"I'm cutting taxes. A carbon tax is libertarian economics," Briscoe says. Instead of creating regulations, he explains, the bill would "put a price on what we don't want to have and let the market respond."
Briscoe knows it's a long shot, but he says a few Republicans have indicated they might be persuaded to vote for the bill. "We talked to several who are interested [but] who are not ready to be publicly supportive yet," he says.
Utah has a Republican supermajority, an ominous sign considering that Republican party members are less willing to address climate change than their Democratic counterparts. Herbert might not acknowledge humans' role in global warming and called climate science "a little debatable," but that didn't stop him and the Legislature from formally recognizing climate change. It takes a long time to create systemic, radical change, Briscoe says. "How long did it take for us to get gay marriage?" he asks. "You don't get [to solve] complex and difficult ideas in year one."
A 30-year veteran of public education, Briscoe says one of his goals in introducing controversial legislation is much the same as when he was in the classroom: to facilitate conversations on important issues. "One of the things you can do to create a discussion is to run legislation," he says. "You have to push those issues, and you make people talk about it."