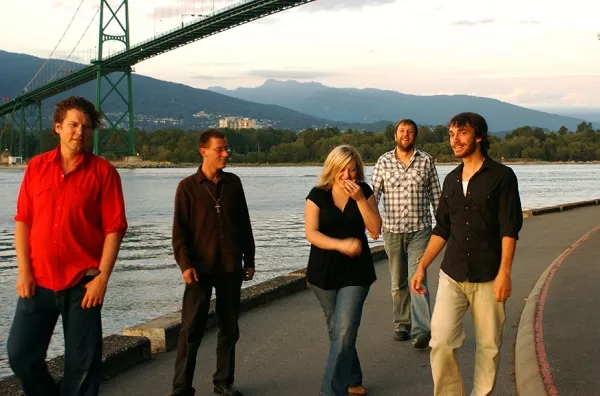 Trevor Rogers, lead singer and guitarist for Canadian folk-rock/bluegrass/Celtic outfit The Clumsy Lovers, knows he has been at this a long time.
"This is my 18th year with the band," Rogers says. "Sometimes, people at the shows are like, 'We remember seeing you when we were in college. We have three kids and the oldest one's 14,' and I'm like, 'Ohhh.' "
The Clumsy Lovers used to play up to 275 shows a year, and although they are now down to about 100, it has nothing to do with decreased interest from their fanbase. Constant touring is a grind, and Rogers says he enjoys spending more time with his family, but there is another reason they've taken their foot off the touring pedal in recent years.
"The scaled-back amount of touring has helped keep it fresh," Rogers says.
Freshness has been a hallmark of the band's style for years, and oddly enough, some of that has come as a result of band turnover. Rogers doesn't begrudge people for leaving the band, though; in fact, he expects it to some degree.
"People come and go with this band," Rogers says. "There has been turnover, for sure, but it was going to happen. People get tired of traveling all year long. I think that turnover has helped because everybody comes in with new ideas, and it really does add freshness to the sound. You can get bored playing the same 40 songs for 18 years, so you have to spice it up a bit."
A willingness to experiment with a wide variety of genres also keeps things from getting stale. 2009's Make Yourself Known, for example, features bluegrass ("Start Over"), dizzying country ("Big Ball in Brooklyn") and swing ("Hell or Highwater"). And this is to say nothing of pop-rock tracks like "Danielle" or their single "Stand Up," from 2005's Smart Kid. Rogers is proud of the band's musical diversity.
"Over the years, the band has evolved from Irish-inspired folk rock to bluegrass pop with a little bit of jamming," he says. "Basically since the beginning, there have been elements of bluegrass, Irish music, ska, reggae, Western swing and straight-up country. It's a pretty mixed bag."
But while the band members challenge themselves to be creative, Rogers acknowledges that there are limits.
"We don't really play heavy metal or anything like that," he says with a laugh. "We probably could if we wanted to, though."
Similarly, the band knows they could release albums more frequently, or release new songs or videos through social-media pages to keep their fans from forgetting about them, but they choose not to. Four years have passed since Make Yourself Known was released, and there are no plans at the moment for a new album. The band is fine with this, and Rogers believes the fans are, too.
"We might sell 10 or 15 copies of a new CD at a CD-release party now, when a decade ago it would be closer to 150," Rogers says. "We still sell out clubs, but I think because we have been around so long, people just like to hear the old music as much as the new music, so there's no rush to put out new material."
Now that he's older, and after touring so heavily for so long, Rogers is more interested in focusing on quality and having fun at their shows, rather than how many shows they actually do.
"We do a lot of jamming," Rogers says. "I mean, not jamming like Phish or The Grateful Dead, not extended solos, but we'll do a banjo solo, then a fiddle solo, then a guitar solo. [Our shows have] always been loose, but they're probably as loose now as they've ever been. I think they bring a lot of joy to people. It's an escape. It's party music with a bit of substance."
THE CLUMSY LOVERS
The State Room
638 S. State
Friday, Aug.16, 9 p.m.
$15