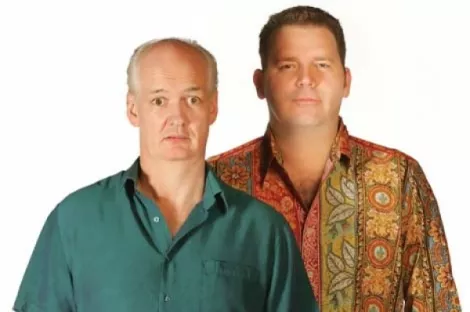 Say what you will about improvisational comedy, but it's certainly got staying power. One of the earliest forms of performance, improv has been around since before Shakespeare. Modern improv comedy has paved the way for shows like Saturday Night Live, Kids in the Hall and especially Whose Line Is It Anyway? The latter, first a British and later an American TV show, featured a live studio audience shouting out ideas to a panel of performers who would then make up a scene or song on the spot—always with the goal of getting big laughs.
Two of the stars of Whose Line is it Anyway?, Colin Mochrie and Brad Sherwood, decided to take their two-man act on the road in 2002, re-creating games from the original show like "Scenes from a Hat" and "Sound Effects", and they have been selling out venues throughout the United States and Canada ever since. Using their years of experience and quick wit, Mochrie and Sherwood provide a truly improvisational show that relies heavily on contributions from the audience members to create their scenes—just like a live version of the TV show.
The show aims to be family-friendly, but as it relies on audience participation, Mochrie and Sherwood make no guarantees. For those looking for a unique live performance or just a chance to get pulled up onstage to be part of the show, Mochrie and Sherwood have the skills and talent to deliver an unforgettable night of original, unscripted comedy that will leave you impressed and entertained.

Colin Mochrie & Brad Sherwood @ Abravanel Hall, 123 W. South Temple, 801- 355-ARTS, Friday, Jan. 22, 8 p.m., ArtTix.org