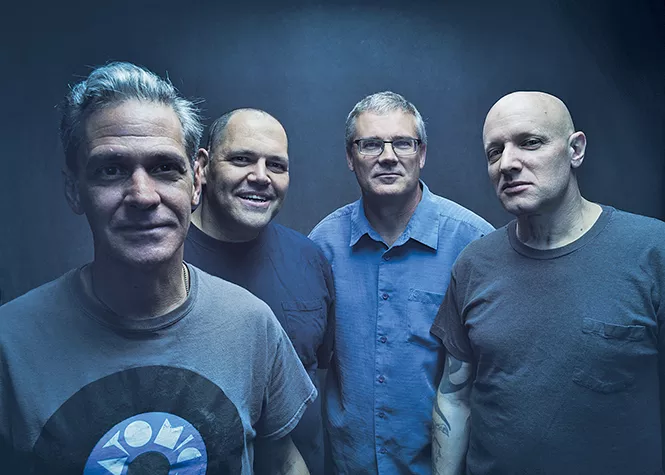 There's a moment during our phone conversation when Bill Stevenson—drummer and founding member of SoCal's legendary punk-rock outfit Descendents—describes his longtime bromance with lead vocalist Milo Aukerman. "Milo is one of those few people in your life where you can pick up the phone and talk to them like you've picked up a conversation that you had the night before, even though you haven't talked in a year," he says. That's what it's like listening to the band's latest release, Hypercaffium Spazzinate (Epitaph, 2016). It's the first time they've released new music since 2004's Cool to Be You (Fat Wreck Chords), yet despite the 12-year lapse between albums, it feels like a return to an energetic exchange that was only on pause.
Stevenson co-founded Descendents in the late '70s with Tony Lombardo, Frank Navetta and Aukerman. After three albums and a bit of a membership shuffle, Stevenson and Aukerman met bassist Karl Alvarez and guitarist Stephen Egerton, two locals who were playing with Salt Lake City hardcore pioneers Massacre Guys. "Milo and I have been best buddies since the dawn of time, and so it is with Karl and Stephen," Stevenson says. The collaboration with Egerton and Alvarez stuck—the four have been playing together for 30 years. "We feel a strong connection to Salt Lake," he adds. "I feel like I grew up in Salt Lake myself just from hearing Karl and Stephen talk about it."
The 39-year lifespan of Descendents has been marked by periodic pauses, side projects and academic pursuits. While Aukerman took time off to pursue a Ph.D. in biochemistry—working for DuPont and the University of Delaware—Stevenson, Alvarez and Egerton formed the band All, which recorded and toured with a rotating roster of vocalists that included Scott Reynolds of Bonesaw Romance and Chad Price from Drag the River. Between Cool (which took eight years to materialize) and Hypercaffium, Stevenson and Alvarez played together in The Last, while Alvarez joined The Lemonheads and fronted Underminer and the Vultures. Egerton released a solo album and played with Stevenson in the FLAG, a version of Black Flag.
But it's not like they spend that much time apart. Stevenson says that when Descendents were on hiatus—usually due to Aukerman's day job, which he gave up in 2016 to become a full-time musician again—All stayed active to some degree. "Karl, Stephen and I have never really taken much hiatus from each other," Stevenson adds. Through their lengthy existence, the band has become family, weathering life's ups and downs together. "You see people grow up, get married, get divorced, have heart attacks and brain surgeries," he says. "We've been through our whole life together."
Alvarez suffered a mild heart attack in 2007, but Stevenson has had the most health issues, starting with the discovery of a large brain tumor in 2010. Since then, he's undergone multiple craniotomies and an open-lung surgery that culminated in a triple bypass. In retrospect, he says the diagnosis was good news, because it gave a name and solution to his health problems: "I was like, OK, this is why I suck, and apparently they can go in and take the tumor out, and I won't suck anymore." It wasn't an immediate fix, however; the growth also caused a pulmonary embolism that surgeons removed in 2015.
Painfully grown-up experiences like these form the emotional basis of Hypercaffium Spazzinate. As per Descendents tradition, each band member contributes a few songs to every album, and Stevenson's "Spineless and Scarlet Red" and "Victim of Me" (co-written with Egerton) explore the haze that descended upon his life and marriage during the years before his surgeries. "We're not song craftsmen—none of us are organized enough to write songs like that," he says. "With me, something bad will happen, and I'll write a song that serves as a catharsis, like the blues did. I'll get that bad thing out of me, and then I can move on."
In April, the band released a new single, "Who We Are," that aims to help cure the world of a different malady. "I didn't do anything to personally stop what happened in November," Stevenson says. "I sat drinking my craft beer with my enlightened liberal friends laughing about how there's no way Trump's going to get to be president—but, look what happened! I think all four of us felt like we had failed. Milo wrote that song, and we decided to give whatever money raised from it to some folks that are trying to do some good." The beneficiaries include the American Civil Liberties Union, Planned Parenthood and the Southern Poverty Law Center.
Does the single forecast new music sooner rather than much, much later? That's hard to say. What's certain is the band that in 1985 proclaimed I Don't Want to Grow Up, has done exactly that—collectively. "The bands that started for the right reasons tend to stay together," Stevenson says. "For us, the camaraderie was the most important thing, and that still holds true."