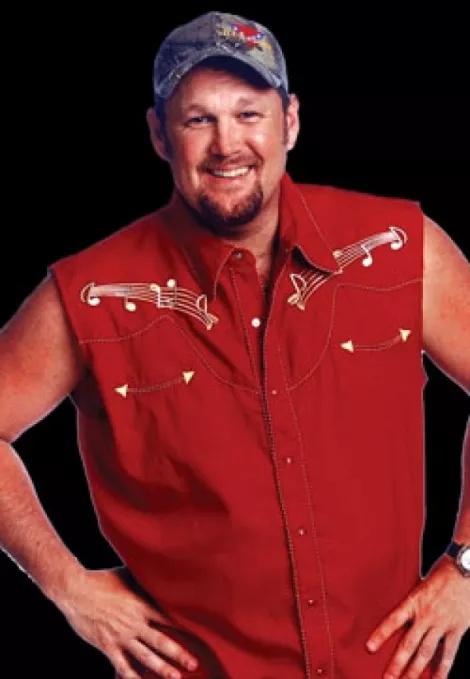 There's not much middle ground in how people perceive
Larry the Cable Guy
. Those who hate him think he's a stereotypical Southern comic, riding high on the popularity of the Blue Collar Comedy Tour, spewing out adolescent one-liners and shouting "Git 'er done!" to drunken, toothless, country bumpkins who think that George W. Bush is saving the world and professional wrestling is real. Those who love him think he's the iconic Southerner: They love his drawl, his dress, his stories and his catch phrase.
What neither side really understands is that he's not real. When he's not performing in character, Dan Whitney—the comedian and former radio DJ from Nebraska who created the Larry character—has a slight Southern twang but, other than that, there's no sign of Larry. Until he laughs. The laugh is unmistakably Larry.
Whitney created Larry while working in radio. "I would use the Larry character as a call-in voice. It was a hit, and it made people laugh. So I started using the character in my stand-up act, and it was really successful," Whitney recalls. "I raised pigs in Nebraska, so I have some of that country experience. When I was 16, I moved to Florida and most of my friends had thick Southern accents. The Larry character is a mix of my own personality and my friends."
Whitney had been performing stand-up comedy and hadn't really found his niche with audiences until he dressed up in sleeveless flannel shirts, spoke with an accent and told jokes about tornadoes in trailer parks, fat sisters and flea markets. "I worked comedy clubs with my act for 13 years before I was popular enough to perform in a concert hall," he recalls. His first concert hall gig was the Grand Ole Opry, and he killed. After that, he joined the Blue Collar Comedy tour with Jeff Foxworthy, Bill Engvall and Ron White and hasn't gone back to comedy clubs since.
Whitney's inspiration for Larry the Cable Guy came from his love of Steve Martin and Monty Python's Flying Circus. "Those were my favorites," Whitney states. "They were just fun and silly. They did what they did for only one reason: to make you laugh. It was adolescent humor, and I just loved it. I knew that's what I would want to do. … I'm trying to make people laugh. Nothing more."
He has faced tough criticism for his jokes about various stereotypes. However, the critics who accuse him of being racist and homophobic don't bother Whitney much. "People need to get their thumbs out of their mouths, grow up and learn to take a joke," he states. "The critics don't buy tickets to my shows anyway, so why should I worry what they think?"
Whitney certainly doesn't need to worry about critics affecting his draw as a comedian. For four years straight, he has been the top-grossing touring comedian in America, earning between $200,000 and $350,000 per night. These are not merely performances in the South but all over the United States. His audiences in extremely liberal areas are just as big as in conservative ones.
His act, he proudly admits, is a complete fantasy—but one he works hard at. "Comedy is a business," he says. "I shut myself in a room, and I write two to three hours a day. I work out seven to eight solid one-liners per week. I tell jokes, not stories.
"I tell a joke about my wife being really pregnant, and I make her laugh so hard that a foot came out of her nose. It's not meant to be taken literally. It's just fun for fun's sake."
Whitney believes that's why he has such a large fan base. "People are tired of how serious life is nowadays. They want to see something that can take them away from it and just entertain them. That's what I do."
LARRY THE CABLE GUY @ EnergySolutions Arena, 301 W. South Temple, Friday Oct. 12. 325-SEAT
cw