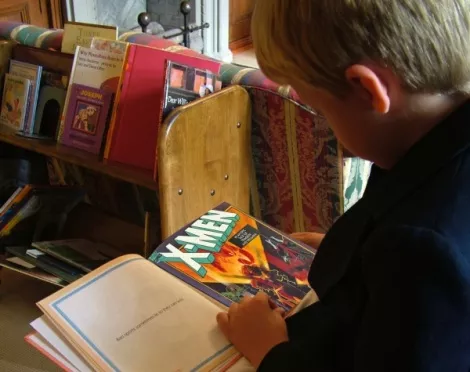 As geeks, it's our responsibility to create a whole new generation of geeks to take our place. It's just the natural order of things. Otherwise, we'll be left in a world where football and lowest-common-denominator movies and TV—Jack & Jill, Two & a Half Men, Little Fockers, etc.—dominate our landscape more than they already do.

This is a battle I think we all need to fight. We all have children in our lives, whether they're nieces or nephews, our own children, neighbor kids, whatever. I think it's important for us to pass on this legacy of geekdom to the next generation, and what better way to do it than to give these kids graphic novels and comics for Christmas. It's killing three birds with one stone: It promotes reading, fosters a love of the arts and indoctrinates them into the world of geekdom.

I've assembled a list of graphic novels perfect for hooking kids into the world of comics. To start the Xmas recommendations, I found it appropriate to start with an X-Men book. See what I did there? Yeah, I'm sorry, too.


X-Men: The Dark Phoenix Saga
Though it might seem dated to some of today's more savvy comic-book readers, this book was given to my little brother for Christmas one year and we read it to death, wearing the spine and cover out. It's Chris Claremont's masterpiece and contains all the major X-Men we know and love, defining them for a generation.


Bone Vol. 1-9

Bone is one of the finest pieces of all-ages literature ever conceived. It has the storytelling sensibilities of Pixar, able to bridge audiences of all ages without ever talking down or over the heads of a reader. I've often described the book as Calvin & Hobbes meets Lord of the Rings, and if you can imagine adorable creatures fighting in a war of epic proportion, then you have some idea how epic Bone can be. I'm getting the chills just thinking about it. Written and drawn by Jeff Smith, I would advise you to get two copies of these books—one for the kid in your life, and another for yourself.




Batman: A Death in the Family
This is a book that made a great impact on me as a kid, dealing with the death of the second Robin at the hands of the Joker. This is high drama at its best. I've presented this to my son, and he seems to like it as much as I do.


Tiny Titans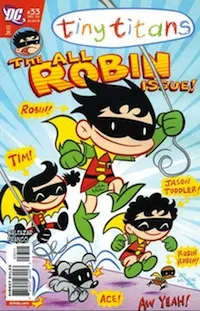 For younger readers, Tiny Titans brings them into the world of DC Universe sidekicks and their Pet Club. It's a pre-schooler version of Robin, Superboy, Wonder Girl and a hundred other superhero and supervillain sidekicks, all going to school, hanging out and taking care of their pets. I can't recommend enough the crossover book with Archie and the Riverdale gang. Alfred gets Robin and Archie's dry cleaning mixed up, and hilarity ensues. Written and drawn by Art Baltazar and Franco, it's written cleverly enough for adult comics fans to enjoy, as well.

Lobster Ladd & Cosmic Jones
Beach BBQ Blast-Off! This might be the perfect stocking stuffer for the aspiring comics nerd on your Christmas list. It's a 40-page, full-color adventure from local artist Derek Hunter and is available at all the finest local comic-book stores. You can find out more about it at DerekDraws.com; e-mail him for copies. It's a great little book.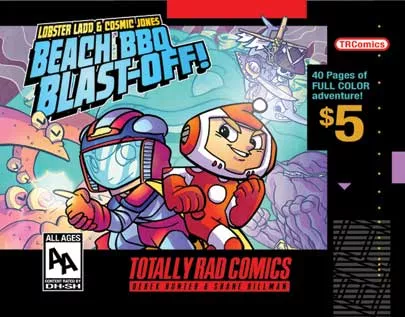 Bryan Young is the editor-in-chief of BigShinyRobot.com.