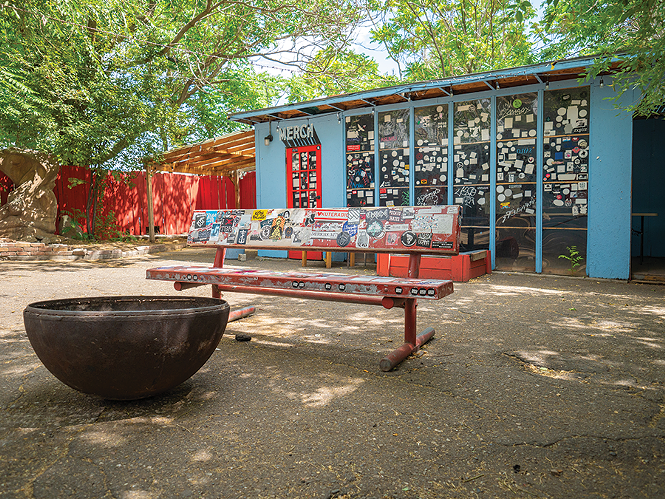 Will Sartain
The fabled Kilby Court courtyard
Ask any young Salt Lake City music fan what their favorite local music venue is, and there's a decent chance they'll say Kilby Court. The small stage, tucked away in SLC's Granary District, enjoys a lofty reputation belied by its humble appearance. Over the past two decades, Kilby Court has grown into a cherished fixture of Salt Lake culture, hosting local and touring live acts of every conceivable genre, from hip-hop and indie rock to extreme metal and outsider art.
Kilby's hardline all-ages policy has given an entire generation of Utah kids an entry point into their state's music scene, both as performers and audience members—a generation that includes current owners Will Sartain and Lance Saunders, who bought the venue from founder Phil Sherburne in 2008. The two attended shows at Kilby in the early 2000s as high schoolers and recognize those early concerts as extremely formative. It was a Death Cab for Cutie show in 2001, Sartain says via email, that spurred his interest in the music industry. "It was one of the many shows that made me want to be involved with concerts in some way, though I did not know how yet."
Saunders recalls Kilby's fabled courtyard as a space "where the band [and] concert attendee line blurred for me. It was special to realize we were all there for the same reason—our shared love for the art, music and culture." Sartain adds, "I met so many people in the courtyard as a young person. Kilby just feels different. It's special."
The venue provides a way for younger music fans to experience live music in a safe environment, but it's also a proving ground for acts from outside The Beehive State looking to establish a national following. "It's something of a rite of passage," Saunders says. "It makes me so happy when bands grow to play larger stages and yell out to the crowd, 'Our first time in SLC, we played Kilby Court!' and everyone screams and claps." Indeed, acts such as Modest Mouse, Bright Eyes, Phantogram and Mac Miller all played shows at Kilby when they were still finding their footing.
Also on that list is Death Cab for Cutie themselves, who headline Kilby Court's 20th anniversary block party on Saturday, May 11. "To be honest, Death Cab for Cutie was the band we really wanted from the start," Sartain says. "There were probably 30 to 40 acts we were hoping to get a chance to book, but it was always DCFC we wanted. They are such great people." In addition to Kilby veterans like DCFC and The National Parks, the anniversary event also features more recent Salt Lake up-and-comers such as The Backseat Lovers and Ritt Momney.
The bill for the block party might be impressive, but that's not all Kilby has to offer. In addition to live music—at the block party and at a kickoff event on Friday, May 10, at The Urban Lounge—the festivities feature an assortment of food trucks, an after party with local DJs on May 11 and a display listing every one of the more than 15,000 bands who have graced Kilby's stage. "That is really cool to me," Sartain says. "It feels important to take a moment to recognize the amazing artists that have made Kilby what it is."
Also on display is a showcase of artwork by Leia Bell, former Kilby Court co-owner with Sherburne, who has designed the majority of Kilby's show posters since the venue's birth in 1999. Sartain recognizes how instrumental Bell's artwork was in carving out an identity for the young venue. "A lot of the early posters had a huge impact on how Kilby Court was viewed in the community," he says. "The art put Kilby on the map, as much as the artists put Kilby on the map."
In their 11 years as owners of Kilby Court, Sartain and Saunders have expanded their vision beyond the venue itself, purchasing The Urban Lounge in 2009 and booking shows all around Utah through their talent agency, S&S Presents. They've still been able to maintain their passion for local music and culture, though. "I truly believe in the saying, 'If you find something to do that you love, you will never work a day in your life.' Every day I love coming to work," Sartain says. "The joy of it has never gone away." Saunders adds, "Truthfully, Kilby Court has always been a fun social experiment and labor of love to me."
Looking ahead to the future of Kilby, Saunders expresses an aversion to making any major overhauls to the venue. "Kilby has a life of its own," he says. "We're very apprehensive to change it, aesthetically. It is a very special place, not only to Will and I, but to the community. That being said, I feel that it is necessary to add little touches here and there to keep the venue as magical as it was when I attended my first show."
Overall, both men have the same goal: Keep Kilby Court alive and healthy for as long as possible. If the past 20 years are any indication, Salt Lake City feels the same way.