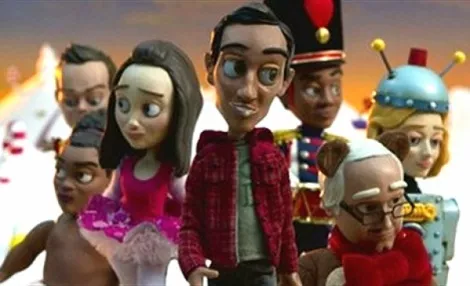 Community, The Office
Thursday, Dec. 9 (NBC)
Holiday Episodes:
Since CBS moved
The Big Bang Theory
to the same Thursday timeslot this season,
Community
has been getting killed in the ratings—which weren't that great to begin with, anyway. They're both smartly written and cast shows, but
Community
takes far more chances with the half-hour format: Tonight, for example, the Greendale Community College crew gets Christmas-classic stop-motion animated for the holidays (and last new episode of the year). And it'll still pull fewer viewers than
$#!t My Dad Says
. On a one-hour
The Office
, Holly (Amy Ryan) returns, which plays nicely into the circulating theory that boss Michael (the soon-departing Steve Carrell) will run off with her at the end of this season. As to who'll replace him, I'm pulling for Dunder Mifflin outside-sales rep Todd Packer (David Koechner).
It's Always Sunny In Philadelphia, The League
Thursday, Dec. 9 (FX)
Season Finales: Sweet Dee (Kaitlin Olson) has been pregnant all season; finally, tonight, "Dee Gives Birth" (kudos to Sunny for having the most succinct, self-explanatory episode titles on TV). But who's the father? The rest of the gang decides to find out by throwing a house party and inviting every guy Dee's ever slept with—apparently, it's quite a list (the real father of Olson's real baby is co-star/husband Rob "Mac" McElhenney, who may or may not have found out through a house-party cattle call). On the one-hour season finale of The League, something happens involving "Kegel the Elf." OK, they've finally won me over.

The Good Guys
Friday, Dec. 10 (Fox)
Series Finale: It launched on a Wednesday in May, ran on Mondays over the summer and finally wound up on Fridays—culminating with 20 total aired episodes tonight, you can't say Fox never gave The Good Guys a chance. The small-crime comedy kicked off with a hell of a lot of promise, thanks mostly to Bradley Whitford's flat-out-fearless performance as Dallas cop Dan Stark, an old-school detective who lives to drink hard, eat badly, drive fast, woo ladies and "bust some punks." Unfortunately, The Good Guys repeated the same formula about a dozen times before finally shaking things up and introducing some new characters to balance out Whitford's virtual one-man (and -mustache) show. Not that it mattered: The Good Guys really belonged on cable, where the quirky tale of two underdog crime-fighters could thrive and … oh, FX just canceled Terriers? Never mind.
Dexter
Sunday, Dec. 12 (Showtime)
Season Finale: It's still Showtime's highest-rated series and it's been picked up for 12 more episodes in 2011, but few are in agreement on Season 5 of Dexter. Following the epic, focused arc of last season with the Trinity Killer, this season couldn't help but seem scattered—Dexter (Michael C. Hall) is still shaken up, and it's reflected in the story-lines. Dex taking on a sidekick/girlfriend (Julia Stiles) in a proxy revenge scheme against an unlikely group of recreational rapists led by a motivational speaker (Jonny Lee Miller—no Lithgow, but sufficiently creepy) is only slightly more ridiculous than Season 3's murderous buddy-up with the Miami district attorney when you think about it, but the dramatic payoff will be more important going forward … maybe. Since Showtime didn't send the finale episode (just like last year—bastards!), operating in the dark here. For all I now, we could be looking at a Six Million Dollar Man/Bionic Woman-type spin-off situation, with Stiles starring in Lumen (which would pair well with Nurse Jackie or United States of Tara on Mondays). See what kind of wild speculation happens when you don't give up the finale, Showtime?