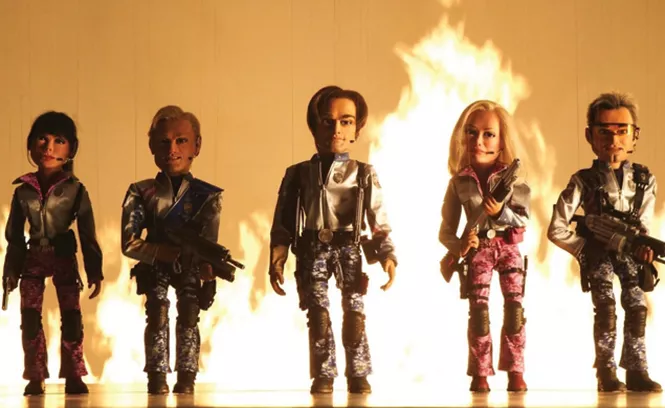 Team America: World Police
There are two kinds of people: Those who think Lee Greenwood's "God Bless the U.S.A." is rousing and inspirational, and those who find it sappy and sentimental. They're both right, but they both say the other side is wrong. The country is divided between these two camps: Those who'd proudly sport a 'Murrica tramp stamp and those who, if they had to characterize their patriotism on Facebook, would say, "It's complicated." This patriotic mix is a little something for everybody.
Dennis Madalone
"America, We Stand as One" (2002)
If Greenwood's song is sappy and sentimental, this one doubles down on a double-down. But, like Greenwood, Star Trek stunt coordinator Dennis Madalone's heart is in the right place. Released in 2002 as a reaction to the Sept. 11 attacks, it's intended to comfort those who've lost loved ones. Dat video, though. It's corny (baa-ing vibrato, gratuitous mountaintop hero shots, cheesy digital effects), it's creepy (angelic possession, petting children on a playground) and it bursts with jingoistic undertones. But that's one perspective. Close your critical eye, see how it's an expression of shared sorrow and hopeful inspiration, and it's a tear-jerker.
Blowfly
"The First Black President" (1983)
Before Barack Obama, Blowfly—the original dirty rapper—aspired to lead the free world with promises of "chitlins in every pot, ham hocks on every table, birth-control pills in every purse, and we're gonna have an orgy every motherfuckin' weekend!" Once elected, he realizes it's not all "Yes, we can." He uses his coke stash to pacify Superfly Jackson of the United Pimps Association, surrenders his weed to Pope John Paul II and, running out of indulgences, "fucks this bitch again"—to disastrous results. "The herpes?! I resign! Fuckin' herpes!"
DVDA
"America, Fuck Yeah" (2004)
Everybody knows this tune from Team America: World Police by South Park creators Trey Parker and Matt Stone. The professed libertarians' film skewers liberals and conservatives alike. But the song, performed by Parker and Stone's band, targets the jingoism of the latter group, who love it on purely literal terms.
Violent Femmes
"American Music" (1991)
"Do you like American music?/ I like American music/ Don't you like American music, baby?" Singer-songwriter-guitarist Gordon Gano likes his own music so much, he let Wendy's use it to advertise their hamburgers. And he's a vegetarian. The Femmes' acoustic punk rock rules, but that was a travesty. Eh, welcome to America.
The Beat Farmers
"Gun Sale at the Church" (1986)
Some Americans fail to see the irony of loving both God and guns, and that's the point of this tune by the greatest cowpunk band of all time. "We'll ask the Lord to forgive us for all our sins/ And we'll look at the latest in gold-plated firing pins," sang late singer-guitarist Buddy Blue. That hammers the point home rather well, don'tcha think?
Prince
"America" (1985)
Prince is a musical genius, but it may stop there. An irresistibly funky rocker with a kickass riff, "America" is full of contradictions. For instance, a minimum-wage worker who's "almost dead" isn't in the black, "but she's happy she ain't in the red." And although Prince trumpets freedom, love, joy and peace in the song, he drops this turd of a verse: "Jimmy Nothing never went 2 school/ They made him pledge allegiance/ He said it wasn't cool/ Nothing made Jimmy proud/ Now Jimmy lives on a mushroom cloud." Huh. Where would Prince be without freedom of speech? (Sorry, Prince hates YouTube. Here's a potato, instead.)
X
"Fourth of July" (1987)
Sometimes patriotism is the furthest thing from your mind—especially on the one night of the year when maybe it oughta be. Originally written by Dave Alvin for the Blasters, then given to X while Alvin temporarily replaced founding guitarist Billy Zoom, the song is a blue lament with striking imagery. Namely, a man sitting alone outside his apartment, smoking and thinking how, while the fireworks burst above him, he and his girl—who's inside, crying in the dark—have lost the spark. Ouch.
Motorhead
"America" (1982)
How does America look to outsiders? Well, this legendary English heavy-metal power trio lists some pros and cons. What's good? Sinsemilla, Ripple wine, "white line fever," fast cars, girls and bars. What's bad? Extreme temperatures and cops. Iconic frontguy Lemmy's ultimate opinion, sung in his trademark whiskey- and ciggy-ravaged voice? They "liked it fine." Put that on your website, U.S. Chamber of Commerce!
Ray Charles
"America, the Beautiful" (1960)
America's pretty screwy right now, but we can all agree that when Ray sings this one, we're all on the same page.