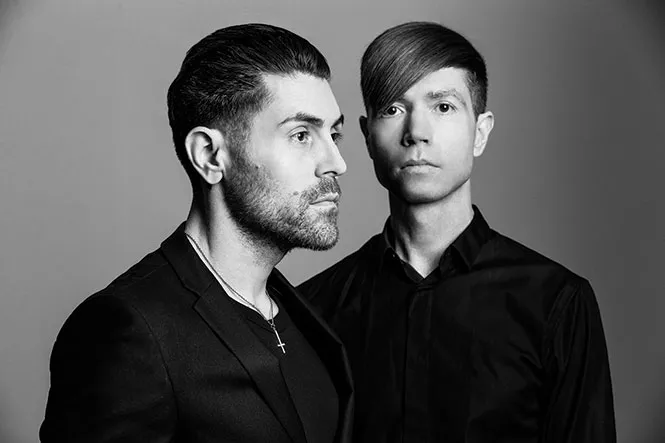 For a duo that has been around since 2001, Blaqk Audio—with only three albums and one previous tour—is perhaps co-founders Davey Havok and Jade Puget's most curious project.
Havok and Puget are members of XTRMST, a new straightedge hardcore band, as well as the infinitely influential rock band AFI. With multiple platinum certifications, numerous studio albums and EPs, and an ever-changing and evolving sound, it would seem they could ask for little more. But AFI and XTRMST, being organically fashioned with guitars, drums and bass, inherently lack an avenue for the flourish and artifice of electronic music, for which Havok (vocalist and lyricist) and Puget (programmer and producer) harbor a deep affinity.
Out of the void was born a pulsing, sexual, electronic creature: Blaqk Audio. "It's a labor of love—our love of electronic music," Puget says. "We had been into electronic music for a long time. We were like, 'We love this stuff, why don't we start our own electronic thing?' And that's what we did. We started Blaqk Audio."
Yet, it wasn't until 2007 that Blaqk Audio released their first album, CexCells (Interscope). "We were just so busy during that period with AFI," he explains. And busy they were: The interim was filled with the recording, release and promotion of 2003's highly acclaimed Sing the Sorrow (Dreamworks) and 2006's commercially groundbreaking Decemberunderground (Interscope).
And although Puget is grateful for AFI's larger-than-life status, Blaqk Audio has had to fight some critics and fans in order to escape that shadow. Puget says, Blaqk Audio "is often seen as a side project"—understood here as a somewhat devaluing term, a way to signify a lesser band making lesser music. "Once people give [Blaqk Audio] a chance, they realize that it is something totally different."
"We've found a lot of continuity between the three records," Puget continues, which isn't to say that CexCells, 2012's Bright Black Heaven (Superball Music), and their most recent release, 2016's Material (Blaqknoise/Kobalt Records) sound the same. CexCells is a brooding, sexually liberated album in tone and sound; Bright Black Heaven is somewhat upbeat, experimenting more with treble, but featuring intricate bass movements and overt percussion—more sensual than sexual, and a far cry from the hedonistic reveries of the past.
"Material is a little different," Puget says, "in that lyrically, Davey is coming from a place that is more akin to the last AFI record, Burials. The dark and twisted place [Davey] was in during that record, it bled over a little bit into this record." Musically, Material is noticeably brighter and, more than ever, it explored the modern electronic sound spectrum, becoming a beautiful paradox: disturbed, yet exquisitely fashioned.
Blaqk Audio has found a level of commercial success. CexCells' "Stiff Kittens" reached the Top 20 on the alternative rock charts, which Puget says was "crazy and unexpected," and they garnered a fan base that isn't dependent on their AFI roots. Ultimately, they aren't concerned with success, at least in the popularly accepted sense, according to Puget: "My metric of success is putting out music that I enjoy and enjoy writing, and maybe getting to play a few shows of it."
"If you've been to an electronic music festival, it's a totally different energy than a rock show," Puget muses. It is this energy, this euphoric state caused by these unearthly tones, that seems to draw the musician in. "What Davey is doing is very similar ... He's out there singing and doing what he does, like in AFI. But what I'm doing—I'm behind a table with laptops and synthesizers, and it's a completely different experience for me."
Recently, Puget and Havok performed at the Grammy Museum in Los Angeles, courting this euphoria once again. "We played 'Anointed,' which is on Material, for the first time live and that was really fun ... I really enjoy playing all of [the songs]—kind of cliché, but true."
Puget hopes that, in the future, Blaqk Audio can release records more frequently, "I'd like to put out a record every year, even. [We] would have liked to have done that all along, but with having so many other [projects] going on, it's hard."
Most importantly, Puget says that he'd like to continue with Blaqk Audio "as a fun, creative outlet for our love of electronic music."