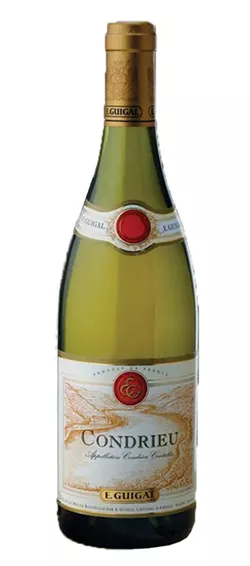 Whenever I'm feeling a little flush or have managed to balance my checkbook and find that I am actually in the black, I like to treat myself to a bottle of wine that wouldn't normally fit into my drinking budget. And, upon those rare occasions, I often put my dough into a bottle of Condrieu. Are you familiar with it?
Condrieu is one of two tiny appellations of France's Northern Rhône—so small as to be nearly unviewable by satellite—the other being the 8.6-acre Chateau-Grillet, which is France's smallest wine appellation. I'll save the discussion of Chateau-Grillet, which holds the distinction of being both its own appellation within Condrieu and a single producer, for another time. For now the focus is on Condrieu, the bigger brother of the two.
So, Condrieu is a French wine appellation made up of about 250 acres, and it's also the name of a French white wine. The grape varietal planted on those 250 acres, and from which Condrieu is made, is Viognier (pronounced VEE-ohn-yay). Karen MacNeil, author of The Wine Bible, calls Viognier "possibly the most drippingly sensual white grape in the world." I agree wholeheartedly, which is why I raid the piggy bank and spring for a bottle on special occasions.
Now, you can find types of Viognier that aren't expensive (there's actually about four times the amount of Viognier grown in California than in France), but Condrieu isn't one of them. Expect to shell out over $60 for a bottle of the most basic Condrieu. It'll be worth it.
Someone should capture and bottle the floral and tropical aromas that explode upon opening a bottle of Condrieu—or any good Viognier, for that matter—and sell it at a parfumerie. Lush, ripe notes of white peaches and melons, lychee, honeysuckle, tangerine, pineapple, apricot and orange blossom tell you that there is some seriously sexy sipping in store.
One of the reasons that Condrieu is so pricey is that Viognier is notoriously difficult to grow. It's a temperamental grape that is fussy about humidity and dampness, prone to disease and produces low yields. The naturally low-acid grapes can end up tasting bitter and/or bland if the producer isn't on top of his or her game. And Viognier's subtle, elegant flavors can be all too easily masked and overwhelmed by anything but the most restrained and judicious use of wood-aging. All of this makes for a wine that, yes, is expensive, but at its best is also one of the most enjoyable wines you'll ever taste.
In Utah, Condrieu is a rarity. While its most prestigious producer is Georges Verney—and others like Dumazet, Yves Cuilleron, Robert Niero, René Rostaing and the like make great Condrieu—our state wine stores here only list three available versions.
E. Guigal Condrieu 2013 ($68.75) undergoes malolactic fermentation with one-third of the vintage going into new wood barrels and the rest into steel tanks. The wine is then aged in 100 percent new oak. The wine, while rich and full-bodied, is still a tad tight, and I think would benefit from a year or two of continued aging in the bottle.
Saint Cosme Condrieu 2013 ($78.20) is well-balanced with great finesse, offering elderflower, peach and jasmine notes. It's very round and aromatic, and I think it would be sensational with lobster dishes.
One of the "tresors" (treasures) in Guigal's collection of fine wines is E. Guigal Condrieu "La Doriane" 2014 ($129), which is culled from vines averaging 35 years in age. Its light acidity is balanced by sensational, full-bodied fruitiness. This is a richly perfumed, very sexy, spectacular wine that will get even better over the next few years.