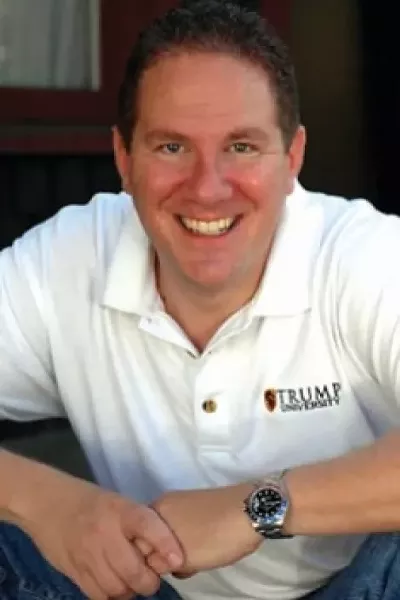 "Welcome to the wonderful world of Robert Paisola."
The greeting was scrawled in red on a board in a conference room of a Salt Lake City office complex and storage unit site. Paisola, wearing an ever-ready smile, sat at a large round table, waiting.
Actually, the world of felon and alleged Internet cyberpirate Robert Paisola can be downright creepy. It seems the Internet—more so than patriotism—has become the last refuge of scoundrels.
I promised the manager of the building where Paisola and I met not to reveal the property's name and address. She didn't want to be associated with 39-year-old Paisola in print, especially after learning he claimed it as one of his offices. Nor did a self-described friend of his at the complex, who held up his hands at the mention of Paisola and walked away. One of Paisola's relatives even begged via e-mail that his family not be brought into any story.
Paisola, however, wanted to talk—at least for our first and last interview. "I want front page," he chanted.
So, for two and a half hours, we battled over the truth about Paisola, founder and Chief Executive Officer of a mysterious Utah company, Western Capital Group.
While Western Capital Financial, Inc. is a state-registered corporation, whether or not the company actually has offices or employees beyond Paisola and the Lehi condo he rents from a relative is debatable at best. Paisola's court-documented criminal past, which includes convictions for insurance fraud, child pornography possession and false loan applications, is not.
Paisola considers the past behind him. "I simply draw a line and move forward," he said. "That's the way I am able to create what I create, the abundance in my life. I do so by being able to simply say, 'That was then, and I've paid my price to society for the things I have done.'"
But, if such abundance exists, critics argue, it may come in part from Paisola soliciting fees on the Internet from people being pursued by debt collectors. He professes to be an expert on debt collection on his Website MyCollector.com, but doesn't reveal that law enforcement agents shut down his first collection agency, and he went to jail for insurance fraud.
Which perfectly illustrates the true wonder of Paisola's world: It's built on an electronic version of the street-corner hustle, Three Card Monte. Apparently with plenty of time on his hands, Paisola endlessly shuffles and multiplies Web pages so you never know where the truth is hiding—or if it's present at all.
Take Robert Paisola's Western Capitol Foundation. Its Web page says it promotes "criminal offender reform." MSNBC even featured him as a prisoners' rights advocate in a news segment in February. Yet Paisola can't cite a single prison he's visited as an advocate or an ex-con he's helped.
His publicist says he "is quickly becoming one of America's eminent citizens, motivational speakers and success-training leaders." But he would not provide a couple of clients to testify to the virtues of his programs.
Add to all this relentless puffery his pressuring of companies large and small with innuendo-strewn blogs and Websites and the overwhelming impression is of a man hiding his past from prying eyes with endless digital sleights of hand—even as he claws at your wallet.
Consider this a cautionary tale: Robert Paisola would like nothing better than to pull you into one of many scams, burrow under your skin and stay there.
BANNED TO JIFFY LUBE
Once I'd examined Paisola's rap sheet and his conservatively estimated 15 Websites, one fact became startlingly clear: With so much personal information available on the Internet, it's inevitable that the Paisolas of this world—with just a few minutes of research—can lob grenades packed with misleading information and innuendo at whomever they choose with little or no consequence to themselves.
But, if that was the impression I'd gained from studying Paisola before our interview, he had a different message to sell me. He was inspiring others through motivational speaking to learn from his example of building a future after leaving prison.
"I want to be very clear up front: I stand 100 percent accountable for everything that has happened in my past," Paisola boomed upon my arrival. His criminal experiences "made me what I am today." They've shown, he says, he can create change by inspiring others with his example. "[I don't] just sit back and go … I'm a complete victim, I'll never be able to overcome this, I'm forever banned to [working at] Jiffy Lube."
Paisola's concern with an ex-convict's future being restricted to wiping dipsticks aside, I might have given him more of the benefit of the doubt about his supposed achievements, if, 10 minutes into the interview, he hadn't whipped out a document bearing my name, my wife's name, our old home phone number, my home address, and the previous countries I've lived in.
He said he'd been informed I was asking questions about him. Throwing that document in my face was his response. I told him how uncomfortable his blatant attempt at intimidation made me.
"Tell me how it feels," Paisola demanded. "Describe it."
He later deemed the personal invasion an object lesson in what it takes to be an investigative reporter in the era of the Internet and online information sources like LexisNexis. If journalism in the 1970s was about thorough editing, today, "Mrs. Jones who learns how to blog isn't going to have checks and balances," he said. "She's mad at the milkman because he's not delivering the milk. That's where we are going."
The Internet future Paisola posited, and indeed represents, is already a reality. Under Section 230 of the federal Communications Decency Act, the owner of a Website is not liable for what third parties write on it. So the Internet's a free-for-all, one never-ending bathroom stall wall where you can scrawl whatever you want about someone you don't like—and it will never go away.
But for Paisola, the Internet's not just about instantaneous publication, regardless of veracity. Like a contemporary version of James Thurber's eternal dreamer Walter Mitty—armed with a digital pen—Paisola has built a labyrinth of Websites and blogs detailing subsidiaries of his businesses and at least 10 supposed careers that speak volumes about his desire to reinvent himself.
The reinvention extends to his criminal past. When it comes to his child-porn-possession conviction, Paisola chooses to rewrite history, even as the consequences of that very crime pursue him into court.
The threat he poses, I discovered, is not only to livelihoods and reputations. He can also steal a person's innocence. Whether you're a teenage girl in a small Texas town being questioned by local police because, unknowingly, you have a registered sex offender from Utah called Robert Paisola on your list of MySpace friends, or a journalist who thought his professional neutrality was a shield that could not be breached, no one, it seems, is immune.
LAWN-MOWER MAN
"Do you feel a presence when you're around me?" Paisola asked. "Do you feel a magnetism?"
What I felt was a hammering headache from being constantly shouted at as I tried to extract his story. But in order to understand Paisola's dark Wizard of Oz persona, you need to see the criminal roots from which it sprang.
Paisola was born in 1967, a date worth noting since he's been known on his MySpace pages to lop five years off his age. He was raised a Mormon in Newark, Ohio. His father was an elementary school principal; his mother, a real-estate agent. Money was important to Paisola, even at age 13. While his school friends were getting $5 allowances, the budding entrepreneur had his eye on $50 bills. So he set up Paisola's Lawn Care. "I cut neighbors' lawns for $5 and $10 apiece," Paisola recalled, who ranks one-time junk-bond king Michael Milken and business mogul Donald Trump as personal heroes.
He studied business administration, he says, at Brigham Young University. While he disagrees with a BYU records office administrator about how many years he was there—she said four, he said two—either way, both say he dropped out. With a group of friends, he set up a Provo company called Credit Control in 1990. "[We] said there's all these apartment complexes in town … [so we] specialized in collecting the rent of students that don't pay."
Times were so good for awhile that the firm's principals' Porsches lined the entry to Credit Control headquarters, Paisola boasted. But in February 1996, according to press reports at that time, Utah County Attorney's Office investigators shut the firm down. Paisola faced 22 state charges of theft by deception and one of racketeering, and one count of insurance fraud. He pleaded guilty to the fraud charge in August.
In January 1997, Paisola pleaded guilty to a federal charge of submitting a false loan application and was sentenced in June 1997 to 30 months in prison with 60 months supervised release. The state dropped its charges in exchange for the federal plea. He was ordered to pay more than $132,000 in restitution.
Paisola served his time at Lompoc Correctional Facility in California. While there, he also pleaded guilty in 1998 to the possession of three or more images of child porn found on his computer. His 18-month sentence ran concurrently with the time he was already serving.
Come May 1999, he was out of jail, on parole and back in Utah. The child porn conviction earned him a place on the Utah State Sex Offenders Registry. It lists his home address in Utah County and two Lexus vehicles. The Website also features Paisola's sex offender registry's ID photo.
He asked if I noticed anything unusual about the picture.
"You were smiling," I said. "Why on earth would you smile?"
"To be completely clear it's OK," he said. "If everybody lived in their past, Bill Clinton would probably have a difficult time being paid anything to speak to anybody."
MR. INVESTIGATIVE
Despite the fate of Credit Control and a long list of small-claims court judgments, Paisola nevertheless returned to handling others' debts when he left jail, opening a collection agency called Western Capital. Three years later, he was back in court on charges of violating his parole by making two false loan applications.
At Paisola's sentencing hearing in July 2002, U.S. District Court Judge David Winder said, "This man didn't gain any understanding from his conviction on the prior crimes, and he gets out, and there is just page after page fraudulently dealing with other people here. … In order to keep him from committing crimes, he has got to be incarcerated."
Along with a 16-month sentence, Winder ordered 18 months of supervised release that included participation in mental-health treatment, no control over others' assets or funds and no access to computers. The Internet ban included "any Internet service provider, bulletin board system or other public or private computer network."
But according to material on his own Websites, Paisola was soon breaking parole by promoting Western Capital via the Internet.
Paisola said he recently quit retail debt collection to focus on "helping people." Through blogs and Websites, he began assailing companies—whether debt collectors, real-estate agents, or mortgage lenders—he claimed were abusing consumers. He launched so-called "investigations" using his credentials as a self-proclaimed senior journalist at "CNNlegal" and also as a member of the University of Missouri-based Investigative Reporters and Editors [IRE] organization. His critics argue that his promotion of ties to organizations like IRE add weight to his spurious claims of wrongdoing and inspire fear in those he pursues. Paisola evaded several requests to produce either printed or electronic articles he'd been paid for. He did, however, produce his IRE membership card.
I inquired with IRE president Brent Houston about Paisola's membership. Following a review of his credentials and a request for any additional material, Houston said Paisola's $60-per-year membership was terminated. "We rely a great deal on the integrity of people who apply to be journalists," Houston said.
Paisola continues to hold himself out as an IRE member, despite being told of the nonprofit's decision to revoke it. "As an accredited reporter with IRE, we provide raw stories to some of the nations leading publications," he insisted by e-mail. "Many of the stories we do are investigative in nature." Paisola explained that CNNlegal.com, for which he claimed to work as a senior journalist, is "a conduit for these raw stories."
Click on CNNlegal.com on Paisola's site and, until recently, you were taken to CNN's home page, giving the impression he worked for the 24-hour news network. "CNN is a trademark of Turner Communications and that is why the site goes to CNN.com," he said.
Asked for comment, CNN spokeswoman Megan Mahoney said, "We're looking into this matter further and will take action as we deem fit," she said.
By purchasing sound-alike domain names like CNNlegal.com, Paisola often leeches off the reputations of brand-name outfits to give himself gravitas. In a lengthy letter of complaint about Paisola to the Utah Attorney General's Office sent December 2006, a debt collector turned private investigator named John Brewington explained, "Mr. Paisola steals whatever appeals to him. He takes names like Trump, CNN, Sundance, IPO, Carnival Cruises and changes them to make his own. There is no mistaking his intent." That intent, Brewington said, is to get companies to pay him in exchange for the domain names. "If the owners of the material make their dissatisfaction known, Mr. Paisola posts their names on his Website in a suggestion that they did something wrong."
ATTACK OF THE SPIDERS
Among Paisola-related sites listed on Google are several dedicated to attacking his character and claims. One is by a feisty, 78-year-old debt-collection critic, Oklahoma-based Billie Bauer, who recently took to calling Paisola "the thief in chief." But of all Paisola's critics, Brewington, who's on a self-appointed crusade to drag him into the light, is by far the most ardent in his pursuit. Not that Paisola takes such attacks lightly.
One of the stories Paisola claims to have done through CNNlegal.com is his expose of Brewington for "[defaming] my family." Paisola claimed to have forced Brewington to remove negative Websites he put up about him.
Brewington said it was the other way around. He's been investigating Paisola from his home base of Phoenix for almost a year. Last November, Brewington said, Paisola put up a blog on his own site claiming the PI was a cyberterrorist under U.S. Secret Service investigation. Paisola also published Brewington's home address.
A Phoenix journalist told Brewington about a onetime spammer-turned-Internet-vigilante called William Stanley. Based in Austria, Stanley runs a site that promises to combat defamation on the Web. For fees ranging from $2,000 to $10,000 or more per month, Stanley's company uses optimization search engines to force down negative material to the second or third page of Google. Most searchers only encounter their clients' sanctioned copy.
Stanley told Brewington he could persuade Paisola to remove the blog in half an hour. "While we were on the phone, he sent [computer] spiders into Paisola's Website," Brewington said. "He extracted addresses in there and sent to 400 e-mail contacts an e-mail discussing the fact [Paisola] was a convicted child-porn [possessor]."
Paisola tried to negotiate with Brewington. "He was on my phone eight times that day. Finally I picked up. 'Take it down or get crushed,' I told him." The blog came down.
Along with his letter to the Utah AG, Brewington included a package of Western Capital Website material and two recent lawsuits for cybersquatting filed against Paisola. He claimed Paisola was "a danger to the worldwide community."
Brewington makes no bones about his mission to expose Paisola. "Paisola's a predator," he said. For Brewington, it's his duty to protect the weak. "I hate bullies," he said.
Even though Brewington severely doubted Paisola's abilities as an investigator, that doesn't reduce the threat Paisola poses on the Internet, he said.
"Isn't he committing murder as well, [by] assassinating a business, a character?" he said.
DIGITAL DRIVE-BYS
One business reputation Paisola's attacked is that of Scottsdale, Ariz.-based mortgage lender, William Spain, who owns a company called Provident Partners.
"[Paisola's second] ex-wife worked for us," Spain said. "We terminated her for not doing her job. As soon as we did, he started hassling us."
Paisola said he became involved with Spain because "a close friend"—his ex-wife's current partner, another onetime Spain employee—was owed $2,000. Spain denied this.
The "hassling" took the form of a Website entitled "Provident Partners—the facts." (Paisola put up a similar site promising the "facts" about Salt Lake City Weekly in late April and also bought the domain names SLWeekly.net, SLWeekly.org and SLWeekly.info. At press time, these domains redirected browsers to City Weekly 's official site, SLWeekly.com, but were still under Paisola's control.)
"He's trying to be a disturbance in the business," Spain said. "He intimidates, interferes in daily business practices, prints all kinds of things that are not true."
All Paisola could come up with on his Website regarding Spain's alleged wrongdoings was to catch Spain lying about having legal representation. Spain said he'd become so exasperated by the constant harassment, he'd told Paisola to speak to a lawyer whom a Provident employee had recommended, without actually having hired him.
Finally, Spain decided the best remedy was to simply ignore Paisola. Any client inquiring about the Website was issued a statement, Spain said, that it was from a "disgruntled ex-employee's boyfriend, a felon, not a nice guy."
Spain employs 45 people. But Paisola's ambitions are not limited to needling small businesses. A lawsuit filed against Paisola in Utah by American Express spin-off Ameriprise Financial for alleged cyberpiracy and another by Illinois-based small business consultant International Profits Associations [IPA], claiming Paisola made "extortionist demands for 'hush money'" provide ample evidence of his willingness to take on sizeable corporate opponents.
Paisola agreed: "I have no problem taking on some of the biggest corporations in the world,"
Ameriprise, in a September 2006 complaint filed in U.S. district court of Utah, alleged Paisola had registered AmeripriseUniversity.com, which he'd linked to an Ameriprise-owned Webpage. He then tried to sell Ameriprise the domain name for "at least $3,000." When Ameriprise counsel asked Paisola why the company should purchase the infringing domain name, he said, according to court documents, "that he is 'narcissistic,' and is only concerned that 'the check clears.'"
In January 2007, Ameriprise obtained a default judgment against Paisola in U.S. District Court for $10,000, plus attorneys' fees of $17,000. Asked for comment, all Paisola would say is "bring it on."
IPA's management, through a spokesman, said they enjoy "an amicable relationship with Robert Paisola." This seems odd, given the torture he put the company through, including, according to court documents, "a campaign of false, misleading and defamatory Internet postings … and not-so-veiled threats against IPA's officers and employees." Paisola's alleged demands for payment started at $56,000 but wound up at $10 million and climbing.
"Whereas Paisola recently conducted himself with a feigned appearance of legitimate, business-like professionalism," IPA's counsel wrote in court filings, "within the past week, his behavior has become irrational, profane and bizarre in his own ranting Website posts …"
IPA and Paisola came to an agreement that involved the issuing of a permanent injunction prohibiting him from "posting, publishing or disseminating any information, statements, recordings or images … purporting to be, either expressly or implicitly, about IPA." He also had to transfer ownership of any and all domain names related to IPA, including IpaOpinion.com and IpaRipoff.com
SYMPATHY FOR THE DEVIL?
"Is it essential to bring up the sex-offender issue and the historical relevance of that as to where I'm at now, past the 2-year mark [of leaving jail], moving forward, bringing change to the world?" Paisola asked.
"It's part of your story," I said.
"But do you get I'm not this creepy little guy, it's not like that?"
"Yes," I said.
I'm not sure why I said "yes." Having spent more than two hours with him, there had been moments, such as his constant mimicking of my body posture, that were oddly amusing in his less-than-subtle attempts to manipulate me.
But for all his attempts at denial or dismissal, for the harping on how his past has made him great, at the disturbing heart of Robert Paisola's story arguably lies a series of horrific images involving children and his incessant efforts to squirm out of the moral sanction his ownership of them imposed on the rest of his life.
"Whenever I think of child porn, I think of a child being sexually molested," Paisola said. "I have never seen anything, and you can talk to any investigator, anything that represented that in any of my cases. Nothing. Not one iota, not one picture that would be considered sexually deviant."
In our interview, Paisola claimed the porn found on his computer in 1996 were images from a nudist group, included among 50,000 pictures a friend gave him on a software program.
Federal court documents reveal, however, that U.S. Customs investigators found images not only of naked prepubescent girls but also of children engaged in explicit sexual acts. Employees of his Internet service provider discovered the porn after learning Paisola had far exceeded his contractual space limits. They told investigators Paisola tried to delete the images. Court documents also show he acknowledged "he was aware that the photographs were there."
All this seems to contradict a statement made in a press release Paisola's publicist e-mailed me that his "unsecured computer" contained "images which were not viewed, used, passed along nor satisfied any concept of personal sexual fulfillment or deviation."
I asked via e-mail if it's appropriate for a man on the brink of 40, with a conviction for a child-sex offense, to have among his 47 "friends" on two MySpace pages—which states "I will tell no lies …"—nearly two dozen women in their early 20s in various states of undress.
"I have hundreds of friends and supporters and the belief that age is an issue with adult [sic] is uncanny," he wrote back. "The sex-offense conviction was 10 years ago [almost eight years ago, according to court documents] and I have proven that is not who I am."
But for a then-17-year-old girl who graduated in 2006 from Crandall High School in Texas, discovering last summer that the child-porn conviction of a man who was one of her MySpace "friends" was a whole eight years ago could hardly have seemed comforting.
A rural community southeast of Dallas, population 3,000, Crandall is a close-knit town, said the student's high school coach, Brian Barnett.
Last summer, Phoenix investigator Brewington called Barnett to inform the school of a model student whom Paisola had listed as a MySpace friend. The school investigated Brewington's claim, Barnett said, then called in the girl's father and local police. Shortly after, the girl went with her parents to the police station.
"It was really creepy to go to that guy's MySpace page, see his picture there, then go to the State of Utah sex offender list, read what he was accused and convicted of," Barnett said. "It's almost surreal it could be happening here."
MySpace closed down Paisola's page, Brewington said. But by the end of April 2007, he had two MySpace pages under the name of Moneytrainer. One featured a 17-year-old Utah girl listed among his 'friends.' Although MySpace did not respond to a call for comment, the pages were recently deleted.
A POWERFUL GUY
However much Paisola downplays his porn conviction, it still follows him around. A Lehi detective arrested Paisola last September after finding discrepancies on his Utah Sex Offender Registry listing. At the end of a mid-April preliminary hearing, 4th District Court Judge Samuel McVey found probable cause against Paisola for two counts of failing to register. His arraignment is set for June 25.
In an e-mail, Paisola explained his arrest was based on the misspelling of his home address on the sex-offender site and his failure to register the second Lexus he'd purchased. What Paisola neglected to mention was that for more than a year, his home address on the state Website was the same as Western Capital's principal offices—a UPS store mailbox in Draper.
At the end of our interview, Paisola called up his Website. He had announced our interview and the forthcoming story. Alongside my name, he'd put my home address. Trembling with rage at yet another attempt at bullying me with my own information, I asked him between clenched teeth to take it off.
"Would you like me to take it off?" he cooed, smiling up at me with his empty eyes. "You know that it is my honor to take it off."
On his lips, the word honor seemed obscene. I ached to hit him. Instead, I held out my hand. He stared at it for a moment, then stood up, took it and held my elbow with his other hand. "I'm honored to meet your request, to do that for you," he said.
"You shouldn't have put it there in the first place," I said, jerking my hand out of his grip.
"I didn't know who you were, my friend."
No one, he seemed to be saying, had the right to ask questions about Paisola, and certainly should not expect to walk away from such efforts unscathed. What he wanted me to understand, I realized, was the power he had to cyberstalk me before I'd written one word about him.
"Power?" he said with a half-smile. "I'm a tender, loving, caring, powerful guy. Yes, I am."
He was right about one thing, I thought, as I stepped out of his makeshift lair into the sunlight. This was an interview I wouldn't soon forget.