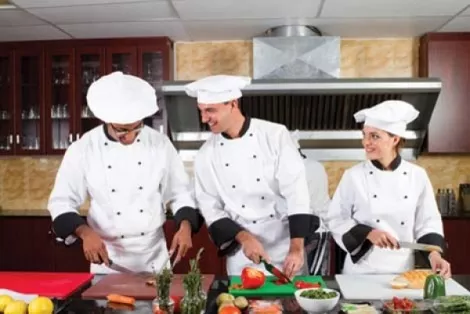 With the New Year, you'll want to make cooking a joy rather than a dreaded task at the end of the day. But who has time to cook—what with long hours at work, social obligations, workouts at the gym, errands, etc.?
It's easier than you'd think, says instructor Andrew Young, who teaches several classes weekly—on fine dining as well as quick, everyday meals—for kitchen-goods retailer Sur La Table (10 N. Rio Grande St., 801-456-0280, CookingClasses.SurLaTable.com). "To be able to cook for yourself, rather than just ordering takeout, especially Monday through Friday, is a skill that everyone should have," Young says.
Taking a cooking class can help accomplish several New Year's resolutions, including learning a new skill and eating more healthfully and affordably. The three-class series "Anthony Bourdain's Cooking Basics," is a kick-starter, with a new series beginning each month. All of Sur La Table's classes are hands-on, putting students in the action instead of merely watching, Young says. Try "Globally-Inspired Weeknight Dinners" or "Fast and Easy Thai Favorites" (each $69, including copies of recipes and cooking tips), or one of the many "Date Night" options with your significant other. For more challenge, advanced classes are available.
But there are a number of other cooking classes, as well: Viking Cooking School (2233 S. 300 East, 801-464-0113, VikingCookingSchool.com) features the demonstration Essentials Cooking Series (full 12 weeks, $419; single class, $49) as well as the five-class, hands-on Viking University ($599) covering the basics, plus individual classes spanning a broad culinary base (prices vary). Bosch Kitchen Center (8940 S. 700 East, Sandy, 801-562-1212, MyKitchenCenter.com) has more economical, demonstration-based classes that range in price from free to $10. 
Any of these options could perk up your palate and bring light to the weekday cooking blight.