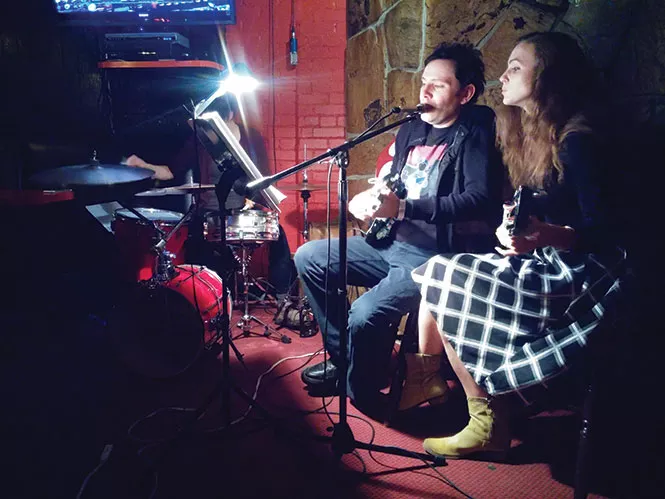 At 8:15 on a Wednesday night, the Twilite Lounge is already bustling. "The Twi," as some call it, is the sort of neighborhood lounge where you can stop in for a quick beer and a game of pool. It's also the kind of joint where you can post up in a dark booth, draining pitcher after sudsy pitcher, vibing with old friends or new ones.
It's not the first place you'd expect to hear live local music. But maybe it should be.
Walking through the already crowded lounge, you pass a melting pot of regulars of all ages and persuasions. Barflies buzz on what must be their regular stools. Places like these have jukeboxes, leaving it to the patrons to program the music. But, just visible over the crowd, there's a band setting up.
Navigating the near-gridlock feels like the opening scene from the 1993 Mike Myers comedy, So I Married An Axe Murderer. The one-take shot, from the perspective of a server balancing a giant, frothy cappuccino, takes in the diversity of people, a blend of hipsters and normals, until arriving at a back room where wanna-beat poets recite "autobiographical" verses about the night they got to ride in the mothership. But there are no poets in at the rear of the Twi—only musicians.
Wearing bohemian black, lanky David Payne sets up his homemade, six-channel P.A. system while drummer Halee Jean erects her kit. Their "stage" is the floor in front of a brick fireplace, facing four or five booths to the right, and a group of empty, shoved-aside chairs to the left. I take a seat, and soon Payne arrives with a pitcher. He's followed by tall, pixy-ish Jean. Payne doesn't need to say it, but does: "We get paid in beer." He pours.
Payne leads the long-running local band Red Bennies, in addition to playing in myriad other bands. Jean is the Bennies' drummer. Tonight, though, they're playing as Jazz Jaguars, a band that plays "quieter, prettier" versions of songs by Red Bennies and related bands like Coyote Hoods, Glinting Gems and Tolchock Trio, as well as cool covers of tunes by David Bowie and Scott Walker. The band usually includes Bennies' guitarist/bassist Christy Matthews, but tonight Payne's wife/bass player, Leena-Maija Rinne, who's now pulling up a chair, is filling in.
The Jaguars' genesis dates back to January 2015, when Payne started a Glinting Gems "B Squad," an alternate lineup for his side project with Rinne. They started playing a regular Sunday-night show at The Urban Lounge, called "Time to Talk 'Tween Tunes." The night was a reaction to what felt like a dearth of venues that could accommodate the loud rock & roll of bands like Red Bennies. More than a year later, after the show moved from the Urban to NoBrow Coffee (now the Blue Copper Coffee Room), then Burt's Tiki Lounge and, finally, thanks to the enthusiastic lobbying of its bartender, to Twilite, Payne says the situation persists.
"It's totally hard" to find gigs in Salt Lake City clubs, Payne says. "I think it's as hard now as when I was 18 in American Fork. There's just ... nowhere." He says he "might just be out of the loop," but "I can't think of one place I could call and ask if I could set up a show." So Red Bennies, one of Salt Lake City's best bands, rely on invitations from other bands and bookers to get shows, like their recent support slot for Bloodshot Records band The Yawpers at the Devil's Daughter. "As far as I know, if you're friends with Diabolical, you can play there—those are cool shows."
This Wednesday gig, which Payne calls "Lounge Night at Twilite" is a rather smart survival tactic. Jazz Jaguars has a gig that no one else has, a way to stretch their musical legs, an audience that may not be 100 percent attentive—but who listen, and applaud, when the band hits particularly true notes. And they're using this engagement to help other local bands enjoy the same, playing between Jazz Jaguars' two hour-long sets. Tonight, it's Chalk. Next week, it will be The Hound Mystic.
It's time for Jazz Jaguars to take the, uh, stage. Payne sits at a music stand, his face bathed in bright light, shuffling sheets of songs mapped out in jazz notation. Naturally, he sits closer to Rinne. They have a cute, kind of Peaches & Herb/Carpenters-esque vibe, clearly happy in each others' company. Their voices intertwine: "Hold them one-at-a-time/ hold them one-at-a-time/ kiss them as they fly/ kiss them as they fly." while Payne plays smooth chords on a guitar he built himself. Behind them, Jean brushes skins and taps rims.
There are long pauses (time to talk) between songs. There is no pressure to maintain energy, like at regular rock shows. The crowd goes with the flow, filling those empty spaces with chatter, clinking glasses and the crack and rumble of billiard balls. At the end of one song, a guy at the pool table claps. Slowly, but respectfully.