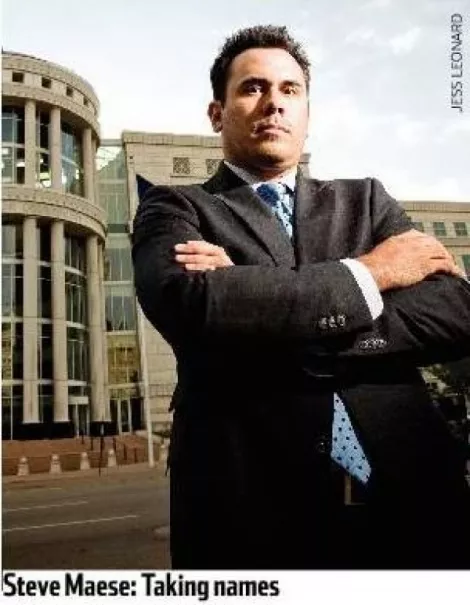 S. Steven Maese is a self-taught amateur attorney with less gravitas than death-row inmate Mumia Abu-Jamal but more tenacity than a swarm of Africanized bees.

Maese, 32, is also a convicted pimp (though he's appealing) and former coowner of the Doll House escort service. Already famous—and infamous—for hiring a private investigator to track the Salt Lake County District Attorney Lohra Miller in 2007, Maese (pronounced my-AY-say) is becoming a perpetual government gadfly with a keen taste for exposing law-enforcement officers' misconduct.

Murray City stepped into the Maese beehive last year by denying him the names of police officers whose disciplinary records Maese had been provided through a publicrecords request, though the officers' names were blacked out. Maese has spent countless hours researching the law and litigating the case to obtain the officers' names.

"When government pushes back against you, people have a duty to ensure government is complying with the law," Maese said. "If more people did what I'm doing, we would have a lot less government problems."

The public-records battle with Murray began quietly underneath the drama of the Doll House saga, which Maese says is totally unrelated to his dispute with Murray.

In 2007, Maese says, he was charged with interfering with his arrest by Murray City, though he wasn't arrested.

"I called a cop an asshole," Maese admits, adamantly proclaiming that such a statement is legal free speech. "I told him he was short and had 'little man's disease' and just because he has authority doesn't mean it's always an option to use that authority."

Maese's recent Utah history of challenging authority has been documented in dozens of news articles over the past three years, including in the City Weekly (see the May 28, 2008 "Grudge Match"). He filed an appeal of his conviction this month but, at present, at least, Maese is a convicted pimp who served 40 days in jail on a 60-day sentence earlier this year for his past ownership of the Doll House. His case made news largely because of his high-profile friends. His then-fiancé Kelly Ann Booth dropped out of a legislative race when her connection to Maese was published. Maese's friend and veteran prosecutor, Kent Morgan, was fired last year by the Salt Lake District Attorney's Office—although he recently was reinstated—after he was accused of leaking information to Maese.

Soon after the incident in which Maese took on the Murray cop, Maese complained about the officer's conduct to a Murray Police sergeant. A charge against Maese and a summons to appear in court, he said, came soon after. He thinks it was retaliation. The charge was dismissed before the recordsrequest battle began, court records show.

But, the experience stoked Maese's indignation: How often do citizens complain about Murray Police officers and how does the department react to those complaints?

Maese cited Utah's Government Records Access and Management Act to request all records of sustained police discipline for the last five years. Murray provided eight records, none of which, Maese said, originated with a citizen's complaint. Falling asleep in a patrol car and using a police car for a beer run were some of the bad acts, Maese said.

Maese appealed Murray's denial of the names of the officers to the seven-member Utah Records Committee, which sided with Maese on June 19, 2008. On July 11, the same day Maese was convicted of exploiting prostitution, Murray challenged the records committee's decision with a complaint filed in 3rd District Court.

Murray Police Department declined to comment on this case but referred City Weekly to its law firm. Andrew Morse and two other attorneys from Snow, Christensen & Martineau represent Murray City. Morse says the city wants an independent judge to weigh the public's right to know versus the officers' rights to privacy.

Maese maintains the records committee already balanced the interests, finding the officers had no expectation of privacy for proven misconduct.

Failed legislation in 2008 and 2009 sought to legalize government denials of the disciplinary records that Maese, news media, defense attorneys and others seek. But, even if the law were changed, Maese could still get what he wants next.
"My next records request is how much (Murray City) is spending on this," Maese said. "How many dollars have they spent trying to avoid complying with the law?"