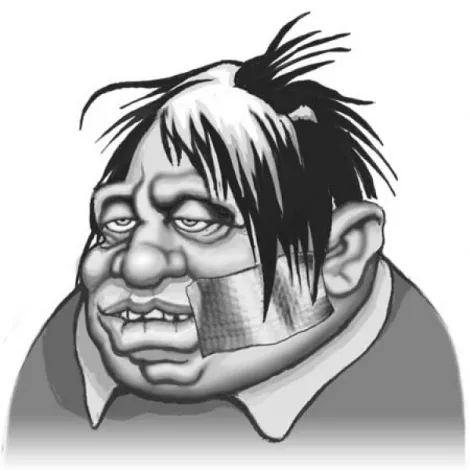 One of the untold stories of the current recession is the huge toll it's taking on personal grooming habits. People are no longer bothering to bathe, shave, apply makeup or even brush their hair before appearing in public. You've seen them at the post office, or the grocery store, even at church—harried citizens with haphazard hair or patchy skin or sandaled feet that look like they've traversed the Gobi Desert.

It was therefore encouraging to come across a June 26 news article from The Associated Press addressing the growing problem of grooming slippage. A celebrity hairdresser, who has "styled starlets Angelina Jolie, Renée Zellweger and Anne Hathaway," informs all the non-starlets of the world that beautiful grooming requires nothing more than a "willingness to get creative."

The celebrity hairdresser, who is doing his part to stimulate the economy by coming out with bargain-basement line of haircare products, has some useful tips for the un-groomed portion of the populace who might not be able to afford even his cut-rate grooming products, let alone share a blow drier with Angelina and Renée in his Beverly Hills salon. He recommends Epsom salt for a facial, baking soda for bad breath (making sure you "swish, spit and rinse") and—my favorite—baby powder instead of shampoo "to soak up oil."

We have conducted an informal poll to collect other ways to get around the high cost of grooming. We thought it would be a great public service to gather up and print in one place the most creative lowcost grooming ideas. We are grateful for everyone who sent in their grooming tips; we only wish we could compensate them in some way. But, at least they get free publicity, and all of them invited readers to contact them.

From Shelly Fenester of Sandy comes this tip, which is a variation of the babypowder trick to soak up scalp oil: "My husband came home drunk one night and stumbled head-first into the kitty litter.

The next morning, his hair never looked so good. There were telltale signs of oil in the litter box, so I put two and two together and started treating the entire family's hair with kitty litter. It works like a charm! But make sure the cat hasn't been in the box first."

Mrs. Janice Pringle, a long-time resident of Tooele, says she was about to end it all when she discovered a substitute for her expensive Cover Girl mascara: "I was making signs for a garage sale when I poked myself in the eye with a Magic Marker. Later on, after a quickie with my next-door neighbor, I asked him what got him so hot, and he said my new eye makeup drove him wild—reminding him of Angelina Jolie. I wasn't about to tell him it was Magic Marker. I've used it ever since, and I've been beating off my many beaus with a stick just to make them leave me alone."

Several suggestions came in from Ephraim, the best being the one from Fred Mertz, an insurance agent and the town's unofficial mayor: "I spend a freakin' fortune on shaving cream, especially since I have to shave twice-a-day. For a while, I tried hand soap, even dishwashing liquid, but I cut the heck out of my face and couldn't get people's attention when I talked to them because they were staring at all the little pieces of Kleenex stuck on my face to stop the bleeding. For a while, I stopped shaving, but my mustache was straggly, and folks said I was the spittin' image of Brigham Young.

"Then, I saw this commercial where women were ripping off body hair with some kind of adhesive. Well, what's the best adhesive there is? Duct tape! It took some getting used to, but that sucker does the trick! Maybe twice a week or so, I stick it on my face, take a deep breath and start ripping.

Sometimes a little skin comes off, but on the whole, my face now looks like a baby's bottom. And I'm saving a ton of money. Just make sure you don't forget you've got your face taped and answer the door. Last week, I got distracted, and the kid collecting fast offerings for the ward started to freak out when he saw me."

City Weekly advises that it is not responsible for views expressed here, but several staff members do swear by the kitty-litter tip.