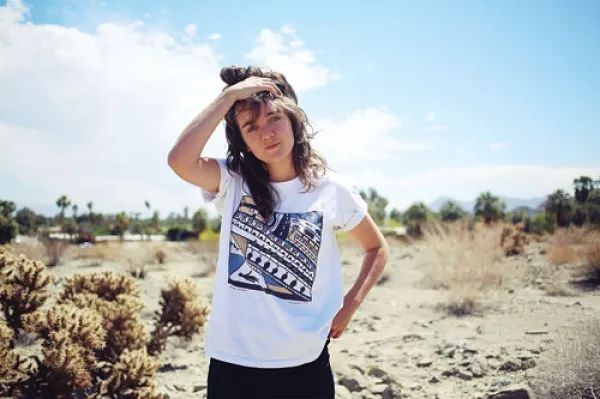 Courtney Barnett was still working at a Melbourne, Australia, bar when her music started getting international attention and praise. Since mid-2013, the indie singer-songwriter's playful, stream-of-consciousness lyrics and hazy garage-rock delivery have steadily caught on in the United States and elsewhere.
But it was only a few weeks ago, before the start of her current tour through Australia, Europe and North America, that she finally decided to quit her day job.
"I guess stuff kind of happened, but I didn't really take much notice of it," she says. "It was kind of like, 'Oh yeah, this will happen and then it'll just go back to normal, and no one will care.' "
So far, she couldn't be more wrong. Barnett will be on tour until August, and she's already recorded enough new material for a followup record that is due out by the end of the year. In January, her first two EPs—2012's I've Got a Friend Called Emily Ferris and 2013's How to Carve a Carrot Into a Rose—were combined and released in the United States as The Double EP: A Sea of Split Peas. It features the breakout track "Avant Gardener," a real-life story about a near-death experience brought on by an asthma attack Barnett had while gardening.
Despite its frightening inspiration, the wordy song is gauzy and funny. Recalling how she gets loaded into an ambulance, Barnett sings, "The paramedic thinks I'm clever 'cause I play guitar/ I think she's clever 'cause she stops people dying." It's a suitable introduction to Barnett's ability to easily wear her inner thoughts and influences on her sleeve.
Barnett grew up in Sydney with music around her, but says that the variety was limited. "We had a neighbor across the road who used to make us mixtapes and give them to us," she says. "Then we got our own CD player, but we didn't have much money, and the city shops were kind of far out of town. So we just listened to the same stuff over and over," including Nirvana, Jimi Hendrix and later some David Bowie, Lou Reed and The Grateful Dead.
As a way to copy her older brother, Barnett started playing guitar when she was about 10. Thanks to jazz-band classes in school, Barnett learned enough guitar to get by. "To be honest, I fluffed my way through jazz band a lot," she says. "I pretended to play, or I only played half the amount of chords I was supposed to. I was never really good at music theory or the proper stuff."
Still, she was good enough to tour around Australia with a few local bands after moving to Melbourne. It wasn't until Barnett decided to release her own songs in 2012 that she began getting local attention.
That's surely because Barnett is at her best when she's on her own. She admits she's a shy person who has trouble communicating with people unless it's through art. When she's not writing music, she'll draw (she drew the split-pea tidal-wave artwork on the cover of her double EP), or she'll write jingles for her friends. There was even a short-lived photo series. "I spilled beer on my Polaroid camera, and it was all over," she says.
But the reason she does any of it—a Polaroid, a jingle or an earworm about an asthma attack—is mostly for herself, she says.
Barnett's double EP is full of autobiographical songs about staying out late, obsessing over crushes and dealing with parents who are prone to long talks about goals and finances. But while A Sea of Split Peas is ostensibly about her own experiences, Barnett wrings truth and meaning out of the everyday lives of first-world 20-somethings, even if she doesn't mean to.
"I don't really think about what I'm singing about," she says. "But it's kind of nice to know when it reflects with people. … It's kind of nice to see that side of the connection that music makes. Sometimes I forget about it."
COURTNEY BARNETT
w/Your Friend
The Urban Lounge, 241 S. 500 East
Wednesday, July 2, 9 p.m.
$12
TheUrbanLoungeSLC.com
Limited no-fee tickets available at CityWeeklyStore.com