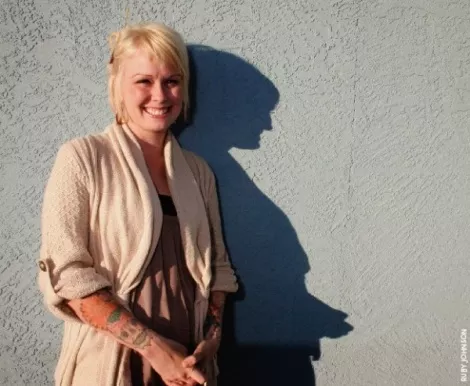 The faithful flock to Nobrow Coffee & Tea on Craft Sabbath to worship at the altar of handcrafted finery.
Held the first Sunday of each month, the increasingly popular event emphasizes the unique, unusual and local side of DIY art, jewelry and fashion.
Founded just one year ago during the holiday season, Craft Sabbath offers an alternative to crass commercialism. Organizers congregate at Nobrow to showcase and sell their works, as well as promote homegrown products.
Exhibitors include Kali Mellus, who specializes in industrial jewelry with belts and necklaces made from old nails and washers, and Mary McClaugherty is recognized as a craft virtuoso making everything from stuffed animals to scarves.
The mix of jewelry, clothing and accessories, along with guest crafters bringing in a variety of items (from Rachel and Leigh George Kade's Grimmleigh Fiends to Tim Thompson of True Gage), means the event has had a profound affect on the downtown area and the art scene—influencing the recent Craft Lake City event and pushing the "buy local" attitude into areas rarely considered.
Co-founder Meg Griggs is no stranger to the craft trade. At The Lewd Quill, she creates and sells unique hair clips that range from simplistic to lavish. She finds her supplies through various shops across the city and carefully constructs them into affordable gems.
"The way I was inspired basically came from making my own accessories," says Griggs. "No one ever had exaggerated-enough items for me, so I would play around with vintage brooches, feathers, beads and hot glue. Combined with my love for crocheting, embroidery and sewing I made myself some unique pieces."
Yeah, she's crafty—she also stays busy as part of Overstock.com's Electronics Buying Team. Additionally, the single mother spends time with her 8-year-old daughter Lily, a budding artist in her own right.
In preview of December's Craft Sabbath, Griggs and Mellus will be showing off their latest works at Alpine Art (430 E. South Temple) Dec. 4 as part of the SLC Holiday Stroll. The two crafters will also be a part of Provo's Beehive Bazaar Dec. 3-5.
Craft Sabbath will be expanding, doubling, adding on and temporarily moving to accommodate the hectic season. This year, the gals will be hosting their second annual Holiday Boutique, bringing in over 20 different vendors to participate, and temporarily moving the location to Artspace (511 W. Eccles Drive), Dec. 5 and Dec. 12, from 10 a.m. to 5 p.m. Highlights will include Nouveau Noir's Melissa Christensen displaying beautiful and durable leather gloves alongside Shauna Brennan's Feathers & Frosting headbands, earrings and—with any luck—her lip-smackin' yarn cupcakes.
Commenting on the event as a whole, Griggs exclaims, "We have someone making bionic toys, a gal making crazy cards and tags, necklaces and earrings made with machine parts. It's going to run the entire gamut of items! There will seriously be something for everyone on your Christmas list."
As Griggs gets her crafts in order, we throw her vast music collection into the proverbial bingo cage and give it a spin to see what powers a Craft Sabbath mind.
iPod picks by Meg Griggs
The Arcade Fire, "Ocean Of Noise," Neon Bible
Arcade Fire was a musical taste I think I developed as I got older. I remember hating all sorts of "hipster" music when I was younger. But the album is amazing and has a very spiritual calming effect on this old broad!

Starkweather, "Rest The Soul," Crossbearer
Starkweather was a band that all my friends growing up had on vinyl. Even if you were into any type of metal, punk rock or American hardcore, you still loved the cross-genre sounds of Starkweather. This song reminds me of being 17, and a boyfriend I had who claimed to have a "dark soul"—mainly we just listened to a lot of Starkweather, Disembodied and Downcast.

Grinderman, "Get It On," Grinderman
The first time I heard this song was when Grinderman played on Conan O'Brien. I was a fan of Nick Cave, but not to the point of an everyday listener. After watching the brooding performance, I fell in love with this song for the raw sexuality of it. Every man should wear a black suit, white leather shoes and facial hair!

Sheer Terror, "Time Don't Heal A Thing," Bull Dog Edition
Sheer Terror is by far my favorite band of all time, and the almighty Paul Bearer was an icon figure in my youth. I grew up listening to hardcore, metal and punk rock. The in-your-face lyrics on "Time Don't Heal A Thing" is one of the great examples of Paul's don't-give-a-fuck attitude.

Pelican, "Australasia," Australasian
Pelican and Red Sparrows are two of my favorite post-metal bands. Made up of members from ISIS and Tusk, this band honestly slays it. I love listening to Pelican as I drive; however, I made the mistake of buying a full DVD of Pelican live in concert. Um… not such a good idea, wasn't the most entertaining. HA!