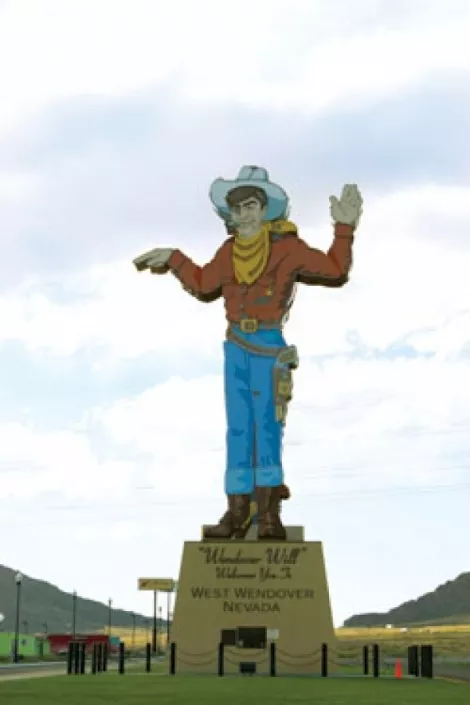 Wendover can be a tough place.
Deepak Sharma found the border town so hard that the 36-year-old set himself on fire one April morning in an apartment on Wendover's Utah side. The immigrant from India worked as a dealer at the Peppermill Hotel Casino in West Wendover, Nev. Like many immigrants to Wendover, he slept in an apartment on the barren Utah side, then drove the five minutes to his casino job on the more plush Nevada side of the border.

It was rumored Sharma faced deportation, but whatever his reasons, the horrific suicide cast a harsh light on these strange, isolated twin communities—Wendover, Utah, and West Wendover, Nev.—and their relationship to the casino-driven economy that provides a good life for so many.

Listen to residents talk about a recent rumble between two large teenage groups from each side of the border behind a West Wendover gas station, and it is reminiscent of a real-life West Side Story. But life in Wendover has less to do with the teenage angst of the Jets and the Sharks than it does, in this era of illegal-immigrant crackdowns, with fear.

That was a lesson Shirley Shelton learned when she ran down from her home overlooking the Bonneville apartment complex to help 13 mostly Hispanic families who'd been displaced by Sharma's self-immolation. Shelton organized a translator, a driver and a school bus to take them to the community center. But the fire's survivors refused to leave.

By the time firefighters extinguished the blaze, a frustrated Shelton was close to tears. "They thought we were deporting them to Mexico," she says. "They didn't trust us because we're white."

Yet, these same fearful souls provide casinos with their prime labor pool. Hispanics, for example, make up 65 percent of the 2,000-strong Peppermill Properties workforce. According to local government officials, 80 percent of Wendover, Utah's 1,600 residents and 70 percent of West Wendover, Nevada's 5,000 residents are Hispanic.

But employment, of course, is no guarantee that workers are documented, nor does it provide immunity from illegal-immigrant sweeps. West Wendover juvenile probation officer Jose Saucedo estimates that half of the local Hispanic workforce is illegal, which adds up to a lot of stolen Social Security numbers.


Perhaps, then, Shelton's being white was not the sole basis for the Hispanics' fear of accepting her help. Holy Cross Ministry local worker Anna Aboite notes that Shelton's husband Brett is the town's mayor. "The only thing [the Hispanics] see is the wife of the man in charge of the police department," Aboite says. "Someone to stay away from."
Aboite, a Nevada-side resident who works out of an office in the Utah-side Anna Smith Elementary School, was "awesome" at helping out the residents, Shelton says. "They trusted her; they would listen to her," she says.
That trust was earned the hard way. Salt Lake City's Holy Cross Ministry hired Aboite in 1999 to guide those in Wendover's communities who need social services to resources in Utah's Tooele County and Nevada's Elko County. Wendover itself has little to offer, Aboite says. All that's available, she says, is the local federally funded Women, Infant and Children (WIC) nutrition program, which provides support for low-income women and kids up to 5 years old.
Much of Wendover's need for social services stems from the negative impact of casinos that dominate the skyline, say some local critics. "If your main industry is gambling, it has a negative pull on the community at large," says Anna Smith school principal Kent Parsons. "Liquor flows freely in the casinos, so if you have a problem with drinking, it's going to be the last place you want to live."
While Aboite acknowledges a blackjack dealer with no education beyond elementary school in rural Mexico can climb the casino ladder to earn $40,000 to $60,000 a year, she wonders at what cost to him and his family. Many employees, she says, gamble on their time off, while others succumb to the easily accessed alcohol.
And then there are the working hours. The busiest time for the open-24/7 casinos is from 6 p.m. Friday and Saturday nights to the early hours of Saturday and Sunday. That's when most employees are needed to deal, run the pits, serve drinks and food and work in the kitchens. These workers usually get two days off during the week.
"The odd hours our parents have to work impact our school heavily," says Parsons. "Often, they can't come to parent-teacher conferences or things like back-to-school night. Our children will go home, and maybe nobody's there until midnight when Mom gets off shift."
In most neighborhoods, such kids are called "latchkey." Parson reckons half of his 220 students from kindergarten through sixth grade are latchkey. Although, given the poor conditions of many Wendover trailers, whether or not they have latches or keys may be a moot point.
Alan Rowley owns local gourmet-hamburger haunt Mildred's and also teaches at Wendover High School. He sees firsthand the strains casino life can put on employees' families. One teenage student asked Rowley to adopt him. Another, at the onset of spring break, begged to be able to come to school during the vacation. Rowley insists on giving a third student a hug every day he sees him, simply because the child seems so vulnerable, so alone. "It breaks your heart," he says.
Parents make choices, Aboite says, and one of the choices facing those who toil in Wendover's gaming industry is whether to let their bets on the casinos ride or move to another part of the United States, where their children can learn that the world doesn't begin and end in a one-trick border town.
"You know [this environment] is not doing any good for our families. Yet, economically, it's supporting them," Aboite says about the Hobson's choice she and so many in her community face. "It's up to you. What do you want to take?"
The cost of this one-industry town, as Aboite and Saucedo can attest through their work, is not only several generations of latchkey Hispanic and Anglo children. It's also an increasing number of teenagers drifting into crime—or a lifetime of servitude at the labor-hungry casinos.
"If we don't try to send our kids to college," Aboite asks, "how can things ever get better?"