Page 2 of 4
Welcome to "Tijunita"
Living in Wendover, says school principal Parsons, "is more like living in Mexico than in the U.S. simply because that's who lives here."
The Mexican presence is felt not only in what some claim to be Wendover's best restaurant, the Mexican eatery Salt Flats. There's also cockfighting and horse races on the outskirts of town on the Nevada side. Latino bettors spend five hours drinking and talking about the upcoming single race of the day, and then they wage thousands of dollars on the outcome. Often, after horses cross the finish line, they fight.
Anglos weren't always the minority in this border town. One hundred years ago, Wendover, Utah, was no more than a railroad-watering stop. By World War II, it boasted a potash-mining industry on the Bonneville Salt Flats and a mostly LDS community of 600. In 1943, thousands of Army and Air Force personnel invaded the town for a top-secret project. The Enola Gay B-29 Super Fortress flew its practice runs from Wendover Fields in preparation for dropping the atomic bomb on Hiroshima.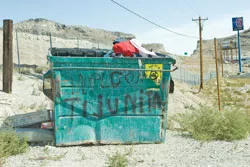 What remains of the military and railroad past in Wendover, Utah, is mostly condemned shacks and rotting barracks littering a desolate gray landscape.
"Sometimes I get the feeling [Utah] just wishes [Wendover] would evaporate, go away," sighs Wendover Judge Lamarr Melville.
The disappearance Melville ponders won't happen, says Wendover City Administrator Glen Wadsworth. But the problem, as ever, is funding. "We have unique money issues," says Wadsworth. "We don't have a strong tax base; there's not a lot of businesses here anymore. Why they've gone away, I don't know."
Among all that's left is the potash mining company, a cinema, two Mexican restaurants, hotels, a storage site and a recently opened Family Dollar store. That store, Melville says, "is the best thing to hit here in a long time."
All the same, Wadsworth is confident of Wendover, Utah's future. "It might decline some, but there's a core of people who like to live here." Wadsworth enjoys the small-town, friendly feel of Wendover and loves the surrounding desert and mountains. "On a clear day, you can see 100 miles," he says.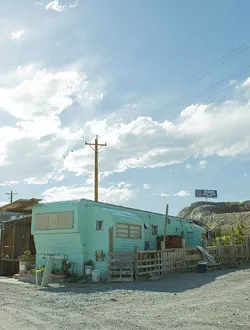 That core of Wendover fans probably don't extend to some of the areas Parsons is thinking about when he says, "You don't have to be a rocket scientist to go through Wendover [Utah] and see it's a poverty zone. It's quite a grim place. There are several pockets that are just ghettos."
One of those ghettos lies behind the Bonneville apartments. It's a patch of dirt and trailers called "Tijunita" by its mobile-home residents. Whether the folk who live in Tijunita may be counted among Wadsworth's happy core is debatable, says Aboite. She believes Tijunita's residents view their stay in Wendover as temporary. And yet, somehow, years march on, and they end up staying. Tijunita's tire-covered roofs offer ample evidence of Wendover's poverty. That impression is underscored by the lack of paved roads and sidewalks. There is little low-income housing other than these run-down trailers. "I don't recall a demand for low-income housing," Wadsworth says. "People just accommodate themselves."
Which they do … in Tijunita.