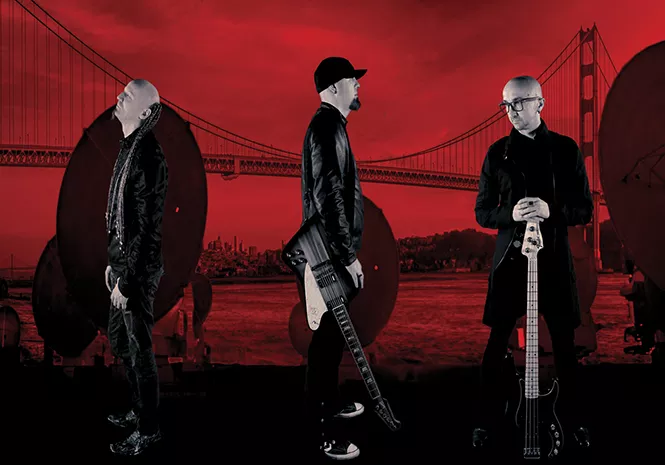 The other day, something strange popped up on the Sandy Station calendar. Among the mostly stand-up comedy events—and the really odd IT/coding night—was a poster showing three dudes. One looks like the Predator, another resembles a caricature of any chin-bearded '90s rap-rocker, and the other could be the spawn of Geddy Lee and Squidward. Below them it says, "A Pure Sevdah Rock Featuring." I was confused, too. Especially because this weird-ass unknown band is charging $30 a ticket, like they're famous. It was time to fire up the internet and get some answers.
The results were scanty—and in Bosnian. But that's what Google Translate and CTRL-C are for, amirite? It was easier to click on a YouTube link, so that's what happened. The first result was a concert that clocked in at two-and-a-half hours—too much. Second was a live song—too little. The third thumbnail down looked to be a full album titled Sabah Zorom. Just right.
The sepia-toned first shots of "Vilo" seemed to confirm that the exotic acoustic guitar-as-sitar intro would usher in meathead music. Hyper-manly vocals in 3-2-wha? When Squidward and the Predator join in, and Limp Durst-kit goes electric, it's ... cool. The eastern melody and galloping rhythm conjure images of the desert and men on horses heading into battle, then gives way to keyboards straight out of Emerson, Lake & Palmer. So, does "sevdah" mean prog rock?
Nope. Sevdah music, or sevdalinka, is traditional folk influenced by music from Asia, Europe and Sephardic (Spanish/Portuguese Jewish) culture. It's not folk-rock, and it's not the crazy Mongolian metal of a band like Tengger Cavalry. But it is exotic and mysterious and progressive. It was time to phone a Bosnian friend.
"They're not bad from what I've heard," my friend texted back. "But those guys are new school. The best [Balkan rock] bands are from the '80s." He sent links, but I remained transfixed by Rock Ko Fol, whose name, he said, means, "Pretend rock. Loosely translated."
If so, the name is surely ironic. Rock Ko Fol doesn't play standard rock 'n' roll, and they're genuine. It would've been great to ask the band about it, but City Weekly was lucky to get them to send a photo. Multiple requests for an interview were seen but not answered. Which is fine, because mystery is fun. So we work with what we have. Time to activate Google Translate.
Biographical information about the band is confined to two short passages from their Facebook page. One loosely says, "We are a rock 'n' roll band, but do not underestimate any kind of music which can be very much noticed in our repertoire that we play! We underestimate just kitsch, bad taste, primitivism ... and all those and what supplements to these three." The other: "Our gigs are trying by all means to unite all people, all nations and all kinds of music in the 'single entity' that forgets all the problems and enjoys the music."
It was time to give that epic YouTube concert a look. Filmed in the band's ostensible adopted hometown of San Francisco, it opens with the above quotes, then crossfades to the band launching into "Ludo Luda (Kolo)," which Google says means "Crazy Crazy (Bike)." Bassist Almir "AC" Crnovic (aka Geddy Squidward), singer-guitarist Dinko Salihbasic and drummer Elvis Katic (Predator) perform in a line—each member equidistant from the crowd. "Ludo" gives way to the apparent political anthem "Afrika" and a power ballad "Sev Ce Lo O Mila Moja" ("Strain Will Separately Oh Baby"). Salihbasic jokes with the crowd. In Bosnian.
Each song yields another surprise. While I was expecting more multiculti prog rock, Rock Ko Fol offers more than that—fist-pumping arena-rock anthems, smoldering blues-boogie, punk and more. And that's just in the first half-hour of the show. As the timecode ticks away and the band plays on, you just want to know more about them. Since they're not doing interviews and Google doesn't live-translate stage raps, that'll be tough. Which is fine. Mystery is fun.