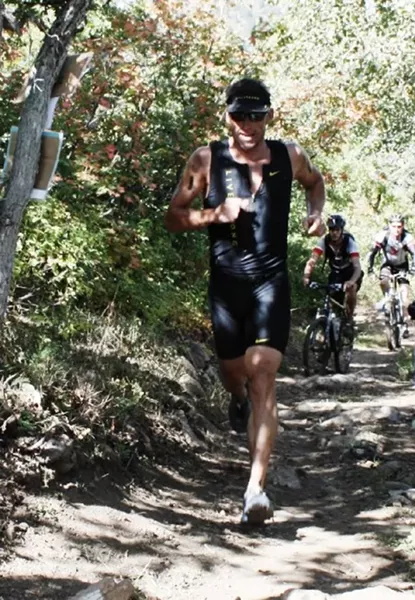 Wina Sturgeon
Lance Armstrong
No matter how hard you run, bike, play tennis, skate or climb, you'll never get perfectly fit from a one-sport workout. It's like working out by doing just one exercise at a gym: Some muscles and ranges of motion would get stronger, and others would be neglected, leaving you physically off-balance.
Whether you're a recreational athlete or an active outdoor explorer, the formal type of dry-land training used by elite athletes can help you get into the most well-rounded shape of your life. Here's how to create an individualized program modeled like those used by elite athletes, which is always planned out and written down in detail.
First, write down a full list of your strengths and weaknesses. You might have strong legs, so you do fine over a long and hilly road race. But your arms and shoulders may be weak, hindering the quickness of your bike handling and thus limiting your results. You may play basketball or volleyball, but have a weak core that limits the power of your shots. You may need to work on pacing yourself so you don't run out of energy during an activity. Number your weaknesses to give priority to the ones that need the most work.
Next, plan your "peak" time. Elite athletes might choose a premier event like the Tour de France to be at the peak of their physical conditioning. You can choose a specific event or a time period, like Labor Day at the end of summer, to peak. A subliminal benefit of this is that it provides a goal, which always inspires more motivation than vague open-ended training.
Use a day planner or daily wall chart to plan your progression from the present moment to the planned peak. This is called "periodization," a staple of any organized training program. It breaks the conditioning period into a series of cycles, starting with the overall start-to-finish cycle, then a "phase" cycle in which you accomplish smaller goals, such as developing more endurance so you can make it up a hard hill without slowing down or getting out of breath. Phases should last about a month and be progressively more difficult, working toward your overall goal while working on eliminating your weaknesses.
Then there are the "mini cycles" that keep everything interesting. These should last about a week or more and often consist of working on one or two weaknesses, making them stronger, then giving the muscles a chance to recover before concentrating on them again. During a mini cycle, you may choose to add more poundage to every exercise in your dry-land resistance program, or work on pushing your heart rate up a little higher until your body comfortably adjusts to the new level of exertion.
Don't forget to work on balance and agility over all three cycles. Exercises that improve both qualities can be a slack line using ski poles for support, a jumping exercise like the dot drill (there are numerous variations to choose from online) or even running on a flat, dry riverbed or rocky trail.
Write down your training program over the entire periodization cycle, complete with daily and weekly sport training and dry-land exercises. But remember, nothing should be written in stone. Your body may respond faster or slower to different parts of your program than scheduled; adjust by giving more priority to the slower areas—but include rest and recovery as part of your training program. The most important thing of all is not to overtrain, which is essentially wearing out muscle or connective tissue so that it must then recuperate before it can once again gain.
Your "bible" over the periodization cycle is your workout diary, which is separate from your scheduled training program. Your schedule may tell you what to do, but your workout diary records what you've done. Write down details of every exercise session or activity, which gives you a permanent record of how your body responds to an organized training program. Just like the elites, you can make your physical condition improve to the best it can be.