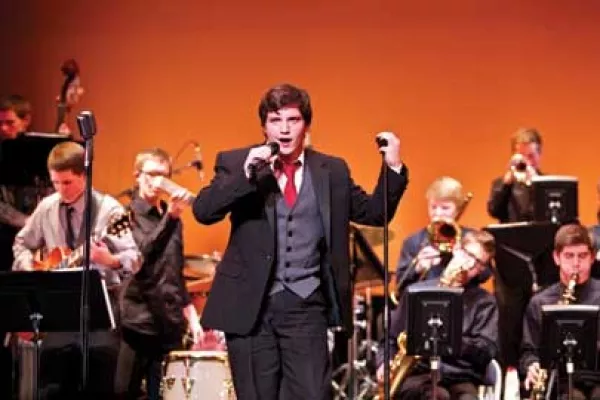 Caleb Chapman tells the Crescent Super Band not to look like a high school band. Yet, peering through the recording-booth window at the 22 members' horseplay and banter between takes at Digital Force Studio in American Fork, they look exactly like high-schoolers.
"At the end of the day, they're just kids," the ensemble director says. Kids with an impressive track record, that is. Since forming 11 years ago, the band has won 17 awards from DownBeat—a prestigious monthly magazine for jazz and blues—including best youth big band in 2007, 2010 and 2011 for their swingin' take on the American Songbook.
The Crescent Super Band is one of nine bands from a wide swath of modern styles within Caleb Chapman Music, a professional-musician training program for middle and high school students, and it's the hardest to make the cut for. Chapman is concerned with the "feel" of the big band during recording sessions and the "look" when they suit up to take the stage for a set full of synchronized horn swings and the classy showmanship of a professional band. That's the point: Crescent Super Band is a professional band—composed of teenagers—and Chapman expects no less.
"We used to set out to be the best big band for their age group," Chapman says. "Now, the shared mission is to be the best big band in the world—period."
The point where youthful zest and professional musicianship meet can certainly work in the band's favor. As Chapman and five students sit in the vocals booth for an interview, Chapman relates an anecdote from 2007, when Crescent Super Band was invited to perform at the International Association of Jazz Education—commonly referred to as the International Jazz Conference—in New York City in front of 6,000 musicians, right after the National Endowment for the Arts' Jazz Masters induction ceremony.
"They were all there—Chick Corea, Sonny Rollins, Herbie Hancock—all these heavies," Chapman says of the show. "And you know exactly what people are asking: 'Why are there white kids from Utah kicking off an international jazz conference?'
"I'm nervous, I'm pulling out my hair, and there's just five minutes before the show," Chapman continues. "I go backstage, and these kids are playing cards and hacky sack. And I'm like, 'What are you doing?!' And they just said [nonchalantly], 'Caleb, we got it.' " They performed exquisitely.
"They don't know what they are getting into half the time," Chapman says. "They're just all about the music." He says many of the students don't come into the program with much jazz, swing or big-band knowledge, but they realize they have a passion for it and then devour the library.
"You get digging into it, then you really realize how the music works," says Brooks Hiatt, an alto sax player from Orem. "You can really see the true beauty of the language, and people all speak it differently."
Crescent Super Band's catalog mainly pulls from classic musicals and big-band and swing bands of yore—tunes like "Don't Get Around Much Anymore," "On the Street Where You Live" and "It Had to Be You"—albeit reworked by the band. These can be heard on Crescent Super Band's six full-length albums; the most recent, What It Is, was released November 2011.
The group performs newer pop songs, too, also re-stylized. "Caleb taught me how to like Michael Jackson," says Parker Swenson, a drummer from Park City. "We recorded 'Human Nature,' and I didn't realize how good it was." Local composer Sam Cardon is working on a Foo Fighters and an Adele translation for the band, Chapman says.
The band picks songs they know will excite the audience—and themselves—to craft a killer performance. "We make it a point to look like we're having as much fun as we can onstage," Swenson says. "We avoid the whole Miles Davis mystique of having our back to the crowd, of [saying] 'screw you.' "
"It's a whole lot more fun to play, and the music actually sounds better when they are physically involved in the music," Chapman says.
And this showmanship and swagger has attracted myriad musical luminaries to perform with these young prodigies, including Jeff Coffin (Dave Matthews Band), Chester Thompson (Genesis), Lenny Pickett (Saturday Night Live bandleader), Steve Smith (Journey) and Gregg Bissonette (Ringo Starr & His All-Starr Band), among others.
Coffin will again join the band this weekend to raise funds for a trip to New York City, where Crescent Super Band will play the illustrious Carnegie Hall on May 21, 2013.
It's an impressive opportunity, although most of the current band members actually won't experience it.
By the time they reach the pinnacle performance band within Caleb Chapman Music, most of the members are high school seniors. So that means a 60 to 75 percent turnover each year, Chapman says—something that most audiences don't realize.
"We have gigs and concerts year-round, and we're expected to, at the beginning of the season, with all new guys, be playing as well as we were at the end of the last season," says Mitchell Anderson, a drummer from American Fork. "That poses a big challenge."
Auditions are held during the first week of September; the first rehearsal follows a week or so after. "A few years ago, we had a huge show the same night as the first rehearsal. So they had two hours to put on a two-hour show, and they'd never played together before," Chapman says. "And they pulled it off."
Even though the air is professional and moments like that can be intense, there is still room for fun and frills. None of the five teenagers, however, will dish on the pranks they pull on each other. "That's an entirely different article: 'The Confessions of the Crescent Super Band,' " Hiatt says with a laugh.
And when asked what they would say if they could roast Chapman, Hiatt says, "The majority of the time is a roast of Caleb Chapman, he just doesn't know about it ... because we respect him."
"Brooks [Hiatt] has been in my program since seventh grade, and he said something—this made me so happy the other day—he said, after all these years: 'I'm still afraid of you,' " Chapman says with a guffaw.
"That's why we show up prepared," Swenson says.
"Being the lead trombone player, he gives me the eye pretty much every day ... every song ... every minute," says Nate Campbell, from Bountiful.
"He's always watching," Swenson says. 
CRESCENT SUPER BAND
w/ Jeff Coffin
Gallivan Center
239 S. Main
Friday, Aug. 17, 8 p.m.
Free, donations accepted