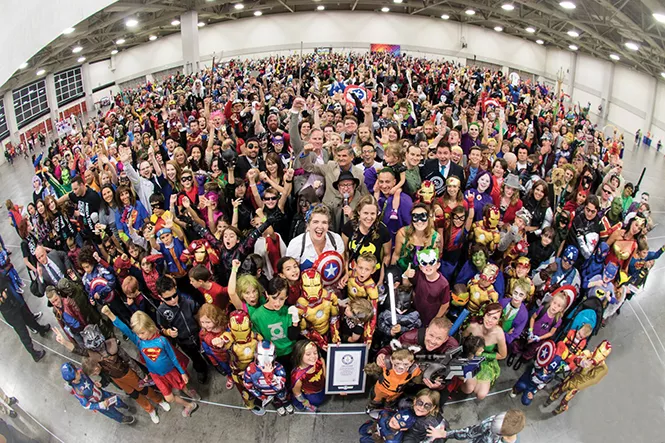 By all outward appearances,
Salt Lake City's genre convention has been going strong for five years now, creating a robust following and even larger fan community. I've personally put a lot of blood, sweat and tears into the event formerly known as Salt Lake Comic Con to make it the best possible local show. It gave me so many opportunities that I will forever cherish, most notably the chance to spend
15 minutes on stage with Carrie Fisher
. I participated in more than 100 panels, served on the panel committee and personally advocated for the con to be more diverse and inclusive.
These efforts worked—to a point. In the more recent shows, panels and programming were less homogenous. The gender split was more even; the committee even flew in diverse panelists from around the country when they couldn't be found locally.
Last year, however, cracks began to appear, and it was apparent the right hand didn't know what the left one was doing. The push for more inclusivity threatened to be undermined by an invitation to Orson Scott Card—a popular author, to be sure, but also a man who has worked actively to suppress the rights of the LGBTQ community.
There was an understandable outcry, and a tone-deaf response from organizers, but, eventually, sense prevailed and Card's invitation was rescinded. The founders of the convention, Dan Farr and Bryan Brandenburg, promised to do better.
But, at that very same show, local author Richard Paul Evans allegedly touched, kissed and made condescending and sexually harassing remarks to a female author—possibly more than one. When a victim reported the alleged incident to organizers, she asked only that Evans be moved and isolated on the floor of the convention rather than banned, which is what a zero-tolerance policy would have called for.
As news of this response became public and other authors began to speak up, the response from Brandenburg was, to put it mildly, not ideal. He told author Shannon Hale, who was advocating on behalf of the victim, that the #MeToo movement was "trendy," that he had daughters and that's why he cared about this, and that Hale should "sit this one out." Then, through the FanX social media feed, he disclosed Hale's private contact information, which he later apologized for, saying it was accidental.
This response ticked off every box on the "problematic" checklist. Brandenburg took a leave of absence after making an apology, though I'm not sure that step was enough, especially since rumors swirled about his continued involvement with the convention.
Richard Paul Evans, the founder of a "men's group" called the Tribe of Kyngs, then went on television to admit that he touched and kissed women at FanX without their consent. He also offered preposterous gems like this to KUTV Channel 2's Chris Jones: "There is a war on men, and that men—white men in particular—are under attack, oppressed by a changing culture, victims of an extremist feminist agenda."
While Evans also backtracked his more incendiary comments, the damage was done. Guests and writers began announcing their withdrawal from FanX. This was also my personal tipping point. While convention organizers might indicate there's a zero-tolerance policy for harassment on paper, they appear reluctant to execute such a policy in practice. They've announced plans for a training session and a new updated sexual harassment policy, but their track record has proven they don't quite understand these issues and, despite apologies, still seem to believe this is merely a public-relations storm to weather. That was the gist of social media messages I received from organizers just one day after Brandenburg's apology and promise to take a break from social media.
It felt awkward. It felt disingenuous. It made me feel dirty, and I don't want anything I'm involved in to make me feel like that.
Because of all this, I can no longer in good conscience contribute to FanX unless things change. In my mind, there's only one way through this that will allow the convention to move ahead and to let the Salt Lake geek community thrive. My suggestion to Dan Farr and Bryan Brandenburg is this: Step down completely, and either sell the convention or convert it into a nonprofit. Bring on a diverse board of local and national geeks. The community and its safety and peace of mind are more important than profit, and there's no reason for the community to suffer any more for the bad choices of a few.
Like former FanX guest Leonard Nimoy as Mr. Spock once said, "The needs of the many outweigh the needs of the few. It's logical."